August, 17, 2013
8/17/13
8:52
PM ET
Looking back on three things discussed here before the Arizona Cardinals' second exhibition game of the 2013 preseason, a 12-7 victory over the Dallas Cowboys at University of Phoenix Stadium:

1. Bo Jackson or Deion Sanders
. Pregame comparisons between Arizona cornerback
Patrick Peterson
and those two sporting legends could not be fulfilled all in one meaningless game, of course. The Cardinals did work Peterson into their offense as a regular receiver, not as a gimmick player or within a trick-play context. That is the expectation for Peterson this season. Peterson gained 6 yards on a backwards pass (officially a rushing attempt). The Cardinals' failure to produce in the red zone will give them something to focus on beyond whatever role Peterson might play as a receiver.
2. Rookie free safety.
Third-round choice
Tyrann Mathieu
started at free safety and played three quarters without making the obvious impact plays the Cardinals expect him to provide as his career progresses. That doesn't mean much in the bigger picture. Mathieu is just getting started and it's tough to know whether a safety was correct in his assignments. We're left to watch for standout plays. Mathieu did lead the team in tackles with seven, no surprise given how deep into the game he played. Mathieu lost 3 yards on a punt return after making a questionable decision to return the ball.
3. The home crowd.
This was Bruce Arians' University of Phoenix Stadium debut as the Cardinals' head coach. His team collected six turnovers and won, but as an offensive-minded head coach, Arians will want his offense to produce better results regardless of venue. The Cardinals are home Aug. 24 against the
San Diego Chargers
. That game will feature Arians' offense and a Chargers offense coordinated by Arians' predecessor in Arizona, Ken Whisenhunt. That game might be better for monitoring crowd reaction.
August, 17, 2013
8/17/13
1:34
PM ET
Three things to watch for Saturday in the Arizona Cardinals' second exhibition game of the 2013 season, set for 4:30 p.m. ET at home against the Dallas Cowboys


1. Bo Jackson or Deion Sanders.
Neither is going to play in this game, of course, but with Cardinals general manager
Steve Keim invoking them
to describe third-year cornerback
Patrick Peterson
, we'll be watching to see whether Peterson gets snaps at wide receiver. Peterson has impressed the Cardinals in that role in training camp. The team sounds serious about using him in that capacity in the regular season. If Peterson is going to be part of the receiver rotation, why wouldn't he play wideout in the preseason?
2. Rookie free safety.
Third-round choice
Tyrann Mathieu
gets the start at free safety while
Rashad Johnson
recovers from injury. Mathieu collected a sack and aggressively defended a pass in his preseason debut against Green Bay. The Cardinals have called him one of the more dynamic players in camp to this point. Now, Mathieu gets a chance to work with the starters. Will he play the roughly 20 snaps coach Bruce Arians said he plans to allot for the first group? Or might he stay in the game longer as a rookie in need of reps?
3. The home crowd.
Fans around the NFL often sell or give away their preseason tickets, making it tougher to capture the desired home-field feel. Having a broadly popular team such as the Cowboys coming to town could further dilute the home contingent. Still, new coach Arians has stressed the importance of re-establishing dominance at home. This is the first home game of any kind on his watch. It's got to feel a little special for him. Will the Cardinals give the home crowd reason to come back for more?
August, 16, 2013
8/16/13
1:15
PM ET
Arizona Cardinals
general manager Steve Keim was chatting about his team on the sideline during a training camp practice when a wide receiver caught a pass in stride and pulled away from the secondary.
Except it wasn't really a wide receiver with the ball in his hands. It was cornerback
Patrick Peterson
, and the sight of him running with the football was compelling enough to redirect Keim in midsentence.
"He is so natural,"
Keim said
. "Watch him running routes, particularly stops and digs. You watch him drop his weight at 219 and accelerate out of the break, that's not what cornerbacks do. He can come out here and just run a route, and you're just like, 'He looks like
Percy Harvin
running a route. How does he do that?'"
Keim has seen much more of Peterson at receiver in two-plus weeks of subsequent practices. He is now calling Peterson the closest thing he's seen to Bo Jackson and Deion Sanders in ability.
"From an ability standpoint, I've never seen anything like him,"
Keim told Robert Klemko
. "He's the closest thing in the league to a Bo Jackson, a Deion Sanders. I've seen him stand on the field flat-footed and throw the ball 65-70 yards. He goes out to practice as a wideout, and runs a 10- and 15-yard out as well as anyone on our team. His value to our team is really unparalleled."
[+] Enlarge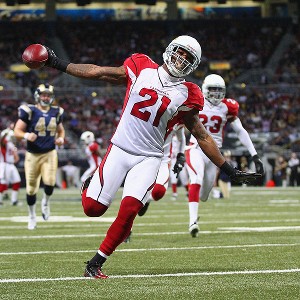 Dilip Vishwanat/Getty ImagesPatrick Peterson has earned Pro Bowl honors for his ability as a return man and a cornerback.
Peterson returned four punts for touchdowns as a rookie and earned Pro Bowl honors in that capacity. He earned Pro Bowl honors as a cornerback in his second season, picking off seven passes. Could Peterson, with only four receptions for 10 yards to this point in his career, become that type of contributor on offense? It's doubtful any cornerback could play enough snaps on offense while remaining an every-down player on defense, but if any current corner could do it, Peterson would be the one.
Jackson played football and baseball, but he didn't play two positions in the NFL. Sanders dominated at cornerback and caught 36 passes for the
Dallas Cowboys
in 1996. He had 188 career receptions, three for touchdowns. Peterson is much sturdier than Sanders, outweighing him by about 20 pounds while showing similar ability with the ball in his hands. Peterson would have a better chance at holding up physically. Arizona goes only three deep at receiver, so there could be opportunities for Peterson without forcing the situation.
I came away from Cardinals camp thinking Peterson would get enough snaps on offense to make his presence on offense more than a gimmick. Keim's latest comments reinforce that idea. At face value, the "unparalleled" comment means the Cardinals value Peterson more than they value any other player on the team, including receiver
Larry Fitzgerald
. That does not mean the Cardinals plan to pay Peterson the way they are paying Fitzgerald, necessarily. Fitzgerald leveraged an over-the-top rookie deal into two extremely player-friendly veteran contracts, to the point that the salary-cap consequences are burdensome. But when the GM is comparing a young player to Bo Jackson and Deion Sanders from an ability standpoint while calling that player's value to the team unparalleled, I'd imagine the agent is taking notes. Peterson is signed through 2014 and is earning $4.6 million per year as the fifth player chosen in the 2011 draft class.
Praise for Peterson is nothing new in Arizona. Here is what Fitzgerald said of Peterson last offseason:
"From a physical standpoint, he has no weaknesses at all. Most guys you go against, bigger guys, I can manipulate them on the field or physically. Patrick is just so different. He has the game-changing speed. He can run with anybody in the league. His ball skills are like playing with another receiver. He can tackle you in the run game. He knows what's going on, is a student of the game.

"You want to draft a guy to carry the torch for your team, Patrick Peterson epitomizes that. Just his maturity. He's 22 years old [now 23]. He just got married. His outlook on life, the way he carries himself, the way he performs, it's like a 30-year-old. He just gets it. To get it at that young of age, that is a scary combination when you couple that with elite talent."
Also last offseason, then-coach Ken Whisenhunt called Peterson "the same creature" as Fitzgerald in terms of talent, community involvement and the will to be great. He pointed to a rough 2011 defeat against Cincinnati when Peterson had hurt his Achilles tendon. Logic said the Cardinals needed to be careful. The defeat had eliminated them from playoff contention. One game remained in the season. Why risk it?
"He came out and played the next week against Seattle," Whisenhunt said. "It was that important to him. And that was very Larry-esque."
November, 4, 2012
11/04/12
5:32
PM ET
Seattle Seahawks
hold a 20-17 lead over the Minnesota Viking at halftime thanks to three touchdown passes from rookie quarterback
Russell Wilson
.
Adrian Peterson
's rushing for Minnesota has stood out the most to this point in the game. Peterson has 144 yards and two touchdowns in the first half. The score is close, so he should get plenty of opportunities after halftime.
The 144 yards are tied for the
32nd-highest single-game total
against Seattle in the Seahawks' franchise history, which dates to 1976. Peterson needs 40 yards to move into the top 10.
The chart shows the five highest single-game totals against Seattle.
The Seahawks' previously stout run defense has struggled against
Frank Gore
and Peterson in recent weeks. Some of the runs Peterson has made appear nearly impossible to stop. He has beaten good initial run defense on a couple occasions. Peterson has broken through arm tackles in other cases. His 74-yard run on the Vikings' first possession accounts for more than half his yardage.
SEATTLE -- The
November, 30, 2010
11/30/10
4:02
PM ET
PHOENIX, Ariz. -- One thought per NFC West team before boarding a flight home from Arizona:
St. Louis Rams: Their fourth-quarter near-collapse at Denver should help keep them grounded heading to Arizona. This team keeps its focus under the consistent coaching of Steve Spagnuolo, anyway. All signs point to St. Louis beating Arizona. Even bad teams have been dominating the Cardinals lately. This game should make the Rams a little nervous, though. The circumstances appear almost too perfect.
Seattle Seahawks: As badly as the Seahawks need receiver Mike Williams, rushing him back against Carolina wouldn't make much sense. If Seattle cannot win at home against the 1-10 Panthers without Williams, the team is worse off than its rough showing against Kansas City suggested. Having Williams at San Francisco in Week 14 looks like a must.
San Francisco 49ers. The details regarding Frank Gore's injury stand out as the most important storyline for the team coming out of Week 12. Do doctors expect Gore to make a full recovery? Might Gore's injury be more serious? Bo Jackson was never the same after suffering one with the Los Angeles Raiders.
Arizona Cardinals. Coach Ken Whisenhunt fielded multiple questions suggesting fans want to see wholesale changes. The reality? Those options tend to be imaginary. There simply aren't that many great options at this stage of a season. It's reasonable to expect the Cardinals to give more playing time to a few younger players. Rookie nose tackle Dan Williams comes to mind.
My plane is leaving momentarily. The Monday night game threw off my usual routine, pushing back a few items that generally appear on Tuesdays. I'll hit on those as time permits.