April, 10, 2014
Apr 10
10:00
AM ET
By
ESPN.com staff
| ESPN.com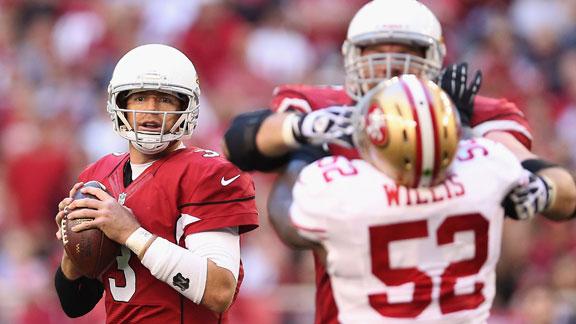 Catch us if you can.
That's a message the
Seattle Seahawks
could send out to the rest of the NFC West.
It is also something the
San Francisco 49ers
might say to the
Arizona Cardinals
and the
St. Louis Rams
. But the Cardinals and Rams might have a statement of their own: We're coming for you.
By almost everyone's estimation, the NFC West is the best division in the NFL. It includes a Super Bowl champion in Seattle along with a team in San Francisco that, arguably, came up one play short of reaching its second consecutive Super Bowl.
It also includes a team in Arizona that won 10 games, one of which was a victory at Seattle -- the Seahawks' only home loss in 2013. And there's a team in St. Louis that won two of its last three games to finish 7-9 while playing most of the season without starting quarterback
Sam Bradford
.
So the question heading into 2014 is whether the Cardinals and Rams are in position to catch the Seahawks and 49ers. Have Arizona and St. Louis closed the gap on what might be the NFL's two best teams?
The Cardinals have been active in free agency, signing cornerback
Antonio Cromartie
, offensive tackle
Jared Veldheer
, tight end
John Carlson
, receiver/kick returner
Ted Ginn
, running back
Jonathan Dwyer
and offensive lineman
Ted Larsen
.
Clearly, the competition in this division keeps getting better.
The four writers who cover the division for ESPN.com's NFL Nation -- Terry Blount in Seattle, Bill Williamson in San Francisco, Josh Weinfuss in Arizona and Nick Wagoner in St. Louis -- take a look at where things stand in the NFC West on four key topics. We also polled our Twitter followers to find how they viewed the issues.

The Cardinals have made significant moves in free agency. The Rams, aside from keeping Rodger Saffold, have mostly stood pat. Which is closer to the playoffs?
Terry Blount: This is a no-brainer for me. The Cardinals are a team on the rise with one of the NFL's best coaches in Bruce Arians. He took a 5-11 team and transformed it to 10-6 in one season. He was 9-3 at Indianapolis in 2012 while filling in for Chuck Pagano. Arizona was 7-2 in its last nine games and won three of the last four, with the only loss being 23-20 to the 49ers in the season finale. The Cardinals could become a serious challenger to the two-team stronghold of Seattle and San Francisco. However, I do believe the Rams will have a winning season if they can hold their own in the division games.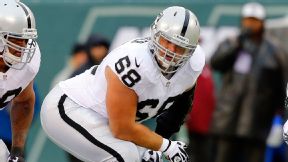 Nick Wagoner: It's hard to evaluate this without seeing what happens in the draft, especially with the Rams having two premium picks. Even then it would be unfair to judge right away. Still, I have to go with the Cardinals. They were trending up at the end of the season and patched a big hole with offensive tackle Jared Veldheer. Losing Karlos Dansby was a blow, but adding cornerback Antonio Cromartie to a talented stable at the position makes them better. The Rams, meanwhile, are clearly counting on a whole lot of in-house improvement and a big draft. Keeping Saffold was important (and lucky), but it seems risky to pin all hopes on a leap to the playoffs on a group of young players all making a jump at the same time.
Josh Weinfuss: Arizona is the easy answer, and that's not because I cover them. The Cardinals were 10-6 last season and the first team kept out of the postseason. All the Cardinals have done this offseason is fix deficiencies and plug holes. Their offensive line got markedly better with the addition of left tackle Jared Veldheer. Their wide receiver corps and kick return game were solidified with Ted Ginn, and they now have one of the best cornerback tandems in the league with Antonio Cromartie coming on board. General manager Steve Keim looked at what went wrong in 2013 and went to work on fixes. It should put the Cardinals over the playoff hump.
Bill Williamson: It has to be Arizona. The Cardinals were so close to making the playoffs last season. They would have likely been dangerous in the postseason too. I like the way this franchise is shaping up. It seems like it is well run and well coached. The roster is also getting deep. Carson Palmer will have to be replaced sooner or later, but the Cardinals are on to something. The Rams certainly have some nice pieces and are probably the best fourth-place team in the NFL, but they aren't close to matching what Arizona has going for it.
@joshweinfuss With the offseason the @AZCardinals have had I'd go with them. The rams are a solid offense away but AZ got the pieces needed.

- Joshua Bodrero (@JBodrero) March 25, 2014
---

The Seahawks and 49ers played for the NFC title in January. Any reason to believe either won't return to the postseason?
Blount: They were the two best teams in the NFL last season, and there's no legitimate reason to think they won't be among the best in 2014. Seattle has lost 10 players who were on the Super Bowl roster, but other than wide receiver Golden Tate, none of them were on the team's priority list to keep. The 49ers move into a shiny new stadium. The only question for San Francisco is the precarious relationship between coach Jim Harbaugh and team executives. Who knows what the future holds there, but it shouldn't matter on game day.
Wagoner: Aside from some debilitating injuries, it's hard to see how either team has taken a major step back. The Seahawks have lost some good players in free agency, but even those players seemingly already had replacements in place. Nobody does a better job of developing talent than Seattle. The Seahawks still have holes to patch on the offensive line and losing receiver Golden Tate is a blow, so there could be some hope the offense will regress. But the defense makes it all go, and it doesn't look like it's going to lose any of its most prized components. As for the Niners, they are the more likely of the two to take a step back, but it's hard to see them taking enough of one to fall out of the postseason. For most of their key free-agent losses they were able to quickly come up with a replacement as good or better than the player lost, and retaining Anquan Boldin says they are looking to make another run at the Super Bowl. Plus, they will have a fully healthy Michael Crabtree ready for the season. Until proven otherwise, these two teams remain the class of the NFC and probably the NFL.
Weinfuss: The only reason either of them won't make the playoffs in 2014 is because the Cardinals or Rams will take their place. The gap between the top and bottom of the NFC West has closed significantly this offseason, making the West much like the Southeastern Conference in college football; everybody will beat up on each other. It's likely the West, if it's anything like last season, can see three teams in the playoffs -- its champion and the two wild cards. If one of the teams between Seattle and San Francisco were not to make it, it's tough, but I think Seattle might slip. The Seahawks lost a significant part of their defensive line and will be going through a Super Bowl hangover. That's risky to deal with and still make the playoffs. On the other hand, San Francisco will be hungry from losing to Seattle in the NFC Championship Game.
Williamson: I believe these are the two best teams in the NFL. So it's difficult to fathom that either team won't find its way into the playoffs, barring major injuries. Arizona, though, could create an issue for the Seahawks and 49ers. The Cardinals are going to win a lot of games, so both Seattle and San Francisco have to be careful or things could get tricky. In the end, I can see all three teams making the playoffs. This is the reason this division is so intriguing and so fun: Every game is critical. There is just not much room for error. Look at the 49ers last year. They went 12-4, but a 1-2 start hamstrung them. They could never fully recover despite having a great overall regular season. The same intensity will be a factor in 2014 in the NFC West.
@TerryBlountESPN The Cards and Rams are pretty good. They'll be fighting for 2nd place behind the Seahawks.

- Danny ®" (@Dah_knee) March 26, 2014
---

Will Rams quarterback Sam Bradford come back strong from an ACL injury, and what effect will he have on St. Louis having its coveted breakthrough year?
Blount: I think Bradford will be fine as far as the ACL goes, but this is a make-or-break year for him in my view. Bradford was playing pretty well before his injury last year, but the verdict still is out whether he can be an elite quarterback. He enters this season with the best supporting cast he's ever had, but playing in this division with teams that emphasize physical defensive play makes it difficult to show improvement.
Wagoner: All indications from the Rams are that Bradford's rehab is coming along well and he's on schedule to make his return in plenty of time for the start of the regular season. He apparently had a clean tear of the ACL, but he has been rehabbing for a handful of months and should resume throwing soon. Bradford's healthy return means everything to the Rams' chances in 2014. Believe it or not, this is his fifth season in the NFL and, much like the team, this is the time to make some noise. The Rams attempted to open up the offense in the first quarter of 2013 with Bradford to miserable results. They switched to a more run-oriented attack in Week 5 and the offense performed better. Bradford also played better as the run game opened up play-action opportunities in the passing game. It will be interesting to see if the Rams choose to go a bit more balanced with Bradford at the controls or if they continue at the same run-heavy pace they played with backup Kellen Clemens. Either way, Bradford's contract has two years left on it. If he wants a lucrative extension, this is the time to prove he's worth it.
Weinfuss: Short answer, yes, Bradford will come back strong. Just look at how he started in 2013. He was on pace for a massive year statistically before he got hurt. If he can pick up where he left off, Bradford will return with a bang and show he's still one of the better quarterbacks in the league. As we've seen, a top-tier quarterback can be the difference between sitting idle in the standings and having a breakthrough year. With the talent that surrounds the Rams, with tight end Jared Cook, running back Zac Stacy and wide receivers Tavon Austin, Chris Givens and Austin Pettis, among others, Bradford may singlehandedly help close the gap between the Rams and the top of the NFC West.
Williamson: I have to be honest: I'm not a big Sam Bradford guy. I think he's just OK. Just OK doesn't cut it in this division, especially considering the defenses he has to play six times a season in the NFC West. He's serviceable, but he's not the answer. Given the state of this division, I cannot envision a scenario where Bradford is the reason the Rams become the class of the NFC West. I think they can get by with Bradford for the short term, but the Rams are going to have to start thinking about the future at this position much earlier than expected when Bradford was the No. 1 overall pick of the 2010 draft.
@nwagoner @Ryan_STL1 he's going to be the reason whether they go to the playoffs or not. If it doesn't happen this year it's time to give up

- Nick Green (@duttynick) March 24, 2014
---

If you had to start a team with either Seahawks QB Russell Wilson or 49ers QB Colin Kaepernick, whom would you choose?
Blount: You must be kidding. Give me Wilson every time, every day in every situation. Yes, Kaepernick is 5 inches taller than Wilson. Is there really anyone left who thinks Wilson's lack of height matters? Wilson also is at his best in pressure situations. He lives for it. And he is a more polished person on the field, and off it, than Kaepernick. That's not an observation. It's a fact. But this isn't a rip on Kaepernick. You would be hard-pressed to find any 25-year-old as polished as Wilson. The 49ers can win a Super Bowl with Kaepernick, and probably will soon. But if I'm starting a team, whether it is in football or almost any other life endeavor, I'll take Wilson without a doubt.
Wagoner: Wilson. For those of us covering other teams in the division, it's hard not to admire what he brings to the table. He presents himself as the consummate professional, and even opponents praise him for his work habits, intelligence and ability. He's already got the Super Bowl ring, and it's easy to see how he could add a few more. He's not all the way there in terms of his potential either, and it's probably safe to assume he's just going to keep getting better as his career goes along. That's nothing against Kaepernick, who is a unique talent in his own right, but there aren't many young quarterbacks in the league worth choosing over Wilson.
Weinfuss: Russell Wilson would be my pick, mainly because of his poise and maturity behind center. Colin Kaepernick is undoubtedly talented, but I get the sense he still has a lot of growing to do as a quarterback. He's tough to bring down, especially in the open field, but when he's pressured in the pocket, Kaepernick seems to panic and I wouldn't want that in a quarterback. I also think Wilson, despite his physical stature, is built to last. He's heady enough to stay out of harm's way, and his poise in the huddle will go a long way in leading a team.
Williamson: I'd take Kaepernick. I know it's a tough sell right now, since Wilson's team has beaten Kaepernick and the 49ers three of the past four times they've met, including the NFC title game, and the fact that Wilson has won a Super Bowl. I respect the value of Super Bowl wins and believe quarterback is the most critical position in sports. I'm sure I will smell like a homer with the Kaepernick pick. But moving forward, I just think Kaepernick has a higher ceiling. I think he can take over games more than Wilson can at a higher rate. Players built like Kaepernick and as athletic as Kaepernick just don't exist. He is special. He works extremely hard at his craft and is well coached. I'd take him, and I wouldn't look back. This isn't a knock on Wilson. He is proven and is going to be great. But if I'm starting a team, I'm taking Kaepernick, and I bet more general managers would agree than would disagree.
@BWilliamsonESPN Wilson. Controls the game & makes all the plays. Kaeps athletic advantage will fade overtime as Wilson's mental edge grows.

- HTB (@HoldenTyler) March 25, 2014
August, 5, 2009
8/05/09
8:45
AM ET
Posted by ESPN.com's Mike Sando

Jim Thomas of the St. Louis Post-Dispatch says Rams players aren't complaining about physical morning practices in pads. Also, rookie first-round choice Jason Smith worked at left tackle for the first time since camp opened, albeit with the second and third teams.
Also from Thomas: a chat transcript in which he defends Chris Draft as a "good, solid performer" among Rams linebackers. Also, former 49ers linebacker Larry Grant is enjoying a strong camp in St. Louis. If rookie James Laurinaitis supplants Draft at middle linebacker, Grant could challenge Draft for the starting job on the strong side, Thomas suggests.
Bill Coats of the St. Louis Post-Dispatch says Rams 2006 first-round choice Tye Hill is healthy and making a run at realizing his potential as a cornerback. Hill was the first of four cornerbacks drafted in 2006. Seattle's Kelly Jennings was fourth.
Lindsey Willhite of the Daily Herald says former Rams linebacker Pisa Tinoisamoa is learning the Bears' defense. Defensive coordinator Bob Babich: "He's a playmaker. He's just a playmaker. It's great to have him around. He has a great personality and he's brought a lot to the [linebackers] room."

Dan Brown of the San Jose Mercury News says 49ers cornerback Dre Bly hardly enjoyed his final season with the Broncos. Bly: "It was miserable. It wasn't good at all. Defensively, we were awful. The d-coordinator [Bob Slowik], not to blame anything on him, but we didn't really have the personnel for what he was trying to run. We were too soft in coverage. And when you have two corners like me and Champ [Bailey], you can't be soft in coverage."
Matt Maiocco of the Santa Rosa Press-Democrat says 49ers tight end Bear Pascoe welcomes feedback, even the harsh variety, from tight ends coach Pete Hoener. Unfortunately, Hoener was not allowed to provide feedback about Pascoe for this story, per club policy.
Also from Maiocco: Linebacker Ahmad Brooks is getting a chance to make an impact. Coach Mike Singletary: "We feel he is a guy who is going to continue to grow and make plays. He is out there all over the place making plays. So it is very exciting."
More from Maiocco: Veteran receiver Isaac Bruce pays close attention to position coach Jerry Sullivan.
Taylor Price of 49ers.com says 49ers defensive coordinator Greg Manusky isn't worried about the offense's ability to complete passes in practice.
Also from Price: checking in with 49ers cornerback Terrail Lambert.
John Crumpacker of the San Francisco Chronicle sizes up the 49ers' receivers minus Michael Crabtree. Crumpacker: "Unrestricted free agent Brandon Jones has excelled in the early days of camp, Josh Morgan is looking more and more like a No. 1 receiver, old man Isaac Bruce still has gas left in the tank, Dominique Zeigler and Jason Hill have both had their moments and Arnaz Battle has a talent for sticking around. That's six capable receivers right there. Crabtree makes seven. When the roster of 53 is set Sept. 5, one or two good receivers will be out of work." The most likely scenario, in my view: Keep six receivers, with Zeigler as the odd man out.
Ray Ratto of the San Francisco Chronicle thinks the 49ers should pay Crabtree the same money seventh overall choice Darrius Heyward-Bey received, just to get Crabtree into camp. Would that work within the rookie pool? I haven't seen the contract to know.

Danny O'Neil of the Seattle Times says Seahawks backup safety C.J. Wallace keeps popping people in practice. Meanwhile, defensive tackle Craig Terrill confirms that he wasn't stuck in a block of ice.
Also from O'Neil: Seahawks defensive tackle Brandon Mebane is happy to have slimmed down, though he misses the Triple Stack burger from Wendy's. I once ate three Big Macs in about five minutes. Would not recommend it.
Eric D. Williams of the Tacoma News Tribune says the Seahawks' defense appears to be grasping coordinator Gus Bradley's scheme against the run. Also, left guard Rob Sims continued his strong play, while defensive lineman Cory Redding stepped up.
John Boyle of the Everett Herald praises Seahawks linebacker Lofa Tatupu for holding an extended autograph session after practice.
Doug Farrar of Scout.com checks in with Tom Marino for a scouting report on new Seahawks cornerback Travis Fisher. The review is generally favorable.

Kent Somers of the Arizona Republic says Cardinals tight end Ben Patrick appreciates his teammates' support after incurring a four-game NFL suspension. Patrick: "It was huge, because that was one of my main concerns, that my teammates would look at me differently. It took a long time for me to even come back around the guys. During a team meeting I had a talk with all the guys, and they told me they had my back."
Also from Somers: Calais Campbell's development is critical as the Cardinals replace former defensive end Antonio Smith. Somers:
"Successful NFL franchises, such as the Steelers, have allowed good players to leave via free agency, counting upon younger, cheaper players to replace them. Campbell's performance this year is a small test of the Cardinals' acumen in personnel decisions."
Revenge of the Birds' Hawkwind sizes up the Cardinals' candidates in the return game. Becoming more prominent as a receiver seemed to negatively affect Steve Breaston in the return game last season.
May, 28, 2009
5/28/09
8:20
AM ET
Posted by ESPN.com's Mike Sando

Sportsradiointerviews.com provides highlights from Cardinals quarterback Matt Leinart's recent interview with XTRA Sports 910 in Phoenix. Leinart: "Well, obviously it's been a tough couple of years ... and I really learned a lot last year and I've kind of developed a mindset where I'm aware of what I need to do to get better, to be a player, to be a good quarterback for this football team. And I've put in a ton of extra work this offseason. Obviously the offseason's not over yet, but just in the film room, working out, working on my footwork, just working on the little things that are going to help me. And I truly believe that I'm ready to play, it's just a matter of when that opportunity comes." Audio here.
Bob Young of the Arizona Republic says Cardinals receiver Anquan Boldin remained a no-show for voluntary workouts despite news that he had changed agents. Coach Ken Whisenhunt: "I know from our perspective ... nothing has changed. We're a much better football team with Anquan than we are without him, and we have a high regard for him. So nothing has changed from that perspective."
Azcardinals.com shows center Lyle Sendlein successfully fielding a punt in practice to bail out offensive teammates from extra running. More here.
Marla Ridenhour of the Akron Beacon Journal checks in with former Cardinals cornerback Rod Hood, now with the Browns. Hood: "Coach [Eric] Mangini told me his vision and we had a lot of things in common. It just felt like a good fit for me."

Brad Biggs of the Chicago Sun-Times says former Rams linebacker Pisa Tinoisamoa will likely sign with the Bears or Bills. Biggs: "The Bears would seem to have an edge simply because Tinoisamoa played for Lovie Smith and Bob Babich as a rookie for the Rams in 2003. Tinoisamoa seemed at ease visiting with coaches and players alike during the OTA at Halas Hall last Wednesday. If the Bears can sign him in the next few days, he will be available to participate in 12 of the 14 OTA's, which would give him a good crash course on the defense in advance of training camp."
Bill Coats of the St. Louis Post-Dispatch looks at the Rams' reconfigured offensive line. The team expects Jason Smith to start at right tackle even though he has worked with the backups to this point in practice. Guard Richie Incognito: "Right now, we're just running through things in jerseys and helmets, and we're concentrating on getting the scheme down. I'm thinking some time in training camp, when we get the pads on and we get the lineup set ... you roll into those first preseason games and things start really coming together and you start jelling. But it's going to take some time."

Matt Barrows of the Sacramento Bee says backup 49ers safety Mark Roman is close to returning from injury.
Taylor Price of 49ers.com says 49ers receiver Dominique Zeigler hopes to build on a strong finish to the 2008 season. Price: "The 6-foot-3, 185-pound wideout has excellent hands and has been known for making highlight reel catches during his season and a half stint as a member of the 49ers practice squad. Zeigler was so impressive in practice that he was called up to active duty at the midway point of last season."
Also from 49ers.com: The YMCA of San Francisco is honoring team owners John and Denise York for their humanitarian efforts.

Greg Johns of seattlepi.com says Seahawks rookie Nick Reed finds motivation in suggestions he's too small to play defensive end in the NFL. Defensive line coach Dan Quinn: "Every game film you put on in college you say, 'There it is again.' He has that relentless attitude you're looking for. So I'm anxious to see if he can transfer the things he does innately well and we can add some more things to what he does."
John Morgan of Field Gulls says the Seahawks' Marcus Trufant was pretty much the same player in 2008 as he was in 2007, only facing less favorable situations. That's what I saw.