March, 31, 2011
3/31/11
12:00
PM ET
»
NFC Draft Watch
:
East
|
West
|
North
|
South
»
AFC
:
East
|
West
|
North
|
South
Each Thursday leading up to the NFL draft (April 28-30), the ESPN.com NFL blog network will take a division-by-division look at key aspects of the draft. Today's topic: decision-makers.

Arizona Cardinals
The Cardinals' leadership team remains basically unchanged for a fifth consecutive offseason.
Coach Ken Whisenhunt is the face of the organization, even during the draft, in part because general manager Rod Graves keeps a low profile. Both earned contract extensions last offseason. Whisenhunt was coming off back-to-back division titles and had been to a Super Bowl at that point, so his profile within the organization was growing. One losing season hasn't changed that.
Whisenhunt, Graves, team president Michael Bidwill and player personnel director Steve Keim are the primary decision-makers. Whisenhunt appears most prominent among them.

San Francisco 49ers
The 49ers pulled a surprise of sorts when they named Trent Baalke general manager and made him the No. 1 personnel decision-maker in the building.
The feeling previously had been that the 49ers might have to hand over personnel power to their next head coach if they were serious about landing Jim Harbaugh or another top candidate. That did not happen. Baalke, whose profile became more prominent following Scot McCloughan's departure from the organization one year ago, will make the call during the draft.
The rapport between Baalke and Harbaugh appears much stronger, by all accounts, than the relationship between Baalke and former coach Mike Singletary. That is natural because Baalke played a leading role in hiring Harbaugh; he wasn't part of the process when the team promoted Singletary.

Seattle Seahawks
Coach Pete Carroll has the final say on personnel matters. It's in his contract, but not something he flaunts. Carroll played a role in hiring John Schneider as general manager last offseason. Their personalities mesh and the two worked together well in making multiple draft-day moves in 2010.
This is the Seahawks' most comfortable front-office arrangement in recent memory, largely because Carroll and Schneider were brought in together. Each is invested in the other to a degree that did not exist when Mike Holmgren was working with Bob Whitsitt, Bob Ferguson and Tim Ruskell over the years.
The Seahawks' decision-making process has more clarity heading into this draft now that Alex Gibbs has retired as offensive line coach. Gibbs' strong preference for a very specific type of offensive lineman affected how the team approached personnel decisions, especially at guard. His retirement has freed the team to more comfortably pursue the bigger guards its personnel department preferred.

St. Louis Rams
The Rams have new ownership with Stan Kroenke purchasing a majority stake, but the day-to-day decision-makers remain in place for a third consecutive offseason.
General manager Billy Devaney takes the lead in personnel matters with input from coach Steve Spagnuolo and executive vice president/chief operating officer Kevin Demoff.
Kroenke hasn't said whether the team will eventually hire a president. It doesn't matter heading into this draft.
The organization is coming off a transforming 2010 draft in which it landed quarterback
Sam Bradford
and left tackle
Rodger Saffold
with its first two choices. Two other recent high picks,
Chris Long
and
James Laurinaitis
, are also working out well.
That has to work in Devaney's favor as Kroenke assesses where the organization stands.
March, 30, 2011
3/30/11
6:32
PM ET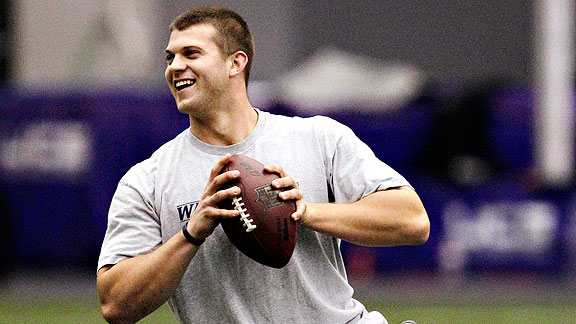 AP Photo/Elaine ThompsonWashington quarterback Jake Locker didn't appear to do anything to hurt his draft status at his pro day on Wednesday.
SEATTLE -- The guest list for
Jake Locker
's pro day at the University of Washington offered up a few surprises.
Former
Seattle Seahawks
running back
Shaun Alexander
, in town on business, dropped by the Dempsey Indoor facility. Former NFL officiating czar Mike Pereira, in town for a meeting related to his role as interim head of Pac-10 officials, also attended.
Former Washington quarterbacks Warren Moon, Damon Huard, Brock Huard (working for ESPN), Hugh Millen, Cary Conklin and Sonny Sixkiller were there.
The quarterback-needy
Tennessee Titans
sent a large contingent featuring vice president of player personnel Ruston Webster, offensive coordinator Chris Palmer and pro scouting director Lake Dawson. Keith Gilbertson (
Cleveland Browns
), Randy Mueller (
San Diego Chargers
), Bob Ferguson (
Indianapolis Colts
) and Mike Sheppard (
Jacksonville Jaguars
) were among the former Seahawks staffers in attendance.
The Seahawks' current decision-makers and most of their coaches drove over from team headquarters, no surprise given the proximity and coach Pete Carroll's ties to Huskies coach Steve Sarkisian, his former USC assistant.
But if the Seahawks' division rivals have any interest in Locker, they hid that interest quite well. The
Arizona Cardinals
and
San Francisco 49ers
did not send representatives, to my knowledge. They certainly did not have any high-profile staffers in attendance. That comes as a bit of a surprise given their obvious needs at quarterback and Locker's potential availability early in the second round, if he slips outside the first.
"I never read anything into which teams attend pro days," Locker's agent, David Dunn, said on the field following the workout. "I've had too many players selected by teams that weren't at pro days or didn't even visit with players."
Fair enough, but teams generally pay closer attention to quarterbacks. The 49ers sent Jim Harbaugh to
Blaine Gabbert
's pro day at Missouri. Cardinals coach Ken Whisenhunt ran Auburn's
Cam Newton
through various throws at a recent workout.
"With quarterbacks, you want to be able to touch and feel and see how they are as people as well as athletes and players," Dunn said.
Locker was not the only Washington prospect performing for scouts, but he was the main draw. He did nothing obvious to damage his draft stock during the workout. He completed all but a couple of passes while showing fluidity in his drops and a short delivery, according to scouts who agreed to speak in general terms and not for attribution.
"I've never nitpicked a guy like I've nitpicked Locker," one of them said. "The guy is a winner, and at the end of the day that has to count for something."
Locker has been working with former NFL quarterback Ken O'Brien to bring his hand over the top more quickly when delivering the ball.
The controlled environment was set up to make him look good. No NFL coaches or personnel people asked Locker to perform unscripted throws. They watched Locker zip the ball with ample velocity and accuracy most of the time, save for a couple high throws that his overworked wide receiver, D'Andre Goodwin, snatched away from his body.
"I'm focusing on the fluidity of the drop, getting my feet in the right spot and just bringing the hand over the top as quickly as I could, rather than dragging my hand," Locker said afterward. "I have a tendency to do that sometimes. I want to bring my hand over the top and really point that finger at my target. I have been spinning the ball a lot better and it's been coming off my hand a lot better."
Locker's relatively low completion percentage at Washington and his inexperience running a pro-style offense have raised questions about his readiness for the NFL. Can he read defenses? Can he throw accurately and on time from the pocket? To what degree did a weak offensive line and receiving corps hamstring him in college?
I've heard differing opinions from scouts as to how well Locker would fit with the NFC West teams that need quarterbacks (Seattle, Arizona and San Francisco).
"A lot of people seem to have him pinpointed to Seattle at No. 25, but I don't think that makes any sense at all," Matt Williamson of Scouts Inc. said. "It works for people who do not know the X's and O's of it all. At 25, he has some value. He went to school in that area. It is easy to say that is a good fit, but I think Seattle is going more and more to a pure West Coast offense, and Locker doesn't fit the West Coast offense at all."
The Cardinals pick fifth and the 49ers pick seventh, earlier than Locker is expected to come off the board. Seattle is one of the few quarterback-needy teams picking later in the first round, when Locker figures to become a more likely selection.
"Jake seems to be an acquired taste," Dunn said. "The more you watch him on film, the more that you are around him, the more you like him."
How well Locker would fit with the Seahawks could hinge on the degree to which Williamson is right in his assessment of how Seattle's offense will evolve.
New coordinator Darrell Bevell comes from the Andy Reid/Mike Holmgren branch of the West Coast offense, a branch that relies more heavily on short, precise passes. Before Bevell replaced Jeremy Bates, the Seahawks had been running Mike Shanahan's version of the West Coast system featuring more quarterback movement, hard play-action fakes and deeper throws requiring greater arm strength.
Carroll, who attended the workout Wednesday, has said the Seahawks do not plan to significantly diverge from the system they ran last season. But it's plausible to think that Bevell's background could steer them away to some degree.
"You do have to be a precise passer in a Bill Walsh, traditional West Coast offense," Rob Rang, senior analyst for NFL Draft Scout, said from the Dempsey Indoor facility. "But I like any offense that is going to use Jake Locker's mobility as an asset rather than just keeping him pinned in that pocket. If you can use his legs as a weapon, that is where he has been his most accurate. He made significant improvements in his accuracy from the so-called pocket in this workout, but at the same time, his strength remains throwing on the move."
Rang said he would draft Locker in the first round as long as the team in question has a veteran starter in place.
I stood next to Moon, the retired Hall of Famer, throughout the workout. Moon said he sees the NFL game evolving to favor quarterbacks with mobility. Life for traditional pocket passers is getting tougher, in his view. Locker's athleticism and scrambling ability separate him from most prospects. He has run the 40-yard dash in 4.52 seconds, a time that holds up against those posted by some wide receivers. But quarterbacks must also succeed as pocket passers to make it in the NFL.
"Locker is pretty accurate outside the pocket," Williamson said, "but as far as going 1-2-3 and getting it out, having good footwork, hitting a guy in stride, he is terrible. I don't see that fit at all. I do not think he is going to be the precise passer Harbaugh is looking for, either. I can see someone like Arizona being really interested in him in Round 2. They might like a more 'toolsy' guy, like a
Ben Roethlisberger
."
Williamson sees Locker appealing to a coach such as Shanahan, who might see Locker as a cross between
Jay Cutler
and
Jake Plummer
, two quarterbacks Shanahan coached in Denver. That's the type of quarterback Seattle was seeking when Jeremy Bates was coordinating their offense. It's the type of quarterback the Seahawks might still value if Bevell installs the type of system Carroll has favored previously.
"I don't know in the NFL right now if people run different offenses," Sarkisian said. "It's so much of a copycat league and everybody runs so many things that are similar that it's hard to say that New England is different than Pittsburgh that is different than Seattle that is different from the Chargers. They all have their focal points, but at the end of the day, there are a lot of similarities. Things will be tailored for him [Locker], like they are for every quarterback, but I just think he fits in as an NFL quarterback."
December, 19, 2009
12/19/09
3:57
PM ET
Kevin from San Diego writes:
Question on Mike Holmgren. You've heard the "Coach Killer" references about players that seem to go through coaches during their careers, i.e. Mike Vick in Atlanta. Would you consider Holmgren a "GM Killer?" Here's my take. Holmgren, during his tenure in Seattle, has gone through Bob Whitsitt, Bob Ferguson, Tim Ruskell and you could even say Holmgren the GM. Is it fair to put that label on coaches that go through general managers like he has during his time with the Seahawks?
Mike Sando:
It takes a good coach to outlast multiple general managers and team presidents. Holmgren is definitely a good coach. That has allowed him to outlast some of those guys (although Ruskell remained in Seattle after Holmgren departed).
Like every coach, Holmgren wants things done his way. Unlike every coach, Holmgren has the "juice" (one of his terms) to get things done his way. He felt as though the Seattle job turned out different than advertised in that Whitsitt had more power than he had anticipated. I remember a Holmgren confidant telling me years ago that Whitsitt reminded Holmgren early on that Whitsitt, not Holmgren, was the one in charge. I've spoken with Whitsitt enough over the years to know his side of the story is different. He saw himself as supportive to Holmgren and rooting for Holmgren the whole time.
The bottom line is the same. Holmgren wants a direct line to ownership and full control over personnel. That is one thing the Browns can apparently offer him, and the main appeal of that job from Holmgren's perspective. Seattle would still be Holmgren's top choice, but the ownership situation there is different. As much as Holmgren likes Paul Allen, no one has a direct line to the Seahawks' owner.
---
Justin from Phoenix writes:
Mike, I appreciate what the Cardinals have done under Ken Whisenhunt on one hand, but on the other it is so frustrating that they have mental breakdowns like in the Niner game. Is there anything you have seen or can pinpoint as to why the Cardinals are not more consistent?
Mike Sando:
I do not know the answer to that question. They have at times relied a little heavily on the pass, and that can lead to inconsistent results against certain teams. That would be one potential factor. If you look at their bad defeats, turnovers will be the root of the problem most of the time. Turnovers can result from lack of focus, which can result from immaturity. Turnovers can also result from a bad matchup. I just do not know for sure. I also do not know whether the Cardinals are unusually inconsistent. The 49ers won by 35 one week and lost by 35 the next. The Seahawks won by 41 one week and lost by 24 the next. It's the nature of the game sometimes.
---
Jose writes via Facebook:
Ram fans everywhere rejoice! Let's hope that we get at least a serviceable replacement for
Richie Incognito
that will not cost yards every game and that either
Alex Barron
takes a lesson from this or that he is released. The Rams stink, but I like that they are not standing pat and letting the organization get dragged down by players with character issues.
Mike Sando:
Barron is in the final season of his contract and almost certainly will not be back. I was watching Rams-Titans again Friday night (hey, it's my job) and noticing how many offensive breakdowns traced directly to Barron getting beat in one-on-one matchups. There is no question in my mind the Rams messed up by playing
Jason Smith
on the right side for so long. They would not have been worse this season with Smith at left tackle and
Adam Goldberg
at right tackle.
The way things turned out, Barron played the left side all season, for no good reason. He was not good over there and Smith did not get a chance to develop at left tackle. You're right, though. At least Incognito won't be costing the team 15 yards when they cannot afford such setbacks.
---
Jon from New York writes:
These days it seems that you need an elite quarterback to be a serious contender in the NFL. Does
Alex Smith
have the potential to become that kind of QB in the future, or do you think he is more likely to doom the 49ers to years of being average (or even above average)? I worry about him becoming just good enough to keep the 49ers in the NFC West and Wild Card hunt (and therefore keep his job), but not being able to take the 49ers to the next level.
Mike Sando:
John Clayton and I were just having this conversation (regarding the need for elite quarterbacks in general, not the 49ers' situation in particular). It's just so clear that this is an offensive league. John asked me to quickly name which team has the best defense in the league. It's not clear cut. But when you look at the teams with great records, you're generally looking at teams with great or near-great or at least Pro Bowl-caliber quarterbacks.
The 49ers do not have the luxury of holding out for a great quarterback. They need to find out how good Smith can become. Perhaps he can develop into a quarterback good enough to make a playoff appearance. That would mark an improvement.
December, 18, 2009
12/18/09
9:30
AM ET

Steve Kelley of the Seattle Times
says the Seahawks are about to fall over a cliff and only Mike Holmgren can save them. Kelley: "There are, however, people close to owner Paul Allen who are reluctant to bring him back. There are people -- just a few people -- who had skirmishes with Holmgren in his previous incarnation as president and coach. There are people in the organization who, wrongly, believe Holmgren has campaigned for this job and are offended by that perceived behavior. The Seahawks are about to jump off the rails. This has the feel of a franchise gone crazy. On the field and off, it is beginning to look like a team that has no focus and no discipline. It's a franchise that, ironically, is looking more and more like Cleveland's every weekend." The process will tell Holmgren what Allen thinks about his skills as a general manager and the Seahawks' current structure. If Allen wanted Holmgren back as GM, the Seahawks presumably would be moving to make it happen regardless of what anyone else thought.
Danny O'Neil of the Seattle Times
says the door has not entirely shut on Holmgren.
Mike Lombardi of National Football Post
explains the Seahawks' search for a general manager this way: "Why no Holmgren in Seattle? On the surface, it's a very interesting question, but deep down, the Seahawks worried about Holmgren's ability as a general manager, which initially prompted their hiring of Bob Ferguson and then Tim Ruskell. Clearly, the Seahawks love Holmgren's talents as a coach, but they don't hold the same appreciation for his ability to run an organization." Lombardi says the Seahawks need a leader without a predetermined view of the team.
Clare Farnsworth of seahawks.com
checks in with Aaron Curry, who was back at practice four days after being carted off the field with a hip pointer. Curry was face down for more than a minute before medical personnel rolled him over slowly. Cameras showed teammates Josh Wilson, Jordan Babineaux and Cory Redding kneeling in reflection nearby. The cart drove onto the field after Curry had been down for more than 2 minutes. Nearly another minute passed before medical personnel lifted Curry onto the cart. Curry: "I thought it was going to be much worse. A lot of guys said the way I was hollering that [they] thought my career was over."
Also from Farnsworth
: Sacks are down for Patrick Kerney and the Seahawks.
Matt Pitman of 710ESPN Seattle
passes along T.J. Houshmandzadeh's thoughts on the late Chris Henry.
Aaron Wilson of National Football Post
says Seahawks interim GM Ruston Webster is interviewing for the full-time job.

Kent Somers of the Arizona Republic
says fumbling early in games has been a problem for the Cardinals. Somers: "Four of Tim Hightower's five fumbles have come in the first quarter. His four lost fumbles have come no later than the 14:13 mark in the second quarter. Hightower, in his second season, has looked long and hard to find the reasons for his turnovers. He's trying to walk the fine line of correcting the problem while not dwelling upon on it so much that it erodes his instincts."
Also from Somers
: Larry Fitzgerald is practicing without complications from his recent knee injury.
More from Somers
: details on kicker Neil Rackers' gruesome injury, including the observation that "it looks like Rackers has a map of Italy on his right leg."
Bob McManaman of the Arizona Republic
says Cardinals rookie safety Rashad Johnson sounds confident in his abilities. Johnson: "As a rookie, sometimes it's hard to come in and start and play like you did in college. But this is an opportunity for me to show the coaching staff just what they got in a third-round pick and I think I'm going to play a really good game on Sunday."
Darren Urban of azcardinals.com
says Johnson represents a fallback option if the Cardinals cannot resolve a sticky contract situation involving starting free safety Antrel Rolle.
Also from Urban
: Fitzgerald shares his thoughts on fumbling. The Pro Bowl wideout has lost only three fumbles during his career, all during a four-game period in 2007.

Jim Thomas of the St. Louis Post-Dispatch
says the Rams did not seek a 24-hour blackout extension from the league. Their game against the Texans will mark the second blacked out home game in a row.
Also from Thomas
: the latest on the Rams' battles with swine flu. Center Jason Brown apparently played through the malady in Week 14. Agent Harold Lewis: "You know Jason. He plans on playing Sunday unless the Center for Disease Control stops him."
Bryan Burwell of the St. Louis Post-Dispatch
says the Rams' mounting losses aren't a bad thing in the big picture, particularly this year. Burwell: "Sometimes you get star-crossed when you are a bad team, and that is what has happened to the Rams the last few years. They get just bad enough to be near the top of the draft, but then they get stuck with having to draft a player with the second overall pick who isn't really a drop-dead, game-changing automatic stud. This year, they are in the running to get one of those once-in-a-generation players whom NFL scouts and coaches drool about." That would be Ndamukong Suh.

Matt Barrows of the Sacramento Bee
wonders how inclement weather might affect the 49ers-Eagles game Sunday.
Also from Barrows
: 49ers offensive coordinator Jimmy Raye thinks Alex Smith will finish strong and become the team's quarterback for 2010. Barring injury or total collapse, it's difficult to envision the 49ers proceeding with anyone else under center (or in the shotgun, as it may be). It's also difficult to envision an offensive coordinator expressing anything but support for a quarterback in Smith's situation.
Matt Maiocco of the Santa Rosa Press-Democrat
says Smith's cadence has contributed to 17 offsides penalties for 49ers opponents, including 13 in home games.
Also from Maiocco
: Free safety Dashon Goldson enjoyed a breakout performance against the Cardinals on Monday night, showing excellent range and playmaking ability. Maiocco: "While the season has not always been perfect, Goldson is playing much better in recent weeks. He clearly enjoyed the best game of his career Monday in the 49ers' 24-9 victory over the Cardinals. Goldson is second on the 49ers with 100 tackles this season. He has three interceptions, three forced fumbles, a fumble recovery and a sack. And the 49ers feel good about his ability to effect change during the course of a game."
Daniel Brown of the San Jose Mercury News
assesses Ahmad Brooks' improvement as a 49ers pass-rusher.
Also from Brown
: Shawntae Spencer wins the 49ers' courage award after bouncing back from a devastating knee injury.
November, 18, 2009
11/18/09
8:41
AM ET

Danny O'Neil of the Seattle Times
revisits Steve Hutchinson's departure from the Seahawks. O'Neil: "Tim Ruskell's future as Seattle's president is being weighed as he enters the final months of his contract with the Seahawks, and he will come eye-to-eye once again with the biggest mistake in his tenure when the Seahawks play at Hutchinson's Vikings on Sunday. Ruskell was not made available for comment on this story."
Steve Kelley of the Seattle Times
says Ruskell will "almost certainly" get a two-year extension "because he drafted well in April and because he needs more than one year with (Jim) Mora." There's no question the team needs to stand behind Mora longer than one season. Replacing the GM would conceivably complicate things for Mora. "Almost certainly" is pretty strong wording with seven games remaining. I do expect the Seahawks' offense to gain momentum as the season progresses. Ruskell was hired largely to remake the defense. He has done that. Independent of any decision on Ruskell's future, the Seahawks need to see more from their defense down the stretch. Significant improvement on that side of the ball would make everyone -- well, not everyone, but more people -- feel better about moving forward with the current arrangement.
Clare Farnsworth of seahawks.com
says the team is in search of a pass rush.
Also from Farnsworth
: Justin Forsett and Louis Rankin will be getting the carries while Julius Jones sits out.
Tony Grossi of the Cleveland Plain Dealer
suggests former Seahawks coach Mike Holmgren might have met with Browns ownership Tuesday. The story also suggests Holmgren lost his personnel power when Ruskell arrived for the 2005 season. That happened after the 2002 season. Bob Ferguson served as GM before Ruskell arrived. Holmgren held those powers for the 1999 through 2002 seasons.
Eric D. Williams of the Tacoma News Tribune
says Forsett and Rankin livened up the Seattle ground game against Arizona.
John Morgan of Field Gulls
says the Seahawks' Brandon Mebane is excellent off the snap before struggling to separate from blockers consistently.
Also from Morgan
: He thinks Mebane might be better playing in Colin Cole's spot on the nose.

Kent Somers of the Arizona Republic
says Cardinals coach Ken Whisenhunt spends Friday afternoons going through his offensive plan. Somers: "Two weeks ago, he was driving home from the office late and thought of a run-pass check that would work against the Bears. So he wouldn't forget, Whisenhunt immediately called passing-game coordinator Mike Miller. Whisenhunt declined to detail the scheme because the Cardinals might use it again, but it proved to be effective, he said."
Darren Urban of azcardinals.com
says the NFL's decision to move back the Cardinals' kickoff against the Titans shows how far the team has come. Urban: "The Cardinals' game this weekend against St. Louis is a late afternoon start – rather than the early start it's been for years – because Fox needed for a game in that spot, and the Super Bowl runner-up Cards were attractive (and the side story of Kurt Warner returning to St. Louis doesn't hurt). But that was decided before the season. Word came down Tuesday the Cardinals' game the following week in Tennessee will also be shifted from an early (11 a.m. Arizona time) kickoff to later (2:15 p.m. Arizona time) to work with TV issues. It doesn't mean the Cards-Titans game will suddenly be beamed everywhere, but there were a couple of other games Fox could have turned to for a later start but decided the Cards were worthy."

Jim Thomas of the St. Louis Post-Dispatch
says during a chat he cannot understand why the Rams keep only four wide receivers active on game days. I think it's because the team runs so few three-receiver personnel groups. The Rams pound the ball with fullback Mike Karney or a second tight end. In short, they do not have three receivers good enough to command playing time together regularly. Thomas: "It's mind-boggling to me. When it comes down to it, I think Spags wants that extra body for special teams. (And not many wide receivers do much on special teams unless they're returners.) But the Rams have been caught with only three receivers to finish a game on several occasions this season."
Also from Thomas
: A local television blackout could loom in St. Louis even though Kurt Warner is returning to town. Thomas: "Last week, with half as many tickets to move, the Rams needed an extension of the Thursday blackout deadline and a promotion in which members of the military were given free tickets for every ticket sold during the week to meet sellout requirements and get the game televised on local TV."
More from Thomas
: Rookie receiver Brandon Gibson is catching on quickly.

Matt Barrows of the Sacramento Bee
says Josh Morgan has supplanted Isaac Bruce in the 49ers' starting lineup. I guess I'd forgotten that hadn't happened already. The 49ers have been phasing out Bruce for a while. I'm not sure they would have brought him back if the team had known it would draft Michael Crabtree in the first round. Coach Mike Singletary: "I talked to Josh Morgan the other day and just let him know that I liked what he's doing. I like the progression. I just want to see it faster. I want to see, when Josh Morgan and Michael Crabtree line up, [the defense] has issues on both sides. It's not, 'We'll take away one, and deal with the lesser.' "
Matt Maiocco of the Santa Rosa Press-Democrat
says the 49ers are very pleased with what Barry Sims has provided at left tackle. They should be. He has held up well to this point.
Also from Maiocco
: Bruce says he knew he was "holding a spot" for Morgan.
Daniel Brown of the San Jose Mercury News
quotes Alex Smith this way on the Aaron Rodgers comparisons: "I understand that we will forever be connected because of that. But I don't at all feel like I am competing with him in that sense. I am competing with him to win the game on Sunday."
John Crumpacker of the San Francisco Chronicle
says two of the three interceptions Smith threw against the Titans were intended for Morgan.
Also from Crumpacker
: Matt Wilhelm has shown enough to start at linebacker for the 49ers if Takeo Spikes cannot play.
October, 7, 2009
10/07/09
10:57
AM ET

Posted by ESPN.com's Mike Sando

Kent Somers of the Arizona Republic
says the Cardinals could suffer their first local television blackout since University of Phoenix Stadium opened for the 2006 season. Somers: "About 1,500 seats for Sunday's game were unsold as of Tuesday morning. The deadline to avoid a blackout is at 1:15 p.m. Thursday, unless the NFL grants a 24-hour extension, as it did for the Cardinals' season opener against the 49ers. Selling tickets for the Texans game has been problematic since the schedule was released in the spring. The Texans haven't had a winning season since entering the league in 2002, so they don't generate much interest."
Also from Somers
: Ken Whisenhunt isn't the only person taking some criticism over play calling. Former Cardinals offensive coordinator Todd Haley has heard some boos as well.
Darren Urban of azcardinals.com
says the team's slow start has bothered a few established veterans in particular, notably Adrian Wilson and Anquan Boldin.

Greg Johns of seattlepi.com
links to items from
Peter King
and
Charles McGrath
detailing how the Seahawks once tried to lure Pat Tillman out of the military and into a Seattle uniform. Former Seahawks general manager Bob Ferguson confirmed the attempts. Johns: "Ultimately, Tillman told Ferguson and his agent that he'd stay in the Army through his full term in 2005 and pursue a return to the league after that. He'd turned down a three-year, $3.6 million offer from the Cardinals when he originally enlisted. Tillman wound up being killed on April 22, 2004 while on patrol with the Army Rangers near the border of Pakistan."
Also from Johns
: The Seahawks are feeling a sense of urgency after three consecutive defeats.
Danny O'Neil of the Seattle Times
says the Seahawks will not mix up the personnel at quarterback this season unless injuries intervene.

Bryan Burwell of the St. Louis Post-Dispatch
says the Rams would be worse for having Rush Limbaugh among their ownership group. Burwell: "I wonder how Roger Goodell, the no-nonsense NFL commissioner whose primary personal directive is to 'protect the (NFL) shield,' will cope with an owner as potentially combustible as Limbaugh. If Goodell has issues with the embarrassing antics of some of his players, what will he do when Limbaugh inevitably crosses the line of good conduct?"
Jim Thomas of the St. Louis Post-Dispatch
says there could be as many as six potential ownership groups for the Rams. "Interest now seems strong enough that earlier estimates that the team would sell based on an overall franchise value of $700 million to $750 million probably are low. League sources say Rosenbloom simply won't sell if he doesn't like the deal or is uncomfortable with the ownership group." The more potential owners, the better the situation becomes for the Rams. But until we have names, it's tough to know whether any of the other potential groups is serious. The Rams certainly want potential owners to think there's competition.
Also from Thomas
: It's tough to forecast a Rams victory before the bye, or even after.
More from Thomas
: He says during a chat that the Rams should attempt to throw deep more often. A big play to Donnie Avery would indeed help. And the way Steven Jackson is running the ball, the Rams should be able to get a favorable matchup.
More still from Thomas
: The Rams added Lamar Myles and Adrian Grady to their practice squad.