September, 2, 2014
Sep 2
8:00
AM ET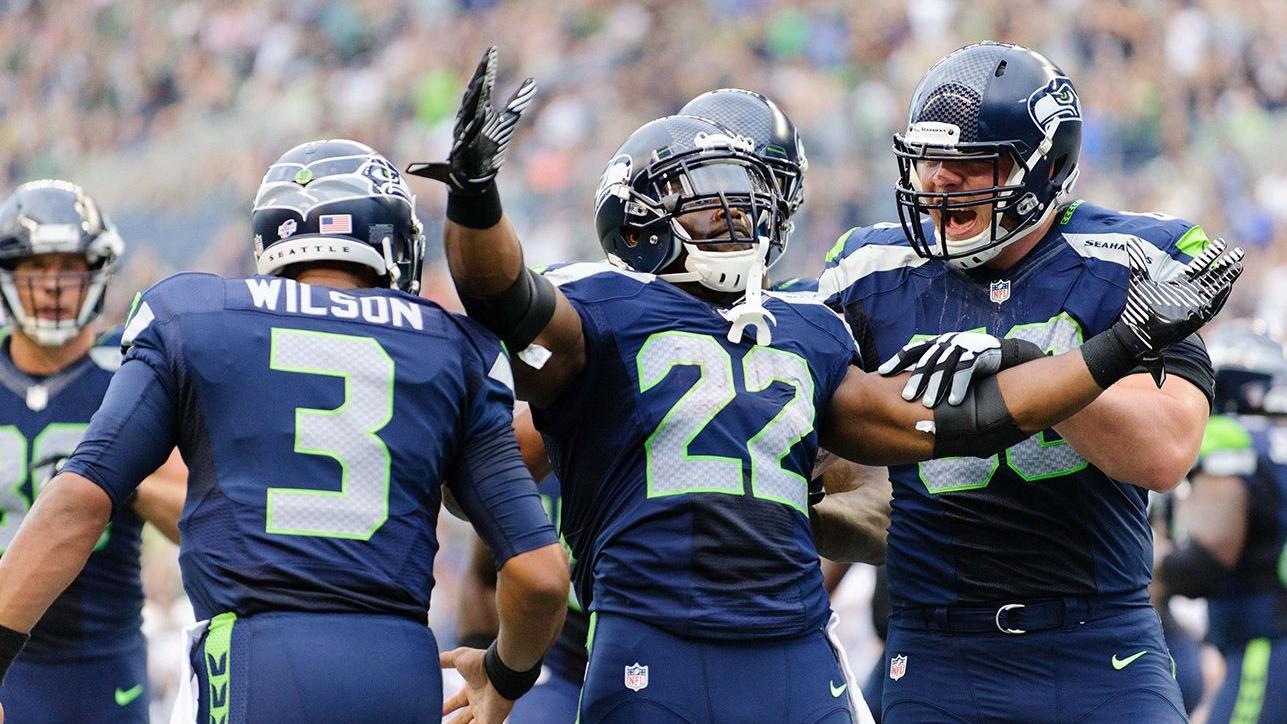 ESPN.com
Seattle Seahawks
reporter Terry Blount makes his game-by-game picks for the 2014 season.
Week 1: Green Bay Packers
All the pregame hype will center around the so-called Inaccurate Reception, the controversial Hail Mary catch by Golden Tate two years ago that won the game over the Packers at Seattle on a Monday night. Tate has moved on to Detroit, but the Seahawks now have too many weapons for the Packers to stop, no Hail Mary required. Prediction: Win
---
Week 2: at San Diego Chargers
The Chargers better hope they play a lot better than they did in the preseason game at Seattle, a 41-14 victory for the Seahawks on Aug. 15. San Diego will play better, but not good enough to beat a much better team. Prediction: Win
---
Week 3: Denver Broncos
The Broncos and their fans got a tiny bit of meaningless Super Bowl revenge in the preseason opener with a 21-16 victory over the Seahawks in Denver. Enjoy it while it lasts, boys. Repeating that outcome in Seattle is not an option. Prediction: Win
---
Week 5: at Washington Redskins
Traveling coast to coast to play on the road for a Monday night game is a tough task against any NFL opponent, and even tougher against quarterback Robert Griffin III. But the Seahawks catch a break in this one by coming off a bye week with plenty of time to prepare and be fresh for the journey. Prediction: Win
---
Week 6: Dallas Cowboys
Cowboys owner Jerry Jones gave Seattle a little bulletin-board material last month when he said the Seahawks were to blame for the increase in penalty flags during the preseason. There won't be near enough flags against Seattle for the Cowboys to win this one. Prediction: Win
---
Week 7: at St. Louis Rams
Any division game in the NFC West is a rugged battle. The Rams have a defensive line that gave the Seahawks problems a year ago. But they aren't strong enough overall to beat Seattle, even at home in their out-of-date dome. Prediction: Win
---
Week 8: at Carolina Panthers
The Seahawks were fortunate to win the season opener at Charlotte a year ago. That Panthers team was better than this one, but back-to-back road games against very physical defensive teams will end the Seattle winning streak. Prediction: Loss
---
Week 9: Oakland Raiders
Coming off their first loss of the season and returning home against an outmanned opponent, is there any doubt? Prediction: Win
---
Week 10: New York Giants
The Seahawks easily defeated the Giants 23-0 last year in New Jersey, a dress rehearsal for their Super Bowl victory at the same location -- MetLife Stadium. The Seahawks won't need a rehearsal to roll past the Giants in this one. Prediction: Win
---
Week 11: at Kansas City Chiefs
This likely will be a low-scoring game between two strong defensive teams. Odds are against any team that has to try to win by matching its defense against the Seahawks' D. Prediction: Win
---
Week 12: Arizona Cardinals
The last time the Cardinals played at CenturyLink Field was last December when they handed the Seahawks a 17-10 loss. That won't happen again unless the Seahawks get caught looking ahead to the 49ers game. The Seahawks don't look ahead. Prediction: Win
---
Week 13: at San Francisco 49ers
It's a Thanksgiving night, national TV game in the 49ers' shiny new stadium against the hated Seahawks. If San Francisco can't win this one, its time as a championship contender is over. Prediction: Loss
---
Week 14: at Philadelphia Eagles
This is the toughest part of the season for the Seahawks with back-to-back road games against likely playoff contenders. But the 10 days between games will help and be enough of a cushion to keep Seattle from losing two in a row. Prediction: Win
---
Week 15: San Francisco 49ers
This is a game that could decide which team wins the NFC West. No way the Seahawks lose to the 49ers twice in three weeks, especially not in front of a rabid full house of 12s. Prediction: Win
---
Week 16: at Arizona Cardinals
The Cardinals probably will be fighting for a playoff spot, and the Seahawks already will be in at 12-2. That difference will be just enough for Arizona to win at home in the same stadium where the Seahawks will win the Super Bowl a few weeks later. Prediction: Loss
---
Week 17: St. Louis Rams
For the second consecutive year, the Rams close the regular season in Seattle. And for the second consecutive year, the Seahawks will beat them without much trouble. Prediction: Win
---
Predicted Record: 13-3
January, 5, 2011
1/05/11
10:03
AM ET

Tim Kawakami of the San Jose Mercury News
says the 49ers, having hired Trent Baalke as their general manager, might be favorites to land Stanford coach Jim Harbaugh. Kawakami: "The 49ers absolutely want him, and a high-ranking NFL source said Tuesday that team president Jed York remains more than willing to pay a premium price to get him. Now the 49ers have to finish the deal."
Ray Ratto of CSNBayArea.com
says 49ers president Jed York was fibbing when he said he wanted to hire a strong general manager to run the team. Ratto: "Lies are like money, you see. When you spend one, it better be for something valuable, and making people think you want to divorce yourself from the football side without actually doing so is a wasted lie. A good lie is feigning non-interest in Jim Harbaugh if he wants that news kept quiet. That's a tactical lie with known benefits. This was not. This was a smokescreen for Jed York's benefit, so he could look for a moment like someone who understood the magnitude of the problem while all the time deciding he was the solution to it."
Lowell Cohn of the Santa Rosa Press-Democrat
says the 49ers fell short when they hired Baalke. Cohn: "Jed rushed through this process just as he rushed through the disastrous hiring Mike Singletary, the joke head coach Jed subsequently needed to fire for not comprehending how to be a head coach. An owner who knows how to act like an owner interviews multiple candidates from winning teams. The operative phrase is "winning teams." People from winning teams have a lot to offer."
Matt Barrows of the Sacramento Bee
says Baalke and Mike Lombardi were finalists for the GM job.

Bernie Miklasz of the St. Louis Post-Dispatch
explains why he thinks the Rams should have given Steven Jackson more carries against Seattle. Miklasz: "Jim Hanifan and Rick Venturi also pointed out that when the Rams put the tight end in motion to attack Seattle's smaller defensive end (Chris Clemons), Jackson had two runs that picked up nearly 20 yards. Seattle likes to flip Clemons to the open side, away from the tight end. So the answer to that is to motion your tight end over to Clemons' side and ram him. Makes sense to me. Look, you can dismiss my questioning of this as the worthless whining of an idiot sportswriter. But I believe Coach Hanifan has established credibility. His evaluations of an NFL running game should be taken seriously."
Jeff Gordon of stltoday.com
says the Rams need to work on their inside run game.
Jim Thomas of the St. Louis Post-Dispatch
examines Pat Shurmur's candidacy for the Browns' head coaching job. Thomas: "Shurmur has never worked directly with Holmgren, but he got to know him as an assistant coach at Michigan State while his uncle, the late Fritz Shurmur, was on Mike Holmgren's Green Bay Packers staff in the mid 1990s. In addition, Pat Shurmur was on Andy Reid's staff in Philadelphia from 1999 through 2008. There's even more familiarity with the Browns, because Shurmur, Holmgren, Reid and Rams coach Steve Spagnuolo all are represented by the same agent -- Bob LaMonte. Another LaMonte client is Browns general manager Tom Heckert, who was in the Philadelphia front office during eight of Shurmur's 10 seasons with the Eagles."
Also from Thomas
: a look at Sam Bradford's rookie season.
Bryan Burwell of the St. Louis Post-Dispatch
says Rams coaches deserve scrutiny.

Darren Urban of azcardinals.com
says Cardinals players are bracing for a different offseason, one in which they could be locked out by team owners. Center Lyle Sendlein: "I just think everyone will have to have a backup plan for working out. It's our job. If you're not going to be working out you might as well not come to camp. If you're not doing something, somebody else is. That's how I think of it."
Also from Urban
: a look at the Cardinals' roster by position, with contract status and other details. Urban: "The problem is that the labor deal might not be done for a few months. The free agency period might have to be a very quick (Three weeks? Four weeks?) time frame late in the summer. There is no question until that CBA is figured out (and when), it is a complicated offseason."

John Boyle of the Everett Herald
says Charlie Whitehurst and Matt Hasselbeck split reps in practice Tuesday as the Seahawks prepared to face New Orleans.
Liz Mathews of 710ESPN Seattle
updates Seahawks-related roster moves. Mathews: "Both guard Chester Pitts (head) and tight end Chris Baker (hip) have been placed on season-ending injured reserve."
Eric D. Williams of the Tacoma News Tribune
says it's easy for the Seahawks to adopt an us-against-the-world mentality as they head into the playoffs with a 7-9 record.
Danny O'Neil of the Seattle Times
checks in with Marshawn Lynch, who played a leading role in the Seahawks' playoff-clinching victory Sunday. O'Neil: "Lynch led Seattle with 573 yards rushing, marking the fifth consecutive season the Seahawks didn't have anyone gain 1,000 yards. Detroit is the only other team in the league that has gone that long without a millennium man. But on Sunday night, Lynch helped Seattle find its stride at precisely the moment the Seahawks needed to run the ball more than anything. Held to 22 yards rushing in the first half, Seattle racked up 119 in the second as Lynch didn't put the game on his back so much as he tucked it under his arm and refused to let go."
Clare Farnsworth of seahawks.com
says Raheem Brock's father played for the Seahawks in the mid-1980s and was in attendance when Brock collected 2.5 sacks against the Rams. Brock: "It felt great to play in front of my dad. For my dad and my whole family to see this atmosphere and the 12th Man, and for us to go out there and play like we did, it's a great feeling. Having my dad here just gets my adrenalin pumping even more. Just to know that he was going to be in the building and I was going to get to play in front of him, it had me pumped all week."
March, 24, 2010
3/24/10
12:00
PM ET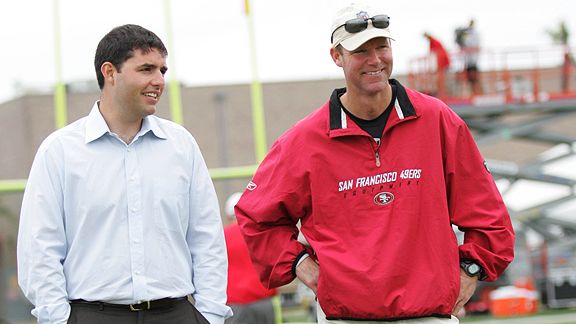 Michael Zagaris/Getty ImagesWith Scot McCloughan out as the San Francisco 49ers' general manager, team president Jed York, left, needs to determine if McCloughan will be replaced.
Late March is no time for an NFL team to hire a general manager.
The
San Francisco 49ers
have put off the decision until after the draft, but late April isn't a good time, either.
May, June or July might be worse. The more time passes, the harder it becomes to justify introducing a strong new voice into a team's meeting rooms.
Forget about hiring one during training camp or the regular season.
"I haven't decided on whether we're going to have a general manager," team president Jed York said during a recent conference call.
The comment raised suspicions that York and/or executive vice president Paraag Marathe might continue their ascents within the organization, turning their backs on a strong personnel presence. York guaranteed that neither he nor Marathe would become GM, but someone would have to fill the power void if the team proceeded without anyone formally named to the position.
Player personnel director Trent Baalke is taking over through the draft. After that, who knows?
The tumult surrounding Scot McCloughan's departure has shaken some fans' already tenuous trust in the team. The 49ers have earned our skepticism after seven consecutive seasons without a playoff appearance. But without knowing more -- specifically, to what degree McCloughan's demise was his own doing -- it's tough to make definitive judgments on the state of the franchise.
The team made progress last season in getting to 8-8, and the 49ers do have a promising young core of players. None of that has changed.
Questions linger. Let's find some answers.
November, 12, 2009
11/12/09
7:41
PM ET
Sam from Dallas writes:
C'mon Sando, don't be hatin'! Two straight weeks and the Rams have not been on the "Silver Linings" list! How about a little recognition!
Mike Sando:
This might be my favorite mailbag submission of all time. It's certainly understandable for a Rams fan to assume these files were produced every week regardless of the result.
I produce Silver Linings files only after NFC West teams lose. I produced them for 17 consecutive Rams games because the team lost every game. The Rams are not entitled to Silver Linings files when they win or have a bye week, although I did have some
fun with the subject
a while back.
---
Mark from Antioch, Calif., writes:
There aren't a lot of offensive lineman or secondary available for next year's free-agent class, but there are some pass rushers.
Shawne Merriman
,
Elvis Dumervil
and even
Julius Peppers
. The first two are already proven talents in a 3-4 defense, and Peppers would have the entire offseason to adjust to the role of a pass rushing outside linebacker. I see Denver giving an extension to Dumervil before the season is over. Peppers is definetley leaving and Merriman could be gone as well. Peppers is having a better season and is less of a risk, but he'll also probably cost more than Merriman.
Do you see the Niners going after a proven pass rusher in free agency like Peppers or Merriman, or do you see them taking the approach they had last season and continue to build through the draft? If they took one of those two, they could use their picks to address o-line or secondary while worrying less about pass rush early in the draft.
Mike Sando:
The 49ers seem to have moved past the big-ticket signing mentality. They think their talent is good enough to win. Perhaps they will reconsider if the team fares poorly down the stretch. Right now, though, the pass rush doesn't seem to be a limiting factor for this team.
---
Kraig from near Mt. Rainier writes:
The draft discussion about offensive linemen got me thinking of Seahawks general manager Tim Ruskell's tendency not to pick that position in the first round. But what if Ruskell's contract won't be renewed? And in that case, what happens to all the scouting work that's gone on? Does a new GM get to use it, or does he bring all his own stuff with him and have it together in time for draft day? Switching front offices seems like a huge deal. I doubt it'll happen.
Mike Sando:
The new GM often keeps most personnel people around through the draft. The new GM then decides which personnel people to retain. I am not sure how the Seahawks will handle this situation, but any new GM would presumably have to fit with Jim Mora.
The current speculation regarding Seattle's front office is natural when a team struggles and an organization offers no clues about long-term plans. Ruskell's contract as GM runs through this season. The team has previously let executives work through their contracts before offering new ones.
Leaving the GM to dangle in the wind can fuel tension and mistrust within an organization. Is Ruskell coming back? How would a change impact Mora? Is Mike Holmgren really a candidate? You can bet people within the organization are asking those questions. Holmgren's agent, Bob LaMonte, also represents coach Jim Mora. LaMonte attended the Lions-Seahawks game Sunday. He was in the locker room after the game. Say what you want about the decisions Ruskell has made -- that is another discussion worth having -- but having Holmgren's agent around had to be a bit uncomfortable for Ruskell.
---
Adam from Las Cruces writes:
Hey Mike, first of all, I Just want to say that I enjoy reading your blogs near daily. I think you are one of the best writers at ESPN, and your coverage on the division is always well-thought out and fair. My question regards my favorite team, the Cardinals. During the Cardinals' rout of the Bears,
Kurt Warner
was pulled in favor of
Matt Leinart
after the Cardinals pulled ahead with a large lead. Leinart then threw an interception, and this prompted the Cardinals to put Warner back in.
I seem to recall that this happened earlier in the season as well and Warner had to come back in the game to secure the Cardinals victory. Is it fair to say that Leinart is not going to be the future of the franchise? I have to say that I was always a Leinart supporter, but if he can't finish games where the Cardinals already have a huge lead, what is his future like? Thanks in advance for answering.
Mike Sando:
Thanks for the compliments, Adam. The check is in the mail. On your question, the Jaguars rallied a little bit after Leinart replaced Warner, but Leinart finished the game and Arizona won decisively. I think it's tough to evaluate or judge a quarterback when he's thrown into a lopsided game on the road. In both cases, the Cardinals were basically saying they thought they had the game won. The other team then senses an opening and pounces. Leinart may or may not be a good quarterback in the future. I just do not think we can know either way based on what we have seen this season.
---
Adam from Sacramento writes:
Hey, Sando. So, the 49ers have been putting
Delanie Walker
on the field recently, and even though his stats don't show anything special, it seems like the offense moves when he's out there. He used to be a wide receiver in college and still has some of the receiving skills -- you've mentioned that, at least for a tight end, he's a very good route-runner -- and I remember that the 49ers tried him out as a halfback on occasion during preseason games. So why don't they try that out now? He's used primarily as an H-back in the current offense, so he's spending plenty of snaps in the backfield. Wouldn't a little misdirection help take the pressure off of
Frank Gore
? Off of
Alex Smith
? He has to be an upgrade over
Moran Norris
, whether rushing or receiving. Is there no room for his particular skill set in the Jimmy Raye Prevent Offense?
Mike Sando:
Prevent Offense. Very good. I'll assume you wanted to know whether Walker could help at fullback. Playing him at halfback would make no sense because it would likely require taking Frank Gore off the field. Walker is not an excellent blocker. He could not hold up as a blocking fullback. Sometimes a team will take an H-back or tight end and line him up as a fullback in an offset-I formation, but often the player motions out before the snap. Those players generally are not built the way fullbacks are built. Norris is built like a tank. He is one of the more fearsome looking dudes I've seen in the NFL. Really put together. Walker is having a hard time staying healthy in his current role. He would not last in the backfield.
---
Mark from San Jose writes:
The decision not suspend the Bears'
Tommie Harris
is just another example of the NFL front office East Coast bias. This same result that will come out of the 49ers' tampering charges against the NY Jets. The low- to mid-market teams and West Coast teams struggle with receiving fair and impartial treatment from the heavy-weighted East Coast teams within the NFL front office. The West Coast teams must not only beat their game-day competitors but the national media, the referees and the NFL front office to gather the respect that they deserve. Who said life was not a struggle?
Mike Sando:
I know people from NFL teams who agree with your general sentiment. At the same time, East Coast bias seemed a lot less effective when
Joe Montana
was throwing to
Jerry Rice
,
John Taylor
, Dwight Clark,
Freddie Solomon
and those guys.
---
Dennis from Philadelphia writes:
How could you not include
Maurice Jones-Drew
in your MVP Top 10? His stats are great and He's the sole reason the Jags are .500. Without him they win 3 games this season ... tops.
Mike Sando:
I love his game, but I am not so high on the Jaguars. I think they're a bad team. The decision to favor other players over Jones-Drew reflects more on the Jaguars than Jones-Drew. Perhaps he can earn a spot if the Jaguars become a legitimate team down the stretch.
---
Nick from San Diego writes:
Hey, Mike, I was just wondering, shouldn't
Philip Rivers
be in some MVP conversation?
Mike Sando:
Yes, he has been on the list previously this season. I used the bottom five spots on the list to recognize a few non-quarterbacks. I took note of his three-game winning streak, but then recalled him beating the Chiefs and Raiders as part of that, then barely beating a struggling Giants team. Guess I need a little more convincing on the Chargers. There is time.
---
Timothy from McLeansville, N.C., writes:
Why on earth do you have the Panthers 10 spots above the Jaguars and the Titans 5 spots above the Jags. Last time I checked, a 4-4 record is better than 2-6 or 3-5. Yes, the Panthers did decent against the Saints, but Jax only loss by two at INDY. The Titans may have beaten us by 17 the other week, but Jax beat them by 20 in week 4. Your rankings make no sense to me whatsoever and you should be fired for these rankings.
Mike Sando:
The power rankings are not a recitation of the standings. We do not simply rank every team in order of record. We take things into account such as how a team is playing at present. I think the Panthers are playing better than the Jaguars. The Jaguars played the Colts close in Week 1. The Titans blew out the Jaguars in Week 8, then beat the 49ers in Week 9 while the Jaguars were edging the Chiefs.
---
Nick from Portland writes:
Do you think that there is any validity to the link between the 49ers current four-game losing streak and the late arrival of
Michael Crabtree
? I am a Hawks fan, so I don't watch much of the Niners, but it brings back memories of the Seahawks in 1999. It was Mike Holmgren's first year and the team began the season 8-2 without
Joey Galloway
, who was holding out. Galloway finally arrived and it seemed like the presence of a ''me first'' guy took some of the wind out of the team's sails, while
Jon Kitna
tried to force him the ball. They finished 9-7 and barely made the playoffs. Some similarities here?
Mike Sando:
Any similarities ended when Crabtree reported to the team in shape, ready to go and with the right attitude. Veteran embraced him right away once they realized he was prepared and had been working hard while away. Left tackle
Joe Staley
went over to Crabtree's locker after the rookie's first game and shook his hand. Crabtree commanded respect from the beginning. I think the 49ers would have been less competitive during this stretch if Crabtree had stayed away.
August, 6, 2008
8/06/08
3:22
PM ET
Posted by ESPN.com's Mike Sando
RENTON, Wash. -- The Seahawks' new facility on the shores of Lake Washington marks a dramatic upgrade over its predecessor, to the point that it should help the team in free agency.
The team recently finished practicing on its manicured outdoor fields, the lake in the background and with dream homes lining the far shore. This is a palace. Coach Mike Holmgren talked about possibly driving to work ... in his boat. No team in the division boasts a facility like this.
Now, on to more important matters. Specifically, a few notes and observations from practice:
At receiver: Jordan Kent dropped two passes today, including one when he was wide open over the middle. He lost focus and bobbled the ball before losing it. Kent caught another pass against his body, not with his hands. Logan Payne wore a wrap on his rib injury as he watched practice. Joel Filani dropped a pass after slipping on the grass. Bryan Gilmore bobbled and dropped a pass along the left sideline after getting open between a linebacker and defensive back. Michael Bumpus dropped a pass.
Also at receiver: With Payne and Deion Branch injured, Kent, Nate Burleson, Bobby Engram and Ben Obomanu worked in the four-receiver offense.
Safety Jordan Babineaux and offensive lineman Floyd Womack each could miss about one week with knee injuries, coach Mike Holmgren said. Both underwent MRI exams recently.
Defensive end Patrick Kerney is wearing a walking boot on his lower left leg. Kerney is resting a calf injury.

Burleson served as the primary punt returner.
The Seahawks placed linebacker Wesly Mallard on injured reserve. They signed former University of Washington cornerback Derrick Johnson, who promptly left practice with an injury to his left leg.
Seattle held what amounted to a walk-through following practice in preparation for its exhibition game at Minnesota.

Julius Jones picked up the blitz effectively from Seattle's familiar one-back, three-receiver offense. Justin Forsett, though impressive as a runner, can be vulnerable in those situations. Linebacker David Hawthorne blasted through him on one rush.
Kevin Hobbs jumped a pass for Courtney Taylor, but he couldn't quite pick it off.
Holmgren declined to reveal his quarterback rotation for the exhibition opener, but expect to see plenty of Seneca Wallace.
Holmgren's agent, Bob LaMonte, was among those in attendance for the first practice at the new facility.
Linebacker Leroy Hill tipped a pass, allowing safety Brian Russell to gather an interception.
Back in a bit to take a look at the rest of the division.