May, 3, 2012
5/03/12
10:18
AM ET
The gap between the
New Orleans Saints
' savagely stated
intentions
and their on-field actions provides an opening to question the punishment handed down by commissioner Roger Goodell.
Jonathan Vilma
's season-long
suspension
for helping to establish and fund the program carries particular interest in the NFC West.
"Multiple independent sources also confirmed that Vilma offered a specific bounty -- $10,000 in cash -- to any player who knocked Arizona quarterback Kurt Warner out of the 2009 divisional playoff game and later pledged the same amount to anyone who knocked Minnesota quarterback Brett Favre out of the 2009 NFC Championship Game the following week," the NFL announced in meting out the punishment.
Saints defensive end Bobby McCray did knock Warner from the game for a time with a crushing hit following an interception, but Warner himself feels as though the Saints did not cross a line with their actions that day.
Warner's comments
to Burns & Gambo on Arizona Sports 620 made clear his feelings:
"I could have been seriously hurt every time I stepped on that football field. There is no question that players went out to hurt me and knock me out of games many times throughout my career, whether or not there was a $10,000 bounty on me. Again, I look at it and say, 'Did somebody hit me harder in that situation because the bounty was there?' I don't know. I don't believe so. I believe that was a situation [on the McCray hit] that was set up perfectly for any defensive player, and any defensive player would have taken it. And it was a clean hit and it was a bigger man hitting a smaller man who wasn't prepared for it. And i got crushed.

"I would be mad if someone took a shot at me that was outside the rules of engagement to try to hurt me. If i got hurt because of that, then I would be extremely angry and to me that would cross way over that line.

"I believe that there have been defensive linemen in the locker room many a times say, 'Hey, the first one to knock Kurt out of the game, I'm buying dinner or I'm doing this after the game or whatever. I believe that stuff has gone on for years and years and years. And it wasn't the intention of taking a cheap shot. It was the intention of giving their team a benefit from knocking out a good player on the other team. No doubt in my mind, that that has gone on for years.

"There have been games where I felt like, 'They're really just trying to take me out of this game. They're going a little above and beyond.' I didn't feel that in that playoff game against the Saints. I felt it was a good, hard, competitive football game where the hits on me were clean."
While Goodell is punishing the Saints specifically, he's attacking the bounty mind-set in general. Punishing Vilma and the Saints so harshly may or may not be fair to them. The NFL culture is the broader target.
Vilma and the Saints aren't being punished this week for the hits they put on Warner. League officials already reviewed those hits after the game as a matter of course. The punishment attacks the intentions and makes it easier for the NFL to counter in court allegations it hasn't taken player safety seriously enough.
Note:
The video above features discussion on the punishment for Vilma and other players. Warner did not participate in that discussion.
March, 8, 2012
3/08/12
12:30
PM ET
Anthony Hargrove
's story is
one of redemption
.
The former
St. Louis Rams
and current
Seattle Seahawks
defensive lineman has fought through a series of obstacles, some of them self-constructed, to become a productive player and valued teammate.
But recent attention focusing on Hargrove's role in the
New Orleans Saints
' bounty scandal -- he was fined for a hit on Brett Favre and reportedly reveled in the quarterback's injury during the 2009 NFC Championship Game -- has cast Hargrove in a negative light.
Hargrove has taken notice and issued
the following statement
:
"First of all, the purpose of this statement is simply to address the comments that have been made about me in the media. I will not address anything to do with anyone else but myself.

"In regards to the hit I made on Brett Favre that has been talked about: it was one of about five times I got to him and the only one that was late. I agree it was a late hit, but in the heat of the moment I was simply trying to make a play. I can assure you that when I got up, I was thinking two things, one, that I cost my team, and two, that I might have just cost myself some money if the NFL fined me.

"To put things in perspective, I received a game ball for my play that day and yet got fined while receiving nothing and expecting to receive nothing for the play some keep referencing. Kudos to Brett, he even asked me if that was all I had! Gotta love him.

"And in regards to my comments that have been talked about where I say that Favre is done, I readily agree that it sounds bad in retrospect. A lot of things look bad when we look back and realize how they sound. Trust me, I've said much, much worse. Heck, I probably say worse every day.

"But did I personally want Favre INJURED? Absolutely and categorically NO! Did I feel like we, the Saints, had a better chance of being in the Super Bowl with Favre on the sideline? Of course. Would the Patriots and their fans have probably been excited to see Eli [Manning] on the bench with his foot up whispering that he was done [in Super Bowl XLVI]? Would players on the sideline have made comments to that effect? Right or wrong, I'm guessing yes.

"Probably every Saints fan, player and coach got an adrenaline rush when thinking Minnesota might be in trouble. I said what many people were probably thinking, though maybe I said it in a way that sounded a bit too excited. Those who know me best know that I lean toward the animated side a bit. Okay, a lot! It's who God made me. I do regret saying it, though.

"I have made many mistakes in my life and have paid dearly for some of them, and the late hit and the comments were both mistakes, in my opinion. But players all over the league do the same thing every Sunday, make late hits and say stupid things. But I can say with absolute certainty that neither the late hit nor the comment have anything whatsoever to do with the issue being so hotly discussed in the media."
In my view, Hargrove deals honestly with the emotions players and fans feel when their team knocks a key player out of a game. The adrenaline rush comes from knowing victory might be that much closer, not from knowing a player from the other team is injured.
Hargrove says he received nothing and expected to receive nothing, bounty-wise, for the hit. But he sheds no light on other hits from that game or the bounty program in general.
Bobby McCray and
Remi Ayodele
, not Hargrove, were the players responsible for delivering the high-low hit that sent Favre limping to the sideline with an injured ankle. Neither of those players has confirmed or denied receiving a bounty payment, to my knowledge. Their thoughts would be welcome.
March, 5, 2012
3/05/12
8:00
AM ET
The NFC West weekend began with St. Louis Rams defensive coordinator
Gregg Williams apologizing
for his role in the New Orleans Saints' bounty scandal.
It ended with the NFL summoning Williams to New York amid
lingering questions
.
What could happen
to Williams as
evidence against him
accumulates? John Clayton and I
discussed the possibilities
Saturday.

Albert Breer of NFL.com
says the league would like to hand down punishment before its league meetings in late March, allowing affected teams to adjust accordingly.
Noted:
The Rams appear to be in strong position to carry on without Williams, should that be necessary. Their head coach, Jeff Fisher, and assistant head coach, Dave McGinnis, have both worked as defensive coordinators.
Jim Thomas of the St. Louis Post-Dispatch
offers Rams fans temporary relief from all things relating to bounties, sizing up the team's prospects for trading the second overall pick in the 2012 draft.
Noted:
This is a good piece and a subject I'll analyze on the blog later Monday. One question would be whether the Redskins might be the only team drafting among the top six with serious interest in Robert Griffin III.

Darren Urban of azcardinals.com
revisits hits the Saints put on Cardinals quarterback Kurt Warner during a playoff game after the 2009 season. Urban: "There were other times in that game, though, when it did look like the Saints were going after Warner and specifically, his head (Warner had suffered through a concussion earlier that season.) Warner got hit a few times up high, but the Saints were only flagged for one personal foul, a roughing-the-passer by linebacker Scott Shanle. Warner at the time wasn't thrilled about the hits, either. Warner said the (Bobby) McCray hit was clean, even if it didn't feel that good."

Matt Maiocco of CSNBayArea.com
says the punishment New Orleans' defense unleashed on the 49ers' quarterbacks in the 2011 exhibition opener "makes a little more sense" in light of the bounty investigation. Maiocco: "The 49ers also faced the Saints twice in the regular season and one more time in the playoffs during the time frame in which the bounty system was in place. The 49ers sustained no known significant injuries due to any illegal hits. Coincidentally, 49ers safety Donte Whitner knocked running back Pierre Thomas from the game with a legal helmet-to-helmet hit that caused a fumble early in the 49ers' 36-32 victory in an NFC divisional playoff game at Candlestick Park."
Cam Inman of the San Jose Mercury News
offers thoughts on the Saints' bounties in relation to the 49ers, including this one: "Did the Saints' bounties come at any 49ers' expense? Obviously the most concerning injury among the 49ers this past postseason was to Ted Ginn Jr., who left their divisional playoff game with a knee injury, an injury that kept him out of the NFC final that saw the New York Giants capitalize on mistakes by Ginn's replacement as the punt returner, Kyle Williams. Ginn, after aggravating an ankle injury, appeared to hurt his knee on a collision with a Saints player on a play in which Ginn drew a pass-interference penalty. Ginn tried lining up for the next play but went down and was done for the season. I have no reason to think his injury was a result of any Saints misconduct."

Danny O'Neil of the Seattle Times
does not expect the Seahawks to use the franchise tag for defensive end Red Bryant because the cost would be more than $10 million for one season.
Noted:
Bryant has played a big part in the Seahawks' run defense over the past couple seasons. He also showed an ability to block field goal attempts last season. Seattle values his presence in the locker room as well. Those things make Bryant valuable to Seattle. The role Seahawks coaches have created for Bryant makes him a better fit in Seattle than he would be elsewhere. Re-signing gives Bryant his best chance at sustained success. Seems like the sides should be able to work out something. Both sides should value one another more than they value the alternatives.
Clare Farnsworth of seahawks.com
revisits comments fullback Michael Robinson made regarding the newly re-signed Marshawn Lynch last season. Farnsworth: "During the season, and on several occasions, Pro Bowl fullback Michael Robinson marveled at what Lynch was able to accomplish – especially the way he accomplished it. At one point, Robinson said he never had seen a back generate as much power on one leg as Lynch – which explains his ability to emerge from piles of would-be tacklers and gain yards that just don't seem to be there."
Also from Farnsworth
: The Seahawks have a new FieldTurf Revolution Fiber playing surface. They're also replacing scoreboards.
January, 17, 2010
1/17/10
9:00
AM ET
The facts:
The Cardinals' season ended with a
45-14
road defeat to the Saints in the NFC divisional round.

The upside:
Even the worst defeats tend to feature a bright spot or two.
Looking ahead:
The Cardinals now await Warner's decision on retirement.
January, 13, 2010
1/13/10
11:52
AM ET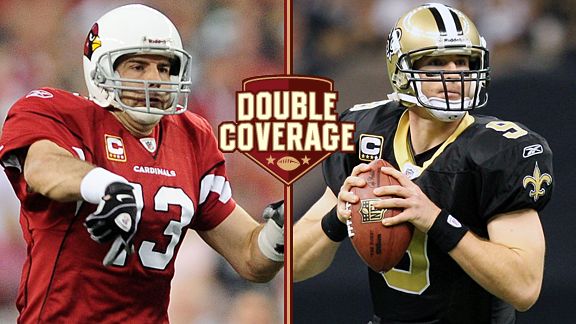 US PresswireKurt Warner, left, and Drew Brees will square off Saturday in the Superdome.
The
Arizona Cardinals
won the
highest-scoring playoff game in NFL history
Sunday. The
New Orleans Saints
are coming off the highest-scoring season in franchise history.
The Cardinals and Saints aren't the only ones putting points on the board this week.
NFC West blogger Mike Sando and NFC South counterpart Pat Yasinskas scored a few of their own while breaking down the Cardinals-Saints divisional playoff game set for Saturday in the Superdome.
Mike Sando:
Ken Whisenhunt has a 4-1 postseason record as Cardinals coach. He has been to a Super Bowl. Sean Payton seems to be the coach with the most at stake in this one.
Pat Yasinskas:
There's a lot at stake for Payton and a lot of pressure on him. He has the potential to go from being considered a very good offensive mind to being considered a very good head coach. He has been in the playoffs only once before and that was 2006. They split a pair of games. Getting to 13 wins this season was a huge step for Payton, but the way the season ended, with three losses, sets up the scenario where a playoff loss would be extremely disappointing.
Fans in new Orleans were talking about a Super Bowl when this team was undefeated. Not getting even a playoff victory would open Payton to criticism. Having the bye week has also upped the pressure and panic among fans in New Orleans, but I think Payton used the time wisely as far as game-planning offensively and getting his banged-up defense healthy.
Mike Sando:
Watching the Saints from afar, quarterback
Drew Brees
seemed unusually disappointed when New Orleans lost for the first time this season against Dallas. It was only one game. I wondered if that was the right reaction. Seems to me the Saints should have been focused on the bigger picture. Was I reading too much into that or was there something to it?
Pat Yasinskas:
The Saints sincerely believed they had a shot at going undefeated. Their confidence was sky high because at times they were steamrolling opponents. Even in games when they were not playing their best, they always seemed able to pull it out in the fourth quarter. All that changed with the loss to Dallas. I think the Saints know deep down that they are a good team still, but their momentum took a hit and they haven't been able to get back on course in the regular season. Getting that on the upswing will be a real test of Payton's motivational skills.
Mike Sando:
The Saints' defense seems to be at its best when playing with a lead. The Cardinals jumped to a 31-10 lead against the Packers in the wild-card round. Arizona has scored at least 14 points in seven second quarters this season and postseason, same as the Saints. As poorly as the Arizona defense played against Green Bay, the Cardinals did force turnovers early (and late, of course). I think New Orleans could be in trouble defensively if
Kurt Warner
gets going early and Arizona takes a big lead.
Pat Yasinskas:
Absolutely. The Gregg Williams defense counts on playing aggressively and basically their phrase back in camp was something like, "We set the tone." They are all about playing aggressively. Williams likes to blitz. The other big thing is
Darren Sharper
early in the season was looking like a true center fielder and was a turnover machine. In the second half of the season, when
Tracy Porter
and
Jabari Greer
got hurt, they couldn't let Sharper roam any more. He was playing more like a Cover 2 safety. He was not freed up to make plays. I do think having Greer back at full strength is going to help tremendously.
I'm not saying they are going to shut down Arizona. But they can play. Let's face it. This is probably going to be a high-scoring game, but defense will be a factor. Whichever defense can force a turnover or two can decide this game.
Mike Sando:
The Saints pressured with five or more rushers 49.4 percent of the time this season, trailing only the Jets. Warner can be tough to blitz because he knows where to go with the football quickly. He also benefits from an improved running game. The quarterbacks will win or lose this game, most likely, but
Beanie Wells
was the player I singled out as
a potential X factor
. Wells has become a bigger part of the Arizona offense. He had 14 carries for 91 yards against the Packers. The Saints' run defense hasn't been all that great this season.
Pat Yasinskas:
The Arizona running game is a concern for that defense. It has been a problem area and
Sedrick Ellis
has been the key there. He has been in and out with injuries. When he is in, they are OK against the run. When he is out, it changes everything. Having
Charles Grant
out helps their pass rush because
Bobby McCray
is better, but Grant was good against the run. The Cardinals might try to exploit that. McCray could be more of a pass-rush situational guy.
Anthony Hargrove
, who has played inside a fair amount, may move outside on running downs.
Mike Sando:
The Saints' pass defense ranked third among NFL teams in holding opposing quarterbacks to low passer ratings. Here's the thing, though. The Saints faced
Matthew Stafford
,
Mark Sanchez
,
Josh Freeman
(twice),
Jake Delhomme
(twice) and
Chad Henne
.
Marc Bulger
had 298 yards against them and nearly won the game. Kurt Warner is in another class, particularly in the playoffs. Warner already has more playoff victories in fewer games than
Steve Young
,
Jim Kelly
,
Dan Marino
and
Peyton Manning
. He had more touchdown passes (five) than incompletions (four) Sunday.
Pat Yasinskas:
Warner has the track record and has been there many times. For Brees, much like Sean Payton, this is a big game to show he truly is one of the elite. Brees has been so precise, not only this year but the last couple of years, that I think he is more than ready to take the next step. Despite the way the season ended, I think the Saints will rebound. This is too talented a team to waste a 13-win season. More important, they lost their last two games in the Superdome and I don't see them losing there again because their fans will not let them.
Mike Sando:
The Cardinals have to love their chances. They hammered a 12-4 Panthers team on the road in the divisional round last season. They have Warner, one of the best big-game quarterbacks ever. These Saints are so much more dynamic offensively than Carolina was last season, though. New Orleans was too good during the regular season to go quietly. A few injuries and a short week will work against the Cardinals. An upset would not shock me, and if the Cardinals win this game, it's one of their finest victories.