April, 10, 2014
Apr 10
10:00
AM ET
By
ESPN.com staff
| ESPN.com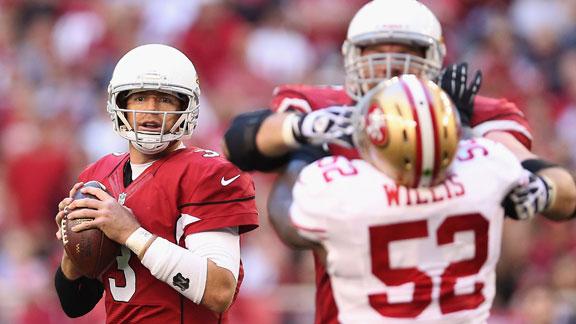 Catch us if you can.
That's a message the
Seattle Seahawks
could send out to the rest of the NFC West.
It is also something the
San Francisco 49ers
might say to the
Arizona Cardinals
and the
St. Louis Rams
. But the Cardinals and Rams might have a statement of their own: We're coming for you.
By almost everyone's estimation, the NFC West is the best division in the NFL. It includes a Super Bowl champion in Seattle along with a team in San Francisco that, arguably, came up one play short of reaching its second consecutive Super Bowl.
It also includes a team in Arizona that won 10 games, one of which was a victory at Seattle -- the Seahawks' only home loss in 2013. And there's a team in St. Louis that won two of its last three games to finish 7-9 while playing most of the season without starting quarterback
Sam Bradford
.
So the question heading into 2014 is whether the Cardinals and Rams are in position to catch the Seahawks and 49ers. Have Arizona and St. Louis closed the gap on what might be the NFL's two best teams?
The Cardinals have been active in free agency, signing cornerback
Antonio Cromartie
, offensive tackle
Jared Veldheer
, tight end
John Carlson
, receiver/kick returner
Ted Ginn
, running back
Jonathan Dwyer
and offensive lineman
Ted Larsen
.
Clearly, the competition in this division keeps getting better.
The four writers who cover the division for ESPN.com's NFL Nation -- Terry Blount in Seattle, Bill Williamson in San Francisco, Josh Weinfuss in Arizona and Nick Wagoner in St. Louis -- take a look at where things stand in the NFC West on four key topics. We also polled our Twitter followers to find how they viewed the issues.

The Cardinals have made significant moves in free agency. The Rams, aside from keeping Rodger Saffold, have mostly stood pat. Which is closer to the playoffs?
Terry Blount: This is a no-brainer for me. The Cardinals are a team on the rise with one of the NFL's best coaches in Bruce Arians. He took a 5-11 team and transformed it to 10-6 in one season. He was 9-3 at Indianapolis in 2012 while filling in for Chuck Pagano. Arizona was 7-2 in its last nine games and won three of the last four, with the only loss being 23-20 to the 49ers in the season finale. The Cardinals could become a serious challenger to the two-team stronghold of Seattle and San Francisco. However, I do believe the Rams will have a winning season if they can hold their own in the division games.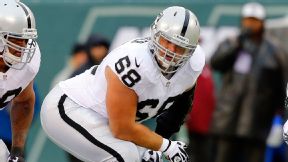 Nick Wagoner: It's hard to evaluate this without seeing what happens in the draft, especially with the Rams having two premium picks. Even then it would be unfair to judge right away. Still, I have to go with the Cardinals. They were trending up at the end of the season and patched a big hole with offensive tackle Jared Veldheer. Losing Karlos Dansby was a blow, but adding cornerback Antonio Cromartie to a talented stable at the position makes them better. The Rams, meanwhile, are clearly counting on a whole lot of in-house improvement and a big draft. Keeping Saffold was important (and lucky), but it seems risky to pin all hopes on a leap to the playoffs on a group of young players all making a jump at the same time.
Josh Weinfuss: Arizona is the easy answer, and that's not because I cover them. The Cardinals were 10-6 last season and the first team kept out of the postseason. All the Cardinals have done this offseason is fix deficiencies and plug holes. Their offensive line got markedly better with the addition of left tackle Jared Veldheer. Their wide receiver corps and kick return game were solidified with Ted Ginn, and they now have one of the best cornerback tandems in the league with Antonio Cromartie coming on board. General manager Steve Keim looked at what went wrong in 2013 and went to work on fixes. It should put the Cardinals over the playoff hump.
Bill Williamson: It has to be Arizona. The Cardinals were so close to making the playoffs last season. They would have likely been dangerous in the postseason too. I like the way this franchise is shaping up. It seems like it is well run and well coached. The roster is also getting deep. Carson Palmer will have to be replaced sooner or later, but the Cardinals are on to something. The Rams certainly have some nice pieces and are probably the best fourth-place team in the NFL, but they aren't close to matching what Arizona has going for it.
@joshweinfuss With the offseason the @AZCardinals have had I'd go with them. The rams are a solid offense away but AZ got the pieces needed.

- Joshua Bodrero (@JBodrero) March 25, 2014
---

The Seahawks and 49ers played for the NFC title in January. Any reason to believe either won't return to the postseason?
Blount: They were the two best teams in the NFL last season, and there's no legitimate reason to think they won't be among the best in 2014. Seattle has lost 10 players who were on the Super Bowl roster, but other than wide receiver Golden Tate, none of them were on the team's priority list to keep. The 49ers move into a shiny new stadium. The only question for San Francisco is the precarious relationship between coach Jim Harbaugh and team executives. Who knows what the future holds there, but it shouldn't matter on game day.
Wagoner: Aside from some debilitating injuries, it's hard to see how either team has taken a major step back. The Seahawks have lost some good players in free agency, but even those players seemingly already had replacements in place. Nobody does a better job of developing talent than Seattle. The Seahawks still have holes to patch on the offensive line and losing receiver Golden Tate is a blow, so there could be some hope the offense will regress. But the defense makes it all go, and it doesn't look like it's going to lose any of its most prized components. As for the Niners, they are the more likely of the two to take a step back, but it's hard to see them taking enough of one to fall out of the postseason. For most of their key free-agent losses they were able to quickly come up with a replacement as good or better than the player lost, and retaining Anquan Boldin says they are looking to make another run at the Super Bowl. Plus, they will have a fully healthy Michael Crabtree ready for the season. Until proven otherwise, these two teams remain the class of the NFC and probably the NFL.
Weinfuss: The only reason either of them won't make the playoffs in 2014 is because the Cardinals or Rams will take their place. The gap between the top and bottom of the NFC West has closed significantly this offseason, making the West much like the Southeastern Conference in college football; everybody will beat up on each other. It's likely the West, if it's anything like last season, can see three teams in the playoffs -- its champion and the two wild cards. If one of the teams between Seattle and San Francisco were not to make it, it's tough, but I think Seattle might slip. The Seahawks lost a significant part of their defensive line and will be going through a Super Bowl hangover. That's risky to deal with and still make the playoffs. On the other hand, San Francisco will be hungry from losing to Seattle in the NFC Championship Game.
Williamson: I believe these are the two best teams in the NFL. So it's difficult to fathom that either team won't find its way into the playoffs, barring major injuries. Arizona, though, could create an issue for the Seahawks and 49ers. The Cardinals are going to win a lot of games, so both Seattle and San Francisco have to be careful or things could get tricky. In the end, I can see all three teams making the playoffs. This is the reason this division is so intriguing and so fun: Every game is critical. There is just not much room for error. Look at the 49ers last year. They went 12-4, but a 1-2 start hamstrung them. They could never fully recover despite having a great overall regular season. The same intensity will be a factor in 2014 in the NFC West.
@TerryBlountESPN The Cards and Rams are pretty good. They'll be fighting for 2nd place behind the Seahawks.

- Danny ®" (@Dah_knee) March 26, 2014
---

Will Rams quarterback Sam Bradford come back strong from an ACL injury, and what effect will he have on St. Louis having its coveted breakthrough year?
Blount: I think Bradford will be fine as far as the ACL goes, but this is a make-or-break year for him in my view. Bradford was playing pretty well before his injury last year, but the verdict still is out whether he can be an elite quarterback. He enters this season with the best supporting cast he's ever had, but playing in this division with teams that emphasize physical defensive play makes it difficult to show improvement.
Wagoner: All indications from the Rams are that Bradford's rehab is coming along well and he's on schedule to make his return in plenty of time for the start of the regular season. He apparently had a clean tear of the ACL, but he has been rehabbing for a handful of months and should resume throwing soon. Bradford's healthy return means everything to the Rams' chances in 2014. Believe it or not, this is his fifth season in the NFL and, much like the team, this is the time to make some noise. The Rams attempted to open up the offense in the first quarter of 2013 with Bradford to miserable results. They switched to a more run-oriented attack in Week 5 and the offense performed better. Bradford also played better as the run game opened up play-action opportunities in the passing game. It will be interesting to see if the Rams choose to go a bit more balanced with Bradford at the controls or if they continue at the same run-heavy pace they played with backup Kellen Clemens. Either way, Bradford's contract has two years left on it. If he wants a lucrative extension, this is the time to prove he's worth it.
Weinfuss: Short answer, yes, Bradford will come back strong. Just look at how he started in 2013. He was on pace for a massive year statistically before he got hurt. If he can pick up where he left off, Bradford will return with a bang and show he's still one of the better quarterbacks in the league. As we've seen, a top-tier quarterback can be the difference between sitting idle in the standings and having a breakthrough year. With the talent that surrounds the Rams, with tight end Jared Cook, running back Zac Stacy and wide receivers Tavon Austin, Chris Givens and Austin Pettis, among others, Bradford may singlehandedly help close the gap between the Rams and the top of the NFC West.
Williamson: I have to be honest: I'm not a big Sam Bradford guy. I think he's just OK. Just OK doesn't cut it in this division, especially considering the defenses he has to play six times a season in the NFC West. He's serviceable, but he's not the answer. Given the state of this division, I cannot envision a scenario where Bradford is the reason the Rams become the class of the NFC West. I think they can get by with Bradford for the short term, but the Rams are going to have to start thinking about the future at this position much earlier than expected when Bradford was the No. 1 overall pick of the 2010 draft.
@nwagoner @Ryan_STL1 he's going to be the reason whether they go to the playoffs or not. If it doesn't happen this year it's time to give up

- Nick Green (@duttynick) March 24, 2014
---

If you had to start a team with either Seahawks QB Russell Wilson or 49ers QB Colin Kaepernick, whom would you choose?
Blount: You must be kidding. Give me Wilson every time, every day in every situation. Yes, Kaepernick is 5 inches taller than Wilson. Is there really anyone left who thinks Wilson's lack of height matters? Wilson also is at his best in pressure situations. He lives for it. And he is a more polished person on the field, and off it, than Kaepernick. That's not an observation. It's a fact. But this isn't a rip on Kaepernick. You would be hard-pressed to find any 25-year-old as polished as Wilson. The 49ers can win a Super Bowl with Kaepernick, and probably will soon. But if I'm starting a team, whether it is in football or almost any other life endeavor, I'll take Wilson without a doubt.
Wagoner: Wilson. For those of us covering other teams in the division, it's hard not to admire what he brings to the table. He presents himself as the consummate professional, and even opponents praise him for his work habits, intelligence and ability. He's already got the Super Bowl ring, and it's easy to see how he could add a few more. He's not all the way there in terms of his potential either, and it's probably safe to assume he's just going to keep getting better as his career goes along. That's nothing against Kaepernick, who is a unique talent in his own right, but there aren't many young quarterbacks in the league worth choosing over Wilson.
Weinfuss: Russell Wilson would be my pick, mainly because of his poise and maturity behind center. Colin Kaepernick is undoubtedly talented, but I get the sense he still has a lot of growing to do as a quarterback. He's tough to bring down, especially in the open field, but when he's pressured in the pocket, Kaepernick seems to panic and I wouldn't want that in a quarterback. I also think Wilson, despite his physical stature, is built to last. He's heady enough to stay out of harm's way, and his poise in the huddle will go a long way in leading a team.
Williamson: I'd take Kaepernick. I know it's a tough sell right now, since Wilson's team has beaten Kaepernick and the 49ers three of the past four times they've met, including the NFC title game, and the fact that Wilson has won a Super Bowl. I respect the value of Super Bowl wins and believe quarterback is the most critical position in sports. I'm sure I will smell like a homer with the Kaepernick pick. But moving forward, I just think Kaepernick has a higher ceiling. I think he can take over games more than Wilson can at a higher rate. Players built like Kaepernick and as athletic as Kaepernick just don't exist. He is special. He works extremely hard at his craft and is well coached. I'd take him, and I wouldn't look back. This isn't a knock on Wilson. He is proven and is going to be great. But if I'm starting a team, I'm taking Kaepernick, and I bet more general managers would agree than would disagree.
@BWilliamsonESPN Wilson. Controls the game & makes all the plays. Kaeps athletic advantage will fade overtime as Wilson's mental edge grows.

- HTB (@HoldenTyler) March 25, 2014
November, 14, 2012
11/14/12
9:30
AM ET
A rookie punter's arm could be the difference between 2-0-1 and 1-2-0 records for the
St. Louis Rams
in NFC West play.
Johnny Hekker
's scoring pass for the Rams against Seattle provided St. Louis with its only touchdown during a 19-13 victory in Week 4. Hekker completed two more passes Sunday, including one for a fourth-and-8 conversion during a go-ahead touchdown drive in the fourth quarter, to help the Rams force a 24-24 tie against San Francisco.
According to Mark Simon of ESPN Stats & Information, Hekker now has a chance to join Bob Parsons (1977) and Tom Skladany (1981) as the only players listed as punters to finish a season with at least three completed passes and a 100 percent completion rate. Parsons completed all four attempts for the
Chicago Bears
. Skladny completed all three for the
Detroit Lions
.
While Hekker was going 2-for-2 against San Francisco, the
Seattle Seahawks
were getting completed passes from receivers
Golden Tate
and
Sidney Rice
during a 28-7 victory against the
New York Jets
.
The left-handed Tate's pass to Rice produced a 23-yard touchdown even though the receiver's throwing motion made it look like he was throwing a javelin.
"After it left his hands, I give him a 10,"
Rice said
. "It was a spiral, and I scored. Before that, I give him a two. His throwing motion was the worst. I thought we traded for [Tim] Tebow for a second."
Hekker looked more like a quarterback when he threw. That was
the plan all along
.
January, 26, 2012
1/26/12
1:00
PM ET
ESPN.com IllustrationHall of Famer Marcus Allen shouldn't look back; Patrick Willis is gaining on him.
Patrick Willis
checks in at No. 7 on the ESPN.com/ESPN The Magazine's NFL Any Era team.
Twenty Pro Football Hall of Famers determined Willis has the toughness and overall game to match up with anyone, at any time, in any era of NFL history.
No argument here.
"First off, it is truly an honor and a blessing to be picked by those guys," Willis said. "Those are guys that I will forever look up to, whether I got a chance to watch them play or just hear something about them. My ultimate goal is to get to be in the Hall of Fame, to be one of those players when people talk about the game forever, to be one of those guys that is recognized for playing the game the right way and giving it everything you got."
Willis is well on his way. He has five Pro Bowls and five All-Pro selections (four of them first team) in his first five NFL seasons. He has no real weaknesses.
And, as Any Era panelist Mike Ditka put it, "Patrick Willis knocks the crap out of guys."
That, too.
Toughness was a key component for Any Era consideration. Willis and others expanded on that theme in relation to him for
a piece running
in conjunction with the project.
Willis' teammate,
Parys Haralson
, captured it pretty well.
"You can talk about being tough, but once you turn on the film and see the way a person plays, the things that a person does, the amount of snaps they play, the way they play, the way they take on blocks, the way they get off blocks, the way they tackle -- everything -- to me that is the toughness," Haralson said. "Being able to play tough and going out and showing that you are tough with your play, not saying you are tough."
March, 17, 2011
3/17/11
12:00
PM ET
»
NFC Draft Watch
:
East
|
West
|
North
|
South
»
AFC
:
East
|
West
|
North
|
South
Each Thursday leading up to the NFL draft (April 28-30), the ESPN.com NFL blog network will take a division-by-division look at key aspects of the draft. Today's topic: draft rewind -- examining the past five drafts.
Arizona Cardinals

Best choice:
Steve Breaston
, WR, fifth round (2007). Tough, productive and team-oriented, Breaston embodies everything coach Ken Whisenhunt loves in a player. There were other considerations in this spot, including Pro Bowl cornerback
Dominique Rodgers-Cromartie
, but Breaston was the choice for his consistency, bargain price and
all-out approach
.
Worst choice:
Matt Leinart
, QB, first round (2006). Other draft choices failed more quickly, from 2007 third-rounder Buster Davis to 2009 second-rounder
Cody Brown
. None set back the franchise as much as the Cardinals' decision to use the 10th overall choice for Leinart. The team invested four seasons in Leinart, then cut him right before the one season in which Leinart appeared best positioned to start.
On the bubble:
Beanie Wells
, RB, first round (2009). Injuries set back Wells before each of his first two NFL seasons, just as draft analysts warned. Wells has plenty of talent. He ran hard and effectively for flashes as a rookie, but the consistency and production simply haven't been there. This third season looks like a pivotal one for the 31st player chosen in the 2009 draft.

Seattle Seahawks
Best choice:
Russell Okung
, LT, first round (2010). A player coming off an injury-affected rookie season should not stand out as a team's best draft choice over the past five years. Okung gets the designation by default. Multiple coaching changes have contributed to Seattle getting less from some already ordinary draft classes. Seventh-rounders
Cameron Morrah
,
Justin Forsett
and
Ben Obomanu
might have better futures than the first-round choices from their respective draft classes.
Worst choice:
Lawrence Jackson
, DE, first round (2008). Jackson made little impact in his first two seasons, then got shipped to Detroit when his former college coach, Pete Carroll, took over. He fared better with the Lions, no doubt benefiting from
Ndamukong Suh
's disruptive presence. The Seahawks had little to show for his two seasons in Seattle.
On the bubble:
Aaron Curry
, LB, first round (2009). Curry's strength against the run has shined through at times, but he hasn't made impact plays or showed the anticipated growth. The Seahawks would like Curry to become more adept at rushing the passer. That wasn't his role in college, however, and others have done it better in Seattle.

San Francisco 49ers
Best choice:
Patrick Willis
, LB, first round (2006). Willis has earned four Pro Bowl berths in as many seasons. He's a dominant physical presence and the type of player a defense can build around. Willis, arguably the best inside linebacker in the NFL, has produced several signature plays already. Three off the top of my head: tracking down
Sean Morey
62 yards downfield in overtime;
crushing
receiver
Brad Smith
on a pass over the middle; and knocking out
Matt Hasselbeck
with broken ribs.
Worst choice:
Kentwan Balmer
, DE, first round (2008). Balmer lasted only two seasons with the 49ers before the team traded him to Seattle for a sixth-round choice in the 2010 draft. It's telling when a team trades a recent high draft choice to a division rival without fearing the consequences. Running back
Glen Coffee
was another consideration in this spot. The 49ers used a third-round choice on him in 2009, then watched him retire before the 2010 season.
On the bubble:
Manny Lawson
, OLB (2006). Lawson stands out as one of the better special-teams players in the league. He had 6.5 sacks in 2009 and was entering a pivotal year in 2010. The production wasn't there, however, and now Lawson appears likely to hit the market when free agency opens.

St. Louis Rams
Best choice:
Sam Bradford
, QB, first round (2010). The Rams picked the right year to hold the No. 1 overall choice. Bradford made an immediate impact as the Rams won more games in 2010 than they had in their previous three seasons combined. Bradford played every snap even though scouting reports questioned his durability and wondered how quickly he would assimilate into a pro-style offense.
Worst choice:
Tye Hill
, CB, first round (2006). The Rams could have drafted quarterback
Jay Cutler
at No. 11, but they liked
Marc Bulger
and didn't see an immediate need. The Rams moved back four spots in a trade with Denver, choosing Hill with the 15th pick. The deal netted a third-rounder for the Rams, which the team wasted on troubled offensive lineman
Claude Wroten
. Hill's starts declined every season and the Rams traded him to Atlanta for a seventh-round choice before Hill's fourth NFL season.
On the bubble:
Donnie Avery
, WR, second round (2008). Avery had 100 catches, including eight for touchdowns, during his first two seasons. A knee injury sidelined him all of last season. The Rams have a new offensive coordinator. They'll probably address the position in the draft. Avery should re-emerge as part of the mix. This is a big year for him.
May, 4, 2010
5/04/10
9:23
PM ET
The 49ers put together a
Patrick Willis
highlight
video
commemorating his contract extension and I wasn't sure which play stood out as the best.
On one, Willis runs through the Rams'
Mike Karney
without seeming to notice the 260-pound fullback on his way to tackling running back
Steven Jackson
.
[+] Enlarge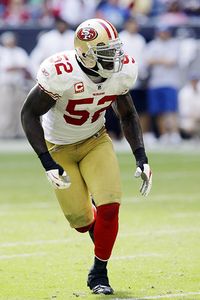 Brett Davis/US PresswirePatrick Willis will be chasing 49ers' opponents until at least 2016.
On another, Willis knocks out Seahawks quarterback
Matt Hasselbeck
with a touchdown-saving shot to the back.
On yet another, Willis delivers a
knockout hit
on
Brad Smith
, the Jets receiver who
dared come across the middle
.
Such plays made the 49ers' decision to extend Willis' contract through 2016 an easy one. Everything about Willis -- specifically the way he has played hurt, relished contact and taken pride in overcoming humble beginnings -- suggests the big payday will only push him harder.
"I'm still going to be the same Patrick, humble and hungry," Willis said during a phone interview Tuesday.
Believe him. Willis knows no other way.
Asked about the hit on Hasselbeck last season, Willis discussed it briefly, then began simmering over the 1-yard touchdown pass the 49ers allowed to
Seneca Wallace
on the next play.
"It made me so mad," he said. "We had the perfect defense called."
Willis' focus and intensity will not preclude him from playing a smarter game beginning in 2010. Before signing the extension, Willis agreed to take coach Mike Singletary's advice about wearing more pads. Some players have gravitated away from wearing knee pads and thigh pads, as if looking sleek meant more to them protecting their bodies.
The seemingly minor injury Willis suffered from banging his knee on artificial turf last season helped him come around to Singletary's way of thinking. The injury nagged Willis all offseason until doctors performed surgery to remove an angry bursa sac. Willis withdrew from the Pro Bowl.
Singletary had implored Willis to wear thick knee pads when the 49ers play on artificial surfaces.
"But look how you looked when you played," Willis would respond, cringing at visions of a 1980s-era Singletary playing with elbow pads, thick knee pads and thigh pads that appeared suited for a guard.
"But now look at me," Singletary would respond, and Willis had to admit Singletary looked good bouncing around the practice field.
Singletary has held up well enough physically to run through football drills with his son (Matt Singletary is a defensive end at Baylor). Willis, reliant on crutches while he recovered this offseason, has become a believer.
If the extra padding extends his career, the 49ers will have to make room on that highlight reel. They should probably extend it anyway. If forced to reduce his career to a single highlight, Willis pointed to one that didn't make the cut: his weaving 86-yard interception return for a touchdown at Seattle in 2008.
I then reminded him of the play I thought symbolized his career: the time he tracked down Cardinals receiver
Sean Morey
in overtime after a 62-yard catch-and-run. The 49ers won the game.
"I will never forget that play," Willis said.
Willis' new deal gives him until at least 2016 to come up with a better one. The 49ers have got to like his chances.
Update:
Singletary's son is
reportedly transferring
from Baylor to Cal Poly-San Luis Obispo. Thanks to KinneySf for the assist in the comments section.
September, 9, 2009
9/09/09
12:40
PM ET
| | |
| --- | --- |
| | |
| | Getty Images |
| | Linebacker Patrick Willis, shown taking cues from 49ers coach Mike Singletary, cannot tolerate opponents putting him on the ground. |
Posted by ESPN.com's Mike Sando
Retired NFL players tend to miss the camaraderie. The 49ers'
Patrick Willis
will miss the violence.
Nine months after
obliterating
Jets receiver
Brad Smith
-- view the devastation 57 seconds into
this highlight video
-- Willis welcomed a chance to relive it.
"Oh, man, it felt amazing," he said. "I'm not going to lie."
Or lay down. The hit on Smith came a few plays after an unknown Jets player put Willis on the ground.
"I got up and it's the worst feeling," Willis said. "I cannot stand being on the ground unless I'm hitting somebody else. I feel like somebody just tried to take my manhood from me. At all costs, the only time I'm going to be on the ground is if I'm delivering the lick."
| | |
| --- | --- |
| | |
| | Cary Edmondson/US Presswire |
| | Patrick Willis recalls the hit he put on Jets receiver Brad Smith: 'Oh, man, it felt amazing.' |
The conversation reinforces what's apparent from watching Willis on the field. Among NFC West players, perhaps only the Cardinals'
Adrian Wilson
projects strength, power and ferocity to such degrees. Both can knock out an opponent at any time.
Willis, unable to identify which Jets player knocked him down during the 49ers' 24-14 victory in Week 14, found Smith to be an inviting target. Strong safety
Michael Lewis
was chasing Smith across the middle when the receiver seemed to notice Willis approaching from the front. Smith slowed and started to duck. Lewis was tackling Smith from behind when Willis lowered his shoulder and hit Smith high, twisting Smith's body awkwardly. The sound at impact might have sickened a neurologist, but not Willis.
"Sometimes the ones that look like they shouldn't hurt are the ones that hurt, and the ones that look like they don't hurt just kill you," he said. "This one felt good. When I hit him, people don't understand, I didn't really hit him with everything I had because I was still getting over a rib injury that I was dealing with from the Buffalo game."
Against the Cardinals last season, Willis hit tight end
Leonard Pope
in the ribs with a shot that also knocked the air from Willis' lungs. As a rookie, Willis once thought his shoulder "came out of the socket" during a hit on Steelers receiver
Hines Ward
. He recalled his entire right side giving out for two or three plays, to the point where Willis told then-teammate Derek Smith he feared what might happen if the Steelers ran the ball in his direction. The hit on Smith might be his most devastating one yet.
"People don't understand it, but I don't know how you can get a thrill like that," Willis said. "You get angry, you get mad, you just go and just put it all in someone else."
July, 21, 2009
7/21/09
8:05
AM ET
Posted by ESPN.com's Mike Sando

Bill Coats of the St. Louis Post-Dispatch says Rams coach Steve Spagnuolo has not cut back on two-a-day practices despite an apparent league-wide trend in that direction. We'll see if the heat and humidity at Rams Park leads to any concessions. Spagnuolo wants to toughen up the Rams without wearing them out.
Nick Wagoner of stlouisrams.com says the Rams will open 32 practices at training camp. Wagoner: "Two a days for the entire team will begin on Aug. 1 with the first practice from 8:15-10:30 a.m. and the second from 2:45-4:25. For most of the rest of camp, the team will follow that format for the majority practices."

David Fucillo of Niners Nation considers the best quarterbacks in 49ers history. Joe Montana and Steve Young weren't the only ones. John Brodie and Y.A. Tittle weren't bad, either.
Matt Maiocco of the Santa Rosa Press-Democrat says Michael Crabtree could receive roughly $15 million in guaranteed money as part of his rookie contract.
Scott Kegley of 49ers.com passes along a few jersey number updates. Reggie Smith gets No. 30, Terrail Lambert gets No. 41 and Dre Bly gets No. 31.

John Morgan of Field Gulls revisits Jordan Babineaux's 2008 season for the Seahawks. Morgan: "Babineaux has carved out a nice little career for himself despite few tangible skills. He's fiery, versatile, a playmaker and I once referred to him as a 'gamer.' As a dime defender, Babineaux finally punched his weight as a cornerback, but Seattle doesn't need to spend $1 million annually to shut down Dexter Jackson, Dane Looker, James Thrash and Brad Smith."
Also from Morgan: A look at the injury situation at defensive tackle for Seattle. Red Bryant and Cory Redding are coming off injuries.
More from Morgan: Which Seahawks player will create the most buzz during preseason? The next Justin Forsett, in other words.
Danny O'Neil of the Seattle Times cedes the floor to Doug Farrar for analysis on the injuries the Seahawks suffered last season. The key issue is to what degree some of those injuries might linger or recur.
Eric D. Williams of the Tacoma News Tribune thinks the Seahawks should find ways to use Seneca Wallace even if Matt Hasselbeck is healthy. That seems very likely given the apparently flexibility of the new staff.
Brian Baldinger of NFL Network checks in with the Seahawks' receivers for a video spot on the "art" of playing the position.
Eric D. Williams of the Tacoma News Tribune says the Seahawks have expanded their partnership with the Washington State Lottery by developing a scratch game. Williams: "The Seahawks already had a business partnership with the state lottery in place, allowing the state agency to advertise at venues like Qwest Field, so the deal is seen as the next step in the partnership between the two sides, said league spokesperson Brian McCarthy."

Kent Somers of the Arizona Republic quotes Levi Jones' agent as saying the former Bengals tackle wants more money from Arizona than the Cardinals have offered. Somers: "The Cardinals are one of about a dozen teams to express interest in Jones, [agent Kenny] Zuckerman said. But Jones likely won't sign with a club until after the start of camp. If tackles are lost to injury, Zuckerman is convinced Jones' value will increase."
Also from Somers: Arizona has not signed its top two draft choices, and it's not a big deal.
Azcardinals.com
has the Cardinals' media guide online and available for download.
April, 4, 2009
4/04/09
11:29
AM ET
Posted by ESPN.com's Mike Sando
The Rams hold the second, 35th, 66th, 103rd, 138th, 176th and 211th choices in the 2009 draft. For perspective, I've singled out the last four players chosen in those spots.
Two of those players play for the Rams now: defensive end Chris Long, chosen second overall by the Rams last year, and free safety Oshiomogho Atogwe, chosen 66th overall by the Rams in 2005.
Going back one additional year would have shown Rams guard Jacob Bell as the 138th player chosen in 2004, by Tennessee.
March, 6, 2009
3/06/09
9:46
AM ET
Posted by ESPN.com's Mike Sando

Bryan Burwell of the St. Louis Post-Dispatch contrasts Rams receiver Torry Holt to former Cowboys receiver Terrell Owens. Burwell: "Holt, the 32-year-old seven-time Pro Bowler, has asked the Rams to release him after 10 Hall-of-Fame-worthy seasons. He believes the Rams are going in a new direction and that those long-range plans no longer include him. He didn't preen in front of cameras in a press conference in the driveway of his suburban St. Louis home. He didn't hurl insults at management. What he did is what he has always done since he arrived in St. Louis in 1999. He handled himself with class."
Jim Thomas of the St. Louis Post-Dispatch provides additional details on Jason Brown's contract with the Rams, noting that the deal can void after four seasons.
Also from Thomas: The Rams' moderate interest in Heath Evans became irrelevant when the fullback signed with the Saints.

Jim Trotter of SI.com picks apart the 49ers' brief courtship with Kurt Warner. Trotter: "The 49ers decision to court Warner was flawed on so many fronts that it's difficult to decide where to begin. For one thing it sent a mixed message to the players, fans and media about the blueprint for the future. [Mike] Singletary, who had the interim tag removed from his job title in December, has spent the last few months creating the impression that he wants a physical, ground-based offense. Then the team brings in a quarterback like Warner, who is at his best using spread formations and throwing the ball around."
Patrick Willis' hit on Brad Smith stands out as the 49ers' hit of the year in a poll of players. This was about as violent as a hit can be within the rules.
John Crumpacker of the San Francisco Chronicle says the 49ers aren't interested in Terrell Owens even though general manager Scot McCloughan told KNBR the door wasn't closed.
Tim Kawakami of the San Jose Mercury News describes the 49ers as a jittery franchise after listening to McCloughan on KNBR.

Darren Urban of azcardinals.com relays some information from Larry Fitzgerald's USO tour of the Middle East. The Rams' Will Witherspoon is also part of the group.
Revenge of the Birds' Andrew602 declares Warner the Cardinals' player of the year for 2009. Previously, "Steve Breaston has won Most Improved Player, Dominique Rodgers-Cromartie won Rookie of the Year, Karlos Dansby won Defensive Player of the Year."

Clare Farnsworth of the Seattle Post-Intelligencer checks in with Seahawks receiver Nate Burleson following the signing of T.J. Houshmandzadeh. Burleson: "It made me smile. I'm excited about what's going on."
Also from Farnsworth: a quick update on the Seahawks' plans in free agency. John Owens has signed. Justin Griffith and Bryan Pittman are visiting. Jermaine Phillips is off the market.
December, 12, 2008
12/12/08
4:30
PM ET
Posted by ESPN.com's Mike Sando
Pro Bowl linebacker Patrick Willis will face no fine for the hit that knocked Jets receiver Brad Smith from the game Sunday.
We discussed this play at length earlier in the week. It did not appear dirty, in my view, even though Willis' helmet struck Smith's helmet during the collision. As noted in the earlier item:
Safety Michael Lewis was chasing Smith from behind when Smith seemed to notice Willis approaching from the front side. Smith slowed and started to duck as Willis closed the distance. Lewis was tackling Smith from behind when Willis lowered his shoulder and hit Smith high.

Smith initially got up, seemingly on instinct, then dropped to his knees after about 13 seconds. He spent the next 93 seconds on the ground while medical personnel tended to him. Smith then rose with help. Nearly another 30 seconds elapsed while Smith left the field.

CBS analyst Phil Simms said he thought the hit was a clean one. Replays showed helmet-to-helmet contact. This did not appear to be a dirty play, in my view, but it was certainly violent.
Willis is one of the most violent players in the league without being a dirty player. I remember an end zone hit he put on Cardinals tight end Leonard Pope one week. It was a direct shot to the ribs that seemed to say: "Think twice before entering my neighborhood again."
December, 10, 2008
12/10/08
12:01
PM ET
Posted by ESPN.com's Mike Sando
Before we take a closer look at the 49ers, please heed this quick public-service announcement: If you see coming toward you a large man wearing a red shirt with "52" emblazoned in white across the front and back, buckle your chinstrap, bite down on your mouthguard and call for the trainer. Patrick Willis is about to annihilate you.

Willis
Apologies to the New York Jets for failing to pass along this warning a week ago. Willis, the 49ers' Pro Bowl inside linebacker, punishes offensive players of all positional denominations. He strikes me as a more athletic version of his head coach, Mike Singletary.
Two plays involving Willis stood out Sunday. On one, Pro Bowl Jets guard Alan Faneca failed to keep a low base when trying to remove Willis from a running play. Willis jolted Faneca hard enough to lift the 307-pound lineman off the ground. Willis discarded Faneca and took down the runner for a short gain almost in one movement. Not many linebackers can do that.
The other memorable play featured Willis blasting Jets receiver Brad Smith hard enough to knock Smith from the game after a late 7-yard reception. Safety Michael Lewis was chasing Smith from behind when Smith seemed to notice Willis approaching from the front side. Smith slowed and started to duck as Willis closed the distance. Lewis was tackling Smith from behind when Willis lowered his shoulder and hit Smith high.
Smith initially got up, seemingly on instinct, then dropped to his knees after about 13 seconds. He spent the next 93 seconds on the ground while medical personnel tended to him. Smith then rose with help. Nearly another 30 seconds elapsed while Smith left the field.
CBS analyst Phil Simms said he thought the hit was a clean one. Replays showed helmet-to-helmet contact. This did not appear to be a dirty play, in my view, but it was certainly violent.