October, 4, 2013
10/04/13
12:00
PM ET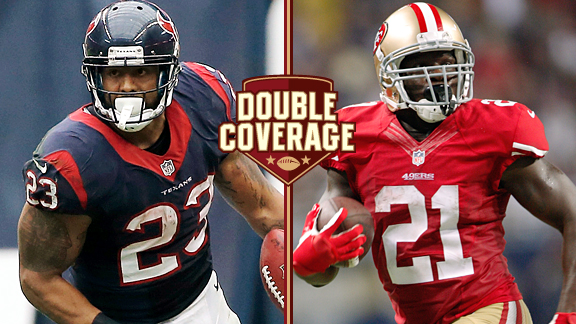 Getty ImagesTwo of the NFL's top rushers, Arian Foster and Frank Gore, will try to carry their teams Sunday night.
The
Houston Texans
are not pleased with themselves, and neither is their Week 5 opponent, the
San Francisco 49ers
.
After starting off Week 4 the right way with a big win at St. Louis, the 49ers bitterly watched the Texans blow a huge fourth-quarter lead at home in an eventual overtime loss to Seattle, allowing the Seahawks to maintain their two-game lead over the 49ers in the NFC West.
San Francisco will try not to fall further behind when it welcomes the shell-shocked Texans to Candlestick Park on Sunday night. Texans reporter Tania Ganguli and I discuss the matchup.
Ganguli:
What changed for the 49ers between Weeks 3 and 4? Is it as simple as playing a weaker opponent, or did they rediscover their identity?
Williamson:
Easier competition may have had something to do with it. Against Seattle and Indianapolis, the 49ers were outscored by a combined 56-10. Against the Rams, the 49ers had their way in a 35-11 victory. I truly think the 49ers' struggles this season have been more because of themselves than their opponent. The trouble in Weeks 2 and 3 started on offense. The 49ers badly miss injured receivers
Michael Crabtree
and
Mario Manningham
; they don't have much beyond
Anquan Boldin
and tight end
Vernon Davis
, who has been injured. Fortunately, the rushing game got going in Week 4. If the 49ers can keep the run game hot and if quarterback
Colin Kaepernick
can get the ball to Boldin and Davis, the 49ers will be fine. That will take pressure off a good defense that wasn't the main problem against the Seahawks or the Colts.
Tania, do you believe the Texans are up to the task of staying with the 49ers, especially after the heartbreak of the Seattle loss?
Ganguli:
They were angry about that loss, especially
J.J. Watt
, who held a menacing news conference (menacing in general, not menacing toward reporters) after the game. They have taken steps to regroup mentally, holding a players-only meeting that allowed for venting, but I think their ability to bounce back will depend on being able to fix some of the problems they had in their first game. Those problems go well beyond quarterback
Matt Schaub
, who made the most costly and talked-about error this past Sunday in throwing a pick-six late in the fourth quarter. The Texans gave up a crucial fumble, dropped a couple of passes and committed a 15-yard penalty that helped set up the game-winning field goal. You're right that the Texans' defense hasn't been the team's biggest problem this season, but Houston has given up drives of 99 and 98 yards this season, and it would like to change that.
How has losing
Aldon Smith
affected San Francisco's defense?
Williamson:
It would be inaccurate and naïve to think the 49ers don't miss Smith. He will be away from the team for about a month as he seeks treatment for alcohol abuse. Smith had 4.5 sacks in the first three games this season, and he has an NFL-high 38 sacks since 2011. Last week, the 49ers dominated the Rams' offense without Smith and star inside linebacker
Patrick Willis
, who was out with a groin injury, and recorded five sacks. Rookie
Corey Lemonier
and special-teamer
Dan Skuta
both played well in place of Smith, and linebackers
NaVorro Bowman
and
Ahmad Brooks
led the way with big games. Still, Smith is such a presence. The 49ers will be hard-pressed to have sustained dominance without him.
Tania, do you think the Texans can take advantage of Smith's absence?
Ganguli:
The Texans have had their own issues in the trenches lately. Left tackle
Duane Brown
has missed the past two games with turf toe and is still considered day-to-day. Left guard
Wade Smith
rotated with second-year guard
Ben Jones
last weekend. Coach Gary Kubiak said that was to preserve Smith for the long term; Smith had knee surgery during the preseason and returned from it after three weeks. Meanwhile, right tackle
Derek Newton
, another young player, has really struggled. In fact, Brown's replacement,
Ryan Harris
, has played far better than Newton, Houston's regular starter on the other side. Now right guard
Brandon Brooks
is hurt with a toe injury that's got his foot booted. The most consistent player, in terms of health and production, on the offensive line has been center
Chris Myers
, but Schaub has faced a lot of pressure this season.
Speaking of Schaub, he had a rough weekend against the best secondary in the NFL. What challenges will he face against the 49ers?
Williamson:
I think Schaub's struggles start with him, and I think the 49ers will try to pressure him quickly to see if he crumbles again. You know better than I do, but from seeing replays, Schaub looked broken after the
Richard Sherman
pick-six. The 49ers are well aware that Schaub has thrown interceptions that have been returned for touchdowns in the past three games, and they will be looking to add to the list. A player to watch is rookie safety
Eric Reid
. He has proven to be a ballhawk already. I could see him benefiting from Schaub's issues.
This is a huge key to the game, Tania. Do you think Schaub can bounce back and be effective?
Ganguli:
That will be the most important factor in this game. While I don't blame the entire collapse on Schaub, you're absolutely right that he looked broken after Sherman's interception. By contrast, in Week 2, Schaub threw a late pick-six against Tennessee that put the Texans in an eight-point hole, but he recovered quickly enough to lead a game-tying drive that forced overtime. He didn't bounce back as well against the Seahawks. He made a few nice throws, including a 17-yard pass to
Andre Johnson
, but overall, looked rattled. If he can't recover, the Texans have no chance. But if he can rediscover the guy who led that comeback effort you and I watched live against San Diego in Week 1, I think the Texans are in good shape.
April, 4, 2012
4/04/12
2:45
PM ET
Torry Holt
got the timing right for
his retirement news conference
Wednesday at
St. Louis Rams
headquarters.
The Rams' seven-time Pro Bowler offered a formal goodbye while NFC West teams searched for receivers with comparable skill.
The latest
2012 NFL mock draft

from Mel Kiper Jr., a two-rounder with explanations for every selection, sends three receivers to NFC West teams in the first round alone.
We get the hint even though this division features a couple all-time greats in
Randy Moss
and
Larry Fitzgerald
. The Rams in particular need upgraded weapons, but the other teams in the division could use help as well.
And while Kiper did not send a receiver to Seattle in the first round, knowledgeable Seahawks fans know their team hasn't had a Pro Bowl player at the position since
Brian Blades
in 1989 (another receiver,
Alex Bannister
, made it as a special-teamer in 2003).
The symmetry with Holt and the Rams is striking. The team drafted Holt sixth overall in 1999, and a trade-down with Washington this offseason has given them the sixth pick again this year. That is where we pick up the conversation, using Kiper's mock as a starting point.

6. St. Louis Rams: Justin Blackmon, WR, Oklahoma St.
Kiper's give:
The possibility remains that St. Louis could move off this spot, but if they stay here and get Blackmon, they'll immediately upgrade a huge weakness, which is the lack of talented options for
Sam Bradford
in the passing game. Blackmon's speed is adequate, but his smarts, ball skills, route-running and work habits translate to a guy that can contribute immediately, which is what this offense desperately needs.
Sando's take:
Kiper had cornerback
Morris Claiborne
heading to the Rams in
his previous mock
. Blackmon went to Cleveland at No. 4 in that scenario, but with running back
Trent Richardson
working out impressively following knee surgery, Kiper has the Browns taking Richardson instead of Blackmon. That left Blackmon for the Rams. We've debated on the blog
whether Blackmon would be a reach
with the sixth pick. We do know Blackmon would address a primary need, and that most analysts consider him a legitimate choice among the top 10 selections. The Rams are trying to bolster the position in free agency to diminish the need heading into the draft, but they aren't going to find a young talent such as Blackmon on the market at this time. The Rams own the 33rd and 39th picks as well, giving them an opportunity to find playmakers beyond the sixth choice, should they prefer to do so. Kiper had the Rams taking Michigan State defensive tackle
Jerel Worthy
and Ohio State tackle
Mike Adams
in the second round.

12. Seattle Seahawks: Quinton Coples, DE, North Carolina
Kiper's give:
Even if [Boston College linebacker Luke] Kuechly is still on the board, it would be tough for Seattle to pass on perhaps the safest 4-3 DE option available. Coples has prototypical size, can play every down as a pass-rusher and has a solid arsenal of moves to get to opposing quarterbacks, but with the size and discipline to be a force against the run. Seattle can't go wrong here with either the top LB or DE available. This defense is close to being considered among the NFL's finest.
Sando's take:
The word "safest" isn't particularly comforting for Seahawks fans.
Aaron Curry
was considered the safest pick in the 2009 draft. Coples was my choice for Seattle in the recent
NFL Blog Network
mock
. Then, Kuechly was not available. Kiper previously had Seattle taking
Ryan Tannehill
in this spot, but Tannehill was off the board this time and the Seahawks weren't in the QB market, anyway, after signing
Matt Flynn
. Some have criticized Coples for inconsistent effort. Pete Carroll constantly emphasizes competition, but the Seahawks have shown they can get good results from defensive players with varied résumés and reputations.
Red Bryant
,
Chris Clemons
and
Alan Branch
come to mind. The draft plot thickens considerably for Seattle if Kuechly does slip past the top 11 choices. The word "safe" has applied to Kuechly as well. The Seahawks have obvious needs for a pass-rusher and a linebacker, so Coples and Kuechly make sense as projected picks. Kiper had the Seahawks taking Oklahoma linebacker
Ronnell Lewis
in the second round.

13. Arizona Cardinals: Michael Floyd, WR, Notre Dame
Kiper's give:
Another pick I'll stick with, Floyd is a great complement to Larry Fitzgerald and will help Arizona maximize the options for
Kevin Kolb
. The offensive line could use help, but Floyd has proven that he'd be a good value here. Think of Atlanta getting
Julio Jones
to take some pressure off
Roddy White
last year. Floyd could fill a similar role.
Sando's take:
Some might recall Kiper sending Stanford tackle
Jonathan Martin
to the Cardinals
a couple mocks ago
. Martin fell from the first round entirely in
Kiper's next version
before resurfacing in the 20s of this one. The Cardinals need help at tackle after failing to address the position in free agency. (Demetress Bell's agreement with Philadelphia takes away one option under consideration for Arizona.) I get Kiper's thinking on Floyd. Arming Kolb with sufficient options is important. I've offered a counterpoint in the video posted atop this entry. In short, the Cardinals have already armed Kolb with highly drafted weapons at running back, receiver and tight end. The case can be made that Kolb needs to make better use of the existing weapons. To do that, he'll have to gain a stronger grasp of the playbook this offseason. He'll also need to stay on the field, something he hasn't been able to do. Improved pocket awareness would help. Landing a tackle seems like a necessity, but how? I sent
Courtney Upshaw
to the Cardinals in our Blog Network mock, figuring pass-rushers are more valuable than receivers or offensive linemen. Stanford guard
David DeCastro
was available to Arizona in Kiper's latest mock. Would the Cardinals draft him to play guard, then move
Adam Snyder
to right tackle? Kent Somers
raised
that possibility
and it's an interesting one. I'm not sure Snyder projects as the long-term solution at guard, let alone tackle.

30. San Francisco 49ers: Stephen Hill, WR, Georgia Tech
Kiper's give:
Hill is the biggest home-run threat in the draft when you combine his speed and size, and it's no secret the 49ers need some help at wide receiver, even with the additions of Randy Moss and
Mario Manningham
. He'll need an adjustment period as he gets used to doing more in terms of scheme than he was asked at Georgia Tech, but he's the kind of weapon this offense needs to expand.
Sando's take:
The thinking makes sense, but the 49ers have options in this spot. Players drafted this late in the first round will likely need time before developing into starters. There's no pressure to target the most immediate need on the roster. Landing a receiver does have appeal. Moss is 35 years old and might not offer much at this stage. But the 49ers can count tight end
Vernon Davis
as one of their receiving options. They use two tight ends frequently. This team does not run a spread offense requiring three top-flight wideouts, in other words. And there's still a chance
Michael Crabtree
will take another step forward after finally getting a full offseason in the 49ers' offensive system. The team has flexibility heading into the draft, in other words. San Francisco could target just about any position with the 30th choice (quarterback would be a surprise). The 49ers can sit back and wait to see which talented players with question marks fall to them. Kiper had the 49ers taking
Brandon Brooks
, a guard from Miami of Ohio, in the second round. The need for guard help could subside if the 49ers sign a veteran in free agency, however. They've visited with a few.