May, 16, 2013
5/16/13
11:30
AM ET
Rolando McClain
's early
retirement from the NFL
comes three years after the
Oakland Raiders
made him the eighth overall choice in the 2010 draft.
While McClain is inviting derision, I wondered whether he was even the most disappointing choice from the first round of that 2010 class. He would fit right in with
the 2009 group
, for sure.
A quick check of games started by 2010 first-rounders showed four players with 48 starts in 48 possible regular-season games. Three of those four players were from the NFC West: Mike Iupati and Anthony Davis of the
San Francisco 49ers
, and Earl Thomas of the
Seattle Seahawks
.
Tyson Alualu, the player Jacksonville controversially selected 10th overall, rounds out the quartet.
St. Louis Rams
quarterback Sam Bradford (42) and Seattle Seahawks left tackle Russell Okung (37) were relatively close behind. Dan Williams, chosen 26th overall by the
Arizona Cardinals
that year, ranked 26th on the list with 21 starts over the past three seasons.
All starts aren't quality starts, of course. McClain ranks relatively high on the list with 38 starts despite his bust status. Anyone familiar with the NFL would rather have
Denver Broncos
receiver Demaryius Thomas (23 starts) than Alualu, who has
struggled with knee trouble
and generally been just OK.
First-round picks from 2010 have combined for 21 Pro Bowl honors.
Maurkice Pouncey leads the way with three. Thomas is one of five players with two. Ndamukong Suh, Jason Pierre-Paul, Eric Berry and Jermaine Gresham are the others.
Iupati and Okung are part of an eight-man grouping with one Pro Bowl. Ryan Mathews, Thomas, Devin McCourty, Gerald McCoy, C.J. Spiller and Trent Williams are the others.
Iupati, Pouncey, Suh, Thomas and Pierre-Paul have been first-team Associated Press All-Pro once apiece.
Bradford was offensive rookie of the year. Suh won defensive rookie of the year.
March, 4, 2013
3/04/13
12:30
PM ET
Miles from Seattle
asks whether
John Abraham
, recently released by the
Atlanta Falcons
, could fit with the Seahawks as a free-agent addition better than
Dwight Freeney
might fit with them.
"He's 34, but he is still productive with 10 sacks last year," Miles writes. "It was suggested that Freeney would be willing to play for a discount with incentives in order to play for a contender. At 34, could the Seahawks land Abraham with such an offer?"
Abraham
Freeney
Sando:
The Seahawks do have a need at defensive end, most likely, while starter
Chris Clemons
recovers from ACL surgery. A veteran free agent could work well as a one-year stopgap for the Seahawks, but I don't know whether Freeney or Abraham would come to Seattle at a discount. The market probably needs to play out beginning March 12.
Let's also remember how Seattle acquired Clemons in the first place: by trade. The Seahawks have 10 draft choices at present, second most in the league behind San Francisco. Perhaps their pro scouting department can identify the next Clemons -- a player miscast elsewhere and ready to break through if used properly.
Scheme changes can lead to personnel turnover when existing players no longer fit as well. Philadelphia, New Orleans, Buffalo and Cleveland are switching to 3-4 schemes in 2013. Might any players from those teams carry more value elsewhere as a result? I don't know.
The Eagles'
Brandon Graham
was highly drafted. After a slow start, he had a career-high 5.5 sacks last season and could be headed for a position change from defensive end to outside linebacker. What's his long-term fit with the Eagles? He's relatively cheap and could be ascending. Philadelphia has ample salary-cap room. There would be no obvious reason for the Eagles to move him.
At 268 pounds and with a 40-yard time in the 4.7-second range, Graham might not fit the Clemons mold closely enough, anyway. His name was merely one that came to mind when looking through rosters for potential trade candidates.
Gus Bradley, the former Seattle defensive coordinator and new head coach in Jacksonville, described the prototype during an interview at the NFL scouting combine.
"It needs to be somebody who has good speed, a guy like Chris Clemons," he said. "Not to talk about another team's personnel, but that type of individual who is maybe 6-3, 250 pounds and can run a 4.5, 4.6. Some teams may consider that a linebacker-type."
The free-agent market for defensive ends of any kind is poorer after Cincinnati named defensive end
Michael Johnson
its franchise player. Houston's
Connor Barwin
had 11.5 sacks in 2011 before falling to 3.0 last season. He's 26 years old, listed at 268 pounds, ran the 40 in 4.66 seconds and may or may not fit. Seattle might be better off drafting for the position than overpaying at a spot where Clemons is already well compensated and expected to return at some point.
September, 28, 2012
9/28/12
10:06
AM ET
There was some consternation during the 2010 NFL draft when the San Francisco 49ers traded up from 13th to 11th for a shot at Rutgers tackle Anthony Davis.
Was such a small move up the board really worth the fourth-round choice San Francisco had to sacrifice as a result?

Cam Inman of the San Jose Mercury News
says Davis has earned acclaim for his play to this point in the 2012 season. Frank Gore: "Watching from his rookie year, he's a totally different player now. These first three games, he's been balling. He came a long way."
Noted:
Davis remains only 22 years old. He is probably benefiting from steadier play at the right-guard spot next to him. The team did have other viable options at that juncture of the draft. Ryan Mathews, Brandon Graham, Earl Thomas and Jason Pierre-Paul were the players selected right after the 49ers took Davis. Thomas and Pierre-Paul have gone to the Pro Bowl already.
Matt Maiocco of CSNBayArea.com
expects Isaac Sopoaga to miss the 49ers' game against the Jets. That means Ricky Jean-Francois will likely start.
Also from Maiocco
: a look at the list of players from the 49ers and other teams eligible for Hall of Fame enshrinement this year.
Matt Barrows of the Sacramento Bee
says the 49ers' decision to stay in Ohio this week has made it easier to focus on work. Offensive coordinator Greg Roman: "I think it's positive because there are no distractions. It gives you the chance to hole up in a hotel room and, rather than play cards, we're studying film. It gives you chance to be real isolated and to put our collective minds together to come up with the best plan."

Dan Caesar of the St. Louis Post-Dispatch
checks in with former Rams coach Mike Martz, who is set to call the team's game against Seattle from the Edward Jones Dome. Caesar: "Although he's away from the day-to-day coaching grind, broadcasting still ties him to the game. But he is far from the national broadcasting spotlight, as he's working primarily on telecasts that are seen by small audiences. On Sunday he and play-by-play announcer Ron Pitts, along with reporter Kristina Pink, do a broadcast going to just seven percent of the country -- the least for any of the six NFL games Fox shows that day. Portland, Ore., which is in Seahawks country, and Oklahoma City, where interest remains high in Rams and former Oklahoma quarterback Sam Bradford, are the only major markets outside St. Louis and Seattle scheduled to get the game."
Nick Wagoner of stlouisrams.com
says the team is gearing up for Seattle's formidable defense. Coach Jeff Fisher had this to say, jokingly, after watching Seattle collect eight first-half sacks against Aaron Rodgers: "I thought about starting Kellen Clemens, honestly. And you can go tell him that, too."

Danny O'Neil of the Seattle Times
wonders why the Seahawks invested so heavily in Sidney Rice and Zach Miller. O'Neil: "The two are making a combined $13 million this season, and neither was among the five players who caught a pass for Seattle in the first half. That discrepancy between performance and paycheck points to the fact that they're overpaid, underperforming or criminally underused. Rice didn't catch a pass until Seattle's final play, and Miller caught two passes for 12 yards."
Also from O'Neil
: Seattle's offense in general isn't doing much, and Pete Carroll says he's the reason why.
Brock Huard of 710ESPN Seattle
breaks down the Seahawks play that broke down when Golden Tate ran the wrong route, then broke up a pass for Rice.

Darren Urban of azcardinals.com
says running back William Powell is eager to get reps now that Beanie Wells is out until Nov. 25. Urban: "Despite a notable preseason that saw Powell lead the league in rushing yards, he was fourth on the depth chart and the odd man out on game days. But Powell has impressed coach Ken Whisenhunt enough for the coach to keep him as his fourth back -- in case a situation like this week's arose. Thus far, he's spent the regular season running opponents' offenses waiting for the opportunity to play in his first regular season game."
November, 7, 2011
11/07/11
1:46
PM ET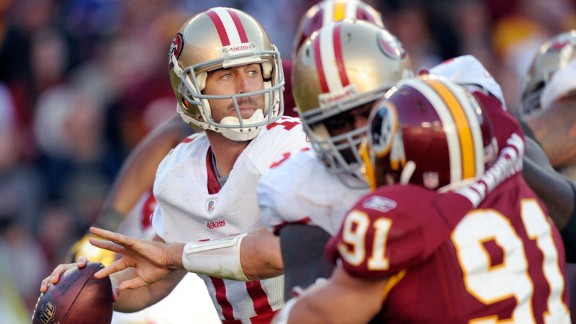 AP Photo/Cliff OwenAlex Smith and the San Francisco 49ers own the second-best record in the NFL.
San Francisco 49ers
quarterback
Alex Smith
sensed pressure, sprinted toward the left sideline and gathered himself as if to throw.
The
Philadelphia Eagles
'
Brandon Graham
hit Smith. The ball hit the ground.
Quintin Mikell
picked it up and ran 52 yards for a touchdown, stretching the Eagles' lead to 24-10.
That sequence from Week 5 last season was a defining one for the 2010 49ers.
Smith encountered similar circumstances Sunday. Sensing pressure against the
Washington Redskins
, he rolled toward the left sideline and gathered himself to throw. He brought the ball back to begin the throwing motion just as the Redskins'
Ryan Kerrigan
delivered a big hit Smith never saw coming.
The difference this time: Smith held onto the ball. There would be no momentum-turning fumble return for the other team. I'm not sure how much credit Smith deserves for that result. Kerrigan appeared to drive the ball back into Smith's body. But the result was obviously better, and that is what mattered for the 49ers. They are 7-1 this season after dropping to 0-5 last season with that defeat to the Eagles.
Ends justify means in the NFL, but that doesn't mean the 49ers' opponents fear Smith the way they fear other quarterbacks with winning records and lofty NFL passer ratings. The fact that the 49ers have less reason to fear Smith largely explains why the team is doing so well with him behind center, in my view.
Eight other quarterbacks have winning records and NFL passer ratings of at least 90. All eight significantly outrank Smith in
Total QBR
, which reflects how much quarterbacks affect their teams' chances for winning on a play-by-play basis. All eight have far more passing yards, a higher average per attempt, more touchdown passes, far more first downs and considerably more long completions.
This confirms what we should know from watching games. Most of the other eight quarterbacks --
Aaron Rodgers
,
Drew Brees
,
Tom Brady
,
Matthew Stafford
,
Eli Manning
,
Ben Roethlisberger
,
Matt Schaub
and
Ryan Fitzpatrick
-- have proven themselves to be better than Smith. NFL teams have said as much by rewarding those other eight quarterbacks with sizable long-term contracts.
With Smith's deal expiring at year's end, his contract situation will need addressing.
If the 49ers continue on their current course, they'll have a first-round playoff bye, which could actually work against Smith by depriving him of a likely postseason victory. Still, given that the 49ers have proven they can win with Smith, they would presumably want him back.
Of those eight other quarterbacks mentioned above, Fitzpatrick compares to Smith more closely than the others. He's known more for being bright and managing games than for dominating them by carrying the offense.
But Fitzpatrick, who signed a six-year deal worth $59 million earlier this season, does outrank Smith by a wide margin in Total QBR, 61.6 to 42.8 (with 50 being average). Most of the difference stems from the sacks Smith has taken. But Smith has taken only five sacks over the 49ers' last four games, down from 14 over their previous three. And he does own the highest single-game QBR score in the NFL this season, a 98.2 out of 100 for his efforts during a 48-3 victory over Tampa Bay.
All things to consider while evaluating where quarterback play factors into the 49ers' success. It's an important question for the 49ers as they determine how much to value Smith and how to proceed at the position in the future. In the meantime, they can be thankful Fitzpatrick wasn't their quarterback Sunday. The Bills' starter finished his team's game with a 2.9 QBR, lowest among 26 qualifying quarterbacks Sunday.
The chart shows QBR scores for NFC West quarterbacks by week and for the season.
Quick thoughts on how NFC West passers graded out in Week 9 according to Total QBR, with NFL passer ratings in parenthesis as a reference point:
John Skelton, Cardinals (53.9 QBR, 85.7 NFL rating): Skelton completed 20 of 35 passes for 222 yards with one touchdown, no interceptions, three sacks and one fumble (recovered by Arizona) during the Cardinals' 19-13 overtime victory against St. Louis. He became the first quarterback since Rodgers in 2008 to take two safeties in one game, but he also threw the tying touchdown pass in the final five minutes of regulation. He also received some credit for yardage gained through an illegal contact penalty against the Rams during the tying drive.

Sam Bradford, Rams (46.1 QBR, 73.3 NFL rating): Bradford completed 23 of 36 passes for 255 yards with no touchdowns, one interception, four sacks, no fumbles and a 2-yard gain on his only rushing attempt. He added a modest 2.8 expected points, according to the QBR formula. The division-high 1.4 clutch rating in the chart below reflects game situations, not how well Bradford performed in them. The column for "clutch weight average" reflects the significance of game situations defined by score, time remaining, etc.

Alex Smith, 49ers (44.5 QBR, 109.7 NFL rating): Smith completed 17 of 24 passes for 200 yards with one touchdown, no interceptions, two sacks and no fumbles during the 49ers' 19-11 victory at Washington. He ran four times for 9 yards, gaining 8 of those yards on a first-and-10 carry during a drive to a field goal. His passing added a modest 3.6 expected points to the 49ers' total. Sacks and penalties offset most of that. In the end, Smith added 1.1 total expected points on a modest 32 plays.

Tarvaris Jackson, Seahawks (25.9 QBR, 40.4 NFL rating): Jackson completed 17 of 30 passes for 221 yards with no touchdowns, three interceptions, one sack, no fumbles and two carries covering 3 yards during the Seahawks' 23-13 defeat at Dallas. He was the only quarterback in the division with a negative total for expected points, this despite the positive contribution he made in drawing an interference penalty against the Cowboys with a heads-up scramble and throw.
The chart below shows how quarterbacks from games involving NFC West teams fared in Total QBR for Week 9. Dallas'
Tony Romo
ranked third among all NFL quarterbacks for his performance against Seattle, while Washington's
John Beck
ranked 24th, lower than any player involved in a game featuring an NFC West team.
March, 7, 2011
3/07/11
2:04
PM ET
Joe from Fort Collins, Colo., writes:
Hey Mike, do you think the
Arizona Cardinals
should think about trading down from the No. 5 posititon if
Blaine Gabbert
and
Patrick Peterson
are both gone? I think it's too high for pass-rusher
Von Miller
, and the defensive linemen would be there between No.s 14 and 22. If they could, say, grab an extra third-round pick and drop down, I would do it. If Gabbert and Peterson are both there, grab the QB. Thanks!
[+] Enlarge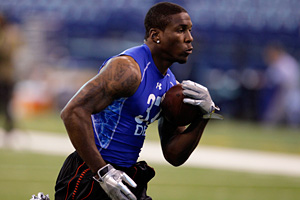 AP Photo/Darron CummingsLSU's Patrick Peterson might be available for the Cardinals, who hold the No. 5 pick in the NFL draft.
Mike Sando:
We'll want to see how a new labor agreement (if there is one) treats draft choices. A cap on top draft choices' salaries could affect how teams view those choices. Chatter about trading down is usually overrated because teams aren't excited about jumping into those premium-dollar slots. And when there are obvious top-five choices available, teams can be less eager to trade out of those spots.
In general, the Cardinals need difference-makers, so if they can get one of the five best players in the draft, they should do so. Gabbert would qualify as a difference-maker by the nature of his position, provided Arizona had him rated highly enough.
Pass-rushers are difference-makers, too, but you raise a good point. Teams have gotten productive pass-rush help outside the top five choices. No pass-rush types went among the top 12 choices in the 2010 NFL draft.
Brandon Graham
(13th),
Jason Pierre-Paul
(15th) and
Derrick Morgan
(16th) were the first defensive end/outside pass-rushers taken.
Aaron Maybin
, drafted 11th overall in 2009, was the first selected in his draft class.
Chris Long
went second overall in 2008 and
Mario Williams
was first overall in 2006, but they were very strong all-around prospects.
I don't see the value being there, necessarily, for the Cardinals at cornerback. That could change depending upon what new defensive coordinator Ray Horton wants for his defense relative to what Arizona already has on its roster. But with
Dominique Rodgers-Cromartie
coming to Arizona as a first-round pick in recent seasons, the Cardinals would ideally target another position at No. 5 overall.
Also:
Tony Softli's review
on Peterson makes me think the Cardinals couldn't even think about passing on him, if they have a shot at him at all.
April, 22, 2010
4/22/10
1:58
PM ET
Nolan Nawrocki, Rob Rang, Rick Gosselin and Pat Kirwan have posted updated mock drafts recently.
The chart shows their predictions for NFC West teams, with links to their full mock drafts.
They agree on
Sam Bradford
at No. 1. Two think
Eric Berry
will land in Seattle at No. 6. Two like
Anthony Davis
to the 49ers at No. 13. None agreed on Seattle's choice at No. 14 or the 49ers' choice at No. 17. All predicted Arizona would take a linebacker --
Sean Weatherspoon
or
Brandon Graham
-- at No. 26.
Rang has Seattle taking
Jimmy Clausen
at No. 6. Gosselin has Clausen going 30th to Minnesota. Not much of a consensus, in other words.
Note that Gosselin is the only one thinking Seattle will draft an offensive tackle in the first round. There's no question the Seahawks' obvious need for a tackle has made it easier to reach when making projections for Seattle at No. 6.
March, 1, 2010
3/01/10
5:33
PM ET
Rolando from Clovis, Calif., says
the 49ers should pursue
Antrel Rolle
in free agency, draft an offensive tackle and linebacker in the first round -- Alabama's Rolando McClain or Michigan's Brandon Graham were suggestions -- before using a second-round choice for
Jahvid Best
or
Ryan Mathews
. He says the 49ers could then field a top-three defense.
Mike Sando:
Mathews is more of a power runner, so I might question the fit. Best has some concussion concerns that could be troubling.
Rolle is a good player, but I don't think he'll be appealing enough to the 49ers for them to depart from their stated intention, which is to cultivate their own talent. Rolle could have more value to the Cardinals than he has to another team. Remember, the 49ers found safety
Dashon Goldson
in the fourth round a few years ago and they seem pretty happy with his first season as a starting safety. This draft has some promising safeties. Perhaps the 49ers can draft one to pair with Goldson. Also, they might want more of a strong safety, although the distinction has become less important in general.
I'll need some convincing before thinking McClain would be a great investment for the 49ers in the first round. Yes, McClain appears to be a good fit as an inside linebacker in the 3-4 defense. Yes, the 49ers could use another inside linebacker to pair with
Patrick Willis
(
Takeo Spikes
is winding down). But one of those inside linebackers is coming off the field on passing downs and it's not going to be Willis. Just something to consider when determining how much to value a player drafted in the first round.
February, 22, 2010
2/22/10
5:26
PM ET
My latest draft conversation with Steve Muench of Scouts Inc. began with a Rams-related discussion -- more on that Wednesday -- before we hit on other NFC West teams.
The 49ers' options at No. 13 and either No. 16 or No. 17 have produced projections targeting Clemson running back
C.J. Spiller
and various offensive linemen. I've been a little skeptical on Spiller's candidacy from a need standpoint even though Spiller would provide a change of pace for Frank Gore and backup Glen Coffee.
Muench pointed to Florida cornerback
Joe Haden
as a possibility at No. 13.
"The top four offensive tackles will already be off the board in this scenario," Muench said. "Even at 16 or 17, we do not have them taking an offensive lineman."
The 49ers want a right tackle and Muench thinks Idaho's
Mike Iupati
could become a stronger candidate in the first round if he looks the part in combine testing. Iupati played left guard in college. He struggled some at left tackle during Senior Bowl practices, but fared better at right tackle even though the conversion from the left side to right side meant significant changes to his stance.
"I think Iupati is a good value there if he looks comfortable in position drills and turns in a respectable middle-of-the-road time in three-cone [drills]," Muench said. "Of the other guys who could be available there, are you going to take
Dez Bryant
, a receiver? No.
Carlos Dunlap
is a versatile defensive lineman, but I'm not sure he is the guy.
Brandon Graham
from Michigan is getting a lot of hype now and he could be an option there."
Graham rose in the Scouts Inc. rankings after a strong showing at the Senior Bowl led to reanalysis of how Graham fared at Michigan.
The 49ers could arguably use an outside linebacker, but this draft appears weaker near the top at that position, Muench said.

NFC WEST SCOREBOARD
Thursday, 9/4
Sunday, 9/7
Monday, 9/8