August, 26, 2013
8/26/13
6:05
PM ET
NFL teams have played their most important snaps of the 2013 exhibition season now that every team has played at least three games.
This becomes a good time to check out how many snaps each projected starting quarterback has played. The players listed in the chart below entered preseason as the quarterbacks I considered most likely to start season openers. We might have to make adjustments in some cases.
Teams have different priorities based on a range of factors. This snapshot does provide some context.
A few notes regarding the NFC West info:
June, 6, 2013
6/06/13
9:35
AM ET
Ronnie Brown, Cedric Benson, Cadillac Williams, J.J. Arrington and Eric Shelton were the running backs selected ahead of Frank Gore in the 2005 NFL draft.
Gore, the San Francisco 49ers' career rushing leader, has
kept those players' names in mind
as motivation over the years.
This is pretty typical thinking in the NFL.
Tom Brady famously kept in mind the six quarterbacks selected ahead of him in the 2000 draft, and what it felt like to be selected 199th overall.
He teared up
when recalling his draft-day experience for a documentary more than a decade later.
"Of all the quarterbacks selected before Brady in the 2000 draft, none hurt Brady more than [Geno] Carmazzi" going to the 49ers because Brady had been a huge fan of Joe Montana and the team while growing up in California,
Mike Reiss noted
two years ago.
Gore has company among third-round choices in the NFC West.
Brandon Weedon was among the quarterbacks selected ahead of 2012 Seattle Seahawks third-rounder Russell Wilson. Rolando McClain and Sergio Kindle were among the linebackers selected ahead of 2010 49ers third-rounder NaVorro Bowman.
Back to Gore: He has 8,839 career rushing yards. Benson (6,017), Brown (5,171), Williams (4,038), Arrington (654) and Shelton (23) have combined for 15,903 yards.
June, 8, 2012
6/08/12
10:05
AM ET
It's usually about the money. It's also about what the money represents.
Brandon Jacobs, touched when a 6-year-old
gave him $3.36 from a piggy bank
to keep him with the New York Giants, balked when the Giants
offered 446,428 times as much
.

Matt Maiocco of CSNBayArea.com
says Jacobs, one of the San Francisco 49ers' new running backs, received the $3.36 offering well after signing with the San Francisco 49ers. Jacobs: "I got the letter a couple days ago and it meant a whole lot to me. That's a special thing and I wish every athlete could get that feeling. That definitely meant a lot for him to do that and put that concept together for one of his favorite players on one of his favorite teams. It meant a lot to me and gave me a lot of motivation. I want to do good and go out there and do the best I can for little Joe. After thinking about it since it happened, I'm going to remember this for the rest of my life. When I go back to Jersey, we are going to have some fun together."
Cam Inman of the San Jose Mercury News
says 49ers defensive end Justin Smith is hungry. Real hungry. Smith: "The window is small. ... In a couple years, we'll probably lose a lot of people. That's just the nature of the game. There's a sense of urgency in that aspect, just talking with a lot of guys. We've got to push and get this done sooner than later."
Eric Branch of the San Francisco Chronicle
says injuries contributed to Frank Gore's diminished production following a streak of six consecutive 100-yard games.

Clare Farnsworth of seahawks.com
says Pete Carroll and his former USC assistants had no idea what happened to former recruit Brian Banks. Carroll: "We really lost track of Brian and what happened until the story was brought about here just in recent days. When we first heard about the story, I thought it was remarkable circumstances and a guy up against all odds -- extraordinary, remarkable circumstances. But not until I talked to him on the telephone did I realize what kind of guy this guy is, and that he deserved a chance. Given other circumstances, he would have earned it in front of our eyes. But this is a guy that just deserved it. This is a great illustration for us of why people deserve a second chance."
Michael Ghelken of the San Diego Union-Tribune
expects Banks to work out for the Chargers on Friday.
Danny O'Neil of the Seattle Times
says Banks, a linebacker, can run the 40-yard dash in less than 4.7 seconds.
Brock Huard of 710ESPN Seattle
offers thoughts on Matt Flynn relative to Brandon Weedon.
Josh Kerns of mynorthwest.com
links to an interview with Banks.

Kent Somers of the Arizona Republic
offers thoughts on the Cardinals' recent organized team activities. He thought John Skelton missed some passes that should have been completed. Also from Somers: "WR Michael Floyd looks like he would be more effective at a little lighter weight. It's not unusual for rookies to be a bit heavy in their first camp, and Floyd is far from overweight. But my guess is that strength and conditioning coach John Lott would like Floyd to be a bit lighter than he is now. He's listed at 220 pounds. Floyd didn't look quick going through agility drills, but that's not his forte, either. It's getting downfield and using his size and strength against smaller defenders."
Also from Somers
: The Cardinals dropped too many potential interceptions last season.
Darren Urban of azcardinals.com
says confidence isn't a problem for Arizona's defense. Calais Campbell: "It's knowing the defense can work, because of where we finished last year. When we are jelling and we do it right, the offense has no chance. They only make plays when we make mistakes and we haven't made a lot of mistakes lately. Our confidence is high. I can't wait to get in there that first game."

Nick Wagoner of stlouisrams.com
offers Rams-related notes, including one about first-round choice Michael Brockers signing his rookie contract. Wagoner: "Brockers is the seventh member of the Rams' 10-man draft class to sign on the dotted line as the Rams move closer to getting everyone under contract before the end of the offseason program next week. Brockers has been present and participating in the team's Organized Team Activities and the rookie minicamp, working mostly with the first team alongside Kendall Langford on the inside."
Also from Wagoner
: catching up with rookie cornerback Trumaine Johnson, who played with Jeff Fisher's son, Brandon, at Montana. Brandon is now an assistant secondary coach for St. Louis.
Tony Softli of 101ESPN St. Louis
says the Rams' rookie class is adjusting to the NFL. Softli: "There are also many adjustments that come with moving to a new city and its surroundings, from finding grocery stores and restaurants to the closest movie theatre. Of the utmost importance, though, is learning the new playbook and terminology, focusing on the Rams' way of doing business, meetings, lifting and running sessions."
June, 7, 2012
6/07/12
12:18
PM ET
Once upon a time, Mike Holmgren and the
Cleveland Browns
were doing all they could to acquire from St. Louis the second overall choice in the 2012 NFL draft, presumably to select Baylor quarterback
Robert Griffin
III.
The Browns had "stepped up their efforts to try to acquire the No. 2 pick, going so far as to offer at least three No. 1 picks to the Rams and possibly even a second-round pick,"
ESPN's Adam Schefter reported
at the time.
Once Washington outmaneuvered Cleveland to acquire the pick, Holmgren suggested a cozy relationship between the Rams and Redskins could have left the Browns on the outside. It sounded like spin, but the picture was only beginning to change.
Now that the Browns have identified first-round choice Brandon Weedon as their franchise quarterback, hindsight says RG3 and other prospects not named Weedon weren't such great fits after all. That sounds convenient.
[+] Enlarge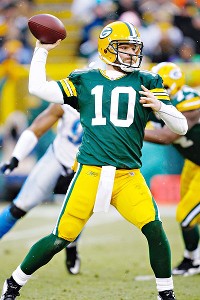 Scott Boehm/Getty ImagesMatt Flynn may not have the strongest arm, but the Seahawks saw enough in the free agent to sign him for three years.
These developments would not matter much in the NFC West if the story ended there. But it does not end there.
"Of the more realistic candidates,"
ESPNCleveland's Tony Grossi wrote
, "free agent
Matt Flynn
was no bigger than
Colt McCoy
with a similarly popgun arm. He was never seriously considered."
Paul from Richmond, Va.,
read those words and fired off a plea for clarification to the NFC West mailbag.
"I take it that John Schneider and Pete Carroll don't share the Browns' view of Flynn's arm, but how can one staff see an adequate NFL arm when the other sees a popgun?" Paul asked. "Mike Holmgren coached
Matt Hasselbeck
, who doesn't exactly have a cannon, but apparently was good enough. Does Flynn have less of an arm than Hasselbeck? Your thoughts?
Mike Sando:
While we cannot hold the Browns accountable for what someone else wrote, we can assume Grossi was writing what he perceived to be the Browns' position.
Holmgren and Schneider both have long and close associations with
Green Bay Packers
general manager Ted Thompson. It is conceivable both would have access to Thompson's thoughts on Flynn, a player Thompson drafted.
But it's also clear Schneider would have a much better feel for Flynn. One, Schneider was with the Packers when Green Bay drafted Flynn. He evaluated Flynn in person on a daily basis for years. Holmgren did not. Two, Schneider counts Packers coach Mike McCarthy among his close friends, conceivably giving him access to the most current and credible assessment of Flynn. Holmgren likely would not have the same access to McCarthy.
It's also reasonable to think the Seahawks and Browns both had some reservations about Flynn. Seattle did not pursue Flynn all that aggressively in free agency. Carroll and Schneider said Flynn won them over during Flynn's visit to team headquarters. That visit included a tryout on the field and coaching sessions in the classroom. That part of the evaluation should not be understated.
When personnel people discuss players with dynamic arm talent, those conversations aren't going to involve Flynn. They wouldn't involve Hasselbeck, either. Both were later-round picks in part because their raw talent wasn't off the charts.
But it's harsh to say Flynn has a "popgun" arm. For a more qualified opinion, I called 710ESPN Seattle's
Brock Huard
, who played for the Seahawks and has watched them practice this offseason. He also thought Flynn's arm was better than that.
As for Weedon being the Browns' most logical choice all along? Sure, he might have been, but it's awful convenient now.
"No doubt, Weedon had one of the most dynamic arms in this draft," said Huard, who also serves as a college football analyst for ESPN. "But when the play broke down and the pocket was not clean, he was the least resourceful of all these prospects. He would be a fantastic fit in a Mike Martz system, but in a West Coast system requiring some movement and resourcefulness, behind a shaky line and with questionable receivers, we'll have to watch how it plays out."