NFC West:

Brian Baldinger
September, 2, 2014
Sep 2
8:00
AM ET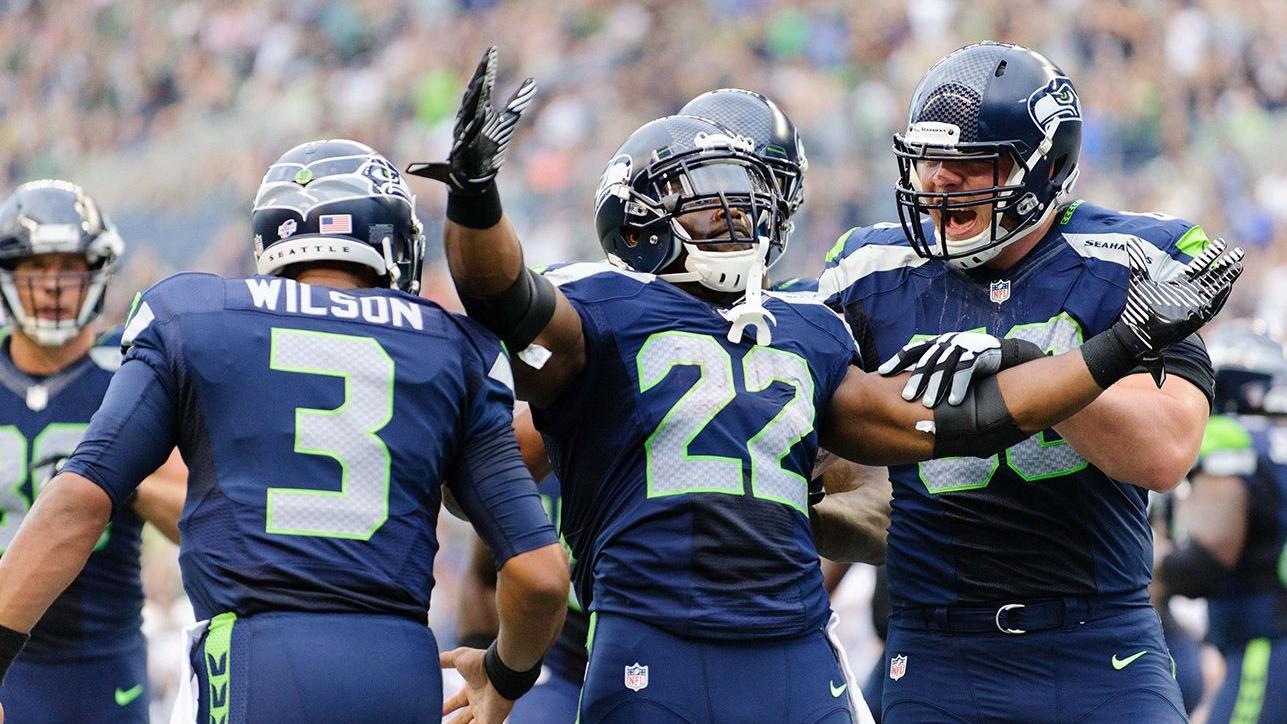 ESPN.com
Seattle Seahawks
reporter Terry Blount makes his game-by-game picks for the 2014 season.
Week 1: Green Bay Packers
All the pregame hype will center around the so-called Inaccurate Reception, the controversial Hail Mary catch by Golden Tate two years ago that won the game over the Packers at Seattle on a Monday night. Tate has moved on to Detroit, but the Seahawks now have too many weapons for the Packers to stop, no Hail Mary required. Prediction: Win
---
Week 2: at San Diego Chargers
The Chargers better hope they play a lot better than they did in the preseason game at Seattle, a 41-14 victory for the Seahawks on Aug. 15. San Diego will play better, but not good enough to beat a much better team. Prediction: Win
---
Week 3: Denver Broncos
The Broncos and their fans got a tiny bit of meaningless Super Bowl revenge in the preseason opener with a 21-16 victory over the Seahawks in Denver. Enjoy it while it lasts, boys. Repeating that outcome in Seattle is not an option. Prediction: Win
---
Week 5: at Washington Redskins
Traveling coast to coast to play on the road for a Monday night game is a tough task against any NFL opponent, and even tougher against quarterback Robert Griffin III. But the Seahawks catch a break in this one by coming off a bye week with plenty of time to prepare and be fresh for the journey. Prediction: Win
---
Week 6: Dallas Cowboys
Cowboys owner Jerry Jones gave Seattle a little bulletin-board material last month when he said the Seahawks were to blame for the increase in penalty flags during the preseason. There won't be near enough flags against Seattle for the Cowboys to win this one. Prediction: Win
---
Week 7: at St. Louis Rams
Any division game in the NFC West is a rugged battle. The Rams have a defensive line that gave the Seahawks problems a year ago. But they aren't strong enough overall to beat Seattle, even at home in their out-of-date dome. Prediction: Win
---
Week 8: at Carolina Panthers
The Seahawks were fortunate to win the season opener at Charlotte a year ago. That Panthers team was better than this one, but back-to-back road games against very physical defensive teams will end the Seattle winning streak. Prediction: Loss
---
Week 9: Oakland Raiders
Coming off their first loss of the season and returning home against an outmanned opponent, is there any doubt? Prediction: Win
---
Week 10: New York Giants
The Seahawks easily defeated the Giants 23-0 last year in New Jersey, a dress rehearsal for their Super Bowl victory at the same location -- MetLife Stadium. The Seahawks won't need a rehearsal to roll past the Giants in this one. Prediction: Win
---
Week 11: at Kansas City Chiefs
This likely will be a low-scoring game between two strong defensive teams. Odds are against any team that has to try to win by matching its defense against the Seahawks' D. Prediction: Win
---
Week 12: Arizona Cardinals
The last time the Cardinals played at CenturyLink Field was last December when they handed the Seahawks a 17-10 loss. That won't happen again unless the Seahawks get caught looking ahead to the 49ers game. The Seahawks don't look ahead. Prediction: Win
---
Week 13: at San Francisco 49ers
It's a Thanksgiving night, national TV game in the 49ers' shiny new stadium against the hated Seahawks. If San Francisco can't win this one, its time as a championship contender is over. Prediction: Loss
---
Week 14: at Philadelphia Eagles
This is the toughest part of the season for the Seahawks with back-to-back road games against likely playoff contenders. But the 10 days between games will help and be enough of a cushion to keep Seattle from losing two in a row. Prediction: Win
---
Week 15: San Francisco 49ers
This is a game that could decide which team wins the NFC West. No way the Seahawks lose to the 49ers twice in three weeks, especially not in front of a rabid full house of 12s. Prediction: Win
---
Week 16: at Arizona Cardinals
The Cardinals probably will be fighting for a playoff spot, and the Seahawks already will be in at 12-2. That difference will be just enough for Arizona to win at home in the same stadium where the Seahawks will win the Super Bowl a few weeks later. Prediction: Loss
---
Week 17: St. Louis Rams
For the second consecutive year, the Rams close the regular season in Seattle. And for the second consecutive year, the Seahawks will beat them without much trouble. Prediction: Win
---
Predicted Record: 13-3
October, 28, 2010
10/28/10
4:04
PM ET
Boxing great Marvin Hagler once criticized Thomas Hearns for postponing their fight over a finger injury, suggesting a tougher man would have cut off the appendage before missing a $3 million payday.
Pro Football Hall of Famer
Ronnie Lott
once had part of a finger removed so he could play in a game for the
San Francisco 49ers
.
I recall seeing
Steve McNair
shrug off a dislocated finger during a game. Anyone familiar with NFL Network programming has probably noticed
Brian Baldinger
's pinky, which looks more like a diagram for a post pattern (not a skinny post, either). And Rams fans have probably seen former receiver
Torry Holt
's mangled finger (a "
trophy
" he credited with helping him catch passes).
Where does Rams running back
Steven Jackson
stand on the finger pain spectrum? Jackson has told reporters he plans to play in Week 8 despite undergoing finger surgery Monday,
according to Brian Stull of 101ESPN St. Louis
.
October, 22, 2008
10/22/08
8:24
PM ET
Posted by ESPN.com's Mike Sando
Rob from San Diego writes: Sando, Is Seattle going to re-think their pick of Jim Mora as head coach in 09'? Our DB's are awful and he is responsible for that unit. Granted there are many other holes in the D.... But it seems to me like it might not be best to decision to hand over the team to a coach that is responsible for the 4th worst rated pass D in the NFL (that just got torched by TB!).
Mike Sando: Mora got credit for the secondary showing improvement in 2007. Are we to assume that he has become a bad secondary coach in the last few months, and that he therefore would not be the right head coach?
My analysis of the Mora hiring would include looking at how defenses have performed when he was a coordinator, and how teams have performed when he was the head coach. That is what I did when the Seahawks hired Mora as defensive backs coach in January 2007. Results here.
To answer your question: No, I do not expect Seattle to change its mind on Mora.
---
JThomas from Ephrata, Wash., writes: Mike, Given Jim Mora jr.'s U of W ties, do you see him backing out of the Seahawk coaching job to become the Huskies' head coach?
Mike Sando: I wouldn't assume Jim Mora wants the University of Washington job more than the NFL job based on offhand remarks Mora made to his college roommate on a radio show two years ago.
September, 20, 2008
9/20/08
9:27
AM ET
Posted by ESPN.com's Mike Sando
Jim Thomas of the St. Louis Post-Dispatch says the Rams have benched cornerback Tye Hill. Hill and Fakhir Brown were the starting corners heading into the season. Hill has struggled. Ron Bartell became a starter when Brown rested a shoulder injury. Brown is back this week. Bartell will remain in the lineup. Hill is the odd man out, but he could play plenty because Seattle uses three-receiver personnel groupings regularly.
Steve Korte of the Belleville News-Democrat checks in with Rams receiver Torry Holt on a range of subjects, from the receiver's spectacular 45-yard touchdown catch to the offensive line's inability to protect Marc Bulger so far.
Also from Korte: Second-year Rams fullback Brian Leonard started seven games last season, but he is having a hard time getting on the field.
Tom FitzGerald of the San Francisco Chronicle says Takeo Spikes is becoming more comfortable in the 49ers' defense. Spikes signed with the 49ers after visiting Detroit. He gets a close-up look at the Lions this week.
Matt Barrows of the Sacramento Bee says 49ers receiver Isaac Bruce pays attention to the little things, particularly when it comes to keeping his 35-year-old body in playing shape. Younger receivers are paying attention.
Also from Barrows: Fox announcer Brian Baldinger was one of the few people to predict J.T. O'Sullivan would win the starting job at quarterback for the 49ers. Baldinger based his prediction on experience watching O'Sullivan in NFL Europe.
Matt Maiocco of Instant 49ers answers reader questions after providing an update from 49ers practice. The team remains concerned about Shawntae Spencer's injured knee.
Paul Woody of the Richmond Times-Dispatch assesses Tim Hightower's impact as a rookie running back for the Cardinals. Woody: "Hightower graduated from the University of Richmond with a degree in religion and politics. He also played a little football there. When Hightower finished at UR, he had the school record for rushing yards (3,712) and touchdowns (39)."
Tom Kowalski of mlive.com says the Lions must limit the 49ers' big plays in Week 3.
Kent Somers of the Arizona Republic says the Cardinals aren't getting ahead of themselves after two victories. They're happy with Kurt Warner's solid play, but it's only two games, coach Ken Whisenhunt points out.
Frank Hughes of the Tacoma News Tribune says Keary Colbert and Billy McMullen are the likely starting receivers for Seattle in Week 3.
Clare Farnsworth of the Seattle Post-Intelligencer says the Seahawks' secondary remains embarrassed about its most recent performance while vowing to play better against the Rams.
Jose Romero of the Seattle Times says the Seahawks are still waiting for Courtney Taylor to produce as a receiver. Taylor has impressed in practice over the last year or so, but he has struggled in games. Also, Sean Locklear participated fully in practice. The incumbent right tackle could be available Sunday. Ray Willis has played well enough for Seattle to take its time with Locklear's injury.
September, 17, 2008
9/17/08
10:15
AM ET
Posted by ESPN.com's Mike Sando
Fox's Dick Stockton, Brian Baldinger and Brian Billick get the call when the 49ers face the Lions at Candlestick Park in Week 3. Kickoff is at 1:05 p.m. PT.
| | | | | | |
| --- | --- | --- | --- | --- | --- |
| Week | Team | Opp. | Network | Crew | Crew Rank |
| 1 | SF | ARI | Fox | Sam Rosen, Tim Ryan, Chris Myers | 5 of 7 |
| 2 | SF | SEA | Fox | Kenny Albert, Daryl Johnston, Tony Siragusa | 2 of 7 |
| 3 | SF | DET | Fox | Dick Stockton, Brian Baldinger, Brian Billick | 3 of 7 |
Billick also works with Thom Brennaman on Fox's No. 4 crew. Brennaman splits his time between the NFL and play-by-play duties for the Big Ten Network. Billick joins Stockton and Baldinger when Brennaman isn't working NFL games.
CBS and Fox each have seven NFL crews. The higher-ranked crews draw more attractive assignments such as Super Bowls, playoff games and marquee matchups.