November, 17, 2012
11/17/12
1:30
PM ET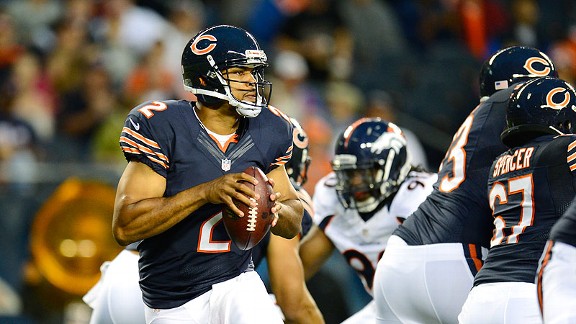 Mike DiNovo/US PresswireBears backup Jason Campbell's career stats are similar in many ways to starter Jay Cutler's.
The
San Francisco 49ers
won't have to face
Chicago Bears
quarterback
Jay Cutler
on "Monday Night Football" in Week 11.
They'll draw backup
Jason Campbell
instead.
This would seem to increase the 49ers' chances for victory, but based on what? Cutler has a better won-lost record as a starter. He has greater experience running the Bears' offense. But if you're looking for additional evidence, you won't find it in the traditional or advanced stats used to evaluate quarterbacks over time.
You'll see a couple of quarterbacks who have produced similarly over the past five seasons. Cutler has played more and for better teams. But his NFL passer rating since 2008 is 83.0, compared with 85.1 for Campbell and 84.1 for every other NFL quarterback. Cutler's Total QBR score since 2008 checks in at 56.5 when 50 is about average and 65-plus represents Pro Bowl-caliber play. The figure was 50.9 for Campbell and 52.0 for all others.
The point is that the 49ers might not be catching a big break while Cutler sits out the game after suffering a concussion in a 13-6 home defeat to the
Houston Texans
in Week 10. The Bears paid a $3.5 million salary for Campbell to be their backup because they figured they could win with him.
"We feel like he is a starting quarterback in the NFL that we have being our backup, and we feel very comfortable with him leading us," Bears coach Lovie Smith told reporters.
NFC North blogger Kevin Seifert and I discussed on a recent
Inside Slant podcast
how aggressive the Bears should be in re-signing Cutler after the season. I had some general impressions of Cutler but was curious to see how he stacked up against the highest-paid quarterbacks the past few seasons.
Peyton Manning
,
Aaron Rodgers
,
Tom Brady
,
Drew Brees
and
Matt Ryan
all had QBR scores in the 70s among regular starters over that period. Cutler was at 56.5. The figure for Cutler is 50.3 since 2009, compared with 50.5 for former Bears starter
Kyle Orton
and 47.7 for Campbell. Again, all the top quarterbacks were closer to 65-plus.
Cutler does have a 31-19 starting record with the Bears. That is far better than the 31-39 mark Campbell has posted for his career. But the Bears were 30-20 in the 50-game period before Cutler arrived. Orton,
Rex Grossman
and Brian Griese were their starting quarterbacks in that span.
Campbell's former team, Washington, was 31-39 in the 70-game span before Campbell posted the same starting record for the Redskins and Oakland Raiders. Tony Banks, Shane Matthews, Patrick Ramsey, Danny Wuerffel, Tim Hasselbeck and Mark Brunell were the starting quarterbacks during that run.
Quarterback play matters a great deal. Teams with the higher QBR scores have won 86 percent of games since 2008. Teams with higher NFL passer ratings have won 79.7 percent of the time over the same period. Those figures outrank even the winning percentages for teams winning the turnover battle (78.5 percent, a figure related to the previous two in that QBs are leading contributors to turnover stats).
The Bears are most dangerous for their defense, however. They rank among the NFL's top five on defense in passer rating, QBR, yards, rushing yards, net yards per pass attempt, interception percentage, third-down conversion rate and points. They were built to win without great quarterback play.
So, if Cutler has been only slightly above average and Campbell plays an average game Monday night, the drop won't be as pronounced as it usually is when a journeyman replaces a big-name quarterback. And if Campbell plays poorly, well, Cutler has done that, too. He has thrown more than three picks in a game four times since 2008, a league high.
April, 4, 2011
4/04/11
5:42
PM ET
Facebook friend Barrett
was on the right track when he said NFL teams have struggled finding quarterbacks in the second and third rounds.
Teams tend to overvalue quarterbacks in the draft, which means the most promising ones rarely escape the first round. Teams tend to focus on other positions in the rounds immediately following the first round before "taking flyers" on the position later in the draft.
We see this when looking at the number of quarterbacks drafted by round since 2000. There have been 31 in the first round, 16 in the second, 17 in the third, 20 in the fourth, 24 in the fifth, 36 in the six and 32 in the seventh.
The chart, updated since
it ran in February 2010
, ranks second-round quarterbacks since 1995 by number of games played.
While we're on a hot streak, let's take a quick look at third-round quarterbacks drafted since 1995, arranged by team:
Count Schaub and Whitehurst among those who were more valuable to their teams as trade bait than as quarterbacks.
October, 14, 2010
10/14/10
9:09
PM ET
Thoughts after Seattle Seahawks coach Pete Carroll told his offensive linemen to end their media boycott:
Offensive linemen generally do not seek the spotlight, and vice versa, but their perspectives enrich our understanding of the game.
Anyone covering the
St. Louis Rams
can count on veterans
Jason Brown
,
Adam Goldberg
and
Jacob Bell
for insights on quarterback
Sam Bradford
, running back
Steven Jackson
or just about anything else.
Without Brown, for instance, we never would have known the story about
Bradford's memorable first practice
of training camp. Without Bell, we might not have known how Bradford compared to
Vince Young
in on-field demeanor. Goldberg can usually be counted upon for a grasp of the big picture.
Several years ago, when the
Seattle Seahawks
fielded the NFL's best line, no media session would have been complete without a stop at center
Robbie Tobeck
's locker. Perennial Pro Bowlers
Steve Hutchinson
and
Walter Jones
usually weren't as expansive, but anything coming from two of the all-time greats carried weight.
I remember speaking with Hutchinson after the 2001 season for a story about an emerging quarterback he knew from their days at the University of Michigan. Few gave New England's
Tom Brady
much of a chance against the Rams in the Super Bowl that year. Hutchinson knew better.
"My first year starting was '97 and I'd played with
Brian Griese
, and Tom really didn't have much playing experience," Hutchinson said. "From the moment he got in the huddle (in '98), it was like he'd been there four years. He takes control of the huddle, he's always in control, a great leader -- one of the best on-field leaders I've been around."
OK, I thought. Maybe this Brady guy is better than people think. But let's have some examples.
Hutchinson recounted Brady's gritty performance against Ohio State during the 1999 season. Nothing was going right for Michigan. The Buckeyes built a lead and were coming after Brady with blitzes.
"At some point in the game, Tom comes back to huddle and his mouth is just pouring blood and it didn't even phase him," Hutchinson said. "He just called the play. 'Damn, this kid is a cool kid from California. Some little surfer kid from California is playing with the big boys and holding his own.' Just there, I respected him. Not only is he cool, but he's tough, too. A lot of guys are either/or. He's got both."
These and other stories came to mind Thursday when Seahawks coach Pete Carroll told his media-boycotting offensive linemen they would have to follow NFL rules designed to promote public access to its product. There was never any doubt how this one would end. The only question was whether Carroll would have to intervene. When he did, the issue largely went away.
Most of the Seahawks' linemen seemed conflicted on the matter. Their former line coach, Alex Gibbs, had encouraged their silence in developing camaraderie and an us-against-the-world mentality. Players naturally wanted to please their coach.
When Gibbs quit before the season, two of his longtime understudies,
Ben Hamilton
and
Chester Pitts
, enforced the old code. Both reportedly
conveyed their displeasure
Thursday while the Seahawks made available center
Chris Spencer
and tackle
Sean Locklear
for their first interviews of the season. Hamilton declined to answer questions. Pitts kept his distance.
According to ESPN Stats & Information, Pitts and Hamilton rank first and second, respectively, for the most holding calls against NFL offensive linemen since the 2002 season.
Pitts has 32. Hamilton has 29.
Hutchinson has five.
Following the rules is tougher for some than for others.
February, 3, 2010
2/03/10
8:44
AM ET

Eric Williams of the Tacoma News Tribune
says the Seahawks made progress last season with their inside zone running game, something that could carry over to 2010. The outside zone runs weren't as successful. Williams: "Part of the reason for that is the type of running backs the Seahawks have. Justin Forsett is a guy who cannot consistently threaten the edge of a defense because he does not have elite speed, like Tennessee's Chris Johnson. So it's hard for him to force defenses to commit to getting to the edge of a defense in order for the offense to get the stretch it needs to create cutback lanes. ... Secondly, the Seahawks consistently struggled to get the cut blocks on the backside of the play in order to create those running lanes on the backside."
Scott Wolf of the Los Angeles Daily News
says Rocky Seto has left USC's coaching staff to join Pete Carroll in Seattle as the Seahawks' quality-control coach for defense. Quality-control coaches generally break down lots of game video featuring opponents, charting each play by a long list of parameters. That allows teams to create the situation-specific video cutups coaches and players rely upon for preparation.
Danny O'Neil of the Seattle Times
offers a Seahawks-related chat transcript. O'Neil: "Walter Jones is still attempting to come back. He wants to play. Will he play? No one knows. But if he doesn't come back, Sean Locklear isn't the default option there. The offensive line is going to be reshuffled, and I wouldn't expect to see anyone penciled in for certain at any spot except Max Unger at center. And Alex Gibbs hasn't said that Unger is for sure a center, so perhaps even that conclusion is premature."
John Morgan of Field Gulls
explains why the Seahawks paid for allowing a higher completion percentage under Jim Mora. They simply weren't able to produce enough interceptions to offset yardage gains.

Patrick Hooper of 49ers.com
looks at Ahmad Brooks' evolution within the 49ers' defense. Coach Mike Singletary: "When you think about it, [Brooks] came to us as an inside linebacker, not really a rush guy. But you begin to see the skill, the speed, that ability to come off the edge, and you go, 'Wow, we need to do something different here.' I think he's found his niche. He is such a talented guy."
Kevin Lynch of Niner Insider
assesses Jeff Ulbrich's value to the 49ers as a mentor for Patrick Willis and as an overall team player. Ulbrich, now the Seahawks' assistant special-teams coach, was what Lynch calls "the non-star who gives his all, does his best and leads."
Matt Maiocco of the Santa Rosa Press-Democrat
says the 49ers' resources are better allocated for re-signing their own players than adding expensive veteran free agents. Maiocco: "After next season, Vernon Davis, Manny Lawson and Dashon Goldson are among the scheduled free agents. ... Alex Smith is entering the final year of his contract. If his production takes another significant leap in 2010, he could solidify his long-term spot as a starter and attract a sizable contract extension. Inside linebackers are generally among the lowest-paid players on the team, but Patrick Willis figures to become the highest-paid defender in team history with his next contract. Willis' current deal expires after the 2011 season."

Matt Barrows of the Sacramento Bee
continues his look at draft prospects the 49ers might consider.
Kent Somers of the Arizona Republic
checks in with former Cardinals safety Aaron Francisco, now with the AFC champion Colts. Francisco's wife hung a picture showing her husband trailing the Steelers' Santonio Holmes as Holmes scores the decisive touchdown in Super Bowl XLIII. Francisco: "It's up there only because she wants to have a Super Bowl memory. I was kind of upset just because I didn't want to see that picture again, but it's everywhere. I don't necessarily look at it, though. I just kind of walk by without glancing."
Also from Somers
: Kurt Warner feels great about his decision to retire.
More from Somers
: a look at the Cardinals' defensive line, where 35-year-old Bryan Robinson remains the best option at nose tackle. Somers: "The Cardinals need to add a pass rusher, either at linebacker or end. If it's a defensive end, he could play in nickel and dime packages when the club goes to a four-man front. It's doubtful the club would spend the money necessary to attract a free agent such as end Julius Peppers, but the position could be addressed in the first round of the draft."
Darren Urban of azcardinals.com
looks at the difficulties associated with replacing legendary quarterbacks as Arizona's Matt Leinart prepares to succeed Warner. Urban: "Brian Griese was 6-10 in his first season as Broncos' starter the year after John Elway left, although he did go 11-5 the season after that. Jeff Garcia came in for Steve Young in 1999 as the 49ers stumbled to a 4-12 record. Two years later, Garcia had the Niners with 12 wins and a division title. Quincy Carter tried to follow Troy Aikman in Dallas, but the Cowboys were already aging (5-11 in Aikman's last season of 2000) and Carter was never a genuine quarterback prospect anyway."
Also from Urban
: Not even Warner can tell whether Leinart will succeed.

Bernie Miklasz of the St. Louis Post-Dispatch
says the Bears' hiring of former Rams coach Mike Martz looks like a high-risk, high-reward proposition. Miklasz: "The bottom line is this: Smith and Martz and Cutler all need each other in the worst way. They have nothing left to lose, really. And that's why this is worth taking a chance."
Jim Thomas of the St. Louis Post-Dispatch
says during his latest chat that the Rams might not be the only potential destination for Isaac Bruce if the 49ers receiver goes into coaching. Bruce was expected to speak with Rams coach Steve Spagnuolo. Thomas: "I think once Spagnuolo met Bruce, he would love the guy. I think Spags and Bruce would click on several levels. But I still have to wonder if Bruce, after 16 seasons in the league, really wants to put in the 16-hour days of an NFL assistant. Now that Mike Martz has taken the Chicago job, I wonder if Bruce somehow ends up in the Windy City."