August, 20, 2013
Aug 20
7:21
PM ET
RENTON, Wash. — Seattle guard
John Moffitt
was traded, then not traded, then traded again, all within 24 hours.
Moffitt was dealt to the
Cleveland Browns
on Monday afternoon for defensive lineman
Brian Sanford
, but Cleveland voided the deal Tuesday afternoon, reportedly due to health concerns over a previous Moffitt knee injury.
Moffitt has been on the field throughout training camp, played in both of Seattle's preseason games and said he was in better shape than any time in his career.
Less than 30 minutes after news broke of the trade being nixed, the Seahawks had traded Moffitt to Denver for Broncos defensive tackle
Sealver Siliga
.
[+] Enlarge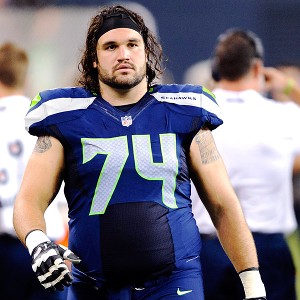 Steven Bisig/USA TODAY SportsAfter his trade to Cleveland was voided over a health issue, Seattle sent guard John Moffitt to Denver for defensive tackle Sealver Siliga.
Maybe both teams liked what they saw from those players in the Seahawks' 40-10 victory over Denver on Saturday night in Seattle.
Siliga, 6-foot-2 and 325 pounds, is in his second season out of Utah. He had two assisted tackles against the Seahawks.
Moffitt still will need to pass a physical with the Broncos, but assuming that gets done with no problems, Seattle's decision to trade Moffitt clears up some things:
1. Starting battles for the offensive line are over.
The only real contest up front was between
J.R. Sweezy
and Moffitt, but obviously Sweezy won out. The other OL starters are set:
Russell Okung
at left tackle,
Paul McQuistan
at left guard,
Max Unger
at center and
Breno Giacomini
at right tackle.
Moffitt has more experience than Sweezy and might be a better player from a technique standpoint, but Sweezy has a toughness to him and a hard edge that offensive line coach Tom Cable loves, which is why he wanted to see what he could do when the team moved Sweezy to offense last season.
Sweezy was a seventh-round draft choice last year as a defensive tackle from North Carolina State. He was moved to the offensive line, partially because of an arm injury to Moffitt in training camp last season. Sweezy struggled early on, but improved as the season progressed.
Moffitt hoped to win the starting job at training camp this year, but it didn't happen.
The only thing that could change the starting lineup on the O-line (other than an injury) is having
James Carpenter
back on the field and healthy. Carpenter was a first-round pick out of Alabama in 2011, but injuries have plagued his time in the NFL.
A foot injury has sidelined him so far in the preseason. If Carpenter is healthy and gets some time on the field soon, he could eventually return to a starting spot at guard, but that's a big if at this point.
2. As they've shown in the past, the Seahawks aren't afraid to move an early-round draft choice
if they feel other players, not as highly touted, are doing better jobs.
Moffitt was a third-round pick out of Wisconsin in 2010. He played well his rookie season and was viewed as a possible anchor at guard for the long term, but injuries slowed his progress.
He became expendable because the Seahawks are pleased with what they've seen from rookies
Ryan Seymour
(a seventh-round pick out of Vanderbilt),
Michael Bowie
(a seventh-round pick from Northeastern State in Oklahoma) and
Alvin Bailey
(a free agent from Arkansas).
Seymour now is listed as the backup to Sweezy. Bowie and Bailey are listed at tackle, but they also can play the guard spots.
August, 19, 2013
Aug 19
6:17
PM ET
The
Seattle Seahawks
were once counting on 2011 third-round choice
John Moffitt
to bolster their offensive line. They traded him to the
Cleveland Browns
on Monday because their depth had improved and Moffitt never played well enough to win the job outright. He wasn't necessarily going to earn a spot on the initial 53-man roster.
The Browns, desperate for help at guard after injuries struck the position particularly hard, sent defensive end
Brian Sanford
to Seattle in return. Sanford, undrafted from Temple in 2010, played 62 snaps for the Browns in six games over the past two seasons. The 6-foot-2, 280-pounder has also spent time on the Browns' practice squad.
Teams generally keep no more than nine offensive linemen on their 53-man rosters. Seattle rookie tackles
Michael Bowie
and
Alvin Bailey
have played well enough during training camp and the preseason to project as likely keepers. Both might help at guard as well.
Russell Okung
,
Max Unger
and
Breno Giacomini
are returning starters. Veteran
Paul McQuistan
and second-year pro
J.R. Sweezy
are candidates to start, as is
James Carpenter
, provided Carpenter can get healthy. Moffitt's departure leaves veteran
Lemuel Jeanpierre
as the player best suited to back up Unger at center, it appears.
McQuistan, Sweezy and Carpenter are the top starting candidates at guard.
K.J. Wright
and
Richard Sherman
remain as key starters from Seattle's 2011 draft class. Carpenter could join them, health permitting.
Malcolm Smith
, one of two seventh-rounders that year, could start at linebacker. Sixth-rounder
Byron Maxwell
has impressed in camp at cornerback and is pushing for a roster spot in a deep secondary.
Moffitt became best known in Seattle for his outgoing personality and sense of humor. Those characteristics fit best on an offensive line when backed by dependable, credible play on the field. Moffitt started as a rookie before suffering a season-ending knee injury. He has had a hard time getting back into the lineup and staying there.
Note that the playing-time information in the chart shows games played only for Seattle. Some of the players have played for other teams as well.