July, 27, 2012
7/27/12
8:35
PM ET
Thoughts after noting that the
San Francisco 49ers
'
Colin Kaepernick
has gone from undisputed No. 2 quarterback as a rookie in 2011 to
fighting for the role
on equal footing with two others:
Going from second to third on the depth chart would look like a regression for Kaepernick, but it might not mean much for the long term. Circumstances have changed. Alex Smith outperformed expectations last season, earning a new contract and tightening his grip on the starting position. The team signed Josh Johnson, Jim Harbaugh's former quarterback at the University of San Diego. Scott Tolzien, another passer the 49ers liked coming out of college, has gained some seasoning.
Kaepernick was facing a significant transition from the system he ran in college. His development was going to take time. It'll be good for him to get extensive reps in the preseason, but Johnson will need playing time, too. The goal, of course, is to upgrade the quarterback position, not to make sure Kaepernick appears instantly worthy of the second-round choice San Francisco used to select him. As coach Jim Harbaugh said on the day the 49ers drafted Kaepernick: "We believe in competition. We believe in earning positions around here."
The 49ers ideally would have found competition for Kaepernick last offseason. A lockout-shortened signing period complicated those efforts. That cleared the way for Kaepernick to land the No. 2 job unopposed. The 49ers got away with having an inexperienced backup when Smith started all 16 games, plus two playoff games, without encountering the injury problems that sidelined him in past seasons.
There's no precedent for developing quarterbacks drafted in second rounds. Each situation has its own dynamics. A year ago, developing Kaepernick on a fast schedule seemed important. Those still skeptical of Smith might feel that way yet. But Johnson, with more experience than Kaepernick, might be better prepared to take over a playoff-caliber team on short notice should Smith struggle or suffer an injury. It's up to Kaepernick to prove otherwise.
As the chart shows, five of the nine second-round quarterbacks drafted from 2007 to 2011 were third-stringers or had been released heading into their second regular seasons.
Chad Henne
and
Kevin Kolb
were second string.
Andy Dalton
remains a starter heading into his second year.
Brock Osweiler
, a second-rounder in Denver this year, hasn't had a second season, obviously.
June, 27, 2012
6/27/12
3:30
PM ET
Pete Carroll and his
Seattle Seahawks
coaching staff have shown little use for conventional wisdom.
They've built a strong, ascending defense in decidedly
unconventional fashion
. As discussed Tuesday, we'll be better off
setting aside the usual templates
when analyzing what Carroll and the Seahawks might do at quarterback.
Yes, it is possible the team will go into the 2012 regular season with a rookie third-round quarterback standing less than 5-foot-11. Russell Wilson will need a strong exhibition season and training camp to make that happen, of course.
Tony Softli, former personnel evaluator for the
Carolina Panthers
and
St. Louis Rams
, backed Wilson as an immediate threat to
Matt Flynn
. He also called Wilson
a future star
.
"Flynn will have his hands full in a training camp competition against this star in the making," Softli predicted.
A big thanks to Nick Andron for
passing along
what has to be
the most in-depth analysis
on Wilson to date.
Matt Waldman's debut piece for Football Outsiders ran in early April, before the draft and well before Wilson made a positive first impression during offseason practices. Waldman studied three games from Wilson's career at North Carolina State, each against a strong ACC opponent. He saw a smart, resourceful player with a strong arm, uncanny deep-ball accuracy (even on the move) and solid fundamentals. He stopped short of guaranteeing Wilson's success, but he saw parallels between Wilson and
Drew Brees
.
"Considering the examples from Wilson's junior year in the Atlantic Coast Conference where he's effective on deep passes off play-action, throws receivers open, and improvises on the move, his potential to develop into an NFL quarterback is better than his height may indicate," Waldman wrote. "Still, it is reasonable to approach Wilson's NFL prospects with skepticism. Brees never overcame doubts from the organization that drafted him. ... However, as Brees,
Tom Brady
,
Marc Bulger
,
Matt Hasselbeck
,
Tony Romo
,
Kurt Warner
, and several others have demonstrated, careers don't end due to an inauspicious beginning."
There has been nothing inauspicious about Wilson's beginning to this point. He's fallen into a perfect situation, one featuring an open-minded coaching staff, no established starter and a zone scheme requiring quarterback movement.
May, 15, 2012
5/15/12
9:14
AM ET
St. Louis Rams owner Stan Kroenke doesn't say much publicly. He generally doesn't convey emotions.
As a result, we're left to wonder to what degree he wants the Rams to remain in St. Louis.

Bryan Burwell of the St. Louis Post-Dispatch
thinks the Rams' proposed stadium
renovations
indicate Kroenke is serious about keeping the team in town. Burwell: "Look very carefully at the
plan
. It is not an over-the-top, ostentatious, football-only counteroffer that attempts to thrust the Dome to the very top of the National Football League's most extravagant stadiums. It's not an outrageous plan that feels like the sort of crazy counteroffer whose sole intent is to blow up the entire process, thus allowing Kroenke to scoot off to Los Angeles as quickly as possible. What the Rams have put in front of us is a design whose intent is to make the Edward Jones Dome something that works for all of St. Louis, not just the football team."
Noted:
I also thought the Rams' proposal seemed
reasonable
under the circumstances. It's all part of a process that will continue, most likely, with arbitration beginning June 15. That arbitration would be binding for the Rams if the stadium authority accepted the arbiter's proposal. The Rams' lease would then extend through 2025. Otherwise, the Rams would go year-to-year on their lease beginning in March 2015.

Jason Cole of Yahoo! Sports
says Pete Carroll, like Tom Landry decades ago, seems to think competition at quarterback can be a healthy thing. Roger Staubach: "Coach Landry thought the quarterback just went in and executed the play the way everybody else does what they're supposed to do. He didn't understand that quarterback was different. It took him awhile to get that. … It got to the point where I really didn't care if it was me or not and I think Craig (Morton) felt the same. Yeah, you want to play, but both of us just wanted a decision."
Noted:
The Seahawks are not yet to that point, in my view. Matt Flynn owns two regular-season starts. Russell Wilson has never played in even an exhibition game. Tarvaris Jackson has the look of a journeyman at the position. Committing to one of them wholeheartedly at this point would be premature.
Brock Huard of 710ESPN Seattle
came away impressed after watching Wilson's first practice with the team. Huard: "My first minicamp practice was spent just trying to call the play correctly. Wilson's first practice consisted of team, seven-on-seven, routes versus air and individual drills where it was difficult to find a misguided pass. Sure, he had a few passes tipped at the line and in the secondary, but his completion percentage was north of 80, and this is with guys he didn't even know by name. It would be fun to compare Wilson's initial camp with his draft-day peers: Andrew Luck, Robert Griffin III, Ryan Tannehill, Brandon Weeden, Brock Osweiler & Co. While Tannehill, like Wilson, has a background in his current offensive system, I can't imagine any of the rookie passers making more of an impression than Russell.
Danny O'Neil of the Seattle Times
offers thoughts on the Seahawks' recently concluded rookie camp. On Bruce Irvin: "The first day of practice was a little bit of a challenge in his conditioning, but even then, you saw bursts of that speed off the edge as he jetted around Alex Barron. Yes, Barron has been out of the league for a year, but we're also talking about a former first-round pick of a tackle. Irvin might not start right away, but he's going to have a role as a pass rusher right off the bat, and he showed this weekend he has the speed to make the most of it."
Noted:
That's good news for the Seahawks. I watched the first day of practice and thought Barron's length and experience created challenges Irvin would not have faced had he gone against rookies instead.
Clare Farnsworth of seahawks.com
runs a photo showing Carroll as a college player, with the third-year Seahawks coach recalling how he found out no NFL team had drafted him back in 1973.

Matt Barrows of the Sacramento Bee
offers thoughts on LaMichael James' upbringing in a tough neighborhood. Barrows: "I could just have easily written about the Texarkana neighborhood in which he grew up. James, in fact, credits both his grandmother and his home town with forging him into the man and the player he is today. That neighborhood is on the Texas side of town and is known as Beverly. James described it as a virtual war zone. ... I talked to one of his coaches and asked him if he thought James was embellishing a bit. No, he said, Beverly was that bad. His sister, Tasha, who is 16 years his senior and who is extremely protective of her little brother, wanted him to get as far away from Texarkana as he could."
Eric Branch of the San Francisco Chronicle
puts into perspective A.J. Jenkins' conditioning. Branch: "To those up in arms, I invite you to travel back to early June when Smith, the No. 7 overall pick, arrived at San Jose State during the lockout for his first workout with veteran teammates such as Justin Smith, Isaac Sopoaga, Ray McDonald and Parys Haralson. How'd that go for Aldon? Well, Sopoaga was still laughing about the rookie's performance a week after he debuted."

Darren Urban of azcardinals.com
checks in from the Cardinals' annual golf tournament. Urban: "There are serious golfers, like coach Ken Whisenhunt and kicker Jay Feely, some middle-of-the-road guys who all seemed to hit good shots when the cameras were around (at least, that's what they were telling us) and other guys who you should be careful to be around when they are taking a shot (Um, Beanie, about that swing …)."
April, 30, 2012
4/30/12
7:37
PM ET
Russell Wilson
, the quarterback the
Seattle Seahawks
drafted in the third round Friday, probably lost millions of dollars when he stopped growing.
His height, measured by NFL scouting combine officials at 5-foot-10 and five-eighths of an inch, doesn't measure up to long-established league standards. That is why the Seahawks were able to draft the Wisconsin quarterback with only the 75th overall choice even though Wilson appears dynamic by other measures, including his arm, athleticism and leadership.
ESPN's Herm Edwards liked the selection and explains why in the video above.
History discounts the chances for a shorter quarterback. Wilson is not small, however. He had the fourth-largest hands of any quarterback at the combine: 10 1/4 inches, tied with defensive lineman
Quinton Coples
, guard
Kevin Zeitler
and 21 others for the 24th-biggest hands at the combine.
Brock Osweiler
, the tallest combine quarterback at 6-foot-7, had smaller hands than Wilson.
Ryan Tannehill
, drafted eighth overall, had substantially smaller hands: 9 inches, tied with Yale's Patrick Witt for smallest at the combine.
Wilson, who finished second to
Robert Griffin III
among combine quarterbacks with a 4.55-second time in the 40-yard dash, did have the third-shortest arm length for any quarterback at the combine.
Nick Foles
, Osweiler and
Andrew Luck
ranked among the top five. The difference between Luck's arm length (32 5/8 inches) and that of Wilson (31) means what, exactly? I'm not sure.
Some of these measurement differentials might not mean much. Height would matter more to teams as they assess whether a quarterback can see the field well enough from inside the pocket. Edwards' feeling is that Wilson should be a good backup, with a chance to become more.
April, 10, 2012
4/10/12
2:16
PM ET
Former Arizona State quarterback
Brock Osweiler
says he's hoping to leave a "very respectful, cherished, loving legacy" during his time here on Planet Earth.
The tattoo on his right arm reminds him of this.
"Leave your legacy," it says.
Osweiler's left arm is less relevant to whatever success he enjoys in the NFL -- or in any English classes he might have taken as a political science major at Arizona State.
"Live life to it's fullest," reads the tattoo on that arm, complete with the unwelcome apostrophe.
Osweiler, speaking to ESPN's Jon Gruden in the continuing "QB Camp" draft series, says that tattoo dates to his high school days.
Perhaps most impressively, Osweiler has enough room on his long arms to fit those sentences, additional punctuation and all. At Gruden's prompting, Osweiler addressed the positives and negatives associated with his 6-foot-7 height and with his length overall.
The point Gruden made about taller quarterbacks -- how they use their eyes to mask their intentions becomes critical because defenders can see them easier -- stood out. Osweiler is two inches taller than any NFC West quarterback. Arizona's John Skelton and San Francisco's Colin Kaepernick are both 6-5.
The last time we considered Osweiler, he was
at the combine
and recovering from a foot injury. The
Seattle Seahawks
were
looking for a quarterback
, a search that led them to Matt Flynn in free agency. Osweiler subsequently
worked out for scouts
.
Analysts are projecting Osweiler for the second round or later.
I'm having a tougher time envisioning an NFC West team drafting him in that range now that Flynn is a starting candidate for Seattle. The Cardinals do not have a second-round choice, and they appear mostly set for 2012 with Kevin Kolb and Skelton. The
San Francisco 49ers
are set at quarterback for this season. The
St. Louis Rams
could use a veteran backup more than they could use a developmental player at the position.
April, 2, 2012
4/02/12
9:14
AM ET
Two high-profile NFC West athletes recently made headlines for the right reasons.
We touched upon San Francisco 49ers quarterback Alex Smith's participation in
the search
for a missing teenager. In Arizona, meanwhile, Pro Bowl safety Adrian Wilson recently donated $100,000 to Phoenix Children's Hospital.

Darren Urban of azcardinals.com
has the details. Urban also quotes Wilson on football matters: "Offense sells tickets. I guess that's the goal of marketing, sell tickets, fill the stadium up. Defensively we'll be fine. Our secondary, our defense, we were talking about it (Wednesday night), a bunch of us guys. It's our second year, we should be trending up. We shouldn't take a step back. Everyone understands what their role is and what we need to get done."
Also from Urban
: The Cardinals appear to remain interested in signing free-agent offensive lineman Demetrius Bell. Urban: "As I have mentioned before, his number of visits while remaining unsigned usually points to a salary desire that's higher than market value. There's always a chance that could change. Bell has reportedly visited the Packers and Redskins besides the Cards, and he's now in Pittsburgh and has a visit lined up with the Eagles, who lost stud starter Jason Peters to a ruptured Achilles tendon during an offseason workout. Demand is climbing, so Bell might have been smart to wait. He may not leave Pennsylvania."
Kent Somers of the Arizona Republic
says Cardinals backup quarterback Rich Bartel attended Brock Osweiler's workout for scouts recently. Somers: "Bartel is a football junkie so he dropped by to watch. Bartel already spends his off-season coaching at camps, and he'll be a fine coach, scout, etc., whenever he's through playing."

Danny O'Neil of the Seattle Times
says the Seahawks let Anthony Hargrove sign with the Packers because they considered Jason Jones an upgrade at defensive tackle. O'Neil on Hargrove: "He was a mainstay in Seattle's nickel package last year, he had three sacks and his most memorable play was the tackle for a loss he had, registering a safety in New York against the Giants."
Brady Henderson of 710ESPN Seattle
says it's looking like David Hawthorne will re-sign with the Seahawks on a two- or three-year contract, according to ESPN's John Clayton. Clayton: "I think that Hawthorne is starting to realize that the market may not be there."
Joseph Person of the Charlotte Observer
says Seahawks coach Pete Carroll came away highly impressed after studying Cam Newton's rookie performance with the Carolina Panthers.

Jim Thomas of the St. Louis Post-Dispatch
checks in with former Rams punter Donnie Jones, who recently signed with the Houston Texans. Jones: "My whole thing is that you always want to go somewhere where they want you, they really want you to be a part of something. I guess in St. Louis they just didn't want that."
Noted:
It's rarely personal from the team's standpoint, especially when it comes to a punter, but it's almost always personal from the player's perspective.
Howard Balzer of 101ESPN St. Louis
looks at how the Rams' rookie pool will affect their salary cap outlook.

Eric Branch of the San Francisco Chronicle
says the 49ers plan to meet with Utah State running back Robert Turbin. Branch: "Turbin, who attended Irvington High School in Fremont, rushed for 2,813 yards, averaged 6.2 yards a carry and scored 41 total touchdowns in his final two college seasons. Turbin is also scheduled to visit the Chiefs, Eagles, Redskins and Jets."
Cam Inman of the San Jose Mercury News
says the 49ers released receiver Dontavia Bogan one day after Bogan indicated he had been cleared medically to return from injury.
Noted:
That is fairly typical in these cases. Teams often allow players to rehab from injuries at team facilities. Then, once the player is healthy, the team can release the player without the additional financial considerations that go along with injury settlements.
March, 1, 2012
3/01/12
10:30
AM ET
Tigre from "South of the Border"
asks about new provisions allowing NFL teams to carry over unused salary-cap space to future years. He wonders why a team would ever decide against carrying over some of the unused allotment.
Mike Sando:
NFL teams have, for years, tried to push unused cap space into future seasons. They previously did this by writing into players' contracts "likely to be earned" incentives that were, despite the label, very unlikely to be achieved. John Clayton explained the practice in detail
back in 2004
.
The new labor agreement legitimizes how teams carry over unused cap space. Teams simply tell the league how much unused cap space they would like to carry over.
Kansas City Chiefs
owner Clark Hunt recently explained
some of the particulars
. Clayton provided numbers as they pertain to the 2012 season in
this update
.
Any team failing to carry over unused space might appear cheap, but carrying over the maximum would not necessarily make a team less cheap. It would not affect spending, only the amount a team could spend.
Salary-cap machinations are not always straightforward. A team could conceivably decide against carrying over unused room to accommodate late-hitting incentives, a contract option or the acceleration of guaranteed money.
---
Charlie from St. Louis
asks whether the Rams might be wise to "secretly" make
Sam Bradford
available to teams intending to draft Griffin. "Don't get me wrong," Charlie writes, "I think Bradford will be a good player. But given how expensive he is, the new regime in St. Louis could make a shrewd move by starting over with Robert Griffin III."
Mike Sando:
The Rams are on the record saying they will not trade Bradford. The rest of us are free to debate the merits of that stance, so here goes.
First, would such a move even be doable? I think it would be.
The Browns might logically prefer Bradford to RG3. Browns coach Pat Shurmur already has a strong background with Bradford from Shurmur's time as the Rams' offensive coordinator. As impressive as RG3 has been to this point in the process, the Browns would know with greater confidence what they were getting with Bradford, a player they know well. Bradford also has a verifiable track record in the West Coast offense Cleveland is running, a selling point for Shurmur and also for Browns president Mike Holmgren.
There would be risks. The Rams have already said Bradford is off-limits. Dangling him as trade bait would damage the new regime's relationship with Bradford if such a trade fell through. Also, Bradford's traded contract would count nearly as much against the Rams' salary cap as it counts right now.
What could the Rams get for Bradford? Could they get the fourth overall pick from Cleveland, or would they have to settle for a package worth less? That is tough to know, and pivotal to any imaginary deal.
---
Craig from Knoxville
has a theory as to why the Cardinals did not offer more power to Todd Haley, letting Haley go to Pittsburgh. He thinks adding Haley would have made it tougher for the team to bring on another strong personality in
Peyton Manning
. "I know Haley and Kurt Warner were a good mix," Craig writes, "but that was because they grew together. If we signed Haley, I think that would have been negative toward Manning."
Mike Sando:
Interesting point. Ultimately, I think coach Ken Whisenhunt wasn't comfortable rearranging his offensive staff and essentially demoting the current coordinator, Mike Miller. It would have been a bit awkward. The team did make a Manning-friendly move by adding Manning's former position coach, Frank Reich, as receivers coach.
---
Ryan from Atlanta
wants to know what
Ahmad Brooks
' new contract with the
San Francisco 49ers
means for teammate and fellow outside linebacker
Parys Haralson
.
Mike Sando:
Haralson and Brooks played on opposite sides. The plan was for
Aldon Smith
to take Haralson's starting job no matter what happened with Brooks. Haralson is scheduled to earn $2.45 million in base salary and $300,000 in offseason bonuses. The combined number is not prohibitive for a part-time player or backup. We can safely say Haralson's playing time will decline and his future with the team is in some question.
---
Fox from San Jose
says New Orleans'
Marques Colston
and
Carl Nicks
could hit the market if the Saints use their franchise tag for quarterback
Drew Brees
. Under that scenario, he wonders whether Nicks could fit for the 49ers in free agency.
Mike Sando:
Doubtful, in my view. Nicks would cost a lot of money. The 49ers drafted
Daniel Kilgore
with the thought Kilgore could grow into the starting role at right guard if needed. San Francisco has not been a team that overspends in free agency, at least of late. Signing Nicks would go against their recent approach.
---
Joey from Hawaii
asks whether Brock Osweiler would be a good second-round choice for the Seahawks. Would he be better than current third-stringer
Josh Portis
? Or should the Seahawks keep building their roster, then do what it takes to land Matt Barkley in 2013?
Mike Sando:
The Seahawks have been 7-9 twice while rebuilding. They probably aren't going to finish with a poor enough record in 2012 to position themselves for Barkley or another top quarterback. They cannot put off the decision simply because Barkley could be an option next year. Osweiler does have the mobility Seattle's Pete Carroll values in quarterbacks. Todd McShay says Osweiler is highly competitive, another must for Carroll. Based on those things, then, Osweiler might be an intriguing prospect.
---
Jason from Coeur d'Alene, Idaho
thinks Seattle should try to acquire the second overall pick from the Rams, then shop it around. They could always take RG3 in that spot. Jason thinks
Matt Flynn
or Peyton Manning will go to Miami, leaving Washington and Cleveland desperate. He does not think the Seahawks can "out-
Alex Smith
" the 49ers with
Tarvaris Jackson
behind center.
Mike Sando:
The Rams most likely will not trade the second overall pick to a division rival. The Seahawks most likely will not give up what it would take to get into that No. 2 spot. Those are my opinions. Why would the Rams arm a division rival with a potential franchise quarterback?
---
Nick from Salt Lake City
asks whether teams with interest in
Robert Griffin III
might "call the Rams' bluff" in the 2012 draft. Instead of acquiring the No. 2 overall choice from St. Louis, these teams might trade into the third spot, figuring the Rams weren't going to take a quarterback, anyway. Nick asks whether the Rams might get more value by drafting Robert Griffin III, then trading his rights.
Mike Sando:
The question shows why the Rams will want to trade the pick before the draft and possibly before free agency. There's no use taking undue chances when getting value for the choice is the most important thing. The Rams do not need to get a huge bounty in return. They need a fair trade.
Any team trading into the third spot to select Griffin would have to worry about the Rams trading the second pick to another team with the same intentions. But if the Rams wait around, some teams will have addressed their quarterback situations, perhaps in ways that diminished their appetite for Griffin. That could lower the price for the second pick.
---
Fabian from Germany
asks whether the Rams should trade the second overall choice, plus the first pick of the second round.
Mike Sando:
Depends what they could get in return. They would not want to give away too much quality just to acquire additional picks.
February, 27, 2012
2/27/12
12:00
PM ET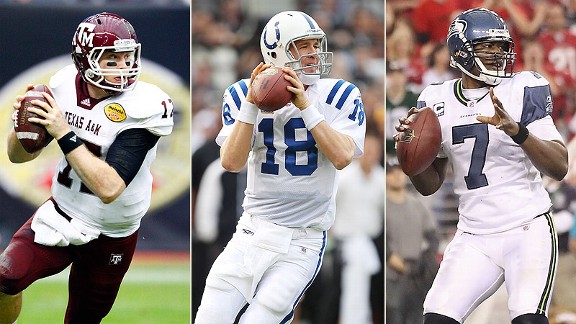 Getty ImagesSeattle can draft Ryan Tannehill, sign veteran Peyton Manning or stick with Tarvaris Jackson.
INDIANAPOLIS -- Coach Pete Carroll and the
Seattle Seahawks
came to the NFL scouting combine in search of their next quarterback.
That was two years ago. And last year. And this year.
Call it the longest-running unsolved mystery in the NFC West, the division's most compelling draft drama.
"We're looking for a great competitor," Carroll said.
An obvious requirement for a coach claiming "Always Compete" for his mantra.
"We're looking for a guy that can really carry it when it's tough and make plays when you need it to happen, that affects guys around him in a real positive way because of what he brings," Carroll said.
That stands to reason. The Seahawks, twice 7-9 under Carroll after turning over more of their roster than any other team, were one of five teams without a fourth-quarter comeback victory last season.
"There's a lot more to it than just physical stature," Carroll said, continuing to outline his quarterback requirements, "but really, we'd like to have a guy that can run a little bit and complement the running game and do something for us -- get out on the edge and threaten enough to keep the run game that we're so committed to alive and at its best."
Carroll knows what he wants. The Seahawks can't be sure when they'll find it -- in the draft, free agency, by trade or not at all. They could be back in this position a year from now.
Every option carries risk. Todd McShay of Scouts Inc. offered thoughts on some of them during a roundtable discussion with ESPN.com bloggers at Lucas Oil Stadium.
Drafting a QB in the first round
[+] Enlarge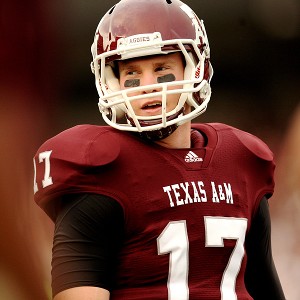 Thomas Campbell/US PRESSWIREThe Seahawks would have to use its first-round pick in order to draft Ryan Tannehill.
The Seahawks hold the 12th overall choice. Texas A&M's
Ryan Tannehill
would be the favorite in this spot.
"I think if they like him, they will take him there, because he is not going to go much later," McShay said. "I'll be shocked if he's not gone by No. 20."
Andrew Luck
is the consensus No. 1 overall pick, with
Robert Griffin III
looking like the favorite to go second. Trading up from 12th to second for Griffin might be cost-prohibitive. It's tougher still envisioning the
St. Louis Rams
, owners of the second pick, conspiring to arm a division rival with a potential franchise quarterback. Besides, at least three other teams seeking quarterbacks hold picks between second and 12th.
Back to Tannehill. He started 20 games at quarterback, a relatively small number, but he played receiver previously. A broken foot prevented him from working out at the combine. He plans to perform for scouts during a March 30 pro day.
Tannehill played in a West Coast offense under former Green Bay coach Mike Sherman at Texas A&M. The Seahawks run a version of the West Coast scheme. Sherman is now with the
Miami Dolphins
, who hold the eighth choice. How much does Sherman like Tannehill? Enough for the Dolphins to consider him that early? And how much will the Seahawks value Tannehill in the end? Specifically, how will Carroll value him? He'll make the call.
Tannehill could have been reading from Carroll's quarterback handbook when he described his strongest traits.
"A couple of things I do well is move and throw on the run," Tannehill said. "[Sherman] likes to move the pocket -- bootlegs, nakeds, whatever it may be. Get outside the pocket and make throws downfield."
Texas A&M struggled in second halves. Tannehill wasn't able to rally them. Dropped passes were a persistent problem. The results reflected poorly on everyone, contributing to Sherman's firing after a 6-6 season.
Drafting a QB early, but not that early
Arizona State's
Brock Osweiler
and Michigan State's
Kirk Cousins
project in the next tier. Osweiler rested a foot injury at the combine. Like Tannehill, he'll work out for scouts March 30. Cousins worked out at the combine.
"Cousins is starting to get a little more love for his ability to distribute the ball and be consistent and make good decisions," McShay said, "but I think Cousins is a third-round quarterback who might go in the second."
Rob Rang of NFL Draft Scout described Cousins as a 2012 version of
Andy Dalton
-- smart and from a pro-style offense. Like McShay, he projects Cousins as a second- or third-rounder at this point.
Cousins stands 6-feet-3, weighs 214 pounds and could stand to gain weight. He appeared overwhelmed as a junior in a bowl game against Alabama. Two late picks against Georgia in a bowl game this year could not stop him from rallying the Spartans to a triple-overtime victory.
[+] Enlarge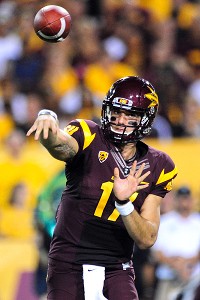 Matt Kartozian/US PresswireTodd McShay could see Seattle drafting Brock Osweiler with a second-round pick.
McShay's take on Osweiler lined up exactly with what Carroll said he wanted from the position. That was striking to me because I hadn't shared Carroll's comments with McShay. Neither did I ask McShay about Osweiler specifically in relation to Seattle.
My question was whether Osweiler, listed at 6-8 in college and officially a tick under 6-7, possessed adequate athleticism.
"I think he's really athletic," McShay said. "That is the thing that surprised me the most."
McShay had previously seen Osweiler as a too-tall quarterback flailing away.
"Limbs everywhere," McShay said. "He was off-balance, he was always kind of falling off to the left like a pitcher off the mound because he didn't have good balance at the end. So, I didn't think I was going to like him at all."
McShay watched four Arizona State games in a row one night. Osweiler grew on him.
"He is accurate enough, can still improve in that area, he makes a lot of tough throws that you need to make in the NFL, he feels pressure really well and has such better initial quickness and mobility than a guy like
Ryan Mallett
," McShay said. "He can actually move out of the way, reset his feet and throw. That is what Mallet can never do. He also is unbelievably competitive."
That last part was Carroll's No. 1 requirement.
"I fell in love with him as a competitor," McShay said. "Just the little things he can do, just diving for a first down, guys hanging from his legs and throwing. He does a lot of little things that I think go unnoticed. He only has 15 starts, so it scares you to death to spend a really high pick on him. Now, if you can get him in the middle of the second round, you feel really good about that."
Going after a veteran instead
Matt Flynn
?
Peyton Manning
? Both could be options.
Green Bay controls whether and how Flynn hits the market when free agency begins March 13. The Packers could simply let him leave, increasing their chances for receiving a compensatory draft choice. They could name him their franchise player, then try to trade him.
Manning's future with Indianapolis appears to be fleeting. He might not be healthy enough to sign right away. If the Seahawks did nothing about the position in the meantime, they would be in position to add Manning later in the process. But it's unclear how well Manning would fit their offense, whether he'll be healthy enough, how willing Seattle would be to make concessions, how eager Manning would be to sign with the Seahawks, etc.
Standing pat at the position
Tarvaris Jackson
has one year remaining on his contract. He could start entering the 2012 season even if the Seahawks draft a quarterback.
Charlie Whitehurst
appears unlikely to return as the No. 2 quarterback.
Josh Portis
could be back, likely as the third option.
One executive for a rival team, asked to project the Seahawks' starter for 2012, took the field over Jackson by about 2-1.
Is this the year the Seahawks find their next guy?
February, 26, 2012
2/26/12
1:56
PM ET
INDIANAPOLIS -- Quick thoughts after a second session watching quarterbacks and receivers at the NFL scouting combine in Lucas Oil Stadium:
This was the second of two trips inside Lucas Oil Stadium as part of groups organized by the Pro Football Writers of America. I'll remain here until Monday morning, working from the media room at the stadium.
February, 25, 2012
2/25/12
6:39
PM ET
INDIANAPOLIS — A few quick thoughts on
Brock Osweiler
after the Arizona State quarterback passed through Lucas Oil Stadium's media workroom:
He wants to own the height issue. Most NFL quarterbacks fall between 6-foot-2 and 6-6. Osweiler measured 6-6 and seven-eighths, a height that could suggest diminished athleticism. Osweiler dismissed comparisons to Dan McGwire. Osweiler: "I don't think there has ever been a quarterback who was 6-7, 240 pounds and had the athleticism that I do and can make every throw on the football field. I ignored all those comparisons and just played football the way I was taught to."
The basketball analogies hold up. Osweiler reneged on a basketball commitment to Gonzaga when choosing to play football at Arizona State. Osweiler: "In basketball, to be a successful player, you have to have great footwork. Obviously, as a quarterback in the pocket, to evade rushers and blitzers and get the ball off, you have to have great feet. Basketball, as far as the footwork, has definitely transitioned over to my football game, as well as the vision. On the basketball court, you can be pushing it up the court and bringing it up on the side and you have to see somebody off to the corner and make a throw down the lane. Same thing as playing quarterback. You are sliding in the pocket and looking for alleys to get the ball down the field."
Mechanics in mind. Osweiler said he continually works on his delivery: "We've been focusing a lot on making sure that my elbow is constantly above my shoulder, that I'm following through and using all the torque that I have with my big frame."
Inexperience works against him. Osweiler's stated mission at the combine is to convince teams 15 college games was enough to prepare him.
Spread offense concerns. NFL teams are assuming more spread tendencies, perhaps taking the edge off concerns over how college prospects will adapt to pro-style offenses. Osweiler: "Playing in a spread offense that throws the football a lot, I think it teaches you to manage the football game because the ball is in your hands to make a play 90 percent of the time. Even in the run game, you have having to make decisions on the fly."
Osweiler has a pro day workout March 30. He's resting a foot injury at the combine and will not participate in workouts while in Indianapolis. He's a quarterback to keep in mind for Seattle after the first round.
February, 8, 2012
2/08/12
12:12
PM ET
Welcome to the 2012 NFL season. The games are not yet here, of course, but most teams have long since shifted their mindsets forward.
Tuesday brought a
first look at free agency
for NFC West teams. Now comes a first look at the draft, to be revisited as teams add and subtract players in free agency.
Thanks to those who
left comments
suggesting topics for this space. I've targeted a few for future items and drawn on the general thrust — more free agency and draft stuff, please — for this one. The comments affirmed how much we look forward to NFL offseasons.
Steve Muench of Scouts Inc. offered general thoughts on potential considerations for each team.
Here we go ...
St. Louis Rams
First-round position:
second overall.

Three primary needs:
WR, OLB, OL
In the spotlight:
Matt Kalil
, OT, USC
Mocking it up:
Kiper has the Rams selecting Oklahoma State wide receiver
Justin Blackmon
. McShay has them selecting USC offensive tackle Matt Kalil.
Muench's thoughts:
"The first thing that jumps out at me is the value at No. 2. Blackmon is the best receiver in the group, but No. 2 is way too rich to take a receiver in this draft, especially Blackmon, who is not
Julio Jones
or
A.J. Green
. The Rams need help at outside linebacker, but the value is not there. This defensive tackle class is very poor. When you look at those offensive tackles and what the Rams have already spent on the position, I understand the hesitation, but going after Kalil or Iowa's
Riley Reiff
, depending on which one they like, would make sense. Reiff is more balanced and fundamentally sound. Kalil has more talent. Blackmon would make sense if the Rams traded back, but if they are stuck at No. 2, offensive tackle makes the most sense."
Sando's follow-up:
The top two needs listed are the same ones I listed in
a similar item
one year ago, but there are new needs sprouting up. Defensive tackle was the third need one year ago, and it remains a big need for St. Louis. The situation on the offensive line is unsettled enough to give that position a priority. Using another early choice for a tackle would not inspire much excitement in St. Louis. The need for playmakers appears paramount. Whatever the Rams do, they absolutely, positively must give quarterback
Sam Bradford
a fighting chance. Another season filled with sacks and injuries could inflict long-term damage to his career. Coach Jeff Fisher and coordinator Brian Schottenheimer will gear the offense toward the ground game in an effort to protect Bradford.
Seattle Seahawks
First-round position:
11th or 12th overall

Three primary needs:
QB, DE, LB
In the spotlight:
Melvin Ingram
, DE, South Carolina
Mocking it up:
Kiper has the Seahawks selecting South Carolina defensive end Melvin Ingram. McShay thinks Alabama running back
Trent Richardson
could be the choice.
Muench's thoughts:
"The Seahawks are not in a great spot given their needs.
Quinton Coples
from North Carolina could be the edge rusher who starts from Day One and is more than just a situational player, but I do not think he'll be there when Seattle picks. He is almost 6-foot-6 and weighs 281 pounds. A lot of guys with his talent protect themselves during the offseason, but Coples worked his butt off at Senior Bowl practices and had a great game, too. Ingram does not have great size, but he is explosive enough and strong enough to play defensive end. At quarterback, there's a big drop after
Andrew Luck
and
Robert Griffin III
.
Ryan Tannehill
could go at the end of the first round, but No. 11 or 12 is way too rich.
Brock Osweiler
moves very well for a quarterback of his height. These are interesting guys and all it takes is for one team to fall in love with them, but you are reaching if you do it at No. 11 or 12. The reality is that there are so few good quarterbacks in most drafts. It usually doesn't work out when you force the issue."
Sando's follow-up:
Finding a long-term quarterback remains the top priority for the Seahawks, but once again the planets appear reluctant to align for them. Parting with
Matt Hasselbeck
and passing over
Andy Dalton
have left Seattle with
Tarvaris Jackson
and developmental quarterback
Josh Portis
. Chasing after
Peyton Manning
could make sense for the Seahawks. They have good young players. Adding a front-line quarterback could put them over the top in the division. Linebacker has replaced the offensive line as a primary need for the Seahawks. That should not be the case, in theory, because the team had so much invested in a couple of relatively young linebackers.
Aaron Curry
and
Lofa Tatupu
are gone, however, and
David Hawthorne
is a free agent. The team could move
K.J. Wright
into the middle.
Arizona Cardinals
First-round position:
13th

Three primary needs:
OT, LB, WR
In the spotlight:
Courtney Upshaw
, OLB, Alabama
Mocking it up:
Kiper has the Cardinals taking Stanford tackle
Jonathan Martin
. McShay has them taking Martin's teammate, guard
David DeCastro
.
Muench's thoughts:
"Kalil and Reiff are the highest-rated tackles. I doubt either one will be there at No. 13. Martin makes sense because of his upside more than anything, but he is not a mauler. He could be gone at 13 if there is a run on tackles, but he might be a reach that early, anyway. There is another dropoff after him, too. This is not a great tackle class. Thirteen is a little early for
Kendall Wright
, the Baylor receiver, even if he has a good combine. Wright's stock is rising, but because of his size (5-10, 194), he won't win as many one-on-one battles. There was a big jump from 2010 to 2011 in his consistency with his hands and his route running. Adding a pass-rusher is more interesting for me because Ingram and Alabama's Courtney Upshaw could fit. Upshaw doesn't have that idea closing speed, but his initial burst and power are impressive. He can get off blocks. He will be a productive edge rusher. Some 3-4 teams prefer taller outside linebackers, but Arizona and Pittsburgh have gotten away with shorter guys. Ingram and Upshaw are both in that 6-1 or 6-2 range. Neither will be great in coverage, but that has been overrated a little bit. Basically, he has to be able to hold up in underneath zone."
Sando follow-up:
The Cardinals haven't drafted an offensive lineman early since selecting
Levi Brown
fifth overall in 2007. If Brown returns, it will be at a reduced rate. Upgrading the pass protection seems important, in my view, because quarterback
Kevin Kolb
has not shown great pocket awareness. He has also had injury problems. Landing Manning would obviously change those dynamics. Manning has succeeded for years without top talent across the line. The depth at receiver could use stabilizing, particularly if
Early Doucet
becomes the latest secondary Arizona target to depart. But with
Larry Fitzgerald
on the team, the position is in good hands. Very good hands. Some Cardinals fans have pointed to strong sack numbers as evidence Arizona doesn't need to make significant upgrades in that area. Have you ever met a defensive coordinator satisfied with his pass rush?
O'Brien Schofield
and
Sam Acho
have shown promise. They are not good enough for the Cardinals to lean back in their chairs and feel great about their outside rush for the next few years.
San Francisco 49ers
First-round position:
30th

Three primary needs:
WR, CB, OL
In the spotlight:
Dre Kirkpatrick
, CB, Alabama
Mocking it up:
Kiper points to South Carolina receiver
Alshon Jeffery
as a possibility. McShay goes with Nebraska cornerback
Alfonzo Dennard
.
Muench's thoughts:
"Blackmon,
Michael Floyd
and Wright will be gone. That is your top tier of receivers. In a perfect world, you hope Wright or Floyd slips to you. Floyd makes sense in that scheme because of his ability to stretch the field, which could help
Michael Crabtree
underneath and
Vernon Davis
over the middle. Wright has speed, but he is not the traditional target to win one-on-ones. After that, we have three receivers with second-round grades. LSU's
Rueben Randle
, Jeffery and Rutgers'
Mohamed Sanu
are all vertical threats who must work on their route running. Randle might fit the
Jim Harbaugh
offense because he is quicker off the line. Jeffery must work on his release. Sanu might be the best for that scheme because he is a better route runner and is more consistent with his hands, but he has not shown the same kind of big-play ability. Jeffery's stock has fallen; he doesn't separate particularly well. He did have a good game against Dennard, who is a solid second-round prospect, but he is much bigger than Dennard. Sanu's size is insane and he has great body control, but can he keep his weight down? I do like Dennard at corner. He didn't have a great Senior Bowl week and he is small, but he is tough and I think that is going to go a long way to slow down receivers at the line of scrimmage. He has a short memory and that is so important.
Janoris Jenkins
and Kirkpatrick are two corners to watch. Both have off-field concerns. I think someone will fall in love with Jenkins and take him before the 49ers pick. Kirkpatrick is a bigger, longer corner. He can be physical. There is a good chance neither makes it that far, but if they do, it would be hard for San Francisco not to snatch one. More than likely, that would offer more value than any receiver they could get in that spot."
Sando follow-up:
The 49ers have few obvious, immediate needs. That is a credit to their personnel department and to their coaches. Smith's expected return puts off for at least one season the need for San Francisco to pursue a quarterback. It probably removes the 49ers from the Manning conversation. I think the 49ers have tremendous flexibility picking this late in the draft. They do not need to target a receiver even though the position could use reinforcing after injuries knocked out
Josh Morgan
and diminished what
Braylon Edwards
could offer. Re-signing
Carlos Rogers
would stabilize the cornerback position, as well. The 49ers could justify going in just about any position with this pick.