April, 26, 2013
4/26/13
5:50
PM ET

The
Arizona Cardinals
had their offensive line in mind when they used the seventh overall choice in the 2013 draft on North Carolina guard
Jonathan Cooper
.
They were also thinking about the NFC West.
"Our division is so physical," coach Bruce Arians told reporters Thursday night, "and the thing that sets San Francisco, Seattle, and now St. Louis also, apart is their offensive and defensive lines of scrimmage are extremely good."
It's not yet clear whether Cooper will play left guard or right guard for the long term. The Cardinals can use him against NFC West interior defensive lines featuring
Brandon Mebane
,
Michael Brockers
and
Justin Smith
in base and/or sub packages.
"We have to match that physicality on both sides of the ball," Arians said.
Daryn Colledge
,
Rex Hadnot
,
Deuce Lutui
,
Alan Faneca
,
Adam Snyder
,
Rich Ohrnberger
and
Pat McQuistan
have started at guard for the Cardinals over the past three seasons.
The Cardinals see Cooper becoming a perennial Pro Bowl player. They embraced comparisons to Larry Allen, who was recently enshrined in the Pro Football Hall of Fame.
"He has a unique skill set, maybe one of the more athletic offensive linemen I've [scouted] in the 15 years I've been in the business," Cardinals general manager Steve Keim said. "He has tremendous feet, bend, athleticism, space skills, and the ability to pull and play on the perimeter."
Keim is in his first season as the Cardinals' GM. He played on the offensive line at North Carolina State, potentially giving him special insight into the position.
Drafting a guard will never captivate the broader public, but evaluators with experience in line play can border on giddiness when they see a prospect as talented as Cooper. That was the sense in Tennessee when Titans coach Mike Munchak and line coach Bruce Matthews drafted
Chance Warmack
, the other highly rated guard in the 2013 draft. Munchak and Matthews were Hall of Fame linemen.
"I've known Munchak and Matthews since 1996,"
Paul Kuharsky wrote
on the AFC South blog. "I can't recall ever seeing the two low-key, business-like football men beam quite so brightly. The glow they gave off at the news conference at the Titans' headquarters after making the 10th pick made me believe it when they said there was no question Warmack was their man early on -- something virtually every coach stated Thursday night."
The feeling had to be similar for Keim in Arizona.
"I think the question was first posed to me at the combine in Indianapolis of whether I thought No. 7 was too high to take an offensive guard," Keim said. "I think that we have our answer."
July, 18, 2011
7/18/11
3:25
PM ET
Skip Bayless and Dan Graziano took up the case for
Charles Haley
as a Pro Football Hall of Famer on ESPN's First Take.
Bayless thought Haley should have qualified on the first ballot as a key championship variable for the
San Francisco 49ers
and
Dallas Cowboys
. Bayless and Graziano also touched upon to what degree Haley's sometimes disagreeable and disruptive behavior affected his candidacy. Those are relevant factors, but this discussion is incomplete without acknowledging what role the process plays in enshrinement.
To say that Haley or another player should have earned enshrinement in a given year usually suggests another player wasn't as deserving. The Hall accepts no more than seven candidates per year, including a maximum of two seniors candidates, meaning even deserving candidates must be more deserving than those actually enshrined to raise a serious beef.
Haley was first eligible in 2005.
Steve Young
and
Dan Marino
were the only modern-era candidates elected that year.
Michael Irvin
and Harry Carson were also finalists that year, but neither received the 80 percent approval rating required for enshrinement. Both became Hall of Famers later. Was Haley obviously more deserving than those four?
Troy Aikman
,
Warren Moon
, Reggie White and Carson comprised the 2006 modern-era class. Irvin,
Bruce Matthews
,
Thurman Thomas
and Roger Wehrli comprised the 2007 modern-era class. Fred Dean,
Darrell Green
,
Art Monk
and
Gary Zimmerman
made it in 2008.
Randall McDaniel
,
Bruce Smith
,
Derrick Thomas
,
Rod Woodson
and Ralph Wilson made it in 2009. The 2010 class featured
Rickey Jackson
,
John Randle
,
Jerry Rice
and
Emmitt Smith
.
The current class includes
Richard Dent
,
Marshall Faulk
,
Deion Sanders
,
Shannon Sharpe
and Ed Sabol.
We could argue that he was more deserving than a candidate here or there, but only a very few elite candidates -- Rice, White, Emmitt Smith, Bruce Smith, etc. -- have credentials strong enough to transcend any Hall class.
Tim Brown
,
Roger Craig
,
Dermontti Dawson
,
Andre Reed
,
Cris Carter
,
Cortez Kennedy
, Bob Kuechenberg, Randy Gradishar, L.C. Greenwood and several of the above-mentioned Hall of Famers have also been finalists since Haley became eligible.
Was Haley obvious more deserving than each of them? It's a debate worth having, but also one that goes beyond whether Haley should get in at all.
March, 11, 2010
3/11/10
11:54
AM ET
Merlin Olsen was a 14-time Pro Bowl choice in 15 NFL seasons, all with the Rams.

Olsen
No one in league history went to more Pro Bowls, and none went to as many in as few seasons.
His passing Wednesday
from cancer at age 69 provides an opportunity to appreciate his career and contributions.
I'm making some calls and will have more as the day progresses. In the meantime, here's a chart showing where Olsen fits among players with the most Pro Bowl appearances, courtesy of Pro Football Reference.
February, 5, 2010
2/05/10
12:42
PM ET
FORT LAUDERDALE, Fla. -- The Seahawks have been plugging holes with mixed results in recent seasons.
In 2007, they threw $10.5 million in bonuses at
Deon Grant
and also signed another veteran free agent,
Brian Russell
, to address deficiencies at safety. They threw another $15 million in bonuses at
Patrick Kerney
to help the pass rush. In 2008, they hired Mike Solari to coach their offensive line and signed veteran left guard
Mike Wahle
to finally plug the hole
Steve Hutchinson
left two years earlier. In 2009, the Seahawks responded to chronic injury problems at wide receiver by committing about $15 million in guarantees to
T.J. Houshmandzadeh
, then trading up in the draft to select receiver
Deon Butler
.
The offensive line was the biggest problem for Seattle in 2009.
One look at
the Seahawks' coaching staff
shows the team's renewed commitment to that area. Seattle has three assistant coaches dedicated to its offensive line, more than any team in the division and more than any team I can recall covering. Alex Gibbs leads a group featuring assistant line coach Art Valero and quality control coach Luke Butkus. Seattle has a separate quality control coach for offense (Dave Canales), with Butkus focusing on the line only.
Update:
The Texans had three line-oriented assistants under Gibbs last season if we count offensive assistant Bruce Matthews. Gibbs' title in Houston also was not line-specific. He was assistant head coach/offense.
February, 3, 2010
2/03/10
11:11
AM ET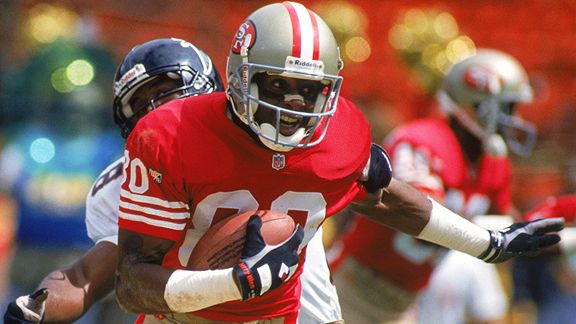 George Rose/Getty ImagesWide receiver Jerry Rice retired with his name all over the National Football League record book.
MIAMI -- Anyone advocating Jerry Rice as the greatest player in NFL history can bury the opposition in statistics.
Rice averaged 1,145 yards receiving and more than 10 total touchdowns per season -- for 20 NFL seasons.
Rice caught 69 touchdown passes -- more than the career totals for Art Monk, Michael Irvin, Charlie Joiner, John Stallworth and numerous other Hall of Fame receivers -- during a five-season span ending in 1993. Rice then caught 28 touchdown passes over the next two seasons, more than half the career total for Hall of Famer Lynn Swann.
He retired holding NFL records for:
Touchdowns (208), receiving TDs (197), receiving TDs in a season (22), consecutive games with a TD reception (13), TDs in Super Bowls (8), receiving TDs in a single Super Bowl (3) and postseason TDs (22).

Receptions (1,549), consecutive games with a reception (274), receptions in Super Bowls (33) and postseason receptions (151).

Receiving yards (22,895), receiving yards in a season (1,848), receiving yards in Super Bowls (589), receiving yards in a Super Bowl (215), postseason receiving yards (2,245) and seasons with at least 1,000 yards receiving (14).
Rice, whose selection to the Pro Football Hall of Fame is a formality Saturday, probably enjoyed the greatest NFL career. He was probably the greatest wide receiver despite some arguments for Don Hutson. But was he the greatest player, period?
"Oh, yeah," Hall of Fame defensive back Rod Woodson said almost reflexively during Super Bowl media day.
Woodson, perhaps mindful of history as a member of the NFL's 75th Anniversary team, then showed he could still backpedal a bit.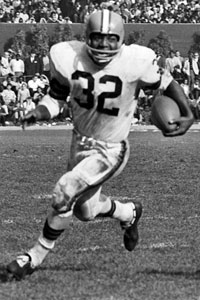 Getty ImagesWhen talking about the greatest players ever, Jim Brown needs to be in the conversation.
"I mean, he is definitely up there," he said. "I don't think one player is the greatest player ever, but he is in that water-cooler conversation. Now, if you say greatest receiver, absolutely. But the greatest player, to make him the most dominant player ever in NFL history or just say pro football history, that is a profound statement. But I can say that he will be in that argument time in and time out."
The conversation might include Otto Graham, Jim Brown, Sammy Baugh, Lawrence Taylor, Joe Montana, Johnny Unitas, Hutson, Walter Payton and Barry Sanders among players no longer active. And that list is probably shortchanging defensive greats such as Deacon Jones and Dick Butkus.
But
Ray Lewis
, arguably the greatest defensive player of the current era, didn't hesitate in singling out Rice.
"I don't know what argument you are going to make why he is not," Lewis said.
And that might be what separates Rice from the rest. There really isn't a great case against him. No one played at such a high level for as long with such grace.
"Jerry Rice doesn't
rank
in the all-time greats," said Saints safety
Darren Sharper
, a five-time Pro Bowl choice and member of the 2000s All-Decade team. "He
is
the greatest receiver and maybe the greatest football player of all time."
Maybe?
"I can't comment on eras that I didn't perform in," retired cornerback Deion Sanders said, "but the era I performed in, Jerry Rice is the best football player to play in that era."
On what grounds beyond the numbers?
"Work ethic, precision, routes, physical toughness, awareness, that hunger," Sanders said. "Jerry stayed hungry until the day he retired."