August, 8, 2013
8/08/13
3:15
PM ET
Three things to watch for Thursday night in the Seattle Seahawks' 2013 exhibition opener against the San Diego Chargers at Qualcomm Stadium (10 p.m. ET):


1. Return specialists.
The Seahawks released dynamic return man
Leon Washington
before they knew the recently acquired
Percy Harvin
would undergo season-altering hip surgery. The team is listing
Will Blackmon
,
Jeremy Lane
and
Bryan Walters
as its top three kickoff returners.
Golden Tate
is listed as the punt returner. Blackmon returned three punts for touchdowns while with Green Bay, but that was way back in 2007 and 2008. How will the Seahawks' return game fare without Washington and Harvin?
2. Backup QBs and a guy taking their handoffs.
Tarvaris Jackson
and
Brady Quinn
are competing to serve as the No. 2 quarterback behind
Russell Wilson
. Jackson has greater experience in the Seahawks' offensive system, having run it with Seattle and Minnesota. Jackson has greater equity in the locker room after playing through a torn pectoral muscle as Seattle's primary starter in 2011. Does that mean Quinn has to win this battle decisively to beat out Jackson? Can Quinn make this decision a difficult one? Don't stop watching after the handoff, either. Rookie running back Christine Michael is a player of interest after Seattle made him a surprise second-round choice.
3. Rookie TE Willson.
Luke Willson
makes his Seahawks debut as a rookie fifth-round choice and potential complement to starting tight end
Zach Miller
. A foot injury has prevented Miller from practicing and will keep him out of this game. Another familiar veteran at the position,
Anthony McCoy
, is not back after suffering a torn Achilles' tendon during offseason workouts. Willson,
Sean McGrath
and
Cooper Helfet
are among the lesser-known tight ends with an opportunity to distinguish themselves.
July, 30, 2013
7/30/13
5:20
PM ET
The
Seattle Seahawks
' depth at wide receiver is suddenly a little shallow, but for how long? No one seems to know.

The latest from coach Pete Carroll:
Sidney Rice
went to Europe for
a non-surgical procedure
on his knee, while
Percy Harvin
was in New York getting a second opinion on his sore hip (nothing new to report there).
This situation is ripe for overreaction. Harvin was running at full speed within the past week or so and did not, as far as we know, suffer a new injury. Rice has been practicing and did not, as far as we know, suffer a new injury. But at the very least, there's a chance both receivers will be managing injuries throughout the 2013 season.
Harvin missed seven games to an ankle injury last season. Rice did not miss a game in 2012 after having a surgery on each shoulder. He missed seven games in 2011 and 11 the year before that.
Rice played through knee soreness last season without missing time. He scheduled this overseas treatment previously and with the team's knowledge. The timing wasn't in relation to any aggravation of the injury. Rice was functioning as normal and practicing. The team does not expect him to miss practices or games when he returns.
Harvin and Rice figure prominently into the Seahawks' plans on offense. Their contracts also figure prominently. The chart shows projected salary-cap charges for Harvin, Rice,
Zach Miller
,
Russell Wilson
,
Marshawn Lynch
and
Golden Tate
. Harvin's new deal buys him security for the next couple seasons. The team could more easily free itself from Rice's contract. Tate is entering the final year of his contract, adding another dynamic to the position.
Those are issues to resolve in the future. First, the Seahawks need to find out more about Harvin in particular, and also Rice.
Seattle currently has 12 receivers on its roster: Harvin, Rice, Tate,
Doug Baldwin
,
Chris Harper
,
Stephen Williams
,
Jermaine Kearse
,
Brett Swain
,
Bryan Walters
,
Phil Bates
,
Greg Herd
and
Arceto Clark
.
August, 28, 2011
8/28/11
12:38
PM ET
At least three physically impressive NFC West linebackers qualify as "emerging" this season.
[+] Enlarge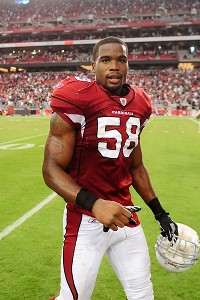 Mark J. Rebilas/US PresswireArizona Cardinals linebacker Daryl Washington seems on the cusp of a big season.
The
Arizona Cardinals
'
Daryl Washington
is one of them. Teammate
Jay Feely
called Washington a "breakout" player
no one is talking about
. Feely called Washington fast, powerful and well positioned for a big year.
Washington led the Cardinals in tackles with seven against San Diego on Saturday night. Four of those tackles came on rushing plays that gained six yards combined. Against the pass, Washington made tackles well downfield (after a 31-yard gain by receiver
Vincent Jackson
) and nearer the line of scrimmage. I've gone through each play and made the following notes:
First quarter, 7:41 on clock, first-and-10: The Chargers run Ryan Mathews up the middle. Washington moves before the snap, settling over the center and four yards off the ball. Calais Campbell prevents the left guard from reaching Washington. When the center guides Dan Williams to the side, there's a lane for Washington to charge through. Washington and outside linebacker Clark Haggans meet Mathews in the backfield for a loss.

First quarter, 5:24 on clock, first-and-10: Washington lines up in the same spot before the snap. Center Nick Hardwick and left guard Kris Dielman double-team Williams at the snap. Hardwick tumbles Washington's lower body, but does not make contact. Dielman comes off the double team and locates Washington, but he's off-balance and can't make the block. Washington sidesteps through traffic and brings down fullback Mike Tolbert following a 6-yard gain.

First quarter, 3:06 on clock, second-and-5: Washington lines up over the left tackle (weak side) and four yards off the ball. The Chargers send receiver Richard Goodman across the formation from Washington's side, as if to give him the ball on a handoff. Washington stays put. No one blocks him. He tackles Mathews for a loss.

Second quarter, 14:22 on clock, third-and-6: Philip Rivers finds Jackson open outside the right hash for a big gain up the sideline. Washington takes the best angle among several Cardinals defenders giving chase. He catches Jackson after a 31-yard gain and blasts him out of bounds with a big hit. Cornerback Patrick Peterson had slipped twice in coverage on the play.

Second quarter, 3:32 on clock, second-and-9: The Chargers had faced a first-and-20 on this drive after Hardwick essentially tackled Washington while the linebacker was shooting a gap. Officials called holding on that play. On the second-and-9 play, Washington lines up three yards off the ball and over the left tackle (weak side). He shifts over the outside of the center and creeps toward nearer the line of scrimmage before the snap. Washington diagnoses the play at the snap, dropping into coverage and tagging receiver Malcolm Floyd, who had beaten Peterson on what had to have been a quick slant. Washington hit Floyd only a moment after Floyd caught the ball for a 7-yard gain.

Second quarter, 2:51 on clock, third-and-2: This is the very next play. Washington lines up five yards off the ball and over the left tackle. Rivers is in the shotgun. Rivers throws quickly to Bryan Walters for a 5-yard gain. Washington is there and he's not happy with the result, although it's not clear what more he could have done. He pounds the grass with his hand after the play.

Third quarter, 14:20 on clock, second-and-7: Washington lines up five yards off the ball and over the left guard and fullback. The Chargers are in an offset-I formation. The men in front of Washington occupy their blockers long enough for Washington to chase down Mathews on the perimeter. Dielman tries to reach Washington but does not come close. Mathews tries to stiff-arm Washington, who strings out Mathews and forces him toward the sideline. Mathews follows up his stiff-arm with a jab to the head area. Washington slugs Mathews with a roundhouse right to the head area as Mathews' momentum carries him out of bounds. Washington throws up his arms as if to indicate he hadn't done anything against the rules. Officials throw a flag. Washington slips on the slick apron between the field and stands. Mathews seems to enjoy this, offering a wave. Referee Pete Morelli waves off the flag.
Thank you, Jay Feely, for
reaching out
on Washington's behalf. It was helpful watching these plays a little more closely.
As for those other two physically impressive NFC West linebackers who could be emerging?
NaVorro Bowman
(
San Francisco 49ers
) and
Leroy Hill
(
Seattle Seahawks
) were two I had in mind. Bowman is a regular starter heading into a season for the first time in his career. Hill is trying to regain his career footing after a couple rough seasons.