June, 10, 2013
6/10/13
12:00
PM ET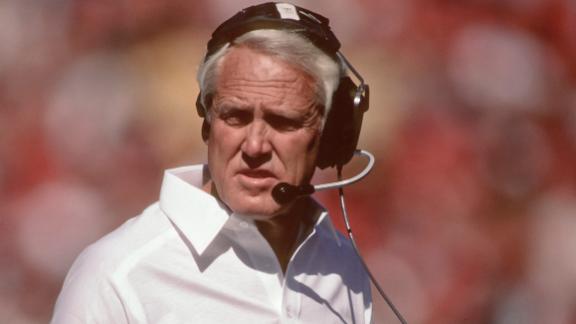 Bill Walsh checks in at No. 2
on ESPN's list of
Greatest Coaches in NFL History
, leaving the as-yet-unnamed Vince Lombardi as the obvious No. 1.
Walsh, of course, led the San Francisco 49ers to three of their five Super Bowl victories. He revived the franchise with a blueprint that became standard operating procedure across the league. He blazed trails in minority hiring and produced a coaching tree with branches still growing in the game today.
I highly recommend checking out
Seth Wickersham's piece on Walsh
from January. Wickersham focused on the coaching guide Walsh wrote.
"[Bill] Belichick once referred to it as football 'literature,' but it's more like a textbook -- 550 pages, 1.8 inches thick, 3.2 pounds, loaded with charts, graphs and bullet points," Wickersham explained. "For example, Walsh includes 57 keys to negotiating contracts ('The negotiator's need for food and sleep can affect his/her ability to function effectively'), 13 pages of sample practices and 108 in-game scenarios."
The video above features Walsh's own thoughts on characteristics great coaches possess. Unpredictability on and off the field is one of them.
The chart below shows won-lost-tied records and number of championships won for the top 20 coaches on ESPN's list, courtesy of Pro Football Reference. The winning percentages listed reflect victories plus one-half ties, divided by total games. For Walsh, that works out to 92.5 victories divided by 152 games, or .609.
May, 30, 2013
5/30/13
7:15
PM ET
Any ranking for the 20 greatest coaches in NFL history would leave off at least two of the
22 enshrined
in the Pro Football Hall of Fame.
The ballot I submitted for our "
Greatest Coaches
" project left off eight of them: Guy Chamberlin, Jimmy Conzelman, Weeb Ewbank, Ray Flaherty, Sid Gillman, Bud Grant, Greasy Neale and Hank Stram.
That seems outrageous. However, there were only 20 spots available, and many coaches appeared interchangeable to me outside the top 10 or 12. Current or recently retired head coaches such as Bill Belichick, Tom Coughlin, Mike Holmgren, Mike Shanahan, Tony Dungy, Bill Cowher and Marty Schottenheimer deserved consideration, in my view, but including them meant leaving out others. I also thought Chuck Knox should be in the discussion even though he's long retired and not a Hall of Famer.
Putting together a ballot was difficult. There's really no way to fully analyze the jobs head coaches have done. We must consider won-lost records over time, of course, but little separates some of the coaches further down the list. I figured most panelists would go with Lombardi in the No. 1 spot, but I'm not sure whether that was the case.
Herm Edwards revealed
his ballot

previously. We agreed on George Halas at No. 1. He put Lombardi second. I went with
Paul Brown
and
Curly Lambeau
after Halas, followed by Lombardi, Tom Landry, Bill Walsh, Don Shula, Joe Gibbs, Belichick and Chuck Noll to round out the top 10. The choices got tougher from there.
Edwards had Bud Grant, Dick Vermeil and Marty Schottenheimer in his top 20. He did not have Steve Owen, Holmgren or Cowher. I easily could have justified swapping out some of the coaches toward the bottom of my ballot for others not listed. Edwards and I both had Coughlin at No. 15. Our rankings for Lombardi, Landry, Walsh, Shula, Gibbs, Belichick, Madden and George Allen were within three spots one way or the other. I had Brown and Lambeau quite a bit higher than Edwards had them.
I tried to balance factors such as winning percentage, longevity, championships, team-building and impact on the game. The coaches I listed near the top of my ballot were strong in all those areas. There was room lower on my ballot for coaches whose achievements in some areas offset deficiencies in others.
Halas was a straightforward choice at No. 1 for me. He coached the Chicago Bears for 40 seasons, won six championships and had only six losing seasons. The Hall of Fame credits him as the first coach to use game films for preparation.
"Along with Ralph Jones, his coach from 1930 through 1932, and consultant Clark Shaughnessy, Halas perfected the T-formation attack with the man in motion,"
Halas' Hall of Fame bio
reads. "It was this destructive force that propelled the Bears to their stunning 73-0 NFL title win over Washington in the 1940 NFL Championship Game and sent every other league team scurrying to copy the Halas system."
Brown was my choice at No. 2 because he won seven titles, four of them before the Cleveland Browns joined the NFL in 1950, and he revolutionized strategy while planting a massive coaching tree. Lambeau edged Lombardi in the No. 3 spot on my ballot. He founded the franchise and won with a prolific passing game before it was popular. His teams won six titles during his 31 seasons as coach.
ESPN has revealed the coaches ranking 13th through 20th based on ballots submitted by Chris Berman, Jeffri Chadiha, John Clayton, Colin Cowherd, Mike Ditka, Gregg Easterbrook, Edwards, David Fleming, Ashley Fox, Greg Garber, Mike Golic, Suzy Kolber, Eric Mangini, Chris Mortensen, Sal Paolantonio, Bill Polian, Rick Reilly, Adam Schefter, Ed Werder, Seth Wickersham, Trey Wingo and me.
The eight coaches, beginning at No. 13: Jimmy Johnson, Coughlin, Grant, Stram, Levy, Gillman, Shanahan and Dungy.
Gillman was an interesting one. He spent 10 of his 18 seasons in the AFL and had a 1-5 record in postseason, but there is no denying
his impact on the passing game
. Like other coaches rounding out the top 20, his case for inclusion was strong, but open for debate.
August, 24, 2012
8/24/12
9:31
AM ET
Kevin Kolb tossed two ugly interceptions, including one returned for a touchdown, but still might have improved his standing in the Arizona Cardinals' quarterback race.
"Might have" would be the key phrase there. Kolb looked as good as he's looked all preseason for stretches of the Cardinals' game Thursday night against Tennessee. He did a better job hanging in the pocket early in the game. He bounced back from mistakes. He led a touchdown drive and generally succeeded in the two-minute offense.

But as
Kent Somers of the Arizona Republic
points out, there's nothing quite like a pick-six to open the second half. Coach Ken Whisenhunt: "It numbs you. You've worked so hard to get back into it. At halftime, we said, 'We get the ball back. If we go out and score the game is tied.' And the next thing you know, one play, we're down 13 points. I'm really proud of our guys for fighting back from that point. That's a big deal on the road."
Darren Urban of azcardinals.com
says Kolb's competition for the job, John Skelton, missed an opportunity. Skelton: "It's frustrating getting out of the game that early and seeing the offense get into a flow, but you have to make the most of your opportunities and I don't feel I did."
Also from Urban
: non-quarterback notes. Urban: "Running back William Powell is leading the NFL is rushing this preseason. He had another 71 yards (on just seven carries) and has 231 yards on 33 carries (a 7.1 average) and three touchdowns. Yes, it's against deep backups usually, but seven yards a carry is seven yards a carry. When you have the head coach bringing up your name, unprompted, in the postgame presser, that's a good sign. It's going to be a tough call between Powell and Alfonso Smith."

Matt Maiocco of CSNBayArea.com
passes along a couple of updates from 49ers coach Jim Harbaugh. Brandon Jacobs will earn a spot on the 53-man roster, and Colin Kaepernick will likely be the No. 2 quarterback.
Cam Inman of the San Jose Mercury News
says Harbaugh and Peyton Manning gave reporters the silent treatment regarding their offseason connections. Manning: "I can't speak for them. It's pretty well documented how all that went down in the offseason. Not really going down memory lane."
Matt Barrows of the Sacramento Bee
says Harbaugh applies Indy racing strategies to coaching the 49ers. Harbaugh: "How can we get better, what facet can we tweak to get a little faster, where to reduce drag, where can we save time, where can we be more efficient? That's the whole operation of racing. They do it as a team. Everybody's doing a little. And that adds up to a lot."

Eric D. Williams of the Tacoma News Tribune
takes a closer look at players fighting for playing time and/or roster spots in Seattle. Williams on Terrell Owens: "He has a lot to overcome. And the fact that he finished without a catch and a bad drop against Denver is just scratching the surface. He still appears to be the same T.O. who complains when things are not going his way. And Pete Carroll will not put up with that from a fifth or six receiver -- see T.J. Houshmandzadeh."
Clare Farnsworth of seahawks.com
says dropped passes haven't undermined tight end Anthony McCoy in the eyes of coach Pete Carroll.
Danny O'Neil of the Seattle Times
silences the alarm bells that rang upon hearing of the "little procedure" Doug Baldwin underwent to remove blood from a hamstring.
Also from O'Neil
: Carroll isn't afraid to play rookies. O'Neil: "Carroll once worked for Bud Grant in Minnesota, one of the league's old-salt coaches who believed you lost a game for every rookie you played. But during Carroll's time at USC, he not only began to play his younger players, but he embraced the concept."

Jim Thomas of the St. Louis Post-Dispatch
looks at how training camps have changed over the years. Rams assistant Dave McGinnis on the way it was years ago: "We'd have 120 guys in camp. It's an entirely different world. The league has evolved a lot with offseason training, with the type of condition that these players are in, and clearly now with the new CBA, there's new regulations. The first camp I went to was in Platteville, Wis. (in 1986) and it was two-a-days, every day, full pads, on your mark, get set, go. And so it's changed."
Also from Thomas
: Injuries are hurting the Rams' depth on the defensive line. Thomas: "The team still has enough bodies at defensive tackle to get them through practice and Saturday's preseason game in Dallas, including Cornell Banks and recently signed John Gill. Meanwhile, defensive end Eugene Sims' ankle injury, which prompted the team to sign Vernon Gholston on Wednesday, wasn't as bad as initially feared. Sims, who was wearing a walking boot Wednesday, does not have a high ankle sprain -- an injury that could have sidelined him a month. As it is, he may miss a week or two."
April, 24, 2012
4/24/12
8:30
AM ET
Back-to-back seasons with a 7-9 record felt like progress for the Seattle Seahawks under coach Pete Carroll.
Another season with that record would feel like stagnation.
That is one reason the Seahawks would be best off, at least in theory, using their early draft choices for immediate contributors. Selecting a quarterback in the first round Thursday would qualify as more of a long-term move -- and perhaps as a redundant one, given Matt Flynn's addition through free agency.

Art Thiel of Sports Press Northwest
says there's no way the Seahawks should select Ryan Tannehill in the first round. Thiel: "Carroll had so many good quarterbacks at USC that he tends to see the world behind center in Trojan colors. But as has been pointed out to him numerous times, relative to their respective empires, the Seahawks aren't the Trojans. Tannehill isn't the next Matt Leinart. Actually, maybe he is, which is even worse."
Noted:
Carroll and general manager John Schneider continue to speak glowingly of Tannehill. The team could be interested in Tannehill and/or trading back in the draft with a team eager to land him.
Clare Farnsworth of seahawks.com
has this to say about the team's needs: "An edge pass-rusher is high on Carroll's list, but he'd also like to add to competitive aspect of the roster by adding a touchdown-maker on offense, a young quarterback and depth and unique qualities at linebacker. Carroll said he's even open to adding to the already large pile on the offensive line and the talented collection in the secondary, if the right player is there."
Jerry Brewer of the Seattle Times
likes what he sees from Carroll and Schneider. Carroll on going young: "One of my favorite coaches ever, Bud Grant, said one time, 'For every young guy you start, you lose a game.' That was classic, traditional thinking. I was of that mindset in classic fashion until I had to be in charge of calling all the shots, and then it just flipped in me that we don't know where we're going unless we find these guys out."
Eric D. Williams of the Tacoma News Tribune
passes along notes from the Seahawks' pre-draft news conference Monday, including this one: "Barrett Ruud, Seattle's projected starting middle linebacker, is not healthy. Carroll said he's still recovering from groin, knee and shoulder injuries that landed him on the injured reserve while he was with Tennessee last year."
Noted:
Seattle will presumably find a starting linebacker in the draft. Ruud is veteran insurance, but
not a player to count on
at this stage.
Draft analyst Rob Rang
considers wide receivers and running backs Seattle could consider, one per round in the upcoming draft.

Jim Thomas of the St. Louis Post-Dispatch
says the Rams ran top receivers Justin Blackmon, Michael Floyd and Kendall Wright through last-minute pre-draft workouts. Thomas: "A six-person Rams contingent traveled from site to site via private jet, a contingent that included coach Jeff Fisher, general manager Les Snead, and offensive coordinator Brian Schottenheimer. Kevin Demoff, the Rams' executive vice president for football operations, joined the others for the Blackmon workout."
Also from Thomas
: Gil Brandt thinks the Rams strongly need to consider selecting Blackmon. Thomas: "Former Rams general manager Billy Devaney was known to say that you could always find a receiver. Thus, it is not a surprise that the team has not used any of its 14 first-round picks since 2000 on the position. The only second-round receiver was Donnie Avery. Instead, the Rams have hoped that lesser-known names would produce. Since drafting Holt they have picked 13 receivers, who have averaged 1 1/2 years with the team each and produced a combined 450 catches, 5,420 yards and 26 touchdowns."
More from Thomas
: The Rams need help at linebacker. Thomas: "There are some legitimate options for the Rams in rounds 2-4, including Mychal Kendricks of California and Sean Spence of Miami, who paid pre-draft visits to Rams Park. Kendricks was named Pacific-12 Conference defensive player of the year last season after racking up 107 tackles, 14.5 tackles for loss, three sacks and two interceptions. Under defensive coordinator Clancy Pendergast, Cal ran a complex scheme, and Kendricks was used in a variety of ways -- playing inside, outside and used as a blitzer. (He had 8.5 sacks in 2010.)"

Bob McManaman of the Arizona Republic
asks whether the Cardinals would select receiver Floyd even if offensive tackle Riley Reiff were available to them with the 13th overall choice.
Kent Somers of the Arizona Republic
says the Floyd-Reiff dilemma is a tough one. Somers: "And depending upon the day, I've taken both players. I guess I have myself covered. My thinking today is that the Cardinals will take Reiff, figuring that they are good enough at receiver with Larry Fitzgerald, Andre Roberts, Early Doucet and whomever emerges from the rest of the pack. They haven't taken an offensive lineman above the fifth round since 2007, so it's time."
Also from Somers
: The Cardinals have become more apt to trade draft choices since Ken Whisenhunt succeeded Dennis Green as head coach, with mixed results. Somers: "Green, who coached the team from 2004-06, preferred to stay rooted in the team's original draft slot. His mantra was to never fall in love with players. But since 2007, coincidentally the year Ken Whisenhunt became coach, the Cardinals have been more active during draft week. That year, they made two trades on draft week. In 2010, they made three during the draft in addition to two others that came before. The results have been mixed, but the Cardinals have shown they won't always sit still during the three days of the draft."

Matt Barrows of the Sacramento Bee
thinks the 49ers will address guard, running back and wide receiver in the 2012 draft. Barrows: "While the need for an offensive tackle in 2010 and a quarterback last year helped narrow the list of draft candidates, San Francisco's stacked roster this year means it can go in many directions."
Matt Maiocco of CSNBayArea.com
picks one player per round for the 49ers. On first-round projection Kevin Zeitler: "Right guard might be the only starting job on the team that's up for grabs, and Zeitler would enter that competition against Alex Boone and Daniel Kilgore. Zeitler fits the 49ers' style. He started three seasons and won the Badger Power Award for he weight-room dedication. At the combine, he bench-pressed 225 pounds 32 times -- 14 more than his former Wisconsin teammate Peter Konz."
February, 13, 2011
2/13/11
11:05
AM ET
Joe from St. Louis writes:
I don't get what's so important about
Sam Bradford
and Josh McDaniels meeting
face to face
. Between Skype, Twitter, kissy-face or any old fax and phone, why can't they meet when the time works best? If Sam has time to study with live voices, the time spent together will be much more effective when they meet.

McDaniels
I think a lockout would be good for the Rams. With a lockout, the season becomes a wash across the board for all teams. The season will come down to the last three games, and it's anybody's guess at this point. Good coaching will be a real advantage. The Rams look good there. Also, excpectations from fans and media will have changed toward a more forgiving and optimistic direction. It will be like a free year.
Mike Sando:
The Rams might have to streamline their offensive verbiage to communicate strategy through Twitter's 140-character limits! I'm also thinking Bradford and McDaniels have collected enough coin in recent seasons to buy quite a few cell minutes, so Skype might not be a necessary alternative. If they are communicating primarily by fax, well, good luck to the Rams in 2011.

Bradford
Bradford and McDaniels have been in frequent contact via phone, so there should be some familiarity there. I do think it's important for them to get together for face-to-face meetings before a lockout. They still have time to do that. Bradford thought it would happen this past week, but the Rams' coaches were out of the office. It should be a matter of when, not if, such a meeting takes place. The way these two interact in person is going to define the relationship once they're in training camp and the regular season. The earlier they can establish that connection, the more quickly the relationship will progress, and the better chance they'll get a jump on accomplishing more meaningful work.
There's still a chance the NFL and NFL Players Association will work out a deal before a lockout becomes a significant issue. If a lockout drags on, you're right about expectations changing. At that point, however, teams with established offensive and defensive systems would be in better position to function at a high level. The Rams would be better off on defense than offense under that scenario.
---
Randy from Peoria, Ariz., writes:
With respect to the
recent mailbag posting
, I'd like to comment. If the Cardinals cannot acquire a veteran quarterback because of the labor situation, I don't think they ought to devote any draft choices to quarterback this time around. We've got two post-rookies in
John Skelton
and
Max Hall
. Push comes to shove, we can deal with those two as our quarterbacks. What has been the stand-out problem since Denny Green has to be the habitual poor play of the defense. With a good -- no an excellent -- defense working at all times, even an average offense can look pretty good. Theoretically, you can win a game 2-0 or 3-0. Something quite similar played out in the 60's and early 70's when Bud Grant coached the Vikings. Although that is an extreme example, it's not unrealistic. It will likely take about three years before the Cardinals are fully "back" as a contender. Without a bona fide defense, they won't prove to be serious competition to any opposing team.
Mike Sando:
Offense and defense do work hand in hand, but I would rather be stronger on offense. Teams must score points to win. A good offense can keep a bad defense off the field. A good offense can score enough points to let its defense play downhill. A good defense isn't going to score many points.

Skelton
Going into this season with Skelton and Hall as the quarterbacks just wouldn't make sense unless you thought those guys were going to quickly develop into winning quarterbacks. The Cardinals need a better insurance policy at the position. If it's not a veteran, how about a young player with more potential than the two young quarterbacks on the roster right now?
Reliving the 2010 season shouldn't be an option for Arizona, particularly by design.
As for those Bud Grant-coached Vikings, they ranked among the NFL's top 10 on offense and defense (out of 26 teams) for several years in a row during the 1970s. They had a Hall of Fame quarterback.
---
Dusty from Tacoma writes:
There's been a lot of fans on your blog asking your thoughts on
Aaron Curry
and position changes to middle linebacker or the "Leo" spot. Why not just put him at defensive end!? He's not great in coverage or instinctive. He's a beast of muscle and speed, and not that this is saying a lot, but when you move him to defensive end in Madden, he's like a 99 overall.

Curry
Mike Sando:
I appreciate the Madden humor. My youngest son just drove Green Bay's offense to a touchdown against my Baltimore defense in a little Madden 11. We're tied 14-14 and taking a break between quarters. He is 6 years old, by the way, and dialing up exotic blitzes on me. On Curry, the one thing he needed to be was a terrific strongside linebacker. That was his position coming out of Wake Forest. There's no question it's less than ideal to draft a strongside linebacker among the top four choices, but if you're going to do it, the player must excel at that one position.
---
Rob from Susanville, Calif., writes:
Hey Mike, thanks for keeping us NFC West fans well informed and entertained. A lot of talk on this blog has been written about the
downfall of the
San Francisco 49ers
. My question is, how likely is it that one of the three other teams in the division will win a Super Bowl before San Francisco wins another one? After this season, I really don't see much difference in talent among the four NFC West teams. Will any of these four teams amount to anything in the near future? In other words, if you had to wager Mrs. Sando on cleaning the bathroom, which team would you put your money on to be the next to win it all, and why?
Mike Sando:
I know better than to bet my wife in anything. She'll pull victory out of nowhere as long as it's against me. Doesn't matter what it is lately, either. She beat me in the
2010 ESPN.com Blog Network Gridiron Challenge
. We'll occasionally have a game of Scrabble going on our phones (it's a wild life we live, I know). I was up by 100-plus points the other day. She dropped "resurvey" on me for triple points and went out at the same time to beat me by like three points. Unreal.
On the NFC West front, how can we go against the Rams as the most likely NFC West team to win a championship? They're the only team in the division with a long-term franchise quarterback in place. That is where it starts.
Matt Hasselbeck
finished with two strong playoff appearances, but he struggled for much of the season and doesn't have a contract for 2011. Until the Rams' division rivals improve at quarterback, it's tougher to consider them in the long-term championship equation.
July, 23, 2010
7/23/10
8:04
AM ET

Dan Bickley of the Arizona Republic
says another postseason appearance by the Cardinals could be a sign Ken Whisenhunt is on his way to a Hall of Fame career as a head coach. Whisenhunt: "In my last nine years (coaching) in the league, we've been to two Super Bowls, 5-6 championship games and won the division 6-7 times. That's what drives me. When you get a group of guys to believe in something and actually be successful, when you get a town to respond the way this town has supported us . . . there's nothing else like it. Look at where we were four years ago." Winning Super Bowls, plural, would help the Hall of Fame credentials. Current Hall of Fame coaches: Paul Brown, Jimmy Conzelman, Joe Gibbs, Bud Grant, Curly Lambeau, Tom Landry, John Madden, Bill Walsh, Chuck Noll, Guy Chamberlain, Ray Flaherty, Sid Gillman, Greasy Neale, Steve Owen, Don Shula, Marv Levy, George Halas, Hank Stram, Weeb Ewbank, Vince Lombardi and George Allen.
Darren Urban of azcardinals.com
wonders whether rookie Daryl Washington could get on the field this season while Gerald Hayes recovers from back surgery.
Also from Urban
: Adrian Wilson is replacing Bertrand Berry on the Cardinals' in-house podcast.
Kent Somers of the Arizona Republic
says the Cardinals do not appear close to signing either of their top two draft choices, but there's little reason for alarm. The deals should be relatively straightforward. Somers: "Cardinals General Manager Rod Graves has been traveling and [unavailable] for comment this week, but I'm hearing the Cardinals aren't far along in contract talks with (Dan) Williams or linebacker Daryl (Washington), their second-round pick. That's not unusual, however. Camp is still a week away, and the two deals should not be complicated ones."

Danny O'Neil of the Seattle Times
says Seahawks linebacker Leroy Hill is due in court again Friday. O'Neil: "Hill is in his sixth year with the Seahawks. He was suspended last week for the season-opening game against San Francisco for violating the NFL's policy on substance abuse. Whether he faces additional league punishment for this incident could depend on the outcome."
John Morgan of Field Gulls
says T.J. Houshmandzadeh enjoyed a strong season in 2009. Houshmandzadeh increased his yards per reception, breaking a trend in the other direction. Morgan: "As a player, T.J. was very good in 2009. He is a number one possession receiver, so to speak. He is more of a complementary downfield threat, but so be it. He earns tons of targets and maintains a high catch percentage, and if his stats declined in 2009, I saw no indication that his performance did."

Jim Thomas of the St. Louis Post-Dispatch
provides a Rams overview. Thomas: "Even in this so-called 'baseball' town, and even with all the recent losing by the Rams, the selection of (Sam) Bradford has created a mild buzz in St. Louis. Ticket sales are up over last year, although several games could still be blacked out locally. No one is dreaming of a playoff berth, but improvement is expected."
Also from Thomas
: The Rams could bring in former Missouri receiver Denario Alexander, who was cleared medically this week, according to his agent.
Turf Show Times' Tevin Broner
outlines three keys for the Rams this season: Bradford, the defensive line and the receivers.

Matt Maiocco of CSNBayArea.com
thinks tight end Nate Byham and running back Anthony Dixon could be lesser-known players to watch at 49ers training camp. Maiocco: "Dixon is an impressive-looking player. He has quick feet and nice moves for a big man. But the 49ers want to see less dancing and more north-south running. If he lowers his pads and runs with power, he has a chance to make his way up the depth chart."
Taylor Price of 49ers.com
previews the 49ers' defense heading into camp. Price: "Tthe 49ers' 5-1 record against the NFC West was largely because of a stingy defense which allowed 10.2 points per game against the division, tops by any NFL team against its division in 2009. From top to bottom, the 49ers defense features play-makers and game-changers at all levels of the field."
Dan Brown of the San Jose Mercury News
checks in with 49ers legend Jerry Rice, who spoke with reporters Thursday during a Hall of Fame conference call. Brown: "These days, Rice's preparation involves the speech he'll have to give on induction day, when former 49ers owner Eddie DeBartolo Jr. will present him. Rice was vague about the status of his speech-writing efforts but acknowledged that he's been checking in with other Hall of Famers for advice."
January, 14, 2010
1/14/10
12:29
PM ET
Floyd Reese has been an NFL personnel man so long, it's easy to forget he was once Bud Grant's linebackers coach with the Vikings in 1980s.
And until Reese surfaced as a general manager candidate to work with new Seahawks coach Pete Carroll, it was easy to forget -- if one ever knew -- that Reese and Carroll were on the same Vikings staff under Grant in 1985.
Carroll made it clear during his introductory news conference that the Seahawks would be remade in his image, and that there would be one door -- his -- for people to knock on. That made me initially question whether an established, high-profile candidate such as Reese would have a legitimate shot at the job.
That Vikings connection makes Reese's candidacy seem more realistic. Carroll coached the Vikings' defensive backs from 1985 to 1989.
Ensuring a productive, collaborative working relationship between Carroll and the new GM is a top priority for Seahawks management. It's also critical that the new GM be strong in areas where Carroll might need time to get up to speed, notably pro personnel and issues relating to the NFL labor situation.
Reese, whose record is
detailed here
by Dave Boling, stands out as an obvious choice on those fronts. No other candidate under consideration can offer his wealth of experience on multiple levels.
July, 23, 2008
7/23/08
4:52
PM ET
Posted by ESPN.com's Mike Sando
There it is, smack in the middle of Sal Paolantonio's latest column: a reference to Jack Patera, the colorful first coach of the Seahawks. The column notes that Patera and quarterback Jim Zorn spent 85 games together without winning a Super Bowl, the fifth-longest streak of its kind. To leave it at that would be wasting an opportunity to share a colorful character with a new generation of fans.
You might remember Patera as the former Bud Grant assistant in Minnesota who played in the NFL after a Hall of Fame career at Oregon. He turns 75 on Aug. 1, having retreated to the Washington woods after leaving the NFL with a sense of bitterness that still lingered when I last saw him in 2004. Luckily, the Seattle Post-Intelligencer's free archives allow for revisiting Jim Moore's terrific 1999 profile, You don't know Jack. An excerpt:
Realizing that opponents would be more gifted, Patera implemented strategies rarely seen in the NFL now. Trick plays were a Seahawks staple. ... Patera had Herman Weaver throwing out of punt formation or (Efren) Herrera on-side kicking at the unlikeliest of times. Patera's Seahawks preferred catching a rival off guard to running off guard. ... The Seahawks were the daring darlings of the 'Monday Night Football' highlights, becoming Howard Cosell's team of choice.
Former Seahawks receiver Steve Raible shared a funny Patera story when we collaborated on a book several years ago. Patera convinced an unwitting equipment staffer named Harry to track down a left-handed football for the southpaw Zorn.
"Harry, do you have the left-handed balls?" the imposing Patera barked as practice was starting.
Harry, apparently unsure if such footballs existed and not about to challenge Patera, said he thought he had brought them. Harry even ordered an underling to find them. Patera never told him there was no such thing.