March, 28, 2012
3/28/12
3:58
PM ET
Torry Holt
's formal retirement from the NFL --
as a St. Louis Ram, fittingly
-- will touch off the usual discussions about Hall of Fame worthiness.
In the meantime, consider this an appreciation.
Holt was the NFC West wide receiver opponents feared most during the first five or six years following divisional realignment in 2002. He could beat defenses with his speed and then make spectacular, seemingly impossible plays on the ball against coverage.
Terrell Owens left the division following the 2003 season.
Larry Fitzgerald
and
Anquan Boldin
were still ascending. Holt's teammate in St. Louis,
Isaac Bruce
, remained formidable, but Holt was increasingly the dominant force.
From 2000 through 2007, Holt strung together eight consecutive seasons with at least 81 receptions and 1,188 yards. That included two 1,600-yard seasons and four others with at least 1,300 yards. He averaged 19.9 yards per reception in 2000 and 106 yards per game in 2003, figures that led the NFL in those seasons.
My previous job as a
Seattle Seahawks
beat reporter provided a first-hand view for some of Holt's finest moments. His eight catches for 154 yards and three touchdowns against Seattle during a 2006 shootout at the Edward Jones Dome stands out. The Rams trailed 27-21 with three minutes remaining when
Leonard Little
forced a
Maurice Morris
fumble. Less than a minute later,
Holt's 67-yard touchdown
catch had the Rams in the lead.
Safety
Michael Boulware
had deflected the pass and nearly intercepted it. Holt somehow gathered the ball, a deep heave from
Marc Bulger
, and ran into the end zone for the go-ahead score.
"Until he caught it, I thought I was catching it," Boulware said at the time. "I'm still kind of ... I can't believe that he caught it."
Holt was a Seahawk killer in those days. He finished his career with 91 receptions for 1,247 yards and eight touchdowns in 16 games against Seattle. But Holt did not discriminate. He lit up Arizona with 101 receptions for 1,417 yards and nine scores in 15 games. Holt had 116 receptions for 1,542 yards and seven touchdowns in 21 games against San Francisco, a team he faced in the NFC West before and after realignment.
Purely by coincidence, I cued up that 2006 Seahawks-Rams game on Tuesday night when my kids asked if they could watch an old game on their DVD player before bedtime.
We watched Holt dominate, at one point catching a 9-yard scoring pass against
Marcus Trufant
before Trufant could even turn to locate the ball. After a while, my youngest son, 7, asked whether Holt was in the Hall of Fame. The question was premature, as Holt will not be eligible for another five years. But the case for him is a strong one.
Holt had more receptions and receiving yards than any player from 2000 to 2009. He was fifth in receiving touchdowns during that time, a respectable total that suffered because the Rams had other options. He won one Super Bowl and played in another.
The Rams have struggled to replace Holt in recent seasons. They hold the sixth pick in the 2012 draft and could select Oklahoma State receiver
Justin Blackmon
, if available. Holt, the sixth player chosen in 1999, set the bar high.
September, 6, 2011
9/06/11
12:43
PM ET
The
New England Patriots
have tightened their grip on the No. 2 spot in ESPN.com's NFL Power Rankings heading into Week 1.
They even secured a No. 1 ranking on one ballot as perceptions hardened that New England, not so much Philadelphia, posed the greatest threat to the defending Super Bowl champion
Green Bay Packers
.
"I think the Patriots' additions of
Chad Ochocinco
,
Albert Haynesworth
,
Brian Waters
and
Shaun Ellis
should make them the favorites," panelist James Walker said in explaining why he put New England atop his ballot. "The Packers were the best team in February, but that doesn't automatically make them the best team in September. Super Bowl champions usually do not repeat."
The Patriots were the last team to do it, but their championship victories over Carolina and Philadelphia are fading memories. The NFL has crowned six champions since New England last won a title. But
Tom Brady
's excellence and the Patriots' offseason maneuvering caught voters' attention.
Four of five panelists ranked the Packers first and Patriots second on their ballots. Walker previously ranked the Eagles first, but he dropped them to third this time. Paul Kuharsky and I dropped Philadelphia one spot apiece.
Kuharsky has been higher than most on the
Detroit Lions
all along. He had them 18th in the final regular-season balloting from 2010, higher than anyone else had them. He's got them 12th this time, five to six spots higher than most other voters ranked them. And he's got them a full seven spots higher than Chicago.
"I'm just not a huge believer in the way the Bears are doing things," Kuharsky said. "You have to find a way to use
Greg Olsen
, not give him away for next to nothing. That offensive line isn't fixed. They won't get away with it two years in a row."
Walker was also among those shaking up things within a division. He has Baltimore beating out defending AFC champion Pittsburgh for the AFC North title. He moved up the Steelers one spot to seventh on his ballot, but he moved up the Ravens one spot as well, to sixth.
"I picked the Ravens to win the AFC North back in July, so I'm staying loyal to my prediction and keeping Baltimore one spot higher," Walker said. "Sunday's game will determine if I made the right call."
The
Indianapolis Colts
, ranked ninth, could be the most volatile team heading into Week 1.
Peyton Manning
's shaky status is everything for that team.
"If they look bad with
Kerry Collins
in Houston, certainly my vote will reflect it in a major way," Kuharsky said.
Voters are already downgrading Seattle. The Seahawks fell six spots from our previous rankings, the biggest drop, as voters realized the team was serious about heading into the 2011 season with
Tarvaris Jackson
behind an offensive line that has not yet found its bearings.
And now, a closer look at the rankings heading into Week 1 ...
Rising (10):
Houston Texans
(+6),
Minnesota Vikings
(+5),
Jacksonville Jaguars
(+3),
Pittsburgh Steelers
(+2),
Dallas Cowboys
(+2), Lions (+2),
Baltimore Ravens
(+1),
Oakland Raiders
(+1),
Washington Redskins
(+1),
Buffalo Bills
(+1).
Falling (10):
Seattle Seahawks
(-6),
Kansas City Chiefs
(-4),
New York Giants
(-4),
Tennessee Titans
(-3),
St. Louis Rams
(-2),
Carolina Panthers
(-1),
Cleveland Browns
(-1), Colts (-1),
New Orleans Saints
(-1),
Philadelphia Eagles
(-1).
Unchanged (12)
Packers, Patriots,
Atlanta Falcons
,
New York Jets
,
San Diego Chargers
,
Tampa Bay Buccaneers
,
Chicago Bears
,
Arizona Cardinals
,
Miami Dolphins
,
San Francisco 49ers
,
Denver Broncos
,
Cincinnati Bengals
.
Deadlocked:
We broke three ties this week. San Diego prevailed over Houston at No. 10, Chicago prevailed over Dallas at No. 13 and Oakland prevailed over Tennessee for No. 22. The tiebreakers are, in order, head-to-head results, overall record, which team won most recently and previous ranking. Since no games have been played in this regular season, we used 2010 records to break ties.
Like minds:
Every voter but Walker had the Packers first and the Patriots second. Four of five voters had the Ravens eighth.
Agree to disagree:
The Raiders generated the largest disparity between highest and lowest votes. The gap between highest and lowest votes was at least seven spots for five teams:
Raiders (14): Ashley Fox ranked them 15th, higher than any other voter ranked them. Walker ranked them 29th, lower than any other voter ranked them.
Chargers (12): Sando and John Clayton seventh, Fox 19th.
Bears (10): Fox ninth, Kuharsky 19th.
Dolphins (7): Clayton 21st, Sando 28th.
Giants (7): Fox 11th, Clayton 18th.
Power rankings histories:
These colorful layered
graphs show where each NFL team has ranked every week since the 2002 season.
Ranking the divisions
: Teams from the NFC North ranked highest with a 12.7 average ranking. The chart below shows how each voter ranked each division on average. Highest votes in red. Lowest votes in blue.
For download:
An Excel file -- available
here
-- showing how each voter voted, high and low votes for each team, correlation between voters and divisional rankings. This file will expand in future weeks to include week-to-week comparisons and a "powerflaws" sheet showing potential inconsistencies on voters' ballots.
August, 11, 2011
8/11/11
1:00
PM ET
SANTA CLARA, Calif. -- The sights and sounds of the typical NFL training camp aren't quite the same with
Jim Harbaugh
running things for the
San Francisco 49ers
.
The digital timers commonly used to break practices into periods do not exist there. The air horns NFL teams traditionally fire to signal transitions between periods never sound. Staffers generally responsible for managing such things can focus their attention elsewhere.
Harbaugh tracks it all himself, keeping the time in his head, sometimes without even consulting a watch. The only whistle at practice belongs to him. Harbaugh blows it when he's ready for a new period to begin. If there's a bad snap or miscue, too bad. It's on to the next play. Corrections can wait until the end of practice.
The devices teams have traditionally used to ensure practices move along on schedule would actually make it tougher for Harbaugh to push the tempo to his liking. In interviews right after practice, Harbaugh sometimes comes off as distracted, as though his mind is racing through the two-minute scenarios that helped him earn the nickname "Captain Comeback" as a player. Practice ended 12 minutes early Wednesday.
"There is no wasted time," said left tackle
Joe Staley
, a first-round draft choice in 2007. "I think that is carrying over to the mindset. This isn't just fun. This is our job."
Players accustomed to two-hour camp breaks at midday under other coaches now scarcely have any down time at all. They're in the building by 6:30 each morning and out by 9:30 each night. They do not leave the premises in the interim.
There's no more whining to a wife or girlfriend over lunch about the rigors of camp. Cupcaking, as Harbaugh calls it.
"You are always thinking football," said tight end
Delanie Walker
, who has been with the team since 2006. "That is what we needed. We needed to think football because we have a young team and they don't understand that this league is tough and if you lose focus on what we have to accomplish, that can hurt you."
THREE HOT ISSUES
[+] Enlarge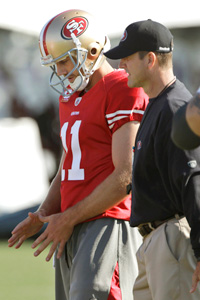 AP Photo/Paul SakumaCoach Jim Harbaugh elected to bring Alex Smith back as the starting QB despite his less-than-stellar track record.
1. Can Harbaugh fix Alex Smith?
It's a tantalizing question for those still hopeful Smith might develop into a viable starter. There's no doubt Harbaugh brings more offensive expertise to the job than his recent predecessors did. Smith has embraced learning from a coach with Harbaugh's understanding of the position. One veteran player said Smith never lost the locker room, in part because teammates knew the deck was stacked against him. "It's hard to describe what it's been like in the past as far as schematics go and how difficult it is to deal with, the situations we're put in as players," the player said. "I think with this new coaching staff, they want to put you in position to be successful. It's not just, 'We're going to run power because we're physical and we don't care if they have nine guys in the box.' Look at all the weapons we have, put them with our coaching staff and I think he's going to be productive." As always, though, it comes down to whether Smith can get it done during games. He's usually said the right things and taken the right approach during the offseason.
2. Why so many changes on defense?
The 49ers absorbed criticism early in free agency as players departed and the organization took a measured approach to lining up replacements. Defensive starters
Takeo Spikes
,
Aubrayo Franklin
,
Manny Lawson
and
Nate Clements
did not return. Another defensive starter,
Dashon Goldson
, lingered on the market before taking a one-year deal to return. Where was the urgency? It's helpful to remember the team's general manager, Trent Baalke, experienced firsthand the risks associated with aggressive free-agent spending while working for the
Washington Redskins
from 2001-04. And with a new defensive coordinator in Vic Fangio, priorities changed. Franklin was a pure two-gapping nose tackle. His replacement,
Isaac Sopoaga
, might be better suited for Fangio's slanting 3-4 scheme featuring fire-zone tactics in doses. The 49ers see the middle of their defense as even stronger following free agency. They love their depth at safety and are expecting a breakout year from
NaVorro Bowman
at inside linebacker next to
Patrick Willis
.
3. Can the 49ers 'buy in' yet again?
The 49ers are on their third head coach and seventh offensive coordinator since 2005. Most recent seasons have begun with fresh promise, followed by disappointment and even disillusionment. Here comes Harbaugh, full of energy, pumping up hopes once again. I wondered whether players would be too jaded to invest fully from the beginning. "It's not about Harbaugh getting me to buy in again," Pro Bowl tight end
Vernon Davis
said. "It's not about him. It's about the team wanting to win games. ... There is nothing anybody can do to get me to be involved. I am going to be involved whether they like it or not, because that is what I do. You go through adversity, but you have to keep believing."
BIGGEST SURPRISE
[+] Enlarge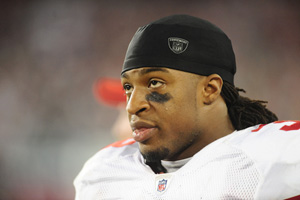 Mark J. Rebilas/US PresswireDashon Golson re-signed with the 49ers for a one-year deal after testing the free-agency waters.
Dashon Goldson's return.
The 49ers suddenly have options at safety after Goldson, a 2010 starter, returned on a one-year deal for $2 million. The situation played out perfectly for the team. San Francisco signed
Donte Whitner
and
Madieu Williams
in free agency while Goldson tested a soft market.
Reggie Smith
was having a good camp before suffering a knee injury that will keep him out for at least a couple of weeks. The team still has
Taylor Mays
as well, at least for now. Whitner (strong) and Goldson (free) project as the likely starters unless Reggie Smith can get healthy enough to make another run at the job before the season. Goldson has plenty of motivation entering a contract year. Whitner started quickly and wore down with Buffalo last season. The 49ers' offense can help him out by sustaining drives and giving the defense some rest.
BIGGEST DISAPPOINTMENT
Michael Crabtree's injury.
This marks the third lost offseason in three years for the player San Francisco drafted 10th overall in 2009. Crabtree missed camp and the first six regular-season weeks of his rookie season during a contract dispute. A neck injury prevented him from playing in a single exhibition game last summer. A foot injury has prevented Crabtree from practicing even once at camp this season. The 49ers protected themselves by signing
Braylon Edwards
to a one-year deal, but they need more in return from their investment in Crabtree.
OBSERVATION DECK
As much as the 49ers valued Spikes, they were ready to go with Bowman next to Willis on the inside. Bowman came on strong late last season, particularly in a Week 17 game against Arizona. The 49ers hope he can become a Jon Beason type. If that happens, they'll have one of the best inside linebacker combinations in the league.

Right guard Chilo Rachal has been inconsistent to this point in his career. His weight is down from the 330 range to about 310 and has dipped closer to 300 after practices. Has Rachal matured and become more serious about his craft? It's too early to say, but at least he reported to camp at a promising weight.

Increasing roster limits from 80 to 90 players has helped Harbaugh transition from college, where programs can bring 105 players to camp. It's common for Harbaugh to send the starting offense against the No. 2 defense on one field, with the backup offense and starting defense on another. That would be unusual in the NFL in the age of 80-man rosters.

In retrospect, it's pretty clear the 49ers were never serious about adding Nnamdi Asomugha, Chad Ochocinco or other big names in free agency. They've given great weight to dynamics within the locker room when deciding which players to pay handsomely.

Running back Frank Gore's brief holdout quickly became a non-story when the team promised to revisit his deal in good faith as the season progresses. Gore appeared in terrific spirits during my visit to camp. At one point during practice, Gore spotted ESPN analyst and former 49ers teammate Trent Dilfer standing near the sideline. He came over to greet Dilfer and then noticed Baalke, the GM, standing nearby. After embracing Dilfer, Gore turned to Baalke and extended a hand. They shook hands and shared a few laughs before Gore returned to his teammates. Gore, upon hearing adoring cries from a fan attending the same practice, broke away to hug her.

The 49ers are banking on a strong relationship between Harbaugh and Baalke. The two became close during the lockout. They are also competitors on the racquetball court, where Harbaugh's competitive edge comes through. Harbaugh has come back from 13-0 and 18-7 deficits to beat his GM. The coach typically begins his comebacks by dropping subtle comments designed to unnerve his opponent. He then changes up his approach, becoming less predictable. Consider it a metaphor for his coaching style. Gone are the days when lining up in a certain formation precipitated running a certain play.

The 49ers are fortunate Harbaugh agreed to retain defensive line coach Jim Tomsula from the previous staff. The bond between Tomsula and players at the position is uncommonly strong. Defensive end Ray McDonald re-signed without even testing free agency. The team made bringing back McDonald a priority, given the premium teams place on defensive linemen in the draft. Losing McDonald might have forced the team to more strongly consider drafting one early.

Edwards' addition at receiver gives the team needed size at the position while Crabtree is unavailable. "The first time I saw him work out here, I thought he was a tight end," safety Curtis Taylor said.

Rookie second-round choice Colin Kaepernick is getting high marks from Harbaugh to this point in camp. Kaepernick's mobility and arm strength stand out during practices. He also has a longer delivery, as advertised. I watched closely to see whether the delivery allowed defensive backs to jump pass routes more ably. That did not appear to be the case in practice. Kaepernick's lean frame made me wonder about his ability to take a hit to the legs. At Harbaugh's direction, quarterbacks are wearing braces on their left knees, which tend to be most vulnerable when right-handed quarterbacks deliver the ball.

Kaepernick will likely get on the field one way or another even if Smith remains the starter. There are no indications Kaepernick will start in Week 1, but Harbaugh isn't making any public declarations.

Fangio has been pushing first-round pick Aldon Smith hard in practice even though Smith flashed plenty of ability early in camp. Smith is grinding a bit while absorbing the defense. He seems to be taking Fangio's criticism in stride.

Harbaugh strongly emphasizes practicing within the context of situations, more so than I would have expected during the early stages of installing the playbook. Some fans attending a recent practice laughed when they saw punter Andy Lee take a snap from center and spike the ball to stop the clock. Count Harbaugh as one of the coaches, Bill Belichick among them, who favor sending on the punt team following third-down plays during two-minute situations when it's not clear whether the offense got a first down. If the offense gets a new set of downs, the punter spikes the ball. If not, the regular punt call remains.

It's not unusual for the 49ers' first-team offense to execute four or more two-minute drills in one day, up from one in the past. Harbaugh frames most practice reps within down, distance and time. Pro Bowl defensive end Justin Smith: "Things are a lot more detailed. Every coach at their position is pretty well near the top. Everything we've heard from them has been right on point."

The quote of camp so far came from another Smith, Alex, when asked about changes on offense: "Obviously, what we were doing wasn't working -- all of us, me included. That is the definition of insanity, right? Doing the same thing and expecting a different result."
July, 30, 2011
7/30/11
3:48
PM ET
Whatever plan the
San Francisco 49ers
have for free agency remains a mystery.

Coach Jim Harbaugh
wants it that way
for what he cited as competitive reasons.
I'm not sure what competitive edge would be lost if Harbaugh admitted the obvious, such as the team's need for help at receiver with
Michael Crabtree
injured, or the need for cornerback help following
Nate Clements
' release.
It's tough to know how seriously the 49ers were about
trade talks
for veteran receiver
Chad Ochocinco
, who wound up in New England. It's tough to say whether the 49ers were serious about
Nnamdi Asomugha
before the cornerback signed with Philadelphia. And it's tough to know how strong the 49ers'
reported interest
in
Plaxico Burress
might be.
It's easier to see why those players would land elsewhere. Given a choice, established veterans often first seek opportunities with teams better positioned for championship success.
The 49ers' long-term plan is apparent: groom
Colin Kaepernick
at quarterback and continue to build through the draft. It's tougher to know whether the 49ers have a valid short-term plan without the team acknowledging one. While it's premature to harshly criticize a team for inactivity barely 24 hours into the free-agent signing period, it's natural to wonder in the absence of evidence whether the 49ers feel the same urgency their fans feel when watching other teams attempt to upgrade their rosters.
July, 29, 2011
7/29/11
9:57
AM ET
The
San Francisco 49ers
' reported
interest
in veteran receiver/entertainer
Chad Ochocinco
suddenly makes a little more sense.
Michael Crabtree
's foot
injury
will leave the 49ers short-handed through camp and possibly into the regular season. The team will have to consider adding a veteran wideout in free agency, in my view.
I still think adding Ochocinco would have been a curious move for a team with so many younger players on offense. Former 49ers running back
Michael Robinson
, who recently agreed to terms on a new contract with Seattle, was also among those chuckling at the possibilities.
"Chad and Vernon [Davis] would have been hilarious!" Robinson
tweeted
.
Indeed. If Davis had problems with Crabtree's approach last summer, and
he famously did
, imagine the possibilities with Ochocinco.
July, 29, 2011
7/29/11
9:43
AM ET

Matt Barrows of the Sacramento Bee
says the San Francisco 49ers could be without Michael Crabtree for four to six weeks while the receiver recovers from a foot injury suffered during player-organized workouts. Crabtree missed his rookie training camp during a contract dispute. An injury sidelined him quite a bit last summer. The lockout and this latest injury threaten to keep Crabtree off the field for yet another training camp, just as the 49ers are scrambling to install a new offense. So much for developing a rapport with the 49ers' quarterbacks. Barrows: "The exact nature of the injury is not known. The 49ers will place Crabtree on the physically-unable-to-perform list to begin training camp. Also to be placed on the PUP list are rookie fullback Bruce Miller and wideout Dominique Zeigler, who is recovering from an ACL tear suffered last year. Miller's injury is not known at this point."
Matt Maiocco of CSNBayArea.com
says this has been a rough week for the 49ers. Maiocco: "I spoke with a source close to Nnamdi Asomugha early Friday and he said that Asomugha was still going through his options. There are some reports that the Cowboys are getting involved, too. If the 49ers do not sign Asomugha, they will be forced to turn to Plan B, which could include Richard Marshall (Carolina), Chris Carr (Baltimore), Carlos Rogers (Washington) and Antonio Cromartie (Jets). Also, if Clements remains on the market, the 49ers could bring him back. And, remember, the 49ers weren't completely satisfied with the play last season of the other starting cornerback, Shawntae Spencer, either."
Also from Maiocco
: Joe Nedney plans to retire.
Dan Brown of the San Jose Mercury News
says Crabtree's injury explains why the 49ers considered adding Chad Ochocinco.
Tim Kawakami of the San Jose Mercury News
sees the 49ers as a fallback for Asomugha, with the Jets as front-runners.
Gwen Knapp of the San Francisco Chronicle
says Colin Kaepernick is eager for camp.

Brock Huard of 710ESPN Seattle
has advice for Charlie Whitehurst heading into Seahawks camp. Huard: "Whitehurst has a longer delivery which can be harder to repeat and cause inaccuracy when a pocket collapses on top of him. He can spin it and throw a beautiful deep ball, but to gain the trust of his coaches and his huddle he will have to refine his ball placement, critical in the timing/West Coast system Darrell Bevell is installing."
Clare Farnsworth of seahawks.com
offers highlights from Seahawks practice, including one about Red Bryant being back on the field following knee surgery.
Also from Farnsworth
: Marcus Trufant is the longest-tenured current Seahawk. Farnsworth: "In fact, 33 of the players on the practice field Thursday were going through their initial workouts with the team."
Danny O'Neil of the Seattle Times
provides a Whitehurst interview transcript. On the offense: "Well, it's definitely new. We're just diving in the playbook now, but I like some of the things we do. We're going to try and run the football here, there's no doubt about it. We will be able to do that, play-action some drop-back, all that stuff. I think we're going to throw it short, throw it long, do a bunch of stuff. I'm confident that I can fit anything he asks me to do."
Also from O'Neil
: a camp preview.
Eric D. Williams of the Tacoma News Tribune
checks in with receiver Mike Williams for thoughts on Whitehurst. Williams: "Just from last night when Coach [Tom] Cable got up and talked about the attitude he wanted from the offense, and I'm sure the same thing was said over in the other room. It was good to get out here today. Guys were running around, and you could tell guys been working. You could tell Charlie's been working."
Also from Williams
: Seattle receiver Ben Obomanu grew up with Tarvaris Jackson in Alabama. Obomanu: "We shared some of the same friends when he transferred to Alabama State. A lot of my good friends played on his team and were classmates of his. So he's a good friend of mine, so I'm looking forward to him coming in and seeing what he can do in this offense."
Liz Mathews of 710ESPN Seattle
says new Seahawks coordinator Darrell Bevell could be a better fit for the team's younger players. Williams: "We're going to win new guys over. Different personalities, a lot different than coach [Jeremy] Bates -- with all respect to coach Bates -- it's just a different approach with coach [Darrell] Bevell and his staff. With the young group we have, they like this group better I can already tell. We'll all learn it. We'll make mistakes together and then minimize those mistakes as much as we can. But everyone is learning and that's the exciting part."
Mike Salk of 710ESPN Seattle
offers thoughts on the Seahawks, including this one: "Yes, the team filled major holes along their offensive line (Robert Gallery and maybe James Carpenter etc.), wide receiver (Sidney Rice) and defensive line (Alan Branch provides depth). But they still have holes in their defensive backfield and at linebacker. And oh yeah, they need a quarterback!"

Kent Somers of the Arizona Republic
looks at how the Cardinals are addressing their offensive line.
Also from Somers
: a quick look at the Cardinals' activity to this point in the week.
More from Somers
: questions and answers on Kevin Kolb's acquisition. Somers: "They clearly are going all in on Kolb. As former Packers' executive Andrew Brandt, now with ESPN, pointed out via twitter, it's a similar deal to the one Aaron Rodgers' signed in 2008. Like Kolb, Rodgers had seven starts when he signed it. The Packers, however, had watched Rodgers in practice and he knew their system. The Cardinals don't have that advantage."
Paola Boivin of the Arizona Republic
says the Cardinals are betting big on Kolb. Boivin: "Management will take heat for spending this much, when in reality, it should be applauded. An organization that for decades was dinged for being cheap was anything but on Thursday. Team president Michael Bidwill supported the quest to fill the team's biggest hole and pulled out his checkbook to do so. If you want to find fault, it is with the team for putting itself in this situation. It shouldn't have been so desperate for a quarterback."
Darren Urban of azcardinals.com
has this to say about trading Dominique Rodgers-Cromartie: "Losing Rodgers-Cromartie does weaken what looked like a very strong cornerback corps. First-round pick Patrick Peterson seems a lock to start now with Greg Toler; asked if the Cardinals would be acquiring a cornerback Whisenhunt just referenced the young corners already on the roster."

Jim Thomas of the St. Louis Post-Dispatch
says the Rams have been mostly quiet in free agency so far. Thomas: "The Rams have expressed some interest in Brandon Mebane of Seattle, but aren't considered a frontrunner for his services. Barry Cofield of the New York Giants seemed like a no-brainer at one time because of his past association with coach Steve Spagnuolo, but Cofield agreed to a contract in Washington worth a reported $36 million over six years."
Also from Thomas
: Four Rams draft choices agree to terms.
More from Thomas
: He counts Seattle among the teams with interest in Rams tight end Daniel Fells.
Nick Wagoner of stlouisrams.com
says Josh McDaniels and Sam Bradford are working hard to prepare for camp.
Howard Balzer of 101ESPN St. Louis
looks at the curious case of Rams rookie Robert Quinn, who might not have an agent.
July, 28, 2011
7/28/11
7:07
PM ET
The Boston Herald's revelation that the
San Francisco 49ers
,
Oakland Raiders
and
New England Patriots
had permission to speak with
Chad Ochocinco
came as a surprise.
Reporter Ian Rapoport
mentioned
the 49ers and Raiders as potential suitors, noting that the Patriots had spent considerable time
reworking
the wide receiver's contract.
New England
acquired Ochocinco
in a move that made more sense for a team with a strong head coach and established leaders.
As much as the 49ers could use another wideout, how seriously would they consider holding up the flamboyant, free-spirited Ochocinco as a veteran example for
Michael Crabtree
to follow? It just wouldn't make sense, in my view, especially with a first-year head coach, unestablished quarterbacks and an offense that remains very young overall.
This will be a fun one to ask Jim Harbaugh about once he's available for interviews.
July, 26, 2011
7/26/11
3:20
PM ET
Arizona Cardinals
kicker
Jay Feely
became a consistent voice for players during the NFL lockout.
He veered into trickier waters Tuesday with
a provocative question
via Twitter:
Any Bengals player becomes a more sympathetic figure simply because the team's ownership carries such a negative reputation. Palmer's own history also comes into play. He hasn't caused trouble off the field. He has not drawn attention to himself the way, say, receiver
Chad Ochocinco
has done.
Palmer would get, and has earned, more sympathy than he would get if he had previously shown himself to be selfish or a problem. It's tough removing Bengals ownership and Palmer's history with the team from the equation. Those factors positively affect perceptions of Palmer.
Ochocinco and
Corey Dillon
previously asked for trades from the Bengals.
Takeo Spikes
did, too.
I'll sympathize with just about anyone seeking to separate himself from an organization with the Bengals' recent history. The team hasn't won a playoff game since 1991.
January, 25, 2011
1/25/11
3:25
PM ET
Earlier:
Carson Palmer
isn't going anywhere just yet, but if the
Cincinnati Bengals
' quarterback
gets his way
, he'll be playing elsewhere in 2011.
How would he fit
in the NFC West?
Following up
Matt Williamson of Scouts Inc. has studied Palmer closely. I caught up with him since the previous post and wanted to pass along highlights from our conversation.
[+] Enlarge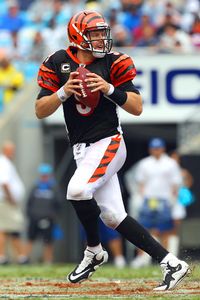 Streeter Lecka/Getty ImagesCarson Palmer may be on the downside of his career, but he could be a significant upgrade for the 49ers or Cardinals.
Matt Williamson:
Palmer is not an easy guy to talk about. I was very skeptical of him in 2009, and frankly, nobody else was. Everybody else thought he was still Carson Palmer, the Bengals are winning the division, things are great. What happened in 2009, though, was they were an extremely good running team with
Cedric Benson
and a physical offensive line, and the defense was really good, so they did not have to do much at quarterback. When they played the Jets in the postseason, that really got exposed.
Darrelle Revis
took away one receiver. Carson had to do a lot of things, and he could not. I was willing to give him the benefit of the doubt because they did lack weapons.
Mike Sando:
That changed in 2010. The team added
Terrell Owens
,
Jordan Shipley
and
Jermaine Gresham
. But the Bengals struggled. How did your opinion on Palmer evolve?
Matt Williamson:
He pretty much failed every test. He really struggled. His decision-making was poor. The ball doesn't come out of his hand half as well as it did in his prime. There were very few who could throw as well as Palmer could throw, so he had some room for error. But all the things that went right for the Bengals two years ago -- the defense and running game -- those things all evaporated, too. He was asked to do a lot more, and he was exposed.
Mike Sando:
And yet it was still easy to point to other factors. Owens and
Chad Ochocinco
weren't the most precise route runners. Shipley and Gresham were rookies.
Matt Williamson:
There is some of that. That organization is dysfunctional. But in the end, he doesn't throw the ball as well as he has in the past. I am pretty comfortable with the evaluation of the guy that he is more the problem than the answer. His decision making was bad. If there was a stat for near-interceptions or dropped interceptions, he would have been near the top of the league this year. He had a ton of them. But then, against San Diego in Week 16, he looked like the 2005 version of Palmer.
Mike Sando:
I remember the game. The Chargers were playing for a postseason berth. We kept hearing about
Philip Rivers
' great record in December. Owens and Ochocinco sat out, and it was as though Palmer were liberated. He had a monster game with four touchdowns and no picks. The Bengals won.
Matt Williamson:
The Bengals had nothing to play for and Palmer was throwing lasers all over the field. Now I'm like, 'Maybe the guy has just battled a lot of injuries over the last couple years and that was he first time he was healthy in the last two years.' Those are things we would never know. All of a sudden, that late in the year, slinging the ball like that, I'm back to the drawing board. But he doesn't generate power from his legs like he used to. His lower body has failed him and maybe he just happened to feel good one day.
Mike Sando:
Seattle could find itself in a more exaggerated version of the same dilemma.
Matt Hasselbeck
was lights-out in the playoffs. What should we make of it? One game for Palmer, it's not much to go on.
Matt Williamson:
If I had to put a grade on any player in the league, Palmer is the one that would be most difficult to grade. There are a lot of extenuating things there. If you put him in Arizona or San Francisco, it would not shock me if he came back strong. He might be a massive upgrade for those teams. He is not old. He is a high-character guy, he is smart, he is from the West Coast. If he is healthy, he can sling it and get it to
Larry Fitzgerald
or
Vernon Davis
and
Michael Crabtree
.
Mike Sando:
The Bengals have said they aren't trading him. That probably means they are not trading him. But Palmer's contract calls for him to earn $11.5 million in salary for 2011. That's a lot for a struggling team to pay a 31-year-old quarterback who wants out.
Matt Williamson:
If you are the Bengals and you look so far behind the Ravens and Steelers in the AFC North, I would not condone giving Palmer that money for a repeat performance from last year. He was a much better fantasy quarterback than real quarterback. They fell behind and he threw against prevent defenses a lot of the time. If you are Arizona or San Francisco, maybe you could buy it. You are not going to give a first-round pick for the guy. He has shown a glimpse lately. I would probably take Palmer over Hasselbeck, too. But that should not eliminate the idea of drafting a quarterback.
September, 2, 2010
9/02/10
1:00
PM ET
Though impressive overall, the
San Francisco 49ers
'
Michael Crabtree
scored only two touchdowns during his 11-game rookie season.
That makes him a potentially curious choice to outproduce the
Cincinnati Bengals
'
Chad Ochocinco
from a fantasy perspective, but ESPN's Matthew Berry made some strong points in
debating the issue
with Eric Karabell. A couple of highlights:
Karabell: I have Chad at 15 and Crabtree at 20. While I understand Crabtree has great upside -- Alex Smith scares me a little bit -- Ochocinco is still productive and I don't think the presence of Terrell Owens is really going to hurt him all that much. And as bad as you might think Ochocinco was last year, he still had over 1,000 yards, scored nine touchdowns. I don't see why he can't do that again, even with Owens on the other side of the field.

Berry: The thing about Crabtree last year, it's hard to base it on. He did not come into camp until after game five and then it was a bye week, so Week 7 was the first week we saw Michael Crabtree. And remember, the 49ers last year, a team in transition, that whole offense. Frank Gore was out for a little while. Joe Staley, their best offensive tackle, he missed seven games. Vernon Davis didn't really emerge (right away). Alex Smith didn't start until Week 8. Now, coming into the season, they have got all those pieces together. Last year, after Week 8, which is when Alex Smith became the starting quarterback, Michael Crabtree, among wide receivers, 14th in the NFL in targets.
Crabtree hasn't played in an exhibition game this year -- or ever -- and he most recently made news for his role in a spat with Davis. I'll pass along a couple comments about Crabtree gathered from training camp, one from Davis and another from veteran linebacker
Takeo Spikes
.
Davis compared Crabtree to "a cat in the night" and explained that Crabtree "just runs his routes so well". Spikes said Crabtree needs to guard against a sophomore slump.
"We all going to push Crabtree," Spikes said. "He only played 12 games last year and he ended up with almost 800 yards receiving. ... He can get a lot better. The reason why is when people don't have any film on you, when you step in, it's like, 'We know he was good in college, OK, let's go.' His challenge to me is, can you get over the sophomore struggle? Everybody knows about you now. Now we're about to start game-planning. What can you do? It may not be catching the ball. Sometimes it may have to be as a decoy. He understands that."
August, 11, 2010
8/11/10
8:12
PM ET
RENTON, Wash. --
T.J. Houshmandzadeh
ranks 59th on the NFL's all-time receptions list, tied with
Anquan Boldin
.
That qualifies as impressive company for Houshmandzadeh, but past accomplishments matter little at
Seattle Seahawks
training camp, where jobs are on the line and a rookie receiver --
Golden Tate
, for instance -- can get more reps than an established veteran if he earns them.
[+] Enlarge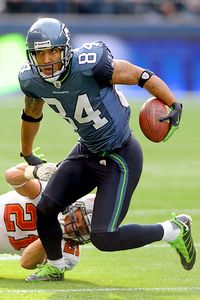 Steve Dykes/US PresswireT.J. Houshmandzadeh, who has 586 career receptions, welcomes the competition in Seattle.
The only guarantee for Houshmandzadeh might be his $7 million salary for 2010. He says he welcomes the competition.
"The only reason I am here is because of competition," Houshmandzadeh said after practice Wednesday, pointing to his humble beginnings as a seventh-round draft choice.
Three days earlier, I marked down Houshmandzadeh for appearing to sulk after quarterback
Matt Hasselbeck
threw incomplete on a deep ball for
Deion Branch
, never looking toward Houshmandzadeh on the other side of the field. Houshmandzadeh has reacted similarly in past seasons -- he took his time jogging back to the team in this instance -- but with new Seahawks coach Pete Carroll emphasizing competition, and with other receivers commanding more attention this summer, I wondered how Houshmandzadeh was handling the new environment. Most days it seems as though two or three catches in practice are carrying more weight than the 586 career receptions on Houshmandzadeh's resume.
About that play Sunday?
"I know exactly what you are talking about," Houshmandzadeh said. "But see, the thing about that is, like, and I probably do, not knowingly, but I don't try to show the quarterback up."
Houshmandzadeh pointed to his friendship with his former quarterback in Cincinnati,
Carson Palmer
. He said the two speak weekly and exchanged text messages as recently as Tuesday night. And we all know Houshmandzadeh wanted the ball in Cincinnati, too.
"I don't have problems with guys," Houshmandzadeh said. "I don't start (stuff). I don't have problems. I wanted the ball (on the play Sunday), but he didn't throw it to me -- OK. I felt like I was open. There was no guarantee I would have caught the ball."
The 10th-year receiver again pointed to his days with the Bengals, noting that he and former teammate
Chad Ochocinco
pushed one another, and coach Marvin Lewis was always telling each man not to let the other one outwork him.
The situation in Seattle is less defined. Tate,
Deon Butler
and
Mike Williams
are having strong camps to this point. Branch is a factor as long as he's healthy. Houshmandzadeh appears to be working hard, as usual, even though his body language occasionally suggests a disconnect.
"I had to fight for everything in my life -- I lived with no food before," Houshmandzadeh said. "People will say I act like this, I act like that. I act like that because I know how far I've come. When you are a seventh-round pick and fighting to make the team, they appreciate the toughness and the competitiveness, but if they think you have arrived, all of a sudden it's a bad thing now. I don't get it, but I'm going to calm down a little bit because I think it rubs people the wrong way."
October, 17, 2009
10/17/09
11:05
AM ET
Posted by ESPN.com's Mike Sando
The instinctive reaction to T.J. Houshmandzadeh's most recent
pleas for the football
goes something like this:
"Your team just won, 41-0, and you caught two touchdown passes. Only six receivers in the league have had more balls come their way this season. The team you left, a perennial loser, is suddenly 4-1 without you. It's a team game."
That's how I feel when I read quotes like this one, attributed to Houshmandzadeh on Friday: "I just got to get these coaches to realize, throw me the ball. Maybe I've said it too much. I just got to show them now."
Context and tone mean quite a bit in these situations.
I wasn't there to hear Houshmandzadeh's comments. Greg Johns of seattlepi.com ran
a fuller account
, noting that Houshmandzadeh was taking extra reps with the scout team: "I've just got to get these coaches to realize, like, throw me the ball. That's why I'm out here practicing the way I'm practicing. Because maybe I've said it too much. I'm just going to show 'em now. And if that doesn't work, I don't think nothing will."
Update:
As noted, context and tone mean everything here. Thanks to Pete Reggio for passing along
a link to audio
of this conversation.
Chart credit: ESPN Stats & Information
June, 26, 2009
6/26/09
11:02
AM ET
| | |
| --- | --- |
| | |
| | ESPN.com Illustration |
| | Best of the best: Michael Strahan, Peyton Manning, Tom Brady and Randy Moss. |
Posted by ESPN.com's Mike Sando
Ranking the 25 best NFL players of the decade seemed easy.
AFC West blogger Bill Williamson sent an initial list to me for review. The list appeared strong. I suggested a couple minor tweaks.
The hard part came when we considered those who fell just short of the list.
Guard Alan Faneca has gone to eight Pro Bowls this decade. John Lynch and Will Shields went to seven. Brian Dawkins, La'Roi Glover, Kevin Mawae, Olin Kreutz, Matt Birk, Larry Allen, Chris Samuels and Zach Thomas went to six. Ronde Barber, Keith Brooking, Al Wilson, Julian Peterson, Donovan McNabb, Antonio Gates, Jason Witten and Chad Ochocinco were among those with five.
None of them made the top 25 list. Had all of them made it, only six spots would have remained for the 25 players you see in the chart.
We settled on five quarterbacks, four receivers, four offensive linemen, three linebackers, three defensive ends, two running backs, two safeties, one cornerback, one tight end and zero defensive tackles (few dominated consistently for extended periods).
Seven of 10 league MVPs this decade made the top 25. Marshall Faulk, Rich Gannon and 2003 co-MVP Steve McNair were the exceptions.
Ben Roethlisberger made the list despite only one career Pro Bowl appearance. It's not his fault Manning and Brady play in the same conference.
ESPN.com's Top 25 Players of the Decade
Rk
Player
Pos.
Team
Pro Bowls This Decade
Analysis
1

Tom Brady
QB
NE
4
The NFL's Horatio Alger hero in cleats was drafted in the sixth round and became one of the greatest quarterbacks of a generation. The four-time Pro Bowler played in four Super Bowls this decade, winning three and being named MVP of two. (TG)
2

Peyton Manning
QB
IND
8
The three-time MVP made eight Pro Bowls, was first-team All-Pro four times and won a Super Bowl this decade. Widely regarded as the league's most irreplaceable player. (PK)
3

LaDainian Tomlinson
RB
SD
5
Without a doubt, Tomlinson is the best non-quarterback to play in this decade. He has gained at least 1,000 yards in each of his eight NFL seasons. One of the most consistent running backs ever to play. (BW)
4

Walter Jones
T
SEA
8
Mike Holmgren called Jones the best offensive player he ever coached. That's saying something. (MS)
5

Jason Taylor
DE
MIA
6
Few defenders can match Taylor's résumé. The NFL's active career sacks leader was chosen for six Pro Bowls this decade. Taylor was named the league's defensive player of the year in 2006 and the Walter Payton Man of the Year in 2007 for his community service. (TG)
6

Champ Bailey
CB
DEN
8
The gold standard of cornerbacks this decade. Bailey is a complete player who shut down the left side of the field nearly all decade. (BW)
7

Marvin Harrison
WR
IND
7
Seven straight Pro Bowls, two first-team All-Pro selections and a Super Bowl win this decade. His 143 receptions in 2002 stand as the single-season record and he's got a 20-catch cushion on the next closest player. (PK)
8

Michael Strahan
DE
NYG
4
One of the most prolific pass-rushers in history of the league. He was relentless and he helped lead the way to a world title in 2007. (MM)
9

Ray Lewis
LB
BAL
7
Lewis is the top-rated linebacker of this decade with a Super Bowl victory and seven Pro Bowls since 2000. But No. 9 still seems a little low for the future Hall of Famer and one of the most dominant defenders ever to play the game. (JW)
10

Tony Gonzalez
TE
ATL
9
The best receiving tight end ever to play in the NFL. If you don't think so, look at the top of every important receiving record for NFL tight ends. You'll see Gonzalez's name on every list. (BW)
11

Jonathan Ogden
T
BAL
8
As the most consistent player on Baltimore's usually inconsistent offense, Ogden will probably never get as much credit as he deserved. But his football journey will land him in Canton soon. (JW)
12

Ed Reed
S
BAL
5
In a decade when mostly hard-hitting safeties ruled the NFL, Reed brought "ball-hawking" back to the position. His hands, anticipation and knack for the spectacular play are as good as any safety in NFL history. (JW)
13

Torry Holt
WR
JAC
7
Seven Pro Bowls, one first-team All-Pro selection, two Super Bowl appearances and a Super Bowl win this decade with the St. Louis Rams. A major component of an out-of-nowhere team that became "The Greatest Show on Turf." (PK)
14

Randy Moss
WR
NE
4
He was edged out by Torry Holt for the all-decade team, but Moss is one of the league's all-time greats. He has gone to four Pro Bowls this decade, averaging 77 catches for 1,164 yards and 12 touchdowns. (TG)
15

Derrick Brooks
LB
TB
8
Best player in Tampa Bay's history. Most important building block in Bucs going from laughingstock to Super Bowl champions. Brooks was a leader on the field and in the community. (PY)
16

Orlando Pace
T
CHI
6
At the height of his career, Pace was the most dominant left tackle in the game. No one could get around him as the St. Louis Rams set a series of offensive records. Injuries have slowed him down recently, but he hopes to finish his career strongly in Chicago. (KS)
17

Kurt Warner
QB
ARI
3
Took two franchises to the Super Bowl this decade and had three total appearances (one following the 1999 season). Still going strong. (MS)
18

Shaun Alexander
RB
SEA
3
The only player in NFL history to score 15 touchdowns in five consecutive seasons. Averaged 1,501 yards rushing and 17.4 rushing touchdowns per season over a five-year period. (MS)
19

Troy Polamalu
S
PIT
5
Polamalu is just approaching his prime, but already has two Super Bowl wins and five Pro Bowls in six seasons. He has the potential to make the next decade's list as well. (JW)
20

Richard Seymour
DE
NE
5
The Patriots defensive end has been All-Pro three times and a Pro Bowler five times. He's strong against the run and can create havoc in the pocket, collecting 39 sacks in eight seasons. (TG)
21

Ben Roethlisberger
QB
PIT
1
"Big Ben" joins Tom Brady as the only quarterbacks to win multiple Super Bowls in this decade. Despite joining the NFL in 2004, that was enough for Roethlisberger to make the cut. (JW)
22

Steve Hutchinson
G
MIN
6
Considered the best guard in the game since shortly after Seattle drafted him in 2001. Has helped Minnesota rank in the NFL's top five in rushing twice in three seasons with the Vikings. (KS)
23

Brett Favre
QB
--
5
Finished last season atop the NFL's list for all-time passing yardage and touchdowns. (Interceptions, too.) Named to his 10th Pro Bowl at age 39. (KS)
24

Terrell Owens
WR
BUF
6
He has put up Hall of Fame-worthy numbers and he continues to be a dangerous receiver into his mid-30s. (MM)
25

Brian Urlacher
LB
CHI
6
The NFL's best defensive rookie in 2000, the best defensive player in 2005 and the captain of a team that went to the Super Bowl in 2006. A quasi-defensive back in college, Urlacher is a perfect fit for the Tampa 2 scheme that requires the middle linebacker to cover the deep third of the field. (KS)
Glossary
TG -- Tim Graham (AFC East); JW -- James Walker (AFC North); PK -- Paul Kuharsky (AFC South); BW -- Bill Williamson (AFC West); MM -- Matt Mosley (NFC East); KS -- Kevin Seifert (NFC North); PY -- Pat Yasinskas (NFC South); MS -- Mike Sando (NFC West)