NFC West:

Charles Barkley
May, 29, 2013
5/29/13
12:45
PM ET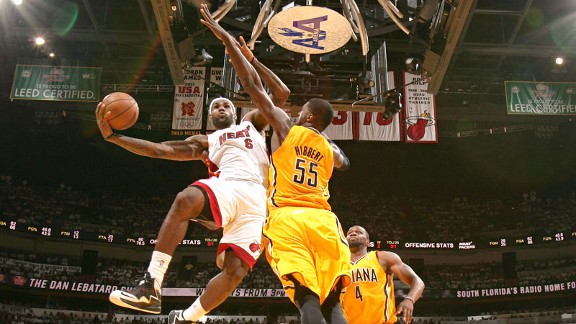 Nathaniel S. Butler/Getty ImagesLeBron James' passing skills could translate to the NFL, Joe Theismann believes. Warren Moon, on the other hand, disagrees.
Warren Moon, Pro Football Hall of Famer, has occasionally shared
strong opinions
on matters of social import. Turns out the nine-time Pro Bowl quarterback is no less formidable on a subject more suitable for you, me and the guy seated at the next barstool: how well LeBron James and other NBA stars would project to the NFL.
"First of all, the mentality, the psychological and mental makeup, is totally different," Moon said Tuesday.
Then came the fighting words.
"You can't come from basketball into a football environment and succeed," Moon said. "You can go from football to basketball and have a tough mindset that will help you succeed."
Moon's opinions on the matter became known to me last year when he joined in progress a debate between reporters in a hotel lobby the night before a game Moon was working as a radio analyst. Knowing Moon threw a tight spiral (mean fastball?) on the subject, I followed up with him this week after James' suitability for the NFL made its way into the late-May news cycle through another former quarterback. Joe Theismann suggested James, a four-time NBA MVP and an all-state receiver in high school, could
succeed as a pro quarterback
if James set his mind to it.
We pick up the conversation there.
Moon:
Charles Barkley, Clyde Drexler and I used to argue for hours about who the best athletes are. I thought football players were better overall. I love basketball players for what they do for their size -- so graceful. But what else can they do? They are not good golfers because they are too tall. There is too much room for error in there when you are 6-[foot-]10. They are not tough enough to be football players, and what position but probably tight end would they play? And if you get too tall, you can't play even tight end. Football players can be baseball players.
Sando:
You'll get no argument from
Barkley's golf swing
. The greatest basketball player of them all, Michael Jordan, was not even mediocre at baseball by big league standards when he set his mind to it completely. A few NBA players dabbled in pro baseball, Danny Ainge and Dave DeBusschere among them.
Tony Gonzalez
famously played football and basketball at Cal before becoming a Hall of Fame-caliber tight end in the NFL.
Moon:
Three significant football players made the transition to baseball. Bo Jackson was great at baseball as well as football. Deion Sanders made it to the majors and was a decent baseball player. The strong safety who played for the
Atlanta Falcons
, Brian Jordan, played in the majors for years. Michael Jordan was arguably the greatest athlete in the world and the greatest basketball player, and he could not even get to the majors. We had three NFL guys do it at a high level, and a number of other guys could have done it, including John Elway. You don't see a lot of basketball players drafted in baseball. You see a handful get drafted in football like Tony Gonzalez, but he was a football player first.
Sando:
I'm picturing Barkley and Drexler shaking their heads.
Moon:
They just think football is easy compared to what they do, and they could go out there and be successful. That is just their egos. They didn't have great arguments. My argument was naming players who had done it. Think of all the things Herschel Walker could do -- going out for the bobsled team, being an MMA fighter. Anything he could do, whatever he tried to do, he could do. Watch
Terrell Owens
play basketball. He could play the game. There are a lot of football players who are really good basketball players who decided to go the football route because they were not tall enough or whatever. Football players, the skill guys, they are more versatile because of their size.
Sando:
Guys like Barkley, Karl Malone and Wes Unseld strike me as basketball players with football players' mentalities. Why couldn't guys like them fit in the NFL?
Moon:
Basketball players want contact to get a foul called. Slaps on the wrist and bumps on the shoulder are big time to them, and they don't like that. In football, you get that all the time. The whole mental makeup is different. Maybe a Ron Artest would be different because he likes physical play. Barkley always talks about how he could have been a football player. I still don't see it with him even as big and physical as he was. He was also a complainer about fouls. He always wanted a foul called. Karl Malone definitely had a football body, but he is another guy always complaining about fouls, and he was bigger than the other guys. I liked guys that wanted to draw the contact and loved it. Maybe the guard from the Pistons who played next to Isaiah Thomas.
Sando:
Vinnie Johnson? 'The Microwave' had those all-world thighs. I always thought Anthony Mason had an NFL-type body and a physical mindset. Let's get to LeBron James specifically. He's 6-foot-8, 250 pounds and about as gifted as an athlete can be.
Moon:
Quarterback is not a position that you come in having not played it your whole life.
LeBron was a wide receiver
in high school. Not having played quarterback and having the instincts that a quarterback needs to have, the intangibles, you don't just pick those up overnight because someone teaches you how to throw. And we don't even know if he could throw. There has never been a successful quarterback in the NFL over 6-foot-6.
Sando:
We obviously wouldn't compare Dan McGwire to LeBron James in terms of athleticism. Then again, height wasn't necessarily what doomed McGwire in the NFL.
Moon:
Once you get over 6-6, you are not as fluid, you have a longer stride in the pocket -- all those things taller quarterbacks have to deal with. As great an athlete as LeBron is, he could never make the transition with just a year or two to get ready for it. You have to grow up with it, and even then you are still learning the position.
Tom Brady
is still learning things at the position, but there are also things he can draw back on that he did as a little kid. LeBron does not have that.
Sando:
The first time I sat near the court at an NBA game, the players' height and length were what stood out. In football, it's the speed and violence that are absolutely captivating from field level, even for people who have watched the NFL for years from the stands or from their living rooms. I'll never forget the first time I stood on a sideline at a major college game. The speed was so much faster than what it appears on TV.
Moon:
Basketball players, for their size, are so graceful for what they do on the court, but it just doesn't translate other places. They don't understand this game, how violent it is. Try to get a sideline pass and watch two series from a sideline in a game and tell me if you can stand it. I remember how amazed I was my first year out of the league when I was doing sideline reporting. I was like, 'What in the hell was I thinking all those years?' It was that quick. To see how fast and violent it was -- and I did it every Sunday for 23 years.
Sando:
I have a feeling you're going to hear from Barkley and Drexler on this one.
Moon:
Every time we have dinner together, this is all they talk about. Charles says we wore pads in football, but I tell him contact in basketball is not the same. Those guys run into each other and they call a charge. You'd foul out in the first series if they called an NFL game that way. I don't hear about basketball players having CTE or any of those types of problems. It's just a different game.
Sando:
We're not going to settle this one to the satisfaction of all. Every sport has its own special requirements. I'm sure hockey fans would love to see NBA and NFL players settle their differences on the ice. We'll leave that one for another day.
July, 18, 2011
7/18/11
9:15
AM ET
The NFC West's dominance extends beyond
fighter jets
,
croc files
,
athlete award eligibility
,
currency collection
and
retractable playing surfaces
.
A look through the
celebrity golf leaderboard
from Lake Tahoe, Nev., shows Ken Whisenhunt, Jerry Rice and Marshall Faulk finishing among the top 20. Whisenhunt, who grew up around the game in Augusta, Ga., site of the Masters, was tied for 13th with 49 points in Stableford scoring, just ahead of Rice (15th) and Faulk (20th).
These guys need to get NFC West alumnus Trent Green out on the course a little more often. Green, former quarterback for the
St. Louis Rams
and three other teams, finished 80th in the 83-man field, barely beating the
notoriously
swing-challenged
Charles Barkley.
Indeed, golf is a humbling game. It's tough to envision Barkley beating anyone after
watching him swing a club
. The retired NBA great did cruise past musician Jay DeMarcus (minus-83) and Sacramento Kings rookie Jimmer Fredette (minus-88).
Tony Romo
,
Chris Chandler
,
Mark Rypien
,
Billy Joe Tolliver
and
John Elway
finished among the top 15 with at least 47 points. Fellow quarterbacks Joe Theismann,
Trent Dilfer
,
Vinny Testaverde
,
Matt Ryan
,
Aaron Rodgers
,
Jim McMahon
and
Steve Beuerlein
put up respectable or semi-respectable scores.
All quarterbacks do not make for competitive golfers, however.
Green scored minus-65 points.
Arizona Cardinals
linebacker
Joey Porter
finished 78th at minus-61. Chiefs coach Todd Haley, the Cardinals' former offensive coordinator, tied with
New England Patriots
receiver
Wes Welker
for 64th at minus-9.
With any luck, it's about time to
put away the clubs
and tee up another kind of ball.
July, 19, 2009
7/19/09
7:03
PM ET
| | | | |
| --- | --- | --- | --- |
| Place | Golfer | Points | Winnings |
| 1 | Rick Rhoden | 74 | $125,000 |
| 2 | Tony Romo | 71 | N/A |
| 8 | Trent Dilfer | 63 | N/A |
| 10 | Jerry Rice | 53 | N/A |
| T15 | Marshall Faulk | 49 | N/A |
| T27 | Ken Whisenhunt | 40 | N/A |
| T30 | Ben Roethlisberger | 39 | N/A |
| 68 | Neil Lomax | 0 | N/A |
| 83 | Trent Green | -47 | N/A |
Posted by ESPN.com's Mike Sando
Former 49ers and Seahawks quarterback Trent Dilfer fared best among Tahoe celebrity golfers with NFC West ties.
Cardinals coach Ken Whisenhunt played in the same threesome with Steelers quarterback Ben Roethlisberger, holding off Big Ben by a point in the final standings.
I watched long enough to see 49ers legend Jerry Rice drain a birdie putt while playing a star-studded threesome featuring Michael Jordan and Ray Allen. Allen also drained a birdie putt on the hole.
Rice improved by six points over his 2008 showing. Golfers get 10 points for a double-eagle, eight for a hole-in-one, six for an eagle, three for a birdie, one for a par, zero for a bogey and minus-2 points for a double-bogey.
Charles Barkley finished in 88th and last place at minus-97 points.