April, 14, 2012
4/14/12
11:27
AM ET
The
St. Louis Rams
' need for a wide receiver has not diminished in recent days.
But would the team really trade up two spots in the 2012 NFL draft to select Oklahoma State's
Justin Blackmon
with the fourth overall choice? I do not think that is likely, but a recent report caught my attention.
"Rams and Eagles among about four teams interested in trading up to No. 4 with Browns, sources say,"
a headline
in the Cleveland Plain Dealer said Friday.
The story itself says nothing about the Rams expressing a specific interest in acquiring that choice to select Blackmon or anyone else. It refers to public comments from Rams coach Jeff Fisher suggesting Cleveland could be one potential trading partner.
"At the NFL owners meetings last month, Fisher said he'd consider trading up with the Browns depending on what they wanted in return," the story said. "He didn't specify which player he'd trade up for, but the Rams are believed to have interest in Blackmon. Fisher re-iterated Friday that he'll trade up, down or stay where he is."
If the Rams absolutely had to have Blackmon or any one player in this draft, they could have held onto the No. 2 overall choice. Instead, they traded that pick to Washington with an eye toward building for the long term. They are in position to choose from a group that could include Blackmon, tackle
Matt Kalil
, cornerback
Morris Claiborne
, running back
Trent Richardson
and defensive tackle
Fletcher Cox
, among others.
We've discussed whether Blackmon would be
worthy of such an early choice
and, earlier, how the 6-foot-1, 207-pound prospect
compares physically
to wideouts drafted among the top three selections.
I've noticed a differentiation in physical attributes and career success among receivers based upon
standing within the first round
.
The first chart shows wide receivers drafted among the top three overall choices since 1990. All were at least 6-3. They averaged 220 pounds. Five of the six have been selected to a Pro Bowl as a wide receiver (as opposed to a returner).
The second chart shows receivers drafted fourth through sixth overall, also since 1990. Half were at least 6-3. They averaged 205 pounds. Two are just getting started, making it premature to evaluate their careers. One of the other four,
Torry Holt
, earned Pro Bowl honors as a wide receiver.
April, 9, 2012
4/09/12
5:00
PM ET
Todd McShay set off alarms as he considered if NFL teams drafting sixth (
St. Louis Rams
) and 10th (
Buffalo Bills
) might consider selecting wide receivers with those choices.
The alarms grew louder as McShay, speaking in the video above, noted that Oklahoma State's
Justin Blackmon
, widely rated as the top receiver in the 2012 NFL draft, did not possess prototypical size.
Blackmon, though obviously talented, doesn't fit the physical mold for receivers drafted among the top three overall choices over the past 25-plus years. We
discussed the reasons
back at the combine, when the Rams held the second overall choice and Blackmon was a consideration for them.
The Rams subsequently traded the second overall choice to Washington. They now hold the sixth overall choice. Blackmon would be a more logical value there than at No. 2, except for those alarms going off.
Consider recent draft history.
First, take a look at receivers drafted among the top five overall choices since 2000, listed in the first chart below.
Three of the seven are superstars:
Calvin Johnson
,
Larry Fitzgerald
and
Andre Johnson
. Another,
A.J. Green
, is coming off an impressive rookie season.
Braylon Edwards
has enjoyed sporadic success. The other two,
Charles Rogers
and
Peter Warrick
, fell far short of expectations.
Those seven players have combined for 12 Pro Bowl appearances (Fitzgerald 5, Johnson 5, Johnson 1, Edwards 1).
The next set of receivers, listed below, were drafted sixth to 15th overall. I selected that range because three NFC West teams -- the Rams,
Seattle Seahawks
(12th) and
Arizona Cardinals
(13th) -- hold picks in that area.
The 16 players listed in the second chart have combined for two Pro Bowls, one by
Roy Williams
and the other by
Koren Robinson
as a return specialist in Minnesota, long after Robinson had bombed as a receiver.
Receivers talented enough to command selection among the top few overall choices have fared better than the ones with enough question marks to push them down into the next tier.
That is something to consider when weighing how the Rams, Seahawks and Cardinals should use their first-round selections, even if the Rams did land
Torry Holt
with the sixth overall choice in 1999.
February, 27, 2012
2/27/12
10:30
AM ET
INDIANAPOLIS -- The
St. Louis Rams
have not given up on 2009 first-round draft choice
Jason Smith
.

Their new coach, Jeff Fisher, and new general manager, Les Snead, said during the NFL scouting combine that they hoped to bring back Smith following three disappointing seasons.
The strategy makes sense if Smith agrees to reduce his scheduled $10 million salary. The team might as well find out whether new line coach Paul Boudreau can help salvage some return on a massive investment. Better luck with injuries might help Smith more than anything. The concussion he suffered against Dallas came on a freak play when Smith was making a tackle following a turnover.
For the Rams, there's no sense in making tackle a bigger need by dumping Smith prematurely. Publicly declaring interest in Smith sets a positive tone for expected negotiations on a new deal.
Smith has started 26 of 48 games for the Rams, the third-lowest total for three seasons among players drafted second overall from 1990-2009.
The chart ranks three-year start totals for players drafted second overall since 1998, beginning with Ryan Leaf. The final column shows total starts each player has made for his original team.
February, 25, 2012
2/25/12
10:23
AM ET
INDIANAPOLIS --
Justin Blackmon
's credentials make him a high first-round prospect in the 2012 NFL draft.
How high? Would the
St. Louis Rams
take him second overall?
History suggests Blackmon doesn't fit the physical profile for wide receivers selected among the top three overall choices. That feeds into the thinking St. Louis might trade back from the No. 2 overall selection before taking the talented wideout from Oklahoma State.
NFL scouting combine officials measured Blackmon at 6 feet and seven-eighths of an inch. Blackmon weighed 207 pounds. The height will round to 6-foot-1, plenty tall to play wide receiver in the NFL, but quite a bit shorter than the wideouts teams have selected among the top three overall choices since 1985:
Calvin Johnson
,
Braylon Edwards
,
Larry Fitzgerald
, Charles Rogers,
Andre Johnson
and Keyshawn Johnson.
Four additional receivers come under consideration when we expand the range to players drafted among the top five overall choices.
A.J. Green
(6-4), Peter Warrick (5-11), Michael Westbrook (6-3) and Desmond Howard (5-10) were selected fourth overall since 1985.
Height isn't everything in a wide receiver, but those drafted earliest have generally been taller and heavier than Blackmon. Will that apply to Blackmon as well? On a side note, he isn't running at the combine after suffering a hamstring injury last week.
February, 28, 2011
2/28/11
7:11
PM ET
Mike from St. Louis writes:
I was wondering after
Julio Jones
' standout
performance at the combine
whether you thought he might get drafted before the Rams choose at No. 14. If so, do you think it's worth it for the Rams to make a move up the board to get what could be the next great receiver? What do you think it would cost the Rams to make a move up to Nos. 7 or 8 to get Julio?
[+] Enlarge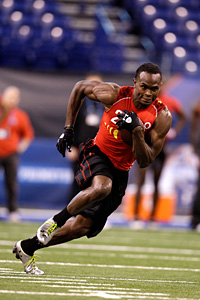 AP Photo/Darron CummingsAfter a strong performance at the NFL combine, receiver Julio Jones seems unlikely to be available to St. Louis, unless the Rams move up from the No. 14 overall pick.
Mike Sando:
Yes, there's a good chance another team could draft Jones among the top 13 spots. Jones has the size, speed and big-school pedigree to compare favorably with the 19 receivers drafted in the top 13 spots since 2000.
That list features Pro Bowl talent among the top three overall choices, where
Calvin Johnson
,
Larry Fitzgerald
and
Andre Johnson
more than offset
Charles Rogers
. But the quality usually drops off quite a bit outside the top three, one reason I'd be hesitant moving up for a wideout. If there's an elite talent worthy of selection among the top few picks, take him. Otherwise, history says to be careful with receivers.
Teams have selected at least two receivers among the top 13 choices seven times in the last 11 drafts, but only twice in the last five and once in the last three. There were no first-round receivers in 2008 and none drafted among the top 21 choices last year.
It's tough to say what it might cost the Rams for a move up seven or eight spots. A new labor agreement could impose a rookie scale, for example, and that could affect how teams value choices near the top of the draft. The uncertainties make this a difficult time to make projections.
---
Jeff from Bellingham, Wash., writes:
Mike, I see some people have the Seahawks taking
Jake Locker
in the draft. I'm a big Hawk fan and would love to see them get the hometown kid, but I have told people that it would be better for Locker to go somewhere else instead of being home and having the pressure of turning around his hometown team and having the distractions of friends and family, like he did when he was a Husky.
Mike Sando:
You might be right. Some of that depends upon how an organization handles a player. The Seahawks would not necessarily have to name Locker the starter right away if they drafted him. I don't really see that as a deal breaker by itself. If a franchise quarterback cannot handle high expectations, perhaps he isn't a franchise quarterback after all. And if that is the case, there's no need to draft him.
---
Grant from Plattsmouth, Neb., writes:
What do you think of Iowa quarterback
Ricky Stanzi
for the Cardinals in, say, the second or third round? I like the size and his arm seems to fit the Ken Whisenhunt quarterback prototype.
I want
Von Miller
at No. 5, no question, but having, say,
Marc Bulger
/
John Skelton
/Stanzi sounds attractive to me. I like Locker's intangables, but not his accuracy. We already have one of those in
Derek Anderson
.
Cam Newton
has bust written all over him and I would be very disapointed with that pick. I like
Blaine Gabbert
and
Ryan Mallett
, but was thinking Stanzi in the third round could be good. Any thoughts?
Mike Sando:
Stanzi gets credit for showing great improvement from his junior season. The issue for Ariziona could be whether a second- or third-round quarterback provides an upgrade over Skelton for the No. 2 role.
The Cardinals have quite a few needs. Using a second- or third-round pick on a potential third-stringer seems like a luxury the team cannot afford. I think Arizona's best-case scenario would involve landing a franchise quarterback at No. 5. If that does not happen, the Cardinals are probably better off going into the 2011 season with Skelton backing up a veteran other than Anderson.
---
Joe from Beaverton, Ore., writes:
I'm a longtime 49ers fan and CBA aside (if possible), what do you see happening with their quarterback position? I would love for them to go get
Carson Palmer
-- his wife is from the Bay Area and he's a So Cal guy -- and keep
Alex Smith
as a backup. I'm sure both of those are fairly far from happening, but what do you think?
Mike Sando:
Ideally, they would find a young quarterback in the draft for
Jim Harbaugh
to mold, and they would sit that quarterback for a year behind a veteran mentor type. That probably isn't going to happen this year, but it worked for Palmer in Cincinnati when the Bengals had
Jon Kitna
start for a season.
I do think the 49ers would be wise to consider pursuing a veteran quarterback such as Palmer or a younger, less experienced version such as
Kevin Kolb
. Acquiring one can be difficult to swing in a normal year and tougher heading into the 2011 season if the labor situation compresses the offseason too much.
We need to find out, also, how much urgency Harbaugh feels. Some first-year coaches with fat, five-year deals can afford to build on their own terms.
March, 18, 2009
3/18/09
11:00
AM ET
Posted by ESPN.com's Mike Sando and Kevin Seifert
The Detroit Lions, St. Louis Rams and Seattle Seahawks combined for six victories last season. That included two Seahawks victories over the Rams.
The draft won't fix these wayward teams overnight -- unless, of course, they follow the advice of NFC West blogger Mike Sando and NFC North blogger Kevin Seifert.
Kevin Seifert: Well, Mike, first off I'd like to thank the Seahawks and Lions for making our jobs a bit easier for the next six weeks. Before last weekend's trade that sent defensive tackle Cory Redding to Seattle for linebacker Julian Peterson, we were weighing the candidacies of too many players for the No. 1 overall pick in the April 25-26 draft.
| | |
| --- | --- |
| | |
| | AP Photo/Darron Cummings |
| | Baylor tackle Jason Smith would help solidify the Lions' offensive line. |
Would the Lions take Georgia quarterback Matthew Stafford? Would they capitalize on the strong tackle class and swoop up Baylor's Jason Smith? Or would they make a compromise selection and take the player considered the safest pick in the draft, Wake Forest linebacker Aaron Curry?
Seems to me this trade has eliminated Curry from the Lions' mix. Don't you agree? I mean, would you draft Curry after giving up a promising defensive tackle (and also a fifth-round pick) for someone who plays the same position? I don't think I would. They say Curry could project as a middle linebacker in the NFL, but it would be awfully hard to justify drafting a middle linebacker with the No. 1 overall pick.
So that pretty much settles it, right? Wouldn't you agree that Curry is much more likely to wind up with one of your NFC West teams, whether it's St. Louis at No. 2 or Seattle at No. 4? If it were up to me, the Lions would take the best left tackle in the draft, and that would be Smith.
Mike Sando: I tend to see Curry landing with Kansas City in that third slot. The Rams could use him, sure, but they pretty much have to emerge from this draft with a starting offensive tackle. Can they find one after the first round? Probably, but 'probably' might not be good enough for a team that has invested so much in Marc Bulger and Steven Jackson. Upgrading the offensive line was the No. 1 priority this offseason. Signing Jason Brown solved the problem at center, but Alex Barron is the starting left tackle now that Orlando Pace is out. They're talking about having Jacob Bell move from left guard to right tackle. That doesn't sound promising.
As much as Steve Spagnuolo wants to build that defense, I'm not sure the Rams can resist taking a tackle. Once Curry makes it past the Rams, the Chiefs would seemingly be a good fit -- which would put Seattle in an interesting position. They've got Matt Hasselbeck, but should they consider Stafford under our scenario?
February, 21, 2009
2/21/09
11:58
AM ET
| | |
| --- | --- |
| | |
| | Getty Images |
| | Former first-round picks David Terrell, Charles Rogers and Donte' Stallworth haven't measured up to their lofty draft status. |
Posted by ESPN.com's Mike Sando
INDIANAPOLIS -- The last time a current NFC West general manager watched his team draft a receiver among the top five overall choices, the Arizona Cardinals emerged with Larry Fitzgerald.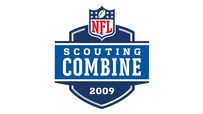 If only it were that easy every time.
The Cardinals' division rivals lack dynamic wideouts now that Torry Holt is winding down in St. Louis.
Unlike Arizona, which rode Fitzgerald to an appearance in Super Bowl XLIII, the rest of the NFC West is drafting early enough to consider the top college receivers.
The Rams, picking second, or Seattle Seahawks, picking fourth, could be in position to select the top receiver in a potentially deep 2009 class.
Even the San Francisco 49ers, with the 10th choice, could get that chance depending upon how perceptions change over the next two months.
No team drafted a receiver in the first round last year. The Rams made Donnie Avery the first receiver drafted when they selected him 33rd overall.
"There are some wide receivers certainly capable of being taken in the first round, much moreso than last year," Tennessee Titans general manager Mike Reinfeldt said.
Capable does not necessarily mean worthy. Teams consistently use first-round choices on receivers without realizing the anticipated payoff.
For every Fitzgerald, whom the Cardinals selected third overall in 2004, there's a David Boston, whom the Cardinals selected eighth overall in 1999. And a Koren Robinson, whom the Seahawks selected ninth in 2001.
Teams have more often found success selecting receivers at the very top of the draft, at least in recent seasons. The first receiver chosen generally justifies the investment:
January, 28, 2009
1/28/09
11:15
AM ET
Posted by ESPN.com's Mike Sando
Rick from Provo, Utah, writes: Sando, great work. With the Hawks holding such a high pick and WR's so hit or miss (especially drafted that high) what are the odds Seattle could trade down and add a young 'veteran' WR?
Also, with Jim Mora wanting to focus more on the run, is Julius Jones really the back to do that? Is a sign and trade of the recently arrested Leroy Hill and the 4th pick be sent to the Chargers for LT, Naanee and the Chargers 2nd rounder feasible? Trading down into the second round would offset Tomlinson's salary (and then some), and Naanee has shown flashed of his skills. Are there any other deals that can be swung? I just don't trust Julius Jones and a young high pick WR.
Mike Sando: Teams have actually done pretty well drafting receivers at the top of the first round. They've gotten into trouble after the first few picks.
NFL teams have drafted five receivers among the top three picks since 2003 (Calvin Johnson, Braylon Edwards, Larry Fitzgerald, Charles Rogers and Andre Johnson). Those were mostly fortunate selections.
NFL teams have drafted five receivers fourth through 10th during the same period (Ted Ginn Jr., Troy Williamson, Mike Williams, Roy Williams and Reggie Williams). Big difference.
As for the trade you mentioned, I don't think the Seahawks need to be acquiring an older running back coming off an injury-affected season. They've been down that road with Shaun Alexander. Lesson learned. Also, if the Seahawks do not see great value in that fourth overall spot, what is the likelihood that other teams will see enough value there to pay a steep price in moving into that spot?
---
Adam from Sacramento writes: Sando, in one of the articles you posted from a Dallas paper, they were saying something about Manusky being a candidate for the DC in Dallas ... at what point did Manusky's job security come into question? He seemed to pull things together on the D after Nolan left and they committed to the 3-4.
What are your thoughts? Have you heard any rumblings that he may be fired. It doesn't make sense that they would wait so long and possibly miss out on the best guys available. Have fun at the Super Bowl. I'm supremely jealous.
Mike Sando: Manusky's job security does not appear to be an issue. My understanding is that Manusky has signed or likely will sign an extension, standard procedure for the 49ers as assistants approach the final years of their deals. Manusky does have some ties around the league, including to the Cowboys' Wade Phillips and the Packers' Mike McCarthy. But I expect him to coordinate the 49ers' defense in 2009.
---
Kurt from parts unknown writes: My question is in response to something you wrote on the 22nd, about the late-2nd-quarter blooper kickoff by Rackers and subsequent Cardinals recovery. Your text:
"If referee Walt Anderson and crew thought the ball touched Abiamiri on the left arm after Abiamiri stepped out of bounds, they should have awarded possession to the Eagles at the 40-yard line, standard procedure for a kickoff out of bounds."
It's a complex scenario that wasn't fully fleshed out in the game, but I don't understand how an in-bounds live ball touching a man who is stepping out of bounds automatically kills a play, or counts as "kick out of bounds" on a kickoff.
If a kickoff was rolling in-bounds down by the goal line, for instance (short of the end zone, on the typical "I waited for this ball to roll out of bounds and it stayed in and now I'm stuck" play), couldn't the kick returner just place some part of his body out of bounds and then grab or bat the ball, causing the ball (which never touched out of bounds) to be ruled out, and a penalty for out-of-bounds kickoff along with a nice spot at the 40 yard line?
Mike Sando: Yes, a player can do that, and it has been done, and officiating director Mike Pereira discussed it on his NFL Network program this season. Not everyone knows the rule, but it is the rule.
---
Hannan from Hershey, Pa., writes: Hi Mike, I'm a huge Seahawks fan and this is how I've laid my draft plans out for the first few rounds … thoughts? 1st round: Malcolm Jenkins 2nd round: Darrius Heyward-Bey 3rd round: Trimane Goddard (S, UNC. I know him personally, so it would be amazing if they drafted him) What do you think?
Mike Sando: I just wonder how many cornerbacks a team can draft in the first two rounds within a relatively short window. Marcus Trufant can cover Larry Fitzgerald well enough to prevent Fitzgerald from taking over the game. He just can't do it if Kurt Warner frequently has an extended period to throw. I could see taking the corner that early if he's clearly the best value. But if you have a chance to upgrade the pass rush -- and that's a big 'if' -- I would tend to go in that direction. I would also consider a receiver or running back there.
---
Harold from Columbia writes: Sando Thanks for the coverage in Tampa (the city). Somehow it feels like I am there - not that feelings matter. I was at the game against Tampa last year and sat under the ship - got some beads from the Bucs crew. Sando - that may be a good picture for the blog. it is different and kind of cool. I doubt they will raise the flags - Buccaneer flags when the Cards get in the Red Zone. Maybe we could arrange a deal with the stadium crew. I am not sure what dance Antrel Rolle will do when he scores - he did the Dirty Bird vs. Atlanta - did the Muhsin Muhammed walk with the football between his legs. Maybe the Icky Shuffle for one of the Steelers divisional rival Bengals. Not sure if the steelers have a matchup or personnel package for Antel. H-
Mike Sando: You might be getting a little too confident there, Harold. Let's see if they score a defensive touchdown before predicting how they'll celebrate!
---
Clu from Phoenix writes: Hey Mike, do you think that people will say that the Cardinals are the worst team to win a Super Bowl if they do win? Or will there be no such comments since they did win the Champion
ship? Thank you, and hopefully I'll see you at the game. (years as a season ticket holder finally paid off!)
Mike Sando: I hadn't even thought of that. As a Cardinals fan, you shouldn't worry about that. Super Bowl winners are Super Bowl winners.
---
Steven from Tampa writes: Thanks for your hard work covering all 4 NFC West Teams, Sando! This question pertains to this weeks festivities. I'll be attending the NFL Experience on saturday and was wondering if they have any shops there. Thanks.
Mike Sando: You're welcome, Steven. The NFL has a Web site with lots of information on that event. I'm seeing shops open early in the week. You might consider calling them for details.
---
Mike from Los Angeles writes: Mike, now that Leroy Hill has made a fool of himself and cost himself millions of dollars, do you see the Seahawks looking in another direction? If Terrell Suggs hits the open market, would he be a possibility for the Seahawks? I realize he's a 3-4 linebacker and not a 4-3, but he can certainly rush the passer, something the Seahawks obviously really need.
Or will the Seahawks give up on Daryl Tapp as a defensive end and move him to linebacker and just cur their losses with Hill? Also, will they look at other Ravens players like Ray Lewis or safety Jim Leonhard? Lewis could push Lofa outside and bring some much needed leadership and toughness to our defense. I know (to put it mildly) Lewis has some character issues, but let's face it, the Ravens can't franchise both guys and either one could really help the Seahawks defense.
Mike Sando: Ray Lewis strikes me as a high-character player, exactly what you want on your team. His troubles seem like a lifetime ago. That said, I do not see Lewis signing with Seattle. And I don't see Suggs leaving the Ravens. It's usually wishful thinking for a team to expect those types of players to come their way.
The Seahawks have talked about their new defensive staff getting more from the young talent already assembled. As for Hill, he hurt his chances for a return, but I suspect Seattle would take him back if the money made sense.
---
Tony from Springfield, Ill., writes: Keep up the good work Mike, Let me just say GIVE IT A REST! I am sick and tired of hearing the Cardinals don't deserve to be here. Sure they were 9-7. Three others in the NFC were also 9-7. Outside of Chicago, who finished 2nd, Dallas and Tampa Bay all finished 3rd in their Divisions. As for the AFC the only real aberration were the Patriots. I have been a Cardinal fan since St. Louis. I am stoked for the Super Bowl!! Let's just all give it a rest about us not deserving to be here. Cards fans just sit back and enjoy, we have been waiting a long time and we DESERVE to be here!!!!!!
Mike Sando: Any team that wins in the wild-card, divisional and championship rounds most likely deserves to be in the Super Bowl.
---
DBullock from Greenfield, Ohio, writes: Whats your thoughts on when the play clock expires, a buzzer or horn sounds to let the refs. know the clock is at zero. They use this in basketball for a shot clock violation. Just an idea. Thanks..........lvsthisgame.
Mike Sando: I was talking with someone about this issue the other day. Why not force teams to provide play clocks in similar locations at each stadium? That would help the mechanics without complicating the process. Officials haven't had a hard time calling delays of game against the Cardinals, by the way.
---
Adam from Mesa, Ariz., writes: Hey Mike, as always great Job with the blog, this is the first and last place to go for all the information about my beloved Cardinals (and yes I've been a Cardinals Fan long before the bandwagon started offering rides).
I've heard the Giants are hoping to trade for Anquan Boldin? Is this true? I know he won't stay another season with his current contract, what would the Cardinals have to offer to make him stay, and how does that affect the rest of our salary cap and personnel decisions?
Also, if the morbidly unthinkable happens, what would the Cardinals be able to get him? (picks, players they have we could use, and don't start with the the whole Derrick Ward thing, he's a lucky 1000 yard rusher who rode Jacobs coat tails)
Mike Sando: Appreciate the compliment, Adam. The Cardinals don't need to do anything to convince Boldin to stay. They own his rights for the next two seasons. If Boldin wants to sit out, he doesn't get paid and he runs the risk of watching Larry Fitzgerald carry the offense, further diminishing his power.
Despite having the leverage here, the Cardinals are in a bit of a tough spot here. They have already extended Boldin's contract once. They don't want to get into the habit of revisiting contracts every time a player has a strong season. At the same time, they recognize what Boldin has represented during his time with the team and they should probably take care of him in some way.
---
Joe from Davis, Calif., writes: Hey Sando, I'd just like you to know that I have interviewed for the 49ers OC job.
Mike Sando: What's next? Are you going to tell me you turned it down to take a job coaching Pop Warner? That would be crossing the line, so let's not make any cracks along those lines here on the blog. Deal?
---
Nick from New York writes: Sando, as a seahawk fan my eyes are already on the 2009 season, its the only way i can occupy myself long enough to distract me from this superbowl with two hated rivals playing. ive been looking alot at what Ruskell and others say about his draft strategy and what positions usually warrant 1sr round selections. he will always say stuff like, "i believe talent at that position can be found in later rounds", there is no doubt that it can be found but what positions do u think he warrants first round status. QB, DE, DT, CB?
If that is the case, we kinda got screwed this year. the only top 5 pick that fits that description is M. Jenkins. we have used 2/3 first picks on CBs ... what do u think he will do?
Mike Sando: I would also include left tackle in that group. Seattle probably could have picked a better year to pick this early, but they do not get a free pass. This draft will undoubtedly produce future Pro Bowl players. Seattle needs to identify them and find one in that spot.
I tend to think the Seahawks will go for a playmaker instead of a "safe" pick. But I really do not have a great feel this early.
September, 19, 2008
9/19/08
1:00
PM ET
Posted by ESPN.com's Mike Sando

Guest 49er from the Bay Area writes: Hey Mike. I wanted to ask this on your chat, but I lost my crib note! I got a debate going with JT O Sullivan.
What is the price of putting a Franchise Tag on a QB? I thought I read it was 10.7 million dollars, but everybody is saying it's not.
Let's say JT gives the 49ers some kind of hope, would the 49ers have to wind up putting a Franchise Tag on him, and if they cut Alex Smith, would that put the team in jeopardy of obtaining Free Agents?
Finally, if Alex Smith got hurt on the job, and if he was cut, isn't it like firing somebody that got hurt on the job? If Nolan wasn't the coach, why couldn't Smith agree to take a pay cut?
Mike Sando: This is one of my favorite questions because it made me pursue the answer to a related question I had never considered. Before we go there, let me confirm that the franchise salary for quarterbacks was $10.73 million in 2008. I do not have the projected number for 2009, but at least you have an idea what type of number we're talking about.
Let's say for the sake of discussion that the franchise tag for O'Sullivan would require a $10 million hit against the 2009 cap.
Then, following your premise, let's say the team parts with Alex Smith. Smith's contract would then count either $2.66 million or $5.3 million against the 2009 cap, depending on how the 49ers decided to expense it. Let's go with the smaller figure. The 49ers would then have $12.6 million wrapped up in the quarterback position, plus the $1.4 million salary owed to Shaun Hill. That works out to $14 million, a high number but not a prohibitive one.
Smith's deal was going to count more than $12 million against the cap if he stayed on the roster in 2009.
Your question led me to ask whether the 49ers could use the franchise tag on O'Sullivan at all. O'Sullivan signed for the veteran's exception, which means his contract counts less against the salary cap than what he'll actually earn. The league and its players approved these contracts to let veterans earn higher minimum salaries without pricing themselves out of the league via inflated cap numbers.
Players signing for the veteran's exception cannot, by rule, sign a new deal with any team until March 2. Yet teams must declare franchise players in February, at which point those players receive mandatory one-year offers. I wondered whether a team could offer a contract to a player before that player was eligible to sign one.
The answer, according to a league spokesman, is that rules would indeed allow teams to use the franchise designation for players with contracts similar to the one O'Sullivan signed.
O'Sullivan hasn't shown enough to become a candidate for the franchise tag just yet, but at least we know the 49ers could do it if their quarterback enjoyed a breakout season.
As for Smith, nothing would stop him from taking a pay cut to return, but I would think he might want to try his luck elsewhere.