NFC West:

Charles Tillman
March, 11, 2014
Mar 11
8:00
AM ET
Free agency starts at 4 p.m. ET (1 p.m. PT) Tuesday.
It is clear the
San Francisco 49ers
' plan of attack will be to sign their own top free agents. They secured their top free-agent priority, receiver
Anquan Boldin
, last week. Their other targets are safety
Donte Whitner
, cornerback
Tarell Brown
and kicker
Phil Dawson
. Dawson and Brown both may get quick action on the open market.
If any of these players leave, the 49ers will likely have to go find a replacement in some form. Let's take a look at who they may be:
Safety
Possible free-agent options:
Mike Mitchell
(Panthers),
Malcolm Jenkins
(Saints),
James Ihedigbo
(Ravens).
Summary:
The free-agent market is thin, and, in my opinion, signing Whitner is, by far, the best option. If not, one of the above-mentioned players could be a suitable, but not equal signing. If Whitner's market doesn't get crazy, the 49ers need to try to keep him. In-house potential replacements are
C.J. Spillman
and
Craig Dahl
, but neither are considered top options.
Cornerback
Possible free-agent options:
Nolan Carroll
(Dolphins),
Antonio Cromartie
(released by Jets),
Champ Bailey
(released by Broncos),
Walter Thurmond
(Seahawks),
Asante Samuel
(released by Falcons),
Antoine Cason
(Cardinals),
Charles Tillman
(Bears),
Captain Munnerlyn
(Panthers).
Summary:
Replacing Brown may be easier than replacing Whitner. There are a ton of decent cornerbacks. Carroll is one of the players the 49ers have checked in on. If the 49ers lose Brown, they could wait out the market and get a decent player or two here. A wild card could be
Darrelle Revis
, who reportedly either is going to be traded or released, as soon as this week, by Tampa Bay. He will likely be pricey but if something crazy happens, perhaps the 49ers could get involved.
Kicker
Possible free-agent options:
Steven Hauschka
(Seahawks),
Adam Vinatieri
(Colts),
Josh Brown
(Giants),
Dan Carpenter
(Bills).
Summary:
There are some decent kickers available, but I think Dawson is the best fit and I expect him to be back. If not, any of these kickers could be the fix. Just a guess, but I don't think it gets to that point.
January, 22, 2013
1/22/13
9:00
PM ET
An updated look at NFC West players named to the Pro Bowl after the NFL announced Larry Fitzerald's addition to the NFC squad:
Arizona Cardinals
Named to team initially:
cornerback
Patrick Peterson
.
Named to team as an alternate:
receiver
Larry Fitzgerald
, replacing the injured
Brandon Marshall
; and inside linebacker
Daryl Washington
, replacing Super Bowl participant
NaVorro Bowman
.
Comment:
Fitzgerald ranked 20th among NFC players in receiving yards this season. He ranked 16th in receptions. He ranked tied for 29th in receptions. Other players would have been more deserving as alternates. I went back to see if Fitzgerald were snubbed when he missed the Pro Bowl following the 2004 and 2006 seasons, just to see if his selection to the squad this year might qualify as a make-up call. That was not the case. Fitzgerald did not have Pro Bowl-caliber stats during those seasons. However, Fitzgerald has earned his high standing in the league. He's a great player even though he didn't have a great season for reasons relating directly to the Cardinals' issues at quarterback.
San Francisco 49ers
Named to team initially:
Bowman, free safety
Dashon Goldson
, running back Frank gore, guard
Mike Iupati
, outside linebacker
Aldon Smith
, defensive end
Justin Smith
, tackle
Joe Staley
, strong safety
Donte Whitner
, inside linebacker
Patrick Willis
.
Comment:
The 49ers are in the Super Bowl, which made all their selections ineligible to play in the Pro Bowl. It's looking like
Michael Crabtree
could challenge Fitzgerald and the other NFC receivers for a Pro Bowl spot next season. He topped 1,100 yards this season and his production spiked with
Colin Kaepernick
behind center.
Seattle Seahawks
Named to team initially:
running back
Marshawn Lynch
, tackle
Russell Okung
, free safety
Earl Thomas
, center
Max Unger
, returner
Leon Washington
.
Named to team as an alternate:
quarterback
Russell Wilson
, in place of the injured
Matt Ryan
.
Comment:
The fact that
Charles Tillman
,
Tim Jennings
and Peterson missed the Super Bowl means zero spots have opened up for alternates at cornerback. Seattle's
Richard Sherman
certainly was worthy of consideration at that position. Lynch's status will be worth monitoring here. He suffered a foot injury during the playoffs.
St. Louis Rams
Named to team initially:
none.
Named to team as an alternate:
none.
Comment:
Those advocating Jeff Fisher as a coach of the year candidate should note that the team had no players named to the Pro Bowl and no players named as alternates. There is young talent on this roster, however. Defensive tackle
Michael Brockers
is one player to watch next season.
January, 12, 2013
1/12/13
2:50
PM ET
The Associated Press and Pro Football Weekly/Professional Football Writers of America have announced their all-NFL first teams for the 2012 season.
I've compiled the results here and compared them against our all-division team.
As expected, Seattle's
Richard Sherman
earned all-league honors from both the AP and PFW/PFWA despite failing to land on the NFC's Pro Bowl squad. Pro Bowl voting took place before the NFL overturned a four-game suspension against Sherman for alleged use of performance-enhancing drugs.
The NFC West is heavily represented on all-league teams despite no representation for the
St. Louis Rams
or
Arizona Cardinals
on these first teams (I did not list the AP second-team honors). The 49ers (six) and Seahawks (four) gave the NFC West 10 of 27 representatives on the AP first team.
I used slightly different position names for some spots on the all-division team. Those are noted parenthetically next to the players' names.
December, 3, 2012
12/03/12
11:05
AM ET
CHICAGO -- Doctors with decades of experience can have a tough time diagnosing concussions.
This was a central theme for the piece we
published and discussed
last week.
Still, I was pretty sure from the press box at Soldier Field that Seattle Seahawks receiver
Sidney Rice
had suffered one Sunday while making the winning touchdown catch against the
Chicago Bears
. Rice took a jarring hit to the back of the helmet on the play in question. He went to the ground and stayed there.
Rice had suffered two concussions last season. This sure looked like it was going to be No. 3.
Coach Pete Carroll indicated otherwise during his postgame remarks, but seeing Rice in the locker room a few minutes later was believing for me. Rice was sharp as ever and full of life. He smiled frequently and showed no discomfort while looking into cameras and their bright lights. Rice recounted all the key details from his final play, including how he set up cornerback
Charles Tillman
.
Seahawks physician Stan Herring, who had contributed to our recent concussion piece as a member of the NFL's Head, Neck and Spine Committee, was right there in the locker room. He evaluated Rice on the field and again in the locker room, including before the Seahawks made Rice available for interviews.
Rice spoke at length. Asked about Seattle opening up the offense, Rice referred to plays for
Golden Tate
down the sideline and seam routes to himself and third receiver
Doug Baldwin
.
Assuming Rice remains free of symptoms, the Seahawks can move forward with their key offensive players intact. Rice and Tate have been growing along with quarterback
Russell Wilson
. Both receivers came close to reaching 100 yards receiving Sunday. Both figure prominently into the Seahawks' potential for success down the stretch.
November, 19, 2012
11/19/12
6:37
PM ET
The
Chicago Bears
haven't been much of a blitzing team in recent seasons.
They tend to send four or fewer pass rushers about 75 percent of the time. I'll be interested in seeing how frequently they send added pressure against
San Francisco 49ers
quarterback
Colin Kaepernick
, who is making his first regular-season start against Chicago on Monday night.
As the chart shows, Kaepernick hurt St. Louis with his scrambling in Week 10 when the Rams sat back in coverage.
The Bears might be content letting Kaepernick run the ball, figuring they'll get a few big hits on him and possibly knock out the football. Cornerback
Charles Tillman
does lead the NFL with seven forced fumbles. Blitzing also could carry appeal if it forces Kaepernick into inaccurate throws. The Bears lead the NFL in interceptions with 19.
Chicago sent five-plus rushers a season-high 44 percent of the time against Houston in Week 10, according to ESPN Stats & Information.
Texans quarterback
Matt Schaub
completed 4 of 11 passes for 35 yards and an interception against the Bears' added pressure. He completed 11 of 15 attempts for 60 yards with one touchdown and one pick against four or fewer rushers.
The Bears and Texans played that game in rough weather conditions. That gave both teams added incentive to run the ball. The weather in San Francisco is mild, but both teams are without their starting quarterbacks. They'll have every reason to emphasize the ground game. More on that in a bit.
November, 19, 2012
11/19/12
5:52
PM ET
SAN FRANCISCO -- It's sunny and 66 degrees here at Candlestick Park, where the
San Francisco 49ers
and
Chicago Bears
will be kicking off Monday night.
The parking lots are alive with 49ers fans and a few wearing Bears gear.
I'm in the pressbox and can see one one Bears player -- ball-hawking cornerback
Charles Tillman
-- warming up with a couple of Bears staffers.
Tillman has a league-high seven forced fumbles. He has also returned two interceptions for touchdowns. And as an NFL stats release notes, Tillman has two forced fumbles and one interception return for a score in his last two games on Monday nights. The Bears lead the NFL with 19 interceptions this season.
Tillman was working on catching passes from various angles, including lobs (perhaps to simulate a tipped ball?).
The official flip card featuring lineups and roster information shows Tony Corrente as the referee assigned to this game. Corrente was in the news recently for inadvertently
swearing into a live microphone
. The NFL fined him one game check. Corrente previously
fought through cancer treatments
to resume his officiating career in 2012.
Several 49ers players have made their way onto the field during the time since I started writing this item. They're wearing white T-shirts with black shorts, appropriate attire for the warm weather. Fans will start entering the stadium a couple hours before the 8:30 p.m. ET kickoff.
November, 15, 2012
11/15/12
12:10
PM ET
The
San Francisco 49ers
' passing offense faces a special challenge against
Charles Tillman
,
Tim Jennings
and the
Chicago Bears
on Monday night.
Tillman and Jennings have led a Bears secondary that has feasted on opponents, especially on perimeter throws, defined as those delivered to targets outside the painted yard-line numbers.
Jennings has seven interceptions on passes thrown outside the numbers. He has defended six other passes thrown in this area. Both marks are best in the NFL this season, according to ESPN Stats & Information.
Beyond Jennings, the rest of the Bears' defense has 11 combined picks and passes defensed outside the numbers.
As the chart shows, 49ers quarterback
Alex Smith
throws with very good efficiency when targeting receivers on the perimeter. His passer rating on these throws (110.3) ranks second in the NFL behind
Peyton Manning
(115.4).
Josh Freeman
(107.7),
Andy Dalton
(100.7),
Matt Ryan
(100.7),
Tom Brady
(94.1) and
Robert Griffin III
(94.1).
Smith has found tight end
Vernon Davis
for four touchdowns on throws outside the numbers, all in the first three weeks of the season.
Mario Manningham
(26) and
Michael Crabtree
(24) lead Davis (21) in outside-the-numbers targets. Seven of Smith's nine touchdowns on these throws came against Arizona, Buffalo and Detroit. The
Seattle Seahawks
held Smith to 5-of-11 passing for 57 yards, no touchdowns, one interception and a 23.7 passer rating on these throws.
November, 7, 2012
11/07/12
11:50
AM ET
How nice of
Peyton Manning
to throw a couple of interceptions last week, just to change up things.
The
Denver Broncos
quarterback had posted a 14-1 ratio of touchdowns to INTs over his previous five games. His odds for winning a fifth MVP award now appear considerably shorter.
Manning, in leading the Broncos to their third consecutive victory, became the first player all season to toss more than one INT and still emerge from a game with an NFL passer rating north of 105.
This is his fourth consecutive week atop the MVP Watch list.
We're 10 weeks into this and have listed 32 players at various points.
Tom Brady
is the only player to appear on the list every week.
Aaron Rodgers
and
Matt Ryan
have made it nine times.
Eli Manning
(eight), Peyton Manning (eight) and
J.J. Watt
(seven) are the only other players to appear more than five times.
Forty percent of the list turned over from last week.
Eli Manning,
Tim Jennings
,
Ben Roethlisberger
and
Alex Smith
get the week off.
Andrew Luck
and
Josh Freeman
make their first appearances.
Charles Tillman
and
Marshawn Lynch
are back after one-week absences.
The top four spots remain unchanged.
October, 24, 2012
10/24/12
11:00
AM ET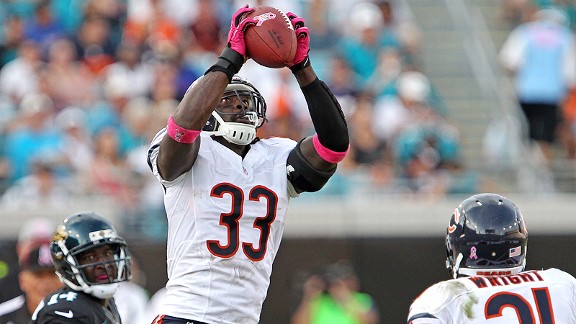 John J. Kim/Getty ImagesChicago Bears cornerback Charles Tillman makes his first appearance on our MVP Watch list.
The
Chicago Bears
have owned one of the NFL's best records, backed by a dominant defense. They haven't had an obvious MVP candidate.
How about
Charles Tillman
?
The 10th-year cornerback earned Pro Bowl honors for the first time last season. He
blanketed
the
Detroit Lions
'
Calvin Johnson
during a 13-7 victory Monday night.
With two forced fumbles against the Lions, Tillman has 32 for his career. That ranks tied for third since Tillman's rookie season (2003) and the most for a defensive back, according to the Bears. Tillman has two picks and scored on both.
Tillman is playing very well. He's playing for a dominant defense. His team is winning. He makes the MVP Watch list this week, his first appearance.
Tillman joins MVP Watch mainstay
J.J. Watt
as the only defensive players to appear on the list this season.
Lawrence Taylor
was the most recent defensive player to win the Associated Press version of the award. He won following the 1986 season.
Note: ESPN Stats & Information contributed to this item.
November, 17, 2011
11/17/11
10:37
PM ET
One of my Facebook friends
asked
whether the Seattle-St. Louis game was the NFL's least inspiring matchup this week. He must have missed that 4-0 showing from the NFC West in Week 10.
I mean, how many other games this week feature two teams coming off victories the previous week? Only one other game does, and that would be ... Arizona at San Francisco. OK, then, let's hit some
chat
highlights:
Travis from Tucson, Ariz., wonders how Carlos Rogers could stand only fourth in fan voting for the Pro Bowl. He asked to see vote totals, available through Nov. 15.

Mike Sando: Charles Woodson leads the way with 298,376 votes in fan balloting through Nov. 15. Chris Houston is next with not quite 150,000. Nnamdi Asomugha is third with around 125,000. Rogers is fourth at 78,072 and Charles Tillman is close behind at 70,496. Rogers just needs to keep doing what he's been doing. A big game at Baltimore on Thanksgiving would serve notice on a national stage.

Jason from Rochester, N.Y., thinks the Seattle Seahawks' approach at quarterback could suggest they're waiting for Green Bay's Matt Flynn to become a free agent after the season. Seattle general manager John Schneider has ties to the Packers, and under this scenario the Seahawks could draft a pass-rusher in the first round.

Mike Sando: It's an interesting theory, but I'm not yet convinced the Seahawks' management thinks enough of Flynn to make him the starter. The point you raise is worth keeping in the back of our minds. I just think the team will be more likely to draft a quarterback with more obvious physical talent.

Matt from Wilmington, N.C., sees Laurent Robinson playing well for San Diego and wonders why the St. Louis Rams did not keep Robinson.

Mike Sando: Robinson had trouble staying healthy. He also had only 6.8 receptions per drop last season, which ranked 63rd out of 83 players with at least five receptions in 2010, according to ESPN Stats & Information. He simply wasn't very good with the Rams.

Steve from Palisades Park, N.J., asks which game on the 49ers' schedule looks most like a "trap" game.

Mike Sando: Let's start with this one Sunday against a Cardinals team that has won its last two games, has shown an ability to strike down the field, is getting better pressure on opposing quarterbacks and has the ability to score on special teams. I've been wondering if the 49ers would have an off game, or a game where the other team surprises them. Has not really happened yet. Do not think it is likely to happen, but with a Thanksgiving game against Baltimore on the horizon, it's possible.
This would be a bold week to pick a Cardinals upset. Imagine the quarterback discussion in Arizona if
John Skelton
emerged with his third consecutive victory in
Kevin Kolb
's absence.
January, 17, 2011
1/17/11
9:50
AM ET
CHICAGO -- Wide receiver
Mike Williams
wasn't very good when the
Seattle Seahawks
needed his best Sunday.
That's how Williams saw things, anyway.
"Not my best outing, but only goin' up from here,"
Williams tweeted
after dropping multiple passes during a 35-24 defeat to the
Chicago Bears
.
And from
Williams earlier
: "No moral victories, wanted to win it all. Didn't play our best ball early, and I've gotta lead our O, not drop balls. We'll be back tho!!"
Williams caught 10 passes for 123 yards against the Bears in Week 6. Chicago's defensive backs played more aggressively in the rematch. Williams and the Seahawks' receivers generally did not meet the challenge, a point coach Pete Carroll acknowledged following Sunday's loss in the NFC divisional round.
Williams caught four passes for 15 yards and two fourth-quarter touchdowns. He did not put his size advantage to use consistently, sometimes appearing as though he expected officials to throw flags for defensive interference. He dropped two or three passes, depending upon the harshness of the grading.
Williams did make two impressive grabs: a one-hander for a 3-yard gain on second-and-6 and a second 3-yarder for a touchdown. Bears cornerback
Charles Tillman
tipped and appeared to break up the scoring pass, nearly picking off the ball while lying on his back. Williams reached down and snatched the ball before it could hit the ground.
The chart shows Williams' regular-season reception totals by area of the field,
according to Elias Sports Bureau
. He made 32 of his 65 regular-season receptions against Arizona and Chicago, including 22 against the Cardinals.