December, 27, 2011
12/27/11
10:16
AM ET
The three names listed last in ESPN's weekly quarterback performance
rankings
have one thing in common: NFC West divisional heritage.
The
Arizona Cardinals
'
John Skelton
was 32nd. The
St. Louis Rams
'
Kellen Clemens
was at No. 31. The
Seattle Seahawks
'
Tarvaris Jackson
was 30th.
This would normally be unwelcome in these parts, but I'm going to embrace their Week 16 badness as beneficial to the division's long-term health. Skelton and Jackson had been winning enough recently to change perceptions about them. Having them struggle in defeats that knocked their teams from playoff contention makes it tougher for anyone, including the teams, to overestimate their capabilities.
The case of
Alex Smith
in San Francisco is a little trickier. Smith continues to lag in the
season-long Total QBR rankings
, but he has been quite good in recent weeks, save for a rough outing at Baltimore. Five times in the 49ers' last seven games, Smith has produced QBR figures that would project as worthy of Pro Bowl consideration if maintained over a full season. Those looking at raw passing stats might also notice that Smith has 24 touchdowns with only six interceptions while posting a 15-5 record in his last 20 starts.
The key plays Smith made for the 49ers in Week 16 -- two scrambles and a few clutch throws -- were enough for San Francisco to win despite suffering a blocked punt and a couple key injuries.
"I really thought that he was the difference in the game for them," Seahawks coach Pete Carroll told reporters Monday. "I thought he did a very nice job. He didn't turn the ball over at all, which was great for them. But those few plays -- that handful of plays where he kept the thing going -- I thought gave them an advantage on us that day."
Life gets a little more complicated for Smith now that a jaw injury is threatening to sideline tight end
Delanie Walker
, possibly for the season.
The situation at wide receiver is also in flux.
Ted Ginn
Jr. has been hurt,
Kyle Williams
suffered a concussion Saturday and
Braylon Edwards
announced
his release
via Twitter on Tuesday morning. Starter
Josh Morgan
is on injured reserve.
Quick thoughts on how NFC West passers graded out in
Week 16
according to Total QBR, with NFL passer ratings in parenthesis as a reference point:
Alex Smith, San Francisco 49ers (73.8 QBR, 75.6 NFL rating): Smith completed 14 of 26 passes for 179 yards with no touchdowns, no interceptions, two sacks and one fumble, which the 49ers recovered. He scrambled five times for 22 yards, gaining 12 on a third-and-8 play to sustain a touchdown drive. This performance was good enough under the circumstances for the 49ers to win a close game against a good, but limited opponent. Questions about the 49ers' ability to keep pace with more dynamic offenses -- specifically those for Green Bay and New Orleans in the NFC -- will persist. But the 49ers were not playing those teams Saturday. Smith did what he had to do to win the game he was playing.
Tarvaris Jackson, Seattle Seahawks (11.8 QBR, 82.9 NFL rating): Jackson completed 15 of 28 passes for 163 yards with one touchdown, no interceptions, three sacks and one lost fumble. He gained 5 yards on three carries. Jackson's NFL passer rating for the season nearly mirrors the one former Seahawks starter Matt Hasselbeck has posted in Tennessee. Hasselbeck ranks significantly higher in Total QBR, however, because plays associated with him have done more to increase his team's win probability. Jackson's tendency to hold onto the ball has led to sacks and other problems for Seattle. That was the case when the 49ers forced him to fumble late in the game. The turnover was pivotal.
Kellen Clemens, St. Louis Rams (9.4 QBR, 49.1 NFL rating): Clemens completed 9 of 24 passes for 91 yards with no touchdowns, no interceptions, three sacks and one fumble, which the Rams recovered. He gained 10 yards on two rushes. The Rams leaned heavily on running back Steven Jackson in this game. Clemens was under pressure and could not lead the Rams into the end zone. Nothing he did gave the Rams a realistic shot at winning the game.
John Skelton, Arizona Cardinals (6.3 QBR, 60.5 NFL rating): Skelton completed 23 of 44 passes for 297 yards with two touchdowns, three interceptions, five sacks and one fumble, which the Cardinals recovered. He rushed four times for 6 yards. The fact that Skelton's poor play doomed the Cardinals to a 23-0 deficit proved more important than the plays he made in getting Arizona back into the game late. The fourth-quarter production meant little in the end.
The clutch-weight average column reflects game situations, not how well players performed during those situations. Any clutch average above 1.0 reflects a quarterback performing in higher-pressure situations.
December, 24, 2011
12/24/11
3:56
PM ET
Thoughts on the
St. Louis Rams
following their
27-0
defeat to the
Pittsburgh Steelers
in Week 16:


What it means:
The Rams fell to 2-13, improving their once-long shot chances to secure the No. 1 overall choice in the 2012 draft. They entered Saturday tied with Indianapolis and Minnesota for fewest victories. A Minnesota victory would leave the Rams and Colts tied for the NFL's worst record heading into Week 17. A Colts victory over Jacksonville and a Rams defeat to San Francisco would give St. Louis the No. 1 overall choice for the second time in three seasons. But if Indianapolis loses to the Jaguars, the Colts emerge with the No. 1 overall pick no matter what else happens. That is because their strength of schedule was easier than the Rams' strength of schedule.
What I liked:
Steven Jackson
topped 100 yards rushing with another inspirational performance. Does another player in the NFL consistently demonstrate more heart and professionalism in the face of team failure? That would seem to be impossible. Jackson makes an otherwise unwatchable team watchable. He carried 24 times for 103 yards against the Steelers. The Rams trailed only 13-0 after three quarters, an indication they're playing hard, but also severely limited. The Rams held the Steelers to one third-down conversion in seven chances.
What I didn't like:
Kicker
Josh Brown
missed from 52 and 33 yards. The 33-yard miss in the fourth quarter was particularly deflating. The Rams have little going for them throughout their roster. It's tough when they cannot count on their veteran kicker, either. The Rams allowed Steelers backup quarterback
Charlie Batch
to average 9.5 yards per attempt. Jackson's 17-yard reception was the longest by a Rams player.
What's next:
The Rams close out their season at home against the
San Francisco 49ers
in Week 17.
April, 11, 2011
4/11/11
11:49
AM ET
Eric Dickerson, Marshall Faulk, Roger Craig, Sean Morey,
Sam Bradford
and
Takeo Spikes
are among the NFC West players and alumni scheduled to appear at the NFL Players Association's draft-related festivities in New York beginning April 28.
Hall of Famer and current
Seattle Seahawks
radio analyst Warren Moon, who played for Seattle before the team's move back to the NFC West in 2002, is also on the guest list revealed Monday.
The NFLPA took criticism when news broke that it
planned to discourage players from attending
the draft itself, but these events have been scheduled to give players flexibility should they choose to attend both.
"The series of events is a celebration of legacy -- of past, present and future football players coming together to honor those making the journey from prospect to professional," the NFLPA said in a news release.
The NFLPA has scheduled a welcome meeting and dinner with families for 4 p.m. ET on Thursday, the first day of the draft, which begins at 8 p.m. ET. Draft prospects attending would then have time to appear at the draft, should they choose to do so, as both will be headquartered in New York.
The NFLPA has scheduled media access for Friday from 8 a.m. to noon, followed by a lunch and dinner with reception at 4:30 p.m. A fitness and skills clinic is set for Saturday from 10 a.m. to noon in Harlem, followed by lunch and a party beginning at 9 p.m.
NFL teams generally fly first-round choices to their facilities in the day or two following the first round. Rules will allow that to happen again, despite the lockout. Players heading to their new teams' facilities for news conferences could miss NFLPA-sponsored events for Friday and/or Saturday.
The initial guest list, subject to change, features the following current and former NFL players:
Charlie Batch
,
Cornelius Bennett
,
Dwayne Bowe
, Bradford,
Ahmad Bradshaw
, Craig,
Zak DeOssie
, Dickerson,
Eddie George
, Faulk,
Felix Jones
,
Maurice Jones-Drew
,
Dustin Keller
,
Brandon Marshall
,
Kevin Mawae
,
Willie McGinest
,
Brian Mitchell
, Moon, Morey,
Shaun O'Hara
,
Ray Rice
,
Tony Richardson
, Spikes and
Mike Vrabel
.
The list of draft prospects includes
Prince Amukamara
,
Marvin Austin
,
Adrian Clayborn
,
Marcell Dareus
,
Nick Fairley
,
Blaine Gabbert
,
A.J. Green
,
Mark Ingram
,
Julio Jones
,
Cameron Jordan
,
Ryan Kerrigan
,
Corey Liuget
,
Von Miller
,
Rahim Moore
,
Cam Newton
,
Patrick Peterson
,
Robert Quinn
,
Aldon Smith
,
Daniel Thomas
and
J.J. Watt
.
April, 4, 2011
4/04/11
5:42
PM ET
Facebook friend Barrett
was on the right track when he said NFL teams have struggled finding quarterbacks in the second and third rounds.
Teams tend to overvalue quarterbacks in the draft, which means the most promising ones rarely escape the first round. Teams tend to focus on other positions in the rounds immediately following the first round before "taking flyers" on the position later in the draft.
We see this when looking at the number of quarterbacks drafted by round since 2000. There have been 31 in the first round, 16 in the second, 17 in the third, 20 in the fourth, 24 in the fifth, 36 in the six and 32 in the seventh.
The chart, updated since
it ran in February 2010
, ranks second-round quarterbacks since 1995 by number of games played.
While we're on a hot streak, let's take a quick look at third-round quarterbacks drafted since 1995, arranged by team:
Count Schaub and Whitehurst among those who were more valuable to their teams as trade bait than as quarterbacks.
December, 10, 2010
12/10/10
11:15
AM ET
One of the biggest
St. Louis Rams
fans I know raised the possibility nearly a month ago.
The
San Francisco 49ers
had held on for a 23-20 overtime victory over the Rams despite having five players commit six penalties for offside or encroachment. Were the 49ers really that undisciplined? Or was Rams rookie quarterback
Sam Bradford
really that persuasive with his cadence?
Yes
, and yes.
"Maybe Bradford has a better hard count than we thought,"
Rams fan Brian wrote
via Facebook page Nov. 14.
The comment came to mind Thursday during the
NFC West chat
.
"Do you think you could run an analysis on how many offsides, neutral-zone infractions, etc., that have been caused by the different QBs across the league?" MG from Portland asked. "I swear I've seen Bradford create more of those than
Marc Bulger
ever did, and I am curious how he ranks within the division, conference, league, etc."
I loved the idea and reached out to Hank Gargiulo of ESPN Stats & Information. Hank put together a file linking starting quarterbacks with opposing penalties for offside, encroachment and neutral-zone infractions. The file was not perfect; a starting quarterback would get "credit" for penalties committed after he left the game. But the overall numbers would still tell us what we wanted to know. Starting quarterbacks tend to finish as well.
Turns out Bradford was the starting quarterback in games when opponents committed 27 such penalties. The number was no higher than 19 for any other quarterback in the league.
The first chart breaks down the penalties by opponent. Note that the Rams' three most recent opponents have committed none. Their first nine opponents committed at least one in every game. Is the word on Bradford getting around? Might his totals plateau as opponents become more familiar with his cadence?
.
The second chart breaks down totals for quarterbacks around the league. I made four penalties the cutoff. Again, counts tie starting quarterbacks to opponents' penalties committed for offside, encroachment and neutral-zone infractions.
.
September, 30, 2010
9/30/10
10:35
AM ET
Matt Ryan
,
Alex Smith
,
Drew Brees
,
Matt Schaub
,
Derek Anderson
,
Tom Brady
...
What's wrong with this list?
Nothing. Those six quarterbacks lead the NFL in red zone passing, according to ESPN Stats & Information.
Sample sizes are a bit small this early in the season, but quarterbacks should operate efficiently inside the opponents' 20-yard line. Those with at least five attempts in the red zone have thrown 80 touchdown passes and 15 interceptions to this point in the season.
The top 17 quarterbacks on the list have thrown 53 touchdown passes without an interception. The bottom 15 on the list have 27 touchdowns with 15 interceptions.
May, 19, 2010
5/19/10
1:34
PM ET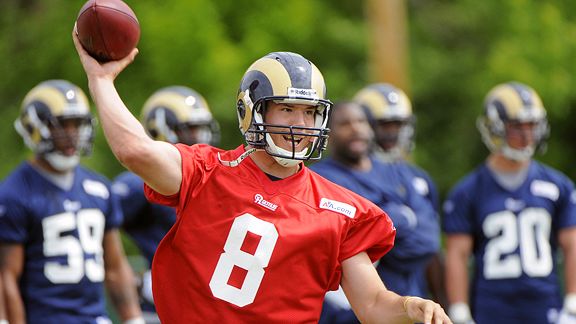 G. Newman Lowrance/Getty ImagesIt remains to be seen how the Rams will handle quarterback Sam Bradford during his rookie season.
The
St. Louis Rams
need not look far to see what can happen when an overmatched NFL team mishandles a quarterback drafted first overall.
The division-rival
San Francisco 49ers
are still trying to recoup their investment in 2005 first overall choice
Alex Smith
.
The Rams probably will not change offensive coordinators every year for the next five seasons, as the 49ers improbably did in Smith's first five, but they still need to be careful with rookie No. 1 overall choice
Sam Bradford
.
Early indications suggest the Rams would like to follow the plan Philadelphia took with
Donovan McNabb
back in 1999, when Rams offensive coordinator Pat Shurmur was coaching the Eagles' tight ends. Doug Pederson opened as the Eagles starter that season, allowing McNabb to ease into the starting role. McNabb got some reps off the bench before taking over as the starter in November.
In setting expectations for Bradford, I looked at production by rookie quarterbacks since 1970. The list featured several older players, some with experience in the CFL or USFL. I filtered out those players by focusing only on quarterbacks who were 25 or younger as NFL rookies. A quick look at them by games started:
16-game starters
There were only five, in part because the NFL season spanned only 14 games until 1978.
Peyton Manning
,
Matt Ryan
,
Joe Flacco
, Rick Mirer and
David Carr
pulled it off. All but Flacco, chosen 18th overall by Baltimore in 2008, were drafted among the top three overall choices in their class.
The ones who took the most sacks as rookies -- Carr (76) and Mirer (47) were the only ones to absorb more than 32 -- had the poorest careers. That might suggest the players had a hard time recovering from the beatings they took early in their careers. It also might reveal something about the quarterbacks' ability to process information quickly enough to get rid of the football before trouble arrives.
Offensive lines tend to take disproportionate blame for sacks, in my view. Quarterbacks are often responsible for them as well.
11- to 15-game starters
None in this group threw even 20 touchdown passes in a season (Manning and Dan Marino are the only rookie quarterbacks since 1970 to reach that barrier as rookies).
We should expect modest production from Bradford even if he starts most of the Rams' games.
Ben Roethlisberger
was a rarity among this group by completing at least 60 percent of his passes, but rookie completion percentage wasn't a reliable indicator for career success overall.
Some quarterbacks ranking lower played when teams ran higher-risk offenses and rules made it tougher to complete passes.
6- to 10-game starters
Hall of Famers Marino, John Elway, Terry Bradshaw and Dan Fouts fell into this group.
This group featured a solid middle class headed by McNabb,
Eli Manning
, Bernie Kosar, Jim McMahon, Neil Lomax, Steve Beuerlein, Pat Haden, Doug Williams and Rodney Peete.
There were a few disappointments -- Ryan Leaf, Cade McNown,
Kyle Boller
and the 49ers' Smith, who still has a shot at redemption -- but this seems like a reasonable number of starts for a quarterback drafted early.
Matthew Stafford
and
Josh Freeman
fell into this category last season.
3- to 5-game starters
Some high picks fell into this category, including Bert Jones, Vinny Testaverde, David Klingler, Tony Eason,
Rex Grossman
, Akili Smith,
Jay Cutler
, Tommy Maddox, Jim Everett and 1984 supplemental choice Steve Young.
This group produced relatively few true stars, however. Young was an obvious exception. Boomer Esiason was a good value.
In looking at the list, though, my sense is that a really good quarterback -- particularly one chosen early -- will start more than five games if he gets a chance to start at all in his first season.
2 or fewer starts
Hundreds of rookie quarterbacks failed to start a game and
69 did not attempt a pass
. The latter group featured
Tony Romo
and in-the-news quarterbacks
Kevin Kolb
and
Charlie Whitehurst
, but
Daunte Culpepper
, the 11th player chosen in 1999, stood out as a rare high draft choice among the group.
Unlike
Carson Palmer
, who sat out his rookie season as a high choice in Cincinnati, Bradford is going to play as a rookie unless he gets hurt.
It's reasonable to expect Bradford to start at least half the games, putting up modest numbers. He'll probably struggle some, and that is OK, but it's a bad sign if the Alex Smith comparisons apply by season's end. Smith tossed one touchdown pass with 11 interceptions as a rookie. He wasn't ready and his supporting cast gave him little chance. That's a bad combination.
February, 22, 2010
2/22/10
10:38
AM ET
The earlier item
showing where teams target positions among the first 32 draft choices raised questions about quarterbacks in particular.
Fourteen of the 37 quarterbacks drafted in that range since 1995 went first or third overall. None went in 15 of the 32 highest spots, including 13th through 16th or 27th through 31st.
"The interesting point on second-round QB picks will be who they were, how long until they were a starter (if ever) and if they stuck with their drafting team," Bcook122 wrote in response. "I'm hoping this year's crop may yield a good prospect without having to exact one of those two first-round picks the Niners have."
The first thing I did was break out all second-round quarterbacks selected in the last 30 drafts, figuring this would provide big-picture perspective. One of the quarterbacks in question,
Drew Brees
, appeared on the previous list because the Chargers selected him 32nd overall before the NFL expanded to 32 teams. Some of the best ones --
Boomer Esiason
,
Randall Cunningham
and Neil Lomax -- were drafted between 1981 and 1984. Another,
Brett Favre
, went in 1991.
The next step involved narrowing the search range to all drafts since 1995.
NFL teams have drafted 17 second-round quarterbacks during that period, including Brees. The Dolphins (three) and Lions (two) drafted five of the 17, including four since 2007. Eight of the 17 were drafted since 2006. Three of the 17 have gone to Pro Bowls, but Brees is the only one with a career passer rating higher than 77.9.
The chart ranks these 17 quarterbacks by regular-season games played. Of course, the earlier a quarterback is drafted, the more chances an organization will generally give him.
February, 20, 2010
2/20/10
10:00
AM ET
I've taken the NFL's list of projected free agents and put it in a format you'll find quite powerful.
Download it
here
.
And if you're not quite sure how to maximize the information, check out
the demo
.
This file lets you sort all 235 projected unrestricted free agents, plus all fourth- and fifth-year restricted free agents, by accrued seasons, team, position, starts, agent and division. I've added sheets with the breakdowns used for earlier items on
which agents
have the most UFA clients, how many
projected UFAs
each team has by position and the number of
projected UFAs by division
.
I've updated the file to reflect
Troy Williamson
's new
deal with the Jaguars
and
Leigh Bodden
's recent
hiring of agent Alvin Keels
.
The chart below is also based on information in the file. It shows all quarterbacks projected to become UFAs this offseason.
Chad Pennington
might be the most appealing name on the list. The Rams could certainly do worse.
August, 13, 2009
8/13/09
10:38
PM ET
Posted by ESPN.com's Mike Sando
Thoughts and observations from the Cardinals' first exhibition game of the 2009 season, against the Steelers on Thursday night:
I'm filing this with about 5 minutes left in the game. Figured I could follow up with anything else that jumped out the rest of the way, such as Tyler Palko stealing the show late.