October, 12, 2011
10/12/11
8:11
AM ET
On the surface, the San Francisco 49ers's decision to sign Brett Swain over more established receivers doesn't make much sense.
Why not sign one of the veterans they brought in for a tryout? T.J. Houshmandzadeh, Chris Chambers and Brian Finneran have combined for 1,394 career receptions. Swain, meanwhile, has six receptions in only 22 games, with no touchdowns.

Signing Swain makes sense only in the context of special teams. He played extensively on the Green Bay Packers' special-teams units last season. Of the more accomplished veterans brought in for tryouts, only Finneran played on special teams last season, and only then in a limited role. He's 35 years old. Swain is 26. The fourth receiver on a game-day roster generally must contribute on special teams, particularly for an offense that keeps two tight ends on the field as frequently as the 49ers do.
Matt Maiocco of CSNBayArea.com
says the 49ers did not immediately announce the move to add Swain because the team was still deciding how to clear a roster spot.
Noted:
That suggests the team isn't ready to place Josh Morgan on injured reserve even though Morgan required surgery to repair the broken leg he suffered making a sideline reception during the final minutes of the 49ers' 48-3 victory over Tampa Bay.
Also from Maiocco
: a player-by-player review of the 49ers' offense against the Bucs.
More from Maiocco
: a look at the defensive players as well.
Daniel Brown of the San Jose Mercury News
checks in with Jerry Rice for thoughts on Alex Smith's improved play this season. Rice: "You can tell [Smith] is more relaxed. He's not holding on to the ball. His decision-making is so much better. The ball is out of his hands just like that. I think as long as they continue that, they're going to have success. All these guys, everybody pitched in -- Frank Gore. Carlos Rogers. Delanie Walker. Vernon Davis. The weight is not on Smith's shoulders, and I think that's why he's playing so well."

Dave Boling of the Tacoma News Tribune
says Tom Cable, like the Seahawks' offensive line, is getting better these days. Cable recently underwent major back surgery. Cable: "It's an old injury that all of a sudden got really bad. So the choice is either you lose the use of your left leg or you go get this done and now you can move forward. I feel great -- it obviously worked. The incision is a big one, so that's the only real negative left … just letting that heal up."
Clare Farnsworth of seahawks.com
says quarterback Charlie Whitehurst runs through the team's no-huddle offense in unconventional places, including when he's trying to fall asleep at the team hotel. Whitehurst: "I've often wondered if people can hear me through the walls."

Jim Thomas of the St. Louis Post-Dispatch
checks in with current Rams players with roots on the Packers' roster, notably Al Harris, who opened last season on the physically unable to perform list, then was released in November. Thomas: "Harris told the Journal Sentinel at the time that Packers coach Mike McCarthy and general manager Ted Thompson led him on, giving him the false impression that he still fit into the team's plans as he completed the PUP-list process. But that was then. With the season-ending knee injury to Bradley Fletcher during the Rams' bye week, Harris might start Sunday against his old team. So Harris is concentrating on the here and now, not a stroll down memory lane."

Kent Somers of the Arizona Republic
explains the gap between public comments from Cardinals quarterback Kevin Kolb and coach Ken Whisenhunt regarding whether players are showing up for meetings on time. Somers: "According to sources, (Whisenhunt) told his players that too many details were being ignored, that the sloppiness wasn't going to be tolerated, that it was time to stop sliding into meetings seconds before they were scheduled to start. That speech prompted quarterback Kevin Kolb to tell reporters Sunday that his head coach 'hit the nail on the head. We have to get more detail-oriented. It starts with meetings, showing up to work on time, getting in early, getting your work done, and all the stuff a professional is supposed to do. Maybe it takes a game like this to figure out.'"
Also from Somers
: a look at key areas where the Cardinals need to improve.
October, 13, 2010
10/13/10
4:07
PM ET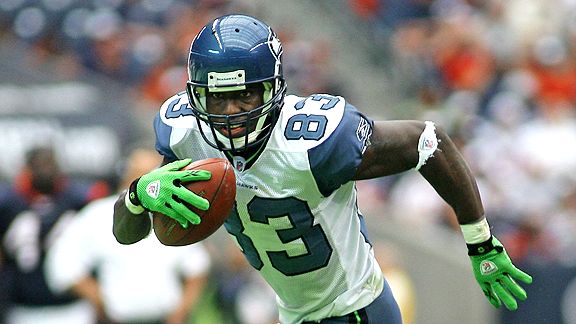 Thomas Campbell/US PresswireSeahawks receiver Deion Branch was worth a fourth-round pick to the Patriots.
Deion Branch
suspected the
Seattle Seahawks
might release him last season.
The team's general manager at the time, Tim Ruskell, repeatedly assured Branch that the organization had no such plans. Ruskell wasn't lying. The Seahawks held onto Branch, but if they had cut ties with the veteran receiver in 2009 following three years of declining production, not even Branch could have expressed shock.
When the post-Ruskell Seahawks finally unloaded Branch this week, the biggest surprise came in the price New England paid in reacquiring the 31-year-old receiver. Branch will return the higher of the Patriots' 2011 fourth-round choices: the one acquired from Denver or the one originally belonging to New England. Wasn't that a little steep?
Randy Moss
had commanded a third-round choice when New England traded him to Minnesota last week, an indication Seattle might be lucky to get a fifth-rounder for Branch. As Branch himself told reporters Tuesday, "I'm not Randy Moss. I wasn't Randy Moss when I was here. And I'm not here to replace him."
The lesson, as always, is that any commodity is worth whatever someone can get for it at a given time. There is no sliding scale or reference chart based on a wide receiver's past production or anything else. Branch's value to the Patriots increased once New England determined keeping Moss was no longer tenable.
For perspective, and with an assist from Keith Hawkins of ESPN Stats & Information, I've classified 17 receiver trades since 2007 by compensation levels:
1. Roy E. Williams to Dallas (2008)
Price paid:
Dallas sent 2009 first-, third- and sixth-round choices to Detroit for Williams and a seventh-rounder.
Comment:
This one sets the standard for overspending. Williams is on pace for his first 1,000-yard season in Dallas, but this deal marked the last time (for now) an NFL team traded a first-round choice for a wide receiver.
2. Randy Moss to Oakland (2005)
Price paid:
Oakland sent 2005 first- and seventh-round picks, plus linebacker
Napoleon Harris
, to Minnesota.
Comment:
The Raiders never had the supporting cast to maximize this investment. Moss didn't hold up his end, of course, but the Patriots later proved Moss could function at a high level in the right environment.
3. Deion Branch to Seattle (2006)
Price paid:
Seattle sent its 2007 first-round choice to New England.
Comment:
Ruskell hoped Branch would add character and leadership to a position group he viewed as lacking in those areas. Branch did not have the talent to justify the price, however, and injury problems diminished what returns Seattle got from its over-investment.
[+] Enlarge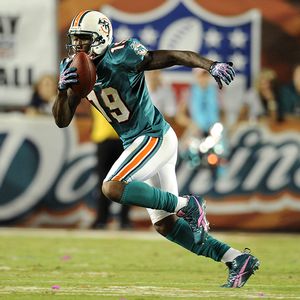 Richard C. Lewis/Icon SMIDenver traded away a 100 catch per year receiver in Brandon Marshall.
4. Brandon Marshall to Miami (2010)
Price paid:
Miami sent 2010 and 2011 second-round choices to Denver.
Comment:
Marshall is on pace for another 100-catch season, although he has only one touchdown reception in his first four games with Miami. Broncos coach Josh McDaniels comes from the New England tree. Both organizations like to load up on second-round draft choices.
5. Wes Welker to New England (2007)
Price paid:
The Patriots sent 2007 second- and seventh-round choices to Miami.
Comment:
Welker is on pace for his fourth consecutive 100-catch season since joining the Patriots. He had caught 96 passes over two seasons with Miami previously. The quarterback situation in New England allowed the Patriots to maximize this trade.
6. Chris Chambers to San Diego (2007)
Price paid:
San Diego sent a 2008 second-round choice to Miami.
Comment:
This deal never worked out the way San Diego planned. Chambers made some solid contributions early, but an ankle injury altered the course of his career with the Chargers.
Malcolm Floyd
emerged as a big-play threat, and San Diego cut Chambers during the 2009 season.
7. Braylon Edwards to the New York Jets (2009)
Price paid:
The Jets sent 2010 third- and fifth-round choices, plus
Jason Trusnik
and
Chansi Stuckey
, to Cleveland.
Comment:
Edwards probably had run his course in Cleveland. The Browns were starting over. Edwards has 52 receptions, seven for touchdowns, in 17 games with the Jets. Check back later on this one.
8. Anquan Boldin to Baltimore (2010)
Price paid:
Baltimore sent its 2010 third- and fourth-round choices to Arizona for Boldin and a fifth-round pick.
Comment:
So far, so good for the Ravens. Boldin has 28 catches for 363 yards and three touchdowns in his first three games with Baltimore. Long-term durability concerns played into Arizona's decision to make the trade. Can Boldin hold up?
9. Randy Moss to Minnesota (2010)
Price paid:
Minnesota sent a 2011 third-round choice to New England.
Comment:
Moss had become unhappy and the Patriots decided to get value for him while they could, possibly at the expense of their 2010 on-field production. The Patriots spent only a fourth-round choice for Moss, used his immense talent for three-plus seasons, then got a third-rounder out of him. Not bad. But at what short-term cost?
10. Randy Moss to New England (2007)
Price paid:
The Patriots sent a 2007 fourth-round choice to the Raiders.
Comment:
Moss' relationship with the Raiders had deteriorated to the point that Oakland needed to unload him despite the high price it paid for Moss in 2005. Getting a fourth-round choice wasn't bad under the circumstances, although the price was a bargain from the Patriots' perspective.
11. Darrell Jackson to San Francisco (2007)
Price paid:
The 49ers sent a 2007 fourth-round choice to Seattle.
Comment:
Viewed as a risky move within the division at the time, Seattle came out OK. Jackson didn't fit the 49ers' offense and his deteriorating knee was another hindrance.
[+] Enlarge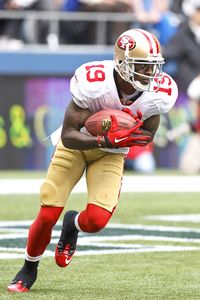 Jason O. Watson/US PresswireThe 49ers hope they get better production from Tedd Ginn Jr. than they did from Darrell Jackson.
12. Ted Ginn Jr. to San Francisco (2010)
Price paid:
The 49ers sent a 2010 fifth-round choice to Miami.
Comment:
Ginn enjoyed a strong training camp before suffering a sprained knee in the regular-season opener. He has made a positive impact in the return game since coming back from the injury. San Francisco needs Ginn to emerge as a deep threat, too.
13. Deion Branch to New England (2010)
Price paid:
The Patriots sent a fourth-round choice to Seattle.
Comment:
The Seahawks got more in return for Branch than expected, but the Patriots can still come out OK. They've got
Tom Brady
, after all.
14. Santonio Holmes to the New York Jets (2010)
Price paid:
The Jets sent a 2010 fifth-round choice to Pittsburgh.
Comment:
Holmes served a four-game suspension to open the season. He caught three passes for 41 yards in his Jets debut Monday night. The Steelers had enough off-field concerns while dealing with the
Ben Roethlisberger
situation. Parting with Holmes made more sense in that context.
15. Greg Lewis to New England (2009)
Price paid:
The Patriots sent a 2009 fifth-round choice to Philadelphia for Lewis and a seventh-rounder.
Comment:
Oops. The Patriots cut Lewis before he played a regular-season game for them.
16. Mark Clayton to St. Louis (2010)
Price paid:
The Rams sent a 2011 sixth-round choice to the Ravens for Clayton and a seventh-rounder.
Comment:
This deal was working out very well for the Rams until Clayton suffered a season-ending knee injury against Detroit in Week 5. Clayton appeared to be a natural fit for the Rams' offense and he worked well with No. 1 overall choice
Sam Bradford
.
17. Troy Williamson to Jacksonville (2008)
Price paid:
The Jaguars sent a 2008 sixth-round choice to Minnesota.
Comment:
Williamson caught eight passes over two seasons for the Jaguars.
March, 1, 2010
3/01/10
10:57
AM ET
Cardinals quarterback
Matt Leinart
posted a 37-inch vertical jump at his pro day workout in 2006.
That wasn't the reason Arizona selected him 10th overall in the draft.
Tim Tebow
's 38.5-inch jump at the combine tied
Josh McCown
's record for a quarterback at the annual event, narrowly edging the combine marks Philadelphia's
Michael Vick
and Seattle's
Seneca Wallace
posted. But those vertical-jump marks aren't particularly relevant when teams size up quarterbacks -- or players at other positions, in a lot of cases.
The mark is one indicator of overall athleticism. I suppose an especially poor mark could raise concerns about players at some positions. But when you consider players with exceptional verticals in recent combines --
Gerald Sensabaugh
, Cameron Wake,
Chris McKenzie
,
Donald Washington
and
Chris Chambers
were all at 45 inches or higher -- it's not as though they all became top players.
Seattle's
Nate Burleson
(42.5 inches) and San Francisco's
Vernon Davis
(42) are among the current NFC West player with excellent verticals at recent combines. Rams receiver
Keenan Burton
and Cardinals cornerback
Dominique Rodgers-Cromartie
posted 39-inch verticals at the 2008 combine.
June, 1, 2009
6/01/09
6:42
PM ET
Posted by ESPN.com's Mike Sando
Tom Condon's hiring as Anquan Boldin's agent probably signals a less public negotiation. Like most agents, Condon keeps a lower profile than Boldin's former agent, Drew Rosenhaus.
Condon is best known in the NFC West for his handling of Steve Hutchinson's disputed departure from the Seahawks to the Vikings. That process played out in the public, but Condon kept a low profile throughout. I would expect him to work behind the scenes on Boldin's behalf.
Rosenhaus had become known for representing unhappy receivers in Terrell Owens, Chad Johnson and Boldin. Condon is better known for representing quarterbacks.
The NFLPA lists Condon as the agent for 38 signed players. The Browns' Braylon Edwards and the Cowboys' Travis Wilson are the only receivers besides Boldin. The NFLPA lists Condon's partner, Ben Dogra, as the agent for four veteran receivers: Lee Evans and Josh Reed of the Bills, plus the Cowboys' Roy Williams and the Chargers' Chris Chambers.
Condon represents a dozen NFL quarterbacks, including his only other Cardinals client, Matt Leinart. The list includes Matt Ryan, Brady Quinn, Chris Simms, Matthew Stafford, Peyton Manning, Chad Pennington, Drew Brees, Eli Manning, Alex Smith and Marc Bulger.
October, 15, 2008
10/15/08
9:35
AM ET
Posted by ESPN.com's Mike Sando
The mailbag has buzzed with questions about possible trades involving NFC West teams heading into the deadline that recently passed. My answers followed a familiar course. Yes, the trade makes sense on some level, but I'll be surprised if it happens.
A quick look at four of the biggest NFL trades made shortly before the trading deadline the last four seasons:
We've seen several other trades involving lesser-known players -- the Colts landed John McCargo from the Bills in one example Tuesday -- but we spend a lot more time talking about potential trades than actual ones.
Teams generally are not willing to part with their best players. When they are willing, financial factors often complicate the ability to get a deal done.