June, 10, 2013
6/10/13
12:00
PM ET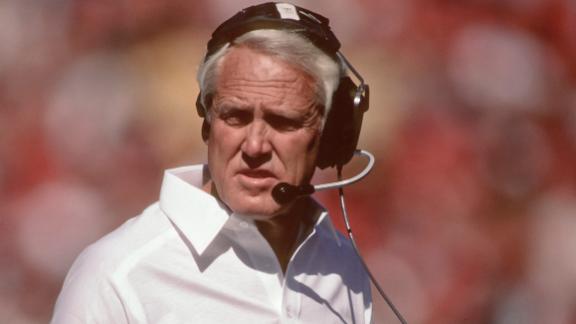 Bill Walsh checks in at No. 2
on ESPN's list of
Greatest Coaches in NFL History
, leaving the as-yet-unnamed Vince Lombardi as the obvious No. 1.
Walsh, of course, led the San Francisco 49ers to three of their five Super Bowl victories. He revived the franchise with a blueprint that became standard operating procedure across the league. He blazed trails in minority hiring and produced a coaching tree with branches still growing in the game today.
I highly recommend checking out
Seth Wickersham's piece on Walsh
from January. Wickersham focused on the coaching guide Walsh wrote.
"[Bill] Belichick once referred to it as football 'literature,' but it's more like a textbook -- 550 pages, 1.8 inches thick, 3.2 pounds, loaded with charts, graphs and bullet points," Wickersham explained. "For example, Walsh includes 57 keys to negotiating contracts ('The negotiator's need for food and sleep can affect his/her ability to function effectively'), 13 pages of sample practices and 108 in-game scenarios."
The video above features Walsh's own thoughts on characteristics great coaches possess. Unpredictability on and off the field is one of them.
The chart below shows won-lost-tied records and number of championships won for the top 20 coaches on ESPN's list, courtesy of Pro Football Reference. The winning percentages listed reflect victories plus one-half ties, divided by total games. For Walsh, that works out to 92.5 victories divided by 152 games, or .609.
July, 23, 2010
7/23/10
8:04
AM ET

Dan Bickley of the Arizona Republic
says another postseason appearance by the Cardinals could be a sign Ken Whisenhunt is on his way to a Hall of Fame career as a head coach. Whisenhunt: "In my last nine years (coaching) in the league, we've been to two Super Bowls, 5-6 championship games and won the division 6-7 times. That's what drives me. When you get a group of guys to believe in something and actually be successful, when you get a town to respond the way this town has supported us . . . there's nothing else like it. Look at where we were four years ago." Winning Super Bowls, plural, would help the Hall of Fame credentials. Current Hall of Fame coaches: Paul Brown, Jimmy Conzelman, Joe Gibbs, Bud Grant, Curly Lambeau, Tom Landry, John Madden, Bill Walsh, Chuck Noll, Guy Chamberlain, Ray Flaherty, Sid Gillman, Greasy Neale, Steve Owen, Don Shula, Marv Levy, George Halas, Hank Stram, Weeb Ewbank, Vince Lombardi and George Allen.
Darren Urban of azcardinals.com
wonders whether rookie Daryl Washington could get on the field this season while Gerald Hayes recovers from back surgery.
Also from Urban
: Adrian Wilson is replacing Bertrand Berry on the Cardinals' in-house podcast.
Kent Somers of the Arizona Republic
says the Cardinals do not appear close to signing either of their top two draft choices, but there's little reason for alarm. The deals should be relatively straightforward. Somers: "Cardinals General Manager Rod Graves has been traveling and [unavailable] for comment this week, but I'm hearing the Cardinals aren't far along in contract talks with (Dan) Williams or linebacker Daryl (Washington), their second-round pick. That's not unusual, however. Camp is still a week away, and the two deals should not be complicated ones."

Danny O'Neil of the Seattle Times
says Seahawks linebacker Leroy Hill is due in court again Friday. O'Neil: "Hill is in his sixth year with the Seahawks. He was suspended last week for the season-opening game against San Francisco for violating the NFL's policy on substance abuse. Whether he faces additional league punishment for this incident could depend on the outcome."
John Morgan of Field Gulls
says T.J. Houshmandzadeh enjoyed a strong season in 2009. Houshmandzadeh increased his yards per reception, breaking a trend in the other direction. Morgan: "As a player, T.J. was very good in 2009. He is a number one possession receiver, so to speak. He is more of a complementary downfield threat, but so be it. He earns tons of targets and maintains a high catch percentage, and if his stats declined in 2009, I saw no indication that his performance did."

Jim Thomas of the St. Louis Post-Dispatch
provides a Rams overview. Thomas: "Even in this so-called 'baseball' town, and even with all the recent losing by the Rams, the selection of (Sam) Bradford has created a mild buzz in St. Louis. Ticket sales are up over last year, although several games could still be blacked out locally. No one is dreaming of a playoff berth, but improvement is expected."
Also from Thomas
: The Rams could bring in former Missouri receiver Denario Alexander, who was cleared medically this week, according to his agent.
Turf Show Times' Tevin Broner
outlines three keys for the Rams this season: Bradford, the defensive line and the receivers.

Matt Maiocco of CSNBayArea.com
thinks tight end Nate Byham and running back Anthony Dixon could be lesser-known players to watch at 49ers training camp. Maiocco: "Dixon is an impressive-looking player. He has quick feet and nice moves for a big man. But the 49ers want to see less dancing and more north-south running. If he lowers his pads and runs with power, he has a chance to make his way up the depth chart."
Taylor Price of 49ers.com
previews the 49ers' defense heading into camp. Price: "Tthe 49ers' 5-1 record against the NFC West was largely because of a stingy defense which allowed 10.2 points per game against the division, tops by any NFL team against its division in 2009. From top to bottom, the 49ers defense features play-makers and game-changers at all levels of the field."
Dan Brown of the San Jose Mercury News
checks in with 49ers legend Jerry Rice, who spoke with reporters Thursday during a Hall of Fame conference call. Brown: "These days, Rice's preparation involves the speech he'll have to give on induction day, when former 49ers owner Eddie DeBartolo Jr. will present him. Rice was vague about the status of his speech-writing efforts but acknowledged that he's been checking in with other Hall of Famers for advice."
July, 7, 2010
7/07/10
5:14
PM ET
Alex from Lake Stevens, Wash., writes:
I understand that the prices on
Marshawn Lynch
and
Vincent Jackson
may be a little higher than the Seahawks want to spend, but these two are big playmakers and game changers. What is holding them back from attacking this from all angles? The 12th Man wants to see one, if not both, big playmakers at Qwest Field.
Mike Sando:
Players tend to be available for a reason. Lynch and Jackson would carry at least moderate risk based on their recent histories. If you're the Seahawks, you're already without a third-round choice in the 2011 draft. That pick financed another speculative move (taking a chance on
Charlie Whitehurst
). How much more 2011 draft capital should the Seahawks risk for flawed players? How many other teams are bidding for these players? Why overspend? Is Jackson even available? Recent reports suggest the Chargers might not be shopping him.
If I were the Seahawks, I'd monitor Lynch's situation closely and see if he comes available for a reasonable price. He's not a player Seattle absolutely has to have. He's a player who could be worth acquiring at a discount price. The Bills might be best off waiting to see whether they'll need him or whether another team will suffer an injury at the position during training camp or early in the season. The price could then go up.
---
Ryan from Phoenix writes:
I just read a question in the
NFC North column
and I found it to be a really good read so I thought I'd ask you the same question. What team in the NFC West has the best five-year plan? I'm not so sure my Cardinals have the best five-year plan after watching the 49ers destroy them in the regular season and watching them add potentially two stud offensive lineman to strengthen their run game when the Cardinals run defense, while good statistically, I believe was overrated due to seemingly always being in a shootout. The Seahawks made good strides and I'm not sure what to make of the Rams.
Mike Sando:
Teams used to have 10-year plans. That was the setup for Tom Landry and Chuck Noll way back when. Time have obviously changed significantly. The stakes are much higher. Ten-year plans became five-year plans, but even five-year plans are fantasies in the modern NFL. Coaches have two or three years to win in most cases. The Rams don't even have a firm owner, let alone a five-year plan, although they do now have a quarterback to build around. Arizona has pretty good stability with a proven head coach signed to a long-term deal. Pete Carroll signed a long-term deal, but the Seahawks have proved they'll dump a coach after only one season if they think things aren't working out.
I don't see great five-year plans in place for teams in the NFC West, but neither do I think five-year plans are the mindset in the current NFL.
---
Dan from Missoula, Mont., writes:
Mr. Sando, I was hoping you could clarify why
Kentwan Balmer
is taking so long to develop. I have heard that it takes defensive lineman longer to acclimate to new techniques, especially in the 3-4, but he was a first-round pick. Is this a make-or-break year for him? If so, what can we expect from him? Thanks for keeping us up on all the news.
Mike Sando:
Balmer has played 27 games. That's not a ton of experience. The position he plays makes it tougher for him to make an obvious impact. For those reasons, I wouldn't go overboard in criticizing his career to this point. It was unlikely the 49ers were going to get a high-impact player at that position in their scheme. Selecting Balmer that early seemed a little curious as a result. But it is realistic to expect him to become a starter at some point this season, his third in the NFL. He looks like he can become a good player against the run in particular, but if you're expecting him to become an impact player, you'll be disappointed, most likely.
---
Patrick from Dallas writes:
Hey Mike, I love the work your doing with the blog. Very insightful, you also seem to deliver stories in a unique way. It's a very refreshing atmosphere. We very much missed you while you were on vacation. My question is this: What chances do you think there are of the 49ers trading for
Tom Brady
at the end of the season if
Alex Smith
has another poor season and the Patriots are unable to sign Brady to a long-term deal? I say this because Brady lives on the West Coast now and he grew up a fan of the 49ers. I'm a huge Alex Smith fan, but I would imagine San Francisco would dump him if he underperforms again. Thanks for answering my question.
Mike Sando:
I had to answer your question after the way you prefaced it. Thanks for the support. Niners fans know even the greatest quarterbacks can be traded. If
Joe Montana
can be traded, anyone can be traded. You're right about Smith needing to play well this season. I just don't see the Patriots trading Brady because it's not like they have the next
Steve Young
in waiting. It would surprise me unless it were clear Brady's skills were diminishing and New England had a solid prospect behind him.
---
Will from Cincinnati writes:
Hey Mike, I love your blog. Quick question though. I know the Rams say they are happy and content with their young yet unproven/inexperienced wide receivers but what is the possibility of them going after Vincent Jackson? I know you don't want to give up a lot in the rebuilding stage, but what exactly would it take to get a deal like that done and what are the chances of it? With the future of the organization resting in bradford's hands it would be nice to arm him with a big-bodied, sure-handed vertical threat.
Donnie Avery
,
Brandon Gibson
,
Laurent Robinson
and
Mardy Gilyard
seems like a pretty shallow receiving corps, but throwing Jackson in there makes them pretty legit. Your thoughts? Thanks again.
Mike Sando:
No prob. Rams general manager Billy Devaney seems pretty tired of hearing about how bad the team might be at receiver. I think he's determined to prove the team has more talent at that position than conventional wisdom holds. Acquiring a player unhappy with his contract also means paying that player good money up front as part of a long-term deal. The Rams have budgeted for
Sam Bradford
and their rookie class, but even if they wanted to acquire Jackson, they might have a hard time pushing through such a move given the pending ownership change. It's a long shot at best.
January, 14, 2010
1/14/10
6:19
PM ET
Let's say you visited the Pro Football Reference
coaching archive
and singled out head coaches with at least five playoff games on their résumés.
Let's say you sorted the qualifying coaches by highest winning percentage.
Vince Lombardi would be at the top. The Cardinals' Ken Whisenhunt would be tied for second.
This goes to show how precious playoff victories can be, even for coaches with long track records. The great Bill Walsh enjoyed 10 playoff victories during his career. Whisenhunt can claim his fifth Saturday.