March, 2, 2011
3/02/11
8:30
AM ET

Jim Thomas of the St. Louis Post-Dispatch
thinks the Rams would target defensive line in the first round of the draft if they did not select a wide receiver. Thomas: "Sure I think defensive line, particularly DE, becomes the most likely position at No. 14 if the WRs are gone. I've mentioned some of the names that probably will be there and could be on the Rams radar already -- DEs Aldon Smith, Adrian Clayborn, Cameron Jordan (and I guess, Ryan Kerrigan, too), and DT Corey Liuget. As for the bench press guy, Oregon State's Stephen Paea, you can't take a guy just because he's an excellent weightlifter. Paea didn't do any of the other combine workouts because of an injury, so it's a little harder to get a read on the guy." The Rams struck gold in free agency last offseason when they landed defensive tackle Fred Robbins from the Giants. Robbins played better than the Rams reasonably could have expected. James Hall was exceptional, too. Both players are getting up there in age, however. Adding talented young players to the line might help Robbins and Hall extend their careers while giving coach Steve Spagnuolo the depth he covets along the line.

Danny O'Neil of the Seattle Times
says Christian Ponder might be a better fit for the Seahawks than fellow college quarterbacks Ryan Mallett or Jake Locker. O'Neil: "I think he's a better athlete than people expected, he's a good fit for the West Coast offense. The fact he has had multiple surgeries on his throwing arm is a concern. He's like an injured pitcher, but I think he's a very intriguing possibility."
Also from O'Neil
: Seattle kickoff returner Leon Washington, who re-signed Tuesday, came at a bargain price when the team acquired him from the Jets. O'Neil: "In exchange for sliding down 97 spots in the final two rounds of the draft, the Seahawks got Washington, who beat the San Diego Chargers with two kickoff returns for scores in Week 3 and added a third kickoff return for a touchdown later in the season. No Seahawk had ever returned more than one kickoff for a touchdown in his Seahawks career before Washington."
Eric D. Williams of the Tacoma News Tribune
checks in with Brandon Mebane's agent, Chuck Price, for thoughts on negotiations between Seattle and the defensive tackle. Price: "They made it clear that they would like Brandon to stay," Price said. "And Brandon has made it clear that he'd like to be there. So we're really working hard to keep Brandon there."

Kent Somers of the Arizona Republic
says the Cardinals have no plans to release players this week. Somers: "Outside linebacker Joey Porter is due to make $5.75 million in 2011, but those paychecks don't come until the season starts. The Cardinals don't have to release Porter unless some sort of salary cap is in the place and they need the room. Since the Cardinals didn't spend much last year, that's probably not going to be necessary. Quarterback Derek Anderson likely won't return, either. He's due to make $4.1 million in 2011."
Also from Somers
: Adrian Wilson, who underwent surgery on Tuesday for a torn abductor, joins Cardinals teammate Lyle Sendlein among players whose performance suffered while they played through undisclosed injuries. Somers: "Sendlein suffered a severe left shoulder injury in the second game of the 2008 season, yet played through it. His effectiveness was hampered by a lack of strength in his left arm and shoulder, and he was criticized at times for poor play."
Darren Urban of azcardinals.com
reflects on news that Wilson played through the injury all last season. Urban: "Wilson stayed out there and played. Heck, he even played in the Pro Bowl banged up. And as everyone — including Wilson -- knows, it wasn't his best year. Was it because of the injury? Did it make that big of a difference? Wilson never let on anything was wrong. But it could have been a factor. We'll have to see the next time I talk to him. I'm sure A-Dub is looking forward to having that conversation."
Also from Urban
: an update on procedural moves involving Arizona players. Urban: "Wide receiver Steve Breaston confirmed an ESPN report he has been extended a tender offer, and I would assume the Cards are doing that for a handful of guys who potentially could qualify as restricted free agents. Again, it's housekeeping in a way, since everyone is in limbo until a new CBA is reached."

Eric Branch of the Santa Rosa Press-Democrat
reflects on Wally Yonamine's impact as the first professional football player of Asian descent. Yonamine, who passed away at age 85, also became the first American to play professional baseball in Japan after World War II. 49ers owner John York: "One day, I was surprised by an unknown caller on the telephone. Wally Yonamine reached out to me and asked that I present him into the Japanese American Sports Hall of Fame, in 2002. That phone call introduced me to a wonderful new friend and a man that is very important in 49ers history, the 49ers first Asian American player. Wally will be sadly missed by me and those with a love of 49ers history." More on Yonamine
here
.
Monte Poole of Bay Area News Group
says 49ers coach Jim Harbaugh deserves the benefit of the doubt on the quarterback front even though praising Alex Smith has rankled some fans. Poole: "Smith's career numbers aren't as bad as is suggested by the fan base's treatment -- an avalanche of boos, with an occasional trickle of support. Despite the handicaps of Neanderthal coaching, mostly ordinary wide receivers and the fact that the team's best deep threat is a 250-pound tight end, he has been an average quarterback. When Smith told me after the season finale that he didn't see himself coming back to San Francisco, I imagined fans cheering in the background. I was happy for Smith, who needs a fresh start, and the fans were happy for themselves and the 49ers. Now that Harbaugh is resorting to persuasion, visualizing a fresh start in San Francisco, Smith could have second thoughts. This new era will be much friendlier to quarterbacks."
November, 6, 2010
11/06/10
1:07
PM ET
Travis from Scottsdale writes:
Hey Mike,
nice piece
on
Matt Leinart
. The Cards are in a world of hurt and it's going to get worse if they don't shore up the pass protection.
Jared Allen
and the Vikings' defensive line are feeling the heat about teams beating the snot out of
Brett Favre
while they let the opposing quarterbacks pose for pictures. And you know what they say. Bad offensive lines get quarterbacks killed and coaches fired. Hello,
John Skelton
. Goodbye, Ken Whisenhunt.
Mike Sando:
Whoa, let's not go overboard here. We cannot even know for sure whether the team would have a better record with Leinart at quarterback. We cannot say for certain whether any team will name Leinart a starter at any point in the future.
We do know the Cardinals didn't do enough to shore up the position following Warner's retirement. It's fair to hold Whisenhunt and general manager Rod Graves accountable for that. However, Whisenhunt has done a good job overall. We're still only halfway through this season and Arizona has a decent shot at claiming a third division title in a row -- during a transition season in which lessons must be learned.
---
Gregory from San Jose, Calif., writes:
The 49ers finally got a game where every break went their way. With the same luck
Troy Smith
received -- that Hail Mary pass between two Pro Bowl defensive backs, defensive support (three fourth-quarter turnovers) and help from officials (two Denver touchdowns called back) -- the 49ers would be 7-1 under
Alex Smith
.
But every break, tipped pass for an interception, penalty went against the 49ers. The only game that they really blew was against Kansas City. Every other game could have been won had even one out of three or four key plays gone the 49ers' way.
Troy Smith's passer rating of 115.2 is being hailed as so good. Turn the Hail Mary into an interception and the rating is 80.6. The 49ers finally hit an easy part of the schedule and Singletary sees Troy Smith and a win streak as the only way to save his job.
As a fan, I'm sick of the Singletary-based run first offense killing us. Finally using the "11" personnel package with three wide receivers was opening running lanes for Gore and giving Alex Smith targets in the passing game.
Mike Sando:
Sustainability is one thing I consider when deciding what to make of game results. For example, the Cardinals' 30-20 victory against New Orleans was huge for Arizona, but hardly an indication the team would keep winning games with
Max Hall
at quarterback. The Cardinals became the second team in NFL history to score 30 points without a rushing or passing touchdown. We knew that wasn't going to happen again, most likely.
Troy Smith did get some breaks. Facing a weak Broncos team was one of them. I just don't think we can blame Alex Smith's starting record this season on bad luck every week.
Alex Smith played poorly at times and made the necessary late-game plays only twice all season, against New Orleans and Oakland. He did not make enough plays in most other games. Smith has one touchdown and three picks in the final two minutes of halves. He has a 43.0 rating in fourth quarters of close games (defined as leading or trailing by no more than seven points). The lost fumble against Philadelphia was disastrous.
Troy Smith had one decent performance in his first start. The ends justified the means to a degree. No one should be anointing Troy Smith as the savior in San Francisco. Giving him another start seems reasonable, though.
---
Adam from San Diego writes:
I did a small comparison of
Charlie Whitehurst
and
Matt Schaub
. Both were drafted by teams in the third round (Whitehurst 81st, Shaub 90th). Their teams both had good, young quarterbacks when originally drafted --
Philip Rivers
in San Diego,
Michael Vick
in Atlanta. Likewise, both were traded at age 27 or 28 for a second-round pick. Both look to have similar styles as well. Worth looking into?
Mike Sando:
Good thinking, Adam. Both are quite tall, also. Schaub had some injury troubles, missing 10 games over his first two seasons with the Texans. Whitehurst is leaner than Schaub and I've wondered what that might mean for his durability. He says he's more comfortable at his current weight than when heavier, however, and that is important.
There are a couple differences. Schaub was the No. 2 quarterback in Atlanta. Whitehurst was the third-stringer in San Diego. The Texans viewed Schaub as
an immediate starter
. The Seahawks asked Whitehurst to compete for the job, but they never appeared close to naming him their starter heading into his first season with the team.
Schaub made his first Texans start against a
Kansas City Chiefs
team that would finish the 2007 season with a 4-12 record. Schaub worked as the starter through training camp and the regular season.
Whitehurst has to hit the ground running in Week 9 against a 5-2
New York Giants
team coming off a bye, with no guarantees he'll remain the starter once
Matt Hasselbeck
's concussion symptoms subside.
Unrelated side note: Schaub and Whitehurst both had
Chester Pitts
on their offensive lines in their first starts.
---
Scott from St. Louis writes:
Hey Mike, on the
MVP Watch
, would
Sam Bradford
climb into the top 10 if the Rams go above .500? Seams to me without him the Rams could easily be 0-8 right now.
Mike Sando:
I've asked that question already this season. I do think Bradford's stats would have to continue improving. Twenty-five qualifying quarterbacks -- those averaging at least 14 attempts per game -- have higher passer ratings to this point. Passer ratings aren't everything, but quarterbacks need strong stats for MVP consideration.
Bradford has five touchdowns and no interceptions in his past three games. The Rams are 2-1 in those games. Let's say the trend holds over the next three games. Bradford has 11 touchdowns and eight interceptions to this point. He would have 16 and eight, the Rams would be 6-5 and our conversation would stand on firmer ground.
---
Stephen from North Carolina writes:
The benching of Hasselbeck for the Giants game seems to smell a little to me. All reports were he seemed fine after the game, and the concusion report was a little bit of a suprise. As a Seahawks fan, I am taking this benching as Pete Caroll waving the white flag and saying the G-men are too much on defense for the banged-up offensive line, so lets see how Charlie Whitehurst does. Any other way to see this?
Mike Sando:
I would not dismiss the stricter rules governing concussions. This could be a situation where doctors previously might have cleared Hasselbeck in time for the game. It's tough to know for sure. But there's also logic in what you're saying and we'd be foolish to think those considerations weren't part of Carroll's thinking in formulating a plan.
---
Don from Lexington, Ky., writes:
Dear Mike, can you please call Mike Brown and tell him his
Cincinnati Bengals
should do whatever it takes toget Matt Leinart from Houston?
Mike Sando:
Not seeing that solving anything for the Bengals at midseason.
Carson Palmer
has had lots of leg injuries over the years, though. I wonder whether his legs are close to shot at this point.
---
Randy from Peoria, Ariz., writes:
Chuck Price gets no points from me regarding Matt Leinart, specifically the Titans game last season. Matt didn't throw a touchdown pass. If the Cardinals get just one touchdown from Matt, then it's a two-score game for the Titans at the end. That's all that was needed, one passing touchdown.
Matt left that one touchdown on the field along with our unrealized win. The Cardinals' defense, indeed, gave up the game, but Matt could've supplied headroom.
There are other issues Mr. Price put on the table that could easily have been refuted, but there's neither time nor space to do so this morning. One thing is glaring against what he has to say, namely: Matt's third string for the Texans. No game thus far has been favorably impacted by Matt's presence. Schaub is not worried.
Mike Sando:
The point on Leinart
against Tennessee was that he avoided turnovers, whereas his replacements this season have turned over the ball at an alarming rate. We're not even talking about leading touchdown drives at this point. We're talking about not giving possession to the other team unnecessarily.
As far as Leinart in Houston, timing had something to do with his third-string role. The Cardinals cut him shortly before the regular season. Rosters were set. It was unrealistic to think Leinart would land somewhere in a No. 2 role. Let's see how the league views him after this season. If Leinart can do no better than a third job, your point will hold up better.
---
Larry from Portland, Ore., writes:
Just what are the Hawks going to do for quarterback when Charlie Whitehurst gets knocked out of the game? As of Friday, they did not have a third quarterback on the roster of their website.
Mike Sando:
They'll sign Zac Robinson from the practice squad before kickoff. Robinson has just as much regular-season starting experience as Whitehurst.
---
Randy from Peoria, Ariz., writes:
Hello, Mike. I rarely see any comments from you regarding Cardinals' current third-string quarterback John Skelton. Are you up to speed on the Cardinals view of Skelton? Do they provide any detailed justification with respect to playing the Hall/Anderson rotation, while yet excluding their third-stringer? Do you surmise anything regarding what the Cardinals coaching staff is doing/thinking in the absence of any direct knowledge gained from their offices where Skelton is concerned? Thanks very much. Warm regards to you and yours.
Mike Sando:
Thanks, Randy. The team feels as though Skelton is more of a long-term project than Hall at this stage of their careers. That was the feeling during camp and Skelton has had little chance to change those perceptions. I supposed the team could become desperate enough to give Skelton a chance later in the season. To this point, though, I've heard no rumblings.
---
Damon from Salt Lake City writes:
Mike, given the obstacles, the peer-accolades, and the record-setting pace, how can you overlook Philip Rivers on the
MVP Watch list
? Yes, the team is doing poorly, but the fact that he is completing significant yardage and TD passes with one second-string receiver, a beat up key tight end and a handful of scrubs from the practice squad has got to indicate something.
Mike Sando:
You answered the question in six words. "Yes, the team is doing poorly." We're deep enough into the season to start excluding from serious consideration players from losing teams. Rivers has been on the MVP Watch list quite a bit this season. He'll be there again if he can produce some more victories.
---
Edgar from Albuquerque, N.M., writes:
I'm not delusional and I'm not holding my breath, but I was wondering, can
Kurt Warner
return to the NFL this late in the season? I guess my real question is, what is the cutoff date for retired players to return to a football team? It would be awesome and I know it won't happen, but I'm just curious. Thanks.
Mike Sando:
Warner is on the reserve/retired list. The team could activate Warner from that list at any time if Warner chose to return. The Cardinals do hold Warner's rights. We sometimes hear about players filing retirement papers. That process is a formality. Players can unretire simply by asking the league for reinstatement.
---
Alejandro from Seattle writes:
Thanks for keeping the blog, Mike. Your blog stands out as particularly honest and straightforward. I am confused. When Seattle released
T.J. Houshmandzadeh
and Baltimore picked him up, we ended up paying the salary. However, when Minnesota released Moss, I was told that whatever team grabbed him would have to pay his $3 million salary. How do the two situations differ and if there were less salary considerations, would another team have gotten him?
Mike Sando:
Good question. The waiver system was the difference. No team claimed Houshmandzadeh off waivers. He cleared waivers and became a free agent. At that point, another team could sign him to a new contract, with Seattle paying the difference between his new salary and the guaranteed portion of his Seahawks salary.
In Moss' case, the Titans claimed him off waivers. This means they claimed his Vikings contract, too.
---
Daryl from Virginia writes:
Is anybody looking at David Terrell coming back into the league and is he playing anywhere today?
Mike Sando:
Mike Williams
' resurgence with the Seahawks probably has a few former NFL receivers thinking they've got a shot. Terrell tried out with Kansas City in mid-September last season. I haven't heard anything about him and do not see his name
listed with the UFL
. Terrell and
Koren Robinson
were the top two receivers chosen in the 2001 draft.
---
Richard from Stockton, Calif., writes:
Do you think it's possible for the 49ers to win the division following a 2-6 start? They've got eight games left and five against division foes. Please help Rams fans realize that no rookie will lead his team to a division title without receiver help.
Mike Sando:
The Rams do have a shot at the division title because they have the best quarterback. The remaining schedule works against them, but the rest of the division works for them. Where are the Seahawks, Cardinals and 49ers headed?
Arizona has the best shot, in my view, if the Cardinals get even decent consistency from from the quarterback position. Do we have any evidence they'll get decent consistency from that position? No.
Seattle was looking good a couple weeks ago, but
the injury situation
has become ridiculous.
Anyone following the 49ers should have questions about their coaching and quarterback situations. Those two areas tend to be important. The 49ers play four of their final six games on the road. They are 0-4 in opponents' stadiums this season. They went 1-6 in their final seven road games last season.
November, 4, 2010
11/04/10
5:25
PM ET
The
Arizona Cardinals
' struggles at quarterback have invited criticism over the team's handling of the position.
One key question, addressed during
the most recent NFC West chat
: Would the team be any better off with
Matt Leinart
instead of
Derek Anderson
and
Max Hall
?
"I don't think there's any question," Chuck Price said by phone Thursday.
[+] Enlarge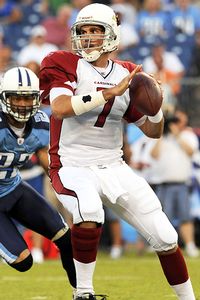 Jim Brown/US PresswireMatt Leinart never lived up to expectations in Arizona.
Price ranks among the most ardent Leinart supporters. Leinart has counted Price as
one of his advisers
and closest confidants while Tom Condon takes the lead on contract negotiations.
Price reached out this week after reading
my comments regarding Leinart
on Monday. My take then:
Matt Leinart is looking better every week. I realize he wasn't the franchise quarterback Arizona wanted him to be, but the Cardinals would be in better position if he remained among their options at the position. The team has basically exhausted its options at quarterback with nine games remaining. Nine games is a long, long time when Anderson and Max Hall are throwing interceptions. Leinart continues to sit the bench for Houston. The Cardinals got nothing in return for him.
The Cardinals' handling of Leinart remains topical. Leinart was a first-round draft choice and an increasingly polarizing figure as the Cardinals decided what to do following
Kurt Warner
's retirement. With Leinart now the third quarterback in Houston, Price offered thoughts on what happened to Leinart in Arizona, what could have been different and what happens next.
You said the Cardinals would be better off with Leinart. Why?
Chuck Price:
Basically, from my point of view, he spent a lot of time maturing and developing as a quarterback under Kurt, and where he was at the beginning of the maturation process was above what the typical rookie curve is. In the games he started as a rookie, take away two missed field goals and he is 2-0 in his first two starts against Kansas City and Chicago. He goes on the road and throws for 400 yards against Minnesota. He leads a home win over Seattle. All of this is in the turmoil of the offensive coordinator losing his job, the quarterbacks coach goes to the offensive coordinator and you have a rookie going with no quarterbacks coach. His performance as a rookie alone -- and I also throw in last year's game against Tennessee, where on no notice he played a mistake-free game in a hostile environment. If the Arizona quarterbacks this year were playing mistake-free football, they would be on the positive side of a winning record.
Leinart did have a winning vibe about him as a rookie, but it didn't seem to be there as much toward the end, for whatever reason. Point-blank question: Which Arizona defeats this season would you slide into the win column if Leinart had been starting?
Chuck Price:
I don't think it makes a difference in Atlanta, but I do feel that based on his ability to manage a football game, they are going to beat Tampa Bay and have a better chance at Seattle, where the Seahawks couldn't take advantage of the opportunities they had. The team would have taken on a different characteristic, a little more stability. The QB accounted for at the very minimum a 14-point swing in the Tampa Bay game. That is the only one you can really point to, but if you go to the entire preseason, you can say he didn't really do something to keep the position, or did somebody completely outplay him? You can point at what you see. You cannot guess what would happen.
Coach Ken Whisenhunt liked how the team responded when Anderson and Hall were under center, the implication being that Leinart was short in the leadership department.
Chuck Price:
I think when Matt was at USC and when Matt was in high school and when Matt was a rookie, Matt was a leader. Everybody leads in a different way. You could take a receiver out of the mix at USC, you could take a running back out of the mix, but you could not take Matt out of the mix and still be where they were at. He had a certain amount of energy that rallied those players. The locker room is a strange place in the NFL. It's 45 guys but not all 45 guys (saying Leinart wasn't a leader). Maybe that is how Coach Whisenhunt saw the locker room or how he wanted to see the locker room. It was completely misleading.
How do you know that?
Chuck Price:
To me, it's misleading. I don't think Matt was given a chance to lead that team. If you are the quarterback going into training camp and you complete better than 80 percent of your balls with no interceptions and the other guy is throwing interceptions, I am not understanding how you lose your position as the starting quarterback. It's unlike when he did go into camp as the starter and was really outperformed by Kurt. That was a decision that was justified when it was made and justified on the back side.
The Cardinals did not get into the end zone [with Leinart] until Matt's third preseason game [this year], but I don't know. If your quarterback is 19-for-24 for however many yards and no turnovers, the way the NFL reads this year, you are going to be in position to win that game in the fourth quarter. Clearly, his leadership skills were not the skills Coach Whisenhunt was looking for, but I think he was an extraordinary leader. You don't have to beat your chest. You put in your time and learn. Preseason football is a lot different from regular-season football. I think Max Hall will tell you that.
Was it a personality thing between Leinart and Whisenhunt?
Chuck Price:
It was completely. He had his view about the way a quarterback was supposed to lead. Coach Whisenhunt was a blue-collar football player who made the most of his career. He was very, very unheralded and probably feels he earned everything he got through unbelievable hard work and a 24-7 commitment. In his mind, he did not see that in Matt. Maybe he did not look hard enough. Maybe he could not get past the fact Matt was a Heisman Trophy winner out of USC and had a reputation that was given to him that was not really Matt's fault. That was the perfect storm. The personality of Coach Whisenhunt and what he achieved and how he achieved it as a player was unbelievable.
What is the next step for Leinart?
Chuck Price:
This is the transition. The past is now behind us and the future is very bright. I think there is some justification for that thought. He is learning now under an unbelievable quarterback head coach, a guy who was very, very into Matt when Matt was coming out. He was very aware of who Matt was and liked the skill set. The word out of Houston so far is all positive. There are going to be a lot of quarterback openings and not a lot of guys out there that have the NFL experience that Matt has. He has not played in a lot of games for a guy who has played five years. He's healthy. Four years under Kurt is invaluable. When he gets the chance, he will show.