NFC West:

Cleveland Browns
September, 2, 2014
Sep 2
8:00
AM ET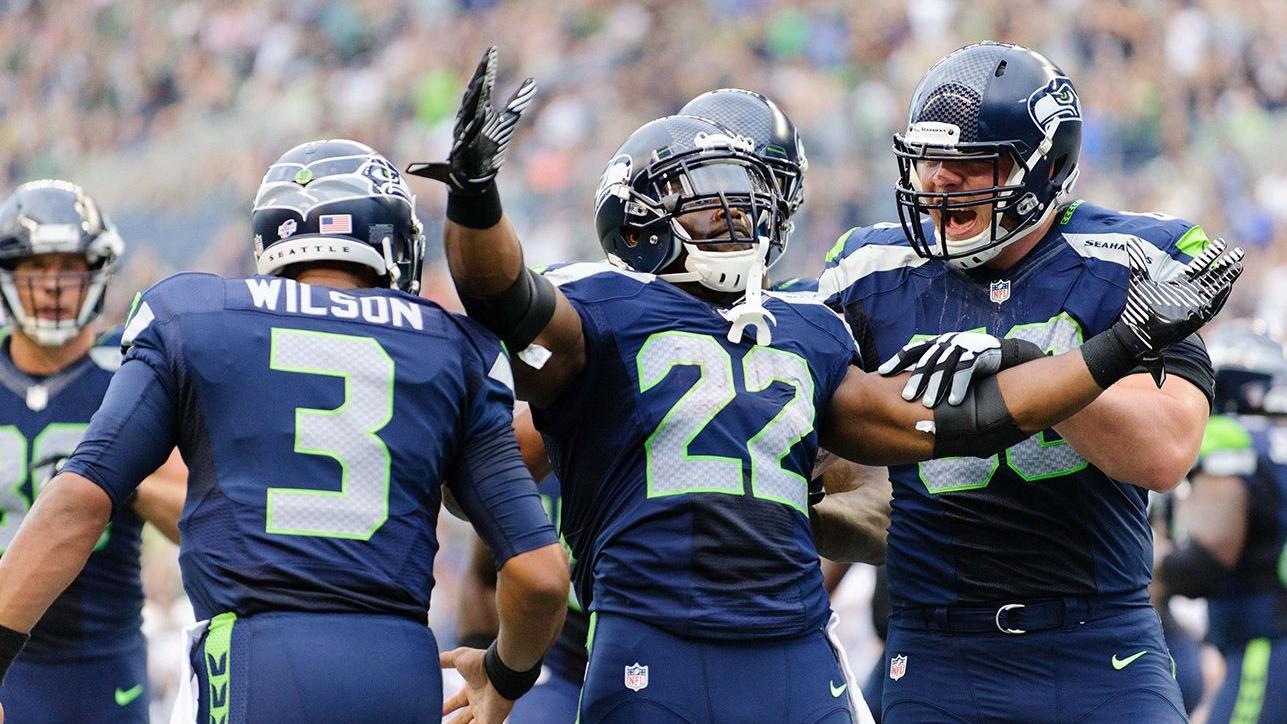 ESPN.com
Seattle Seahawks
reporter Terry Blount makes his game-by-game picks for the 2014 season.
Week 1: Green Bay Packers
All the pregame hype will center around the so-called Inaccurate Reception, the controversial Hail Mary catch by Golden Tate two years ago that won the game over the Packers at Seattle on a Monday night. Tate has moved on to Detroit, but the Seahawks now have too many weapons for the Packers to stop, no Hail Mary required. Prediction: Win
---
Week 2: at San Diego Chargers
The Chargers better hope they play a lot better than they did in the preseason game at Seattle, a 41-14 victory for the Seahawks on Aug. 15. San Diego will play better, but not good enough to beat a much better team. Prediction: Win
---
Week 3: Denver Broncos
The Broncos and their fans got a tiny bit of meaningless Super Bowl revenge in the preseason opener with a 21-16 victory over the Seahawks in Denver. Enjoy it while it lasts, boys. Repeating that outcome in Seattle is not an option. Prediction: Win
---
Week 5: at Washington Redskins
Traveling coast to coast to play on the road for a Monday night game is a tough task against any NFL opponent, and even tougher against quarterback Robert Griffin III. But the Seahawks catch a break in this one by coming off a bye week with plenty of time to prepare and be fresh for the journey. Prediction: Win
---
Week 6: Dallas Cowboys
Cowboys owner Jerry Jones gave Seattle a little bulletin-board material last month when he said the Seahawks were to blame for the increase in penalty flags during the preseason. There won't be near enough flags against Seattle for the Cowboys to win this one. Prediction: Win
---
Week 7: at St. Louis Rams
Any division game in the NFC West is a rugged battle. The Rams have a defensive line that gave the Seahawks problems a year ago. But they aren't strong enough overall to beat Seattle, even at home in their out-of-date dome. Prediction: Win
---
Week 8: at Carolina Panthers
The Seahawks were fortunate to win the season opener at Charlotte a year ago. That Panthers team was better than this one, but back-to-back road games against very physical defensive teams will end the Seattle winning streak. Prediction: Loss
---
Week 9: Oakland Raiders
Coming off their first loss of the season and returning home against an outmanned opponent, is there any doubt? Prediction: Win
---
Week 10: New York Giants
The Seahawks easily defeated the Giants 23-0 last year in New Jersey, a dress rehearsal for their Super Bowl victory at the same location -- MetLife Stadium. The Seahawks won't need a rehearsal to roll past the Giants in this one. Prediction: Win
---
Week 11: at Kansas City Chiefs
This likely will be a low-scoring game between two strong defensive teams. Odds are against any team that has to try to win by matching its defense against the Seahawks' D. Prediction: Win
---
Week 12: Arizona Cardinals
The last time the Cardinals played at CenturyLink Field was last December when they handed the Seahawks a 17-10 loss. That won't happen again unless the Seahawks get caught looking ahead to the 49ers game. The Seahawks don't look ahead. Prediction: Win
---
Week 13: at San Francisco 49ers
It's a Thanksgiving night, national TV game in the 49ers' shiny new stadium against the hated Seahawks. If San Francisco can't win this one, its time as a championship contender is over. Prediction: Loss
---
Week 14: at Philadelphia Eagles
This is the toughest part of the season for the Seahawks with back-to-back road games against likely playoff contenders. But the 10 days between games will help and be enough of a cushion to keep Seattle from losing two in a row. Prediction: Win
---
Week 15: San Francisco 49ers
This is a game that could decide which team wins the NFC West. No way the Seahawks lose to the 49ers twice in three weeks, especially not in front of a rabid full house of 12s. Prediction: Win
---
Week 16: at Arizona Cardinals
The Cardinals probably will be fighting for a playoff spot, and the Seahawks already will be in at 12-2. That difference will be just enough for Arizona to win at home in the same stadium where the Seahawks will win the Super Bowl a few weeks later. Prediction: Loss
---
Week 17: St. Louis Rams
For the second consecutive year, the Rams close the regular season in Seattle. And for the second consecutive year, the Seahawks will beat them without much trouble. Prediction: Win
---
Predicted Record: 13-3
February, 7, 2014
Feb 7
3:00
PM ET
ST. LOUIS -- We're still months away from May's NFL draft, but that doesn't mean it's too early to start looking at the many possible permutations of how things could shake out.
The
St. Louis Rams
aren't having an open auction for the No. 2 overall pick like they did in 2012, but general manager Les Snead has already indicated a willingness to move it. Without a pair of clear-cut top quarterbacks, the market may not be in a hurry to make a move which could leave the Rams waiting until they're on the clock before making a deal. As the combine approaches along with pro days, prospects will become more valued and the market could crystallize.
Free agency is also likely to have an impact on potential trade partners as teams fill needs in other avenues. For now, we'll take a look at a possible Rams trade partner each week for the next six weeks.
[+] Enlarge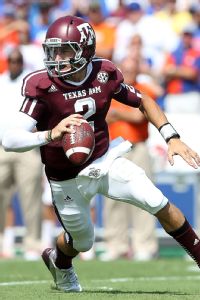 Ronald Martinez/Getty ImagesThe Browns reportedly are interested in Texas A&M QB Johnny Manziel.
Today, we take a look at the team the Rams nearly made a deal with in 2012 and the only other team that currently holds two first-round picks (Nos. 4 and 26), the
Cleveland Browns
.
Why Cleveland makes sense:
Two years ago, the Browns attempted to get into a bidding war with Washington to move up to get the No. 2 pick from the Rams and select
Robert Griffin III
. Failing that, there were whispers that Cleveland also attempted to pry
Sam Bradford
away from the Rams. Neither came to fruition, which is why the Rams hold the No. 2 pick again this year.
In Cleveland, the need for a quarterback remains despite the Browns' using a first-round pick that year on
Brandon Weeden
and attempting to plug in other options along the way. The Browns again have the necessary ammunition to move up to get the quarterback they want as they have two first-round choices just like they did in 2012. It's a different regime in charge in Cleveland now but if the Browns have a quarterback they love, it's reasonable to assume this group won't make the same mistake as its predecessors.
With those two first-rounders this year and a lofty pick in the second round, Cleveland could probably offer the Rams more than enough to jump the two spots from No. 4 to No. 2 and still get the quarterback it might covet. If South Carolina defensive end
Jadeveon Clowney
goes first, that could mean having the first crack at a quarterback in this year's class. If not, the Browns could at least land the second signal-caller in the draft and still have it be the one they want most.
From the Rams' perspective, Cleveland is the ideal trade partner. The Browns have the assets needed to meet the Rams' potential price and St. Louis would be able to stay in the top four where it could still land an elite offensive tackle, wide receiver or possibly even Clowney. In a perfect world, the Rams could get both first-round choices from the Browns but that would depend on who Cleveland would be moving up for and what other bidders would enter the fray.
For what it's worth -- remember, there's plenty of misinformation out there at this time of year -- there have already been reports that the Browns are willing to move up to land Texas A&M quarterback
Johnny Manziel
.
Why Cleveland doesn't make sense:
It's still very early in the process but there isn't a quarterback in the draft that has clearly emerged as a Griffin or
Andrew Luck
type of prospect coveted by multiple teams. The scouting combine and pro days should help in that regard but there's still no guarantee that any of them will prove worth moving up for. Theoretically, the Browns could view all the top quarterbacks in a similar vein and remain content to sit at No. 4 and hope their guy is still there or grab the next best thing.
Beyond that, Cleveland also has a couple of other quarterback options.
Brian Hoyer
played well for the Browns before suffering a season-ending injury in 2013. He's expected to return and could get another shot. New offensive coordinator Kyle Shanahan also has close ties to Washington backup
Kirk Cousins
and it's possible the Browns could make a trade for him or even New England's
Ryan Mallett
without having to surrender a first-round pick. That would allow the Browns to bolster their receiving corps with someone like Clemson's
Sammy Watkins
or another weapon to complement
Josh Gordon
and tight end
Cameron Jordan
.
If indeed Cleveland is willing to offer a premium package to make a move, it also stands to reason it will first go to the
Houston Texans
at No. 1 overall as a possible trade partner. It's not that logical for the Browns to try to move up to get a quarterback unless it guarantees they'll get exactly the guy they want. The only way to do that with absolute certainty is to deal with Houston for the No. 1 selection.
August, 10, 2013
8/10/13
8:10
PM ET
EARTH CITY, Mo. -- Working as the color analyst for Cleveland's preseason television broadcast, former Browns quarterback
Bernie Kosar
did not hold back with his observations and opinions during Thursday night's game against the
St. Louis Rams
.
Through the course of the broadcast, Kosar was regularly critical of the Rams, focusing much of his ire on the team's wide receivers and backup quarterback
Kellen Clemens
.
[+] Enlarge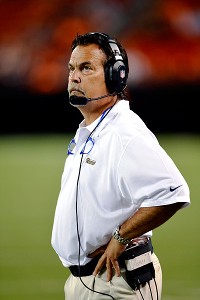 AP Photo/G. Newman LowranceJeff Fisher said he isn't fretting over the high amount of penalties that his Rams committed during the preseason.
Asked about it on Saturday, Rams coach Jeff Fisher first noted that he believes the Browns to be a "first-class organization" before making it clear he was none too pleased with Kosar's idea of color commentary.
"I guess I'm a little disappointed," Fisher said. "I feel bad for them that they had someone doing the broadcast who would feel the need to speak that way about players, specifically on our team, and coaches for that matter. I'm just surprised that Bernie has such a lack of respect for players and for this game. So I lost a lot of respect for him."
Kosar didn't waste much time in trashing the Rams, and did so repeatedly throughout the evening.
After an incomplete pass intended for
Tavon Austin
: "I really think that he didn't overthrow him and that Austin has to make that catch in the NFL. I see why Sam [Bradford] has been struggling watching how bad these receivers have been for him."
After
Nick Johnson
dropped a pass: "This is actually not a bad throw. These St. Louis receivers are horrible. That's a drop there."
When play-by-play man Jim Donovan asked Kosar what he'd think if he knew that some of the Rams receivers' parents were watching, Kosar said he "would be embarrassed."
Kosar then turned his attention from to receivers coach Ray Sherman.
"I'm checking through the itinerary here of guys and coaches to see who the receivers coach is to make sure I don't know who this guy is because he's not doing very good either," Kosar said.
[+] Enlarge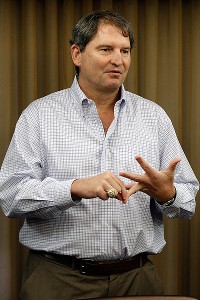 AP Photo/Mark DuncanA former quarterback, Bernie Kosar said particularly harsh things about Rams QB Kellen Clemens.
Kosar did offer praise to Rams quarterback
Sam Bradford
, but he didn't feel the same way about Clemens. In fact, many of Kosar's comments came off as though he held a personal vendetta of some sort against Clemens. When Donovan told Kosar, who had been asking for the use of a telestrator throughout the evening, that he might get one if he were on his best behavior, Kosar responded with a seemingly out-of-nowhere shot at Clemens.
"I must not be because the next quarterback in, me and him haven't done too well with each other, too," Kosar said.
Clemens wasn't in the game at the time.
Later, when Clemens entered the game, Donovan relayed a story about Clemens giving an autograph to Pope Benedict XVI. Kosar said he didn't think he'd ever want it, and then took another shot at Clemens.
"Bless me, Father, for I have sinned," Kosar said. "I have to watch him the whole fourth quarter."
On Saturday, Fisher said he didn't believe Kosar had studied the Rams well enough to be making such sweeping generalizations.
"I didn't think they were justified," Fisher said.
Some notes from practice:
August, 8, 2013
8/08/13
11:24
PM ET
A look at how the
St. Louis Rams
fared in five areas worth watching in Thursday night's
27-19 loss
at the
Cleveland Browns
in the preseason opener.
Running back breakdown
As expected,
Daryl Richardson
got the start and did nothing to jeopardize his chances to get the next one. He carried four times for 24 yards, helping set up the only touchdown scored by the first-team offense before calling it a night.
[+] Enlarge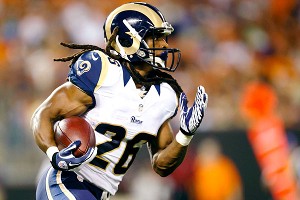 Rick Osentoski/USA Today SportsDaryl Richardson is expected to get the bulk of carries this season for St. Louis.
Isaiah Pead
also got work with the first team but got off to a rough start when he coughed up a fumble to kill the offense's first drive. Ball security was an issue for Pead in limited opportunities in 2012 when he fumbled twice at San Francisco, losing one. He showed some resiliency by posting 16 yards on his next two carries to finish with 18 yards on three chances.
Rookie
Zac Stacy
, who didn't practice on Monday or Tuesday, did play and had an up-and-down start before getting it going in the second half. His first three snaps consisted of a catch for 6 yards, a drop and a stout blitz pickup.
Stacy looked more comfortable in the second half though he wasn't at full speed and finished with 23 yards on seven carries.
Benjamin Cunningham and
Chase Reynolds
came in for mop-up duty late. Cunningham showed some juice with a late 6-yard run that drew praise from Rams analyst Marshall Faulk and later tacked on a 36-yard kick return to set up the Rams' final touchdown.
Terrance Ganaway
, who appeared to tweak his leg near the end of Tuesday's practice, was a pregame scratch.
Backing up Bradford
After spending the first couple weeks of camp rotating with
Kellen Clemens
,
Austin Davis
got the first opportunity behind starter
Sam Bradford
.
Davis struggled to gain traction before connecting with receiver
Brian Quick
for a 16-yard gain to set up a field goal. He was up and down the rest of the way behind spotty protection, finishing 9-of-16 for 96 yards.
Clemens entered with around seven minutes to go and the Rams backed up to their 1-yard line. After he completed his first attempt for a first down, Browns defensive lineman
Justin Staples
intercepted Clemens to set up the Browns' final points.
Clemens got those points right back with a 53-yard touchdown pass to receiver
Raymond Radway
after escaping the pocket and dropping it off to Radway. He finished 6-of-13 for 116 yards with the touchdown and two interceptions.
All told, Clemens looked sharper than Davis as he nearly engineered a rally from down two scores to give the Rams a chance to tie. This battle is far from over, though.
First look at Austin
Rookie receiver
Tavon Austin
was probably the player everyone was most excited to see debut in the opener. The wait will have to last longer for those hoping to see him with the ball in his hands.
Bradford targeted Austin once and the rookie wideout couldn't corral a seemingly catchable ball to convert on third down. It was the only time Austin had the ball thrown his way on the evening.
Austin also dropped back to return a punt but the kick came up well short of him and he didn't get the chance to catch it.
Left guard looks
Chris Williams
got the start at left guard over
Shelley Smith
, though both got their opportunities. Williams was on the field for the first-team offense's touchdown drive and helped open holes for Richardson to gain 18 yards on two carries to set up the score.
Smith played the majority of the snaps in the second half.
Rookie defenders
The Rams' first-team defense struggled to get off the field, allowing the Browns to convert three third downs on their opening drive and once more for a touchdown on their second.
At the heart of those struggles were the Rams' two rookie starters. Linebacker
Alec Ogletree
scuffled in coverage as Browns tight end
Jordan Cameron
and running back
Dion Lewis
beat him for big plays. He finished with two tackles in unofficial statistics.
Safety
T.J. McDonald
got off to a difficult start when he whiffed on a tackle to allow Cleveland's first drive to continue. He did bounce back to post five tackles, according to unofficial statistics.
August, 22, 2010
8/22/10
12:01
AM ET
By
ESPN.com staff
| ESPN.com
December, 15, 2008
12/15/08
4:55
PM ET
Posted by ESPN.com's Mike Sando
The Seahawks' victory over the Rams leaves St. Louis in the lead for the No. 2 overall choice in the 2009 draft.
The next two weeks will probably affect the eventual order at the top of the draft, but here's how the top 10 would shake out at present, according to the league:
1. Detroit (0-14)
2. St. Louis (2-12): The last five players drafted second overall were Chris Long (Rams), Calvin Johnson (Lions), Reggie Bush (Saints), Ronnie Brown (Dolphins) and Robert Gallery (Raiders).
3. Kansas City (2-12)
4. Cincinnati (2-11-1)
5. Seattle (3-11). The last five players drafted fifth overall were Glenn Dorsey (Chiefs), Levi Brown (Cardinals), A.J. Hawk (Packers), Cadillac Williams (Bucs) and Sean Taylor (Redskins).
6. Oakland (3-11)
7. Cleveland (4-9)
8. San Francisco (5-9): The last five players drafted eighth overall were Derrick Harvey (Jaguars), Jamaal Anderson (Falcons), Donte Whitner (Bills), Antrel Rolle (Cardinals) and DeAngelo Hall (Falcons).
9. Jacksonville (5-9)
10. Green Bay (5-9)

The Rams would be picking second overall for the second year in a row. They've addressed the defensive line early in recent drafts. This might be time to help the offensive line. Orlando Pace certainly worked out well for them as an early pick.
The Seahawks haven't picked in the top five since selecting Shawn Springs third in 1997. They also picked up Walter Jones (sixth overall) that year.
The 49ers last picked among the top eight when they selected tight end Vernon Davis sixth overall in 2006.
September, 9, 2008
9/09/08
11:16
AM ET
Posted by ESPN.com's Mike Sando
NFL teams rarely lose their starting quarterback to a season-ending injury in the opener. That comes as no consolation to the Patriots as they move on without Tom Brady. But a couple of NFC West teams have changed starters after Week 1, with positive results.
The Rams benched two-time MVP Kurt Warner for Marc Bulger following the 2003 opener. Warner fumbled six times in Week 1. Bulger took over and kept the job. He finished that 2003 season with 22 touchdowns and 22 interceptions before becoming more efficient in subsequent seasons.
In 1997, the Seahawks lost starter John Friesz to a broken thumb during a 41-3 opening-week loss to the Jets. Warren Moon took over and passed for 3,678 yards with 25 touchdowns as Seattle finished the season ranked No. 1 in passing yards.
Current Seattle backup Charlie Frye started the 2007 opener for Cleveland, only to have the Browns trade him to the Seahawks. Derek Anderson took over for Cleveland and earned a spot on the AFC's Pro Bowl squad.
The Patriots will surely tumble in our upcoming power rankings, but it's premature to write them off. The next Bulger or Anderson could already be on their roster. Unfortunately for New England, there's only one Tom Brady.
September, 4, 2008
9/04/08
12:30
PM ET
Posted by ESPN.com's Mike Sando
Bill from Pearl River writes: It is inconcievable to think that Deacon Jones did not get the best ever all-time Ram player ever! I'm a lifetime 48 yr old Ram fan from NY and I loved Faulk(played half with Colts) but there is nobody even close to the Daec! when and who voted for this? Was it the typical 22 yr old uneducated ESPN junkie? or was it the equally uneducated media?

Mike Sando: My unofficial exit polling showed 44 percent of ESPN.com poll respondents owned advanced degrees in engineering or biological sciences. Another 32 percent were published NFL historians. Seriously, though, what about Merlin Olsen?
---
Will from Salem, Mass., writes:
Mike, thanks for the insights all summer on the NFC West teams and specifically the Rams. Regarding predicting their '08 record, I think you're close. I see them as 7-9. Game-by-game is hard to predict, but I see 3-3 vs. the NFC West, 1-3 vs. the NFC East, 1-3 vs. the AFC East, and 2-0 vs. Chicago and Atlanta. 6 and 8 wins are both possible, but either one depends on if the Rams are healthier or more injured than average.
Mike Sando: Thanks, Will. I actually picked the Rams as a wild-card team last season. I was looking for a team that would break through somewhat unexpectedly. I narrowed my choices to the Packers and Rams. We all know how that one turned out. The Rams wound up using 18 combinations on their offensive line. As a result, I might be a little gun-shy on the Rams this season. Their depth isn't very good, it appears, and the schedule seems to stack up unfavorably early in the season.
---
John from Bremerton writes: do you think the seahawks will unload T.J. Duckett before the second or third game? He seems like a player who will be the odd man out since between Leonard Weaver and Omar Schmitt they seem to have three short yardage go to guys

Mike Sando: That would surprise me. The Seahawks clearly signed Duckett with more than one season in mind. That's why they gave him guarantees in 2009. Maurice Morris' contract is up after this season. Duckett gives them another potential guy to share carries with Julius Jones.

August, 16, 2008
8/16/08
8:57
PM ET
Posted by ESPN.com's Mike Sando

S

EATTLE -- The Seahawks and Bears have left the field for the locker rooms one last time before their exhibition game tonight at Qwest Field. The temperature in Seattle is 86 degrees with 34 percent humidity, warm for these parts. Winds are from the northwest at 10 miles per hour. Skies are clear but a little hazier than usual. Sideline mist machines are blowing moisture onto the bench areas, but both sidelines are in the shade.
Scouts representing the 49ers, Chargers, Steelers, Raiders, Saints, Jets, Eagles, Jaguars, Cowboys, Browns and Bills have secured credentials to watch this game from the pressbox. They'll be watching for bubble players who might become available when teams reduce roster sizes.
Seattle has some difficult decisions to make because the Seahawks are deep at a few positions. A dozen members of Seattle's 80-man roster will not play tonight. They are: punter Ryan Plackemeier, receiver Joel Filani, defensive back Jordan Babineaux, snapper Tyler Schmitt, linebacker Will Herring, center Chris Spencer, defensive tackle Red Bryant, receiver Deion Branch, receiver Bobby Engram, defensive lineman Chris Cooper, defensive tackle Larry Tripplett and defensive end Patrick Kerney.
Charlie Frye will start at quarterback for the Seahawks. The team wants to get a long look at him tonight, the hope being that Frye will play well enough for coach Mike Holmgren to feel better about using No. 2 quarterback Seneca Wallace as a receiver and/or punt returner.
Nate Burleson and Courtney Taylor are starting at receiver for Seattle. Julius Jones starts at running back. He'll be looking to answer Maurice Morris' strong showing in the first exhibition game. Morris and Jones are fighting for a starting spot. Both are expeted to play extensively this season. Rookie first-round choice Lawrence Jackson is starting at right defensive end, with Darryl Tapp starting in Kerney's usual spot on the left side. Jackson has a shot at beating out Tapp for the starting job on the right side.
August, 4, 2008
8/04/08
10:21
AM ET
Posted by ESPN.com's Mike Sando
Geography is an unyielding opponent. The Seahawks know this better than any team in the league. The NFC West knows this better than any division.
Seattle will log a league-high 34,766 air and ground miles over the course of two exhibition road games and eight regular-season road games. At the other end, Cleveland is scheduled to cover only 6,416 miles this season. The numbers come from the NFL's information guide for 2008.
NFC West teams are scheduled to travel 114,616 miles, up from 113,620 last season. Both figures were league highs.
The Seahawks are scheduled to travel more miles this season than AFC North teams combined. Seattle has traveled 68,622 miles over the last two seasons, most in the league. Pittsburgh has traveled a league-low 18,636 miles over the same period.
The travel has seemed to catch up with Seattle during East Coast games that kick off at 10 a.m. PT. Coach Mike Holmgren has changed up travel plans to compensate, but body and mind can be tough to fool. Getting ready for an early kickoff means waking up around 5 in the morning Pacific time.
July, 30, 2008
7/30/08
3:32
PM ET
Posted by ESPN.com's Mike Sando

Staley
SANTA CLARA, Calif. -- The 49ers are excited about Joe Staley taking over at left tackle. Others are taking notice as well. Former NFL scout Tom Marino, now with Scout.com, ranks Staley among the 10 best left tackles in the NFL, according to the St. Louis Post-Dispatch.
Marino's top five: Buffalo's Jason Peters, St. Louis' Orlando Pace, Seattle's Walter Jones, Dallas' Flozell Adams and Carolina's Jordan Gross. Marino then lists Staley among five players receiving honorable mention.
The other four: New England's Matt Light, Washington's Chris Samuels, Cleveland's Joe Thomas and Philadelphia's Tra Thomas.
Marino's assessment draws three of the 10 left tackles in the league from the NFC West. Pace has hardly played over the last two seasons, however, and Jones has battled through injuries that have prevented him from dominating as thoroughly. Pace and Jones are feeling better this summer. Their teams will improve if they regain top form.