October, 3, 2014
10/03/14
8:00
AM ET
One has been a league power broker, one wants to be.
And when the
Denver Broncos
and
Arizona Cardinals
get together Sunday afternoon in Sports Authority Field at Mile High, the Broncos (2-1) will try to knock some of the rough edges off while the Cardinals (3-0), one of just two teams to arrive to Week 5 undefeated, will try to show they are ready to be at the front of the line.
Cardinals reporter Josh Weinfuss and Broncos reporter Jeff Legwold take a look at the game.
Legwold:
At 3-0, how do the Cardinals see themselves? Upstart in NFC? Or team that believes it should have made the playoffs last year and is ready to take the next step to be in this postseason mix this time around?
Weinfuss:
If there's one thing the Cardinals don't see themselves as, it's an upstart team. That much was instilled in them by Bruce Arians last season. Especially after upsetting Seattle at home last December, this team believed it should've been in the playoffs. And with how they played in the second half of the season, it's hard to argue with them. But the Cardinals who returned this year learned a lot from last season's first half, most notably how important it is to win those early games. What they're doing now isn't a surprise to those who pay attention to this team, and a lot of it is a direct result of Arians' demeanor. His straight-shooting personality -- curse 'em out on the field but hug 'em off of it -- has rubbed off on everyone in the locker room. It has led to this team to believe it could win for the first time since Kurt Warner was here.
Speaking of learning from last year, what was the main thing the Broncos took away from last season's loss in the Super Bowl, and how have they used it in 2014?
Legwold:
The main thing GM John Elway took away was he wanted far better personnel on defense and some more receivers who could battle their way through physical play from defensive backs. The result was an offseason spending spree that reeled in
DeMarcus Ware
,
Aqib Talib
and
T.J. Ward
on defense to go with wide receiver
Emmanuel Sanders
. The Broncos also used a first-round pick in the draft on cornerback
Bradley Roby
and a second-rounder on wide receiver
Cody Latimer
. So, the 35-point loss certainly forced a roster makeover and for the holdovers it did provide plenty of incentive as they went through the offseason workouts. There is a feeling, after the overtime loss to the
Baltimore Ravens
in the divisional round of the 2012 playoffs followed by the Super Bowl blowout, of trying to finally close the deal this time around.
In terms of roster makeover, with all that has happened to the Cardinals' defense with the injuries, etc., how have they pushed themselves into the league's top five?
Weinfuss:
Nobody expected Arizona to be among the league's top five defenses this year after losing the likes of
Karlos Dansby
and
Daryl Washington
before the season and then
Darnell Dockett
during training camp and
John Abraham
in the first few weeks of the year. But credit must be given to the Cardinals' front office. The brain trust has done a good job of finding veterans who still have gas in the tank, such as linebacker
Larry Foote
and defensive lineman
Tommy Kelly
. But the biggest reason for the defense's success is defensive coordinator Todd Bowles. His single-gap scheme revitalized this defense last year and all he has been doing is adding wrinkles here and there to adjust to his personnel. For example, Arizona is running a lot of nickel and dime packages because it gets rookie safety
Deone Bucannon
on the field. For as good of an offensive mind as Arians is, Bowles is his equal on the defensive side.
Have the additions to the Broncos' defense been paying off? Or is it too early to see a difference? Do you think they'll be the difference between another ring and a consolation prize?
Legwold:
The new arrivals have all had impact in the season's early going. Ware leads the team in sacks (2.5), Talib has been every bit the No. 1 corner they hoped he would be and Ward is one of two players on defense who have played every snap in the first three games, having been used in a variety of roles. The Broncos have seen enough from Roby. They've tossed him into the deep end of the pool as the rookie and he has matched up with some of the league's front-line receivers. All of that said, however, the Broncos still haven't consistently shown the kind of play they'll need to hoist a trophy, particularly on third down. As linebacker
Von Miller
and cornerback
Chris Harris Jr.
, who both had ACL injuries last season, continue to work back to full speed, the Broncos should continue to improve. Also, linebacker
Danny Trevathan
, who was the team's leading tackler last season and who suffered a fracture on the top of his tibia in training camp, will play in his first game of the season Sunday. It will mean the Cardinals will be the first team to face the revamped defense with all of the starters in place.
Sticking to defense, Manning heads into this game with 499 career touchdown passes. Between the two of them, Cardinals' assistant head coach/offense Tom Moore and head coach Bruce Arians have seen many of those up close as former Colts assistants. To that end, with that kind of up-close-and-personal knowledge, how do you think the Cardinals will defend Manning and the Broncos' offense?
Weinfuss:
One thing the defense has stayed consistent on this week is that they don't want to tip their hand to Manning before the snap. With that being said, I think they'll blitz him constantly -- all three of his sacks this season have come off the blitz, which, I can imagine, was good news to Bowles. But they won't blitz Manning like they'll blitz other quarterbacks because he's so good at adapting so quickly. Arizona plans on giving Manning the same look every snap. But guys who have played Manning know he'll wait until the very last second to make a decision because the defense will have to show their blitz by then, but the Cardinals will try to hold their disguise as long as possible.
With Manning coming up on such a historic mark, has it been a distraction for this team in the sense of more non-football attention has descended upon them? Are they ready for Manning to pass Brett Favre so they can just get back to focusing on football?
Legwold:
One thing about this team is the swirl around them doesn't get to them very often. Last season they had Miller's suspension in training camp, John Fox's open-heart surgery during the bye week and five defensive starters on injured reserve by the time they were preparing to play in the Super Bowl. The Super Bowl loss may have been the first, and worst, time for the Broncos not to play to the level of a game's standing last season. Before the title-game blowout, they had handled everything that had come their way without losing their edge. This time around players here simply assume Manning will hit 500 and then go on and break the record through the natural course of things. The record is nice, but they want another shot at the title and, for the most part, they see whatever happens along the way as issues that must be dealt with to get that chance.
May, 8, 2014
5/08/14
1:00
PM ET
ESPN draft experts Mel Kiper Jr. and Todd McShay have released their final mock drafts of the year in Insider pieces. Both men have the
San Francisco 49ers
getting a receiver.
In Kiper's mock

, he has Indiana's
Cody Latimer
going to the 49ers at No. 30. If the 49ers -- who reportedly are trying to trade up for a receiver -- stay at No. 30, Latimer would be a tremendous value. I'd be surprised if he is there, as I think he'll go in the 22-26 range.
A lot of people,
including me,
think the 49ers will attempt to trade up for a top receiver such as LSU's
Odell Beckham Jr
.
McShay agrees.

But the rule of this mock is there are no trades. So, McShay admitted he fudged some and had Beckham slide to the 49ers at No. 30. He knows it's unlikely, but because the 49ers' pursuit of Beckham appears real, he made this pairing.
April, 25, 2014
4/25/14
11:00
AM ET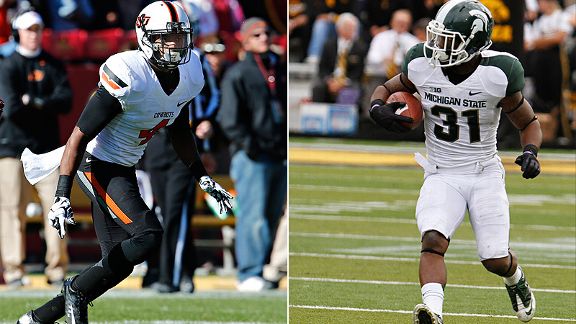 Getty ImagesOklahoma State's Justin Gilbert, left, and Michigan State's Darqueze Dennard are two players who could upgrade San Francisco's defense.
When the May 8-10 NFL draft is complete, the
San Francisco 49ers
will likely have new players at cornerback and wide receiver who will be expected to contribute as rookies.
Those two positions are the 49ers' biggest need areas. They don't have a ton of immediate needs, so filling holes at those two spots is expected. To go along with the fact that they don't have a lot of needs is the 49ers, whose first pick is No. 30, have six picks in the first three rounds, which is the most in the NFL.
So San Francisco is flexible. It can trade up to get a player -- more likely a cornerback than a receiver because receiver is deeper in top-end talent and cornerback is a more pressing need. It can also find a way to trade up and select twice in the first round. Or it can keep its two second-round picks (No. 56 and No. 61).
Let's take a look at some of the players the 49ers could take at each spot. Since the 49ers are more likely to take a cornerback first, we will look at some of the second-tier receivers instead of top options such as Clemson's
Sammy Watkins
and Texas A&M's
Mike Evans
because both players would likely require big trade-ups.
Cornerbacks
Justin Gilbert, Oklahoma State
Why is he a top prospect? He's widely considered the most complete cornerback in the draft by many scouts. He is also a dangerous return man. Of all the players in this draft, he could be worth the 49ers moving up.
What are the risks? There is no sure thing he will be an elite shutdown cornerback. He may just be very good and not worth a high pick.
How could he be the choice? If the 49ers think he is the missing link on their defense and he is worth a trade up of 15 to 18 spots, I could see this happen.
Quotable: "I think I'm a dangerous return man with the ball in my hands, and on an interception there is always a possibility for me to take it back to house," said Gilbert on his playmaking ability.
Darqueze Dennard, Michigan State
Why is he a top prospect? He looks the part and has shown flashes of being a star.
What are the risks? Some teams don't think he is a true No. 1 cornerback. He may not be a perfect fit for every defense, and there are speed questions.
How could he be the choice? If he fell a little bit and if the 49ers have him high on their board, I could see a possible trade up to get him.
Quotable: "I know in the NFL it's a 5-yard radius. I can run with receivers, and I can go get the ball. I don't need to be that aggressive and still play good ball," Dennard said in this interview.
Jason Verrett, TCU
Why is he a top prospect? He is versatile, strong, smart and fundamentally sound. A terrific tackler.
What are the risks? He's small. Many teams want their cornerbacks to be taller.
How could he be the choice? If he is there when the 49ers pick at No. 30, he would be difficult for them to pass up. He'd be a perfect fit in the slot, and the 49ers could go get taller cornerbacks in the second or third round.
Quotable: "If I'm 5-9, I'm 5-9. But I can compete with anybody," said Verrett on his confidence despite his lack of ideal size.
[+] Enlarge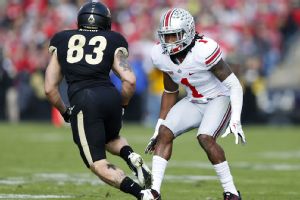 Joe Robbins/Getty ImagesBradley Roby says he learned a lot in his final season at Ohio State.
Bradley Roby, Ohio State
Why is he a top prospect? He's very athletic, and he looks the part.
What are the risks? He doesn't have the greatest ball skills, and he wasn't consistent last season.
How could he be the choice? Maybe if the 49ers want to trade back to the 35-40 range and Roby is still there. I could see value there based on potential.
Quotable: "I think I had a decent season. It wasn't what I expected. The first half of the season didn't go as I expected. Those things happen. I learned a lot from it, and I got better," Roby said of criticisms of his 2013 performance.
Kyle Fuller, Virginia Tech
Why is he a top prospect? He's super fast, and the game doesn't seem too big for him.
What are the risks? There is concern that he might be just a good college player.
How could he be the choice? If he is on the board at No. 30 (no sure thing), I could easily see the 49ers jumping on him. They've scouted him hard.
Quotable: "I moved around in our defensive backfield. I played field, I played boundary. That just shows how versatile I am. I enjoyed playing at Virginia Tech. I definitely consider myself a physical player," Fuller said about the style of play he concentrated on in college.
Receivers
Brandin Cooks, Oregon State
Why is he a top prospect? He is highly productive and polished, complete with top-shelf speed. That's rare.
What are the risks? He is not big and perhaps the NFL game could be too much for him.
How could he be the choice? If he is there at No. 30, the 49ers would have a hard time saying no to him. He could be part of a trade up. I could see the 49ers maybe giving up their two second-round picks to take Cooks at No. 25 and then take a cornerback at No. 30. The Northern California native would look great in a 49ers uniform.
Talking numbers: Cooks led the Football Bowl Subdivision with 32 receptions of 20 yards or longer.
Odell Beckham, LSU
Why is he a top prospect? He is highly athletic, fast and productive.
What are the risks? LSU receivers haven't always had the greatest NFL success.
How could he be the choice? There's a lot to like about Beckham. If the timing is right, I could see the 49ers getting aggressive in their pursuit of him.
Talking numbers: He had an AQ-high 26 receptions on passes thrown 15 yards or longer downfield last season. He had multiple receptions on passes of this distance in seven of 13 games.
[+] Enlarge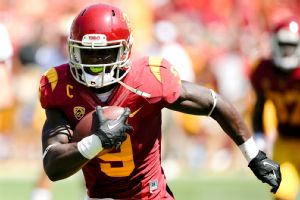 AP Photo/Chris CarlsonMarqise Lee caught 57 passes for 791 yards and four touchdowns in 2013.
Marqise Lee, USC
Why is he a top prospect? He has had success, and he looks the part of a stud No. 1 receiver.
What are the risks? He is not overly fast. He is a bit on the slight side, and he wasn't great in 2013.
How could he be the choice? There has been talk that Lee could fall. If he's there at No. 30, the 49ers may be tempted. Perhaps they could see how far he would drop in the second round and then make a move for him.
Talking numbers: USC quarterbacks completed 69.7 percent of their pass attempts, with 29 touchdowns and just one interception, when targeting Lee in his career.
Kelvin Benjamin, Florida State
Why is he a top prospect? He's a big, strong, impact player.
What are the risks? Some scouts think that he is a bit raw and should have stayed in school for another season.
How could he be the choice? I'm not sure the 49ers would take Benjamin at No. 30 if one of the top cornerbacks is on the board.
Talking numbers: Benjamin gained a first down or touchdown on 83.3 percent of his receptions last season, tied for the third-highest percentage among FBS wide receivers.
Davante Adams, Fresno State
Why is he a top prospect? He is big and strong and was ultraproductive.
What are the risks? Some scouts worry that he hasn't faced great competition and there could be a learning curve in the NFL.
How could he be the choice? If Adams is on the board in the second round, the 49ers could easily take this Bay Area native. Like 49ers coach Jim Harbaugh, Adams played for Earl Hansen at Palo Alto High School. Harbaugh is still close to Hansen, so he has some inside information.
Talking numbers: Adams led the FBS in receptions (131) and receiving touchdowns (24) and ranked second with 888 yards after the catch.
Jordan Matthews, Vanderbilt
Why is he a top prospect? Polished, hard worker who has big upside.
What are the risks? Doesn't have great speed, and some scouts wonder if he will make a big impact in the NFL.
How could he be the choice? He could be a possibility in the second round, although the 49ers might be looking for a receiver with more speed.
Talking numbers: Matthews led all AQ receivers with 44 receptions and 421 yards on screen passes last season. He averaged 9.6 yards per reception on screens, which was 2.5 yards more than the AQ average.
Cody Latimer, Indiana
Why is he a top prospect? Teams are focusing on Latimer. He has top-end length and speed.
What are the risks? Receiver is a high-bust position. There have been good college players like Latimer who have failed before.
How could he be the choice? The 49ers could fall in love with Latimer's speed and try to take him if he is available near the end of the first round.
Talking numbers: In 2013, Latimer caught 72 passes for 1,096 yards and nine touchdowns.
Bruce Ellington, South Carolina
Why is he a top prospect? Small, but strong player who is excellent after the catch.
What are the risks? Not overly polished and doesn't possess great speed.
How could he be the choice? He could be a good value in the second round.
Talking numbers: Ellington had a combed 15 touchdown catches in the past two seasons.