September, 8, 2011
9/08/11
11:02
AM ET
Cool note from ESPN Stats & Information: First-year
San Francisco 49ers
coach Jim Harbaugh is the last quarterback other than
Peyton Manning
to start a regular-season game for the
Indianapolis Colts
.
That will change when
Kerry Collins
replaces an injured Manning in the Colts' lineup for Week 1.
The first preseason game I covered as an NFL beat reporter featured Manning making his first start against the
Seattle Seahawks
in the Kingdome. His very first pass found
Marvin Harrison
for a 49-yard touchdown. Preseason games are generally without much meaning, but could there have been a more fitting beginning for Manning?
For a fuller appreciation of Manning's durability and consistency in starting 227 consecutive games, I went through Pro Football Reference counting how many quarterbacks had started for current NFC West teams since Manning made his regular-season debut. There have been 48. That figure includes 14 for the
St. Louis Rams
, 13 for the 49ers, 11 for the
Arizona Cardinals
and 10 for the Seahawks.
A few notes on the 48 players to start for current NFC West teams since 1998:
There have been two Brocks (Berlin, Huard), two Charlies (Frye, Whitehurst), two named Chris (Chandler, Weinke), two Jeffs (Plummer, Martin), three Johns (Friesz, Navarre, Skelton), one Jon (Kitna), two Matts (Hasselbeck, Leinart), two Shauns (Hill, King), three Steves (Young, Bono, Stenstrom) and two Trents (Dilfer, Green).
Two, Young and Warren Moon, have been enshrined in the Pro Football Hall of Fame since Manning's streak began.
Dilfer and Warner started for more than one current NFC West team since Manning's streak began. Warner started 57 games for Arizona and 50 for St. Louis. Dilfer started 12 for Seattle and six for San Francisco.
Hasselbeck has the most total starts for current NFC West teams with 131, followed by Marc Bulger (95 for St. Louis), Jake Plummer (73 for the Cardinals) and Jeff Garcia (71 for the 49ers).
Smith -- Alex, not Troy -- owns the most starts among current NFC West players with 50, all for San Francisco.
Eight of the 48 were one-and-done as starters: Berlin, Scott Covington, Ty Detmer, Glenn Foley, Friesz, Frye, Navarre and Weinke. Nineteen have made at least 10 starts.
The NFC West will have two starters new to the division in Week 1:
Tarvaris Jackson
and
Kevin Kolb
.
The chart shows start totals by team for the 48. The NFC West changed membership with realignment in 2002. I'm going back to 1998 for the four teams currently in the division.
April, 17, 2011
4/17/11
9:45
AM ET
Some narration is in order while looking back at every quarterback current NFC West teams have selected over the past 15 NFL drafts.
Back up the Brink's truck. We're all in with these guys ...

Rolling the dice at the top of the draft is risky. Good thing so many top quarterbacks are available a little later ...
How are these guys still on the board? We must know something other teams do not ...
You mean we haven't selected a quarterback yet? Better grab one now ...

Signing free agents after the draft is a pain. Let's save some time, and if we luck into the next Tom Brady, everyone will call us geniuses ...

February, 2, 2011
2/02/11
12:48
PM ET
Thank you, Seahawks fan Shane Rego, for
pointing me
toward
Football Outsiders' in-depth look
at the 1992 NFL season.
[+] Enlarge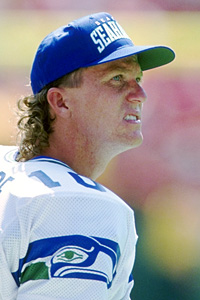 Earl Richardson/Getty ImagesQuarterback Dan McGwire was part of a much-maligned Seattle offense in 1992.
Football Outsiders' statistical analysis has revealed the
Seattle Seahawks
' infamous, notorious, sulfurous 1992 offense to have been even worse than the
San Francisco 49ers
' historically, hysterically inept 2005 version. The analysis compares each play during a season with similar plays for every team in the league. The resulting metric, termed Defensive-adjusted Value Over Average (DVOA), generates positive or negative percentages. Negative percentages are bad for offenses and good for defenses.
"The Seahawks' minus-45.9 percent offensive DVOA sets a new FO record, surpassing the 2005 San Francisco 49ers (minus-42.0 percent) as the worst offense we've ever tracked," Football Outsiders reported. "It gets worse if you isolate the passing game from the running game."
The 2005 49ers' pass offense was the worst on record since 1993 at minus-57.9 percent. The 1992 Seahawks' pass offense came in at minus-71.0 percent. The chart breaks down passing stats for the quarterbacks on those teams' rosters. The seven players combined for 17 touchdowns, 44 interceptions and a 41.7 rating.
While justifiably ragging on Seattle's 1992 offense, Football Outsiders acknowledges the strength of its defense, which ranked third in DVOA that season thanks largely to AFC Defensive Player of the Year Cortez Kennedy. I'll have more on Kennedy as Hall of Fame voting approaches. I consider him to have been the best, most complete defensive tackle of the 1990s, when counting Reggie White as a defensive end.
October, 29, 2010
10/29/10
4:00
PM ET
»
NFC Final Word
:
East
|
West
|
North
|
South
»
AFC
:
East
|
West
|
North
|
South
Five nuggets of knowledge about Week 8:
Too early to sit down Hall.
Kurt Warner
generously said he saw a little of himself in new
Arizona Cardinals
quarterback
Max Hall
. That was before Hall played in a game. Hall hasn't led a touchdown drive in any of
his 25 possessions
. Warner, meanwhile, tossed 21 touchdown passes with only three interceptions in his first eight NFL starts. Even so, the Cardinals are right to stick with Hall in Week 8 amid
negative reviews
. Once the Cardinals made the decision to give Hall a chance, they needed to give him more than two games. Hall does own a 1-1 starting record. There's a decent chance that record will hit 2-1 after facing Tampa Bay. Plenty of time remains to bench Hall if he doesn't improve. It could happen Sunday if Hall falters.
[+] Enlarge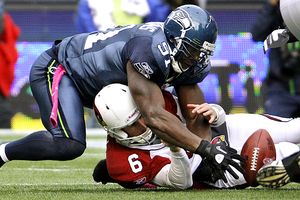 AP Photo/Elaine ThompsonChris Clemons returned to Oakland, where he had his best season as a pass-rusher in 2007.
Oakland homecomings.
The Seahawks' game at Oakland could mean a little more to three of Seattle's most significant players. Running back
Marshawn Lynch
, acquired from Buffalo, grew up in Oakland and sports an "OAKLAND" tattoo across his chest.
Mike Williams
, the Seahawks' leading receiver, started one of the six games he played for the Raiders in 2007. Defensive end
Chris Clemons
set a career season high with eight sacks for the Raiders, also in 2007. Clemons already has 5.5 sacks in six games since the Seahawks acquired him from Philadelphia. That puts Clemons on pace for 14.5 sacks. Oakland has allowed seven in its past two home games (and only four in its past two road games).
Troy Smith, come on down.
Nine quarterbacks have started games for the
San Francisco 49ers
since the team last posted a winning record in 2002. Troy Smith becomes the 10th when the 49ers face the
Denver Broncos
in London. The others, ranked by most starts:
Alex Smith
,
Shaun Hill
,
Tim Rattay
,
Jeff Garcia
,
Ken Dorsey
,
J.T. O'Sullivan
,
Trent Dilfer
,
Chris Weinke
and
Cody Pickett
. Four threw more touchdowns than interceptions during that time: Hill (23-11), Rattay (22-18), Garcia (18-13) and Weinke (1-0). None owns a higher rating in those games than Hill (87.3). Carr is the only 49ers quarterback since 2003 to attempt passes for the team without starting a game, according to
Pro Football Reference
.
Saluting Isaac Bruce.
The Rams are honoring one of their all-time greats, Isaac Bruce, during a ceremony before the game. Unfortunately for rookie quarterback
Sam Bradford
, Bruce might be good enough in retirement to help the Rams against Carolina in Week 8. Bradford badly missed injured receiver
Mark Clayton
when the Rams needed to make a play in the second half against Tampa Bay.
Danario Alexander
provided a short-term spark, but his knee is bothering him and he might not play Sunday.
Danny Amendola
has turned into a solid option from the slot, but Bradford needs more targets. With Bruce in the building and
Steve Smith
returning to the Panthers' lineup last week, top-flight receivers will be everywhere in the Edward Jones Dome except where the Rams need one most: in a St. Louis uniform.
Must-win for the Rams.
Sure, it's only Week 8, but after squandering opportunities in close defeats to beatable opponents (Arizona, Oakland and Tampa Bay), the Rams are just about finished with the easier portion of their schedule. Losing at home to the 1-5 Panthers could send this team plummeting following its bye week. The Rams play four of five games on the road following their Week 9 bye. The lone home game falls against Atlanta, arguably the best team in the NFC.
September, 12, 2008
9/12/08
10:37
AM ET
| | | | | |
| --- | --- | --- | --- | --- |
| 49ers Starting QBs since 2004 | Won | Lost | Pct. | Status |
| Shaun Hill | 2 | 0 | 1.000 | 49ers backup |
| Alex Smith | 11 | 19 | .367 | IR, 49ers |
| Ken Dorsey | 2 | 8 | .200 | Browns backup |
| Trent Dilfer | 1 | 5 | .167 | Retired |
| Tim Rattay | 2 | 11 | .154 | Free agent |
| J.T. O'Sullivan | 0 | 1 | .000 | 49ers starter |
| Chris Weinke | 0 | 1 | .000 | Free agent |
| Cody Pickett | 0 | 2 | .000 | Free agent |
Posted by ESPN.com's Mike Sando
How did Alex Smith fare as the 49ers' starting quarterback? Not as bad as the team's other quarterbacks since Jeff Garcia left following the 2003 season.
The 49ers were 11-19 (.367) in games Smith started. Their record is 7-28 (.200) in all other games since Garcia's departure. No 49ers quarterback with more than two starts has a higher winning percentage as a starter during that time.
Current starter J.T. O'Sullivan can rocket toward the top of the list by posting a 6-10 record as a starter this season. That would give him a .375 winning percentage.
August, 11, 2008
8/11/08
5:53
PM ET
Posted by ESPN.com's Mike Sando
Matt Maiocco of Instant 49ers says the 49ers' defense was spectacular in practice today. Coach Mike Nolan even stopped practice to congratulate the defense. Once a defensive-minded coach, always a defensive-minded coach. In Seattle, Mike Holmgren tends to stew when the defense has its way during practice. Once an offensive-minded coach, always an offensive-minded coach.
Matt Barrows of the Sacramento Bee provides equal time in his dispatch from 49ers practice, noting the offense was pretty much horrendous. Barrows: "I was here when the quarterbacks were Rattay, Dorsey and Pickett. I was here when the 49ers won only two games. In other words, I've seen some pretty putrid practices. But I gotta tell you -- I'm having a hard time remembering an offensive performance as lousy as the one I saw this morning."
Steve Korte of Ramblings lists positives and negatives from the Rams' performance against Tennessee in the exhibition opener. He notes, correctly, that the first-team offense hasn't scored a touchdown during the exhibition season since Mike Martz was coach. These exhibition games can be meaningless, but I'm thinking Scott Linehan doesn't want to keep hearing about that streak.
Kent Somers of the Arizona Republic doesn't ride a Segway around Northern Arizona University when the Cardinals are at camp, but a few players do. Kurt Warner, Matt Leinart and Larry Fitzgerald were seen riding them today.
Clare Farnsworth of the Seattle Post-Intelligencer delivers more potentially bad news on the injury front for Seattle. Center Chris Spencer was supposed to practice this week, but his bad back is still a problem. Spencer can't even reach down to tie his shoes. An admittedly premature thought: What if Steve Vallos grabbed hold of the center job and never let go? Vallos outperformed expectations in the exhibition opener. We can't know if he'll become viable as a long-term starter. But as Ron Heller told former Seahawks guard Chris Gray, the fastest way out of the league is via injury.
Seahawks president and emerging blogger Tim Ruskell ponders the likelihood of converting two exhibition games into regular-season games. Ruskell: "More people are talking about it. There are pros and cons for either side. It's already a long season. It will be an interesting debate. I haven't really made my mind up, nor have I heard how really serious this is just yet. It will be a pretty dramatic change the way we've done business if that does happen. We'd be in trouble this year if that were the case because we'd be going into regular season games missing a lot of players."