June, 24, 2010
6/24/10
9:00
AM ET
Notable players:
Charley Trippi, Elmer Angsman, Paul Christman, Pat Harder, Stan Mauldin, Chet Bulger, Billy Dewell, Mal Kutner, Boris "Babe" Dimancheff, Jeff Burkett, Marshall Goldberg
[+] Enlarge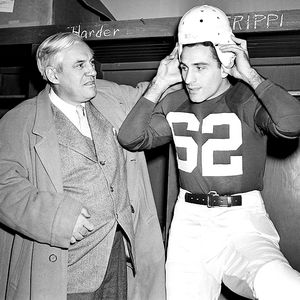 AP PhotoCharley Trippi, right, signed a four-year contract to play for Jimmy Conzelman before the season began.
Analysis:
The Pro Football Hall of Fame describes Jimmy Conzelman as a "newspaper publisher, playwright, author, orator, actor" -- and the only head coach to win an NFL championship with the Cardinals. (The team was based in Chicago from 1920-59. It played in St. Louis from 1960-87.)
Conzelman's brilliance as a coach shined through before and during the Cardinals' 28-21 victory over the
Philadelphia Eagles
in the 1947 NFL championship game. Conzelman initially refrained from reporting the Eagles for illegally filing down their cleats to better cope with the icy conditions at Comiskey Park. Conzelman instead reported the Eagles on a player-by-player basis, and only after Philadelphia had made significant gains. Officials wiped out the gains and penalized the Eagles, forcing players to leave the field to replace their equipment.
The Cardinals had addressed the footing issue by changing into sneakers before the game. Angsman scored twice on 70-yard runs. Trippi scored on a 44-yard run and 75-yard punt return.
Conzelman's resourcefulness reflected his varied background. His playing career included stints with Decatur, Rock Island, Milwaukee, Detroit and Providence. He had even owned the Lions for a couple of seasons in the 1920s, supposedly paying $100 for the franchise before returning it to the league. He retired as a player in 1930 and returned as a coach a decade later. But his record in three seasons with the Cardinals was only 8-22 when he stepped away following the 1942 season. The Cardinals brought back Conzelman four years later and he rewarded them by winning 27 of 37 games, counting playoffs and the only league title in franchise history.
The 1947 season produced tragedy in addition to triumph. A plane crash killed punter Jeff Burkett as he tried to rejoin the team following an appendicitis. Charles Bidwill, the team's owner since 1933, had died in April before the season.
Most impressive win:
The 1947 team needed a victory over the
Chicago Bears
in the final regular-season game to win the Western Division title. The Cardinals picked off Bears quarterback Sid Luckman four times in the 30-21 victory, but the offense might have provided the most important contribution. Christman's touchdown pass to Dimancheff on the first play of the game set a winning tone for the Cardinals. Dimancheff had missed every practice during the week while tending to his expectant wife, preventing him from practicing a play Conzelman was eager to run. No matter. The Cardinals isolated Dimancheff against Bears linebacker Mike Holovak, a speed mismatch Dimancheff used to his advantage.
Free-spending Cardinals:
The team landed Trippi before the season with a four-year contract worth a then-staggering $100,000. Trippi had been a Maxwell Award winner and Rose Bowl MVP at the University of Georgia, which retired his No. 62 jersey after a college career that later
landed Trippi a spot
on ESPN's list of 25 greatest college players. The move helped put the Cardinals over the top in 1947. Trippi ranked second on the team that season with 641 yards from scrimmage.
Honorable mention
2008:
The Cardinals came within a defensive stop of winning the Super Bowl against Pittsburgh after
Kurt Warner
found
Larry Fitzgerald
for the go-ahead touchdown pass late in the game. This team delighted in disproving skeptics and redefining an organization known for decades of futility.
1948:
A defeat in the championship game prevented this Cardinals team from challenging and probably overtaking the 1947 team as the best in team history. The 1948 team went 11-1 during the regular season as Trippi became a bigger threat.
1975:
Coach Don Coryell produced an 11-3 record thanks to an offense featuring Pro Bowl players in quarterback Jim Hart, receiver Mel Gray, running back Terry Metcalf, fullback Jim Otis and offensive linemen Dan Dierdorf and Conrad Dobler.
May, 5, 2010
5/05/10
9:01
AM ET

Jim Thomas of the St. Louis Post-Dispatch
says the Rams expect Steven Jackson to return from back surgery no later than the start of training camp. One key variable could be whether Jackson's symptoms were causing weakness in his legs, as ESPN injury expert Stephania Bell noted during a December 2009 item about Jackson. Bell: "In the case of a herniated disk, as long as the symptoms remain localized to Jackson's low back, there is not necessarily a huge level of concern. Many people are quite functional despite the presence of disk problems, although when the disk is inflamed, the pain itself can be debilitating. The concern grows, however, if the disk is causing associated neurological problems, such as numbness or weakness in the leg. This was the case last season [2008] for the aforementioned Matt Hasselbeck, who was having weakness in his leg as the result of a herniated disk in his back. Hasselbeck's season came to an early end, but he recovered nicely in the offseason and, after undergoing a rigorous rehabilitation and conditioning program, has been able to return strong this year."
Robert Patrick of the St. Louis Post-Dispatch
says Rams linebacker David Vobora is suing the manufacturer of the supplement behind his NFL suspension.

Darren Urban of azcardinals.com
says Brandon Keith is excited to get a shot at being the Cardinals' starting right tackle. Keith: "You've got to have a plan. A lot of guys come in [and think], 'I'm so used to starting' and then you're not a starter and everything goes down in the dumps. I always set myself up with a plan. My first year was trying to make the team, the second year was doing what I could to make the team better. Now I want to be a starter and I am in that position. I'm not really blown away by it yet. I am excited."
Also from Urban
: Newly signed Cardinals guard Alan Faneca looks a bit like Conrad Dobler.
Agreed
.
Revenge of the Birds' Andrew602
asks whether second-year outside linebacker Cody Brown can add pass-rush help for the Cardinals. Andrew602: "Let's not forget that Brown had a combined 33 tackles for a loss and 18.5 sacks during his final two years at UConn. He's a dangerous pass rusher that relies solely on his strength and handwork. He'll bring a bull rush to the Cardinals defense that led him to become a team captain and an All-Big East Selection in college. He was also relied upon in coverage and has no problem playing with his hand off the ground. He'll provide stout run-defense -- something most outside linebackers struggle with early in their career."

Clare Farnsworth of seahawks.com
says former Central Washington quarterback Mike Reilly wanted to play for the Seahawks before Seattle showed interest in him. Here's Reilly, claimed off waivers by Seattle on Tuesday, speaking before the 2009 draft: "I really don't care where I go, as long as I get on a team. But I would love to play for Seattle, to be honest with you."
Greg Johns of seattlepi.com
expects Reilly to challenge Mike Teel for the No. 3 job behind Matt Hasselbeck and Charlie Whitehurst. Johns: "Bradley George of Texas State was the fourth quarterback in last weekend's minicamp as a tryout player, but has not been offered a contract by the club. In his four seasons at Central, Reilly set virtually every passing record in Wildcats history, was named co-runner-up for the Harlon Hill Trophy as the nation's top Division II player, and holds the NCAA all-divisions record with at least one touchdown pass in all 46 career games."

Matt Maiocco of CSNBayArea.com
says Patrick Willis' background endeared him to 49ers coach Mike Singletary. Maiocco: "Singletary heard how Willis' mother abandoned her four young children. He learned about Willis morphing into a parent-type role for his three siblings after their father was accused of neglect. Willis earned a football scholarship to college, but the struggles were not over. He grieved prior to his final year when his brother, Detris, lost his life in a swimming hole near their rural Tennessee home."
Also from Maiocco
: a 49ers roster overview.
Matt Barrows of the Sacramento Bee
says the 49ers expect Willis' play to remain at a high level even after the linebacker received a lucrative extension.
Also from Barrows
: a list showing some 49ers players whose contracts expire after the 2010 season. The list includes Dashon Goldson, Vernon Davis, Alex Smith, Manny Lawson and Jason Hill.
More from Barrows
: a look at the 49ers' roster competition at guard, return specialist and outside linebacker. Barrows: "On Friday, I asked Mike Singletary about free-agent linebacker Adalius Thomas, someone the 49ers were very interested in during free agency three years ago. Singletary, who coached Thomas in Baltimore, acknowledged that past interest but said he was content with the OLBs the 49ers have on the roster right now. Those linebackers are Parys Haralson, Manny Lawson, Ahmad Brooks and Travis LaBoy. Diyral Briggs, Martail Burnett and Brandon Long provide depth."
February, 10, 2010
2/10/10
9:38
AM ET

Danny O'Neil of the Seattle Times
says new Seahawks offensive coordinator Jeremy Bates wants balance. O'Neil also provides a chart showing gains in rushing yards for Alex Gibbs' teams.
Also from O'Neil
: Bates talks about drafting running backs after the first round. Bates: "I think Denver has proven that they've gotten a lot of great running backs late in the rounds. A lot of people say you've got to go to the first round and pick up that running back. I think if the offensive line, the tight end and the running backs all work together, all believe in the system, all know who they're reading and believe in 4 yards, 4 yards, 4 yards, they can be successful."
More from O'Neil
: Matt Hasselbeck says he has no idea whether Walter Jones is serious about retiring.
Greg Johns of seattlepi.com
checks in with draft analyst Rob Rang, who says the Seahawks might be less apt to select an offensive lineman early now that Gibbs is coaching their line. I agree, although Gibbs' Texans and Broncos did use first-round picks for offensive linemen in the last seven years, taking George Foster (Denver) and Duane Brown (Houston).
Also from Johns
: Bates says he thinks Hasselbeck can be "special" in the Seahawks' new offense. Bates: "We're very fortunate walking into an organization with Matt Hasselbeck being the leader. He's been to the Super Bowl, he's been in every situation. There's going to be some learning, but he's been part of the West Coast offense terminology-wise and formations, so it's all going to come back to him. It's going to be fun to see how good he can be in this offense because I think he's going to be special."
Eric D. Williams of the Tacoma News Tribune
says the Seahawks will more fully commit to zone blocking schemes. Bates: "From Day 1, were going to be practicing outside/inside zone. And when you believe in something like that and you're committed to it, you're going to make it work eventually. Players have to understand this is what we are, and this is who we're going to be."
Also from Williams
: Bates patterns himself after Jon Gruden when it comes to putting in long hours. Bates: "He let me get into the door, and once I got my foot in the door, he just taught me how to grind. I was up really early in the morning and working late at night learning every play known to man in football. It was special. The one thing I take from Jon is passion. You've got to have the passion. It's just too hard of a job if you're not in love with it. And he loved it. It was a fun three years."

Bob McManaman of the Arizona Republic
looks at players the Cardinals might consider in the draft. McManaman on TCU pass-rusher Jerry Hughes: "They need a pass-rusher and Hughes was one of the best in the nation. He destroys backfields and would be a natural fit at outside linebacker in the 3-4 defense. He has good cover skills, too. What I like about him is his natural strength and ability to dominate would-be blockers. Like many of these prospects, I can see Hughes going higher in the draft, so he might not be around when the Cardinals make their first selection. But if he's there, he's a big-time steal at 26."
Dan Bickley of the Arizona Republic
sizes up the football scene in Arizona, passing along this tidbit from former Cardinals offensive lineman Conrad Dobler: "Bill Bidwill knows more about the game than anybody else I know. In fact, I remember when I retired. I sent each owner a letter saying, 'Thank you for the opportunity to play in the NFL for 10 years, yada, yada, yada.' He sent it back with a big red stamp that said (bull).' "
Darren Urban of azcardinals.com
doesn't think Julius Peppers would be a good fit for the Cardinals' scheme. Urban: "The biggest obstacle I see for Peppers is the idea he could suddenly become an effective linebacker after playing his whole career -- college and pro -- with his hand down. There are few defensive linemen as athletic as the 6-foot-7, 285-pounder, and he made it clear last year he thought he could make such a transition. But Peppers is also 30, and while he isn't exactly an old dog, it is a new trick."

Jim Thomas of the St. Louis Post-Dispatch
says Steven Jackson's accuser, Supriya Harris, is "very disappointed" authorities will not be filing charges against the Rams' running back. Thomas: "Harris, 29, whose allegations became public Jan. 28, had accused Jackson of pushing her repeatedly and throwing her against a door when she was nine months pregnant with the couple's son, Kingston. Harris said the incident occurred on March 8, 2009 at Jackson's Las Vegas home. Jackson denied the allegations earlier and said in a statement on his website that he would address the issue 'thoroughly through the appropriate avenues, but not through the media.'"
Also from Thomas
: a chat transcript featuring his thoughts on efforts by Chip Rosenbloom and Lucia Rodriguez to sell the Rams. Thomas: "Obviously, I'm not an expert on estate law. But I believe Chip and Lucia currently are only paying interest on the estate taxes. I think it's about $1 million per yer. But in about 3 years, they have to start paying principal on the estate taxes, which is about $17 million a year. When it reaches that amount, it basically eliminates the per year profit made by the team (now that they're in the bottom fourth of the league in profitability). Although Chip and Lucia live comfortable lives, they are not independently wealthy -- to the point where they can absorb breaking even on the Rams. Thus the pressure to sell the team. I know the family did take some measures to limit the impact of the estate taxes, so it could've been worse."
Bryan Burwell of the St. Louis Post-Dispatch
says the damage to Jackson has been done. Burwell: "Modern fame takes no prisoners. Contemporary celebrity is a lovely and intoxicating game just as long as you are inside the velvet ropes lapping in all the goodies. But there is a backlash to this game, and it ain't pretty. Associate with the wrong crowd, spend too much time with people who have less to lose than you do, make just one fateful step in the wrong direction, and the repercussions won't be pretty and they can last a lifetime."

Matt Barrows of the Sacramento Bee
expects Tony Pashos and Arnaz Battle to draw interest if they hit the market as free agents. Barrows: "Battle was a starter from 2005-2007, but his reception totals have dropped in recent seasons and was seen more as a special teams player than a receiver in 2009. The 49ers plan to go into the 2010 with a receiving corps of Michael Crabtree, Josh Morgan, Brandon Jones and Jason Hill. They could add a receiver in the draft who has return skills. Battle turns 30 on the 22nd, but there should be some teams that like his toughness and blocking ability. If I had to bet, I'd say he winds up in Baltimore."
Matt Maiocco of the Santa Rosa Press-Democrat
sizes up the 49ers at tight end. Maiocco: "A lot of people viewed 2009 as Davis' breakout season. He was named as a starter on the NFC Pro Bowl team after catching 78 passes for 965 yards and 13 TDs. You want to know the major difference? The 49ers actually threw the ball to him -- a lot. Remember, this is a guy who caught 52 passes and four touchdowns in his second season. The next year, he remained into block about 50 percent of the time as Mike Martz needed the extra man in protection to allow so many seven-step drops."
April, 10, 2009
4/10/09
9:05
AM ET
Posted by ESPN.com's Mike Sando

Eric D. Williams of the Tacoma News Tribune says Seahawks middle linebacker Lofa Tatupu can feel a difference in how the team is practicing under new coach Jim Mora. The team focused more on pursuit drills during its recent minicamp. Tatupu: "A little hard work never hurt anybody. Not to say we weren't working hard before, but I feel the difference in the practices. And I tell you one thing, we'll be one of the best conditioned teams in the league. So it won't be for a lack of effort if we suffer any losses."
Also from Williams: He checks in with new Seahawks defensive coordinator Gus Bradley.
John Morgan of Field Gulls thinks Arizona State tackle Eben Britton could help the Seahawks' offensive line, and that Seattle could have interest in him if Britton slips past the middle of the first round.
Jerry Brewer of the Seattle Times says Tatupu is seeking redemption following a 4-12 season in 2008. At least he no longer challenges opponents to fights following defeats.

VanRam of Turf Show Times looks at what might be one of the worst NFL drafts at the top, according to analysts. VanRam: "Trading down would be great, but it just doesn't seem like a very realistic possibility. That might depend on USC QB Mark Sanchez's draft stock, which seems to be rising based on comparison to [Matthew] Stafford. If conventional wisdom emerges that he's the better NFL QB, taking him at #2 isn't a stretch, which means the Rams could possibly lure a QB hungry team into a trade."

The 49ers' Web site provides a transcript of Damon Haurd's interview with reporters after the team signed the backup quarterback. Huard on head coach Mike Singletary: "I like him a lot. I think he's very honest, straight-forward. He tells it like it is and as a player, you appreciate that. Everyone respects him, not only as a coach, but for what he did as a player. I think when your head coach is a former player and has been through those battles that we've all been through, he understands the experience and knows how to treat the players. He knows how to relate to the players. I think at the end of the day that just makes you a better football team."
Matt Maiocco of the Santa Rosa Press-Democrat says pass-rusher could be the 49ers' biggest need heading into the draft. Draft analyst Rob Rang: "Cody Brown of Connecticut is getting a lot of attention in the third or maybe fourth round. If you want to go up a round, probably Clint Sintim of Virginia. He played on one of the very few teams that run a 3-4 defense in college. He was coached by Al Groh, so he's going to come in and be more pro-ready than a lot of guys. So he makes some sense."
Matt Barrows of the Sacramento Bee explains why he thinks the 49ers will not draft Aaron Maybin with the 10th overall choice. Barrows: "For one thing, he's an underclassman who started only one full season at Happy Valley. GM Scot McCloughan prefers seniors. More concerning, however, is Maybin's size. He weighed in at 249 pounds at the combine in February but played at Penn State at a much lower weight, about 235 pounds."

Kent Somers of the Arizona Republic says the Cardinals are visiting with college running backs, no surprise. Donald Brown, Knowshon Moreno, Shonn Greene and Chris Wells could interest them.
Revenge of the Birds' Andrew602 sizes up the Cardinals' all-time offensive line. Dan Dierdorf, Ernie McMillan, Conrad Dobler and Ken Gray make the cut. Still undecided: whether Bob DeMarco or Tom Banks will be the center. I never saw either man play. Hopefully I'll remember to ask someone who did.