February, 26, 2013
2/26/13
12:42
PM ET
Back in October, New England was looking like
a good potential future fit
for
St. Louis Rams
running back
Steven Jackson
.
Atlanta might be a better one now as we consider the possibilities following news that Jackson plans to void his deal with the Rams, becoming a free agent next month.
The Patriots have traditionally been open to older backs such as
Kevin Faulk
,
Fred Taylor
,
Corey Dillon
,
Sammy Morris
,
Antowain Smith
and
LaMont Jordan
. But with
Stevan Ridley
,
Shane Vereen
and
Brandon Bolden
as the top three backs and
Danny Woodhead
also possibly in the mix, New England could be set at the position for the immediate future.
The Falcons, meanwhile, could plausibly stand to upgrade from
Michael Turner
, who recently turned 31 and is coming off an 800-yard season with a 3.6-yard average. Jackson, who turns 30 in July, is riding a streak of eight seasons with at least 1,000 yards.
Turner is scheduled to earn $6.9 million in salary with an $8.9 million cap number in 2013. Jackson, scheduled to earn $7 million from the Rams if he remains on the team, could save the Falcons against the cap relative to Turner by signing a deal for a few million per season.
Those are some initial thoughts, anyway, on potential landing spots for Jackson if and when he hits the market. Jackson will presumably seek a winning team. New England (.750) is first and Atlanta second (.700) in regular-season winning percentage over the past five seasons. The Rams are last (.244) despite going 7-8-1 last season.
Update:
Denver could be another consideration. Look for a few thoughts from Bill Williamson on
the AFC West blog
in the not-too-distant future.
September, 5, 2011
9/05/11
7:22
PM ET
Greg from Spring, Texas
gets tired of hearing analysts rip the NFC West. "Is it me," he writes, "or did I not watch the
Seattle Seahawks
beat the defending Super Bowl champs in the playoffs last year?"
Mike Sando:
Having a division winner with a losing record cannot overcome a one-game upset. The NFC South went 13-3 against the NFC West last season. I won't be surprised if the
Dallas Cowboys
exceed expectations this season in part because they're paired against this division. The NFC West needs to win non-division games more regularly to change perceptions.
This division should improve in 2011.
The
St. Louis Rams
were already improving. They should be better as
Sam Bradford
grows as a quarterback. Their defense appears solid again, and improved.
Kevin Kolb
improves the
Arizona Cardinals
even if he's only average. There's a good chance he'll be better than average with
Larry Fitzgerald
on his side.
The Seahawks and
San Francisco 49ers
have made easy targets this offseason because neither did much, if anything, to upgrade at quarterback. I think both teams have improved their rosters overall, however. And neither team was particularly strong at quarterback last season. It's unlikely either team will be significantly worse off at the position despite perceptions.
Matt Hasselbeck
accomplished many admirable things during his time with the Seahawks, but almost none recently. His performance against New Orleans in the wild-card round was a fitting way for him to perform during his final home game as a Seahawk, but it wasn't consistent with his
body of work
since 2008 or an indicator of what was to come. His passer rating over the past three seasons was the lowest in the NFL by more than 10 points among the 19 quarterbacks with at least 35 starts during that span.
In San Francisco,
Alex Smith
will never live up to draft-day hopes, but it's reasonable to expect improvement from him under Jim Harbaugh. A significant regression would come as a surprise.
So, if the Seahawks and 49ers have upgraded their rosters overall while staying roughly the same at quarterback, how much worse will they be?
---
Clemster from Fort Worth
wants to know which wide receivers will start for the St. Louis Rams, and what
Danario Alexander
's role will be.
Mike Sando:
Brandon Gibson
and
Mike Sims-Walker
are the starters, with
Danny Amendola
expected to see significant playing time. The Rams want their receivers to be largely interchangeable, which means we could see quite a few combinations.
Alexander survived the cut to 53 players, but I don't get the sense he enjoys much roster security, particularly if his knee continues to limit him periodically.
A reporter asked coach Steve Spagnuolo about Alexander on Monday. Spagnuolo tends to choose his words with care anyway, but his answer to this question was particularly conservative.
"He is one of the six receivers that we have right now," Spagnuolo said. "We all know what he has to overcome and battle every week, and he toughs it out. So, he is one of the guys right now."
Right now.
---
Nolan from Bakersfield, Calif.,
wasn't alone in hitting the NFC West mailbag with questions about
Colin Kaepernick
's status with the 49ers. They thought the 49ers' newest quarterback, third-string rookie
Scott Tolzien
, might threaten Kaepernick based on what they showed during preseason.
Mike Sando:
There were reasons Kaepernick was a second-round pick and Tolzien was not drafted. Those reasons have not changed. Kaepernick is far superior physically in just about every way. If he and Tolzien both reach their potentials, Kaepernick will be the better player. The 49ers hired Harbaugh largely because they trusted his expertise with quarterbacks. Harbaugh played a leading role in selecting Kaepernick. Picking up Tolzien off waivers should have no bearing on the team's approach with Kaepernick.
---
Andrew from Seattle
says he's hearing more
Carson Palmer
comeback rumors and he wants to know what are the chances Seattle might make a move for him. Andrew sees a talented group of receivers in Seattle, including tight end
Zach Miller
, and he thinks Palmer could help get the most from them.
Mike Sando:
At no point have I heard anything to substantiate those rumors, but they are definitely there, and not just among fans. One NFL executive I spoke with during training camps said he expected the Seahawks to make a move for Palmer, one way or another, in time for the regular season.
My sense is that people outside the organization (and probably a few inside it, as well) cannot believe a team would go into a season with
Tarvaris Jackson
as its starter by design. Seahawks coach Pete Carroll has repeatedly said this is what he plans to do. Carroll also values mobility in a quarterback. Palmer doesn't move well.
This is something we'll hear about until something happens or the trading deadlines passes. But if you're looking for real evidence that a move is likely, there is none to be found.
---
Casey from Phoenix
asks whether
Chester Taylor
projects as a good compliment to
Beanie Wells
in Arizona.
Mike Sando:
Taylor gives the Cardinals experience at the position and someone they could trust in small doses. I just see no reason to expect much from him at this stage of his career.
Age and recent production seem like reliable indicators for running backs. Taylor turns 32 this month. He averaged 2.4 yards per carry last season, the lowest single-season mark in the NFL since 1970 among players with at least 100 carries in a season.
Thirteen running backs since 2000
have rushed for at least 500 yards in a season after age 31:
Emmitt Smith
,
Ricky Williams
,
Warrick Dunn
,
Fred Taylor
,
Lamar Smith
,
Curtis Martin
,
Antowain Smith
,
Garrison Hearst
,
Kevin Faulk
,
Corey Dillon
,
Jerome Bettis
,
Mike Anderson
and
Terry Allen
. Williams, Anderson and Smith (Emmitt) are the only ones to reach 1,000 yards.
Ryan Williams
' season-ending knee injury forced the Cardinals to get older at a position where youth is served. It's clearer than ever the Cardinals need a strong season from Wells. An injury to Wells or poor play from him would leave Arizona in a difficult position.
There's already enough pressure on Kolb without adding more.
August, 4, 2011
8/04/11
11:09
AM ET
Projecting
Steven Jackson
's role within the
St. Louis Rams
' offense became a little trickier once the team added two experienced backs in
Cadillac Williams
and
Jerious Norwood
.
The Rams had
fewer viable options
at the position in past seasons, forcing Jackson to carry a heavier load. Not that Jackson was complaining. He wanted to be on the field, and fans sometimes wanted him
carrying the ball even more
. But when the Rams did give Jackson a rest, and especially when they lost him to injury, backups such as
Kenneth Darby
,
Keith Toston
and
Chris Ogbonnaya
did not necessarily command respect from opposing defenses.
[+] Enlarge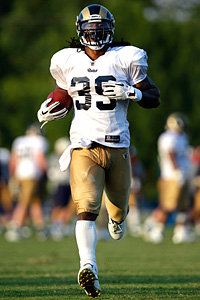 AP Photo/Jeff RobersonCould Steven Jackson see his role change with the addition of Cadillac Williams and Jerious Norwood?
Jackson will still get the vast majority of touches among Rams running backs. Williams and Norwood have had injury problems in the past, but they should be fresher when called upon this season because Jackson will remain a focal point on offense. Williams started nine games in Tampa Bay last season, but he was best known as the Bucs' third-down back as
LeGarrette Blount
emerged. The speedier Norwood could factor on kickoff returns. He has also lined up as a slot receiver in years' past.
I suspect the Rams added Williams and Norwood primarily because they weren't comfortable with their other backups stepping into the lineup as starters if an injury sidelined Jackson for stretches. Williams has been an every-down back, so he could carry the load on early downs in a pinch. Norwood projects as a change-of-pace backup with special-teams value.
Jackson has averaged better than 1,300 yards rushing and 48 receptions over the past two seasons. He set a career high with 90 receptions in 2006. He wants a bigger role in the receiving game and thinks new offensive coordinator Josh McDaniels can help make that happen.
"That's definitely part of my game that I've been missing the last couple of seasons," Jackson told reporters early in camp, before the team added Williams and Norwood. "I'm looking forward to having that challenge, proving to the rest of the league that I'm more than just a downhill, first- and second-down kind of running back. I think if anyone could help me re-establish myself as a franchise back, an all-around back, I think Josh will do that."
Since 2001, when McDaniels began his NFL coaching career with New England, his teams have produced 1,000-yard rushers only twice.
Corey Dillon
(1,635 yards) and
Antowain Smith
(1,157) both reached that mark with New England. Also during that time,
Kevin Faulk
owns the highest single-season receptions total for a running back with 58. He had 507 yards rushing that season. Faulk is the only running back with more than 37 receptions in a season for teams featuring McDaniels as a coach.
Of course, McDaniels has never worked with a back quite like Jackson.
This will be a storyline to follow all season for the Rams. Questions abound. Is Jackson declining and would he benefit from fewer carries? Will McDaniels funnel more of the offense through quarterback
Sam Bradford
? Will Williams or Norwood siphon off touches from Jackson?
July, 26, 2011
7/26/11
3:20
PM ET
Arizona Cardinals
kicker
Jay Feely
became a consistent voice for players during the NFL lockout.
He veered into trickier waters Tuesday with
a provocative question
via Twitter:
Any Bengals player becomes a more sympathetic figure simply because the team's ownership carries such a negative reputation. Palmer's own history also comes into play. He hasn't caused trouble off the field. He has not drawn attention to himself the way, say, receiver
Chad Ochocinco
has done.
Palmer would get, and has earned, more sympathy than he would get if he had previously shown himself to be selfish or a problem. It's tough removing Bengals ownership and Palmer's history with the team from the equation. Those factors positively affect perceptions of Palmer.
Ochocinco and
Corey Dillon
previously asked for trades from the Bengals.
Takeo Spikes
did, too.
I'll sympathize with just about anyone seeking to separate himself from an organization with the Bengals' recent history. The team hasn't won a playoff game since 1991.
July, 21, 2011
7/21/11
3:34
PM ET
There's been a little too much
skepticism
toward
Steven Jackson
this offseason. The pendulum swung back the other way during
our NFC West chat
Thursday. Let's get right to the highlights. I'll follow up at the end with additional thoughts.
Jordan from Boise expects Jackson to put up MVP-caliber numbers under the St. Louis Rams' new offensive coordinator, Josh McDaniels. He points to Corey Dillon's 1,600-yard season for New England as evidence that McDaniels' offense can maximize production for a highly talented running back, and particularly one as skilled as Jackson as a receiver. "MVP for a running back is a hell of a stretch, but I'm calling it," Jordan wrote. "He will at least have MVP-worthy numbers."

Mike Sando: I'm better off for reading your thoughts on this, but just to be clear, McDaniels was in his first season as the Patriots' quarterbacks coach in 2004 when Corey Dillon had his only 1,600-yard season. Dillon did produce double-digit rushing touchdowns for the 2004-2006 seasons, and McDaniels was on that staff the whole time as quarterbacks coach. But Dillon did not reach 1,600 yards combined in his final two seasons with New England (2005 and 2006). I'd conclude by saying reports of Steven Jackson's demise are premature, but it's fair to wonder if he's wearing down. If he puts up MVP-caliber numbers, I'll pull up this chat and give you credit.

Roy (SF): Hey, Mike, loved the Nnamdi Asomugha-to-San Francisco article. I read that the 49ers are $25 million under the cap, plus cutting Nate Clements would give them another $12 million of cap room. Isn't that enough to sign Aubrayo Franklin and get Nnamdi as well as have some other room? That would be a nice defense for at least five years. Your thoughts?

Mike Sando: Thanks, Roy. Cap space is fluid pending escalator clauses and restricted free-agent tenders. The $25 million figure you cited is about $6 million higher than what ESPN's John Clayton projected. But we should set aside the cap issue. Limitations with the salary cap will not force the 49ers' hand when it comes to their ability to sign players. Teams have left tens of millions in cap space unused in recent seasons. Why? Because they didn't value players highly enough to pay them more. If the 49ers want to pay huge money to Aubrayo Franklin, they can do that. The reality is that they value him at "X" amount, and that amount does not closely correlate with cap space. They are not going to pay Franklin whatever it takes to sign him just because they have the cap flexibility to do so, in other words, just as you probably would not spend an extra $500 at the grocery store just because you had $500 in your bank account.

Ray from Arizona asked how good Larry Fitzgerald might be with a healthy, motivated Randy Moss lined up opposite him in a Cardinals uniform. He also asked whether the Cardinals would invest heavily in a free-agent receiver if Steve Breaston were to depart.

Mike Sando: Larry Fitzgerald would be great with Randy Moss taking up residence on the moon. Fitzgerald doesn't need another top target. He needs a quarterback and he'll benefit from a running game strong enough to make the play-action game relevant, as it was when Kurt Warner was leading Arizona to the playoffs. I don't think the Cardinals are going to funnel significant resources toward another receiver, even if Steve Breaston departs. Andre Roberts showed promise. They finally drafted a receiving tight end in Rob Housler. Early Doucet has some experience. I just see Arizona focusing its most serious resources toward re-signing Fitzgerald and patching other areas. Just my feel.

Josh from Seattle asked me to predict which quarterback will start for the Seattle Seahawks this season.

Mike Sando: I've leaned toward Matt Hasselbeck for most of the offseason, but lately I've come off that a bit. How about a camp battle between Charlie Whitehurst and Matt Leinart? How about a camp battle between Charlie Whitehurst and Tarvaris Jackson? I do think we could see Seattle head in that direction for a season.
As much as the Rams could use a back to take pressure off Jackson, what they really need, in my view, is an upgraded situation at wide receiver. Giving quarterback
Sam Bradford
additional weapons would make Jackson harder to defend. Think back to the Rams' season-ending defeat at Seattle. The team had run too low on talent at receiver, paralyzing the offense. Jackson might be winding down some, and injuries have limited him at times, but a more dynamic passing game would help maximize his ability, even if Jackson didn't fare well enough to factor into MVP discussions.
April, 6, 2011
4/06/11
6:42
PM ET
Vishal from parts unknown
stretched the NFC West mailbag at the seams with a two-part, nearly 400-word dispatch critiquing
my ballot ranking the 10 best coaches
in the NFL. I'll break out the main points in bullet items before responding. He wanted to know ...
Why past performance mattered more for head coaches, specifically Mike Shanahan, than it did for players in our previous power rankings;
How I could justify leaving off the Atlanta Falcons' Mike Smith based in part on playoff losses to teams with inferior records, since those teams advanced to the Super Bowl;
Why Tom Coughlin ranked third despite enjoying the organizational support and stability that contributed to a lower ranking for Mike Tomlin.
Mike Sando:
These were difficult decisions. Some of the trade-offs weren't very satisfying. I put together my ballot over the weekend. Upon revisiting it Tuesday morning, I initially thought I'd left off Smith by accident. Then I remembered he was basically just an odd man out. He's a guy I do think of as being one of the best coaches in the league. John Harbaugh is another one. Those guys are deserving of the recognition they received from our voters. I could have felt good about including them as well.
The point you make on Coughlin and Tomlin is compelling. The Giants have strong ownership. They have had only three general managers in the last 30-plus years. I stand by the No. 3 ranking, but acknowledge that I might have considered ranking him lower if this conversation occurred prior to voting.
Coughlin ranked higher than Tomlin on my list for a few reasons I haven't explained:
Coughlin brought quick success and stability to Jacksonville when the Jaguars were an expansion franchise. That was impressive.
The Giants became more productive offensively under his watch, even with a young, inconsistent quarterback. Eli Manning is not the greatest passer. The Giants have ranked among the NFL's top eight in scoring four times under Coughlin after never ranking higher than 12th over a 15-year span under four other coaches.
Coughlin showed a capacity to change during his Giants tenure, becoming more responsive to players.That was important during the Super Bowl season.
Your question about Shanahan is easier to answer. The abilities a coach possesses early in his career do not necessarily deteriorate the way a player's physical skills deteriorate. Shanahan's 152-108 regular-season record, 8-5 postseason record, nine winning seasons and two Super Bowl titles worked in his favor.
---
Doug from Newbury Park, Calif.,
wonders whether I thought the
San Francisco 49ers
replaced
Gary Plummer
because they felt he was too critical as the team's radio color commentatory.
Mike Sando:
Plummer has been outspoken for years. If his outspokenness were a problem, the team presumably would have replaced him years ago. He had handled the job since 1998 and never held back. Fans accustomed to Plummer will be paying close attention to see how his replacement, Eric Davis, couches his criticisms. I expect Davis to speak his mind in his own style -- a style less combative than the one Plummer brought to the job as a former linebacker.
---
Joe from Phoenix
wonders whether the
St. Louis Rams
could trade out of the 14th overall choice with a team looking to draft running back
Mark Ingram
in that spot. He thinks teams are better off with one dominant runner than a committee approach, and he wonders specifically whether New England might be a team to watch from a trade standpoint.
Mike Sando:
The Patriots traded up to get
Daniel Graham
in 2002. They traded up into the 13th spot for
Ty Warren
a year later. New England has been much, much more likely to trade down in the first round over more recent drafts, however.
The Patriots would likely have to part with their third-round choice, 92nd overall, to jump three spots to No. 14. Recent history says that is unlikely.
As for running backs, the trend has been toward having multiple backs share the load. No more than seven backs in one season have reached 300 carries since 2007. There were at least nine backs with 300 or more carries in 10 of the previous 12 seasons, peaking with 13 in 2003.
The Patriots have had only one such player --
Corey Dillon
in 2004 -- since Bill Belichick became head coach.
None of this prevents New England from climbing three spots to nab Ingram. If it happens, however, it'll be a little surprising.
---
Rob from Phoenix
wonders whether the Cardinals would select Auburn defensive tackle Nick Fairley with the fifth overall choice, if available, even though the team doesn't have obvious needs on its defensive line. Texas A&M pass-rusher Von Miller would not be available under this scenario.
Mike Sando:
The scouting reports say Fairley projects better in a 4-3 defense. The same could be said for Cardinals defensive end
Darnell Dockett
, however, and the Cardinals have learned the hard way about favoring need (tackle
Levi Brown
) over value (running back
Adrian Peterson
) when picking fifth.
So, if Fairley is available and clearly the best player, the Cardinals would have to consider him. But I tend to think he projects as a higher-risk prospect based on concerns over his emotional stability and the consistency of his effort. That could scare off Arizona. Throw in other factors -- fit and need specifically -- and I envision the Cardinals going in another direction.
January, 18, 2011
1/18/11
9:18
AM ET

Lindsay H. Jones of the Denver Post
says the Broncos are close to hiring former Seahawks coach Jim Mora to coordinate their defense under new head coach John Fox. Jones: "The Broncos announced eight coaching staff members Monday, including six holdovers from Josh McDaniels' staff: Mike McCoy (offensive coordinator), Eric Studesville (running backs), Clancy Barone (tight ends), Wayne Nunnely (defensive line), Brian Callahan (offensive quality control) and Jay Rodgers (defensive quality control)." Working as defensive coordinator under a defensive-minded head coach seems a little curious for someone as prominent as Mora. That could reflect Fox's intentions to take a less specialized approach as head coach. It could also reflect a tough market for former head coaches.
Clare Farnsworth of seahawks.com
checks in with players as they departed for the offseason. Matt Hasselbeck: "The season just ended so abruptly for us. I think a lot of us in the locker room expected to win that game and really expected to have the opportunity to come back and host the NFC Championship game -- which would have been an awesome opportunity. That's probably one of the most disappointing things about this year is knowing that we had the opportunity to host that game -- and it would have been a great opportunity for our fans and for us – and we just let it slip away and didn't get it done."
Danny O'Neil of the Seattle Times
looks ahead to an uncertain offeason for the Seahawks.
Also from O'Neil
: Pete Carroll says Marcus Trufant and John Carlson were returning from Chicago in good condition after suffering concussions Sunday.
Eric D. Williams of the Tacoma News Tribune
passes along Brian McIntyre's weekly personnel report for the Seahawks. McIntyre: "Against Seattle's nickel, dime and 'Bandit' defenses, Cutler was 7 of 12 for 128 yards and a touchdown, with Seattle registering all three of its quarterback sacks out of these extra DB looks, including one by Lofa Tatupu with what appeared to be 10 players on the field. Cutler was 8 of 16 for 146 yards and a touchdown against Seattle's base defense, which intercepted Matt Forte in a disastrous 'Wildcat' play in the fourth quarter."
Also from Williams
: Hasselbeck's contract expires this offseason. Hasselbeck: "It's just how it is, and I'm not stressed about anything. There's nothing I can do about anything right now, just sit back and wait. The only X-factor here is I don't exactly know how it works, so if the lockout does come March 4, I don't know when the time to sign free agents would be. My hope is that we could maybe do something before then, but again that's not up to me. And I'm just going to go be a dad for a little bit."
Dave Boling of the Tacoma News Tribune
says the Seahawks' strong finish means they started well under Carroll.
Liz Mathews of 710ESPN Seattle
passes along comments and audio from the Seahawks' locker room. Lawyer Milloy: "This day, I've had it fifteen times and it's never a good feeling unless the one time I was able to have this day with the trophy. It was an up and down season. A lot of things were awkward at times. The one thing that this team did was stay together and when we had a chance to end, everything started to feel normal around here, started to feel like it's supposed to feel. This is a team thats going places. When you have a new coach, when you have new players, it's a process. We took a big step in that process to being a very good team, not only in the near future but to be dominant, especially in our division, for awhile. That's the thing I'm proud about."
Doug Farrar of Sportspress Northwest
looks at the NFL labor situation through the Seahawks' eyes. Chester Pitts: "Let's be real here. You're really that worried about our health and our well-being, lower your requirements for what it takes to get ... increase the benefits for the injured guys. (Increased roster size) would only help in practice, not in games, because … trust me, the best guys are gonna play. Especially as an offensive lineman. The best five will line up. I'm still waiting for a coach to stick his neck out and rotate linemen (as defensive linemen are rotated). For a guy who has played a long time in this league, it's really, really tough. Unless they find a way to make teams sit their starters for a game or two, it's gonna be really tough."

Jim Thomas of the St. Louis Post-Dispatch
updates Oshiomogho Atogwe's contract situation with the Rams. Thomas: "The day after the Super Bowl, or Feb. 7, Atogwe can void the final four years of a five-year contract he signed with the Rams last June 25. If Atogwe voids the contract, he becomes a free agent, leaving a significant hole at the position for the Rams. However, there doesn't seem to be much incentive for Atogwe to void the contract, because the second milepost arrives just two weeks later, or on Feb. 21. That's when Atogwe is due an $8 million roster bonus by the Rams. Why not wait two weeks to see if the Rams pay him the $8 million roster bonus? If they do, Atogwe stays. If they don't, he's released and becomes a free agent anyway."
Brian Stull of 101ESPN St. Louis
wonders whether hiring Josh McDaniels as the Rams' offensive coordinator might lead to a diminished role for running back Steven Jackson. Stull: "In the three seasons McDaniels was offensive coordinator in New England, the Patriots failed to have a running back rush for over 1000 yards in a season. Corey Dillon had 199 carries for 812 yards in 2006. Laurence Maroney had 175 carries that same year for another 745 yards. The following two seasons it was Maroney and Sammy Morris, then Morris and Kevin Faulk sharing the carries -- with the secondary back getting about 80 rushes each year." McDaniels never had a back like Jackson on his team. I tend to think Sam Bradford's development will lead to a diminished role for Jackson, and that hiring a coordinator such as McDaniels could accelerate the process.

Matt Maiocco of CSNBayArea. com
says the 49ers head to the Senior Bowl to evaluate quarterbacks, among other players. Maiocco: "The first six draft-eligible quarterbacks Harbaugh will evaluate are those he'll get to evaluate in-person next week in Mobile, Ala.: Andy Dalton (TCU), Colin Kaepernick (Nevada), Jake Locker (Washington), Greg McElroy (Alabama), Christian Ponder (Florida State) and Ricky Stanzi (Iowa)."
Matt Barrows of the Sacramento Bee
offers expectations for the 49ers' offseason, plus thoughts on what kind of quarterback Jim Harbaugh will seek. Barrows: "My sense as of Jan. 17 is that Harbaugh is confident he can mold just about any quarterback into the passer he wants. But if there's been one hallmark of Jim Harbaugh's college pupils, it's been accuracy, which is what the West Coast system demands."
Kevin Lynch of Niner Insider
says Rodgers' success reflects poorly on the 49ers.

Darren Urban of azcardinals.com
says there's little to report on the Cardinals' search for a defensive coordinator. He also offers thoughts on Aaron Rodgers' performance against Atlanta in the divisional round. Urban: "Watching Aaron Rodgers dice up the competition every week, I keep thinking he would have done the same thing last year in the playoffs had Kurt Warner not come up with one of the greatest playoff performances ever. There was irony in that thought when people were trying to put into perspective how great Rodgers was against Atlanta -- and he was, but still not quite up with Warner's game versus the Packers." That's why it's silly to suggest Rodgers finally broke through in the playoffs. He played very well in the playoffs previously, too.