January, 29, 2013
1/29/13
4:00
PM ET
NEW ORLEANS --
San Francisco 49ers
quarterback
Colin Kaepernick
throws the football with tremendous velocity, as
Randy Moss
' dislocated finger can testify.
Baltimore Ravens
cornerback
Corey Graham
provided independent witness testimony Tuesday during Super Bowl media day at the Superdome.
[+] Enlarge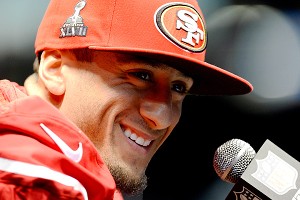 John David Mercer/USA TODAY SportsColin Kaepernick's spiral is fast enough to break the fingers of Randy Moss.
"It's funny you say that," Graham said. "I didn't know if I was seeing things or not, but when I watched him on film, the ball got there very fast."
Moss picked it up from there.
"For him to dislocate my finger and for the doctor to pull it out, I've never had no problems with my fingers before," Moss said. "You have a shoulder here, an ankle here, a knee here and that comes with the territory. For me to be catching balls my whole life and then all of a sudden my finger pops out of place, man, I've never experienced that and it hurt like hell."
Moss suffered the finger injury while catching a pass from Kaepernick during the quarterback's first NFL start, a 32-7 victory over Chicago in Week 11. With that play in mind, I asked Moss if he cranked up the 'Jugs' machine to simulate Kaepernick's velocity. He said it's no use because the machine can't deliver the ball as hard as Kaepernick throws even on its highest setting.
"I mean, it's hard to really explain, man," Moss said. "I really think the only way you can experience how hard he throws is if you put a pair of gloves on and go out here and play catch with him."
Kaepernick played baseball competitively and could throw a fastball 90 mph, and then some.
"One of our equipment managers, Doc, sometimes he doesn't even wear gloves and he catches 'Kap' to warm him up," Moss said. "And then sometimes I feel sorry for him that I'll go up and catch a few balls just to let his hands rest. And then once he heat mine up, 'All right, Doc, it's all yours.'
"I mean, Kaepernick is an incredible talent, man. I remember early in
Brett Favre
's career when he broke a couple fingers, but he broke them out in the tundra, I think, because it was cold. 'Kap' breaking fingers in 60- and 70-degre weather. I'm a big fan of Kaepernick's and it's fun to play with him."
March, 20, 2012
3/20/12
2:41
PM ET
Free agency has slowed considerably now that the quarterback market has settled out, save for
Alex Smith
's unresolved status in San Francisco.
I've put together a chart showing what happened to free agents known to have visited NFC West teams since the signing period opened one week ago.
Demetrius Bell
showed promise at left tackle for Buffalo last season and would seem to make sense for Arizona.
New Orleans Saints
free-agent corner
Tracy Porter
is not listed, but he remains one of the few young starting-caliber players at the position, and he has ties to the
St. Louis Rams
' coaching staff.
I've ordered the chart by how many starts each player made in 2011, an attempt to add a qualitative element to the listings.
Note:
The 49ers brought in a long list of players for tryouts recently. I've focused on unrestricted free agents making visits. I have added
Jacob Tamme
,
Corey Graham
and
Visanthe Shiancoe
to the list. All three visited the Seahawks recently.
January, 16, 2011
1/16/11
12:25
PM ET
CHICAGO -- The
Seattle Seahawks
are gathering on the field near their sideline for some pregame mosh-pit action before their stretching session.
I've done a quick sleeve count to see which players have given in to the cold.
Eight Seattle players --
Mike Williams
,
J.P. Losman
,
Jordan Babineaux
,
Clint Gresham
,
William Robinson
,
Stacy Andrews
,
Jon Ryan
and
Olindo Mare
-- are wearing long sleeves for Seattle. A couple defensive backs are wearing forearm pads.
Eight Bears players are also wearing sleeves:
Brad Maynard
,
Jay Cutler
,
Caleb Hanie
,
Todd Collins
,
Greg Olsen
,
Corey Graham
,
Devin Hester
and
Patrick Mannelly
.
We're up to 22 degrees from 16 degrees a few hours ago.