NFC West:

Courtney Upshaw
November, 2, 2012
11/02/12
3:00
PM ET
Steve Spurrier has suggested
Alabama might be good enough
to defeat an NFL team.
I'm not sure whether Spurrier was serious, but as
Seattle Seahawks
coach Pete Carroll pointed out, the notion is ridiculous (unless, perhaps, Spurrier had the 2002-03
Washington Redskins
in mind).
"Alabama's got a great team and Nick [Saban] is a fantastic coach," Carroll said, "but when you match up the interior lines against regular NFL teams on either side of the ball, it wouldn't even be close."
Athletic prodigies occasionally flourish in the professional ranks. LeBron James was 18 years old when he had 25 points, six rebounds, nine assists and four steals in
his NBA debut
.
In the NFL, rules prohibit players from participating until they're at least three years removed from high school. It's generally thought athletes aren't ready for the physical pounding until they're older. Rookies face adjustment periods. Even the best ones can appear lost during the first days of training camp.
The majority of players on Alabama's roster will likely never play in the NFL. It is absurd, then, to think those players would defeat a roster filled with players who are, by definition, good enough to play in the league.
For fun, I've put together a chart showing 2012 NFL draft choices from Alabama. There were eight, including four first-rounders. Injuries have sidelined three of them. Four others have played quite a bit. Another pick, fullback/tight end Brad Smelley, is on the
Cleveland Browns
' practice squad.
We'll have to wait and see if Alabama produces 22 rookie starters, three full-time specialists and some core special-teams players for NFL teams in 2013. Kind of thinking not.
May, 8, 2012
5/08/12
11:38
AM ET
Justin from Phoenix
thinks the
Arizona Cardinals
can't win with critics.
"The Cardinals have caught grief over the last few years for not drafting offensive lineman, so this year they go out and draft three," he writes. "Now, they are catching grief for not addressing the outside linebacker position. Why can't this team ever do anything right?"
Mike Sando:
I don't know whether the Cardinals are taking significant grief for failing to select an outside linebacker. Let's assume they are, and then let's weigh their perceived needs against known opportunities.
The Cardinals used the 13th overall choice for receiver
Michael Floyd
when they could have selected Melvin Ingram, who went 18th to San Diego. Whitney Mercilus (26th to Houston) and Nick Perry (28th to Green Bay) were the other projected outside linebackers drafted in the first round by teams running 3-4 defenses. Time will tell whether the Cardinals might have fared better selecting one of those players over Floyd.
Having no second-round choice limited the Cardinals' options in this draft, but drafting an outside linebacker in that round might have been a stretch. Courtney Upshaw, chosen 35th overall by Baltimore, was the only 3-4 outside linebacker chosen in the second round (Miami used a third-round choice, 72nd overall, for Olivier Vernon).
That suggests Arizona, which sent the 51st overall pick to Philadelphia in the
Kevin Kolb
trade, did not necessarily miss out on pass-rush help in that round.
Vernon was the only 3-4 outside linebacker selected in the third round. Arizona, picking eight spots later, took cornerback
Jamell Fleming
.
The fourth round did provide an opportunity for the Cardinals to select help at outside linebacker. Arizona was picking 112th overall. Dallas took outside linebacker Kyle Wilber with the 113th pick. Washington took Keenan Robinson at No. 119.
Offensive tackle was clearly the No. 1 need for Arizona, however. The Cardinals' decision to use the 112th choice for tackle
Bobby Massie
seemed reasonable and almost imperative because the team had not taken an offensive lineman to that point in the draft.
Perhaps things would have been different for Arizona in the fourth round if the team had held onto the 51st overall choice. Tackle
Mike Adams
, selected 56th overall by Pittsburgh, would have been an option for the Cardinals.
Arizona used its fifth-round choice (151st overall) for another offensive lineman, Senio Kelemete. This again appeared reasonable, although teams did take 3-4 outside linebackers among the next 14 picks.
The Cardinals already have young pass-rushing prospects in
Sam Acho
and
O'Brien Schofield
. If they were going to select an outside linebacker, they arguably needed to get a true difference maker. Ingram, Mercilus and Perry would have been the options, but drafting one of them would have meant passing on Floyd.
April, 23, 2012
4/23/12
3:05
PM ET
The first six picks of
ESPN's Blogger Mock Draft
unfolded pretty much as expected.
That's when James Walker, our AFC East representative, put out the word: "I'm willing to make a trade back with Buffalo at No. 10."
Before anyone could respond, AFC South representative Paul Kuharsky announced he'd swung a deal with Dan Graziano of the NFC East. The Jaguars had traded the seventh overall choice and a sixth-rounder to Philadelphia for the 15th, 88th and 153rd selections.
The Eagles took defensive tackle
Fletcher Cox
at No. 7.
"By the way," I wrote in an email to the group, "Seattle would love to trade back from 12."
Then came the word from Walker, sent only to me, the NFC West rep: "Don't make your pick at No. 12 yet. I have an offer from New England coming. Working out the point chart. First, I have to figure out Buffalo's pick at No. 10."
A few seconds passed before the AFC West's Bill Williamson, unaware Walker had already made contact regarding the 12th pick, reached out to me in another email.
"If
Melvin Ingram
is on the board at 12," Williamson wrote, "I might have San Diego come up from 18."
This was intriguing. Seattle's actual leadership had swung a deal with San Diego for quarterback Charlie Whitehurst a couple of years ago, so trade talks for the 12th pick seemed realistic. But the Seahawks also have a working relationship with the Patriots, having traded Deion Branch to them not all that long ago.
"Sounds good," I replied to Bill. "James might also make an offer here."
The potential deal with Williamson and San Diego was fleeting. Walker executed a trade with himself, allowing the
New York Jets
to move into Buffalo's spot at No. 10. The Jets took Ingram, the player Williamson had wanted for San Diego.
The fun was only beginning.
Our eight divisional bloggers made four trades involving the seventh, 10th, 12th, 15th, 16th, 27th, 31st and 32nd overall choices, plus later considerations.
Five of our first-round selections in this mock failed to appear in our previous one.
Jerel Worthy
,
Kevin Zeitler
,
Chandler Jones
,
Shea McClellin
and
Coby Fleener
pushed out
Rueben Randle
,
Andre Branch
,
Peter Konz
,
Kendall Wright
and
Mike Adams
.
Courtney Upshaw
,
Dontari Poe
and
Stephen Hill
made double-digit drops from then to now.
Michael Brockers
,
Cordy Glenn
,
Stephon Gilmore
and Cox climbed at least eight spots since last time.
We drafted seven defensive ends/outside linebackers, six offensive linemen, five defensive backs, four defensive tackles, three receivers, three quarterbacks, two inside linebackers, one tight end and one running back.
Mostly, we had some fun with the process. Thanks for coming along.
***
ESPN.com's NFL bloggers went through one final mock draft leading up to Thursday's start of the NFL draft. Here is how
#ESPNbloggermock
played out.
April, 23, 2012
4/23/12
8:00
AM ET
Four days until the 2012 NFL draft. In the meantime, the mock drafts are piling up.
The chart below shows new projections from reporters covering the Seattle Seahawks, San Francisco 49ers and St. Louis Rams.
All three have the Rams and Seahawks drafting for defense. They all have the Arizona Cardinals drafting an offensive lineman and the 49ers drafting a pass-catcher of some sort.
I'll be participating in a live mock draft Monday at 1 p.m. ET, with trades permitted. Details to come.
Moving along ...

Kent Somers of the Arizona Republic
checks in with Ken Whisenhunt and Rod Graves regarding the Cardinals' draft options. Somers: "Addressing the offensive line in the first round makes considerable sense. The Cardinals haven't drafted a lineman the past two seasons. They haven't taken one above the fifth round since selecting Brown fifth overall in 2007. They have tried to plug holes with veterans at the end of their careers (guard Alan Faneca) and low-round picks they hoped would develop (right tackle Brandon Keith). The results have been mixed at best."
Also from Somers
: Whisenhunt points to continuity with Graves and personnel director Steve Keim as keys to success in the draft.
Darren Urban of azcardinals.com
looks at whether the Arizona Cardinals need a stronger No. 2 receiver to pair with Larry Fitzgerald. Urban: "The Cardinals went to a Super Bowl with Anquan Boldin alongside Larry Fitzgerald, but one of the reasons the Cards were eventually comfortable with dealing Boldin was the success Fitzgerald and the passing game had even in games Boldin missed with injury."
Noted:
Kurt Warner was the constant.

Eric D. Williams of the Tacoma News Tribune
has the Seahawks selecting Alabama inside linebacker Dont'a Hightower in his 2012 first-round mock draft. Williams: "Hawks might move down to get Hightower, but he fills an obvious need and will be the team's quarterback on defense for the next 10 years."
Danny O'Neil of the Seattle Times
looks at the Seahawks' need for a linebacker, noting that general manager John Schneider says this draft has more good ones than the previous draft offered. Schneider: "It's completely different than it was last year. There's good numbers up there."
Noted:
Value could lead the Seahawks to draft a linebacker in the first round, but if there are more to be found throughout the draft, the team could have reason to draft early at a position featuring fewer talented prospects.
Dave Boling of the Tacoma News Tribune
explains why he thinks Melvin Ingram might have more appeal to the Seahawks than Luke Kuechly. Boling: "Carroll and his staff like to find players with unique skills and then develop ways to work them into a scheme. While Kuechly looks to be a conventional middle linebacker type, Ingram could be more of a fun toy for Carroll."
Brock Huard of 710ESPN Seattle
makes two observations after attending a charity event featuring most of the team: Team chemistry appears strong, and the Seahawks have become a much bigger team physically.

Jim Thomas of the St. Louis Post-Dispatch
projects LSU cornerback Morris Claiborne to the Rams with the sixth overall pick after teams picking among the top five selected Justin Blackmon and Trent Richardson, among others.
Also from Thomas
: The Rams need help at defensive tackle, but none of the top three prospects appears worthy of the sixth overall choice. Thomas: "In a deep defensive tackle class, there should be multiple options for the Rams at the top of the second round and perhaps even at the top of the third."
More from Thomas
: a closer look at Claiborne and the cornerbacks. Thomas: "From a pure coverage standpoint, there are those who feel Claiborne is a significantly better prospect than his much-ballyhooed predecessor at LSU, Patrick Peterson, who went No. 5 overall in the 2011 draft to Arizona."
More yet from Thomas
: New Rams linebacker Jo-Lonn Dunbar has good things to say about Gregg Williams.

Pat Yasinskas of ESPN.com
says HBO has interest in the Baltimore Ravens and San Francisco 49ers as "Hard Knocks" alternatives to the Atlanta Falcons, who declined to participate.
Noted:
Tough to envision the 49ers accepting. Their football leadership has sought to close ranks.
Matt Maiocco of CSNBayArea.com
passes along thoughts from 49ers coach Jim Harbaugh on GM Trent Baalke's suggestion the team has one player in mind for the 30th overall choice. Maiocco: "I think Trent's trying to be dramatic with you guys -- build the drama. There's several -- there's a lot of good guys. There are a lot of good guys we'd love to have at that pick. Having been through this once, most of the guys you recognize as great football players are going to be playing against you. That's just the fact of business. But getting the right guy, the right fit for our team, is what we're all focused on."
Matt Barrows of the Sacramento Bee
has the 49ers drafting receiver Stephen Hill with the 30th pick.
Gwen Knapp of the San Francisco Chronicle
looks at history precipitating the 49ers' impending stadium move from San Francisco to Santa Clara.
Eric Branch of the San Francisco Chronicle
says new 49ers running back Brandon Jacobs has great speed -- on the highway.
Phil Barber of the Santa Rosa Press-Democrat
outlines five positions to watch in the draft for San Francisco.
April, 11, 2012
4/11/12
11:48
AM ET
With an
assist
from Clare Farnsworth, I've put together a chart showing 14 mock draft projections for NFC West teams.
The mocks are arranged by which players the
St. Louis Rams
were projected to select sixth overall. A couple other mocks fell from consideration because they projected trades, throwing off the comparisons.
A quick look at the player counts per team:
Each selection has the potential to affect subsequent ones, a big factor for mock drafts featuring more than one participant. Our ESPN.com Blog Network mock featured eight participants. The others featured one apiece.
These 14 mocks singled out 19 players for the four NFC West teams. There were five offensive linemen, four defensive end/outside linebacker types, four bigger defensive linemen, four receivers, one linebacker and one cornerback.
Most of the picks filled obvious team needs.
April, 7, 2012
4/07/12
8:30
AM ET
Phil from Phoenix
fears the
Arizona Cardinals
will put need before value in drafting an offensive lineman with their first-round choice, as he feels they did in making
Levi Brown
the fifth pick back in 2007. Phil thinks Alabama outside linebacker
Courtney Upshaw
would give the Cardinals an impact player on defense -- and better value.
Mike Sando:
The decision to draft Brown fifth overall was understandable. Brown started for five seasons, then received a $7 million signing bonus as part of a second contract. The Cardinals do not consider him to be a bust, in other words.
In retrospect, it's easy to say Arizona should have drafted
Adrian Peterson
over Brown, but the Cardinals had already invested heavily in free-agent running back
Edgerrin James
. They were looking to give their new line coach, Russ Grimm, a player to build around. Brown has not met expectations associated with his draft status, but he's going to start for at least a sixth consecutive season.
The Cardinals' need for another offensive tackle is acute. That is one reason the team felt compelled to bring back Brown. Arizona does not hold a second-round pick, so there will be added pressure to help the offensive line early. Free-agent options appear severely limited. This will be a recipe for reaching if the situation remains unchanged heading into the draft.
As much as I think the Cardinals need line help, I did send Upshaw their way in the
NFL Blog Network mock draft
we put together last week, for
several reasons
. The chart shows quite a few prominent draft analysts projecting defensive players to the Cardinals with the 13th overall pick. Perhaps you'll get your way, Phil.
Most analysts seem to think Upshaw will go later than 13th overall. The fit in Arizona could be right, however, as the Cardinals head into their second season running the scheme coordinator Ray Horton brought from Pittsburgh. As Pro Football Weekly analyst Nolan Nawrocki put it, Upshaw is "not as athletic as [Steelers outside linebacker]
LaMarr Woodley
, but could best fit a similar type of role as an intimidating 3-4 rush linebacker."
April, 4, 2012
4/04/12
2:45
PM ET
Torry Holt
got the timing right for
his retirement news conference
Wednesday at
St. Louis Rams
headquarters.
The Rams' seven-time Pro Bowler offered a formal goodbye while NFC West teams searched for receivers with comparable skill.
The latest
2012 NFL mock draft

from Mel Kiper Jr., a two-rounder with explanations for every selection, sends three receivers to NFC West teams in the first round alone.
We get the hint even though this division features a couple all-time greats in
Randy Moss
and
Larry Fitzgerald
. The Rams in particular need upgraded weapons, but the other teams in the division could use help as well.
And while Kiper did not send a receiver to Seattle in the first round, knowledgeable Seahawks fans know their team hasn't had a Pro Bowl player at the position since
Brian Blades
in 1989 (another receiver,
Alex Bannister
, made it as a special-teamer in 2003).
The symmetry with Holt and the Rams is striking. The team drafted Holt sixth overall in 1999, and a trade-down with Washington this offseason has given them the sixth pick again this year. That is where we pick up the conversation, using Kiper's mock as a starting point.

6. St. Louis Rams: Justin Blackmon, WR, Oklahoma St.
Kiper's give:
The possibility remains that St. Louis could move off this spot, but if they stay here and get Blackmon, they'll immediately upgrade a huge weakness, which is the lack of talented options for
Sam Bradford
in the passing game. Blackmon's speed is adequate, but his smarts, ball skills, route-running and work habits translate to a guy that can contribute immediately, which is what this offense desperately needs.
Sando's take:
Kiper had cornerback
Morris Claiborne
heading to the Rams in
his previous mock
. Blackmon went to Cleveland at No. 4 in that scenario, but with running back
Trent Richardson
working out impressively following knee surgery, Kiper has the Browns taking Richardson instead of Blackmon. That left Blackmon for the Rams. We've debated on the blog
whether Blackmon would be a reach
with the sixth pick. We do know Blackmon would address a primary need, and that most analysts consider him a legitimate choice among the top 10 selections. The Rams are trying to bolster the position in free agency to diminish the need heading into the draft, but they aren't going to find a young talent such as Blackmon on the market at this time. The Rams own the 33rd and 39th picks as well, giving them an opportunity to find playmakers beyond the sixth choice, should they prefer to do so. Kiper had the Rams taking Michigan State defensive tackle
Jerel Worthy
and Ohio State tackle
Mike Adams
in the second round.

12. Seattle Seahawks: Quinton Coples, DE, North Carolina
Kiper's give:
Even if [Boston College linebacker Luke] Kuechly is still on the board, it would be tough for Seattle to pass on perhaps the safest 4-3 DE option available. Coples has prototypical size, can play every down as a pass-rusher and has a solid arsenal of moves to get to opposing quarterbacks, but with the size and discipline to be a force against the run. Seattle can't go wrong here with either the top LB or DE available. This defense is close to being considered among the NFL's finest.
Sando's take:
The word "safest" isn't particularly comforting for Seahawks fans.
Aaron Curry
was considered the safest pick in the 2009 draft. Coples was my choice for Seattle in the recent
NFL Blog Network
mock
. Then, Kuechly was not available. Kiper previously had Seattle taking
Ryan Tannehill
in this spot, but Tannehill was off the board this time and the Seahawks weren't in the QB market, anyway, after signing
Matt Flynn
. Some have criticized Coples for inconsistent effort. Pete Carroll constantly emphasizes competition, but the Seahawks have shown they can get good results from defensive players with varied résumés and reputations.
Red Bryant
,
Chris Clemons
and
Alan Branch
come to mind. The draft plot thickens considerably for Seattle if Kuechly does slip past the top 11 choices. The word "safe" has applied to Kuechly as well. The Seahawks have obvious needs for a pass-rusher and a linebacker, so Coples and Kuechly make sense as projected picks. Kiper had the Seahawks taking Oklahoma linebacker
Ronnell Lewis
in the second round.

13. Arizona Cardinals: Michael Floyd, WR, Notre Dame
Kiper's give:
Another pick I'll stick with, Floyd is a great complement to Larry Fitzgerald and will help Arizona maximize the options for
Kevin Kolb
. The offensive line could use help, but Floyd has proven that he'd be a good value here. Think of Atlanta getting
Julio Jones
to take some pressure off
Roddy White
last year. Floyd could fill a similar role.
Sando's take:
Some might recall Kiper sending Stanford tackle
Jonathan Martin
to the Cardinals
a couple mocks ago
. Martin fell from the first round entirely in
Kiper's next version
before resurfacing in the 20s of this one. The Cardinals need help at tackle after failing to address the position in free agency. (Demetress Bell's agreement with Philadelphia takes away one option under consideration for Arizona.) I get Kiper's thinking on Floyd. Arming Kolb with sufficient options is important. I've offered a counterpoint in the video posted atop this entry. In short, the Cardinals have already armed Kolb with highly drafted weapons at running back, receiver and tight end. The case can be made that Kolb needs to make better use of the existing weapons. To do that, he'll have to gain a stronger grasp of the playbook this offseason. He'll also need to stay on the field, something he hasn't been able to do. Improved pocket awareness would help. Landing a tackle seems like a necessity, but how? I sent
Courtney Upshaw
to the Cardinals in our Blog Network mock, figuring pass-rushers are more valuable than receivers or offensive linemen. Stanford guard
David DeCastro
was available to Arizona in Kiper's latest mock. Would the Cardinals draft him to play guard, then move
Adam Snyder
to right tackle? Kent Somers
raised
that possibility
and it's an interesting one. I'm not sure Snyder projects as the long-term solution at guard, let alone tackle.

30. San Francisco 49ers: Stephen Hill, WR, Georgia Tech
Kiper's give:
Hill is the biggest home-run threat in the draft when you combine his speed and size, and it's no secret the 49ers need some help at wide receiver, even with the additions of Randy Moss and
Mario Manningham
. He'll need an adjustment period as he gets used to doing more in terms of scheme than he was asked at Georgia Tech, but he's the kind of weapon this offense needs to expand.
Sando's take:
The thinking makes sense, but the 49ers have options in this spot. Players drafted this late in the first round will likely need time before developing into starters. There's no pressure to target the most immediate need on the roster. Landing a receiver does have appeal. Moss is 35 years old and might not offer much at this stage. But the 49ers can count tight end
Vernon Davis
as one of their receiving options. They use two tight ends frequently. This team does not run a spread offense requiring three top-flight wideouts, in other words. And there's still a chance
Michael Crabtree
will take another step forward after finally getting a full offseason in the 49ers' offensive system. The team has flexibility heading into the draft, in other words. San Francisco could target just about any position with the 30th choice (quarterback would be a surprise). The 49ers can sit back and wait to see which talented players with question marks fall to them. Kiper had the 49ers taking
Brandon Brooks
, a guard from Miami of Ohio, in the second round. The need for guard help could subside if the 49ers sign a veteran in free agency, however. They've visited with a few.
April, 2, 2012
4/02/12
11:14
AM ET
The NFL's transformation into a pass-happy league has sent teams scrambling for ways to keep up defensively.
Perhaps that explains why defensive linemen and 3-4 outside linebacker types dominated ESPN.com's first NFL Blog Network mock draft for 2012.
AFC West blogger Bill Williamson snapped up three of them for the division he covers. Six other defensive linemen and 3-4 outside linebackers found homes elsewhere in the first round.
Offensive linemen (seven), defensive backs (five) and wide receivers (five) accounted for most of the remaining first-round selections.
In keeping with the pass-oriented theme, Alabama's
Trent Richardson
was the lone running back selected, landing in Cleveland with the fourth overall choice.
And, of course, we kicked off the mock with a couple of quarterbacks.
February, 8, 2012
2/08/12
12:12
PM ET
Welcome to the 2012 NFL season. The games are not yet here, of course, but most teams have long since shifted their mindsets forward.
Tuesday brought a
first look at free agency
for NFC West teams. Now comes a first look at the draft, to be revisited as teams add and subtract players in free agency.
Thanks to those who
left comments
suggesting topics for this space. I've targeted a few for future items and drawn on the general thrust — more free agency and draft stuff, please — for this one. The comments affirmed how much we look forward to NFL offseasons.
Steve Muench of Scouts Inc. offered general thoughts on potential considerations for each team.
Here we go ...
St. Louis Rams
First-round position:
second overall.

Three primary needs:
WR, OLB, OL
In the spotlight:
Matt Kalil
, OT, USC
Mocking it up:
Kiper has the Rams selecting Oklahoma State wide receiver
Justin Blackmon
. McShay has them selecting USC offensive tackle Matt Kalil.
Muench's thoughts:
"The first thing that jumps out at me is the value at No. 2. Blackmon is the best receiver in the group, but No. 2 is way too rich to take a receiver in this draft, especially Blackmon, who is not
Julio Jones
or
A.J. Green
. The Rams need help at outside linebacker, but the value is not there. This defensive tackle class is very poor. When you look at those offensive tackles and what the Rams have already spent on the position, I understand the hesitation, but going after Kalil or Iowa's
Riley Reiff
, depending on which one they like, would make sense. Reiff is more balanced and fundamentally sound. Kalil has more talent. Blackmon would make sense if the Rams traded back, but if they are stuck at No. 2, offensive tackle makes the most sense."
Sando's follow-up:
The top two needs listed are the same ones I listed in
a similar item
one year ago, but there are new needs sprouting up. Defensive tackle was the third need one year ago, and it remains a big need for St. Louis. The situation on the offensive line is unsettled enough to give that position a priority. Using another early choice for a tackle would not inspire much excitement in St. Louis. The need for playmakers appears paramount. Whatever the Rams do, they absolutely, positively must give quarterback
Sam Bradford
a fighting chance. Another season filled with sacks and injuries could inflict long-term damage to his career. Coach Jeff Fisher and coordinator Brian Schottenheimer will gear the offense toward the ground game in an effort to protect Bradford.
Seattle Seahawks
First-round position:
11th or 12th overall

Three primary needs:
QB, DE, LB
In the spotlight:
Melvin Ingram
, DE, South Carolina
Mocking it up:
Kiper has the Seahawks selecting South Carolina defensive end Melvin Ingram. McShay thinks Alabama running back
Trent Richardson
could be the choice.
Muench's thoughts:
"The Seahawks are not in a great spot given their needs.
Quinton Coples
from North Carolina could be the edge rusher who starts from Day One and is more than just a situational player, but I do not think he'll be there when Seattle picks. He is almost 6-foot-6 and weighs 281 pounds. A lot of guys with his talent protect themselves during the offseason, but Coples worked his butt off at Senior Bowl practices and had a great game, too. Ingram does not have great size, but he is explosive enough and strong enough to play defensive end. At quarterback, there's a big drop after
Andrew Luck
and
Robert Griffin III
.
Ryan Tannehill
could go at the end of the first round, but No. 11 or 12 is way too rich.
Brock Osweiler
moves very well for a quarterback of his height. These are interesting guys and all it takes is for one team to fall in love with them, but you are reaching if you do it at No. 11 or 12. The reality is that there are so few good quarterbacks in most drafts. It usually doesn't work out when you force the issue."
Sando's follow-up:
Finding a long-term quarterback remains the top priority for the Seahawks, but once again the planets appear reluctant to align for them. Parting with
Matt Hasselbeck
and passing over
Andy Dalton
have left Seattle with
Tarvaris Jackson
and developmental quarterback
Josh Portis
. Chasing after
Peyton Manning
could make sense for the Seahawks. They have good young players. Adding a front-line quarterback could put them over the top in the division. Linebacker has replaced the offensive line as a primary need for the Seahawks. That should not be the case, in theory, because the team had so much invested in a couple of relatively young linebackers.
Aaron Curry
and
Lofa Tatupu
are gone, however, and
David Hawthorne
is a free agent. The team could move
K.J. Wright
into the middle.
Arizona Cardinals
First-round position:
13th

Three primary needs:
OT, LB, WR
In the spotlight:
Courtney Upshaw
, OLB, Alabama
Mocking it up:
Kiper has the Cardinals taking Stanford tackle
Jonathan Martin
. McShay has them taking Martin's teammate, guard
David DeCastro
.
Muench's thoughts:
"Kalil and Reiff are the highest-rated tackles. I doubt either one will be there at No. 13. Martin makes sense because of his upside more than anything, but he is not a mauler. He could be gone at 13 if there is a run on tackles, but he might be a reach that early, anyway. There is another dropoff after him, too. This is not a great tackle class. Thirteen is a little early for
Kendall Wright
, the Baylor receiver, even if he has a good combine. Wright's stock is rising, but because of his size (5-10, 194), he won't win as many one-on-one battles. There was a big jump from 2010 to 2011 in his consistency with his hands and his route running. Adding a pass-rusher is more interesting for me because Ingram and Alabama's Courtney Upshaw could fit. Upshaw doesn't have that idea closing speed, but his initial burst and power are impressive. He can get off blocks. He will be a productive edge rusher. Some 3-4 teams prefer taller outside linebackers, but Arizona and Pittsburgh have gotten away with shorter guys. Ingram and Upshaw are both in that 6-1 or 6-2 range. Neither will be great in coverage, but that has been overrated a little bit. Basically, he has to be able to hold up in underneath zone."
Sando follow-up:
The Cardinals haven't drafted an offensive lineman early since selecting
Levi Brown
fifth overall in 2007. If Brown returns, it will be at a reduced rate. Upgrading the pass protection seems important, in my view, because quarterback
Kevin Kolb
has not shown great pocket awareness. He has also had injury problems. Landing Manning would obviously change those dynamics. Manning has succeeded for years without top talent across the line. The depth at receiver could use stabilizing, particularly if
Early Doucet
becomes the latest secondary Arizona target to depart. But with
Larry Fitzgerald
on the team, the position is in good hands. Very good hands. Some Cardinals fans have pointed to strong sack numbers as evidence Arizona doesn't need to make significant upgrades in that area. Have you ever met a defensive coordinator satisfied with his pass rush?
O'Brien Schofield
and
Sam Acho
have shown promise. They are not good enough for the Cardinals to lean back in their chairs and feel great about their outside rush for the next few years.
San Francisco 49ers
First-round position:
30th

Three primary needs:
WR, CB, OL
In the spotlight:
Dre Kirkpatrick
, CB, Alabama
Mocking it up:
Kiper points to South Carolina receiver
Alshon Jeffery
as a possibility. McShay goes with Nebraska cornerback
Alfonzo Dennard
.
Muench's thoughts:
"Blackmon,
Michael Floyd
and Wright will be gone. That is your top tier of receivers. In a perfect world, you hope Wright or Floyd slips to you. Floyd makes sense in that scheme because of his ability to stretch the field, which could help
Michael Crabtree
underneath and
Vernon Davis
over the middle. Wright has speed, but he is not the traditional target to win one-on-ones. After that, we have three receivers with second-round grades. LSU's
Rueben Randle
, Jeffery and Rutgers'
Mohamed Sanu
are all vertical threats who must work on their route running. Randle might fit the
Jim Harbaugh
offense because he is quicker off the line. Jeffery must work on his release. Sanu might be the best for that scheme because he is a better route runner and is more consistent with his hands, but he has not shown the same kind of big-play ability. Jeffery's stock has fallen; he doesn't separate particularly well. He did have a good game against Dennard, who is a solid second-round prospect, but he is much bigger than Dennard. Sanu's size is insane and he has great body control, but can he keep his weight down? I do like Dennard at corner. He didn't have a great Senior Bowl week and he is small, but he is tough and I think that is going to go a long way to slow down receivers at the line of scrimmage. He has a short memory and that is so important.
Janoris Jenkins
and Kirkpatrick are two corners to watch. Both have off-field concerns. I think someone will fall in love with Jenkins and take him before the 49ers pick. Kirkpatrick is a bigger, longer corner. He can be physical. There is a good chance neither makes it that far, but if they do, it would be hard for San Francisco not to snatch one. More than likely, that would offer more value than any receiver they could get in that spot."
Sando follow-up:
The 49ers have few obvious, immediate needs. That is a credit to their personnel department and to their coaches. Smith's expected return puts off for at least one season the need for San Francisco to pursue a quarterback. It probably removes the 49ers from the Manning conversation. I think the 49ers have tremendous flexibility picking this late in the draft. They do not need to target a receiver even though the position could use reinforcing after injuries knocked out
Josh Morgan
and diminished what
Braylon Edwards
could offer. Re-signing
Carlos Rogers
would stabilize the cornerback position, as well. The 49ers could justify going in just about any position with this pick.
December, 22, 2011
12/22/11
11:43
AM ET
A few small details remain unsettled heading into the 2012 NFL draft.
Among them:
order of selection;

which underclassmen will become eligible;

which NFL teams will have new coaches/general managers;

how prospects will perform in bowl games, all-star games, the combine and in personal workouts;

how team needs will evolve in relation to injuries;

how teams will address needs in free agency before the draft.
That means we can cut Todd McShay a little slack if his first 2012 NFL mock draft,
published for Insider subscribers
Wednesday, winds up serving as only a general guide some four months before the draft itself. McShay has St. Louis taking USC tackle
Matt Kalil
second overall; Arizona taking Alabama outside linebacker
Courtney Upshaw
at No. 13; Seattle taking Oklahoma quarterback
Landry Jones
at No. 16; and San Francisco selecting Baylor wide receiver
Kendall Wright
at No. 30.
[+] Enlarge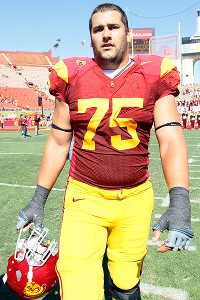 Ric Tapia/Icon SMIUSC offensive tackle Matt Kalil could provide some stability on the offensive line for the Rams.
The Rams have used the second and 33rd overall choices for offensive tackles since 2009. Drafting another one early would reflect an organization spinning its wheels. That might be an accurate reflection.
Jason Smith
, chosen second overall in 2010, almost certainly will not return at his current salary.
Arizona does need additional options at outside linebacker even with
Sam Acho
and
O'Brien Schofield
contributing recently. McShay considers offensive tackle a greater need for the Cardinals, but he questions whether the value would be right where the Cardinals are projected to select.
Seattle could use a quarterback to develop and even compete for the starting job. That was the case a year ago, but the Seahawks surprisingly made a run to the playoffs and beat New Orleans in the wild-card round, dropping them from eighth to 25th in the 2011 order.
Tarvaris Jackson
is in position to return as the incumbent starter. The team also thinks third-stringer
Josh Portis
has a chance to develop. Drafting a quarterback would give Seattle a promising mix at the position.
For the 49ers, I might question the value of selecting another receiver in the first round. The team used the 10th choice of the 2009 draft for
Michael Crabtree
. I see greater needs in the secondary and would not argue if the team drafted yet another player for its already strong defensive front seven.

NFC WEST SCOREBOARD
Friday, 8/22
Saturday, 8/23
Sunday, 8/24