October, 7, 2009
10/07/09
10:40
PM ET

Posted by ESPN.com's Mike Sando
Former NFL executive Andrew Brandt is back
with another
Michael Crabtree
-related analysis for National Football Post, this one breaking down the six-year contract.
This analysis is first-rate for its details and balance.
Crabtree will not lose any first-year salary for missing the first four games, but the 49ers secured a deal that will likely span all six years without voiding. The 49ers also secured a deal consistent with informal slotting associated with the 10th overall choice in the draft.
But Brandt thinks Crabtree came away with a chance to earn $8 million that wasn't previously on the table. It sounds as though Crabtree would have to hit difficult incentives to earn that extra cash. This was what I meant Tuesday when I
wrote
: "The 49ers can adjust the length of the contract or the incentives or both in order to make the overall numbers look better."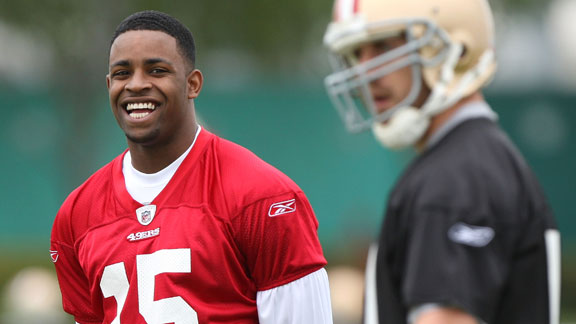 October, 7, 2009
10/07/09
3:50
PM ET

Posted by ESPN.com's Mike Sando
The 49ers have
posted the video
on their site.
Michael Crabtree
will not play against the Falcons in Week 5, coach Mike Singletary said. The 49ers hope to have Crabtree on the field following their bye. They plan to bring him along slowly, as
we discussed
.
There wasn't much from Crabtree. He answered a few questions, but not a final one from Matt Maiocco, who asked
what role MC Hammer played
in the negotiations.
October, 7, 2009
10/07/09
12:51
PM ET
| | |
| --- | --- |
| | |
| | Douglas Jones/US Presswire |
| | How long with it take for Michael Crabtree to get on the field? |

Posted by ESPN.com's Mike Sando
Mychal Lowman asks via Facebook:
Mike, am I wrong in thinking that
Michael Crabtree
will immediately help the passing game just by his big-play potential? Somehow, I think
Josh Morgan
,
Isaac Bruce
and
Vernon Davis
will be racking up bigger numbers in the first few weeks that Crabtree is available.
Mike Sando:
The 49ers won three of their first four games without Crabtree. Their passing game remains hamstrung by protection issues and their stated intention to bring along the offense at a deliberate pace. I spoke to Trent Dilfer this morning about the 49ers' smartest plan for Crabtree. He is uniquely positioned to understand this situation given his strong ties to the 49ers, his familiarity with their personnel and his
working relationship with Crabtree
.
Dilfer thinks the 49ers should -- and ultimately will -- bring along Crabtree slowly. He thinks the team needs Crabtree at his best late in the season because they'll need what he offers to win playoff games.
"The first four weeks, I wouldn't really expect there to be much of him," Dilfer said. "If he is active or inactive, that might become a political issue, but you've got to get him used to the fire. I think there is a training camp period of time for his body, his mind, his teammates getting the trust level built up, finding a place to live, all that. He needs a four-week buffer and that limits his chances for injury as well."
Dilfer and I both think the 49ers will not change their offensive philosophy upon adding Crabtree, beyond possibly sprinkling in an extra three-receiver grouping here and there while figuring out how best to use their newest weapon.
"Use the first four weeks as his training camp where he gets tons of reps in practice, lots of work after practice, he digests the playbook and focuses on the precision of route running, not Sunday game performance," Dilfer said. "Then you get to Weeks 8 to 12, the third quarter of the season, and use it for an adaptation of him into the offense. Where does he fit? Does he play 30 snaps a game as one of the two receivers? Do we add four or five three-receiver plays in the course of a game? Does he became primary in our progressions? Is he secondary? Do you give him 3-4-5 specific types of routes that he is running? This is an experimental phase."
By the final month of the regular season, the 49ers would have a good idea how Crabtree fits into their offense. Crabtree would have had time to earn quarterback
Shaun Hill
's trust on at least a few routes. Remember, Hill has never thrown a pass to Crabtree. Hill is not going to strong-arm passes to Crabtree. That is not his game. In order to anticipate Crabtree's whereabouts on a route, Hill will have to know he can trust the rookie receiver. Once the rapport is established and Crabtree's role defined, the team can maximize his talents.
"If that is done properly and you are the team I think they are, a playoff team, he is impactful in the playoffs," Dilfer said.
October, 7, 2009
10/07/09
11:05
AM ET

Posted by ESPN.com's Mike Sando
Looks like the NFC West could use a few players with
Michael Crabtree
's potential. The division has produced only seven pass plays covering 30 yards or longer. The Colts and Chargers have nine apiece.
The only NFL team with zero plays at Candlestick Park in Week 5. It's not the 49ers, either. Atlanta is the only NFL team without at least one pass play covering 30 or more yards this season. Even the Rams have one.
Arizona also has only one, but I suspect that might change in Week 5. Seattle leads the division with three. The 49ers have two.
October, 7, 2009
10/07/09
9:58
AM ET

Posted by ESPN.com's Mike Sando
Michael Crabtree will likely be eligible to start between nine and 11 regular-season games in 2009, depending on whether the 49ers use all of the roster exemption they will surely receiver beginning this week.
The schedule sets up favorably for Crabtree and the 49ers because the team has a bye in Week 6. The down week should give the 49ers an opportunity to dedicate extra time to getting Crabtree ready.
The first game following the bye is at Houston, in Crabtree's home state.
The chart shows how late Crabtree is reporting relative to other first-round choices since 2001 who remained unsigned into September or later. ESPN Stats & Analysis came up with the information.
October, 7, 2009
10/07/09
9:13
AM ET

Posted by ESPN.com's Mike Sando
Mike Moses asks via Facebook
whether the
Jets' acquisition
of receiver
Braylon Edwards
might be linked from a timing standpoint to
Michael Crabtree
's new
deal with the 49ers
.
Mike Sando:
The 49ers did accuse the Jets of tampering with Crabtree during the negotiations, but the timing of these transactions is probably a coincidence. NFL rules would prohibit the 49ers from trading Crabtree's rights before March. The Jets acquired Edwards with the 2009 season in mind.
Also, it's pretty clear those tampering charges would have made it impossible for the Jets to show any sort of interest in Crabtree now or in the future. For that reason, the Jets would not have been waiting to see what happened with Crabtree before deciding to pursue a deal with Edwards.
October, 7, 2009
10/07/09
8:33
AM ET

Posted by ESPN.com's Mike Sando
The 49ers' agreement
with
Michael Crabtree
doesn't mean the first-round choice will suit up right away.
| | |
| --- | --- |
| | |
| | AP Photo/Paul Sakuma |
| | Michael Crabtree is expected to report to the 49ers' training facility Wednesday. |
The team will likely request and receive a roster exemption allowing Crabtree to practice with the team for a week or two before the 49ers would have to activate him.
Once Crabtree is available, the 49ers could figure out ways to get him on the field. Their three-receiver packages have been pretty weak to this point in the season. The team has used three wide receivers on 49 snaps this season. Those snaps have produced seven sacks, one touchdown and one interception. The team has run the ball only six times on these plays, averaging a half-yard per carry.
But it's clear a big-time receiver could help the 49ers immensely. I was re-watching the Cowboys-Broncos game late Monday night when the thought occurred to me while watching
Brandon Marshall
snatch a risky pass from
Kyle Orton
with the game on the line. Marshall made an excellent individual play on the ball to beat cornerback
Terence Newman
, another high draft choice. Marshall then made another excellent individual play after the catch, scoring the go-ahead touchdown.
The 49ers' offense could certainly use that type of play. Any offense could. With Crabtree on board, the potential might be there.