NFC West:

Cris Collinsworth
July, 17, 2011
7/17/11
12:43
PM ET
Wrapping up what reports suggest will be the final locked out weekend in the NFL this summer:
[+] Enlarge

Kyle Terada/US PresswireThe 49ers' Frank Gore is entering the final year of his contract.
Enjoy the rest of your weekend. The next week appears more promising than any in the NFL since the lockout began in March.
One more note:
Rams receiver
Donnie Avery
says he's running 40-yard times in the
4.2s and 4.3s
. He also says he's able to
change directions
well. Sounds like Avery will be full strength when training camp opens. He's coming off season-ending knee surgery.
July, 5, 2011
7/05/11
11:05
AM ET
By
ESPN.com staff
| ESPN.com
Arizona Cardinals
Ken Whisenhunt spent the Fourth of July weekend
visiting military installations
in Kuwait and Iraq as part of the NFL-USO Coaches Tour.
Former Bengals receiver Cris Collinsworth is
making a push
to get Pat Tillman inducted into the Hall of Fame.
San Francisco 49ers
Despite organizing workouts and coaching up players this offseason, the 49ers
have not promised Alex Smith the starting job
and may bring in a veteran to compete with him when the lockout ends.
Aldon Smith, the No. 7 overall pick in April's draft,
will be switching positions
from defensive end to linebacker.
Seattle Seahawks
Former Seahawks tackle Walter Jones
has no regrets
about calling it quits prior to the 2010 season
St. Louis Rams
Darren Sproles
could be an appealing option
to back up Steven Jackson.
The first preseason game of 2011 -- the Hall of Fame Game between the Chicago Bears and the St. Louis Rams -- is
still on track
according to the Hall's president.
January, 4, 2011
1/04/11
12:23
PM ET
Tom Hammond, Mike Mayock and Alex Flanagan get the call for NBC when the Seattle Seahawks face the New Orleans Saints in a wild-card playoff game Saturday at Qwest Field.
Kickoff is at 4:30 p.m. ET.
Hammond, Mayock and Flanagan work together on NBC's coverage of Notre Dame football. NBC's regular Sunday night crew -- Al Michaels, Cris Collinsworth and Andrea Kremer -- will work the AFC wild-card game between the New York Jets and Indianapolis Colts.
CBS has eight crews. Fox has seven. The networks rank their crews, with higher-ranked ones drawing more attractive assignments such as Super Bowls, playoff games and marquee matchups.
Earlier
:
2008
,
2009
.
December, 28, 2010
12/28/10
4:48
PM ET
Al Michaels, Cris Collinsworth and Andrea Kremer get the call for NBC when the St. Louis Rams face the Seattle Seahawks for the NFC West title at Qwest Field.
Kickoff is at 8:20 p.m. ET.
The Rams last played a Sunday night game on Jan. 1, 2006. The Rams won at Dallas in that game, 20-10.
CBS has eight crews. Fox has seven. The networks rank their crews, with higher-ranked ones drawing more attractive assignments such as Super Bowls, playoff games and marquee matchups.
Earlier
:
2008
,
2009
.
December, 28, 2010
12/28/10
4:17
PM ET
Al Michaels, Cris Collinsworth and Andrea Kremer get the call for NBC when the
Seattle Seahawks
face the
St. Louis Rams
for the NFC West title at Qwest Field. Kickoff is at 8:20 p.m. ET.
NBC last featured the Seahawks in prime time in Week 7 of the 2008 season. The
Tampa Bay Buccaneers
won that game, 20-10.
CBS has eight crews. Fox has seven. The networks rank their crews, with higher-ranked ones drawing more attractive assignments such as Super Bowls, playoff games and marquee matchups.
Earlier
:
2008
,
2009
.
October, 14, 2010
10/14/10
2:14
PM ET
Quarterback questions carried the latest NFC West chat Thursday. Transcript
here
. Highlights below:
Jack (Deer Park): Could this week be Matt Hasselbeck's last start as a Seahawk if he performs poorly? If not when do you think Pete Carroll will pull the trigger on him?

Mike Sando: Yeah, that thought is in the back of my mind heading to Chicago this week. The offense hasn't done much of anything for a while. Hasselbeck's problems were the No. 1 issue in that road defeat to Denver. Here is the deal: They need to find out more about Charlie Whitehurst at some point this season, but if they think Hasselbeck is significantly better than Whitehurst right now, it's tough to make a change when the division race is so close. I do think the clock is ticking.

David (Seattle): Would an Alex Smith benching (which would imply an 0-6 start) for David Carr signal that the 49ers have thrown in the towel for the season? Do you think benching is a real possibility? Seems like it'd be a shame because Smith is really having at least 1-2 phenomenal drives a game.

Mike Sando: Alex Smith needs to have more impressive drives when games are in the balance, such as when the 49ers trailed the Eagles 17-10. It's less meaningful to suddenly play well when you're down 24-10, especially when the quarterback's turnover was the difference between 17-10 and 24-10. Switching quarterbacks would be a desperation move that would signal giving up on Smith more than giving up on the season. The 49ers clearly do not want to go that route.

Mike (Costa Mesa): The Cardinals have been exceeding expectations consistently since Ken Whisenhunt took over the team. Although they have, admittedly, performed extremely poorly at times, they have also performed over and above expectations in big games. What is it going to take for the Cardinals to start getting a little respect. After five weeks, they are in first place and yet supposed NFL "experts" are picking the 0-5 49ers to win the division. After the 2008 season, Cris Collinsworth also said famously that the Cardinals were "the worst playoff team in the history of the NFL", and we know how that came out.

Mike Sando: There's no comparison between the Cardinals with Kurt Warner and the Cardinals without Kurt Warner. The current team doesn't deserve the same level of respect. This team is 3-2 because Sebastian Janikowski missed from 32 yards, because Steve Breaston chased down the Rams' Clifton Ryan near the goal line and because Arizona became the second team in NFL history to score 30-plus points without a passing or rushing touchdown. Those victories count. A couple of them simply haven't fallen into the "sustainable" category (meaning we didn't emerge from those victories thinking Arizona had hit stride). Let's see how things play out. I do think the road to 8-8 or even 9-7 can be fairly smooth for this team. Just depends on Max Hall.

ADAM (FT JACKSON, SC): Hello Mike. Just have two questions: 1) Where and who do you see the Rams picking in the draft if you had to guess? 2) Do you think that the Rams should stick with the West coast offense past this year? Is it really the right system for Sam Bradford? Thanks for taking the time to answer my questions.

Mike Sando: Thanks, Adam. I see the Rams picking among the top seven or eight choices overall. This should put them in position to consider a playmaker of some sorts -- wide receiver, pass-rusher, etc. The team has already invested in its offensive line, so that would be a position to avoid early. Offense-wise, I think the Rams should keep the current scheme as long as the current staff is in place. Bradford does throw accurately and on time. This is a timing offense. The fit seems pretty good. Also, Bradford moves well outside the pocket. His offensive coordinator, Pat Shurmur, ran this offense with the Eagles when Donovan McNabb was quarterback. Bradford is not a runner the way McNabb could be, but he does throw effectively on the move.
Thanks to those who kept the chat rolling. Good questions this week.
October, 5, 2010
10/05/10
6:31
PM ET
Al Michaels, Cris Collinsworth and Andrea Kremer get the call for NBC when the
San Francisco 49ers
face the Philadelphia Eagles at Candlestick Park in Week 5. Kickoff is at 8:20 p.m. ET.
This is the second of five 49ers games in prime time this season.
CBS has eight crews. Fox has seven. The networks rank their crews, with higher-ranked ones drawing more attractive assignments such as Super Bowls, playoff games and marquee matchups.
Earlier
:
2008
,
2009
.
April, 16, 2010
4/16/10
10:00
AM ET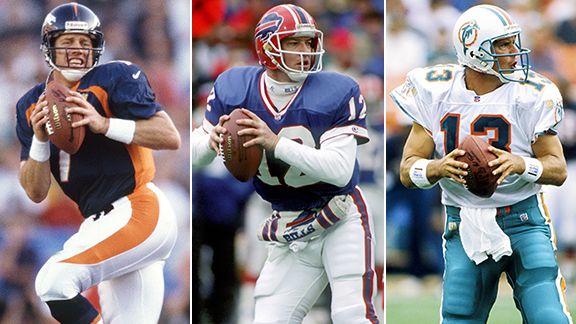 US PresswireJohn Elway, Jim Kelly and Dan Marino are a part of a draft class that may be the best in NFL history.
The 1983 NFL draft might have been the best of the modern era even without Hall of Fame quarterbacks
John Elway
,
Jim Kelly
or
Dan Marino
.
It was that good.
"I think if you asked each guy to a man, in particular the Hall of Fame guys, there has always been a pride about our class," said cornerback
Darrell Green
, the 28th overall choice in 1983 and a Hall of Famer. "Without ever discussing it, we knew we were a pretty special class of athletes."
The class produced six Hall of Famers –- Elway, Kelly, Marino, Green,
Eric Dickerson
and
Bruce Matthews
-– in addition to recent Hall finalists
Richard Dent
and
Roger Craig
. Of the 335 players drafted, 41 combined for 142 Pro Bowl appearances.
No other draft class has produced more than 34 Pro Bowl players since the NFL and AFL combined for a common draft in 1967, according to ESPN Stats & Information. That year served as the starting point for this project ranking the five best draft classes. The 1996, 1981, 1969 and 1985 drafts also made the cut.
Not that making the cut was good enough for some.
"If you took the defensive players in our draft and put them on the field against any class, we would shut them out," said
Ronnie Lott
, one of the more decorated members of a 1981 class featuring
Lawrence Taylor
, Mike Singletary,
Rickey Jackson
,
Howie Long
and Kenny Easley.
The project was biased against recent classes because their players haven't had time to achieve in ways that set apart the older classes. The 2001 class has already produced 33 Pro Bowlers, same as the 1996 class and more than every other class but 1983, 1987 and 1988. But the best players from that class aren't finished achieving.
The biggest challenge, at least to me, was settling on the right criteria. ESPN Stats & Information provided an updated version of the spreadsheet used to identify elite draft classes for
a previous project

. The spreadsheet awarded points to players based on:
Hall of Fame enshrinement (15 points)

MVP awards (8)

Player of the year awards (6)

All-Pro first-team awards (4)

All-Pro second-team awards (3)

Super Bowl victories (3)

Pro Bowls (2)

Rookie of the year awards (2)

Super Bowl defeats (1)
I used the spreadsheet as a starting point.
From there, I assigned 15 points to current or recently retired players likely destined for Canton. The players I singled out were:
Troy Polamalu
,
Dwight Freeney
,
Ed Reed
,
LaDainian Tomlinson
,
Steve Hutchinson
,
Brian Urlacher
,
Tom Brady
,
Champ Bailey
,
Peyton Manning
,
Randy Moss
,
Alan Faneca
,
Orlando Pace
,
Walter Jones
,
Tony Gonzalez
,
Jason Taylor
,
Jonathan Ogden
,
Marvin Harrison
,
Ray Lewis
,
Brian Dawkins
,
Terrell Owens
,
Derrick Brooks
,
Marshall Faulk
,
Larry Allen
,
Michael Strahan
,
Brett Favre
,
Junior Seau
and
Deion Sanders
.
I added five points for Hall of Fame finalists not yet enshrined -- Cortez Kennedy, Shannon Sharpe, etc. These changes allowed the rich to get richer, of course, because all those players already had lots of Pro Bowls on their resumés. But if it was important to recognize current Hall of Famers -- and it was, I thought -- then it was important to acknowledge the strongest candidates not yet enshrined.
Another thing I noticed: These changes didn't significantly alter results, which were predicated mostly on Pro Bowl appearances, a statistical correlation revealed.
The next challenge was making sure the formula didn't acknowledge great players at the expense of good ones. ESPN's John Clayton and Gary Horton of Scouts Inc. felt the formula should take special care in this area. I wasn't as adamant.
"You love the Hall of Famers," Horton said, "but I like the class where the guy plays at a high level for a long time. I love those third-round picks that just play and play. We shouldn't make a mistake at the first pick. That guy should be a great player."
Clayton used
approximate-value ratings
from Pro Football Reference to produce averages for each draft class. The 1993 class produced the highest average, followed by the 1996, 1983, 1975 and 1971 classes. Clayton also plugged in total games played. The 1983 class edged the 1993 class for the most, followed by the 1990, 1976 and 1988 classes.
A few key variables changed along the way.
Teams drafted at least 442 players annually from 1967 to 1976. They drafted more than 330 players each year from 1977 through 1992. The 1993 class featured only 224 players, fewer than any class under consideration. The first 224 players drafted in 1969 had much higher average approximate-value ratings than the 1993 class, for example. More recent draft classes also benefited from league expansion, which opened roster spots and opportunities for additional players.
NFL regular seasons also grew in length from 14 to 16 games beginning in 1978.
My focus was more on what the draft classes produced and less on extenuating circumstances.
The 1993 class is among those deserving honorable mention. Do the most decorated members of that class -- Strahan,
Willie Roaf
,
Will Shields
,
John Lynch
,
Jerome Bettis
and
Drew Bledsoe
among them -- hold up to the best from other years?
Take a look at my top five classes and decide for yourself.
---
[+] Enlarge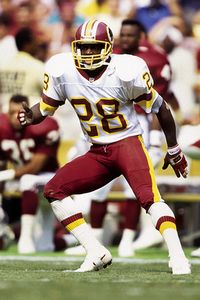 US PresswireDarrell Green was the last pick of the first round in the 1983 draft.
1983
Why it's the best:
No other class came close using the point system from ESPN Stats & Information. The 1983 class finished in a virtual tie with the 1996 and 1981 classes even when I removed from consideration the three Hall of Fame quarterbacks -- Elway, Marino and Jim Kelly. No class had more combined Pro Bowls from its top-10 picks (42) or more combined Pro Bowls from players drafted later than the 200th overall choice (26). Five of the six Hall of Famers played their entire NFL careers with one team for 83 combined seasons, or 16.6 on average.
Hall of Famers:
Elway (Broncos), Kelly (Bills), Marino (Dolphins), Green (Redskins), Dickerson (Rams), Matthews (Oilers)
Hall of Fame finalists:
Richard Dent (Bears), Roger Craig (49ers)
Other big names:
Karl Mecklenburg
(Broncos), Joey Browner (Vikings),
Chris Hinton
(Broncos),
Charles Mann
(Redskins),
Dave Duerson
(Bears),
Leonard Marshall
(Giants),
Albert Lewis
(Chiefs), Curt Warner (Seahawks), Jimbo Covert (Bears),
Henry Ellard
(Rams),
Mark Clayton
(Dolphins),
Tim Krumrie
(Bengals),
Greg Townsend
(Raiders), Gill Byrd (Chargers),
Don Mosebar
(Raiders),
Darryl Talley
(Bills).
Late-round steals:
Mecklenburg was the 310th overall choice. Dent went 203rd overall. Clayton went 223rd. They combined for 15 Pro Bowls.
Ah, the memories:
Green grew up in Houston rooting for the Oilers, but his hometown team wasn't very accommodating on draft day. His family didn't have cable TV, so they couldn't watch the draft on ESPN. They had heard the Oilers would be showing it at their facility, or at least providing real-time updates, but Green was turned away.
"They sent my little behind on out of there," Green said. "That is the way that went. What is funny, I'm a Houstonian, I played 20 years in the NFL, started 18 years and I never played in Houston but one time, so I couldn't stick it to them. ... But you always love your hometown. I was a Luv Ya Blue, Bum Phillips, Kenny Burrough, Earl Campbell, Dan Pastorini fan."
Green was used to the cold shoulder. Tim Lewis, drafted 11th overall by Green Bay, was supposed to be the superstar cornerback that year. Looking back, Green liked going one spot after Marino. Green also values being a bookend to a first round featuring Elway on the other side.
"[Redskins general manager] Bobby Beathard told me if I was there, he would take me," Green said. "I'd always been told by pro players, 'Hey, don't believe anything they say.' As an adult, I know why. Things change. But the man told me. We got down to Dan Marino at 27 and I knew I wouldn't be 27. Then when we got to 28, the last pick of the first round, now I've got nothing else to do but believe it. I was extremely excited he maintained his word."
---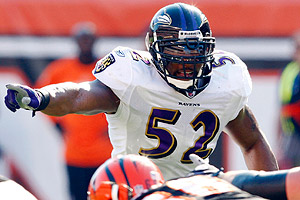 Frank Victores/US PresswireRay Lewis could be one of the best linebackers to ever play in the NFL.
1996
Why it's No. 2:
Jonathan Ogden and Ray Lewis arguably rank among the three best players at their positions in NFL history. Marvin Harrison and Terrell Owens arguably rank among the
10 greatest receivers
. Between four and seven members from this class have strong credentials for Canton. Only the 1983 class produced more total Pro Bowl appearances. Unlike some other classes -- 1988 comes to mind -- this one provided star power deep into the draft.
Hall of Famers:
none yet.
Hall of Fame finalists:
none yet.
Strongest Hall credentials:
Jonathan Ogden (Ravens), Marvin Harrison (Colts), Ray Lewis (Ravens), Brian Dawkins (Eagles), Terrell Owens (49ers),
Zach Thomas
(Dolphins),
La'Roi Glover
(Raiders).
Other big names:
Mike Alstott
(Bucs),
Willie Anderson
(Bengals),
Simeon Rice
(Bucs),
Lawyer Milloy
(Patriots),
Tedy Bruschi
(Patriots),
Eddie George
(Titans),
Jeff Hartings
(Lions),
Keyshawn Johnson
(Jets),
Donnie Edwards
(Chiefs),
Jon Runyan
(Oilers),
Amani Toomer
(Giants),
Muhsin Muhammad
(Panthers),
Stephen Davis
(Redskins),
Joe Horn
(Chiefs),
Marco Rivera
(Packers).
Late-round steals:
Fifth-rounders Thomas, Glover and Horn combined for 17 Pro Bowls. Another fifth-rounder,
Jermaine Lewis
, added two more. No other fifth round produced more total Pro Bowls during the period in question. Although expansion added additional picks to more recent fifth rounds, those picks were also later in the draft. Thomas and Glover should get strong Hall of Fame consideration.
Ah, the memories:
Glover was the 16th defensive tackle drafted in 1996. He wasn't even invited to the combine initially, and when he did get the call, there wasn't enough time to prepare for the specialized events. Glover, who weighed about 265 pounds at San Diego State, was in trouble and he knew it.
"It's funny to me now, but it wasn't funny then," Glover said. "I got a call maybe a week before the combine, so I wasn't prepared. I was out there doing my long-distance conditioning training and I wasn't doing speed-type training. I may have ran like a 5.1 or 5.2, a very bad time."
Glover performed much better at his personal workout, dropping those times into the low 4.9s. Oakland made him the 166th player chosen that year.
"I just remember feeling goosebumps and I started sweating -- the dream is coming true," Glover said. "And then I was put on the phone with Mr. Al Davis. He asked me a very specific question: 'How would you like to be an Oakland Raider?' And I damn near lost it. I didn't cry or anything. I kept my composure over the phone. As soon as I hung up and saw my name come on the ticker -- I lived in a tiny 2-3 bedroom home -- the place just erupted. All the women were crying and all the men were asking for tickets."
---
[+] Enlarge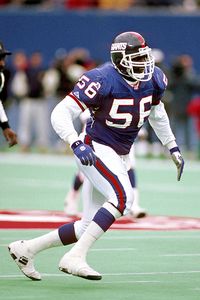 US PresswireLawrence Taylor helped the New York Giants win two Super Bowls.
1981
Why it's No. 3:
This was arguably the greatest defensive draft under consideration, particularly near the top. The NFL's best athletes typically played offense, but 1981 draftees Taylor, Lott and Easley helped change the dynamics. This draft wasn't as strong as some throughout, but its star power on defense set it apart. Key players from this draft helped the 49ers, Redskins, Giants, Bears and Raiders dominate at times during the decade. Only the 1986 draft produced more Super Bowl winners.
Hall of Famers:
Taylor (Giants), Lott (49ers), Mike Singletary (Bears), Howie Long (Raiders), Rickey Jackson (Saints), Russ Grimm (Redskins).
Hall of Fame finalists:
none.
Other big names:
Easley,
Eric Wright
(49ers),
Dennis Smith
(Broncos), Cris Collinsworth (Bengals), Hanford Dixon (Browns), Freeman McNeil (Jets), James Brooks (Chargers), Brian Holloway (Patriots), Hugh Green (Bucs), Carlton Williamson (49ers), Neil Lomax (Cardinals), Dexter Manley (Redskins),
Mark May
(Redskins),
E.J. Junior
(Cardinals).
Late-round steals:
Charlie Brown, chosen 201st overall by the Redskins, caught 16 touchdown passes in his first two seasons, earning Pro Bowl honors both years.
Wade Wilson
, chosen 210th, played 19 seasons and earned one Pro Bowl berth, in 1988.
Ah, the memories:
Once the 49ers drafted Lott eighth overall, the USC safety headed to the airport to use a ticket the team had held for him. Easley, chosen sixth by the Seahawks, was the other great safety in that draft class and the two were so closely linked that the person behind the airline counter mixed up Lott's destination.
"You are going to Seattle?"
"No, San Francisco," Lott replied.
Lott often looks back on how things might have been different if the Saints had drafted Taylor instead of George Rogers first overall. That wasn't going to happen because the Saints wanted a running back to help them control the clock, and they were especially particular about character in that draft -- their first with Bum Phillips as head coach.
"Lawrence Taylor, I didn't realize he was going to be that type of player, but Rickey Jackson did turn out to be the player we needed [in the second round]," Phillips said. "We needed a great player and a great individual. We needed some leadership and we needed the right kind of character to be leaders."
The 49ers needed a new secondary. They used that 1981 draft to select Lott, Wright and Williamson.
"I talked to Bill Walsh and his statement was, 'If I see it on film once, then my coaches should be able to get it out of a guy,'" said Horton, the Scouts Inc. founder and veteran NFL talent evaluator. "That always stuck with me. He was amazing at seeing things on tape. That '81 draft was a smart draft. You could look at that draft and you could see what teams were thinking."
---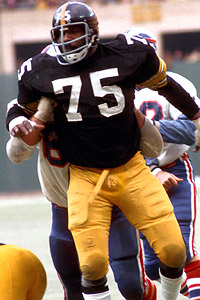 Malcolm Emmons/US PresswireJoe Greene is one of five Hall of Fame inductees from the 1969 draft class.
1969
Why it's No. 4:
Roger Wehrli's 2007 Hall of Fame enshrinement gave this class five inductees. Only three other classes managed more combined Pro Bowl appearances. Some of the names in this class won't resonate with recent generations, and that is understandable. But this was still a strong class and one worthy of our consideration.
Hall of Famers:
Joe Greene (Steelers), Ted Hendricks (Raiders), O.J. Simpson (Bills), Wehrli (Cardinals), Charlie Joiner (Oilers).
Hall of Fame finalists:
L.C. Greenwood (Steelers), Bob Kuechenberg (Eagles).
Other big names:
George Kunz (Falcons), Bill Bergey (Bengals), Bill Stanfill (Dolphins), Calvin Hill (Cowboys), Ed White (Vikings), Gene Washington (49ers), Jack Rudnay (Chiefs), Bill Bradley (Eagles), Ted Kwalick (49ers), Jim Marsalis (Chiefs), Ron Johnson (Browns), Fred Dryer (Giants).
Late-round steals:
Greenwood was a six-time Pro Bowl choice and was the 238th overall pick. The Falcons found five-time Pro Bowler Jeff Van Note with the 262nd choice. Larry Brown, chosen 191st overall, was a four-time Pro Bowl selection.
Ah, the memories:
There was no scouting combine back then. Wehrli couldn't remember seeing a pro scout, even at Missouri practices. He had never even run a 40-yard dash until a Cardinals scout asked him to run one at the Hula Bowl all-star game in Hawaii.
Wehrli agreed to run on the spot even though he was wearing pads, the playing surface was natural grass and the stakes were higher than he realized.
"At the time, I didn't know it was a Cardinals scout," Wehrli said. "I ran the 40, came back and he said, 'Man, we didn't realize you were that fast.' Later, he told me that timing moved me up to a first-round draft choice [from the third round]."
Wehrli had clocked in the 4.5-second range. He would run 4.4s on Astroturf later in the pros.
"You never really trained for it back then," he said.
---
[+] Enlarge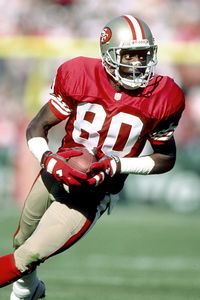 US PresswireJerry Rice, the best receiver in NFL history, helped San Francisco win three Super Bowls.
1985
Why it's No. 5:
Just as the 1983 class featured more than quarterbacks, the 1985 version offered much more than the most prolific receiver in NFL history. Yes,
Jerry Rice
was the 16th overall choice, helping set apart this class from some others. But the supporting cast featured elite talent, from
Bruce Smith
to
Chris Doleman
and beyond.
Hall of Famers:
Rice (49ers), Smith (Bills).
Hall of Fame finalists:
Andre Reed
(Bills).
Other big names:
Lomas Brown
(Lions),
Steve Tasker
(Oilers),
Ray Childress
(Oilers),
Kevin Greene
(Rams),
Jay Novacek
(Cardinals),
Bill Fralic
(Falcons),
Jerry Gray
(Rams),
Randall Cunningham
(Eagles),
Ron Wolfley
(Cardinals), Al Toon (Jets),
Jim Lachey
(Chargers),
Kevin Glover
(Lions),
Mark Bavaro
(Giants), Herschel Walker (Cowboys),
Duane Bickett
(Colts),
Doug Flutie
(Rams),
Jack Del Rio
(Saints).
Late-round steals:
Tasker became a seven-time Pro Bowl choice on special teams as the 226th overall choice (albeit with Buffalo, after the Oilers waived him). Greene was a fifth-rounder, Novacek was a sixth-rounder and Bavaro, one of the toughest tight ends, provided excellent value in the fourth round.
Ah, the memories:
Bill Polian was a little-known pro personnel director with USFL roots when Bills general manager Terry Bledsoe suffered a heart attack two months before the draft. The Bills had already landed their franchise quarterback in Kelly two years earlier, but his two-year detour through the USFL had set back the organization. Buffalo held the No. 1 overall pick, and the stakes were high.
Polian took over GM duties. Norm Pollom, a holdover from the Chuck Knox years, headed up the college scouting side.
The Bills were in great hands. Although some fans hoped the team would draft Flutie, Polian and Pollom found building blocks.
Aggressive wheeling and dealing allowed Buffalo to land cornerback Derrick Burroughs with the 14th choice, acquired from Green Bay, even after drafting Smith first overall. Reed was a steal in the fourth round. The decision to draft Smith over Ray Childress was the right one even though Childress became a five-time Pro Bowl choice for the Oilers.
January, 21, 2009
1/21/09
4:59
PM ET
Posted by ESPN.com's Mike Sando
Ken from parts unknown writes: What do you think about this "Steelers West" stuff? It's flattering, but I think the Cardinals instead are the Colts West. Classic pocket QB, deadly passing game, pragmatic regular season approach, fast undersized defense, a great safety, and who do we hand the ball to but Edgerrin James himself?
Mike Sando: I like the comparison. Cris Collinsworth took it another step by comparing the Cardinals' postseason improvement to what the 2006 Colts accomplished when they won the Super Bowl. I would not necessarily say the Cardinals were pragmatic about their regular-season approach, but Arizona would certainly accept the same result in a Super Bowl, minus the rain and Devin Hester's kickoff return.
---
Blake from Moraga, Calif., writes: Do you think that if the 49ers didn't lose by a yard to kurt warner's team (bring back any memories?) that he would even be in this position, much less the playoffs?
Mike Sando: I'm not sure. If the Cardinals had lost that game and gone in the tank, no. If they had lost that game, then bounced back with a vengeance to beat good teams down the stretch, yes. The Cardinals did what they had to do to win the division. And now they have proven they belong in the playoffs. The 49ers haven't even committed to a starting quarterback, so I think they have some ground to make up.
---
Mike from Seattle writes: Mike, Tim Ruskell kind of addressed the wide receiver position. How serious of a run do you think Seattle will make at TJ Houshmandzadeh? And, if not him, who would be other FA candidates at WR? Thanks!
Mike Sando: Ruskell has said the Seahawks will protect themselves from a repeat of what happened to them at receiver in 2008. I do not know how seriously the Seahawks would consider a potentially expensive free agent at the position. Potential free agents include Amani Toomer, Bryant Johnson, Justin McCareins, Jabar Gaffney and a handful of lesser-known players. It's not a position of strength in free agency, for sure.
January, 21, 2009
1/21/09
2:20
PM ET
Posted by ESPN.com's Mike Sando
No one is calling the Cardinals the worst playoff team in NFL history at this point. One man who did -- NBC analyst Cris Collinsworth -- remains surprised by Arizona's defensive improvement during the postseason.
Collinsworth took part in a conference call with reporters Tuesday. He thought the Cardinals' knowledge of Ben Roethlisberger and the Steelers, via Ken Whisenhunt and Russ Grimm, would help them in Super Bowl XLIII. Highlights from Collinsworth:
On the Cardinals: "It's amazing that you can have that kind of transformation in a football team once the playoffs start. I've really only seen it one time and it was the Indianapolis Colts when they won the Super Bowl."

On the Steelers' defense: "They have the opportunity to make Kurt Warner look really bad. If you play against Pittsburgh and Dick LeBeau's defense, they are that good. You can throw five interceptions against them every easily."

On Warner overall: "If you can take the MVP vote at the end of the year instead of at the end of the regular season, he may well be MVP because of what he's done with this football team."

On Warner and the Hall of Fame: "I think he just got in. Making it to the Super Bowl with another team that was so totally unexpected. The force of his will carried this team over the top. I thought if he got them to the Super Bowl that would be enough."

On Todd Haley: "The biggest winner out of Arizona's run is Todd Haley. The brush-ups that were captured on TV last week showed not only can he put a game plan together, but that he can also handle himself on the sidelines during tough situations. For him to keep it together and call the plays to march the ball down the field really showed great presence. He has a great pedigree in football, taught by Bill Parcells with a minimalist approach. He's a youthful, energetic guy, and I think he'll be the coach in Kansas City and I think he'll do a good job."
On knowing the Steelers: It is the biggest advantage to come out of this. The Steelers know Ken Whisenhunt and Russ Grimm, but Whisenhunt and Grimm know Roethlisberger and especially Dick LeBeau and his defense. He [LeBeau] creates confusion as well as anybody. He creates the illusion of pressure, even when there's not pressure. He makes guys hurry up. Kurt Warner has his whole history of fumbling, but if he can hang in there and read this defense, then he has a chance."
On Larry Fitzgerald: "He's off the charts with ability to make plays on the ball in the air. I don't know what Larry Fitzgerald's vertical leap is but he looks like Michael Jordan playing out there to me. If it's a tie, you just throw it up in the air and Larry Fitzgerald comes down with it. He just has remarkable hands.
"I can remember the first time I ever saw Jerry Rice play. It was Mississippi Valley State. I happened to be flipping on the cable and I remember watching this kid, he must have caught twenty balls in this game.
"And he just snatched the ball so casually out of the air and I was like, 'Come on it's not that easy.' I have not seen anybody, Cris Carter to some extent, who has been close to what Larry Fitzgerald has been, just so casually catching the football. It's been really fun to watch."
January, 21, 2009
1/21/09
9:34
AM ET
Posted by ESPN.com's Mike Sando

Jim Thomas of the St. Louis Post-Dispatch says the Rams have hired Pat Shurmur as their offensive coordinator. He also expects Ken Flajole to become defensive coordinator. The Rams have requested permission to speak with Vikings special-teams coach Paul Ferraro. Also, outgoing Rams offensive coordinator Al Saunders has an interview with the Raiders.
Also from Thomas: He checks in with USC linebacker Rey Maualuga, the type of player who could help the Rams become more physical.
Jeff Gordon of stltoday.com revisits what Rams owner Chip Rosenbloom said about Scott Linehan, Jay Zygmunt and John Shaw last offseason. Things change.
Steve Korte of the Belleville News-Democrat profiles new Rams coach Steve Spanguolo, who leans heavily on his Catholic faith. Spagnuolo recounts what it took to get married at the Vatican after initially planning to exchange vows in Rome.
VanRam of Turf Show Times expects the Rams to run more than the Eagles did when Shurmur was with Philadelphia.

Niners scout Todd Brunner checks in from the Senior Bowl. He likes quarterback Pat White.
Lisa Goodwin of 49ers.com relays players' thoughts about the King holiday and the presidential inauguration.
Kevin Lynch of Niner Insider says Jeff Jagodzinski's grounding in zone blocking schemes could make him a good fit for the 49ers as offensive coordinator.
Matt Barrows of the Sacramento Bee updates the 49ers' search for an offensive coordinator. Barrows: "The 49ers also have interviewed Indianapolis Colts wide receivers coach Clyde Christensen and former Cleveland Browns offensive coordinator Rob Chudzinski for the job. The fact that neither candidate has been called in for a second interview -- as Linehan was last Thursday -- is telling."
Tim Kawakami of the San Jose Mercury News says the 49ers' search for an offensive coordinator appears stuck in neutral.

Paola Boivin of the Arizona Republic has some advice for Cardinals receiver Anquan Boldin. She thinks he needs to strike a conciliatory tone.
Bob McManaman of the Arizona Republic says NBC's Cris Collinsworth backed off comments about the Cardinals being the worst team in postseason history.
The East Valley Tribune outlines 10 key moments in the Cardinals' season.
Revenge of the Birds' Hawkwind breaks down the Eagles' final two offensive plays against Arizona in the NFC Championship Game.

Clare Farnsworth of the Seattle Post-Intelligencer says the Seahawks could have a hard time keeping linebacker Leroy Hill. Farnsworth: "The club already has talked to Hill and his agent about signing a long-term deal, but all that did was show just how far apart the two sides are. And any time Hill has discussed the situation, he has sounded like a player who is eager to test free agency."
Danny O'Neil of the Seattle Times revisits the Seahawks' and Steelers' Super Bowl lineups from after the 2005 season.
More from O'Neil: a statistical comparison between the Steelers and Seahawks, then and now.
November, 26, 2008
11/26/08
1:22
PM ET
Posted by ESPN.com's Mike Sando
Cris Collinsworth made a living catching passes before he made one analyzing NFL games on TV, currently as part of the NFL Network team covering the Cardinals-Eagles game Thursday night in Philadelphia.
| | |
| --- | --- |
| | |
| | Chris Morrison/US Presswire |
| | Larry Fitzgerald has the skills to become one of the all-time great receivers. |
A few highlights from Collinsworth's recent conference call with reporters, focusing on comments relating to the Cardinals:
On Larry Fitzgerald: "Larry Fitzgerald may have the best hands that I've seen in my life and I've played against Jerry Rice, Cris Carter and a lot of guys."
On the Cardinals losing to the Giants: "The fact that this team was able to hang in with the Super Bowl champions says a lot about where this football team is right now."
On blitzing Kurt Warner: "I've never done a game where [Eagles defensive coordinator] Jim Johnson and the blitz didn't play a major role in the game, so I believe the blitz will be coming."
On the Eagles' offensive talent: "Other than [Brian] Westbrook, I don't see the great skill position players on this team."
On the NFL's best team: "The Giants are clear-cut. They are the best team in football right now."
The comment about Fitzgerald's hands resonates. A prominent former NFL receiver doesn't make that type of comment lightly. I tend to agree. I can't think of another receiver who wins matchups at the ball so decisively and snatches the ball with so much authority. I swear he's going to squeeze the air right out of the football one of these times.
A thumb injury seemed to affect Fitzgerald a bit in recent weeks, but not significantly. He has 72 catches for 1,010 yards with five games remaining. He has a legitimate chance to earn a high spot among the list of all-time great receivers.
November, 6, 2008
11/06/08
4:12
PM ET
Posted by ESPN.com's Mike Sando
Goose from Seattle writes: Mike! Long time! Thanks for keeping the news rolling in, even though it hurts to keep reading stories about the hawks.. I had a couple of quick questions regarding D. Hall. First, has Al Davis gone completely senile? And what are the chances the Hawks pursue him and get rid of Jennings? Thanks again mike!
Mike Sando: Getting rid of Kelly Jennings wouldn't make a lot of sense, in my view, given that Jennings is certainly good enough to be a backup, and he could start if needed, and his contract is cap-friendly.
Teams need at least three good cornerbacks. I know Jim Mora has a good relationship with Hall. He might be able to manage Hall a little easier than another head coach might. Overall, though, Hall seems more flamboyant than the typical Tim Ruskell player.
---
Les from Gardnerville, Nev., writes:
Mike, I know the Rams' season is probably over. But, with DeAngelo Hall on the market...I believe the Rams should pick him up. I mean, we are hurting for a halfway decent corner anyways. What do you think?
Mike Sando: Yeah, I think the Rams have enough concerns at cornerback to consider adding a talented player at the position. I would be wary about opening the checkbook too wide for Hall at this point, however.
The Rams used a 2008 fourth-round pick on cornerback Justin King, who is out for the season after suffering a toe injury. That type of injury seems troubling for a cornerback. Tye Hill has struggled. He's hurt at present. Clearly, the Rams need to evaluate where they stand at the position. At least Ron Bartell seems to be developing.