April, 25, 2013
4/25/13
10:40
AM ET
The list of projections for NFC West teams in 2013 mock drafts includes
Chance Warmack
,
Jonathan Cooper
,
Dion Jordan
,
Lane Johnson
,
D.J. Fluker
,
Tavon Austin
,
Eric Reid
,
Kenny Vaccaro
,
Cordarrelle Patterson
,
Justin Hunter
,
Alec Ogletree
,
Matt Elam
,
DeAndre Hopkins
,
Montee Ball
,
Kawann Short
,
Margus Hunt
,
Zach Ertz
,
D.J. Hayden
and
Jesse Williams
.
The chart below lists those players by which mock drafters projected them to land with NFC West teams. I've attempted to order the mocks by when they were posted.
Some mock drafters try harder than others to get the picks correct exactly. Those accepting the futility of such a pursuit settle for projecting the highest possible number of players in the first round, regardless of team. Rob Rang takes that approach. Others project based on what they think teams should do. Howard Balzer has taken that approach.
Update:
Don Banks has subsequently filed a new mock draft in which NFC West teams traded two of their selections. The chart still reflects his April 17 mock. To view his final mock, filed Thursday,
check out the link
.
Second update:
Mel Kiper Jr. has updated his mock to show the 49ers selecting Reid.
April, 17, 2013
4/17/13
12:45
PM ET
Three of four starting NFC West left tackles have been named to start a Pro Bowl over the past few seasons.
The fourth,
Levi Brown
, was drafted fifth overall in 2007.
From 2009 through 2011, NFC West teams used five first-round selections for offensive linemen, more than any other division.
Results have been mixed. Overall, however, the lines in this division should be on the rise. There is still quite a bit of variance top to bottom.
Matt Williamson, who scouts the NFL for ESPN.com, picks up the conversation from there as part of our
ongoing series
ranking NFC West position groups.
Williamson:
San Francisco has the best offensive line in the league. The 49ers bring back all five starters. They are loaded. Arizona has one of the worst lines in the league, although I think it will be better. Brown is back from injury.
Bobby Massie
and
Nate Potter
will be better in their second seasons. All the draft analysts seem to think the Cardinals need a tackle. They really need a guard. That is the weakest spot on the line, right guard.
Sando:
I was pretty surprised when the Cardinals gave decent starting money to
Adam Snyder
in free agency last offseason. He's most valuable for his versatility and would be ideally suited as the sixth man for any line.
Williamson:
Snyder is terrible. I don't think they'll draft
Chance Warmack
seventh overall. They need an outside pass-rusher. Still, they should strongly consider Warmack. He would help their line more than anybody.
[+] Enlarge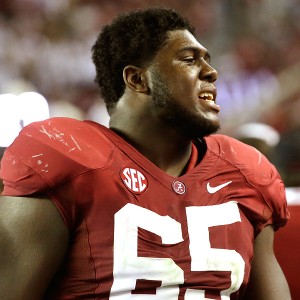 AP Photo/Dave MartinESPN's Matt Williamson says Alabama guard Chance Warmack would fill a glaring need for Arizona.
Sando:
Arians and general manager Steve Keim think the line will be vastly improved this season for some of the reasons you outlined. I tend to agree. The line already improved once
D'Anthony Batiste
left the lineup. Beyond Arizona, you've got Seattle with the second-best line in the division. Was that a tough call for the second spot?
Williamson:
I think you could make an argument between the Seahawks and the Rams O-lines. The Rams' line has been so bad for so long that it's easy to say they stink. But look at them player by player. They have four quality starters now that
Jake Long
is the left tackle. Age and/or injury is a big issue for three of the four. I think they should draft Warmack on
Jonathan Cooper
over a wideout. Add one of those guards to the line and you'd have five solid starters. Not many teams can say they have that.
Sando:
There is definitely a tendency for people to pencil in a wide receiver for the Rams in the first round. If there is a truly elite WR prospect available, I'd have no problem with that. But there's absolutely no need to force a wideout in the first round. The Rams already have developmental prospects at the position. Using a first-round pick for another
Brian Quick
really wouldn't make sense if an immediate starter were available for the line.
Williamson:
Guard is a bigger need than wideout, with safety being the biggest need. Rams fans will go crazy if they end up with Cooper and
Kenny Vaccaro
, but to me that would be a home run.
Jared Cook
is a wideout. Quick will be a good player. Givens already is good. He emerged. And if you can protect, Givens will be that much better.
Sando:
Let's get back to the debate between Seattle and St. Louis for the No. 2 line in the division. The Seahawks have two Pro Bowlers on their line in center
Max Unger
and left tackle
Russell Okung
. They're not all that great elsewhere on the line.
Williamson:
Seattle has the two best guys from either team's line. If you asked 100 people to rank these guys, 98 would put Seattle over St. Louis, but it's much closer than people think. That right side of the offensive line in Seattle scares me. Before the
Percy Harvin
trade, I would have said
D.J. Fluker
was who I would add to Seattle -- the biggest, nastiest pure right tackle and guard to compete with the physicality of the Niners.
Sando:
The Seahawks don't have a first-round pick now, and I'm not sure they see the line as a primary need. For reference, NFC West teams have drafted 10 offensive linemen in the first three rounds over the past five drafts.
Mike Iupati
,
Anthony Davis
, Okung, Unger and
Rodger Saffold
became starters.
Chilo Rachal
,
James Carpenter
,
John Moffitt
,
Jason Smith
and
John Greco
haven't produced and have moved on in some cases.
Williamson:
No picks for Arizona in there.
Sando:
Right. That will presumably change this year. To your point about the right side of Seattle's line scaring you, we should note that right tackle
Breno Giacomini
gives the Seahawks a physical, nasty presence. He has played to negative reviews, but I think Seattle likes him.
Williamson:
Breno has been serviceable.
Marshawn Lynch
has room to run. I think they have two good players and then a bunch of guys. I do think the whole is greater than sum of the parts. There is some truth to that in Seattle, which goes to coaching.
Sando:
That really was true for the Rams last season as well. Adding Long lets them move Saffold to right tackle, an upgrade from
Barry Richardson
last season.
Scott Wells
' return to the lineup for the final seven games last season went under the radar a little bit. His presence for a full season could help
Sam Bradford
. But there are injury concerns across the board for the Rams on their line. Adding a starting guard through the draft would certainly improve the outlook.
February, 19, 2013
2/19/13
12:00
PM ET
»
NFC combine preview
:
East
|
West
|
North
|
South
»
AFC
:
East
|
West
|
North
|
South
NFL Nation previews the 2013 scouting combine by identifying the most important thing for each team to learn about its greatest area of need.
Arizona Cardinals:
Quarterback is the most obvious and critical need area for the Cardinals. The team can use this combine to figure out whether any of the prospects at the position would warrant the seventh overall selection. Conventional wisdom says Geno Smith and Matt Barkley aren't promising enough to justify selecting so early.
As we discussed
earlier Tuesday, the Cardinals' division rivals from San Francisco showed two years ago how it's done at No. 7. They bucked expectations to select a quarterback that early, choosing
Aldon Smith
instead. The 49ers then found their quarterback,
Colin Kaepernick
, in the second round. The Cardinals head to this combine needing to fall in love with a quarterback for the right reasons. It happened for Seattle last year (
Russell Wilson
), and it happened for the 49ers with Kaepernick. Neither was a first-round selection, but both were players each team badly wanted to select in the early stages.
St. Louis Rams:
Offensive line is probably the greatest need area. The Rams proved last season they could function offensively in the absence of front-line talent along the line. Line coach Paul T. Boudreau prides himself in rewarding the best players regardless of draft status. Coach Jeff Fisher's teams have never used a first-round choice for an offensive lineman when Fisher was a head coach. Fisher's teams have used two second-round selections (2005, 1996) and two third-rounders (1997, 1999) for the position. It's still important for the Rams to identify starting-caliber linemen for drafting in 2013. Lane Johnson (Oklahoma) and D.J. Fluker (Alabama) are two tackles whom analysts project as potentially available when the Rams are scheduled to select with the 16th and 22nd overall selections. Would either one be worthy of such a high selection? Alabama guard Chance Warmack is another lineman to consider.
San Francisco 49ers:
Defensive line has to be a primary focus area for the 49ers at this combine.
Justin Smith
will turn 34 in September and will be coming off arm surgery. He and fellow defensive end
Ray McDonald
rank among
the NFL's top four
in most snaps played by defensive linemen over the past two seasons. Depth along the line needs reinforcing even if Smith returns to top form and plays another couple of seasons at his customary high level.
Kentwan Balmer
and
Ricky Jean Francois
are the only true defensive linemen the 49ers have selected in any round over the past five drafts. Balmer was a bust. Jean Francois can become a free agent this offseason. With that in mind, the 49ers head to the combine looking to identify defensive linemen worth drafting as early as 31st overall. UCLA's Datone Jones and Georgia's John Jenkins are two guys to investigate further.
Seattle Seahawks:
Defensive line and receiver are two positions for the Seahawks to keep in mind heading to Indianapolis for the combine. Improving the pass rush was a priority even before the team's sacks leader,
Chris Clemons
, suffered a torn ACL against Washington during the wild-card playoff round. The team could stand to improve its pass-rush push on the interior and exterior alike. Seattle gets much credit for landing impact players throughout its three drafts under general manager John Schneider and coach Pete Carroll. However, 2012 first-rounder
Bruce Irvin
stands as the only true defensive lineman the current regime has selected in the top three rounds. Fourth-rounders
Jaye Howard
and
E.J. Wilson
were the only ones drafted in the first six rounds. Trading for Clemons and converting
Red Bryant
from tackle to end eased pressure to target the defensive line in past drafts. The pressure is there now. Seattle has boldly bucked convention with some of its draft picks. Is there a defensive lineman in this draft with the unusual traits Carroll seems to value?