September, 1, 2011
9/01/11
12:16
PM ET
Five things to know about the
St. Louis Rams
, straight from our
newly published 2011 preview
:

1. They like their wide receivers:
Say what you will about
Brandon Gibson
,
Danny Amendola
,
Mike Sims-Walker
,
Greg Salas
,
Austin Pettis
and any others who wind up earning spots on the initial 53-man roster. The Rams think they're talented enough at the position to put stress on opposing defenses in multiple ways. And "stress" is the word new coordinator Josh McDaniels emphasizes. He has consistently downplayed the need for a dynamic physical talent at the position. Time will tell if he is correct. The Rams made no effort to pursue
Sidney Rice
, for example.
2. The Rams got older, for now:
The Rams have gone from fielding one of the five or six youngest teams on average to fielding one of the 10 or 12 oldest. This was by design. The team leveraged a flooded market in free agency to add veterans on short-term contracts without long-term salary ramifications. Eleven of the 14 unrestricted free agents they added signed one-year deals.
Quintin Mikell
's deal was the only one carrying a signing bonus with cap ramifications beyond this season. Players such as
Ben Leber
,
Zac Diles
,
Justin Bannan
,
Daniel Muir
and
Al Harris
brought seasoning to the defense in particular. The Rams' starting offense remains among the very youngest.
3. McDaniels wants a low profile:
McDaniels' track record in personnel and people management in Denver contributed to his demise with the Broncos. He's making a focused effort to change perceptions. McDaniels consistently downplays suggestions he contributed to personnel-related decisions with the Rams, even in cases when he clearly played a role, such as with the drafting of tight end
Lance Kendricks
. McDaniels also has been quite congenial with reporters during media sessions. He's using this opportunity with the Rams to redefine himself and reposition himself for another head-coaching job.
4. The division race can wait:
The Rams are the only team in the league without a division game before Week 9. They've got the
Philadelphia Eagles
,
New York Giants
,
Baltimore Ravens
,
Green Bay Packers
,
Dallas Cowboys
and
New Orleans Saints
in the first eight weeks of the season. It's conceivable the Rams could fall behind in the NFC West race before they even play a division game. They play four division games in a row beginning in Week 11. That will be a critical stretch in the NFC West race.
5. Cornerback depth is a concern:
Division rivals added some big, physically gifted receivers this offseason. Rice and
Braylon Edwards
come to mind immediately. The Rams have not kept pace at cornerback. Starters
Bradley Fletcher
and
Ron Bartell
give the team a solid 1-2 combination. But with an ankle injury sidelining third corner
Jerome Murphy
, the Rams are one injury away from facing a potential crisis situation at the position. Look for the Rams to consider adding a veteran corner before the regular season begins.
August, 23, 2011
8/23/11
7:54
PM ET
With training camps winding down, I've found time to update rosters and put together team-by-team reference material for unrestricted free agency.
The names below match official NFL counts.
These are for players with at least four accrued NFL seasons whose contracts expired following the 2010 season. I've added comments for each team.
Arizona Cardinals

Re-signed (8):
Ben Graham
,
Matt Ware
,
Hamza Abdullah
,
Ben Claxton
,
Lyle Sendlein
,
D'Anthony Batiste
,
Deuce Lutui
,
Stephen Spach
.
New to team (7):
Chansi Stuckey
,
Richard Marshall
,
Daryn Colledge
,
Nick Eason
,
Stewart Bradley
,
Floyd Womack
,
Jeff King
.
Still unsigned (3):
Alan Faneca
,
Jason Wright
,
Bryan Robinson
.
Signed elsewhere (5):
Steve Breaston
(Kansas City),
Gabe Watson
(
New York Giants
),
Ben Patrick
(Giants),
Trumaine McBride
(New Orleans),
Alan Branch
(Seattle).
Comment:
Sendlein, Colledge and Bradley were the big signings. Marshall provides needed depth at cornerback. Faneca and Wright announced their retirements. The Cardinals weren't aggressive in trying to re-sign the players they lost to other teams. The biggest move Arizona made, acquiring
Kevin Kolb
from Philadelphia, did not involve a UFA.
---
San Francisco 49ers

Re-signed (4):
Ray McDonald
,
Tony Wragge
,
Dashon Goldson
,
Alex Smith
.
New to team (5):
Braylon Edwards
,
Jonathan Goodwin
,
Donte Whitner
,
Carlos Rogers
,
David Akers
.
Still unsigned (5):
Brian Westbrook
,
Troy Smith
,
Demetric Evans
,
William James
,
Barry Sims
.
Signed elsewhere (6):
David Baas
(Giants),
Travis LaBoy
(San Diego),
Jeff Reed
(Seattle),
Aubrayo Franklin
(New Orleans),
Takeo Spikes
(San Diego),
Manny Lawson
(Cincinnati).
Comment:
Re-signing McDonald signaled Franklin's departure. Getting Goldson back on the relative cheap was a victory. The 49ers wanted to keep Baas, but not at the price he commanded. The team thinks
NaVorro Bowman
has a bright future in Spikes' old spot at inside linebacker. Lawson wasn't strong enough as a pass-rusher to stick around. Safety depth is improved.
---
Seattle Seahawks

Re-signed (7):
Raheem Brock
,
Junior Siavii
,
Brandon Mebane
,
Leroy Hill
,
Matt McCoy
,
Michael Robinson
,
Kelly Jennings
.
New to team (8):
Branch,
Zach Miller
,
Robert Gallery
,
Jimmy Wilkerson
,
Atari Bigby
,
Sidney Rice
,
Tarvaris Jackson
, Reed.
Still unsigned (7):
Jay Richardson
,
Craig Terrill
,
Chester Pitts
,
Brandon Stokley
,
Ruvell Martin
,
J.P. Losman
,
Lawyer Milloy
.
Signed elsewhere (8):
Will Herring
(New Orleans),
Olindo Mare
(Carolina),
Matt Hasselbeck
(Tennessee),
Chris Spencer
(Chicago),
Jordan Babineaux
(Tennessee),
Sean Locklear
(Washington),
Amon Gordon
(Kansas City),
Ray Willis
(Washington).
Comment:
Adding Jackson as the starting quarterback was the most significant move for the 2011 season. Mebane was the most important re-signing for the longer term. Hill was a bargain relative to how he's playing right now. Miller and Rice were the types of young, talented players who rarely change teams in free agency. The Seahawks were outbid for Herring and Mare. Can street free agent
David Vobora
fill some of the void Herring left?
---
St. Louis Rams

Re-signed (2):
Adam Goldberg
,
Gary Gibson
.
New to team (9):
Daniel Muir
,
Quinn Ojinnaka
,
Harvey Dahl
,
Ben Leber
,
Zac Diles
,
Jerious Norwood
,
Cadillac Williams
,
Quintin Mikell
,
Mike Sims-Walker
.
Still unsigned (5):
Chris Hovan
,
Michael Lewis
,
Darcy Johnson
,
Clifton Ryan
,
Mark Clayton
.
Signed elsewhere (4):
Daniel Fells
(Denver),
Laurent Robinson
(San Diego),
Derek Schouman
(Washington),
Kevin Dockery
(Pittsburgh).
Comment:
Dahl and Mikell were the big additions. Clayton could return if and when his surgically repaired knee allows. Sims-Walker is a wild card. The team didn't flinch when any of its own UFAs signed elsewhere. Most of the moves made on defense were designed to improve St. Louis against the run. Remember that newcomer
Justin Bannan
was not a UFA. Denver released him.
.
August, 22, 2011
8/22/11
1:00
PM ET
EARTH CITY, Mo. -- Unfazed by the NFL lockout and energized by a new offense,
Sam Bradford
shatters perceptions of him as a young player scrambling to make up lost ground.
"We're going to push the ball down the field," the
St. Louis Rams
' second-year quarterback says with some excitement. "I think we're going to be aggressive."

Building steadily for the long term isn't the focus for Bradford and the Rams' new offensive coordinator, Josh McDaniels. They're living week to week, play to play.
It's a mindset change for Bradford and any quarterback transitioning away from a West Coast offense.
Kevin Kolb
is going through a similar adjustment after leaving Philadelphia for Arizona. Instead of honing a timing-based system designed to out-execute any defense, they're learning to change up their plan, sometimes dramatically, for each opponent. And they are reveling in the possibilities.
"We are not going to just keep the same stuff in from week to week and say, 'This is what we run, stop it,'" Bradford says. "We could come in and we could have 30 new plays in on Wednesday and they're all designed to attack what the defense's weakness is."
McDaniels retained portions of the offense Bradford learned as a rookie last season. The terminology for personnel groupings is largely the same. McDaniels also inherited most of the staff from former coordinator Pat Shurmur. But this will not be a 1-2-3 progression passing game to the degree it was last season. Bradford said he likes the changes in part because the new offense more closely resembles the one he ran at Oklahoma.
"Last year in the West Coast, you started in the same place every time, and no matter what the coverage is, you just kind of work through it and find the open guy," Bradford said. "This year, we still have progression plays where it is like that, but it's a lot more, 'OK, if the defense gives us 2, this is exactly what we want. We're going to work off the 'Mike' and we're going to high-low it and we're going to go right there. I really like that."
In another big change, Bradford will take over responsibility for making all of the pass-protection calls at the line of scrimmage. He previously leaned on his offensive line to make adjustments based on where specific defenders were lining up. That means Bradford, still only 23, will carry a heavier mental burden against a formidable schedule. The Rams play the Eagles,
New York Giants
,
Baltimore Ravens
,
Green Bay Packers
and
New Orleans Saints
among their first seven opponents. They'll find out quickly whether Bradford is ready for the new responsibilities.
"Giving it all to me, it's definitely a lot more, but at the same time, it almost makes it easier once you get everything figured out," he said, "because you know exactly what could happen with all the different scenarios."
THREE HOT ISSUES
[+] Enlarge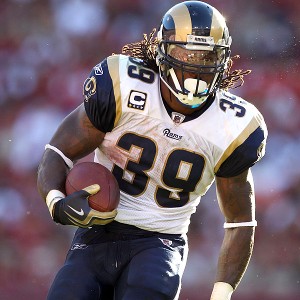 Ezra Shaw/Getty ImagesSteven Jackson's role will change in Josh McDaniels' one-back offense.
1. Steven Jackson's role.
The Rams' Pro Bowl running back has been an outspoken advocate for running behind a fullback in a traditional two-back offense. Jackson realized life would change as McDaniels installed what will be primarily a one-back system. He expects a less regimented running game and less reliance on pounding the ball between the tackles. More of his receptions will come by design instead of on checkdowns, flares and the like.
"This offense allows me to open my whole repertoire of talent and put on display the things I can do outside the tackles," Jackson said. "You don't have a fullback and I hate to lose
Mike Karney
, but at the same time, it allows me on a bigger stage to show my overall talent as a football player."
The Rams ran one-back offenses earlier in Jackson's career. He'll have to set up his blocks instead of relying on a fullback to clear the way. A basic play called "Big Jab" illustrates the differences. It's a strongside run masquerading as an inside-zone play to the weak side. The back must freeze the weakside linebacker with his eyes long enough for the offensive lineman to reach the second level.
"Things like that, you can't pick up on a live game, of course, but on the coaches' film, it makes a difference," Jackson said.
2. The thinking at wide receiver.
The Rams ran out of viable receiving options during their forgettable Week 17 defeat at Seattle last season. With an ascending young quarterback in place and multiple Rams receivers coming off injuries, this offseason seemed like a good time for the organization to invest heavily in a dynamic receiver.
Sidney Rice
was available, but the Rams didn't flinch when the division-rival Seahawks signed him to a five-year contract. The Rams signed
Mike Sims-Walker
to a one-year deal and went to camp with a mostly undistinguished group.
"A lot of people think we have to have some guy that runs 4.25 [in the 40-yard dash] and weighs 230 pounds and he's 6-foot-5," McDaniels said. "You don't have to have that guy. You can do it different ways and that is what we are going to try to do."
Danny Amendola
,
Brandon Gibson
, Sims-Walker,
Austin Pettis
and
Greg Salas
are heavy favorites to earn roster spots if healthy.
Mardy Gilyard
,
Donnie Avery
and
Danario Alexander
are fighting for one or two roster spots. None commands double-team attention or special game planning from opposing defensive coordinators.
Tight ends factor heavily into the Rams' plans for the passing game. The team envisions a "12" personnel grouping with
Lance Kendricks
and
Mike Hoomanawanui
at tight end with two wideouts and Jackson in the backfield. If teams stick with the base defense, the Rams expect Kendricks and Hoomanawanui to create coverage mismatches. If teams choose to play nickel, they can prepare to see a 6-foot-3, 240-pound running back coming their way. Either tight end could shift to fullback for another dimension.
3. Seeking to upgrade run defense.
The Rams shelled out top dollar for only one free agent this offseason. Safety
Quintin Mikell
, who broke into the NFL with Philadelphia when current Rams head coach Steve Spagnuolo ran the Eagles' secondary, brings a physical presence. The Rams are paying him $6.5 million per year because Spagnuolo pretty much had to have him.
[+] Enlarge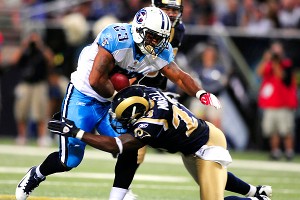 AP Photo/Jeff CurryThe Rams hope Quintin Mikell (27) can help improve the team's tackling in the secondary.
"I don't know if anyone else would be able to feel this or see this, and I can't remember when he was a rookie if he already had these mannerisms, but he plays the game like
Brian Dawkins
," Spagnuolo said. "His mannerisms, the way he's a knee-bender. He plays fast, he loves the game, he's matured."
Sitting in his office following a recent practice, Spagnuolo cued up a 2004 play he shows annually to defensive backs. Green Bay, facing first-and-goal from the Philadelphia 7-yard line in a 2004 game at Philadelphia, hands off to
Najeh Davenport
around the right side. One of the Packers' big tight ends engages No. 46 for the Eagles at the line of scrimmage. Before this year, Spagnuolo never revealed No. 46?s identity to his Rams players. It's Mikell, far lighter than his opponent, disengaging from the block and cutting down Davenport for a 1-yard loss."
"Boom, bang, bang, get out of here, and make the tackle," Spagnuolo says, taking on the voice of narrator. "I want to teach the smaller guys that size isn't a big deal, that it's about power and leverage, and if you run fast at 200 pounds and a 300-pounder is running slow, you can do that."
The Rams gave up too many long runs last season. They're expecting Mikell and fellow defensive newcomers
Justin Bannan
,
Daniel Muir
,
Ben Leber
and
Brady Poppinga
to upgrade that area.
BIGGEST SURPRISE
Gibson's development at receiver. The Rams have felt better about their restraint at receiver in part because Gibson, 24, showed up for camp ready to build on a 53-catch 2010 season. Gibson and the tough, steady Amendola have been the two best receivers in camp.
"Gibby has had a great camp," Bradford said. "He looks faster than last year. He looks more confident."
Gibson's 83-yard touchdown reception against Tennessee in the Rams' preseason game Saturday night was more than twice as long as any pass he's caught in a regular-season game.
"His route running has been great, he's picking up schemes, learning how to block and he's more of a complete receiver than he was," said Mikell, Gibson's former teammate in Philadelphia.
BIGGEST DISAPPOINTMENT
Jerome Murphy
's broken ankle.
Bradley Fletcher
and
Ron Bartell
arguably give St. Louis the best starting cornerback tandem in the division, at least until
Patrick Peterson
gets up to speed in Arizona. Depth is a concern after the Rams lost Murphy.
Al Harris
, 36, adds toughness and experience, but there isn't enough depth to comfortably weather another injury at the position. The Rams would be wise to monitor the waiver wire for cornerbacks and consider potential trade options as the regular season approaches.
[+] Enlarge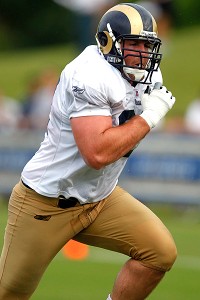 AP Photo/Jeff RobersonThe Rams expect Harvey Dahl to give the offensive line more of an edge.
OBSERVATION DECK
The Rams added veteran right guard Harvey Dahl to upgrade their talent and give their offensive line an edge. NFC West fans should remember Dahl. While with Atlanta, he enraged then-49ers coach Mike Singletary to such a degree that Singletary got into a verbal sparring match with Dahl during a game. The Rams would have reason to celebrate if Dahl's mean streak rubbed off on third-year right tackle Jason Smith.

Dahl's reputation as a brawler created an image in my mind of a player supplementing average talent with toughness. Dahl is better than that physically. He looks more like a tackle than a guard, standing 6-foot-5 and weighing about 305 pounds. He has thicker legs than Smith and has showed good athleticism in camp. McDaniels favors big guards.

Veteran newcomers have transformed the Rams from one of the NFL's youngest teams to one of the older ones, based on average age. The team took advantage of a flooded market in free agency. Most veterans signed one-year deals without salary-cap ramifications beyond this season. With so many veterans taking one-year deals around the league, a similar market could await next offseason. Teams like the Rams can have it both ways. They're relying most heavily on a young core featuring Bradford, Smith, Rodger Saffold, James Laurinaitis, Chris Long, Robert Quinn, Fletcher and others. But they also have veteran depth.

Cadillac Williams and Jerious Norwood are giving Jackson something he hasn't had in the recent past: veteran backups who command respect through their accomplishments. Jackson: "Yeah, coming here, they had their hands full. I think between my mentality on the field and how I felt as a player about the organization and what I would like to see, I think I kind of showed them in a way without saying it, 'Go fill the other areas of need and I'll take care of the running back position. I can hold down the fort and when we feel comfortable enough, then go get another running back or two.' "

Laurinaitis is seeking to become more aggressive now that he has a fuller grasp of the defense entering his third season under Spagnuolo. ESPN credited him with four tackles for loss in 2009 and eight last season. Laurinaitis wants that number to climb. "We would rather have tough, physical play where you are attacking downhill than being assignment perfect every time," he said.

Long made an interesting observation about players the Rams have added in recent years. Several were coming off recent Super Bowl victories. Fred Robbins, Poppinga and Harris are three. Long: "I don't think that's an accident."

Quinn has a chance to play about 40 percent of the defensive snaps if all goes to plan. The Rams aren't counting on him for every-down production as long as veteran James Hall remains productive. Quinn couldn't have a better mentor. Hall, 34, still goes out to practice early for one-on-one work with retired defensive tackle La'Roi Glover.

Kendricks' addition through the draft raised questions in my mind about whether Hoomanawanui still figured prominently in the Rams' plans. He does. Bradford shot me an are-you-crazy look when I shared those thoughts with him at camp. "There is definitely a place for him," Bradford said.

Jackson's carries per game could fluctuate more in McDaniels' offense because so much of the plan hinges upon what the opposing defense offers. Jackson: "That is exactly what this will represent."