November, 17, 2012
11/17/12
1:30
PM ET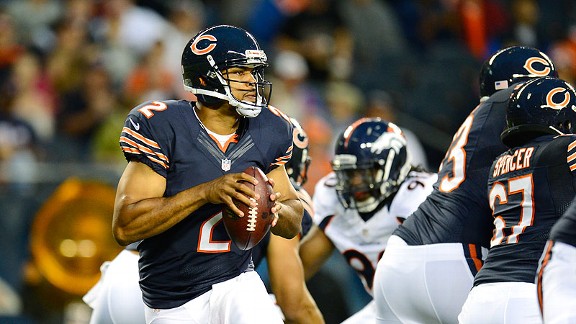 Mike DiNovo/US PresswireBears backup Jason Campbell's career stats are similar in many ways to starter Jay Cutler's.
The
San Francisco 49ers
won't have to face
Chicago Bears
quarterback
Jay Cutler
on "Monday Night Football" in Week 11.
They'll draw backup
Jason Campbell
instead.
This would seem to increase the 49ers' chances for victory, but based on what? Cutler has a better won-lost record as a starter. He has greater experience running the Bears' offense. But if you're looking for additional evidence, you won't find it in the traditional or advanced stats used to evaluate quarterbacks over time.
You'll see a couple of quarterbacks who have produced similarly over the past five seasons. Cutler has played more and for better teams. But his NFL passer rating since 2008 is 83.0, compared with 85.1 for Campbell and 84.1 for every other NFL quarterback. Cutler's Total QBR score since 2008 checks in at 56.5 when 50 is about average and 65-plus represents Pro Bowl-caliber play. The figure was 50.9 for Campbell and 52.0 for all others.
The point is that the 49ers might not be catching a big break while Cutler sits out the game after suffering a concussion in a 13-6 home defeat to the
Houston Texans
in Week 10. The Bears paid a $3.5 million salary for Campbell to be their backup because they figured they could win with him.
"We feel like he is a starting quarterback in the NFL that we have being our backup, and we feel very comfortable with him leading us," Bears coach Lovie Smith told reporters.
NFC North blogger Kevin Seifert and I discussed on a recent
Inside Slant podcast
how aggressive the Bears should be in re-signing Cutler after the season. I had some general impressions of Cutler but was curious to see how he stacked up against the highest-paid quarterbacks the past few seasons.
Peyton Manning
,
Aaron Rodgers
,
Tom Brady
,
Drew Brees
and
Matt Ryan
all had QBR scores in the 70s among regular starters over that period. Cutler was at 56.5. The figure for Cutler is 50.3 since 2009, compared with 50.5 for former Bears starter
Kyle Orton
and 47.7 for Campbell. Again, all the top quarterbacks were closer to 65-plus.
Cutler does have a 31-19 starting record with the Bears. That is far better than the 31-39 mark Campbell has posted for his career. But the Bears were 30-20 in the 50-game period before Cutler arrived. Orton,
Rex Grossman
and Brian Griese were their starting quarterbacks in that span.
Campbell's former team, Washington, was 31-39 in the 70-game span before Campbell posted the same starting record for the Redskins and Oakland Raiders. Tony Banks, Shane Matthews, Patrick Ramsey, Danny Wuerffel, Tim Hasselbeck and Mark Brunell were the starting quarterbacks during that run.
Quarterback play matters a great deal. Teams with the higher QBR scores have won 86 percent of games since 2008. Teams with higher NFL passer ratings have won 79.7 percent of the time over the same period. Those figures outrank even the winning percentages for teams winning the turnover battle (78.5 percent, a figure related to the previous two in that QBs are leading contributors to turnover stats).
The Bears are most dangerous for their defense, however. They rank among the NFL's top five on defense in passer rating, QBR, yards, rushing yards, net yards per pass attempt, interception percentage, third-down conversion rate and points. They were built to win without great quarterback play.
So, if Cutler has been only slightly above average and Campbell plays an average game Monday night, the drop won't be as pronounced as it usually is when a journeyman replaces a big-name quarterback. And if Campbell plays poorly, well, Cutler has done that, too. He has thrown more than three picks in a game four times since 2008, a league high.
September, 4, 2011
9/04/11
5:27
PM ET
The
San Francisco 49ers
are heading into the 2011 regular season with rookie second-round choice
Colin Kaepernick
as their No. 2 quarterback.

Big deal? Not really.
Kaepernick, the 36th overall choice in his draft class, is one of five quarterbacks since 2001 drafted between the 30th and 39th picks. Three of the four others spent at least some of their rookie seasons higher than third on their teams' depth charts.
A quick review:
Every situation is different. Kaepernick did not put up impressive numbers during the preseason. Starter
Alex Smith
has not been durable or consistently productive to this point in his career. It's fair to question whether the 49ers should have done more to bolster the position, but there is precedent for slotting a player drafted as early as Kaepernick in the No. 2 role.
July, 22, 2008
7/22/08
4:33
PM ET
Posted by ESPN.com's Mike Sando

Dilfer
Trent Dilfer's recent Achilles' tendon injury could have been worse for the NFC West if one of the other quarterbacks in attendance had been the unlucky one. Dilfer was playing knockout basketball with Matt Hasselbeck and others at a dude ranch in Colorado when the tendon snapped.
Mitch Levy of Seattle's KJR radio has the details in his interview today with Dilfer, who recently became an analyst for ESPN. Here's a preview (note that Dilfer calls Hasselbeck by his given name, Matthew):
"A bunch of us were at a dude ranch in Colorado vacationing as families and that night, Matthew and Steve Stenstrom and Danny Wuerffel and Todd Peterson and a bunch of guys were playing knockout basketball with a bunch of the staff at the ranch. After I had knocked out Matthew in the championship round, it was down to Stenstrom and I. As I went up for my last jumpshot of the evening to win the knockout championship, as I went up in the air I popped my left one."
Dilfer couldn't resist pointing out that he managed to beat out Hasselbeck, his good friend, during the competition. The 49ers' team doctors performed surgery about a week later, Dilfer said. The injury made it easier for Dilfer to retire, essentially taking the decision out of his hands. Listen to the KJR interview here. Note, too, that Dilfer thinks the Jeremy Shockey trade will pay huge dividends for the Saints because Sean Payton knows how to manage Shockey's personality.
NFC WEST SCOREBOARD
Saturday, 12/20
Sunday, 12/21