April, 22, 2013
4/22/13
8:10
PM ET
The new contracts for
Darrelle Revis
in Tampa Bay and
Kam Chancellor
in Seattle will be interesting to analyze once the figures can be confirmed.
Initial reports tend to focus on maximum payouts, which can be misleading. Sometimes the new money available through an extension produces a misleading new average per year.
For context, John Parolin of ESPN Stats & Information recently put together charts showing how much money players received after signing deals reportedly worth at least $100 million. The answer was less than 50 percent in most cases.
The first chart examines the numbers for contracts that are no longer active.
The second chart shows how much money players have received on active contracts with maximum values of at least $100 million. It counts the $29 million signing bonus associated with
Joe Flacco
's deal as money already paid.
February, 28, 2013
2/28/13
8:30
PM ET
Ryan from Denver
points to the
San Francisco 49ers
' interest in
Peyton Manning
last offseason as evidence the team would consider adding a high-profile, high-priced veteran such as
Darrelle Revis
. He questions
my assertion
that the 49ers do not splurge on these types of players from other teams.
"The 49ers may not make a run at Revis, but it won't be because they don't chase high-priced players from other teams," Ryan writes. "You don't think it would be in the 'Niner Way' to offer two second-round picks and $30 million to Revis on a two-year deal? They would obviously cut
Carlos Rogers
, meaning they would have a little less than $10 million a year over what they're scheduled to pay Rogers and they'd be upgrading to the best corner in the game."
Sando:
49ers brass is on the record saying it views veteran acquisitions as retail and drafted acquisitions as wholesale. They like to pay wholesale. Is the gap between Revis and Rogers really worth $10 million annually and multiple second-round choices, with Revis set to cash in a couple years later? Not to me.
Second-round picks have great value in the right hands. The 49ers recently used a second-round choice to get a franchise quarterback who will count $1.4 million against their cap this season. That's the way to build a team. I could maybe make a case for acquiring Revis if he were a free agent and not coming off ACL surgery, but giving up multiple second-round picks? Doesn't make a great deal of sense to me.
---
Jim from Norwalk, Conn.,
gets the feeling Seattle has to dump
Matt Flynn
for cost considerations. As a Seahawks fan, he fears San Francisco will come out ahead twice on its
Alex Smith
trade. One, the 49ers get additional picks. Two, the 49ers could be in position to snag Flynn if the Seahawks released him.
Sando:
No need to panic, Jim. The Seahawks are in a more favorable cap situation than the 49ers are in, and they can afford to keep Flynn on their roster as the second quarterback. I'll expand on this one Friday. In short, the 49ers had much more to gain from a cap standpoint by trading their backup quarterback than Seattle would gain from trading Flynn.
---
Terry from San Diego
asks whether the
Arizona Cardinals
should consider acquiring
Nick Foles
from Philadelphia.
"Bruce Arians is good with rookie QBs, and Foles fits the mold Arians likes at 6-foot-6 with big hands and a strong arm," Terry writes.
Sando:
The Cardinals should explore all options, but it's not like they're brimming with extra draft picks this year. They already got burned sending a second-round choice and
Dominique Rodgers-Cromartie
to Philadelphia for
Kevin Kolb
. They would have to feel strongly about Foles to make another deal for an unproven Philadelphia quarterback. Arizona should monitor the price on Foles, but I lean toward drafting a quarterback in the first few rounds after signing veteran insurance and reworking Kolb's deal.
---
Tom from Minot, N.D.,
asks whether the
St. Louis Rams
had to pay
Titus Young
while the receiver was on the roster briefly.
Sando:
They might have paid for his flight to St. Louis, but they would not have paid any salary. There are no salary-cap implications associated with Young's brief stay on the roster. The Rams brought him in, checked him out, took notes and sent him on his way.
If the Rams spend real money on a receiver in the near future, it figures to be for
Danny Amendola
. That could be a challenging negotiation, however. Amendola can claim he's a big part of the offense when healthy, pointing specifically to a memorable performance at San Francisco last season. The Rams can point to all the games Amendola has missed, and to
some statistics
calling into question Amendola's impact before third down.
February, 28, 2013
2/28/13
3:31
PM ET
Those eagerly awaiting the start of NFL free agency March 12 with visions of your favorite team loading up on accomplished veterans should revisit the list of unrestricted free agents NFC West teams signed last season.
St. Louis, badly in need of a talent infusion following the worst five-year run in NFL history, opened its checkbook to sign a long list of veteran players, some of them at high cost.
That was the exception in the NFC West and I'd be surprised if St. Louis took a similarly aggressive approach this offseason. The Rams have stabilized their roster and positioned themselves to build around young talent.
With that in mind, I'll take a team-by-team look at the unrestricted free agents each NFC West team signed last offseason. UFAs are defined as veterans who reached the market when their contracts expired. Teams also acquired players by other means.
Arizona Cardinals

2012 UFA signings from other teams:
cornerback
William Gay
, linebacker
Quentin Groves
, safety
James Sanders
and guard
Adam Snyder
Comment:
Gay started and played 93 percent of the defensive snaps as a replacement for
Richard Marshall
, who left in free agency. He wasn't a star, but the defense was solid. Gay gave Arizona the snaps it sought. Groves played 43 percent of snaps as a situational pass-rusher. The Cardinals needed him when an injury sidelined
O'Brien Schofield
. Sanders played 11 percent. Snyder started 14 games and played much of the season with an injury for a line that was among the NFL's least effective for much of the season. Arizona's young tackles made progress. I thought the team overspent for Snyder, a player San Francisco eagerly replaced with the undrafted
Alex Boone
, who provided a clear upgrade. Note that three of the four UFA additions last offseason played defense. Arizona needs to target offense this offseason. New coach Bruce Arians and new general manager Steve Keim have praised the existing talent. Arizona might not load up on free agents the way some teams do when new leadership takes over.
St. Louis Rams

2012 UFA signings from other teams:
linebacker
Jo-Lonn Dunbar
, cornerback
Cortland Finnegan
, linebacker
Mario Haggan
, defensive end
William Hayes
, defensive tackle
Kendall Langford
, defensive lineman
Trevor Laws
, guard
Quinn Ojinnaka
, tackle
Barry Richardson
, receiver
Steve Smith
, center
Robert Turner
and center
Scott Wells
Comment:
The Rams were major players in the UFA market. Results were mostly positive. Finnegan gave the Rams the production and veteran presence they sought. He was instantly a playmaker for St. Louis. Dunbar was much better than I had anticipated and well worth his contract, which included a $1 million signing bonus and $1.5 million annual average. Hayes provided good depth on the defensive line, and at a reasonable cost ($900,000 for one year). Langford needed time to transition from the 3-4 scheme he ran previously in Miami. The Rams signed him after
Jason Jones
signed with Seattle instead. Injuries prevented Wells from stabilizing the offensive line, a major disappointment and a reminder of the risks associated with signing older players from other teams.
San Francisco 49ers

2012 UFA signings from other teams:
fullback
Rock Cartwright
, quarterback
Josh Johnson
, receiver
Mario Manningham
Comment:
Does this look like a team poised to strike for
Darrelle Revis
in the trade market? Does this look like a team ready to throw around cash in free agency? Not based on the list of signings last offseason. The interest San Francisco showed in
Peyton Manning
doesn't apply here. Indianapolis released Manning. Manning was not a UFA. I'd put him in a separate category, anyway. Teams make exceptions for Hall of Fame quarterbacks. Back to the 2012 UFA list. Cartwright and Johnson never played for the team. Neither earned a spot on the 53-man roster. Both served a purpose by initially increasing competition at their positions. For example,
Anthony Dixon
moved fro halfback to fullback and became a more valuable player, including on special teams. Johnson provided early insurance, but in retrospect,
Colin Kaepernick
was obviously ready to serve in the No. 2 role before becoming the starter. Manningham provided sufficient value before a knee injury ended his season. The 49ers missed him late in the season, including during the Super Bowl.
Seattle Seahawks

2012 UFA signings from other teams:
quarterback
Matt Flynn
, defensive lineman Jason Jones, guard
Deuce Lutui
and linebacker
Barrett Ruud
Comment:
Flynn would have started if
Russell Wilson
hadn't emerged unexpectedly as the clear choice. Seattle invested $6.5 million per year in Flynn, a sum the team could live with even if Flynn became the backup. It's tough to fault the Seahawks for signing Flynn. They had no idea Wilson would be available in the draft, or that Wilson would perform at such a high level so early in his career. Jones finished the season on injured reserve. That made it impossible for him to provide the interior pass-rushing push Seattle sought when signing him to a one-year deal worth $4.5 million. Lutui and Ruud never earned roster spots. Neither was a liability financially. Both were low-cost insurance policies. Seattle parlayed Ruud into a 2013 draft choice by trading him to New Orleans after the Saints lost
Jonathan Vilma
.
January, 24, 2013
1/24/13
4:05
PM ET
Darrelle Revis
was a great football player before suffering a severe knee injury last season. He might again become a great football player.
But if the
New York Jets
are apprehensive about paying huge money to retain Revis following the 2013 season, why would another team want to trade for the right to do so?
That was the No. 1 question coming to mind upon reading reports suggesting Jets owner Woody Johnson would consider
trading Revis
.
James from Illinois
used
the most recent NFC West chat
to ask whether the
St. Louis Rams
, armed with additional draft choices in 2013, might be wise to consider a trade for Revis. My response: an emphatic no.
[+] Enlarge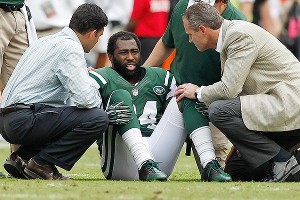 Robert Mayer/US PresswireDarrelle Revis is slated to earn $6 million in the final year of his contract and is coming off of ACL surgery.
The Rams already have talent at cornerback. They fared well with their 2012 draft choices and should continue building that way. St. Louis is currently in position to stock future rosters with young, affordable and healthy draft choices. There could come a time when the team would be better off trading draft capital for a single veteran player. I don't think this is the time. I don't think an injured Revis is the player.
Two years ago, I
made a case
for the
San Francisco 49ers
pursuing cornerback
Nnamdi Asomugha
in the free-agent market. The 49ers showed no interest in Asomugha. They have fielded a sometimes dominant defense over the past two seasons while going 3-1 in the playoffs and reaching the Super Bowl this year.
Would the 49ers be even better with Asomugha on their roster? Sure, at least on paper. But that situation was different. Asomugha would have cost them money, but no additional compensation. Revis would want money. The Jets would want something in return.
Former Arizona and Seattle executive John Idzik is the Jets' new general manager. The team introduced Idzik at a news conference Thursday just as stories were circulating suggesting Johnson wanted to trade Revis.
Welcome to the Jets' circus, John.
On a side note, how frequently do GMs from teams with the most successful owners have to deal with owner-generated rumors such as this one regarding Revis?
The Jets hired Idzik to help them recover from a mismanaged salary cap. The deal Revis renegotiated before the 2010 season voids after 2013 and carries millions in bonus-related salary charges that could complicate trade efforts.
Teams generally do not trade for high-priced veterans, let alone for high-priced veterans coming off injuries.
"Tell me why trading Alex Smith for Revis doesn't make sense,"
@TheTunks countered
.
The 49ers have steadfastly avoided paying big money to players from other teams. The team prefers rewarding the players it develops, not upsetting the pecking order in the locker room by valuing outsiders at a higher level. I know that was part of the 49ers' thinking when they watched Asomugha and other high-priced free agents sign elsewhere.
Revis' deal voids after the 2013 season. Why would he settle for a lesser contact as part of a trade negotiation? He would be better off getting healthy, playing well in 2013 and then seeing whether he can reach the market through a voided contract.