May, 3, 2013
5/03/13
1:32
PM ET
Peter King's report for Sports Illustrated from inside the
St. Louis Rams
' draft room gives us a much better feel for how the team operates.
King had a back-stage pass to the draft, giving him a clear view of the Rams' thinking, their maneuverings and attempted maneuverings. He shared a few details in a
recent online piece
, but the full piece appears in the May 6 edition of the magazine.
We learned, among many other things, that the Rams' trade to acquire the eighth overall choice from the
Buffalo Bills
was worked out days in advance, but never a sure thing until the last minute, and only then when St. Louis upped its offer.
Tavon Austin
was the player the Rams felt they had to have, so when the division-rival
Arizona Cardinals
selected guard
Jonathan Cooper
at No. 7, the Rams' draft room erupted in celebration (the down side: having to face Cooper twice a year in the NFC West).
[+] Enlarge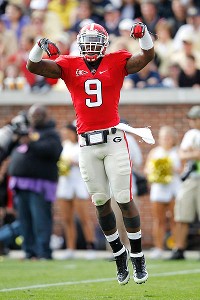 Joe Robbins/Getty ImagesThe Rams were excited that Alec Ogletree was still available late in the first round.
We learned from King that the Rams really did have
Alec Ogletree
as their No. 1 priority with the second of their two first-round selections. They had serious concerns about Ogletree's off-field issues, and those concerns presumably influenced their decision to trade back to No. 30 instead of selecting Ogletree at No. 22. But the wait to No. 30 sounded excruciating based on the conversations and observations King relayed in his report.
When the Rams traded back, UCLA defensive lineman
Datone Jones
, chosen 26th by Green Bay, and Kentucky guard
Larry Warford
, chosen 65th by Detroit, were the players St. Louis was considering as fallbacks at No. 30 if Ogletree were not available. That information can be helpful in the future if Jones or Warford becomes available in free agency. We now know those players could have special appeal to the Rams' current leadership.
We also learned from King that the Rams could have traded the 30th pick to Minnesota for the Vikings' second-, third- and fourth-round picks, but general manager Les Snead thought such a move would have sacrificed one of his core principles: going and getting players his team really, really wanted. This philosophy came into play later in the draft when the Rams traded both sixth-round picks to Houston for the fifth-round choice St. Louis used for running back
Zac Stacy
.
"I think [Stacy] was one of probably the last guys on our board that we were really, really jacked about," Snead would explain to reporters after the draft. "The rest was just going to be people we liked, but not jacked about, so at that point in time we said, 'Hey, let's go get him.' "
Snead would rather have one player he really likes than two players he doesn't feel as strongly about. That thinking makes tremendous sense at the top of the draft, I think. I'm not sure if that's true nearly to the same degree later in the draft, when it's tougher to tell differences between players and the "crapshoot" element comes into play more prevalently.
Ogletree might become an all-world player, and if the Rams think he's going to be special, it's tough to fault them for holding onto the pick. But there are obvious risks associated with drafting Ogletree, whose off-field issues have included failed drug tests in college and a DUI arrest.
The Rams entered the draft with only 52 players on their roster. They are wisely valuing impact players over lesser ones. But they still needed numbers.
There's a decent chance, in theory, that one of the players the Rams would have selected with the 52nd, 83rd or 102nd picks from Minnesota would have outperformed the player chosen 30th. Kevin Meers' Harvard draft value chart says the Rams would have received 85 percent more value than they traded away had they made the trade. Steve Drake's Sports + Numbers chart would have given the Rams a 46 percent value edge. Chase Stuart's Football Perspective chart had the Rams ahead by 69 percent.
Of course,
those fancy charts
aren't in love with Ogletree. Those charts cannot know whether Ogletree is really a top-10 or top-15 talent from a physical standpoint, as the Rams project. By all appearances, NFL teams aren't yet in love with these types of charts, which value picks based on how players selected in the same slots have performed historically.
The traditional value chart from two decades ago says the 30th overall pick is worth almost exactly what those three picks from the Vikings would be worth.
The Rams might not care all that much. They got their guy and that is what matters to them.
April, 13, 2013
4/13/13
4:00
PM ET
Our look at
Mel Kiper Jr.'s fourth 2013 mock draft

continues with projections for the
Arizona Cardinals
.
We previously considered projections for
San Francisco
and St. Louis. The
Seattle Seahawks
do not have a first-round choice. They do have a second-rounder, however. Back in a bit with some thoughts on options with that selection.

7. Eric Fisher, T, Central Michigan
Kiper's give:
It's true the Cardinals saw their offensive line improve over the second half of 2012. But they also just acquired
Carson Palmer
, who has all the maneuverability of a Brink's truck. They need to be able to form a pocket on a consistent basis in 2013, and that means even if Fisher is off the board here, they could still look to a tackle such as
Lane Johnson
. They also have a need at guard, so the presence of Fisher could allow them to move someone inside. Yes, they have other needs, but keeping Palmer upright should be the top priority.
Sando's take:
Kiper is right about Palmer lacking mobility. However, mobility is not a prerequisite for avoiding sacks.
Palmer ranked seventh
among qualifying quarterbacks last season in sacks per drop-back. Palmer has shown he'll risk interceptions to get the ball out before pressure arrives.
This is the second time in four mocks Kiper has sent Fisher to the Cardinals at No. 7. It's the third time in four mocks Kiper has projected an offensive lineman to Arizona. Guard
Chance Warmack
was the projection in Kiper's initial mock for 2013. Quarterback
Geno Smith
, Kiper's
much-debated
choice for Arizona in his third mock, went fourth to Philadelphia in this one. He wasn't going to be a consideration this time, anyway, after the Cardinals acquired Palmer from the
Oakland Raiders
. Warmack was available this time, but Kiper went with the tackle instead.
Teams traditionally value tackles more than they value guards. The Cardinals arguably have a greater need at guard than at tackle, particularly if coach Bruce Arians and general manager Steve Keim are right in their public comments about the state of the line.
Arians has called incumbent left tackle
Levi Brown
an "elite" player at the position. Keim has suggested
Bobby Massie
could take another step forward at right tackle after improving significantly in the role as a rookie in 2012. As we discussed Friday, drafting for the offensive line could represent
the best value
for Arizona even if perceptions about need are overstated.
Pass-rusher could be another logical consideration this early in the draft if the Cardinals have questions about
O'Brien Schofield
's durability and/or
Sam Acho
's long-term outlook.
Ezekiel Ansah
and
Dion Jordan
were not available at No. 7 in this Kiper mock.
Barkevious Mingo
(ninth) and
Jarvis Jones
(15th) went a bit later. We should remember that Arizona, despite not having a single elite outside rusher, ranked sixth last season in sacks per opponent drop-back.
38. Datone Jones, DE, UCLA
Kiper's give:
A perfect fit in their scheme, Jones is an interior penetrator at defensive end.
Sando's take:
This would have to qualify as a value selection as opposed to a need-oriented one based on Arians' comments about receiver and defensive line being two positions the new coach doesn't worry about. Kiper had Jones going 31st to San Francisco in his previous mock draft. Scouting reports cast the 6-foot-4, 283-pound Jones as an effective all-around defensive lineman without great ability in any one area. The Cardinals could always use young depth on defense.
April, 13, 2013
4/13/13
11:30
AM ET
Mel Kiper Jr.'s latest mock draft

, this one spanning two rounds instead of the usual one, appeared while I was away.
A quiet (so far) Saturday provides an opportunity to run through Kiper's projections for NFC West teams. As usual, I'll sample from Kiper's analysis before offering a few thoughts, beginning with a look at the
San Francisco 49ers
.
First round

31. Margus Hunt, DE, SMU
Kiper's give:
Justin Smith
will be 34 in September, and the 49ers need to think about who could take over for him long term, and spell him in the interim. Pound for pound, Hunt is as good an athlete as you'll find in this draft, and the 49ers currently have a roster that allows them to draft for ceiling at this slot. Hunt could add a little bulk and could become a rotation player behind Smith this season, with the potential to become that rare kind of impact pass-rusher in a 3-4 scheme from the defensive end position.
Sando's take:
Kiper has projected a defensive lineman to the 49ers at No. 31 in each of his four mock drafts to this point. The three defensive linemen he projected to them previously --
Sharrif Floyd
,
John Jenkins
and
Datone Jones
-- are all over the map in this latest mock. Kiper has Floyd going third overall to Oakland. He has Jones going 38th overall to Arizona. He has Jenkins going 57th overall to Houston. Bolstering the defensive line rotation makes obvious sense for the 49ers in this draft. Smith, a physical specimen known for his relentless work in the weight room, will presumably bounce back strong from his triceps surgery. However, his contract runs only through the 2013 season.
Second round
34. Matt Elam, S, Florida
Kiper's give:
They added
Craig Dahl
, but safety is still a need. A deep class offers options.
Sando's take:
Kenny Vaccaro
was the only safety off the board when Kiper sent Hunt to the 49ers at No. 31. Florida International's
Jonathan Cyprien
went 32nd to Baltimore under this scenario, leaving Elam to the 49ers as the third safety selected in 2013. Again, the reasoning makes sense. Defensive line and safety are two positions just about any 49ers fan would like to see the team address in this draft. Elam could project as a long-term replacement for
Dashon Goldson
, who departed in free agency. Also, strong safety
Donte Whitner
is entering the final year of his contract.
61. Gavin Escobar, TE, San Diego State
Kiper's give:
A huge target for
Colin Kaepernick
, Escobar can keep the two-tight end look intact.
Sando's take:
Hunt, Elam and Escobar would fill arguably the 49ers' top three needs this offseason. Escobar is known more for his receiving skills than for his blocking. The Scouts Inc. report on Escobar's blocking calls him "mostly a position-and-wall-off type blocker" who "frequently struggles to sustain and rarely drives defenders backwards." Of course, it's unrealistic to expect teams to land finished products in the second round. The 49ers' former No. 2 tight end,
Delanie Walker
, grew into his role over time. Under Kiper's scenario, Escobar would be the third tight end selected behind
Tyler Eifert
(17th overall) and
Zach Ertz
(39th). Ertz played under 49ers coach
Jim Harbaugh
at Stanford.
March, 13, 2013
3/13/13
12:00
PM ET
Mel Kiper Jr. is back

with his third 2013 NFL mock draft for the first round.
Our look at projected picks for NFC West teams continues in reverse order. Kiper had the
San Francisco 49ers
selecting UCLA defensive lineman
Datone Jones
at No. 31. We now move ahead to the
St. Louis Rams
. They have two picks in the first round: their own (16th overall) and one acquired from Washington (22nd).

16. St. Louis Rams:
Kenny Vaccaro
, S, Texas
Kiper's give:
With two first-round picks, the Rams can target maximum value ahead of top need, but Vaccaro offers a check in both boxes. Extremely versatile, Vaccaro is sound in coverage, takes great angles and makes very good reads. But he's a physical player who can assist in run support and be effective near the line of scrimmage. Play
Colin Kaepernick
and
Russell Wilson
four times a year, and versatility at safety can't be overstated.
Sando's take:
Kiper had the Rams taking tackle
Lane Johnson
in his previous mock. Johnson was off the board to San Diego at No. 11 in this updated mock. The Rams are visiting with free-agent tackle
Jake Long
on Wednesday. Signing Long would diminish the need for a tackle in the draft. Kiper has the Rams taking Vaccaro over guard
Chance Warmack
. The need at safety does appear more acute after the Rams released
Quintin Mikell
. However, there are several options in free agency.
Louis Delmas
is one option under consideration. He played under new Rams defensive coordinator Tim Walton when both were with the
Detroit Lions
. Injuries are a concern with Delmas, however.

22. St. Louis Rams:
Justin Hunter
, WR, Tennessee
Kiper's give:
Even if the Rams land a wide receiver in free agency, they should be looking for some young talent at the position in the draft. Hunter has size, speed and creates a home run threat on the edge. He's got some wiggle, given his height, and can create separation with his feet outside of simply running away from people. Where Hunter must get better is in the ability to deal with physical defenders; he's not very strong, which could make press coverage a problem at the next level.
Sando's take:
Wait, Hunter isn't very physical? Good luck with that in the NFC West, where cornerbacks such as
Brandon Browner
,
Richard Sherman
and
Patrick Peterson
are waiting to take your lunch money. Kiper's previous mock had the Rams taking California receiver
Keenan Allen
in this slot. This time, Allen falls to Minnesota at No. 23. I'll be watching to see what happens with
Danny Amendola
in free agency. So far, not so much. Could the Rams get him back at a reasonable price? How badly do they need him? The team has already invested heavily in a receiving tight end, committing $19 million in guaranteed money for 25-year-old
Jared Cook
. Cook,
Lance Kendricks
,
Chris Givens
,
Brian Quick
and
Austin Pettis
give the Rams young targets to build around.
March, 13, 2013
3/13/13
11:10
AM ET
Mel Kiper Jr. is back

with his third 2013 NFL mock draft for the first round.
We'll run through the projected picks for NFC West teams, beginning in reverse order and working our way forward. As usual, I'll sample from Kiper's analysis before thoughts.

31. Datone Jones, DE, UCLA
Kiper's give:
Justin Smith
will be 34 in September, and the 49ers need to think about who could take over for him long term, and spell him in the interim. Jones can provide an interior pass-rushing presence.
Sando's take:
Kiper's previous mocks also had the 49ers taking defensive linemen.
Sharrif Floyd
of Florida was the projection in the first mock. Kiper has Floyd going third overall in this latest mock. Kiper had the 49ers taking John Jenkins of Georgia in his second mock. Jenkins wasn't a first-round selection this time. The need for defensive linemen appears heightened by the 49ers' decision to let
Isaac Sopoaga
and Ricky Jean-Francois hit the market in free agency. Sopoaga reached agreement with Philadelphia already. The 49ers did extend
Ian Williams
' contract, an indication Williams' playing time should rise. One key question is whether the 49ers plan to expand their rotation along the line. Smith and
Ray McDonald
could be at risk for wearing down after
playing so many snaps
recently. McDonald has held up so far despite a history of chronic knee trouble. Smith, one of the NFL's iron men over the past decade, underwent arm surgery recently.
February, 19, 2013
2/19/13
5:30
PM ET
With NFL prospects descending on Indianapolis this week, I've gathered pre-combine mock draft projections from Mel Kiper Jr., Todd McShay, Rob Rang and Gil Brandt.
Their first-round picks for NFC West teams appear in the chart.
Mock drafts tend to make sense from a need standpoint. That is the generally the case here. The four analysts have Arizona seeking help at quarterback or on the offensive line. All four have Seattle targeting help for its defensive line or receiving corps. Defensive line and receiver are the positions projected for San Francisco.
The
St. Louis Rams
own two first-round selections, providing greater flexibility. Offensive line, receiver, running back, safety and defensive line were the positions targeted for the Rams by these four analysts.
Brandt, the NFL.com analyst and former
Dallas Cowboys
executive, has the Rams taking Alabama running back
Eddie Lacy
. That pick would give the Rams two highly drafted young backs (Lacy and 2012 second-rounder
Isaiah Pead
), plus
Daryl Richardson
, who was a find in the seventh round last year.
The Rams' all-time rushing leader,
Steven Jackson
, would not return under such a scenario. Jackson has a $7 million salary for 2013 and the ability to opt out of his contract.
February, 19, 2013
2/19/13
12:00
PM ET
»
NFC combine preview
:
East
|
West
|
North
|
South
»
AFC
:
East
|
West
|
North
|
South
NFL Nation previews the 2013 scouting combine by identifying the most important thing for each team to learn about its greatest area of need.
Arizona Cardinals:
Quarterback is the most obvious and critical need area for the Cardinals. The team can use this combine to figure out whether any of the prospects at the position would warrant the seventh overall selection. Conventional wisdom says Geno Smith and Matt Barkley aren't promising enough to justify selecting so early.
As we discussed
earlier Tuesday, the Cardinals' division rivals from San Francisco showed two years ago how it's done at No. 7. They bucked expectations to select a quarterback that early, choosing
Aldon Smith
instead. The 49ers then found their quarterback,
Colin Kaepernick
, in the second round. The Cardinals head to this combine needing to fall in love with a quarterback for the right reasons. It happened for Seattle last year (
Russell Wilson
), and it happened for the 49ers with Kaepernick. Neither was a first-round selection, but both were players each team badly wanted to select in the early stages.
St. Louis Rams:
Offensive line is probably the greatest need area. The Rams proved last season they could function offensively in the absence of front-line talent along the line. Line coach Paul T. Boudreau prides himself in rewarding the best players regardless of draft status. Coach Jeff Fisher's teams have never used a first-round choice for an offensive lineman when Fisher was a head coach. Fisher's teams have used two second-round selections (2005, 1996) and two third-rounders (1997, 1999) for the position. It's still important for the Rams to identify starting-caliber linemen for drafting in 2013. Lane Johnson (Oklahoma) and D.J. Fluker (Alabama) are two tackles whom analysts project as potentially available when the Rams are scheduled to select with the 16th and 22nd overall selections. Would either one be worthy of such a high selection? Alabama guard Chance Warmack is another lineman to consider.
San Francisco 49ers:
Defensive line has to be a primary focus area for the 49ers at this combine.
Justin Smith
will turn 34 in September and will be coming off arm surgery. He and fellow defensive end
Ray McDonald
rank among
the NFL's top four
in most snaps played by defensive linemen over the past two seasons. Depth along the line needs reinforcing even if Smith returns to top form and plays another couple of seasons at his customary high level.
Kentwan Balmer
and
Ricky Jean Francois
are the only true defensive linemen the 49ers have selected in any round over the past five drafts. Balmer was a bust. Jean Francois can become a free agent this offseason. With that in mind, the 49ers head to the combine looking to identify defensive linemen worth drafting as early as 31st overall. UCLA's Datone Jones and Georgia's John Jenkins are two guys to investigate further.
Seattle Seahawks:
Defensive line and receiver are two positions for the Seahawks to keep in mind heading to Indianapolis for the combine. Improving the pass rush was a priority even before the team's sacks leader,
Chris Clemons
, suffered a torn ACL against Washington during the wild-card playoff round. The team could stand to improve its pass-rush push on the interior and exterior alike. Seattle gets much credit for landing impact players throughout its three drafts under general manager John Schneider and coach Pete Carroll. However, 2012 first-rounder
Bruce Irvin
stands as the only true defensive lineman the current regime has selected in the top three rounds. Fourth-rounders
Jaye Howard
and
E.J. Wilson
were the only ones drafted in the first six rounds. Trading for Clemons and converting
Red Bryant
from tackle to end eased pressure to target the defensive line in past drafts. The pressure is there now. Seattle has boldly bucked convention with some of its draft picks. Is there a defensive lineman in this draft with the unusual traits Carroll seems to value?
NFC WEST SCOREBOARD
Thursday, 9/4
Sunday, 9/7
Monday, 9/8