August, 11, 2012
8/11/12
9:33
PM ET
SEATTLE -- A few NFC West thoughts from CenturyLink Field as the
Seattle Seahawks
prepare to open their 2012 exhibition season against the
Tennessee Titans
:
Skies are clear and the temperature is about 80 degrees. It's a perfect night for summer football.
The Seahawks are wearing their new uniforms: dark blue pants with bright green piping, dark blue tops with bright green numbers and bright green markings, dark blue helmets. It's a lot of blue. Does the green glow in the dark? I know the big guys prefer the dark pants to the light gray ones. They're ... slimming.
Both teams have a No. 8 in uniform: Matt Hasselbeck for the Titans, Jermaine Kearse for the Seahawks. Strange.
Teams generally don't like to travel great distances for preseason games, but this trip is a homecoming for so many Titans, especially in the front office.
The Seahawks distributed a list showing the following players not expected to play in this game: Terrell Owens, Sidney Rice, Walter Thurmond, Allen Bradford, Jameson Konz, Matt McCoy, Barrett Ruud, John Moffitt, James Carpenter, Kellen Winslow, Ricardo Lockette, Doug Baldwin and Alan Branch. Some of those players are in uniform and warming up on the field, notably Rice and Winslow. Not listed: Marshawn Lynch. Not expecting to see much of him, but we'll see.
The Titans listed three players as unlikely to play: Terrence Wheatley, Brandon Barden and Dave Ball.
I'll be heading to San Francisco for a few days with the 49ers beginning Sunday. Looks like they won't have leading sacker Aldon Smith for the short term. The team re-signed outside linebacker Kenny Rowe, who went to camp with the 49ers a year ago. Safety Mark LeGree, a Seahawks draft choice who also spent time with Arizona, was released to make room on the roster. Smith has a bruised hip.
The Cardinals brought back veteran fullback Reagan Maui'a to help get them through camp. Jared Crank suffered a neck injury.
The St. Louis Rams kick off their preseason against Indianapolis at 1:30 p.m. ET Sunday. It's an odd time, but it could give me a chance to watch the Rams before heading to Candlestick Park for the 49ers' fan-oriented session later in the day.
Enjoy your Saturday night. I'll be back with notes after the game, and probably sooner as well.
January, 26, 2012
1/26/12
11:20
AM ET
Filippo from Windsor, Canada,
thinks
Alex Smith
, not
Kyle Williams
, was the 49ers' biggest problem in the NFC Championship Game. He wondered whether the team could trade for
Peyton Manning
this offseason.
Mike Sando:
There will almost certainly be no trade for Manning. The Colts could not trade Manning without first paying a $28 million bonus to him. Failing to pay that bonus by March 8 would make Manning a free agent when the trading period opened five days later.
My early take on Manning was that the Colts would keep him as long as he were healthy. Sweeping changes in the organization have created the impression Indianapolis anticipates making a clean break at the position. Indianapolis appears increasingly likely to part with Manning unless the sides adjust that bonus to buy time. Manning will not want to do that, most likely, if he knows the Colts are going to draft his replacement, Andrew Luck.
This has become a perfect storm. Manning's injury was worse than anticipated. He missed the entire season, longer than expected. The Colts were worse than anticipated without him, so bad they secured the top pick. Manning's health did not improve as anticipated. One of the brightest college quarterback prospects in years happened to be available in the next draft. And then Manning had that $28 million lever in his contract.
Those are all extreme circumstances. Throw them together and it's tough to envision the Colts keeping Manning. That $28 million price tag is too high amid questions about Manning's health.
We're in a holding pattern until the March 8 bonus date. Perceptions could change by then. If Manning does become a free agent, his health will remain the key variable. It's too early to know where he might land.
I suspect the 49ers will re-sign Alex Smith before or around the March 13 start to free agency. Arizona has until March 17 to pay a $7 million bonus to keep Kevin Kolb. The gap could give the Cardinals a chance to at least consider Manning. Lots of other teams would have interest as well.
Manning's recent comments
to Bob Kravitz were illuminating. Manning said he felt as though sweeping changes in the Colts' organization had left people there "walking on eggshells." But Manning is the one with reason to feel that way. He's no longer in control of his immediate future.
---
Dan from Portland
asks why few people seem to be connecting Manning to the
Seattle Seahawks
. He thinks Kolb should get another chance in Arizona. He thinks Alex Smith should be the starter in San Francisco. And he sees Sam Bradford as the quarterback in St. Louis. Doesn't that leave Seattle as the most logical destination among NFC West teams?
Mike Sando:
Yeah, I've wondered why Arizona has been mentioned in so many of the reports. It is possible people close to Manning are pushing Arizona as a possible destination because, one, Manning might see that as an appealing place to land and, two, the Cardinals do have that $7 million decision to make on Kolb. I see no reason for the Cardinals to push the Manning angle in the news, unless they hope to pressure Kolb into an adjusted contract.
I agree with you on Seattle making the most sense from a quarterback-need perspective. The fit from a system standpoint would take some adjusting. I also wonder how much the Seahawks would want to commit financially to such a high-profile player with clear health concerns. Would they see this as a risky two-year rental, or as a chance to become a championship contender quickly?
Manning's health is the No. 1 variable. If he hits the market in good physical condition, lots of teams will be interested.
---
Jeremiah from Germany
thinks 49ers fans should be clamoring for
Dwayne Bowe
, not
Marques Colston
, in free agency this offseason.
Mike Sando:
It's tough for me to envision the Chiefs letting Bowe get away. Smart teams re-sign their best players, especially when those players are young. I would also favor Bowe over Colston, all else being equal. But I also think the 49ers would be more likely to address the position in the draft and with a lower-priced free agent. That is how they believe in putting their team together. They have been averse to overpaying for players other teams have let hit the market. That was the case last offseason when the 49ers showed no interest in
Nnamdi Asomugha
and other top free agents.
---
Scott from Epsom, N.H.,
thinks I've failed to pay the
New York Giants
their proper respects and have instead sought to diminish their victory by branding them as concussion-inflicting cheaters. "Grow up," he writes. "It's a game."
Mike Sando:
The stories about the Giants trying to inflict a concussion upon Kyle Williams originated in the Newark Star-Ledger and New York Magazine. I simply linked to them, which was pretty much a no-brainer from an NFC West perspective. These were direct quotes from Giants players speaking on the record in well-established publications.
On the game itself, the 49ers blew a prime opportunity to reach the Super Bowl, giving up 10 points on uncharacteristic special-teams turnovers. That was my focus from a 49ers/NFC West standpoint coming out of the game. There's no shortage of favorable Giants coverage out there. I just thought the 49ers did more to lose the game than their opponent did to win it. This being the NFC West blog, the 49ers were going to be my focus.
---
Adam from El Paso
noticed that the last quarterbacks drafted in first rounds tend to struggle. He pointed to
Patrick Ramsey
(2002),
Rex Grossman
(2003),
J.P. Losman
(2004),
Jason Campbell
(2005),
Jay Cutler
(2006) and
Brady Quinn
(2007) as examples. He pointed to
Joe Flacco
(2008) and possibly Cutler as exceptions, but wondered if there was something to it.
Mike Sando:
Interesting observation. There is nothing dooming these players. Overall, though, the quarterbacks with the most obvious skills tend to get drafted earlier. If you've reached the late first round and are thinking about a quarterback, you're probably gambling more than teams selecting them earlier. Perhaps you're more apt to be reaching for a prospect because you need one and fear missing out.
---
Joe from Phoenix
sees Jeff Fisher delivering credible coordinators and asks whether we should expect him to land top free agents as well. He points to
Cortland Finnegan
as a possibility and wants to know if there are others with ties to Fisher or the current Rams coordinators.
Mike Sando:
Yes, we should expect the Rams to have interest in free-agent players Fisher and his coordinators coached in the past. Finnegan is one of them.
Offensive coordinator Brian Schottenheimer spent the last six seasons with New York, but the Jets do not have many potential offensive free agents of note. The list includes quarterback
Mark Brunell
, receiver
Plaxico Burress
, tight end
Matthew Mulligan
, quarterback
Kevin O'Connell
, running back
LaDainian Tomlinson
and tackle
Robert Turner
.
Defensive coordinator Gregg Williams spent the last three seasons with New Orleans.
The Saints' potential defensive free agents include linebacker
Jonathan Casillas
, defensive end
Jeff Charleston
, linebacker
Jo-Lonn Dunbar
, nose tackle
Aubrayo Franklin
, linebacker
Ramon Humber
, defensive end
Turk McBride
, cornerback
Tracy Porter
, defensive tackle
Shaun Rogers
and cornerback Leigh Torrance.
Williams was also with 49ers cornerback
Carlos Rogers
, another potential free agent, years ago in Washington.
Fisher's roots as head coach in Tennessee provide additional connections. The Titans' potential free agents include snapper
Ken Amato
, safety
Jordan Babineaux
, linebacker
Patrick Bailey
, defensive end
Dave Ball
, Finnegan, safety
Michael Griffin
, running back
Ahmard Hall
, receiver
Lavelle Hawkins
, defensive end
William Hayes
, safety
Chris Hope
, defensive end/tackle
Jason Jones
, tackle Mike Otto, guard
Jake Scott
, linebacker
Tim Shaw
and safety
Anthony Smith
.
May, 25, 2011
5/25/11
3:05
PM ET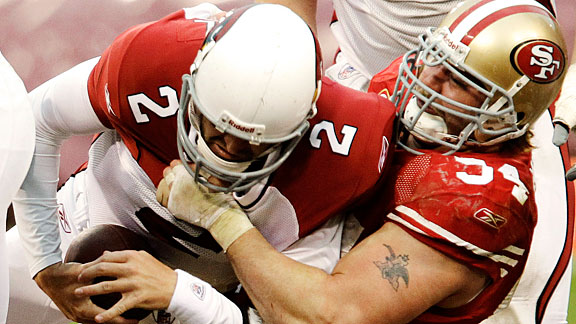 AP Photo/Paul SakumThe 49ers' Justin Smith has collected 8.5 of his 21.5 sacks after the third quarter since 2008.
The try-hard guy, long revered by NFL fans for overcoming physical limitations with all-out effort, has not been universally loved.
Established veterans with a feel for how to practice during long, demanding regular seasons can become resentful when the try-hard guy's misplaced fury produces unwanted collisions.
So, for the sake of clarity, the try-hard guy is excused from this conversation about pass-rushers so relentless, they wear down opponents over the course of a game.
We're talking about players with enough talent to command significant playing time, many as high draft choices or big-ticket free agents. We're talking about the
San Francisco 49ers
'
Justin Smith
, one of two NFC West players to receive votes in
ESPN.com's Power Rankings
for defensive players.
Patrick Willis
was the other.
"Justin Smith is a relentless player who wears down opponents by coming after them each and every play,"
BigBrad184
wrote in response to
this item
Wednesday morning. "I don't have any stats to back this up, but it seems like he often gets many of his sacks in the fourth quarter because of the fatigue he causes to offensive lineman."
Interesting thought.
"Maybe breaking out Smith's sacks by quarter over the past few years is a project for Sando,"
BigBrad184
concluded.
Done deal. John Fisher of ESPN Stats & Information responded to my request for the statistical evidence
BigBrad184
was seeking. Smith does rank among the NFL leaders for fourth-quarter sacks in recent seasons, but two other NFC West players, including one of Smith's teammates, rank higher on the list.
More on the results in a bit. First, a look at the methodology.
Fisher provided a file with quarter-by-quarter sack totals for every player since 2001. I filtered the information to consider:
The last three seasons. There was no sense comparing totals for eight-year veterans against players entering the league more recently. At the same time, three seasons was long enough to pile up adequate numbers.

Players with at least 10 sacks. This reduced qualifying players from 668 to 99, a more manageable number featuring more "name" players.

Late-game production. I then divided the remaining 99 players' fourth-quarter and overtime sack totals by their total sacks, producing percentages that might tell us which players tend to wear down opponents.
The 49ers' Smith collected 8.5 of his 21.5 sacks in fourth quarters or overtimes since 2008. That worked out to 39.5 percent, which ranked 22nd among the 99 qualifying players.
Philadelphia's Darren Howard, who did not play in 2010, led the way with 75.8 percent of his sacks (11.5 of 16.5) after the third quarter. He was on the Eagles' roster for two of the three seasons in question and never played even half the defensive snaps in either year. But he was highly effective as a situational player, at least when measured by sack totals. Only
Jared Allen
(15) and
Joey Porter
(14) had more total sacks after the first three quarters.
There was no way to tell whether players with higher late-game sack percentages had more or better late-game opportunities for reasons unrelated to being relentless. Players operating within superior schemes or alongside better teammates certainly benefited. Overall, players collected more sacks in second and fourth quarters, no surprise given that teams attempted 6,130 additional passes during those quarters over the past three seasons, a likely reflection of two-minute situations.
The San Francisco 49ers' Parys Haralson (52.9 percent) and the
St. Louis Rams
' Chris Long (48.6 percent) ranked highest in fourth-quarter sack percentage among current NFC West players with at least 10 sacks over the past three seasons. Haralson was seventh in the league. Long was ninth. Former 49er Tully Banta-Cain was 10th (48.4 percent), while Arizona's Joey Porter (44.4 percent), St. Louis'
Fred Robbins
(44.4 percent), ex-Seahawk
Lawrence Jackson
(44.0 percent) and current Seahawk
Chris Clemons
(41.0 percent) ranked among the top 20.
Were these guys merely slow starters? Were they strong finishers? Did they wear down opponents over the course of games? The numbers do not answer those questions definitively, but they provide a starting point for discussion.
I was also interested in seeing which players collected a disproportionate number of sacks earlier in games. They were, at best, tone setters. At worst, they failed to finish or failed to adequately wear down opponents. The previous disclaimers applied to them as well.
As the chart below shows, three of the 10 qualifying players with the lowest percentages of late-game sacks have NFC West roots.
Arizona's Calais Campbell has 5.5 of his 13 sacks in first quarters, but only one in fourth quarters or overtimes. The 49ers' Manny Lawson collected 11 of his 12 sacks in the first three quarters. Darryl Tapp, traded from Seattle to Philadelphia in the deal for Clemons, has 4.5 sacks in each of the first two quarters, but only two in second halves (one after the third quarter).
A few other observations with an eye toward the NFC West:
Porter (six) and Campbell (5.5) rank among the top seven in most first-quarter sacks. The 49ers' Smith is right behind with five.

Arizona's Darnell Dockett has nine of his 16 sacks in second quarters. Eight players have more second-quarter sacks over the past three seasons, but all are edge-rusher types. Dockett plays end in a 3-4 scheme.

Pittsburgh's James Harrison and LaMarr Woodley are a third-quarter nightmare for opposing quarterbacks. Harrison leads the NFL with 15.5 sacks in third quarters. Woodley is second with 12. Former Cardinal Calvin Pace ranks in the top 10 with 7.5.

Porter and Allen are tied for the most fourth-quarter sacks in the NFL over the past three seasons. Each has 14 (Allen also had one in overtime). DeMarcus Ware and Robert Mathis are next with 13.5, followed by Dwight Freeney and Julius Peppers with 12.5.
Back to the original question: Is the 49ers' Smith a relentless player who wears down opponents, producing fourth-quarter payoffs?
He might be, but he produces well enough across all quarters to transcend the try-hard label and probably even the relentless label as well. He's a beast.