March, 17, 2012
3/17/12
6:21
PM ET
Alex Smith
had reason to leave the
San Francisco 49ers
following the 2010 season. The 49ers likewise had reason to move in another direction at the position.
Smith
Their mutual decision to continue the relationship worked out well for all parties. But with the 49ers showing interest in
Peyton Manning
this offseason, Smith needs to more strongly consider other options in free agency.
That likely explains why Smith is considering an agent change,
according to Kevin Lynch
. Tom Condon has been representing Manning and Smith for years. He cannot plausibly pursue the best interests of both players if those interests are in direct conflict with one another. Manning would presumably be the top priority for any agent.
Finding a new agent could also be tricky. Condon and
David Dunn
have dominated the agent business when it comes to representing prominent quarterbacks. Dunn would normally stand out as a leading alternative to Condon, but he has represented 49ers coach Jim Harbaugh and general manager Trent Baalke.
No matter which direction Smith goes on the agent front, staying in San Francisco represents the best career move for him.
Smith went 13-3 as the 49ers' starter last season, won a playoff game, knows the offense, fits with the coaching staff and has earned the respect of teammates. But if the 49ers are going to consider other options, why shouldn't Smith do the same?
The answer depends to some degree on if Smith feels comfortable with what the 49ers have told him privately. Does he still trust them?
If not, a free-agent trip to, say, Seattle would get the 49ers' attention. How would the 49ers respond if Smith appeared close to signing elsewhere? Would they continue to wait on Manning if they weren't sure about getting him?
July, 25, 2011
7/25/11
11:24
PM ET
Thanks go to Adam Schefter for
passing along
analyst
Steve Young
's comments about
Matt Hasselbeck
possibly landing with the
San Francisco 49ers
.
Hasselbeck
A few thoughts:
The Seahawks weren't interested in signing Hasselbeck to a deal that would have given him security beyond one season. Their reported interest in
Tarvaris Jackson
suggests the team could be ready to move on without Hasselbeck. I wouldn't rule out a return to Seattle, but if the 49ers are interested, Hasselbeck would be wise to listen.
June, 14, 2011
6/14/11
4:01
PM ET
Thoughts and questions after former Ohio State quarterback Terrelle Pryor and agent Drew Rosenhaus issued
statements
Tuesday:
[+] Enlarge

AP Photo/J Pat CarterFormer Ohio State QB Terrelle Pryor, right, and his agent Drew Rosenhaus discuss Pryor's future at a news conference in Miami Beach, Fla.

Rosenhaus said he expects an NFL team to select Pryor in the first round of the supplemental draft. I've heard nothing from anyone in the NFL suggesting Pryor would command that much value. Rosenhaus might have a better idea, or he might be simply promoting his client. But if Pryor does go early in the supplemental draft, I cannot see him landing in the NFC West.

The St. Louis Rams have their current starter. The San Francisco 49ers have their current and projected future starter. The Arizona Cardinals have multiple developmental quarterbacks. They need a veteran to step in and start right away. Pryor does not fit. The Seattle Seahawks said they could not afford to invest early draft choices in a quarterback given the state of their roster in other areas, notably the line. They addressed the line, but still have holes.

Rosenhaus represents more NFL players than any agent. However, he generally is not the choice for quarterbacks. Does Pryor even project as a quarterback? Depends who you ask.

Pryor does not perform like the typical quarterback on the field, having rushed for 2,164 yards at Ohio State. His choice for representation also goes against convention for quarterbacks. Three of the 145 signed players Rosenhaus represented during the regular season were quarterbacks, according to NFL Players Association records from November. Rex Grossman, Thaddeus Lewis and Billy Volek were those quarterbacks. David Dunn (17) and Tom Condon (13) had more than 28 percent of quarterbacks.

The dynamics change if Pryor remains available late in the supplemental draft. There's much less risk at that point. In the meantime, ESPN's Chris Mortensen says we should expect to see Pryor meeting with Jon Gruden for a session similar to the ones Gruden put together for Cam Newton and others. Gruden reveled in putting pressure on prospects to prove how much they understood about offense. How well Pryor understands the game from a quarterback's perspective will affect how well he would fit even as a No. 3 quarterback.
Rosenhaus and Pryor refused to answer questions following their statements.
"I think I've said it all," Rosenhaus told reporters.
April, 5, 2011
4/05/11
8:37
AM ET

Brock Huard of 710ESPN Seattle
explains why he thinks Ryan Mallett would be a poor fit for the Seahawks. Huard: "You don't have to be a sprinter, you don't have to be Michael Vick, but 5.47 [seconds in the 40-yard dash] is a sitting duck target. With the West Coast system and the play-action passing game, I don't think he's an ideal fit here in Seattle." There remains some mystery as to how much the Seahawks' offense will evolve with Darrell Bevell and Tom Cable in charge, but coach Pete Carroll has indicated the team will still emphasize quarterback mobility.
Danny O'Neil of the Seattle Times
continues his look at Golden Tate's rookie season. O'Neil: "It's not unprecedented for a receiver to take a huge jump in his second season. (Chad) Johnson and (Steve) Smith (of the Giants) are proof of that. In fact, of the 45 receivers chosen in the second round from 2000 to 2009, 11 of them increased their receptions by 20 or more catches in their second season. But that upward progression is hardly a sure thing. Just look at the above list for proof that for some second-round picks, a mediocre rookie season foreshadows an unremarkable sophomore season, too."
Clare Farnsworth of seahawks.com
checks in with former pass-rusher Jacob Green, who landed on the franchise's 35th anniversary team. Joe Nash: "The guy was just amazing. The one thing that stands out the most about Jake in my mind is how he took Henry Lawrence back in one of those playoffs games and just dominated him with his great athleticism."

Rob Rang of NFL Draft Scout
has the Rams selecting Alabama receiver Julio Jones in his latest mock draft. Rang: "The Rams have their young franchise quarterback in Sam Bradford and a workhorse runner in All-Pro Steven Jackson, but desperately need help outside. Jones isn't as fast on the field as he was at the Combine, but his size, strength and three years of consistent standout play in the ultra-competitive SEC make him an ideal candidate to make an immediate impact." Rang has Arizona taking Robert Quinn, San Francisco taking Patrick Peterson and Seattle taking Corey Liuget.

Eric Davis tells Niner Insider
he'll be able to speak his mind as the 49ers' new color commentator for radio. Davis: "I said flat out, 'If I say something negative, will I go to the principal's office?' They said, 'We want you to say what you want.'" Davis says he hasn't spoken with Gary Plummer, his former teammate and the man he'll replace in the booth.
Eric Branch of the Santa Rosa Press-Democrat
looks at potential quarterback candidates for the 49ers. On Matt Hasselbeck: "No other QB on the market is more familiar with the intricacies of the West Coast offense than Hasselbeck, 35, a free agent who has played in a West Coast system since 2001." Hasselbeck's experience in a West Coast system goes back even farther, to his practice-squad days with Green Bay in 1998.
Matt Barrows of the Sacramento Bee
says 49ers coach Jim Harbaugh was there when Iowa quarterback Ricky Stanzi worked out for NFL teams. Barrows: "He's got a quick release and makes good decisions having thrown 25 touchdowns against six interceptions last season. However, he does not have the athleticism -- something Harbaugh covets -- or the arm strength of other prospects. It should be noted that Harbaugh and Stanzi are represented by the same agent, Jack Bechta. (In fact, Harbaugh had two agents when he was hired by the 49ers in January, Bechta and David Dunn, who also represents Jake Locker)."
Matt Maiocco of CSNBayArea.com
ranks the 49ers' 18th in terms of draft classes over the past five years. Maiocco: "The 49ers accumulated more than half of their starters through the draft in the past five years, but that has not reflected improvement on the field. The main reason is because the 49ers did not acquire standouts at impact positions, such as quarterback, cornerback and pass-rusher."

Darren Urban of azcardinals.com
says the Cardinals cannot forget about their offensive line even though quarterback and pass-rusher are positions of more immediate need. Urban: "The Cards aren't going to go offensive lineman with their first pick, but after that, I could see it at any point. Finding someone to begin grooming – a la Keith – now that Herman Johnson has left seems crucial. There seems to be some line depth in the draft, especially at tackle, again with the knowledge decent interior guys can often be found later or undrafted."
Kent Somers of the Arizona Republic
had this to say during a Cardinals chat: "If all reports are true, Von Miller would be a wise choice in the first round. In second round, I'd look hard at the next tier of quarterbacks. I like Andy Dalton." Somers thinks Marc Bulger is the favorite to start at quarterback for Arizona in 2011, and that the team will not draft a quarterback in the first round.
March, 30, 2011
3/30/11
6:32
PM ET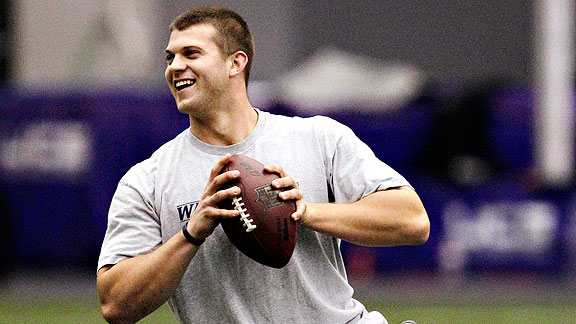 AP Photo/Elaine ThompsonWashington quarterback Jake Locker didn't appear to do anything to hurt his draft status at his pro day on Wednesday.
SEATTLE -- The guest list for
Jake Locker
's pro day at the University of Washington offered up a few surprises.
Former
Seattle Seahawks
running back
Shaun Alexander
, in town on business, dropped by the Dempsey Indoor facility. Former NFL officiating czar Mike Pereira, in town for a meeting related to his role as interim head of Pac-10 officials, also attended.
Former Washington quarterbacks Warren Moon, Damon Huard, Brock Huard (working for ESPN), Hugh Millen, Cary Conklin and Sonny Sixkiller were there.
The quarterback-needy
Tennessee Titans
sent a large contingent featuring vice president of player personnel Ruston Webster, offensive coordinator Chris Palmer and pro scouting director Lake Dawson. Keith Gilbertson (
Cleveland Browns
), Randy Mueller (
San Diego Chargers
), Bob Ferguson (
Indianapolis Colts
) and Mike Sheppard (
Jacksonville Jaguars
) were among the former Seahawks staffers in attendance.
The Seahawks' current decision-makers and most of their coaches drove over from team headquarters, no surprise given the proximity and coach Pete Carroll's ties to Huskies coach Steve Sarkisian, his former USC assistant.
But if the Seahawks' division rivals have any interest in Locker, they hid that interest quite well. The
Arizona Cardinals
and
San Francisco 49ers
did not send representatives, to my knowledge. They certainly did not have any high-profile staffers in attendance. That comes as a bit of a surprise given their obvious needs at quarterback and Locker's potential availability early in the second round, if he slips outside the first.
"I never read anything into which teams attend pro days," Locker's agent, David Dunn, said on the field following the workout. "I've had too many players selected by teams that weren't at pro days or didn't even visit with players."
Fair enough, but teams generally pay closer attention to quarterbacks. The 49ers sent Jim Harbaugh to
Blaine Gabbert
's pro day at Missouri. Cardinals coach Ken Whisenhunt ran Auburn's
Cam Newton
through various throws at a recent workout.
"With quarterbacks, you want to be able to touch and feel and see how they are as people as well as athletes and players," Dunn said.
Locker was not the only Washington prospect performing for scouts, but he was the main draw. He did nothing obvious to damage his draft stock during the workout. He completed all but a couple of passes while showing fluidity in his drops and a short delivery, according to scouts who agreed to speak in general terms and not for attribution.
"I've never nitpicked a guy like I've nitpicked Locker," one of them said. "The guy is a winner, and at the end of the day that has to count for something."
Locker has been working with former NFL quarterback Ken O'Brien to bring his hand over the top more quickly when delivering the ball.
The controlled environment was set up to make him look good. No NFL coaches or personnel people asked Locker to perform unscripted throws. They watched Locker zip the ball with ample velocity and accuracy most of the time, save for a couple high throws that his overworked wide receiver, D'Andre Goodwin, snatched away from his body.
"I'm focusing on the fluidity of the drop, getting my feet in the right spot and just bringing the hand over the top as quickly as I could, rather than dragging my hand," Locker said afterward. "I have a tendency to do that sometimes. I want to bring my hand over the top and really point that finger at my target. I have been spinning the ball a lot better and it's been coming off my hand a lot better."
Locker's relatively low completion percentage at Washington and his inexperience running a pro-style offense have raised questions about his readiness for the NFL. Can he read defenses? Can he throw accurately and on time from the pocket? To what degree did a weak offensive line and receiving corps hamstring him in college?
I've heard differing opinions from scouts as to how well Locker would fit with the NFC West teams that need quarterbacks (Seattle, Arizona and San Francisco).
"A lot of people seem to have him pinpointed to Seattle at No. 25, but I don't think that makes any sense at all," Matt Williamson of Scouts Inc. said. "It works for people who do not know the X's and O's of it all. At 25, he has some value. He went to school in that area. It is easy to say that is a good fit, but I think Seattle is going more and more to a pure West Coast offense, and Locker doesn't fit the West Coast offense at all."
The Cardinals pick fifth and the 49ers pick seventh, earlier than Locker is expected to come off the board. Seattle is one of the few quarterback-needy teams picking later in the first round, when Locker figures to become a more likely selection.
"Jake seems to be an acquired taste," Dunn said. "The more you watch him on film, the more that you are around him, the more you like him."
How well Locker would fit with the Seahawks could hinge on the degree to which Williamson is right in his assessment of how Seattle's offense will evolve.
New coordinator Darrell Bevell comes from the Andy Reid/Mike Holmgren branch of the West Coast offense, a branch that relies more heavily on short, precise passes. Before Bevell replaced Jeremy Bates, the Seahawks had been running Mike Shanahan's version of the West Coast system featuring more quarterback movement, hard play-action fakes and deeper throws requiring greater arm strength.
Carroll, who attended the workout Wednesday, has said the Seahawks do not plan to significantly diverge from the system they ran last season. But it's plausible to think that Bevell's background could steer them away to some degree.
"You do have to be a precise passer in a Bill Walsh, traditional West Coast offense," Rob Rang, senior analyst for NFL Draft Scout, said from the Dempsey Indoor facility. "But I like any offense that is going to use Jake Locker's mobility as an asset rather than just keeping him pinned in that pocket. If you can use his legs as a weapon, that is where he has been his most accurate. He made significant improvements in his accuracy from the so-called pocket in this workout, but at the same time, his strength remains throwing on the move."
Rang said he would draft Locker in the first round as long as the team in question has a veteran starter in place.
I stood next to Moon, the retired Hall of Famer, throughout the workout. Moon said he sees the NFL game evolving to favor quarterbacks with mobility. Life for traditional pocket passers is getting tougher, in his view. Locker's athleticism and scrambling ability separate him from most prospects. He has run the 40-yard dash in 4.52 seconds, a time that holds up against those posted by some wide receivers. But quarterbacks must also succeed as pocket passers to make it in the NFL.
"Locker is pretty accurate outside the pocket," Williamson said, "but as far as going 1-2-3 and getting it out, having good footwork, hitting a guy in stride, he is terrible. I don't see that fit at all. I do not think he is going to be the precise passer Harbaugh is looking for, either. I can see someone like Arizona being really interested in him in Round 2. They might like a more 'toolsy' guy, like a
Ben Roethlisberger
."
Williamson sees Locker appealing to a coach such as Shanahan, who might see Locker as a cross between
Jay Cutler
and
Jake Plummer
, two quarterbacks Shanahan coached in Denver. That's the type of quarterback Seattle was seeking when Jeremy Bates was coordinating their offense. It's the type of quarterback the Seahawks might still value if Bevell installs the type of system Carroll has favored previously.
"I don't know in the NFL right now if people run different offenses," Sarkisian said. "It's so much of a copycat league and everybody runs so many things that are similar that it's hard to say that New England is different than Pittsburgh that is different than Seattle that is different from the Chargers. They all have their focal points, but at the end of the day, there are a lot of similarities. Things will be tailored for him [Locker], like they are for every quarterback, but I just think he fits in as an NFL quarterback."
February, 14, 2011
2/14/11
2:34
PM ET
David Dunn, agent for
Seattle Seahawks
quarterback
Matt Hasselbeck
, offered a few thoughts on his client's future during a recently completed interview with
Dave Mahler of Sports Radio 950 KJR
in Seattle.
A few highlights:
Negotiations between the Seahawks and Hasselbeck should pick up in the next few weeks. The team has expressed its interest to Dunn and Hasselbeck, but there have not been negotiations to this point. Dunn: "They have gone through a process of evaluating their coaching staff. They have made some changes there and I think are now going through a process of evaluating their team, which they should absolutely do. There is time. We have three weeks or so where we can get those discussions going and really get after it."
Dunn said it would be "natural" for Hasselbeck to finish his career in Seattle, but he wasn't going to say how likely it would be. Dunn wasn't going to cede leverage unnecessarily, even though these should be friendly discussions. He said "goofy" things happen and "you never know" how things could turn out.
Dunn said he expected "a bunch of teams" to be looking for quarterbacks and that "a number might step up economically" in ways that could appeal to Hasselbeck. Again, Dunn wasn't going to say anything that might suggest a soft market for his client. At the same time, I think he's right. Hasselbeck will draw interest on the market, should he reach it.
Dunn also represents
Cincinnati Bengals
quarterback
Carson Palmer
. He said he would be "very surprised" if Palmer returned to Cincinnati even though the Bengals have said they will not trade him. That is what I would expect an agent to say. Will Palmer get out of Cincinnati? That is tough to say.
Update:
Here is an
audio link to interview
.
January, 7, 2011
1/07/11
1:48
PM ET
Stanford coach Jim Harbaugh has reportedly retained two agents, a potential contributing factor to confusing reports regarding Harbaugh's candidacies with the San Francisco 49ers, Miami Dolphins and others.
Mindi Bach of CSNBayArea.com
tweeted
the
details
Friday: "Stanford AD told me he is working with agent Jack Bechta on Harbaugh's new contract proposal with the university. But agent David Dunn is handling negotiations on Harbaugh's behalf with NFL teams."
Bechta and Dunn are competitors. Each is presumably speaking with Harbaugh separately. Neither might know the full picture. Reporters speaking with various parties -- Bechta, Dunn, their associates or anyone else involved tangentially -- might have a harder time getting the full picture. The teams involved might not know.
Sounds like we might just want to sit back and wait for a formal announcement.
January, 6, 2011
1/06/11
10:14
AM ET

Matt Maiocco of CSNBayArea.com
says Stephen Ross' jet arrived in the Bay Area at 11:21 p.m. PT. The Dolphins' owner planned to meet Thursday morning with Jim Harbaugh, the 49ers' top choice to replace Mike Singletary. Maiocco: "Niners team president Jed York and general manager Trent Baalke met for more than five hours with Harbaugh, a source confirmed. The San Jose Mercury News reported there appeared to be a deal in place. But Harbaugh said he wanted to at least listen to what the Dolphins' owner had to say. The Dolphins are reportedly ready to offer in the $7-to-$8 million annual range for Harbaugh. Although the 49ers are not likely to go that high, a team source said the 49ers have not given up hope Harbaugh will choose to remain in the Bay Area with the 49ers." York's previous comments about money being no object will come off as so much bluster if money plays a role in losing Harbaugh to another team. York likes to talk a big game. He usually has not delivered, however. Can he this time?
Matt Barrows of the Sacramento Bee
offers thoughts on why Harbaugh is a hot coaching candidate. Rich Gannon: "I have vivid memories of him entrenching himself in an office and doing everything he could to learn. He was willing to do the grunt work. He was the quality control guy but he was staying until three in the morning pulling the game plan together, the QB quick tips ... He would be exhausted the next day."
Tim Kawakami of the San Jose Mercury News
says the Dolphins' push for Harbaugh could ruin the 49ers' chances at landing the Stanford coach. Kawakami: "According to a source, everything went smoothly during the face-to-face discussions between Harbaugh and the 49ers today. He and Baalke meshed well and the money terms were being negotiated with agent David Dunn. Then Harbaugh said he would talk to Ross, and the 49ers heard that the Dolphin offer could blow theirs away." Dunn's involvement was something I had not anticipated. Harbaugh previously listed Jack Bechta as his agent. Recent reports have noted that Harbaugh and 49ers general manager Trent Baalke share an agent. I had thought Baalke's agent was Peter Schaffer. That aspect of the negotiations begs for some elaboration.
Daniel Brown of the San Jose Mercury News
says Jed York's comment about money being no object might not be exactly true.
David White of the San Francisco Chronicle
updates the 49ers' coaching search in a story featuring a photo of York and Baalke riding in a car together.

Kent Somers of the Arizona Republic
says Darnell Dockett's comments on Twitter about an Arizona mall shooting stirred controversy. No shock there. Dockett has cranked out politically incorrect comments on Twitter for as long as I can remember him being on Twitter. Dockett's latest dispatch, according to Somers: "Was the guys who shot some1 & the mall today was they Black? Cuz its hard 2 believe they would run in the mall!! Probaly white or mexicans!" Dockett followed up those comments with additional comments seeking to explain his stance, such as: "Cuz blacks wouldn't run in a mall after shooting chances on getting caught is 100% that's why!!" Dockett then tried a little damage control, defending himself against charges of racism. The sheer number of potentially objectionable tweets from Dockett over an extended time period diminish the impact of subsequent objectionable tweets. It's rhetorical inflation.
Also from Somers
: Staff changes could be on the way for Arizona as coach Ken Whisenhunt winds down meetings with assistants. Somers: "His decision is complicated by the labor disagreement between the NFL and the players' union, as well as the number of coaches' jobs that have opened. If no collective-bargaining agreement is reached by March 4, the owners are expected to lock out the players. A prolonged lockout means a new coordinator might have little time with which to install a new system. It also means owners could be paying former and current staff members while no games are being played. If Whisenhunt does want to make new hires, he likely would face competition. Eight teams are making changes at head coach, and one other, Houston, is hiring a new defensive staff."

Clare Farnsworth of seahawks.com
says punter Jon Ryan has become adept at avoiding touchbacks and pinning opponents deep in their own territory.
Also from Farnsworth
: Pete Carroll isn't saying which quarterback will start against New Orleans.
Danny O'Neil of the Seattle Times
takes a closer look at the relationship between Seattle safeties Lawyer Milloy and Earl Thomas.
Jerry Brewer of the Seattle Times
says Carroll finds himself in an unfamiliar position: as the underdog. Brewer: "He hasn't been called such a thing before a game this big in ages. For most of his nine-year run at USC, the first-year Seahawks coach was known more for instructing a giant to stomp on the little guys. And he did that job well, managing to meet the demanding expectations of a college football powerhouse so flamboyantly the Trojans became a cultural phenomenon."
Dave Boling of the Tacoma News Tribune
says Raheem Brock's productivity as a pass-rushing defensive end caught the Seahawks by surprise. Boling: "He and fellow defensive end Chris Clemons now have a total of 20 sacks, giving them the league's third-highest sacks total for ends behind the Giants' Justin Tuck and Osi Umenyiora (23), and the Colts' Dwight Freeney and Robert Mathis (21)."
Eric D. Williams of the Tacoma News Tribune
says the Seahawks' quarterback gamesmanship affected Seattle and New Orleans. Williams: "Initially, the Seahawks planned to make both quarterbacks available but then chose to deny access to both because no decision on the starter had been made. Carroll's indecision also affected New Orleans-area reporters, who were expecting to talk to Hasselbeck on conference call but got Mike Williams instead. That decision led to Seattle-area reporters getting receiver Lance Moore on conference call instead of quarterback Drew Brees."

Jim Thomas of the St. Louis Post-Dispatch
says drafting later in the first round is a new feeling for the Rams. Thomas: "Strategically, when you're picking first, you don't have to worry about anybody else. And picking second, you only have to worry about the one team ahead of you, or the possibility of someone trading up to that spot. But at No. 14, there are tons of variables and 13 other teams to worry about. You have to be ready to go in a lot of different directions, depending on what happens ahead of you."
Also from the Post-Dispatch
: a look at hits and misses in the 14th overall spot.
Nick Wagoner of stlouisrams.com
says rookie quarterback Sam Bradford learned plenty during his first season in the NFL. Bradford joined Peyton Manning, David Carr and Matt Ryan as the only rookies to play every offensive snap for their teams. Wagoner: "Bradford set a rookie record for consecutive attempts without an interception, going 174 straight without a pick. He set a rookie record for attempts (590) and completions (354), passing future Hall of Famer Manning in both categories. He finished second among rookie quarterbacks in passing yards with 3,512, behind only Manning and fifth in touchdown passes with 18. He was the Rookie of the Month two times, becoming the first rookie quarterback to achieve that feat."
Brian Stull of 101ESPN St. Louis
says Rams receiver Mark Clayton would like to return in 2011.
May, 21, 2010
5/21/10
3:12
PM ET
Jason Cole's note
about the
Arizona Cardinals
still having potential interest in
Marc Bulger
includes this line: "The thinking is that the Cardinals may be able to revive Bulger's career in much the same way they revived
Kurt Warner
's career the past three years."
My initial reaction was that Bulger struggled more last season than Warner struggled in 2004, the year before Warner signed with Arizona. The chart compares their numbers -- Warner from 2004, Bulger from last season -- and the numbers are closer than I thought. Warner played on a better team, a significant benefit to his yards per attempt.
Without question, Bulger would look a lot better throwing to
Larry Fitzgerald
and
Steve Breaston
than he looked throwing to the Rams' injury-depleted receiving corps last season.
The Bulger-to-Arizona rumors have been out there for a while. The Cardinals had interest in Bulger before the Rams released him. They had made a play for
Charlie Whitehurst
and signed
Derek Anderson
as a fallback before the Rams released Bulger. I think
Matt Leinart
and Anderson would have to struggle badly for the team to sign Bulger.
A few issues and subplots to consider as part of this storyline:
Anderson's deal included a $2.5 million signing bonus, enough to give him at least some measure of security.
Adding a veteran with Bulger's profile might signal dissatisfaction with Leinart, making Leinart less viable in Arizona.
Agent Tom Condon represents Bulger and Leinart. What assurances might Leinart want if Bulger came aboard?
David Dunn is Anderson's agent. Condon and Dunn are the dominant agents for quarterbacks.
The St. Louis Post-Dispatch reported early this offseason that Bulger was considering retirement.
The current Arizona coaching staff inherited Leinart and therefore has less invested in him. Of course, the staff inherited Warner, too.
The bottom line is that coach Ken Whisenhunt has shown he'll play the best players. If Leinart or Anderson doesn't perform to his liking, we can expect Whisenhunt to consider his options. Adding Bulger could be one of those options, with potentially significant ramifications.
Update:
Steve Wyche of NFL.com
quotes
Cardinals general manager Rod Graves as saying, "Right now, we're not looking outside of our group" and the team has had no contact with Bulger. The "right now" part is a given. The question is only what may or may not happen down the road.
April, 7, 2010
4/07/10
2:39
PM ET
Trent Dilfer's interview with 101ESPN St. Louis is
worth a listen
for those interested in a different take on quarterbacks.
[+] Enlarge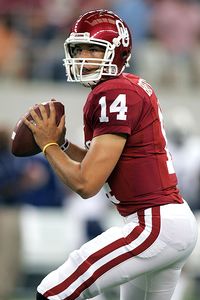 Tim Heitman/US PresswireQuarterback Sam Bradford is an extremely raw prospect according to ESPN's Trent Dilfer.
Dilfer thinks the Rams would be best off taking defensive tackle
Ndamukong Suh
first overall, then trading up from the 33rd pick to select
Colt McCoy
as their quarterback. He thinks
Jimmy Clausen
is by far the best college quarterback right now. He thinks
Sam Bradford
faces a tough transition. He sees McCoy as the player most likely to develop into the best quarterback from this draft.
What does Dilfer know? Well, he's played the position and studied the players. Dilfer said he has watched every 2009 snap from all three quarterbacks -- two and three times in some cases -- using a template he developed with input from Mike Holmgren, Brian Billick, Jim Zorn and others.
"This is my passion," Dilfer said during the interview.
Dilfer attributes Bradford's perceived rise to hype and misinformation from personnel people with agendas.
"In my opinion," Dilfer said of Bradford, "he is not even close to the best player in this draft."
Dilfer sees Bradford as extremely raw and a player who hasn't performed in a system even remotely close to the ones preferred by NFL teams. He thinks Bradford's accuracy falls off as the Oklahoma quarterback goes through his reads.
Further, drafting Bradford could be a "catastrophic mistake" for the Rams if they did not handle him properly.
"Bradford is a talented guy," Dilfer said. "I understand why the perception has become what it is -- because he looks good in shorts. But that is the way he has played football, too. He has played in a 7-on-7 environment, not an 11-on-11 environment."
McCoy's competitiveness, leadership and athletic ability to extend plays will set him apart over time, Dilfer predicted.
I'll be saving the link from this item for future reference.
Note:
As Lori
indicates via Facebook
and as Dilfer mentioned in the interview, he has worked out with McCoy. They share the same agent, David Dunn.
February, 18, 2010
2/18/10
10:58
PM ET
The NFL's list
of projected unrestricted free agents for 2010 included one column showing agents and another showing starts.
This made it easy to see which agents had the most projected UFA clients, and how many starts those clients averaged in 2009.
The result is the chart below. Drew Rosenhaus has more than 100 clients across the league, more than any agent. The NFL lists 15 of them on its projected UFA list, including
Terrell Owens
and three NFC West players (Randy McMicahel,
Anthony Becht
and
Olindo Mare
).
Agents Peter Schaffer and Brian Mackler are next on the list with seven projected UFA clients apiece, but no agent with at least four players listed can match Tony Agnone for players with lots of 2009 starts. Agnone's list features 16-game starters
Casey Rabach
,
Kyle Vanden Bosch
and
Bobbie Williams
, plus seven-game starter
Michael Gaines
.
The NFL has no agents listed for
Phillip Daniels
,
Tully Banta-Cain
,
Leigh Bodden
,
Mike Furrey
,
Damion Cook
,
Tank Johnson
and
Matt Ware
.
Jeff Feagles
,
Jeff Zgonina
,
Daunte Culpepper
,
Paul Spicer
,
Clinton Hart
and
Vernon Fox
are listed as representing themselves.