January, 10, 2011
1/10/11
4:59
PM ET
Clinching the NFC West title and winning a playoff game has dropped the
Seattle Seahawks
from eighth to 25th in the 2011 NFL draft order.
The slide will continue with every additional Seattle victory.
Beating St. Louis and New Orleans over the last two weeks has not filled draft needs, of course. Seattle still needs to identify its long-term quarterback. With that in mind, I've put together two charts showing quarterbacks drafted around where Seattle could have and currently would select.
The first chart shows every quarterback since 1990 drafted between the fifth and 15th overall choices, including six selected between fifth and seventh. Seattle would have been drafting in this general range if St. Louis had won the NFC West.
Arizona (fifth) and San Francisco (seventh) hold picks in this range, so the chart adds context for their choices as well.
Five of the 11 quarterbacks drafted fifth to 15th since 1990 have earned Pro Bowl honors. The three with plus signs next to their career start totals appear likely to start considerably more games in the future.
As the second chart shows, one of the nine quarterbacks drafted 20th through 30th since 1990 has earned Pro Bowl honors. One other,
Tim Tebow
, remains early enough in his career to qualify as a potential candidate for such honors down the road. Again, plus signs highlight totals likely to increase substantially over time.
Aaron Rodgers
, the lone Pro Bowl choice from this group so far, was an exception as the 24th player chosen in the 2005 draft.
NFL teams have drafted 22 quarterbacks among the top four choices since 1990. I'll list them below by overall draft spot.
First overall:
Sam Bradford
,
Matthew Stafford
,
JaMarcus Russell
,
Alex Smith
,
Eli Manning
,
Carson Palmer
,
David Carr
,
Michael Vick
,
Tim Couch
,
Peyton Manning
,
Drew Bledsoe
,
Jeff George
.
Second overall:
Donovan McNabb
,
Ryan Leaf
,
Rick Mirer
.
Third overall:
Matt Ryan
,
Vince Young
,
Joey Harrington
, Akili Smith,
Steve McNair
,
Heath Shuler
.
Fourth overall:
Philip Rivers
.
May, 19, 2010
5/19/10
1:34
PM ET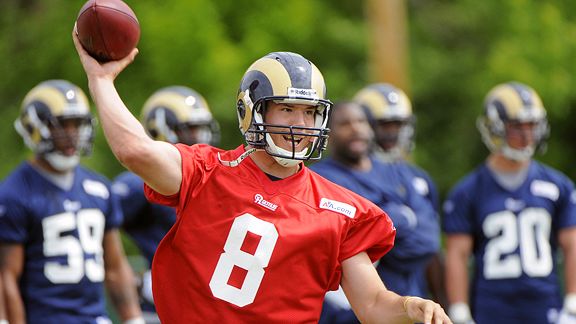 G. Newman Lowrance/Getty ImagesIt remains to be seen how the Rams will handle quarterback Sam Bradford during his rookie season.
The
St. Louis Rams
need not look far to see what can happen when an overmatched NFL team mishandles a quarterback drafted first overall.
The division-rival
San Francisco 49ers
are still trying to recoup their investment in 2005 first overall choice
Alex Smith
.
The Rams probably will not change offensive coordinators every year for the next five seasons, as the 49ers improbably did in Smith's first five, but they still need to be careful with rookie No. 1 overall choice
Sam Bradford
.
Early indications suggest the Rams would like to follow the plan Philadelphia took with
Donovan McNabb
back in 1999, when Rams offensive coordinator Pat Shurmur was coaching the Eagles' tight ends. Doug Pederson opened as the Eagles starter that season, allowing McNabb to ease into the starting role. McNabb got some reps off the bench before taking over as the starter in November.
In setting expectations for Bradford, I looked at production by rookie quarterbacks since 1970. The list featured several older players, some with experience in the CFL or USFL. I filtered out those players by focusing only on quarterbacks who were 25 or younger as NFL rookies. A quick look at them by games started:
16-game starters
There were only five, in part because the NFL season spanned only 14 games until 1978.
Peyton Manning
,
Matt Ryan
,
Joe Flacco
, Rick Mirer and
David Carr
pulled it off. All but Flacco, chosen 18th overall by Baltimore in 2008, were drafted among the top three overall choices in their class.
The ones who took the most sacks as rookies -- Carr (76) and Mirer (47) were the only ones to absorb more than 32 -- had the poorest careers. That might suggest the players had a hard time recovering from the beatings they took early in their careers. It also might reveal something about the quarterbacks' ability to process information quickly enough to get rid of the football before trouble arrives.
Offensive lines tend to take disproportionate blame for sacks, in my view. Quarterbacks are often responsible for them as well.
11- to 15-game starters
None in this group threw even 20 touchdown passes in a season (Manning and Dan Marino are the only rookie quarterbacks since 1970 to reach that barrier as rookies).
We should expect modest production from Bradford even if he starts most of the Rams' games.
Ben Roethlisberger
was a rarity among this group by completing at least 60 percent of his passes, but rookie completion percentage wasn't a reliable indicator for career success overall.
Some quarterbacks ranking lower played when teams ran higher-risk offenses and rules made it tougher to complete passes.
6- to 10-game starters
Hall of Famers Marino, John Elway, Terry Bradshaw and Dan Fouts fell into this group.
This group featured a solid middle class headed by McNabb,
Eli Manning
, Bernie Kosar, Jim McMahon, Neil Lomax, Steve Beuerlein, Pat Haden, Doug Williams and Rodney Peete.
There were a few disappointments -- Ryan Leaf, Cade McNown,
Kyle Boller
and the 49ers' Smith, who still has a shot at redemption -- but this seems like a reasonable number of starts for a quarterback drafted early.
Matthew Stafford
and
Josh Freeman
fell into this category last season.
3- to 5-game starters
Some high picks fell into this category, including Bert Jones, Vinny Testaverde, David Klingler, Tony Eason,
Rex Grossman
, Akili Smith,
Jay Cutler
, Tommy Maddox, Jim Everett and 1984 supplemental choice Steve Young.
This group produced relatively few true stars, however. Young was an obvious exception. Boomer Esiason was a good value.
In looking at the list, though, my sense is that a really good quarterback -- particularly one chosen early -- will start more than five games if he gets a chance to start at all in his first season.
2 or fewer starts
Hundreds of rookie quarterbacks failed to start a game and
69 did not attempt a pass
. The latter group featured
Tony Romo
and in-the-news quarterbacks
Kevin Kolb
and
Charlie Whitehurst
, but
Daunte Culpepper
, the 11th player chosen in 1999, stood out as a rare high draft choice among the group.
Unlike
Carson Palmer
, who sat out his rookie season as a high choice in Cincinnati, Bradford is going to play as a rookie unless he gets hurt.
It's reasonable to expect Bradford to start at least half the games, putting up modest numbers. He'll probably struggle some, and that is OK, but it's a bad sign if the Alex Smith comparisons apply by season's end. Smith tossed one touchdown pass with 11 interceptions as a rookie. He wasn't ready and his supporting cast gave him little chance. That's a bad combination.
August, 30, 2008
8/30/08
8:05
AM ET
Posted by ESPN.com's Mike Sando
The ESPN.com fan rankings left Seattle at No. 20. A few readers weren't any too pleased, either. The relatively low ranking reflected in part local rules prohibiting tailgating at Qwest Field. But that just wasn't right, apparently.
Larry from Seattle writes: Sando, Sando, Sando! You lost serious credibility by hammering the Seahawks for the tailgate atmosphere. Next time you are at a game, go 2 blocks due west of the stadium (to just barely east of the viaduct and behind the set of warehouses that you will run into) and check out the tailgate party.
Other stadiums likely still have us beat, but it is pretty damn good. Just because there is no tailgating in the stadium parking lot does not mean that there is no tailgating. If you are going to evaluate the tailgate experience, I think you have an obligation to actually examine the issue a little more than peering out into the parking lot of Qwest and concluding that there is none.
If interested, shoot me an email and you can stop by my tailgate at your next game and see the experience firsthand. Despite my rant and your obviously limited knowledge of tailgating in Seattle, your blog is still the best thing going. Keep it up!
Mike Sando: You've got a deal, Larry. I would be honored to drop by your tailgate party one of these times. The only thing I ask is that you have something ready on the grill. And it better be good. The last thing you need is another negative review on ESPN.com.
---
John from California writes:
Mike, What are your thoughts on the Seahawks opening game against the Bills? Hopefully our Defense will be awake and and ready to play.
Mike Sando: The Seahawks should win that game. I think they will win that game. But this team needs to prove itself in early games in the Eastern time zone.
---
Greg from Phoenix writes:
Mike, I'm wondering what Alex Smith's chances are of starting over with another team and fulfilling his unrealized potential. It seems like there are so many high draft picks get only one shot and, despite the experience they get in those first years, in most cases if they don't succeed then they are labeled "busts" and don't get another. Why is this so and what are Smith's prospects for following this same path?
Mike Sando: I think a fresh start elsewhere is exactly what Alex Smith needs. I would think he'll enjoy success somewhere down the road. He's only 24 years old. A few players have enjoyed success after stumbling early. Vinny Testaverde comes to mind. Trent Dilfer, to a degree, and Kerry Collins. Tommy Maddox several years aback, and Jim Plunkett years ago.
But some quarterbacks never recover from a poor start. David Carr, Joey Harrington, Patrick Ramsey, Tim Couch, Akili Smith, Cade McNown, Ryan Leaf, Jim Druckenmiller, Heath Shuler, Rick Mirer, David Klingler, Dan McGwire, Todd Marinovich, Andre Ware, Kelly Stouffer.
At a certain point we might conclude that these players weren't as good as advertised. A quarterback must possess so many traits to succeed. Some of these players possessed certain traits that caught scouts' eyes, but they lacked the total package or couldn't overcome severe deficiencies in other areas.