February, 20, 2013
2/20/13
12:00
PM ET
A look at the NFC West's best and worst from the past five NFL drafts, one team at a time.

Seattle Seahawks
Best choice:
Russell Wilson
, QB, 2012 third round. Wilson went from springtime curiosity to surprise opening-day starter to Pro Bowl quarterback in eight months. Seattle has hit big on some other draft choices during the Pete Carroll-John Schneider era, but Wilson stands apart from the rest. No rookie in the 36-year history of the organization has impacted the team as dramatically as Wilson did in 2012. That is a bold statement, but one that required about 30 seconds of verification. Wilson is the first QB draft choice in Seahawks history to succeed with the team. None of the other 15 came close (Mike Teel, David Greene,
Seneca Wallace
, Jeff Kelly, Josh Booty, Brock Huard, Rick Mirer, Dan McGwire, John Gromos, Sammy Garza, David Norrie, John Conner, Sam Adkins, Steve Myer and Chris Rowland). The 26 touchdown passes Wilson threw during the regular season exceed the Seattle career totals for every one of those other 15 drafted QBs except Mirer, who had 41 touchdowns over four seasons with the team.
Worst choice:
Aaron Curry
, LB, 2009 first round. The Seahawks thought they were making the surest choice of the 2009 draft when they made Curry the fourth overall choice. Instead, a franchise that had used top-10 picks for defensive stars Cortez Kennedy and Kenny Easley got an all-time bust. Curry had 5.5 sacks, 12 passes defensed and four forced fumbles while starting 28 of 30 games for the Seahawks over two seasons. Something wasn't right, however, and by Curry's third season, the team had seen enough. Seattle essentially bought out Curry's expensive rookie contract to facilitate a trade to Oakland.
Lawrence Jackson
was a distant second for this distinction.
Verdict pending:
James Carpenter
, OL, 2011 first round. Wilson's selection in 2012 offsets lingering regrets from the Seahawks' decision to draft Carpenter over
Andy Dalton
a year earlier. Still, Seattle cannot feel good about how Carpenter's career has unfolded. Carpenter was struggling in pass protection at right tackle before a severe knee injury convinced Seattle that Carpenter's future would be at left guard, next to tackle
Russell Okung
. The conversion did not go well last season because the knee injury continued to limit Carpenter's mobility. The coming season appears pivotal for Carpenter.
Related:
2011 draft rewind
.
November, 15, 2011
11/15/11
6:10
PM ET
No NFL play from Week 10 affected win probability more than the one the
Cleveland Browns
and
St. Louis Rams
are still trying to figure out.
The Browns' botched/missed/blocked field-goal try from 22 yards was the
fifth-shorted miss
in the final three minutes of a game since 1983. But it might not have been a miss at all. The Rams are convinced defensive end
James Hall
blocked it. They have sought a scoring change.
Whatever the case, the Browns' missed chance with the Rams holding a 13-12 lead increased St. Louis' win probability from 33.6 percent to 70.9 percent, according to Aloko Pattani of ESPN's analytics team. The 37.3-point swing was the largest for any play from Week 10. It tops our weekly list of pivotal plays from games involving NFC West teams. All five plays helped NFC West teams win, and all four division teams won in the same week for the first time since divisional realignment in 2002.
Clutch pass completions by Arizona's
John Skelton
filled three of the top-five spots this week, led by his 37-yarder to
Larry Fitzgerald
on a third-and-10 play with 2:55 left in the fourth quarter and the Cardinals trailing Philadelphia, 17-14. Skelton's 5-yard scoring pass to
Early Doucet
later in the drive ranked third on the list.
Fitzgerald's 37-yard reception and two for touchdowns helped him earn NFC honors as offensive player of the week. He's averaging 17.6 yards per reception, a five-yard gain over last season and higher than his single-season best of 14.9, set in 2008.
Two of the five plays listed in the chart involved special teams, including
David Nixon
's forced fumble and
Ben Leber
's recovery for the Rams during a
Josh Cribbs
punt return for Cleveland with 10:53 left in the game.
November, 9, 2011
11/09/11
2:00
PM ET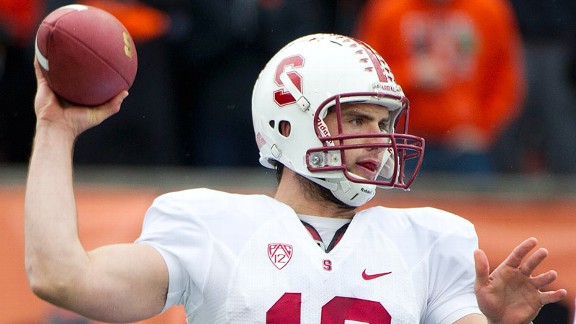 Jim Z. Rider/US PresswireAndrew Luck has thrown at least three touchdown passes in six of Stanford's nine games this season.
The
Seattle Seahawks
' handling of the quarterback situation this season has produced quite a bit of confusion.
When in doubt, follow the money.
Signing
Tarvaris Jackson
to a contract averaging $4 million a year -- less than what the team is paying its left guard, tight end and backup quarterback -- revealed plenty about the Seahawks' plans for the position.
The move told us the Seahawks were serious about drafting a quarterback in 2012, whether it's Andrew Luck or another prospect likely to be chosen early. Saying so outright would have sent the wrong message to fans and the current team, of course, but a $4 million bet on Jackson wasn't much of a bet at all.
The related decision to part ways with
Matt Hasselbeck
, who commanded $9 million a year on the market, told us Seattle saw little point in squeezing a couple additional victories from a team that wasn't going to contend for a championship, anyway.
The Seahawks would almost certainly be better with Hasselbeck, provided their former long-time starter could have held up physically behind a young, inconsistent line. But how much better would they have been? Enough to finish 7-9 or 8-8 and out of the running for a top quarterback in the draft? What then?
Swapping Jackson for Hasselbeck fell short of a blatant "Suck for Luck" mantra, but not all that far short. Teams finishing 4-12 last season picked second through fourth. Teams with five victories were fifth and sixth. Teams with six victories picked seventh to 13th.
After watching the Seahawks fall to 2-6, it's looking like Seattle will have a shot at drafting a quarterback early, even if another team winds up with Luck.