February, 18, 2015
Feb 18
8:00
AM ET
A closer look at the areas the
St. Louis Rams
could address in the draft. We'll wrap it up today with a look at the interior offensive linemen, which are scheduled to work out Thursday in Indianapolis.
Position of need: Interior offensive line.
At minimum, the Rams are going to need at least one new starter on the interior of the line with veteran
Davin Joseph
set to hit free agency after another rough season. They could also look to replace veteran
Scott Wells
, who struggled mightily in 2014. And some depth wouldn't hurt either given the injury history of the only player on the interior with a settled situation moving forward,
Rodger Saffold
. The Rams gave up a sack on 8.7 percent of drop backs against four or fewer pass-rushers last season, the highest percentage in the NFL. They also allowed pressure (sack or duress) on 33 percent of their drop backs last season, third highest in the NFL.
Three players the Rams could target in the draft:
Cameron Erving, Florida State:
One of the most intriguing prospects in the entire class, Erving will remind Rams fans of
Barrett Jones
in terms of his extensive history of versatility. Erving actually started his career as a defensive tackle before moving to left tackle in 2012 and 2013. He moved to center in 2014 and looked his most comfortable in the middle. At a shade over 6-foot-5, 298 pounds, Erving probably projects best as a center or guard in the NFL but figuring out his fit will be a mission for any team, including the Rams this week. Likewise, they'll need to do some further medical research on Erving, who sat out in 2010 because of a back injury.
Laken Tomlinson, Duke:
Tomlinson was one of the brightest spots of the Senior Bowl and has inched his way toward being one of the better true guards in the draft. A team captain who is a sturdy 6-3, 323 pounds, Tomlinson started all 52 games in his career and comes with no questions about his durability or injury history. Looks to have all the tools to be a dominant run-blocker but scouts wonder why he wasn't more consistent in that area. That's a question he'll have to answer in Indy but if he does that and performs well in the workouts, he could solidify his spot as one of the top guards in the draft and be a potentially appealing option for the Rams.
A.J. Cann, South Carolina:
Depending on which position you peg for LSU's
La'el Collins
, Cann is generally regarded as the best true guard in the draft. He's 6'3, 315 pounds and comes with a nearly impeccable record of production and intangibles. Not a mauler, per se, but proved a solid run-blocker with his footwork and understanding of angles. Keep an eye on how he measures and how he fares in the bench press because teams have some questions about his power and size.
December, 19, 2014
12/19/14
2:45
PM ET
EARTH CITY, Mo. -- The
St. Louis Rams
made it through another week of preparation with no setbacks and will head into Sunday's game against the
New York Giants
with no injury issues of any real concern.
Center
Scott Wells
and guard
Davin Joseph
, both of whom missed a practice this week for a veteran's day off, practiced Friday and while still listed on the injury report, there's no doubt that they'll be ready to play on Sunday. Officially, Wells and Joseph are listed as probable against the Giants but since both practiced Friday there's no reason to think they won't play.
Defensive end
Chris Long
was added to the report Friday when he didn't practice but also not for any serious reason. All three players are listed as probable for Sunday.
Here's Friday's full injury report, such as it is:
Probable:
C Scott Wells (not injury related), G Davin Joseph (not injury related), DE Chris Long (not injury related)
October, 13, 2014
10/13/14
6:58
PM ET
EARTH CITY, Mo. -- After four games of relative inactivity, the
St. Louis Rams
' No. 2 overall pick,
Greg Robinson
, will make his first NFL start Monday night against the San Francisco 49ers.
Robinson
Technically, Robinson will replace right guard
Davin Joseph
but his addition to the starting offensive lineup will actually be at left guard. Left guard
Rodger Saffold
moves to right guard with Joseph heading to a reserve role.
Robinson handled the majority of the repetitions with the first team in practice all week and has apparently made enough strides to crack the lineup after spending the first four games in a backup and special teams role.
"Well I think first and foremost, you hear him making calls and understanding the system," offensive coordinator Brian Schottenheimer said. "That's been good to see. You see him working, you see him getting reps, he's doing a nice job. It's a process. We saw it last year with some of those guys like (WR) Tavon (Austin) some of the younger plays it takes time. Especially for a guy coming from a school that had a limited playbook, they didn't do a whole lot. Again, you see the confidence, you see him making calls, you see him in meetings even kind of communicating things that he wouldn't of seen maybe three, four months ago, so that's exciting. Again, going to be a really, really good player in this league."
Robinson will certainly face a stiff first test against a Niners defense that boasts big names like
Justin Smith
,
Patrick Willis
and
Ahmad Brooks
. And he'll be doing it at a position which is still relatively new to him after leaving Auburn as the team's left tackle.
When the Rams drafted Robinson in May, they said they'd hoped Robinson could plug in at left guard right away and put him in there early in training camp. But that project got short shrift as an injury to Rodger Saffold and the time it took left tackle
Jake Long
to work back from knee surgery had Robinson alternating between tackle and guard.
As it turned out, Robinson wasn't ready to help right away at either spot and the Rams opted for Joseph. Since, Robinson has continued to practice at both spots but has made enough strides in his understanding of the playbook and the guard position to earn an opportunity.
"Mentally, yeah, I've seen him improving," Saffold said. "He's already a big guy, strong and has some good athleticism. When he knows what to do, he does some great things so that's what we are trying to get him to."
With Robinson settling in at left guard, Saffold will move back to the right guard spot where he excelled in 2013. Saffold has moved around plenty since being drafted in 2010, including stints at both tackle spots and now both guard spots. But there's still a bit of a re-learning curve in moving back to the right side even though he spent the final part of last season there.
"It's another transition," Saffold said. "I wouldn't say that it's tough on me but it is a challenge. Whatever I'm called to do, I'll go over there and do the job."
September, 5, 2014
9/05/14
4:00
PM ET
EARTH CITY, Mo. -- From the moment soft-spoken guard
Davin Joseph
signed with the
St. Louis Rams
he began going about his business as he always does: in the most professional way possible.
Joseph signed with the Rams on May 28 after his original team, Tampa Bay, released him during the offseason. At the time, Joseph said he weighed his options and ultimately believed St. Louis would be the right place to get a fresh start after eight years with the Buccaneers.
Upon arrival in St. Louis, Joseph sounded like a man content to do whatever the Rams asked of him, and though he wanted to prove he still has some gas in the tank, he looked poised to be the team's only veteran backup option.
[+] Enlarge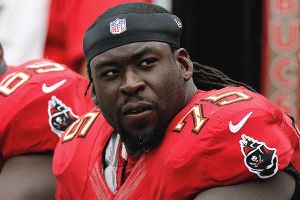 Kim Klement/USA TODAY SportsVeteran guard Davin Joseph has found a home with the Rams after starting his career with Tampa Bay.
As it turns out, Joseph did much more than offer some experience behind the starters. Heading in to Sunday's season opener against the
Minnesota Vikings
, Joseph is to start for the Rams at his familiar right guard position.
"The goal was to make the football team, and then of course make an impact," Joseph said. "So whatever that may be, however I can help, that's what I'm here for."
To open the season, how Joseph can help is by providing a steady presence on an offensive line that seems to be in a perpetual state of flux. Throughout the preseason the Rams went stretches of time without the services of left tackle
Jake Long
, center
Scott Wells
and left guard
Rodger Saffold
. With rookie
Greg Robinson
struggling to settle in and bouncing between left guard and left tackle, Joseph joined right tackle Joe Barksdale in providing some semblance of stability on the right side.
Unexpected though it might have been, Joseph's ascent probably shouldn't surprise. After all, aside from Long he is the most accomplished lineman on the roster. Once considered one of the league's premiere guards, the 6-foot-3, 313-pound Joseph has played in 100 games and earned a pair of trips to the Pro Bowl.
The past two seasons have been a nightmare for Joseph as he has dealt with a serious knee injury and a staph infection. The former cost Joseph the entire 2012 season, and the latter kept him from returning to form in 2013.
As the difficulties of those two seasons piled up, the Bucs decided to part ways with Joseph, who also believed it best to start over. In St. Louis, Joseph said he has found exactly what he was looking for.
"I think being a Ram has been the best thing that's happened to me in a long time, so it's strange how things happen," Joseph said. "When you get released by one team and picked up by another team, you don't quite know what your role is, you just come to work, shut up and do your job. You just learn every day. I've learned a lot since I've arrived here. I've really enjoyed the journey so far."
Joseph played 70 snaps in the preseason as the Rams reconfigured things based on who was available each week. It became apparent when he started the third preseason game against Cleveland that he was in line to nail down a starting spot. His experience certainly works in his favor, even if he has struggled the past two years.
At just 30 years old, Joseph believes he has plenty of football in him and is out to prove he can still perform at a high level. In the Rams' run-heavy offense, they will need him to at least become a reasonable facsimile of the player he once was for the group to have success.
"When you enjoy going to work, it's a lot better than just going to work," Joseph said. "When you actually look forward to going to work every day, there's a lot of positive energy. So that's been a major difference is that since I've been in St. Louis, I've really looked forward to going to work every day. That's been a lot different than some of my years in Tampa, not all, but some, where it wasn't really that enjoyable experience."
June, 19, 2014
6/19/14
4:45
PM ET
EARTH CITY, Mo. -- The
St. Louis Rams
wrapped up organized team activities with their ninth and final practice Thursday. For those keeping score at home, yes, that's a day earlier than expected; coach Jeff Fisher canceled Friday's previously planned practice.
As always, it should be noted that much of what happens in these OTAs should be taken with a grain of salt (especially for the linemen). The players are not in pads and contact must be extremely limited. It's best not to get too excited or too down on anything that happens.
Back to back for Bradford:
Quarterback
Sam Bradford
spent the bulk of OTAs on a strict plan for his involvement. Usually, that meant a couple of periods of seven-on-seven drills and a period of hurry-up in team drills. But Bradford did a little more than usual Thursday and did extensive work in back-to-back practices for the first time in the offseason. Bradford had gone two in a row earlier but was more limited in one of those practices.
Bradford
Bradford was also at his sharpest, at least relative to the other sessions open to the media. Now, for the first time since he suffered his knee injury in October, Bradford will get to spend quality time back home in Oklahoma. Bradford said he feels good and all signs point to him being ready to go when training camp opens.
"I was really happy with everything that went on during the OTAs," Bradford said. "A big part of it for me was obviously physically getting back out on to the field, seeing how my knee reacted. It's been fantastic. We were actually able to do a little more than we anticipated so that's very positive.
"Out there today, it felt probably the best its felt all OTAs and [I'm] just really looking to build on that."
Line dancing:
Working without the services of left tackle
Jake Long
and center
Scott Wells
, the Rams tweaked things on the offensive line a bit.
Rodger Saffold
kicked out to left tackle with
Davin Joseph
sliding in at right guard and
Barrett Jones
got work at center with the first team. Long did some work in individual drills.
It doesn't mean much at this point since the Rams are anticipating Long and Wells returning to the fold soon enough, but it was a departure from the previous alignments in which
Sean Hooey
or
Mike Person
had rotated at left tackle.
Tim Barnes
has also taken reps at center in the days where Wells has been absent.
Sitting it out:
The Rams got some players back to practice but still had their share of missing pieces. Receiver Jamaine Sherman, safety
Christian Bryant
, safety
Maurice Alexander
, running back
Chase Reynolds
, linebacker Ray-Ray Armstrong, Wells, Long, defensive tackle
Michael Brockers
and defensive end
William Hayes
did not participate.
Cornerback
Trumaine Johnson
, defensive tackle
Kendall Langford
and safety
Matt Daniels
returned to work after not practicing Tuesday. Daniels had missed most of the workouts but was able to finish Thursday and had a couple of pass breakups in team drills.
Receiver
Kenny Britt
and cornerback
Darren Woodard
, both of whom left Tuesday's practice early, were back and participated.
Closing competition:
Per custom, Fisher put his offensive and defensive lineman through a punt-catching drill to wrap up the final OTA. The drill asks the linemen to stand about 80 yards removed from the JUGS machine and catch a punt. The side that catches more doesn't have to run a final round of wind sprints.
In an impressive showing, the defense came up with five grabs to win and force the offense to run.
Final impressions:
Receiver
Stedman Bailey
made a strong closing argument before training camp, coming up with a few impressive grabs, including a diving catch for a touchdown from Bradford during seven-on-seven.
In what was one of the more impressive and humorous plays of the day, undrafted rookie defensive tackle Deantre Harlin broke up a pass by batting it into the air then showed concentration by snatching it for an interception. The enthusiastic cheers coming from his defensive teammates quickly turned to laughter as Harlin got turned around and began running the wrong way before course correcting.
Looking ahead:
With OTAs and the offseason now complete, the Rams will disappear for a little while. The rookies must stay through Friday but after that, it will be quiet around Rams Park until rookies report July 21. The veterans will join them July 24 with the first open practice set for July 25.
Fisher has already given the team the annual talk about making good decisions in the offseason and noted Thursday that there weren't any issues last year. He hopes for a repeat of that this time around.
When the Rams do return to St. Louis, Fisher said he expects most of the players who did not participate during OTAs to be ready to go. In addition to Long, Fisher said Bryant is the only other player who might not be fully ready to go at the start of camp.
June, 11, 2014
6/11/14
12:30
PM ET
EARTH CITY, Mo. -- With
Rodger Saffold
all but signed to a lucrative free-agent contract with the
Oakland Raiders
, the
St. Louis Rams
had already begun working on contingency plans.
In mid-March, as Saffold finished up a physical with Oakland doctors, the Rams were hosting free-agent guard
Davin Joseph
. A Rams contingent and Joseph were out to dinner discussing his possible fit with the team when the news came that Saffold's deal with the Raiders had been nullified by a failed physical.
The Rams still wanted Saffold and found themselves in what could have been an awkward situation were it not so confusing.
[+] Enlarge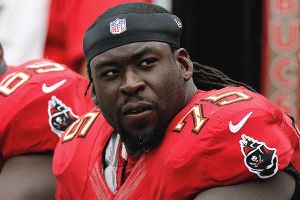 Kim Klement/USA TODAY SportsVeteran Davin Joseph has only been with the Rams for a week, but there are already signs things are going well for both team and guard.
"I really didn't quite understand quite what was going on at the time," Joseph said. "I don't think anybody really did."
When the situation finally crystallized, the Rams managed to re-sign Saffold and Joseph left St. Louis without a contract. The Rams had their starting right guard and the fit for Joseph became muddled.
But just because Joseph didn't necessarily have an obvious fit didn't mean the Rams lost all interest.
In fact, with Joseph working his way back from a knee injury and a staph infection which left him looking like a shell of his former Pro Bowl self, the market for Joseph figured to take time to play out. It allowed the Rams to maintain interest but go through the first waves of free agency and the draft first. In doing so, the team could re-assess it's offensive line depth and determine if there was still a fit for Joseph.
After selecting
Greg Robinson
with the No. 2 overall pick with the idea of playing him at left guard right away and failing to move back into the first round for offensive lineman
Zack Martin
, the Rams had a glaring need for experienced depth on the interior. Assuming Joseph would agree to such a role, he was a logical solution.
Joseph was originally a first-round pick in 2006, earning trips to the Pro Bowl in 2008 and 2011. But he suffered a severe knee injury that cost him the 2012 season, followed by a staph infection last spring and he struggled to get back to his former production last season.
After weighing interest from Dallas and New England, Joseph decided on a one-year deal with the Rams on May 28.
"We really liked the visit, were really excited about what we thought he could do for us from a depth standpoint and all that stuff," coach Jeff Fisher said. "We gave him an opportunity to come in and compete, but Davin, I think, is at a point now where you know he just wants to have fun. We hit it off well, so we decided to wait until after the draft and we got things put together."
Although Joseph has only been in St. Louis for little more than a week, he's already making a positive impression on the coaching staff and his teammates. It's impossible to know how he's coming along as a blocker without wearing pads in organized team activities, but it's clear the Rams will piece together that plan as they go.
As it stands now, Joseph is the most experienced option the team has on the interior (he's played in 100 NFL games) but Saffold and Robinson are all but certain to start at the two guard spots. That figures to put Joseph in position to be the top option should something happen to either of them or perhaps step in at guard if Robinson or Saffold has to kick outside to tackle.
With the knee injury nearly two years behind him and the staph infection about a year in his past, Joseph at least appears to be healthy.
"He really is much better than he was when he came in for the visit," Fisher said. "He's a pro. He knows how to rehab. He knows how to prepare for camp, and he's doing fine right now."
Joseph signed just a one-year deal, a contract commensurate with a player who doesn't have his history of success. And Joseph is only 30 years old. The chance for a bounce-back season would seem more reasonable for Joseph than many players signing a one-year "prove it" deal.
"I do feel like I have a lot left," Joseph said. "I feel like I can contribute to this team. I don't know how big or how small my role will be, but I feel like I can contribute. If it's just coming out here and really working to make the guys better then that's my job and I'll do it the best that I can."
June, 6, 2014
6/06/14
7:00
PM ET
EARTH CITY, Mo. -- The
St. Louis Rams
held their third organized team activity and second session open to the media Friday.
After a heated practice Thursday, things normalized a bit Friday but there were still some worthwhile notes to come from the practice. One quick thing before we get into that, I just want to note that much of what happens in these OTAs should be taken with a grain of salt (especially for the linemen). The players are not in pads and contact must be extremely limited. It's best not to get too excited or too down on anything that happens.
[+] Enlarge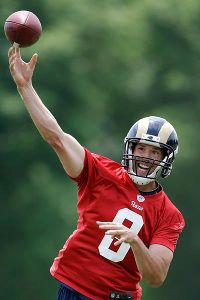 Jeff Roberson/AP PhotoRams quarterback Sam Bradford throws during an organized team activity at the team's practice facility on Friday.
Away we go...
Bradford works:
As planned, quarterback
Sam Bradford
did participate in Friday's practice after sitting out Thursday as he works his way back from knee surgery. Bradford worked in a couple of seven-on-seven drills, one in normal offense and one in the red zone. A little more surprising was the fact Bradford took reps with the first offense during full team drills as they worked on the two-minute offense.
For what it's worth, Bradford looked sharp in his reps. His drops were mostly clean and the ball had his usual velocity when he did uncork a pass. Bradford does indeed appear to be right on schedule for a full-time return at training camp.
More line dancing:
With left tackle
Jake Long
not expected to return from his own knee surgery until midway through training camp at the earliest, Rams coach Jeff Fisher has made it clear the team won't be messing with the stability of the other positions on the line. That means rookie
Greg Robinson
and
Rodger Saffold
will remain stable at their spots at left and right guard, respectively.
As for Long's spot, the Rams will continue to look at some of their younger developmental prospects. On Thursday,
Sean Hooey
got an opportunity to work with the projected starting line. On Friday, it was
Mike Person
's turn to step in. It's increasingly clear how confident the Rams are that Long will be back for the opener.
Elsewhere on the line, center
Scott Wells
returned to practice as expected. In other words, the Rams are working with four of their five projected starters right now.
Sitting it out:
The Rams still have their share of players not participating in OTAs. In addition to Long, the Rams were without defensive ends
William Hayes
and
Sammy Brown
, running back
Chase Reynolds
and safeties
Maurice Alexander
,
Christian Bryant
and
Matt Daniels
.
Bouncing back:
Wide receiver
Brian Quick
had some rough moments in Thursday's practice but was much sharper during Friday's workout. On one play in seven-on-seven drills, Quick ran a sharp route down the seam, faked inside, getting cornerback
Brandon McGee
to bite, turned to the outside and made a diving catch on an under thrown ball. But Quick had cleared enough space to get up and finish the play for a touchdown.
McGee, who also had some rough moments Thursday, also showed some resilience, coming up with an interception a few plays later after reading the play and getting a good break on the ball.
Both players need to come with more consistency in the next few months to solidify their spots.
Upcoming schedule:
The Rams will be back on the practice field for another open OTA session on Tuesday and Thursday next week.
May, 30, 2014
5/30/14
3:00
PM ET
EARTH CITY, Mo. -- With the NFL draft and free agency complete, the
St. Louis Rams
' 53-man roster will likely come mostly from the players already on the team.
With organized team activities less than a week away, we take a look at where each position stands heading into next week. The next in the series continues today by examining the offensive line.
Who returns:
Jake Long
,
Scott Wells
,
Rodger Saffold
,
Joe Barksdale
,
Tim Barnes
,
Barrett Jones
,
Brandon Washington
,
Sean Hooey
,
Mike Person
Who is new:
Greg Robinson
,
Davin Joseph
,
Mitchell Van Dyk
,
Demetrius Rhaney
,
Abasi Salimu
Who is gone:
Harvey Dahl
,
Shelley Smith
,
Chris Williams
Projected starters:
Long, Robinson, Wells, Saffold, Barksdale
Pending competition:
There's no position group on the roster with more possible flux than the offensive line. The starting five should be set but much will hinge on Long's health. If he's ready to go opening week, that starting five should be pretty well set. If not, the Rams will have to take a look at Robinson or Saffold at left tackle and plug Joseph in at the vacated guard spot. The real jockeying for position will come as the Rams evaluate their depth. Jones seems like a good bet to win a spot after the team used a fourth-round pick on him in 2013. The Rams went heavy on offensive linemen for most of last season, carrying double digits the majority of the time. If they do so again, there should be interesting battles on the interior among Joseph, Jones, Barnes, Washington and Rhaney and on the outside with Hooey, Person and Van Dyk. That's eight players probably competing for four or five spots at most. And the Rams could logically carry fewer linemen this year given the versatility and flexibility Saffold, Robinson and Jones provide.
Outlook:
Much like last year, the potential for this group is such that it could be one of the league's best but with the caveat that remaining healthy will be the top priority. Long, Wells and Saffold have struggled with injury issues recently, problems that caused much of the line dancing the group had to do a year ago. Although the group managed to be mostly effective under the guidance of line coach Paul Boudreau, it struggled late in the season against the physical fronts of its NFC West brethren. To do battle with those defenses and be a more effective offense, the Rams will need less shuffling and more stability. For the long haul, only Robinson and Saffold seem to have clear spots. Long and Wells remain under contract beyond 2014 but the team could part ways with them after the year if they are unable to stay healthy and produce. Barksdale is scheduled to be an unrestricted free agent after the season. In the ideal scenario, young players like Jones and Washington will develop further in 2014 and give the Rams more flexibility for the future. In the meantime, the Rams have a starting group with the talent to excel so long as they can stay on the field.
May, 27, 2014
5/27/14
5:55
PM ET
EARTH CITY, Mo. -- In search of some veteran depth for their offensive line, the
St. Louis Rams
are in the process of finalizing a one-year deal with guard
Davin Joseph
.
Joseph
Joseph originally visited with the Rams in mid-March as a potential solution for the expected departure of
Rodger Saffold
. When Saffold's deal with Oakland fell through and the Rams re-signed him to a lucrative deal, interest in Joseph was put on the back burner.
Through that time, the Rams remained open to adding a veteran for the interior, but clearly wanted to see what the draft would yield before adding a veteran inside. They also had expressed interest in
Daryn Colledge
and mentioned a possible return for
Harvey Dahl
along the way.
When the Rams came out of the draft with tackle
Greg Robinson
but didn't draft any more linemen until the seventh round, the need for some experience on the interior became more obvious.
Joseph comes to St. Louis from Tampa Bay, where he went to two Pro Bowls for the Bucs before injuries sidetracked his career. He was a first-round pick in 2006, earning trips to Hawaii in 2008 and 2011. But he suffered a severe knee injury that cost him the 2012 season, and he struggled to get back to his former production last season.
The Bucs released Joseph before free agency in March, saving $6 million against the salary cap. In addition to his visit to St. Louis, Joseph also made stops in New England and Dallas.
For the Rams, the expectation is that Joseph will provide depth behind projected starting guards Robinson and Saffold. Joseph also provides insurance in case left tackle
Jake Long
is unable to start the season. Long suffered a torn ACL and MCL against Joseph's former team late in the season.
As Long continues his rehabilitation, Joseph, who has played in 100 games (including playoffs), offers an experienced replacement inside who would allow the Rams to shift Robinson or Saffold outside until Long is ready.
August, 31, 2013
8/31/13
11:20
AM ET
Parys Haralson
and
Delanie Walker
departed the
San Francisco 49ers
' roster this offseason after entering the NFL has 2006 draft choices with the team.
Another member of that 49ers draft class, fullback Michael Robinson, was a valued contributor to the division-rival
Seattle Seahawks
when the team released him Friday with age and salary-cap considerations in mind.
The 2006 class has been good to the 49ers. The team continues to get top-shelf contributions from tight end Vernon Davis, one of the team's two first-round picks from that 2006 class.
Mike Nolan was coach and Scott McCloughan was general manager for the 49ers back then. Some of the personnel moves they made continue to sustain the team.
Frank Gore
,
Tarell Brown
,
Patrick Willis
,
Joe Staley
,
Ray McDonald
and Davis remain as players drafted under Nolan. All are valued contributors. Another Nolan-era pick,
Adam Snyder
, is back with the team as a reserve offensive lineman after spending 2012 with Arizona.
Davis is one of 10 first-round picks from 2006 playing with his original team. The list also includes
A.J. Hawk
,
Haloti Ngata
,
Chad Greenway
,
Tamba Hali
,
Davin Joseph
,
DeAngelo Williams
,
Marcedes Lewis
,
Nick Mangold
and
Mathias Kiwanuka
.