May, 20, 2013
5/20/13
6:00
PM ET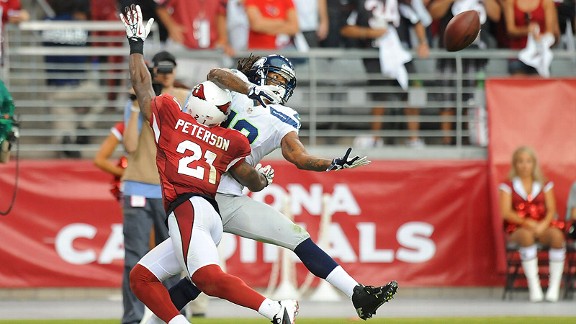 Norm Hall/Getty ImagesArizona's Patrick Peterson has Seahawks WR Sidney Rice covered during their Sept. 9, 2012 game.
Patrick Peterson
should become the best cornerback in the NFC West and beyond. The talent is obviously there. Coaches and teammates rave about Peterson's commitment.
"If we have this discussion in a year, he is top three in the league and if not, No. 1," ESPN.com NFL scout Matt Williamson predicted Monday.
Peterson's ability shined through in Cian Fahey's recently published
game-by-game analysis
using the all-22 coaches' video made available to the public last year.
Some background: Last week, Fahey
came away impressed
after taking an in-depth look at
Seattle Seahawks
cornerback
Richard Sherman
. When I expressed an interest in seeing something similar for Peterson,
Fahey said on the spot
he'd put one together within a week. Here we are.
Fahey's analysis showed Peterson at his best against wide receivers such as
Sidney Rice
,
Julio Jones
and
Roddy White
. Peterson struggled some against smaller, quicker wide receivers such as
Steve Johnson
,
Danny Amendola
and
Davone Bess
.
Michael Crabtree
's physical play around the goal line was also a problem. Physical play is one area where Sherman in particular excels among corners.
"There is no shame in spending time as a prince learning the role of the king before you take his seat," Fahey concluded. "For most, it is a necessary step. Peterson is an exceptional talent and athlete, but he is no exception when it comes to developing as a pro. He must refine his talent, but once he does he may have no equal."
Unlike Sherman, Peterson often tracked the opponent's best wide receiver all over the field, play after play. That made Peterson's job tougher than Sherman's job, a key distinction when evaluating the best cornerbacks.
Darrelle Revis
, widely regarded as the NFL's top corner before suffering a knee injury last season, has set the standard recently for eliminating opponents' top wideouts.
"Peterson can be a Hall of Fame corner," Williamson said. "In a league full of superb athletes, he is in the top 1 percent. He is not yet half the technician of Revis, but he is learning and his upside is higher than the upside for any corner in the league."
Peterson's relative difficulties against slot-type receivers might not be a problem to the same extent in the future. One, Peterson will most likely continue to improve. Two, Arizona added slot corners
Javier Arenas
and
Tyrann Mathieu
to match up with some of those smaller, shiftier wideouts.
"Slot corner is really its own position," Williamson said. "A slot receiver like
Wes Welker
has a two-way go and there's no sideline as the helper for the corner. I could see Peterson being a bit of a fish out of water against some of those guys."
Cardinals receiver
Larry Fitzgerald
said last offseason he thought Peterson was quickly on his way to becoming the best cornerback around.
"From a physical standpoint, he has no weaknesses at all," Fitzgerald said. "Most guys you go against, bigger guys, I can manipulate them on the field or physically. Patrick is just so different. He has the game-changing speed. He can run with anybody in the league. His ball skills are like playing with another receiver. He can tackle you in the run game. He knows what's going on, is a student of the game.
"You want to draft a guy to carry the torch for your team, Patrick Peterson epitomizes that. Just his maturity. He's 22 years old [now 23]. He just got married. His outlook on life, the way he carries himself, the way he performs, it's like a 30-year old. He just gets it. To get it at that young of age, that is a scary combination when you couple that with elite talent."
December, 1, 2012
12/01/12
2:05
PM ET
The
Chicago Bears
rank eighth in fourth-quarter passer rating (103.1) and Total QBR (73.8) at home this season.
Quarterback
Jay Cutler
and the Bears have to like their fourth-quarter chances against the
Seattle Seahawks
in Week 13.
Seattle's defense, though No. 1 in fourth-quarter passer rating allowed at home this season, ranks 28th in passer rating and Total QBR allowed during fourth quarters on the road.
All of this might make greater sense if Seattle's pass defense struggled on the road regardless of the quarter. However, the Seahawks rank fourth in passer rating (71.1) and eighth in QBR (41.2) allowed during the first three quarters of road games.
The first chart breaks down the home-road disparity for the Seahawks' pass defense in fourth quarters only.
Seattle's defense gave up decisive fourth-quarter touchdown passes in road games against Arizona and Detroit. Last week, the
Miami Dolphins
tied the game with a fourth-quarter touchdown pass before driving to the winning field goal.
The Seahawks' pass defense could have a new look in Week 13.
Walter Thurmond
, activated from the physically unable to perform list in recent weeks, is expected to replace the injured
Marcus Trufant
in the nickel corner role. The team listed Trufant as doubtful with a hamstring injury. Thurmond was a starter last season before suffering a season-ending leg injury.
Miami's
Davone Bess
and St. Louis'
Danny Amendola
combined to catch five fourth-quarter passes for 113 yards working from the slot against Seattle.
The chart below shows fourth-quarter passing stats against Seattle based on where in the offensive formation opponents lined up. The stats are only for games when the Seahawks were on the road. I've included only those featuring at least three opponent first downs.
November, 27, 2012
11/27/12
11:00
AM ET
FALLING
1. Seattle Seahawks cornerbacks.
Richard Sherman
and
Brandon Browner
face potential four-game suspensions for allegedly using performance-enhancing drugs. News of their troubles broke shortly after Seattle suffered a 24-21 defeat at the
Miami Dolphins
. That defeat damaged the Seahawks' pursuit of a playoff berth. Losing Sherman and/or Browner down the stretch would further compromise those chances.
2. Ryan Lindley, Arizona Cardinals QB.
Lindley played well for stretches of the first half, but his four interceptions doomed Arizona to its seventh consecutive defeat, this one by a 31-17 margin to the
St. Louis Rams
at home. Lindley has yet to throw a touchdown pass in six-plus quarters since replacing
John Skelton
. He has completed 4 of 17 passes with three picks when targeting top receiver
Larry Fitzgerald
.
3. Ted Ginn Jr., San Francisco 49ers WR.
The usually reliable returns specialist muffed a punt against the
New Orleans Saints
, setting up the Saints for a first-half touchdown. The miscue threatened to turn momentum after a quick start by the 49ers. Coaches replaced Ginn with
Kyle Williams
, only to lose Williams to a knee injury later in the game. Ginn has three fumbles in punt and kickoff returns this season. He had only one in two previous seasons with San Francisco.
4. Seahawks coaches.
Seattle squandered field position with overly conservative play calling when the team sought to move into range for a late field goal during a 24-21 defeat at the
Minnesota Vikings
. Quarterback
Russell Wilson
had been hot, setting an NFL rookie record with 16 consecutive completions earlier in the game. A quick rollout pass seemingly would have provided a better alternative. On defense, Seattle couldn't let inside receivers roam freely through the secondary at critical moments. The Dolphins'
Davone Bess
and
Charles Clay
combined for 13 receptions and 213 yards on 15 targets. After the game, coach Pete Carroll said he was wrong to give a young team additional time off during the bye week.
RISING
1. Colin Kaepernick, 49ers QB.
Another week, another impressive performance for the 49ers' second-year quarterback in a high-profile game. The 49ers defense provided two interception returns for touchdowns during a 31-21 victory at New Orleans. Kaepernick did his part, too. The touchdown drives he led during the first and third quarters helped the 49ers play this game on their terms. Kaepernick has not yet been named the starter against St. Louis in Week 13. At the very least, Kaepernick has proven he's got a future as a starting quarterback in the NFL.
2. Janoris Jenkins, Rams CB.
Jenkins picked off two passes and returned both of them for touchdowns during St. Louis' 31-17 victory at Arizona. Jenkins' stock had been falling in recent weeks. He had struggled on the field and drawn a one-game suspension from the team for rules violations off it. This performance affirmed Jenkins' playmaking ability. His plays put the Rams over the top against Arizona.
3. Ahmad Brooks, 49ers OLB.
Brooks and teammate
Donte Whitner
returned interceptions for touchdowns against New Orleans'
Drew Brees
as the 49ers claimed a 31-21 victory in the Superdome. Brooks dropped into coverage and appeared to disappear from Brees' field of vision before snatching the ball and taking it all the way back. The timing of the play was critical for San Francisco. The 49ers had just thrown an interception. The Saints were in position to drive for points right before halftime. Brooks changed the script.
4. Leon Washington, Seahawks RB.
The Seahawks and Dolphins were tied in the fourth quarter when Washington's 98-yard kickoff return for a touchdown put Seattle back in the lead. Washington's 31.9-yard average ranks third in the NFL among kickoff returners. That figure, if sustained, would be a career best for Washington, who now has eight total return touchdowns for his career. Washington has four returns of 40-plus yards in 18 chances. He had four in 43 returns last season.
October, 26, 2012
10/26/12
9:24
AM ET
Larry Fitzgerald has dropped only two passes in 218 targets since the start of the 2011 seasons.
That is impressive, but it also comes as little surprise.
It's news in the NFC West whenever Fitzgerald drops a ball, so when it happened during a Week 5 game against the
St. Louis Rams
, reports noted that the
Arizona Cardinals
receiver had gone 159 targets without one.
Here's a lesser-known note on Fitzgerald: He hasn't fumbled in a regular-season game since 2008.
Fitzgerald has made 337 receptions without fumbling since
Josh Wilson
, then with Seattle, forced the ball loose following a 21-yard Fitzgerald reception in the third quarter of a Nov. 16, 2008 road game against the Seahawks. Cardinals teammate
Anquan Boldin
recovered that fumble.
Arizona hasn't lost possession on a Fitzgerald fumble since it happened three times during a four-game period in 2007.
Of the 33 players with at least 200 receptions since 2009, Fitzgerald is
the only wide receiver
without a fumble. Tight ends
Tony Gonzalez
and
Brent Celek
also have no fumbles and 200-plus catches during that span.
The
San Francisco 49ers
'
Michael Crabtree
is the only receiver besides Fitzgerald with at least 200 catches since 2009 and fewer than two fumbles.
The players with the most --
Davone Bess
has 14 fumbles during that span, for example -- tend to be return specialists.
Note:
The fact that I'm acknowledging the potential jinx factor in this sentence absolves me from any blame if Fitzgerald or Crabtree suddenly start coughing up the football.
October, 19, 2012
10/19/12
4:30
PM ET
Levi Brown
's injury and an underwhelming quarterback competition were supposed to doom the
Arizona Cardinals
in 2012.
The team surprised skeptics by winning its first four games anyway.
The injury news has
worsened
. The Cardinals have fallen to 4-2 as they prepare to face the
Minnesota Vikings
in Week 7. Arizona will be without quarterback
Kevin Kolb
and safety
Kerry Rhodes
. The team is listing cornerback
Greg Toler
and fullback
Anthony Sherman
as doubtful.
The Cardinals should have a healthier
Darnell Dockett
after a hamstring injury slowed the veteran defensive end previously. Strong games from Dockett and defensive end
Calais Campbell
figure to be key against the Vikings'
Adrian Peterson
and
Percy Harvin
.
Peterson and Harvin each have four games with 100 yards from scrimmage this season, as the chart shows. Harvin had another game with 98. Peterson ranked fifth (628) and Harvin eighth (603) in yards from scrimmage through Week 6.
Larry Fitzgerald
(430) and
Andre Roberts
(304) lead the Cardinals in that category.
Three players have reached 100 yards from scrimmage against the Cardinals this season.
Miami Dolphins
receivers
Brian Hartline
(253) and
Davone Bess
(123) did it in Week 4. Buffalo's
C.J. Spiller
(110) did it last week.
Marshawn Lynch
(97),
Wes Welker
(95) and
Stevan Ridley
(95) came closest.
The Vikings' Peterson expects to play despite an ankle injury that sidelined him part of the week. He practiced Friday and expects to start.
October, 2, 2012
10/02/12
10:00
AM ET
FALLING
1. Pete Carroll, Seahawks coach.
Carroll has gone winless in his last four games against NFC West opponents. He is 1-6 in his last seven games against current NFC West head coaches. The
St. Louis Rams
had the coaching edge during a 19-13 victory over Seattle on Sunday. Carroll's decision to open the second half with an onside kick looked like an impulsive reaction to the Rams snookering Seattle with a fake field goal for a touchdown. Think the Rams didn't see that one coming? There's no doubting Carroll's competitiveness, but sometimes a little more restraint might serve him well.
2. Cardinals' pass defense.
Arizona appeared shocked when
Miami Dolphins
quarterback
Ryan Tannehill
came out throwing against the Cardinals' previously impenetrable defense. Tannehill completed 26 of 41 passes for 431 yards, gaining 80 of those yards on the go-ahead touchdown pass to
Brian Hartline
. Tannehill completed 12 of 17 passes for 253 yards to Hartline alone, with three of those receptions covering 30-plus yards. Cornerback
William Gay
struggled in particular as
Davone Bess
also factored for Miami with seven receptions for 123 yards. Arizona won the game, but its pass defense took a hit.
3. Russell Wilson, Seahawks QB.
Three interceptions and no touchdown passes against St. Louis revived debate over whether the Seahawks' offense might be better with
Matt Flynn
behind center. Seattle is on pace for its fewest passing yards since 1992. Wilson isn't solely to blame, and yardage isn't always a meaningful measure (ask
Alex Smith
). Still, the Seahawks' passing game has been difficult to watch. Wilson needs a boost against Carolina in Week 5. The Panthers have allowed six touchdown passes against three interceptions. Opposing passers have a 93.9 NFL passer rating. Carolina's defense does rank tied for seventh in sacks with 12.
4. Cardinals' ground game.
The Cardinals averaged 1.9 yards per rushing attempt against a Dolphins defense that had been allowing fewer than 2.4 yards per carry coming into the game. Injuries and the flow of the game were a factor, for sure.
Beanie Wells
and
LaRod Stephens-Howling
were out. The Cardinals' shift to a no-huddle offense took
Ryan Williams
off the field (the young back isn't yet ready for those situations, according to coach Ken Whisenhunt). The stagnant ground game is one reason Arizona ranks last in the NFL in yards per offensive play (4.3). The Cardinals are the first team since the 1941
New York Giants
to go 4-0 without topping 300 net yards in a game, according to ESPN Stats & Information.
RISING
1. Andre Roberts, Cardinals receiver.
Two fourth-quarter touchdown receptions against the Dolphins helped the Cardinals force overtime. The first one covered 46 yards on a play-action strike. The second one was a 15-yarder on fourth-and-10 in the final 30 seconds. Not all that long ago, reporters regularly asked Whisenhunt whether the team would be pursuing various No. 2 receivers, including
Braylon Edwards
. Whisenhunt backed Roberts all along, especially after last season. The coach specifically said Roberts had been running open with frequency, only to have Arizona's quarterbacks fail to deliver the ball. Roberts finished the game Sunday with six receptions for 118 yards and two scores. His receptions gained five first downs.
2. Greg Zuerlein, Rams kicker.
Some fans are calling him "
Legatron
" after Zuerlein converted kicks covering 60 and 58 yards. Rams coach Jeff Fisher and general manager Les Snead get credit for determining early they would go with a rookie kicker this season. Zuerlein has been a big upgrade. He's a critical weapon for an offense that isn't producing with much consistency. Zuerlein was one of several Rams rookies to make a positive impact against Seattle. I don't think the Rams would have won with any other kicker.
3. Kevin Kolb, Cardinals quarterback.
I was tempted to include Kolb in both the "falling" and "rising" sections this week. The game against the Dolphins was that kind of performance for him. Kolb took eight sacks. He nearly lost the game with a poor decision resulting in a fourth-quarter interception in the end zone. But with the game on the line, Kolb threw decisively for Roberts on that fourth-and-10 play. He finished the game with 324 yards passing and three touchdowns with two interceptions and those eight sacks. (I refrained from including Cardinals right tackle
Bobby Massie
in the "falling" section because a rookie fourth-round choice should struggle when attempting to block the Dolphins'
Cameron Wake
without assistance.)
4. Ken Whisenhunt, Cardinals coach.
The Cardinals' first 4-0 start since 1974 makes Whisenhunt a natural candidate to appear in this space. I also think he's handling the success well. Whisenhunt continually points to the Cardinals' 1-6 record to start last season as evidence the team cannot get too comfortable. While clearly pleased with the team's exhilarating victory Sunday, there were times afterward when Whisenhunt sounded like the losing coach. He knew his team suffered from too many breakdown and poor decisions, and that 4-0 guarantees nothing for the future.
September, 30, 2012
9/30/12
7:33
PM ET
GLENDALE, Ariz.
--
Thoughts on the
Arizona Cardinals
'
24-21
overtime win against the
Miami Dolphins
at University of Phoenix Stadium:
What it means:
The Cardinals improved to 4-0 for the first time since 1974 with one of the more remarkable victories in a long line of them at University of Phoenix Stadium.
Jay Feely
's overtime field goal gave the Cardinals only their fifth victory in 81 chances since 1988 when trailing by 13-plus points at halftime. This victory kept the Cardinals alone atop the NFC West.


What I liked:
Kevin Kolb
overcame eight sacks and a crushing fourth-quarter interception to throw the tying touchdown pass with 22 seconds remaining in regulation. This had the feeling of a defining performance for Kolb, who now has two fourth-quarter drives to the tying or winning touchdown this season.
Arizona continued to produce outstanding results with its blitzes from inside linebackers
Daryl Washington
and
Paris Lenon
. Washington forced a critical turnover in the final three minutes of regulation. Lenon forced an interception with pressure in overtime.
The Cardinals battled back from a 13-0 halftime deficit to make the game competitive in the third quarter. Kolb's 24-yard throw to
Andre Roberts
against a Dolphins blitz required quick thinking. That play sustained Arizona's drive, and Kolb finished that drive with a scoring pass to
Larry Fitzgerald
.
Strong safety
Adrian Wilson
made big plays in his return from injury. A third-and-long sack in the second half helped keep Arizona in the game. Wilson ran over Dolphins running back
Daniel Thomas
before taking down quarterback
Ryan Tannehill
. Wilson also made a diving attempt to pick off a pass. He snatched the back half of the ball. Officials ruled the play a pick, but replays convinced them to reverse the ruling.
Cornerback
Greg Toler
picked off Tannehill, atoning for what seemed like a debatable interference call against Toler.
The Cardinals made an effective adjustment to quickly take a 14-13 lead in the fourth quarter. They shifted to heavier personnel, ran the ball on first down, then connected on deep play-action passes for
Rob Housler
(33 yards) and Roberts (46-yard touchdown). Those plays showed what Kolb can do at his best.
Cornerback
Patrick Peterson
's 61-yard fumble return gave Arizona possession at the Miami 3-yard line while holding a 14-13 lead midway through the fourth quarter. That play seemed to put the Cardinals in prime position to put away the Dolphins, if not for a turnover on Arizona's ensuing possession.
What I didn't like:
Cornerback
William Gay
struggled against Dolphins receiver
Davone Bess
and others lining up against him, including
Brian Hartline
. The Cardinals' previous opponents didn't seem to target Gay as frequently. The Dolphins went after him from the beginning and forced the Cardinals to shuffle their personnel. This was the first time Arizona really missed cornerback
Richard Marshall
, who signed with Miami during the offseason and was on the field for the Dolphins in this game.
Peterson made uncharacteristic blunders as a return specialist. He risked a turnover early by failing to call for a fair catch when there was no room for a return. He muffed other punts. Peterson even fair-caught a ball at the Arizona 3-yard line, an inexplicable lapse. Peterson returned four punts for touchdowns last season. He made little impact as a returner in the first three games and was a negative factor in this one. Perhaps he's trying to do too much.
The running game continued to falter. The Cardinals went to a no-huddle offense for stretches.
Ryan Williams
wasn't part of that package, further reducing the running threat. Miami entered this game leading the NFL in yards per carry allowed. Arizona was without running back
Beanie Wells
and tight end
Todd Heap
. Arizona was one-dimensional on offense.
Rookie right tackle
Bobby Massie
surrendered three first-half sacks working against Dolphins defensive end
Cameron Wake
. Miami lists Wake at right defensive end, but he has played primarily on the left side this season. That was the case Sunday. Arizona had to help Massie in protection after Wake's fast start. Wake collected a fourth sack against Massie in the fourth quarter when the Cardinals did not help the rookie.
Kolb had been a little careless in the red zone and it finally caught up with him in stunning fashion. The fourth-quarter pick he threw from the 3-yard line proved devastating. Instead of building on a 14-13 lead, the Cardinals watched Tannehill connect with Hartline for an 80-yard touchdown on the next play. A two-point conversion staked Miami to a 21-14 lead, a crushing swing.
Stunning stats:
Hartline caught 11 passes for 245 yards and a touchdown. Bess caught seven passes for 123 yards. Tannehill topped 400 yards passing. All this against an Arizona defense that had contained
Tom Brady
and
Michael Vick
, while holding all three previous opponents to fewer than 20 points.
Head-scratching decision:
The Dolphins' decision to pass the ball while protecting a 21-14 lead in the final three minutes proved costly. Washington sacked Tannehill and forced a fumble. Teammate
Vonnie Holliday
recovered. Washington has emerged as one of the best defensive players around. Joe Philbin also chose to ice the kicker with a timeout before Feely's winning field goal try, despite some evidence the tactic isn't always effective.
What's next:
The Cardinals visit the
St. Louis Rams
on Thursday night.
November, 23, 2010
11/23/10
10:45
AM ET
Count the
St. Louis Rams
'
Danny Amendola
and the
Seattle Seahawks
'
Mike Williams
among NFC West players to meet or exceed expectations in this unpredictable 2010 season.
Both players shined during training camps. Would they produced when it mattered? Yes, and then some.
Amendola and Williams rank among the NFL's top five in third-down receptions this season. Amendola ranks second with 22. Williams ranks tied for fourth with 20.
Both also rank among the league leaders in turning those third-down receptions into first downs. Williams ranks third with 16 conversions. Amendola ranks tied for fifth with 14.
The foot injury Williams suffered against New Orleans on Sunday has the potential to alter the Seahawks' season. Williams has become a physically dominant wideout. His ability to overpower defensive backs allows quarterback
Matt Hasselbeck
to throw with more confidence. The Seahawks have not said how long Williams might need to recover.
Another NFC West receiver you might know something about,
Larry Fitzgerald
, ranks tied for ninth with 16 third-down receptions. He is tied for 12th with 11 conversions. Teammate
Steve Breaston
has 11 conversions on 13 third-down receptions.
Frank Gore
leads the
San Francisco 49ers
in third-down receptions with 15, but only six of them produced first downs. Teams generally check down to running backs. Receiver
Michael Crabtree
has a team-high nine conversions in 10 third-down receptions.

NFC WEST SCOREBOARD
Thursday, 9/4
Sunday, 9/7
Monday, 9/8