NFC West:

Decisive Moments
September, 2, 2014
Sep 2
8:00
AM ET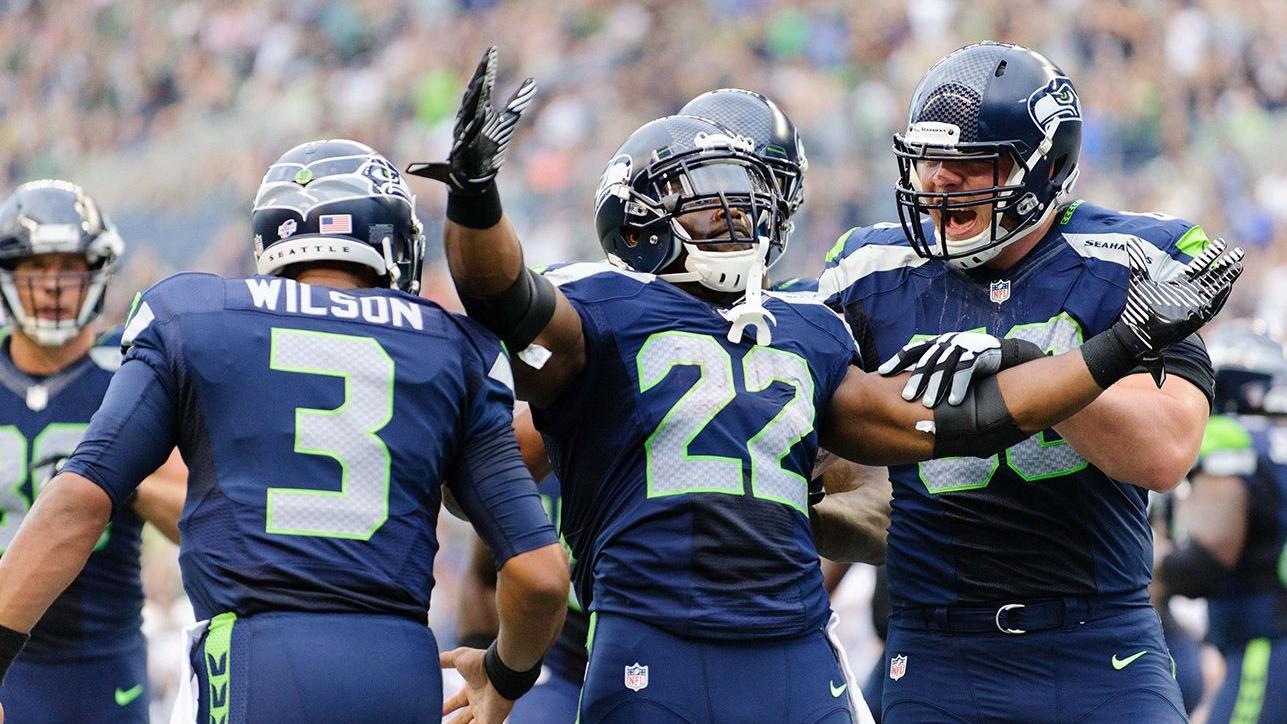 ESPN.com
Seattle Seahawks
reporter Terry Blount makes his game-by-game picks for the 2014 season.
Week 1: Green Bay Packers
All the pregame hype will center around the so-called Inaccurate Reception, the controversial Hail Mary catch by Golden Tate two years ago that won the game over the Packers at Seattle on a Monday night. Tate has moved on to Detroit, but the Seahawks now have too many weapons for the Packers to stop, no Hail Mary required. Prediction: Win
---
Week 2: at San Diego Chargers
The Chargers better hope they play a lot better than they did in the preseason game at Seattle, a 41-14 victory for the Seahawks on Aug. 15. San Diego will play better, but not good enough to beat a much better team. Prediction: Win
---
Week 3: Denver Broncos
The Broncos and their fans got a tiny bit of meaningless Super Bowl revenge in the preseason opener with a 21-16 victory over the Seahawks in Denver. Enjoy it while it lasts, boys. Repeating that outcome in Seattle is not an option. Prediction: Win
---
Week 5: at Washington Redskins
Traveling coast to coast to play on the road for a Monday night game is a tough task against any NFL opponent, and even tougher against quarterback Robert Griffin III. But the Seahawks catch a break in this one by coming off a bye week with plenty of time to prepare and be fresh for the journey. Prediction: Win
---
Week 6: Dallas Cowboys
Cowboys owner Jerry Jones gave Seattle a little bulletin-board material last month when he said the Seahawks were to blame for the increase in penalty flags during the preseason. There won't be near enough flags against Seattle for the Cowboys to win this one. Prediction: Win
---
Week 7: at St. Louis Rams
Any division game in the NFC West is a rugged battle. The Rams have a defensive line that gave the Seahawks problems a year ago. But they aren't strong enough overall to beat Seattle, even at home in their out-of-date dome. Prediction: Win
---
Week 8: at Carolina Panthers
The Seahawks were fortunate to win the season opener at Charlotte a year ago. That Panthers team was better than this one, but back-to-back road games against very physical defensive teams will end the Seattle winning streak. Prediction: Loss
---
Week 9: Oakland Raiders
Coming off their first loss of the season and returning home against an outmanned opponent, is there any doubt? Prediction: Win
---
Week 10: New York Giants
The Seahawks easily defeated the Giants 23-0 last year in New Jersey, a dress rehearsal for their Super Bowl victory at the same location -- MetLife Stadium. The Seahawks won't need a rehearsal to roll past the Giants in this one. Prediction: Win
---
Week 11: at Kansas City Chiefs
This likely will be a low-scoring game between two strong defensive teams. Odds are against any team that has to try to win by matching its defense against the Seahawks' D. Prediction: Win
---
Week 12: Arizona Cardinals
The last time the Cardinals played at CenturyLink Field was last December when they handed the Seahawks a 17-10 loss. That won't happen again unless the Seahawks get caught looking ahead to the 49ers game. The Seahawks don't look ahead. Prediction: Win
---
Week 13: at San Francisco 49ers
It's a Thanksgiving night, national TV game in the 49ers' shiny new stadium against the hated Seahawks. If San Francisco can't win this one, its time as a championship contender is over. Prediction: Loss
---
Week 14: at Philadelphia Eagles
This is the toughest part of the season for the Seahawks with back-to-back road games against likely playoff contenders. But the 10 days between games will help and be enough of a cushion to keep Seattle from losing two in a row. Prediction: Win
---
Week 15: San Francisco 49ers
This is a game that could decide which team wins the NFC West. No way the Seahawks lose to the 49ers twice in three weeks, especially not in front of a rabid full house of 12s. Prediction: Win
---
Week 16: at Arizona Cardinals
The Cardinals probably will be fighting for a playoff spot, and the Seahawks already will be in at 12-2. That difference will be just enough for Arizona to win at home in the same stadium where the Seahawks will win the Super Bowl a few weeks later. Prediction: Loss
---
Week 17: St. Louis Rams
For the second consecutive year, the Rams close the regular season in Seattle. And for the second consecutive year, the Seahawks will beat them without much trouble. Prediction: Win
---
Predicted Record: 13-3
October, 19, 2010
10/19/10
1:00
PM ET
»
NFC Decisive Moments
:
East
|
West
|
North
|
South
»
AFC
:
East
|
West
|
North
|
South
The scoreboard hardly reflected the
Seattle Seahawks
' relative dominance against the
Chicago Bears
deep into the third quarter Sunday.
Seattle had the ball at its 8-yard line and the Bears, trailing 16-13, had held the Seahawks to three-and-out drives on their previous two possessions.

What to do?
An 11-play, 92-yard touchdown drive gave Seattle a 23-13 lead and the breathing room it needed while finally breaking through on the road under new coach Pete Carroll. The drive was critical in helping Seattle claim a share of first place in the NFC West and a rare road victory in the 10 a.m. PT time slot.
Recently acquired running back
Marshawn Lynch
punctuated the drive with a tough 1-yard scoring run, shrugging off three defenders on his way to the end zone. Quarterback
Matt Hasselbeck
completed passes of 21 and 18 yards to receiver
Mike Williams
early in the drive. His 15-yarder to
Deon Butler
on third-and-4 moved Seattle into field goal range.
Justin Forsett
carried for gains of 13 and 4 yards, and Williams made a tough catch on the ground for a 6-yard gain to the 1.
The drive showcased Seattle's new one-two backfield punch, with Forsett playing on passing downs and Lynch adding a physical presence when tough yards were needed.
"It balanced out quite well and I thought Justin played really, really good," Carroll told reporters Monday. "Probably the best part of his game was pass protection. He had some really good one-on-one matchups with a lot of space where he really had to win and own his guy and he did it. Marshawn showed us all of the toughness that we really wanted to see on our team coming out of his spot. He had the harder challenges and Justin had the better opportunities and he took advantage of it."
September, 14, 2010
9/14/10
1:00
PM ET
»
NFC Decisive Moments
:
East
|
West
|
North
|
South
»
AFC
:
East
|
West
|
North
|
South
Three years had passed since
Marcus Trufant
last returned an interception for a touchdown.

The
Seattle Seahawks
cornerback was a Pro Bowl player back then. He played at that level Sunday and his 32-yard interception return for a touchdown turned a potentially tenuous Seattle lead into a rout during the Seahawks' 31-6 victory over the favored
San Francisco 49ers
.
The score was 14-6 when 49ers quarterback
Alex Smith
dropped back to pass on third-and-8 during the opening drive of the second half. A touchdown drive could have returned momentum to the 49ers. Instead, Trufant lined up tight against receiver
Josh Morgan
, then peeled off to intercept a pass intended for
Michael Crabtree
. The pass was thrown inaccurately, 49ers coach Mike Singletary said. Trufant tracked the ball right away and quickly transitioned to offense, stepping over Crabtree and running up the left sideline for the score.
The Seahawks have told their corners to play more aggressively this season.
"Yeah, plays are going to come to you when you're flying around," Trufant told reporters after the game.