NFC West:

DeMaurice Smith
August, 4, 2011
8/04/11
12:05
PM ET
By
Jason Wright
| ESPN.com
Recently retired Arizona Cardinals fullback Jason Wright follows his piece on lockout implications for rookies with thoughts on how the lockout was ultimately good for the game.
The National Football League lockout was like a long Midwest winter, the kind that makes people save money for a home in Arizona.
Conflicting court decisions, leverage-minded news releases and false leads on resolution made the NFL skies appear grayer and grayer.
[+] Enlarge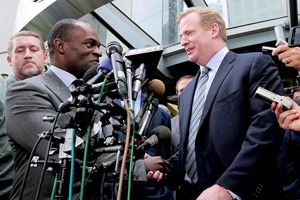 Evan Habeeb/US PresswireThe leadership of DeMaurice Smith and Roger Goodell was essential in navigating the NFL lockout.
The lockout's end has brought the same enthusiasm as the first sunny day of spring. Players are excitedly returning to the game like kids on the first day of Pop Warner practice. Owners are elated that the money will indeed be rolling in by the bucketloads again. Team employees are glad that same money will put food on their families' tables. And the fans are feasting on a frenzied free-agency period and a quick start to actual football!
In retrospect, the lockout was not all bad. I believe there was a shiny silver lining in its gloomy reign over pro football. I believe the game is now healthier than ever, and a robust framework is in place to prevent another nasty offseason battle from materializing. Now that the lockout has ended, there is an argument that it was "good" in a number of ways.
Valuable lessons
Owners and players have worked successfully together for years in a special employer/employee relationship; special because of the unique position of the players (a superemployee of sorts that is resource, labor and final product combined). Both sides likely thought they were familiar with their counterparts, but the lockout allowed the parties to truly become acquainted.
Owners learned that the players were more strategically and intellectually gifted than expected. They also learned that strong labor leadership could produce player solidarity even in the individualist era of pro football. Likewise, players found that the owners didn't become wealthy by chance: They DO NOT play when it comes to the balance sheet. Although players will never know whether the league was truly hemorrhaging funds, they did learn that the NFL will do what it takes to ensure that all owners feel comfortable investing in the growth of America's game.
Call it what you will, but as a businessperson, you must respect it.
More personal in character were the opportunities for growth in individual players. While the NFLPA has always produced an intelligent, business-savvy player board, the average player hasn't always been so conversant in the particulars of sports business. He certainly is now. Additionally, not knowing when the next paycheck will arrive allowed many players to get a feel for how they will have to live when they enter the "real world" after football. It is my hope that this will prevent the current crop of NFL athletes from following the disastrous financial paths walked by many former players.
Leaders coming of age
From my arm's-length view, the heads of both the NFL and the NFLPA earned their stripes (and their paychecks) during this lockout. DeMaurice Smith always carried a charismatic presence. It's why the player board elected him NFLPA chief a few years back even though he was the out-of-nowhere candidate. He turned out to be not only a dynamic speaker but also a visionary strategist.
Although things didn't go perfectly according to plan, his vision proved resilient, and he was able to successfully steer the players home. His transparency with players was a new development in NFLPA conduct that, in my opinion, kept players from fracturing as the going got tough. His openness certainly converted this longtime union cynic to cautious-but-serious supporter. I am not nearly as familiar with NFL commissioner Roger Goodell but nonetheless give him credit for picking up the mantle of leadership. Getting the owners of 32 teams in 32 unique markets with 32 specific needs to coalesce is no small task.
Add to that the fact that owners are brilliant businessmen, confident in their respective business track records, and the commissioner's work deserves a standing ovation.
Because these two men were made stronger through the lockout's rigors, the business state of the game has been likewise strengthened.
Football is now truly a business
Most importantly, the way in which the NFL and the NFLPA interact over the collective bargaining agreement is forever changed. Under the leadership of Paul Tagliabue and Gene Upshaw, collective bargaining got done, in large part, through the conduit of their friendship. It appears they each fully trusted that the other was able and willing to steer his constituents in the best direction for the long-term health of the game. They trusted each other to do this without screwing the other side over in the many dirty details of the negotiation.
Their respective constituencies had faith in their leaders to handle business this way.
As they opted out of the former CBA, owners claimed that the two men had a gentleman's agreement that the deal would be redone at some point. If true, this is a case in point. This "golf buddy" method of doing business works rather smoothly. It is, however, completely dependent on the friendship of the two men at the top. Because of the nasty rhetoric voiced during the 2011 lockout, the relationship of players and ownership will likely never be like this again. There is now a mildly adversarial tension between the two groups expressed in a healthy distrust of each other. I believe this is a good thing.
I've done business with friends many times, and my attention to detail in those partnerships has been, admittedly, sloppier than usual. Because I had established a level of trust with them, I didn't flesh out all the details. I foolishly figured we could adjust things later if an issue arose. As a result, most of these endeavors came back to bite me in some way. The times I've done business with strangers, especially hyperaggressive stereotypical business types, I was certain I'd closed every possible loophole and fully evaluated risk. Heck, I'd even had industry-specific experts sign off on the contract language. As a result, there were no surprises and far less drama as these ventures played out. This is the better way to do business.
The meticulousness that comes with an atmosphere of distrust produces sound business transactions and lasting agreements. I believe this is why there is now a decade-long CBA for which neither side seriously sought an opt-out clause. Both sides have checked every corner of fine print and read every footnote. They are fully aware of their respective "wins" and "losses" and are comfortable with them moving forward. As long as the two groups remain cordial but don't go back to being "buddy-buddy" labor partners, this is likely the stability we'll see from here on out. And for everyone who cares about the game of pro football, this is a very good byproduct of a very bad NFL offseason. Here's to the sunny days that lie ahead.
June, 29, 2011
6/29/11
10:53
AM ET
Two quick thoughts on NFL commissioner
Roger Goodell's appearance
alongside players union chief DeMaurice Smith at the would-be rookie symposium Wednesday:
The symbolism is meaningful. Consider this another indication the NFL and its players are moving toward a labor agreement. I'm still curious to see whether lawyers get in the way. Might players' attorneys want to drag this out while hoping to latch onto any momentum NBA players might gain in their brewing labor battle? Might owners' attorneys want to parlay an expected victory in the appellate courts into a more decisive victory? Here's hoping Goodell and Smith can keep the attorneys from stunting what appears to be real progress.
The rookies should watch their wallets. For years, ex-players and financial experts have warned rookies about the dangers associated with spending too extravagantly. The advice is sound, but the league and even the players union appear ready to make sure rookies have less money in their pockets. Owners have pushed for a rookie wage scale that would severely curtail what draft choices earn coming out of college. The NFL Players Association has sounded amenable to some form of rookie rollbacks. Both sides sound sympathetic to the logical idea that unproven players should not command more than established ones. Such cuts would be good for the game, in my view, but I'd feel differently if I were a draft choice. Thanks to Goodell and Smith, these guys are going to lose money. Darin Gantt of the Rock Hill (S.C.) Herald got it right when he tweeted, "I can only imagine how that talk to the rookies is going. DeSmith: 'Hey guys, Rog and I got together, and you're all getting offered up.'"
Still awake? Good to hear. I'll cease with the labor talk before you nod off.
May, 27, 2011
5/27/11
3:38
PM ET
Here's a day-brightener during the NFL lockout:
St. Louis Rams
Adam Goldberg
,
Sam Bradford
,
James Laurinaitis
,
James Hall
and
Jason Brown
joined NFL Players Association executive director DeMaurice Smith on a charter flight to meet with the tornado-affected citizens of Joplin, Mo.
Jim Henry of the Joplin Globe has
the story
.
Said Goldberg: "Being part of a community and a state, it's all about giving back and making people smile. They are in desperate need of some smiles down here. We're glad to bring them whatever happiness we can, whether it's having fun with the kids or shake some hands and try to lift some spirits. Whether it's signing an autograph for them, throwing the ball with them, playing Legos with them or giving them a pack of trading cards or just introducing them to the great Sam Bradford, we're just really happy to be here."
The great Sam Bradford? Gotta love an offensive lineman having a little fun with his more glamorous teammate.
On a more serious note, Goldberg said the Rams had about 25 players seeking seats on the charter plane, but there wasn't enough room.
"We're going to need a 747 next time," Goldberg told the Globe, "but that shows the character of the guys on our team."
The Rams' organization is donating $25,000 to relief efforts.
January, 31, 2011
1/31/11
8:48
AM ET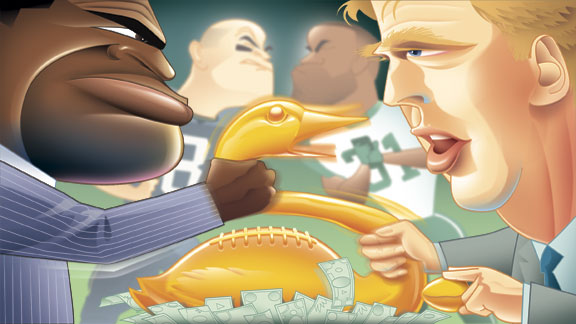 CAMORRIS.comThe uncertain labor situation is the league's top priority heading into the offseason.
NFL labor tensions have produced insults, threats and widening divisions --
among allies
.
"I will smash ur face in,"
New York Jets
cornerback
Antonio Cromartie
tweeted to
Seattle Seahawks
quarterback
Matt Hasselbeck
recently.
Commissioner Roger Goodell and NFL Players Association executive director DeMaurice Smith have conversed on a higher plane, but
not by much
. They have until March 4 to forge a new collective bargaining agreement.
Without an agreement, the league and its players risk dragging fans into a world without rules, one sure to carry unintended consequences. Ten things to know about the labor situation and what a lockout could mean:
This isn't about 18-game seasons or a rookie wage scale. The league and its players might already have an agreement if those were the primary issues. Owners want to redefine what revenues they share with players. They want some of the money players are getting to help cover costs associated with building and maintaining stadiums and facilities. Owners see these expenditures as good for the game. Players see them as good for owners' wallets. Once the sides agree on what goes into the revenue pie, they can work out percentage breakdowns.

No agreement means no free agency. The CBA determines qualifications for reaching free agency. In the past, players with at least four accrued seasons could become unrestricted free agents. Nearly 500 players would qualify under those guidelines this offseason, but only if there is an agreement. Those players could have no prospects without a new CBA. Teams hoping to upgrade their rosters could be stuck.

The draft would go forward. Teams would select college players, but a long list of questions would follow. Would those players sign contracts? Would teams retain rights to those players? Would there be a rookie wage scale?

Forget about trading players. The NFL trading period would generally open in March, but that will not happen without a new CBA. Teams couldn't even trade players during the draft, cutting off a widely used avenue for player acquisition.

Players stand to lose millions quickly. According to the league, 74 players stand to earn more than $140 million in bonuses and other compensation this March. They wouldn't collect that money during a lockout. These players will feel the effects of a lockout long before fans feel the effects.

Players have other immediate concerns. Players accustomed to seeing team doctors and visiting team facilities for treatments would suddenly become responsible for their own health care during a lockout. Securing benefits for family members with special health needs could create challenges. This is an immediate concern among players behind the scenes, but one that doesn't draw much attention from the outside.

Sponsorship money is at stake. Some of the league's sponsors might not honor their contracts with the league if the NFL shuts down. That would hit owners and players by shrinking the revenue pie. It's revenue the league would not recoup.

Union decertification could become an adventure. If teams lock out players, the NFLPA could move to decertify, clearing the way for players to challenge the league's antitrust status in the courts. That initial move could trigger a lengthy battle, and a defeat in the courts would prove disastrous to players. What if teams went about signing players in the absence of a union? No one knows for sure.

Assistant coaches would be in limbo. Teams would presumably want assistant coaches to continue working through the draft, but that could vary by team. Many assistant coaches' contracts call for reduced pay during a lockout. The assistants can usually earn back the money if there's a labor agreement in place by the regular season, but September remains a long way off. Teams with new coaching staffs would have a difficult time implementing new schemes.

Goodell and Smith are wild cards. The NFL and NFLPA knew what they were up against when the late Hall of Famer Gene Upshaw was running the union and former commissioner Paul Tagliabue was leading the NFL. Smith and Goodell have no real history together, and no rapport. Smith's background is in law, not football, and that could explain some of the disconnect.
The Super Bowl will come and go as usual. Teams will head to Indianapolis for the college scouting combine in February, same as always.
The labor rhetoric will surely intensify.
After that, all bets are off.