NFC West:

Derrick Johnson
January, 6, 2012
1/06/12
2:23
PM ET
This was indeed a special season for the
San Francisco 49ers
and, by extension, the NFC West overall.
The Associated Press All-Pro Team,
announced Friday
, includes five 49ers, a league high for any team. Arizona's
Patrick Peterson
made the team as the return specialist, joining the 49ers'
David Akers
and
Andy Lee
to give the NFC West all three specialists.
The 49ers'
Patrick Willis
and
NaVorro Bowman
made it as inside linebackers. Teammate
Justin Smith
made it as a defensive tackle. He also got votes at defensive end. Smith moves around the line, playing end in the base 3-4.
Aaron Rodgers
won 47.5 out of 50 votes at quarterback, a strong indication Rodgers will emerge as the leader in MVP balloting. Those results have not yet been revealed, but they draw from the same group of voters.
The chart shows All-Pro counts by division.
Also making the team: fullback
Vonta Leach
, center
Maurkice Pouncey
, guard
Carl Nicks
, guard
Jahri Evans
, running back
Maurice Jones-Drew
, running back
LeSean McCoy
, tackle
Joe Thomas
, tackle
Jason Peters
, tight end
Rob Gronkowski
, receiver
Wes Welker
, receiver
Calvin Johnson
, cornerback
Darrelle Revis
, cornerback
Charles Woodson
, defensive end
Jason Pierre-Paul
, defensive end
Jared Allen
, defensive tackle
Haloti Ngata
, linebacker
Derrick Johnson
, outside linebacker
Terrell Suggs
, outside linebacker
DeMarcus Ware
safety
Troy Polamalu
and safety
Eric Weddle
.
August, 26, 2011
8/26/11
11:10
PM ET
Looking back on three things discussed
here
before the
St. Louis Rams
' 14-10
victory
over the
Kansas City Chiefs
on Friday night:


1. Run defense.
Teams playing with purpose during the exhibition season often look very good. The Rams, unhappy with their performance against Tennessee last week, resembled such a team early in this game. They allowed no rushes longer than 4 yards in the first half. They sent linebacker
Ben Leber
, safety
Craig Dahl
and safety
Quintin Mikell
on blitzes. Cornerbacks
Bradley Fletcher
and
Ron Bartell
were hitting hard, too. This was the sort of defensive performance the Rams were seeking from their starting unit, against the run and everything else. Leber at halftime, courtesy of the Rams: "The defense is looking good right now. We had the one sudden change and we responded great. Overall, we've been in some good situations, some tough situations, and we've responded. I think the defense is playing good right now."
2. Offensive consistency.
The Rams opened with 12- and 10-play drives for touchdowns. They established running back
Steven Jackson
early. Jackson, a non-factor against the Titans last week, carried 15 times for 72 yards in a performance that should serve as a tune-up for the regular season. The Rams were determined to get him going. Although new coordinator Josh McDaniels generally prefers a one-back offense, the Rams used fullback
Brit Miller
extensively, and with positive results. Quarterback
Sam Bradford
used the running game to beat the Chiefs with play-action passes, including a 6-yard scoring pass to receiver
Mike Sims-Walker
. Bradford did throw an interception deep in Rams territory when he didn't see Chiefs linebacker
Derrick Johnson
dropping into coverage. Bradford completed nine of 16 passes for 95 yards with two touchdowns and one pick. Jackson: "Overall, we look good. I think we've been able to execute in the running game and the passing game. Last week, we had some up and down possessions, but this week we wanted to re-establish ourselves."
3. Wide receiver competition.
Sims-Walker made an impact with his 6-yard scoring reception. Rookie
Greg Salas
made a positive impression with a reception across the middle for a first down. We saw, again, just how much
Lance Kendricks
will figure into the passing game. The rookie tight end caught another touchdown pass, this one an 11-yarder. But the focus remains on the wide receiver race.
Donnie Avery
,
Mardy Gilyard
and
Danario Alexander
are the three receivers I've singled out as likely fighting for a spot if the team keeps six at the position. None seemed to get much separation in this game, either from defenders or from each other. Hall of Famer
Marshall Faulk
, providing commentary on the Rams' broadcast, found fault with Alexander on two incomplete passes late in the first half. The way Faulk saw things, Alexander didn't anticipate the ball well enough coming out of his break. Faulk thought Alexander rounded off another route, allowing the defensive back to make a play on the ball. Gilyard found little running room on punt returns and fielded one inside the 10, usually a no-no. The Chiefs picked off Rams backup
A.J. Feeley
on a pass intended for Avery. Faulk suspected Avery tipped off his route.
April, 19, 2011
4/19/11
10:52
AM ET
With the
San Francisco 49ers
in the market for cornerback help and our offseason power rankings focusing on the position later Tuesday, I'll look back at the corners current NFC West teams have drafted over the last decade.
This is the second part in a series that began with a look at
15 classes of NFC West quarterbacks
. Then as now, I'll break up the charts with narration from teams' perspectives.
These guys had better start early and challenge for Pro Bowls ...
Some prospects aren't ideal in one area or another, but they could shine in the right scheme ...
Still not too late to find decent starters ...
Last chance to find a likely contributor ...
Time to fill out the 80-man roster ...
March, 15, 2011
3/15/11
12:45
PM ET
Free safety
Earl Thomas
generally impressed during his rookie season with the
Seattle Seahawks
.
His range was obvious. He was a willing tackler. He showed an ability to make plays on the ball.
There were times when Thomas went for big plays at the expense of sound coverage, but overall, he looked like the player Seattle thought it was getting with the 14th overall choice in the 2010 draft.
Thomas picked off
Philip Rivers
twice, including once deep in Seahawks territory to preserve a victory. He picked off
Drew Brees
and
Sam Bradford
in the end zone. Thomas finished the season with five interceptions and he probably should have had nine; Football Outsiders counted four dropped picks for Thomas, one behind league leaders
Aqib Talib
,
Sean Smith
and
Derrick Johnson
.
As Paul Kuharsky
notes
, Football Outsiders defines a drop as a ball that hit the defender "right in the hands or chest" as opposed to mostly out-of-reach balls glancing off fingertips.
The chart shows Thomas' game-by-game interception totals. He was on pace for 12 interceptions through Week 4 and eight interceptions after making his final pick of the season in Week 11. His five picks ranked tied for ninth in the NFL and third among rookies behind New England's
Devin McCourty
(seven) and Cleveland's
Joe Haden
(six).
Related:
Mark Sanchez
benefited from dropped picks
more than other quarterbacks benefited
; and the
Miami Dolphins
' defense let
19 potential picks
slip through their hands.
March, 15, 2010
3/15/10
9:14
AM ET
This is about the time in free agency when we start hearing more about the restricted market.
It's generally not much of a market. As Pro Football Weekly
noted
, only 62 RFAs have changed teams over the past 17 years.
Perhaps this offseason will be different in the NFC West.
The Seahawks and Cardinals have interest in Chargers RFA
Charlie Whitehurst
. Seattle has also visited with Broncos RFA
Brandon Marshall
. Rams RFA
Oshiomogho Atogwe
could hit the market without restrictions if St. Louis doesn't increase its one-year offer to him from $1.226 million to nearly $7 million by June 1.
In sizing up the RFA market, I noticed that 16 of the first 32 players chosen in the 2005 NFL draft are RFAs. All but three of them --
Braylon Edwards
,
Travis Johnson
and
Fabian Washington
-- remain with their original teams.
The chart ranks them by draft order while showing RFA tender levels for each. Of the 16, only the Rams'
Alex Barron
was tendered at less than a first-round level.
February, 17, 2010
2/17/10
3:45
PM ET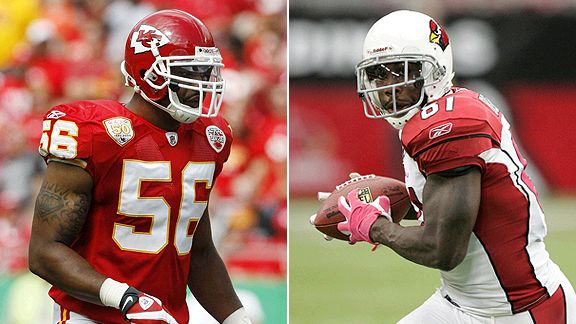 Icon SMIA deal sending Arizona wide receiver Anquan Boldin, right, to Kansas City for linebacker Derrick Johnson would benefit both teams.
The trade conversation
initiated Tuesday picked up momentum quickly and hasn't slowed.
"
Deion Branch
to Kansas City for
Glenn Dorsey
," youthcraze suggested.
"
Anquan Boldin
to Miami for picks and/or
Joey Porter
," Primeau1203 wrote.
"
Brandon Jones
and a third-round pick to Cleveland for
Joshua Cribbs
and a fourth-round pick," daddyleek125 wrote in offering one of three suggestions for the 49ers.
"I'm in St. Louis," killah2 wrote, "and we don't have many blockbuster players to offer. Given our No. 1 draft slot and the possibility of drafting Ndamukong Suh or Gerald McCoy, my first thought is to offer
Adam Carriker
. ... Given that the St. Louis receiving corps was basically the Philadelphia practice squad, I'd look for a team who could offer a wide receiver."
The trade market has a chance to be much more interesting than usual this offseason as teams head into the March 5 signing period without a salary cap in place. In past years, cap considerations restricted trades in general and player-for-player trades in particular, especially those involving prominent players.
Take away the cap, however, and the cap considerations disappear. With players needing six accrued seasons instead of four to become unrestricted free agents, the UFA market will be weak, leaving trades as an even more appealing avenue for player acquisition.
That is my thinking, anyway. No one is quite sure how things might play out.
"The truth of the matter is that with the uncertainty of the uncapped year and possible work stoppage ahead [in 2011], I am not sure we will see much movement at all in the way of trades," miked2300 wrote.
Now that we've allowed for the possibilities, let's indulge the original concept: singling out one reasonably conceived trade to benefit each NFC West team, with an emphasis on player-for-player trades, not just trades involving players for draft choices.
January, 13, 2010
1/13/10
1:20
PM ET
It's easy to look past the Rams and 49ers this week with the Seahawks hiring Pete Carroll and the Cardinals preparing for the Saints.
Here's a Rams-centric mailbag. I'll hit on some 49ers stuff separately.
Brian from Kent, Wash., writes:
Do you see the Rams drafting Ndamukong Suh or trading the No. 1 pick? Also, I have heard rumors that the rams are after Mike Vick.
Mike Sando:
It's tough getting teams to trade into the top spot, or even the top five, from lower in the round. The Rams would want the top pick if there were an obvious choice for the No. 1 pick. If
Peyton Manning
were in this draft, the Rams would keep the pick, right? I just don't see that type of obviously superior quarterback talent in this draft. For that reason, the Rams are probably stuck with the pick.
Picking a quarterback that early forces teams to pay a premium price relative to other positions in the draft (if not relative to quarterbacks already in the league). I'm not sure the Rams will see a quarterback worth the price. That could lead them to the veteran trade market, where Vick stands out as one of the better options.
The price a team pays for a player defines the risk. Adding Vick for the right price makes more sense now than it would have a year ago. One, Vick has kept a low profile and stayed out of trouble, to the best of our knowledge. Two, he spent the past season learning the offense St. Louis uses. It's still fair to question how he would fare over a 16-game schedule. The Rams would have a chance to lead the league in rushing yardage with Vick and
Steven Jackson
on the same team, but leading the league in rushing isn't necessarily a worthy goal.
The Rams need more from their passing game and better health on their offensive line.
---
Jesse from Fallbrook, Calif., writes:
Up until the last few weeks of the season, I was hoping the Rams would pursue OLB
Derrick Johnson
, S
Nick Collins
and QB
Jason Campbell
. I am quickly thinking that all three will be nearly impossible. Nick Collins is now a two time Pro Bowler and will cost more than
Oshiomogho Atogwe
. Johnson had two picks for six in the last week of the season. Way to leave an impression on the front office before your contract expires. Campbell will be a restricted free agent with an uncapped season. And he might fit Shanahan's offense nicely.
Now I am thinking we move
Quincy Butler
to free safety if his cover skills will warrant the move, and attempt to draft Myron Rolle (fourth round) at strong safety and A.J. Edds (third round) at SLB. And hope for Sean Canfield to slip to the fifth. I'd hate to use both fives to get back up to get him or someone similar. Your thoughts?
Mike Sando:
Campbell is probably the best quarterback option for the Redskins. Here is
what Shanahan said about him
, according to the Washington Post: "I just love the way Jason handles himself. I'm looking forward to sitting down and watching film and going through every play that he's had throughout his career, and looking forward to sitting down and talking with him. Hopefully the best years are ahead. But that's a process that will take some time."
Doesn't sound like Shanahan will be in a hurry to trade him. In Green Bay, Collins just finished his fifth season in the league. He is part of the 2005 draft class. Without a new collective bargaining agreement, Collins reverts to being a restricted free agent. Same goes for the Chiefs' Johnson and even Atogwe.
Butler is listed at about 190 pounds. He has good height, but I'm not a big fan of having players change positions. Butler, while promising, isn't a top-flight corner. What makes us think he would become the answer at safety?
Free agency could be even worse than usual this season if the NFL remains without a CBA. Fewer players will hit the market as unrestricted free agents.
---
Adam from Mesa, Ariz., writes:
Should the Rams follow the Chargers' example in 2004 and trade a coveted player in the draft for several high picks? They are similar to San Diego in that they already have the all-world running back in Steven Jackson (compared to San Diego with
LaDainian Tomlinson
in 2004) and have the No. 1 overall choice.
The Lions or the Bucs make sense since they both need Ndamukong Suh and both drafted a quarterback last year. Should the Rams build up Ndamukong Suh, then trade him at the last minute for as much as they can get, even if its a discounted price, instead of taking the perceived best player available? Our precedent is the 2004 draft with
Eli Manning
and
Philip Rivers
(the No. 1 overall for the No. 4 overall, a third-rounder in 2004 and a first- and fifth-rounder in 2005).
If the Rams offer the No. 1 overall to either team for say, the No. 2 or No. 3 overall and a second-rounder this year and second-rounder next year, it might be a discount, but would that be better than one dominant player this year? What are your thoughts?
Mike Sando:
The Rams could benefit from having multiple picks. They also need difference makers. This team hasn't found truly elite, high-impact players at the top of the draft recently. The important thing becomes determining whether Suh will be that type of player relative to other players available near the top of the draft.
The 2004 draft did feature a couple of highly regarded quarterbacks. The Chargers and Giants both came away with quarterbacks who have since won playoff games. The 2010 draft doesn't necessarily seem to feature quarterback prospects as highly regarded as Manning and Rivers were six years ago.
The bottom line, I think, is that other teams will not be willing to trade into the top pick. Recent history tells us it's a tough sell.
---
Jason from St. Louis writes:
Even if they have to take less than market value for the No. 1 overall choice, don't they need to get away from the money a top five pick makes after drafting the last two No. 2 overall picks? Suh may end up being one of the greatest lineman of all time, but do we know for sure that is going to happen? And just for the opportunity for that to happen, he gets a rookie contract for about what
DeMarcus Ware
makes. I don't know that any team could carry three contracts the size these three young gentlemen will be making.
Even without a cap next year, a cap has to come back in any CBA, right? And this team is setting itself up to be in serious cap trouble. The Rams let
Chris Draft
go over I think $700,000 before this year because of cap issues. Giving Suh $70 million over six years isn't going to help matters. If the Rams could get a late first and a couple second-rounders, you have to make that deal, right? And with Suh at the top, someone has to be willing to give that up for him.
Mike Sando:
The Rams have dramatically improved their salary-cap outlook. Cap space is not going to be a problem. The Rams' cap guy, Kevin Demoff, left the Bucs with tens of millions in cap space when he took the job in St. Louis. He knows how to create room. Cash could be more of a concern than cap space. The Rams are looking for a buyer. Their wallet is only so deep.
The decision on Draft was also a value judgment based on the fact that he was an older player on the decline. Keeping him on the roster for Week 1 would have forced the Rams to guarantee his full salary. Once they cut Draft, it's not like a long line of teams rushed out to sign him.
There's no way the Rams could justify dropping from the first pick to the bottom of the first round. They need playmakers. They're more likely to find one in the top five or 10 than if they trade all the way to the bottom of the round.
---
Rob from Asheville, N.C., writes:
Mike, can
Adam Carriker
be an effective starter in the NFL? If so, can the Rams pass on Suh and take Anthony Davis or Eric Berry? Is Suh dominant enough that somebody would actually offer the Rams a package to move up to No. 1?
Mike Sando:
The Rams cannot bank on Carriker being healthy, let alone becoming an effective starter. They might have hope for him, but they cannot count on him. Any decision they make on Suh probably has to stand on its own, not in relation to what they might get from Carriker.
The Rams spent last offseason beefing up the offensive line. They need to work more on the defensive line this offseason. Steve Spagnuolo will want depth up front so he can create the type of rotation he enjoyed while with the Giants.
Drafting Davis first overall wouldn't make a great deal of sense after the Rams used the second overall choice for another offensive tackle, Anthony Davis. Berry has playmaking ability, which the Rams need, but can they afford to focus so much of their resources on a back-end player? Seems to me the Rams will want to upgrade their front four and front seven first.
August, 24, 2009
8/24/09
3:53
PM ET
| | | | |
| --- | --- | --- | --- |
| 2005 NFL Draft Round | Players on Active Rosters | Total Players | Percent on Active Rosters |
| 1 | 27 | 32 | 84.4% |
| 2 | 25 | 32 | 78.1% |
| 3 | 26 | 37 | 70.3% |
| 4 | 23 | 35 | 65.7% |
| 5 | 14 | 38 | 36.8% |
| 6 | 18 | 40 | 45.0% |
| 7 | 16 | 41 | 39.0% |
| Totals | 149 | 255 | 58.4% |
Posted by ESPN.com's Mike Sando
The quadriceps injury threatening Chris Spencer's future with the Seahawks sent me back through his 2005 draft class.
The first six players NFC West teams selected that year have not met expectations: quarterback Alex Smith (49ers), cornerback-turned-safety Antrel Rolle (Cardinals), tackle Alex Barron (Rams), Spencer, guard David Baas (49ers) and running back J.J. Arrington (Cardinals).
The next four players NFC West players selected -- Lofa Tatupu (Seahawks), Ron Bartell (Rams), Frank Gore (49ers) and Oshiomogho Atogwe (Rams) -- have either achieved Pro Bowl status or become front-line starters.
The Seahawks, Rams and 49ers each have four members of their 2005 draft classes on their active rosters. The Cardinals have two.
Even with Spencer out, the Seahawks arguably had the best 2005 draft of any team in the division, landing Tatupu, Leroy Hill, Ray Willis and Spencer.
The Rams found four current starters in Barron, Bartell, Atogwe and third-rounder Richie Incognito.
The 49ers found Gore and right tackle Adam Snyder, while Baas and Smith could wind up starting this season.
The Cardinals have only Rolle and backup guard Elton Brown to show for that 2005 class.
Tatupu and Gore are the only Pro Bowl players from the 2005 NFC West draft class.
April, 17, 2009
4/17/09
3:15
PM ET
Posted by ESPN.com's Mike Sando
Will from Washington, D.C., writes: Hey Mike, I was wondering since a lot of people consider this year's class of quarterback to be not as great as others, and most have a possibility to be a bust, would it perhaps be better for the Seahawks to draft an OT in the first round, and then take Josh Freeman in the second?
| | |
| --- | --- |
| | |
| | NFL.com Video |
| | An inside look at quarterback Mark Sanchez. |
I believe what draws people to Sanchez over Freeman is the fact that Sanchez was made to look alot better then he actually is by the fact that he was surrounded by tons of talent in USC, whereas Freeman wasn't. What are your thoughts about this?
Mike Sando: I do think Sanchez benefits from the perceived lack of quality depth at quarterback this year. This Seattle team probably isn't going to win playoff games in the short term with anyone other than a healthy Matt Hasselbeck under center.
Every team needs to prepare for the future, but the Seahawks need to prepare for 2009. This team won four games last season. The fourth player chosen needs to help the team now. Another down season would signify the start of a trend, not tough luck.
I do see the other side. I do think Seattle needs to at least consider a quarterback at No. 4, if available. How many times does Seattle expect to draft this early? Might as well take a quarterback now while you have the chance to get a highly rated one.
It's a tempting thought, but I'm not convinced it's the most likely option.
August, 7, 2008
8/07/08
9:13
AM ET
Posted by ESPN.com's Mike Sando
Kent Somers of the Arizona Republic provides an approximate Cardinals two-deep depth chart based on observations from training camp. Note that Lyle Sendlein is the starting center, ahead of Pat Ross. A knee injury could keep regular starter Al Johnson out another month. Third-team center Scott Peters landed on injured reserve.
Also from Somers: He singles out Steve Breaston, Lance Long, Tim Hightower, Keilen Dykes and Jason Banks as Cardinals players to watch against the Saints Thursday night.
Also from Somers: Kurt Warner might not play for the Cardinals tonight because the staff doesn't want to risk his health behind the second-team offensive line. This is further confirmation of the Cardinals' depth problems up front. Also, Dominique Rodgers-Cromartie probably starts at corner while Rod Hood recovers from a heel injury.
Mark Wahlstrom of the Cardinals Report files nine in-depth observations from Cardinals camp. This is good reading for those looking to get a feel for Arizona. He likes the tight ends more than I might have expected. That's a position to watch for the Cardinals this season.
Mark Heller of the East Valley Tribune says the Cardinals are looking to cut down on penalties. Arizona finished last season with a league-high 137 penalties. Division-rival Seattle finished with a league-low 59 penalties. Also from Heller: Look for Antrel Rolle to return punts, perhaps against the Saints.
Clare Farnsworth of the Seattle Post-Intelligencer describes the Seahawks' new facility, which features a 6,700-square-foot locker room. The previous locker room was 1,140 square feet, Farnsworth notes. The waterfront facility will allow the team to deliver free agents by sea plane, something team president Tim Ruskell is already envisioning.
Frank Hughes of the Tacoma News Tribune says the new facility helped Seattle land Julius Jones in free agency.
Thomas James Hurst of the Seattle Times offers up photos of the Seahawks' new facility. The second photo shows cornerback Derrick Johnson catching a pass with Lake Washington in the background. Danny O'Neil and Jose Romero tag-teamed the accompanying story, which features middle linebacker Lofa Tatupu referring to team owner Paul Allen on a first-name basis.
Scott Johnson of the Everett Herald describes Seahawks coach Mike Holmgren as a survivor, which beats the alternative. Johnson: "During his first few months in Seattle, Holmgren lost defensive coordinator Fritz Shurmur to cancer. In 2002, his mother Barbara passed away. There was a cancer scare for wife Kathy, and assistant coach and close friend Ray Rhodes suffered a minor stroke."
Jim Thomas of the St. Louis Post-Dispatch has round-by-round coverage of the Rams-Titans fights during their joint practices. The only upset: Rams guard Jacob Bell, formerly of the Titans, didn't square off with Tennessee defensive tackle Albert Haynesworth. A scrape did break out one play after Rams coach Scott Linehan warned against fighting.
Also from Thomas: a wide-ranging chat on all things Rams. Thomas was ready when chat participant Curtis T., upset with Steven Jackson for holding out, calls the running back a "piece of trash" and asks if the Rams could trade him. Thomas: "Well, the problem is, the 'piece of trash' just may be the best player on the team." No question.
Bill Coats of the St. Louis Post-Dispatch was there when Rams rookie Chris Long beat Titans guard Jake Scott on consecutive plays during one-on-one pass-rush drills. The Rams are increasingly pleased with Long's progress. Long definitely works at the game.
Also from Coats: a throw-away line about right tackle Alex Barron standing out in team and individual drills. I take that as a good sign for the Rams. Barron commits too many penalties and he isn't a dominant tackle, but getting him back on the right side full time has to help.
August, 6, 2008
8/06/08
3:22
PM ET
Posted by ESPN.com's Mike Sando
RENTON, Wash. -- The Seahawks' new facility on the shores of Lake Washington marks a dramatic upgrade over its predecessor, to the point that it should help the team in free agency.
The team recently finished practicing on its manicured outdoor fields, the lake in the background and with dream homes lining the far shore. This is a palace. Coach Mike Holmgren talked about possibly driving to work ... in his boat. No team in the division boasts a facility like this.
Now, on to more important matters. Specifically, a few notes and observations from practice:
At receiver: Jordan Kent dropped two passes today, including one when he was wide open over the middle. He lost focus and bobbled the ball before losing it. Kent caught another pass against his body, not with his hands. Logan Payne wore a wrap on his rib injury as he watched practice. Joel Filani dropped a pass after slipping on the grass. Bryan Gilmore bobbled and dropped a pass along the left sideline after getting open between a linebacker and defensive back. Michael Bumpus dropped a pass.
Also at receiver: With Payne and Deion Branch injured, Kent, Nate Burleson, Bobby Engram and Ben Obomanu worked in the four-receiver offense.
Safety Jordan Babineaux and offensive lineman Floyd Womack each could miss about one week with knee injuries, coach Mike Holmgren said. Both underwent MRI exams recently.
Defensive end Patrick Kerney is wearing a walking boot on his lower left leg. Kerney is resting a calf injury.

Burleson served as the primary punt returner.
The Seahawks placed linebacker Wesly Mallard on injured reserve. They signed former University of Washington cornerback Derrick Johnson, who promptly left practice with an injury to his left leg.
Seattle held what amounted to a walk-through following practice in preparation for its exhibition game at Minnesota.

Julius Jones picked up the blitz effectively from Seattle's familiar one-back, three-receiver offense. Justin Forsett, though impressive as a runner, can be vulnerable in those situations. Linebacker David Hawthorne blasted through him on one rush.
Kevin Hobbs jumped a pass for Courtney Taylor, but he couldn't quite pick it off.
Holmgren declined to reveal his quarterback rotation for the exhibition opener, but expect to see plenty of Seneca Wallace.
Holmgren's agent, Bob LaMonte, was among those in attendance for the first practice at the new facility.
Linebacker Leroy Hill tipped a pass, allowing safety Brian Russell to gather an interception.
Back in a bit to take a look at the rest of the division.