May, 16, 2013
5/16/13
11:30
AM ET
Rolando McClain
's early
retirement from the NFL
comes three years after the
Oakland Raiders
made him the eighth overall choice in the 2010 draft.
While McClain is inviting derision, I wondered whether he was even the most disappointing choice from the first round of that 2010 class. He would fit right in with
the 2009 group
, for sure.
A quick check of games started by 2010 first-rounders showed four players with 48 starts in 48 possible regular-season games. Three of those four players were from the NFC West: Mike Iupati and Anthony Davis of the
San Francisco 49ers
, and Earl Thomas of the
Seattle Seahawks
.
Tyson Alualu, the player Jacksonville controversially selected 10th overall, rounds out the quartet.
St. Louis Rams
quarterback Sam Bradford (42) and Seattle Seahawks left tackle Russell Okung (37) were relatively close behind. Dan Williams, chosen 26th overall by the
Arizona Cardinals
that year, ranked 26th on the list with 21 starts over the past three seasons.
All starts aren't quality starts, of course. McClain ranks relatively high on the list with 38 starts despite his bust status. Anyone familiar with the NFL would rather have
Denver Broncos
receiver Demaryius Thomas (23 starts) than Alualu, who has
struggled with knee trouble
and generally been just OK.
First-round picks from 2010 have combined for 21 Pro Bowl honors.
Maurkice Pouncey leads the way with three. Thomas is one of five players with two. Ndamukong Suh, Jason Pierre-Paul, Eric Berry and Jermaine Gresham are the others.
Iupati and Okung are part of an eight-man grouping with one Pro Bowl. Ryan Mathews, Thomas, Devin McCourty, Gerald McCoy, C.J. Spiller and Trent Williams are the others.
Iupati, Pouncey, Suh, Thomas and Pierre-Paul have been first-team Associated Press All-Pro once apiece.
Bradford was offensive rookie of the year. Suh won defensive rookie of the year.
April, 21, 2010
4/21/10
1:00
PM ET
Each Wednesday leading up to the NFL draft (April 22-24), the ESPN.com blog network will take a division-by-division look at key aspects of the draft. Today's topic: Dream Scenario/Plan B.

Arizona Cardinals
The Cardinals would love to fortify their defensive front seven in this draft, starting front and center. Tennessee nose tackle
Dan Williams
might fall to them at No. 26 in their dream scenario. And if that dream scenario were too far-fetched, Williams might fall far enough for Arizona to use one of its two third-round choices to move up several spots in the round to take him.
This assumes Williams indeed ranks as the most attractive option at nose tackle in this draft. Conventional wisdom has Williams going to Miami at No. 12, and with so many teams running 3-4 defenses, the Dolphins wouldn't be the only ones seeking help at the position. The 49ers could have interest as well because their nose tackle,
Aubrayo Franklin
, will probably play under a one-year contract this season.
Plan B could include staying at No. 26 and "settling" for one of the top inside linebackers in the draft. Missouri's
Sean Weatherspoon
comes to mind. Drafting the top-ranked tight end might even make sense for the Cardinals, depending on which defensive players remained available.

St. Louis Rams
The Rams have more holes than picks to patch them. The pipe-dream scenario for the Rams would include another team offering the world for the top overall choice. That almost certainly isn't going to happen, but a more realistic scenario could involve the Rams trading out of the 33rd overall pick at the top of the second round.
The overnight gap between first and second rounds could help St. Louis arrange a trade.
Their dream scenario might include moving back in the second round, adding one or more choices and still coming away with an impact player on offense, perhaps at wide receiver or tight end or both. The Rams desperately need offensive firepower and that type of move could help them get it.
If the Rams decide against drafting Oklahoma quarterback
Sam Bradford
first overall, Plan B could include bolstering the defense at No. 1, then trying to find a quarterback either at No. 33 or by trading into the late first round. Trading up wouldn't make much sense for the Rams because they need as many picks as they can get. But if they weren't sold on Bradford, they could always try to get
Colt McCoy
later.

Seattle Seahawks
One dream scenario for Seattle would be to emerge with one of the two highest-rated offensive tackles in the draft. Most of the teams drafting among the top five would focus on defense under this scenario, leaving
Trent Williams
,
Russell Okung
or
Bryan Bulaga
available at No. 6.
There's still some question as to how much the Seahawks will value a tackle in the draft. It's a legitimate question given line coach Alex Gibbs' philosophy of shaping lower draft choices into productive players for his system. If the Seahawks aren't set on taking a tackle that early, another dream scenario might include defensive tackle
Gerald McCoy
slipping to them at No. 6. Under this scenario, the Lions would take
Ndamukong Suh
at No. 2, with the Bucs, Redskins and Chiefs drafting offensive tackles.
Under Plan B, the Seahawks might not feel great about the tackles available to them, and McCoy would be long gone. Seattle would then take a hard look at highest-ranked player at another position. Safety
Eric Berry
, defensive end
Derrick Morgan
or running back
C.J. Spiller
could fit the profile.

San Francisco 49ers
A potential dream scenario for San Francisco would see them sitting at No. 13 with legitimate options at tackle and quarterback.
Notre Dame's
Jimmy Clausen
would be available after slipping out of the top 10. Even if the 49ers' rumored interest in Clausen weren't true, Clausen's availability in that spot might enhance the value of the 13th overall choice. Perhaps another team would value a shot at Clausen enough to trade up. The 49ers could then either draft Clausen and declare him their future starter or trade out of the spot, giving them a later first-round choice, plus a new second-rounder. The team would still have a shot at an offensive tackle at No. 17.
Plan B doesn't look bad, either. The 49ers would stay at No. 13 and see which player falls to them. They could consider an offensive tackle or a highly rated cornerback or even Spiller if he were to fall their way. With another choice at No. 17, the 49ers should not feel as much pressure to address a primary need with both choices.
April, 20, 2010
4/20/10
8:55
AM ET

Matt Barrows of the Sacramento Bee
runs through the 49ers' needs heading into the draft. Barrows: "The 49ers must open up their attack and use the perimeter more often in 2010. That means improving the overall speed on offense. The team took a step in that direction by acquiring Ted Ginn Jr. from Miami. Ginn was one of the fastest players in the 2007 draft. If they pass on speedy running backs such as Clemson's C.J. Spiller and Cal's Jahvid Best in the first two rounds, someone such as Ole Miss' Dexter McCluster or USC's Joe McKnight could bring pizazz to the running game in later rounds."
Matt Maiocco of the Santa Rosa Press-Democrat
sends Joe Haden and Anthony Davis to the 49ers in his latest mock draft. He has Maurkice Pouncey going to Arizona at No. 26, although the Cardinals are on the record saying they don't want to select offensive linemen early. Russell Okung and Earl Thomas are the choices for Seattle. Sam Bradford is the choice for St. Louis. Maiocco: "What about C.J. Spiller? I don't think the 49ers would take him at 13 or 17. And if my mock miraculously falls the way I diagram, we won't find out."
Also from Maiocco
: A scout familiar with the 49ers said he thought the team would be wise to select quarterback Jimmy Clausen because the 49ers are presently working on a year-to-year basis at quarterback.
Tom Abate of the San Francisco Chronicle
details the kicking battle between the 49ers' Joe Nedney and a robot. Abate: "The lighthearted contest, a stunt to highlight the three-day RoboGames competition that opens Friday at the San Mateo County Fairgrounds, ended when Nedney easily kicked a football 45 yards while his mechanical adversary twice failed to clear the goalposts at that distance."

Danny O'Neil of the Seattle Times
says the Seahawks have not drafted an offensive tackle since selecting Ray Willis back in 2005. Chris McIntosh was the last tackle Seattle drafted in the first round. Those streaks should end this year.
Greg Johns of seattlepi.com
says draft analyst Rob Rang expects the Seahawks to select an offensive tackle -- probably Russell Okung -- with the sixth overall choice. A personnel person familiar with Seattle line coach Alex Gibbs told me he thought Gibbs might prefer Bryan Bulaga over Okung, but it's tough to know for certain how much input Gibbs will have if Seattle does take a tackle in that spot.
Eric D. Williams of the Tacoma News Tribune
thinks Georgia Tech's Derrick Morgan could make sense for Seattle with the 14th overall choice. Williams: "Seattle's tentative starting defensive front line, defensive ends Lawrence Jackson and Chris Clemons, who came to Seattle in the (Darryl) Tapp trade, and defensive tackles Colin Cole and Brandon Mebane, combined for nine sacks last season."
Also from Williams
: defensive linemen and linebackers the Seahawks could consider on a round-by-round basis, according to Rang.

Kent Somers of the Arizona Republic
considers options at nose tackle for Arizona heading into the draft. Somers: "Weight is a problem for Alabama nose tackle Terrence Cody, who is listed at 360 pounds. Tennessee's Dan Williams likely will be gone by the time the Cardinals pick. The club could decide to gamble and hope that someone such as North Carolina's Cam Thomas or East Carolina's Linval Joseph is available in the second round."
Also from Somers
: a chat transcript featuring thoughts on Deuce Lutui, among other Cardinals subjects.
Darren Urban of azcardinals.com
says he thinks the Cardinals could be more likely to move back in the draft than move up, even though general manager Rod Graves sounded more excited about using the team's extra third-round choice as ammunition.
Also from Urban
: The proliferation of 3-4 defenses in the NFL makes it tougher for Arizona to find a nose tackle. Urban: "A player like Alabama's Terrence Cody is considered by many best-suited for the second or even the third round because of ongoing weight issues. Others, like East Carolina's Linval Joseph or North Carolina's Cam Thomas, can be had after the first round as well."
Jim Thomas of the St. Louis Post-Dispatch
says sources close to Rams minority owner Stan Kroenke say the billionaire remains focused on acquiring full ownership of the team, independent of whatever dealings Kroenke might have had with bidder Shahid Khan. Thomas: "Meanwhile, a backlash continues to grow over the absence of comments or statements by Kroenke about a commitment to keeping the Rams in St. Louis. The controversy began when Kroenke did not mention St. Louis in his April 12 announcement that he was exercising his right of first refusal. Radio personality McGraw Milhaven, who hosts a morning drive show on KTRS (550 AM), is asking fans to boycott Rams games if Kroenke doesn't make some kind of statement about keeping the team in St. Louis by the start of Thursday's draft."
Also from Thomas
: Defensive tackle Gary Gibson has re-signed with the Rams.

Bryan Burwell of the St. Louis Post-Dispatch
says fans should not trust Kroenke. Burwell: "As far as I can tell, what we have learned about Kroenke is that every move he makes is straight out of a Machiavellian playbook. From his cunning 11th hour maneuver to gain complete financial control of the franchise, to this latest reported strategy to seek an eight-figure 'compensation' from would-be buyer Shahid Khan to step out of the buying process, his actions reek of cold-blooded duplicity."
Bernie Miklasz of the St. Louis Post-Dispatch
says the Rams' ownership uncertainty is hurting the team with fans. Miklasz: "So the Rams' ownership saga gets crazier and more confusing by the day, which only creates distraction and frustration at a time when Rams fans would like to be in a happier mood, looking forward to this week's NFL Draft. By the time this nasty ownership mess is sorted out, there may be about 248 Rams fans left in St. Louis."
Howard Balzer of the St. Louis Globe-Democrat
says Kroenke's reported dealings raise questions about what kind of owner he might become. Balzer: "No one can convince me that the fingerprints of Rams senior adviser John Shaw aren't all over Kroenke's tactics. Remember, it was Shaw who orchestrated the move of the Rams to St. Louis in 1995 and then, at the 11th hour, with the papers ready to be signed, suddenly demanded the controversial 25-percent clause be included in the lease that could end up allowing the Rams to move after the 2014 season. What choice did we have but to acquiesce?"
Also from Balzer
: The Rams and player agents don't think it's necessary to begin early negotiations with the future No. 1 choice in the draft.
April, 8, 2010
4/08/10
3:15
PM ET
The latest NFC West chat offered an opportunity to revisit
Trent Dilfer
's comments regarding the top quarterbacks in the 2010 NFL draft. Transcript
here
. Highlights below:

Joe (Charlotte): Dilfer says "(Colt) McCoy's competitiveness, leadership and athletic ability to extend plays will set him apart over time, Dilfer predicted". Does that mean Dilfer has hung around with (Jimmy) Clausen and (Sam) Bradford and knows how competitive each is or what leadership skills they have? Dilfer may be right in the end, but he seems to be making stuff up to fit his conclusions. Thoughts?

Mike Sando: I've known Trent Dilfer for nearly a decade and have picked his brain on these things over the years. One thing about him: He does his homework. He has studied the players. Like anyone, he has to try to set aside whatever personal feelings he might have. In this case, the rest of us can judge to what degree Dilfer's relationship with Colt McCoy -- they share an agent and have worked out together -- might be influencing his analysis. I don't think those things would dramatically affect what Dilfer saw in evaluating the players. He watched every snap multiple times. He knows the position well. The part you singled out -- the competitiveness, leadership and athletic ability -- might indeed be stronger in Dilfer's mind based on his relationship with McCoy. But there were enough other things to support his basic conclusion.

Taylor (Salt Lake City): Big Seahawks fan here, Mike. Love the blog and appreciate the updates. Question: What is the best case scenario for the Seahawks in round one? Gerald McCoy and C.J. Spiller? Russell Okung and Derrick Morgan? What combination would have the Seattle front office doing cartwheels? Thanks!

Mike Sando: I think the best-case scenario -- among at least somewhat realistic scenarios -- would be for Seattle to get the first or second offensive tackle at No. 6, then come back and get the best 4-3 pass-rushing defensive end, which could be Derrick Morgan if you believe the scouting reports.

mike (az): Bill Davis' comments a few days ago really frustrated me. I don't care about smokescreens or the fact that maybe he gave valuable insight into a very secretive process, but what I do care about is the Cards essentially once again admitted to drafting on need and not BPA. Sometimes this has worked out well for them (Beanie Wells, DRC recently) and sometimes it has failed (Levi Brown over Adrian Peterson, etc., Antrel Rolle to an extent). The best player they have ever drafted, Larry Fitzgerald, was the BPA and a position in which they really didn't need to upgrade. Ideally, BPA will meet need (and if it's close enough you go with need) but to reach for an ILB in the first few rounds when there really isn't a tremendous amount of talent there to me is ridiculous.

Mike Sando: You've got a good feel for how teams should prioritize things. It's easier to be a little more need-conscious later in the first round because you figure the talent gaps get smaller as the elite prospects come off the board. I thought the values matched with needs when Arizona selected Beanie Wells and Dominique Rodgers-Cromartie. The Cardinals do not deserve criticism for those picks. The 2007 year stands out as the year when Arizona's focus on needs backfired. The Cardinals took Levi Brown over Adrian Peterson because they needed a tackle and had recently invested heavily in Edgerrin James. They traded up in the second round to take Alan Branch because they needed a nose tackle. Those examples deserve some scrutiny. I think the Cardinals have done a better job recently. Also, it's unfair to criticize them for a move they have not yet made. If they reach for an inside linebacker, then we can revisit this subject.

Greg (SF): Hey Mike! Does it make any sense for the 49ers to stand pat with 13 and 17? They're so close together that it seems like it would be more valuable to trade back and get an extra pick. So, we still have two first rounders but we also get a pick later in the draft. And in addition, if Spiller and Mathews are still around, there have to be some teams that will be eager to trade up.

Mike Sando: On the other hand, teams drafting among the top 20 overall choices have selected 29 players with at least three Pro Bowls on their NFL resumes. Teams drafting after the 20th overall choice have found 19 such players. The 49ers might have a better chance getting an elite player staying where they're already picking.
There were a couple other questions/responses I might break out separately. Thanks for keeping the chat rolling. Good stuff today.
April, 8, 2010
4/08/10
10:23
AM ET

Kent Somers of the Arizona Republic
offers highlights from an XTRA910 radio interview with Cardinals quarterbacks coach Chris Miller. Somers: "Miller was forthcoming with his opinions on the top quarterbacks in this draft. Oklahoma's Sam Bradford is big, strong and throws a tight spiral. Like most people, Miller thinks the Rams will take Bradford with the first pick. Notre Dame's Jimmy Clausen is impressive, too, but Miller said teams have to wonder how much he will improve. Clausen played at Notre Dame under Charlie Weis in a pro system. Texas' Colt McCoy doesn't have a great arm and might have some trouble throwing some routes. But Miller likes McCoy's leadership ability and toughness and thinks he could be a good QB, maybe best suited for a West Coast attack."
Darren Urban of azcardinals.com
says new Cardinals kicker Jay Feely doesn't shy away from contact, same as predecessor Neil Rackers. Feely: "If you see the play develop and you have the guts and ability to go down and fill that hole at the 25-yard line, they only have two or three yards to beat you and you can make the play. That's when I feel like a football player too."
Also from Urban
: Catching up with globetrotting Cardinals receiver Larry Fitzgerald.

Brian McIntyre of scout.com
passes along dates for the Seahawks' organized team activities. The team has a minicamp scheduled for next week.
Danny O'Neil of the Seattle Times
says the Seahawks will not select Clausen in the first round, according to ESPN's Mel Kiper. I wasn't able to hear all of Kiper's media conference call Wednesday, but at one point I thought he said Seattle could consider Clausen. I'm in the minority on this one, though. Multiple reports are quoting Kiper to the contrary. The call lasted two-plus hours.
Dave Boling of the Tacoma News Tribune
says there's too much smoke before a draft to make sense of various projections. Boling on Seattle: "Some of the talk suggests that they don't need to expend high-end picks on offensive linemen because of the nature of the zone-blocking scheme brought in by new line coach Alex Gibbs. Baloney. This line has been dreadful and the tackle on that left side is still going to have to block the best pass rushers in the league regardless of scheme. Look at the big picture. How would it have been in 1997 if somebody had said they didn't want to take Walter Jones because he didn't fit the current scheme. The Seahawks are on their fourth head coach since Jones was drafted. Schemes have come and gone; great players persist."
Michael Lombardi of NFL.com
says the Broncos still want a first-round choice for Brandon Marshall, and that trade talks could accelerate. Seattle would not give up one of its current first-round choices for Marshall, in my view, unless the team received something more in return.

Jim Thomas of the St. Louis Post-Dispatch
checks in with Clausen while noting that the Rams appear more likely to select Bradford. Clausen: "I've played in a pro-style offense for the past three years, played under center under coach (Charlie) Weis, and I feel that I'm the most ready guy out there. ... I think I translate the best to the NFL because I've already had to deal with what those guys are going to have to go through, which is learning a pro-style system and having growing pains growing up in a system."
Also from Thomas
: Na'il Diggs is the newest Ram. Thomas: "Rams general manager Billy Devaney has continued to work on getting bigger in the front seven this offseason, in an effort to improve the team's run defense. Diggs, a 6-feet-4 and 240 pounds, had good size for an outside linebacker and has a reputation as a good run defender."
Howard Balzer of the St. Louis Post-Dispatch
says Diggs is most likely to play the strong side, contrary to expectations.
Steve Korte of the Belleville News-Democrat
says Diggs' addition gives the Rams three linebackers from Ohio State.

Matt Barrows of the Sacramento Bee
says during a chat that the 49ers would be wise to draft Dan Williams, if available, because teams running 3-4 defenses need good nose tackles and Aubrayo Franklin could leave after the 2010 season. Barrows on Alex Smith: "My gut feeling is that he'll have his best year yet but that there will be enough bad spots that at the end of the year we'll still be asking the same questions about him. Maybe I'm just a pessimist, but I just don't see it being black and white."
Matt Maiocco of the Santa Rosa Press-Democrat
offers draft advice for the 49ers. He lists Russell Okung, Trent Williams, Bryan Bulaga, Eric Berry, Joe Haden, Derrick Morgan and Sergio Kindle as players the 49ers should draft if available to them (the assumption being that Bradford, Ndamukong Suh and Gerald McCoy would be long gone).
Kevin Lynch of Niner Insider
says the 49ers should use mid-round picks for offensive tackles if the team cannot find one worth taking in the first round.
April, 7, 2010
4/07/10
5:48
PM ET
Mel Kiper's latest mock draft,
available with commentary

to Insider subscribers, features quite a few changes.
I'm providing updated thoughts, focusing next on the Seahawks (additional analysis
here
):
14. Seattle Seahawks

Mel's latest pick:
Derrick Morgan
, DE, Georgia Tech
My thoughts:
Morgan has been a common choice for Seattle in various mock drafts, although Kiper previously had Seattle choosing Clemson running back
C.J. Spiller
and USC defensive end
Everson Griffen
. Seattle needs to upgrade its pass rush. Scouts laud Morgan as a high-effort player from the ACC, making me think back to prospects former general manager Tim Ruskell coveted (
Kelly Jennings
,
Josh Wilson
,
Leroy Hill
,
Aaron Curry
,
Mansfield Wrotto
and
Steve Vallos
were all Ruskell picks from the ACC, while Ruskell free-agent addition
Patrick Kerney
also played in the conference). Every team likes high-effort types, of course, but that aspect stands out more than others in the assessments I've seen. Morgan also appears to have very good versatility, another plus. The Seahawks have significant enough needs to feel good about drafting any qualified prospect at one of the marquee positions. Pass-rusher is a marquee position.
February, 23, 2010
2/23/10
1:08
PM ET
One line of thinking regarding Clemson's
C.J. Spiller
says the running back could be more likely to land in San Francisco than Seattle because the Seahawks need to address more basic needs and their staff doesn't value the position that highly in the draft, anyway.
[+] Enlarge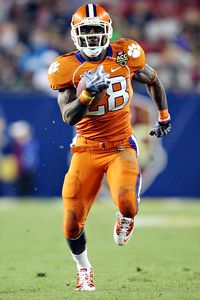 Douglas Jones/US PresswireRunning back C.J. Spiller's versatility is one trait that makes him appealing to teams.
While Scouts Inc.'s Steve Muench and I recently considered
other possibilities for the 49ers
, figuring the top four offensive tackles would be gone when San Francisco selected 13th overall,
NFLDraftScout.com's Rob Rang
has the 49ers taking tackle
Trent Williams
in that spot and Spiller either 16th or 17th.
"I think the 49ers feel they are close to winning the division and perhaps doing more than that," Rang said during a phone conversation Monday night. "Spiller gives them that
Reggie Bush
kind of ability out of the backfield as a receiver, as a runner. He is not
Devin Hester
, but he is the best returner I have seen in a while, including
Percy Harvin
."
Rang said he thought Spiller could be "spectacular" in the NFL, and if that is the case, I think someone should draft him higher than the middle of the round.
The Seahawks certainly could use help at running back. They hold the sixth and 14th choices. Spiller would be there in both spots based on Rang's projection. Rang has Seattle selecting defensive ends
Derrick Morgan
(Georgia Tech) and
Jason Pierre-Paul
(South Florida).
If the Seahawks go that route early, they would presumably pick up a veteran offensive lineman or two -- players fitting their zone-blocking scheme as much as traditional physical requirements for their positions. Seattle could still draft an offensive lineman to contribute right away if another
Max Unger
-type prospect were available.
January, 21, 2010
1/21/10
12:32
PM ET
Mel Kiper's first mock draft

for 2010 serves as a good conversation starter for NFC West fans looking forward to April.
After assessing the
Rams' projection
, I'll continue with a look at Kiper's plans for the Seahawks, who hold the sixth and 14th choices.
6. Seattle Seahawks: Derrick Morgan, DE, Georgia Tech.
Kiper's give:
Many in Seattle will view the offensive line as a greater need, but Morgan fills another huge hole for a team that simply couldn't get to the quarterback in 2009. He represents great value because he can rush the passer, is productive against the run and can even drop back -- a versatile talent. Pete Carroll knows defense and should love what Morgan can offer.
Sando's take:
Carroll has the ultimate authority, but new general manager John Schneider will influence how the Seahawks value players and positions. Schneider's teams have used five first-round picks for offensive linemen, more than they've used at any other position, but that includes none since Schneider's Seahawks selected Chris McIntosh in 2000. New offensive line coach Alex Gibbs has made a career out of developing less talented linemen into effective zone blockers. Like Kiper, I could see Seattle looking elsewhere early.
14. Seattle Seahawks: C.J. Spiller, RB, Clemson
Kiper's give:
He's not an offensive lineman, but Spiller could be a Reggie Bush-like option for the Seahawks. For a coach uniquely familiar with what Bush can do, Spiller is a missing home run threat in the run game, a good receiver and a valuable returner. Fans will want O-line help, and I'd expect it in Round 2.
Sando's take:
The Seahawks badly need offensive playmakers. If Spiller is a dynamic threat out of the backfield, as advertised, I could see the Seahawks considering him. Carroll mentioned Bush's specific skill set during the news conference to introduce Schneider. Schneider's teams have used one first-round choice for a running back (Shaun Alexander in 2000). Seattle lacks front-line talent at the position and Carroll wants to build around the running game.