NFC West:

DeShea Townsend
April, 10, 2014
Apr 10
10:00
AM ET
By
ESPN.com staff
| ESPN.com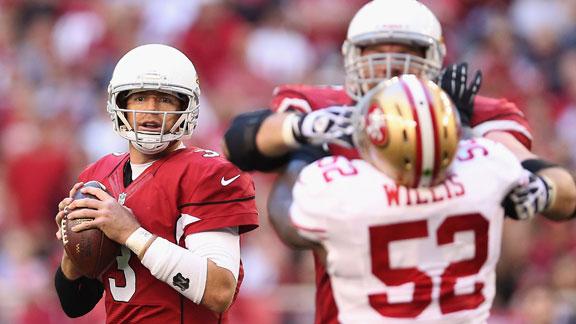 Catch us if you can.
That's a message the
Seattle Seahawks
could send out to the rest of the NFC West.
It is also something the
San Francisco 49ers
might say to the
Arizona Cardinals
and the
St. Louis Rams
. But the Cardinals and Rams might have a statement of their own: We're coming for you.
By almost everyone's estimation, the NFC West is the best division in the NFL. It includes a Super Bowl champion in Seattle along with a team in San Francisco that, arguably, came up one play short of reaching its second consecutive Super Bowl.
It also includes a team in Arizona that won 10 games, one of which was a victory at Seattle -- the Seahawks' only home loss in 2013. And there's a team in St. Louis that won two of its last three games to finish 7-9 while playing most of the season without starting quarterback
Sam Bradford
.
So the question heading into 2014 is whether the Cardinals and Rams are in position to catch the Seahawks and 49ers. Have Arizona and St. Louis closed the gap on what might be the NFL's two best teams?
The Cardinals have been active in free agency, signing cornerback
Antonio Cromartie
, offensive tackle
Jared Veldheer
, tight end
John Carlson
, receiver/kick returner
Ted Ginn
, running back
Jonathan Dwyer
and offensive lineman
Ted Larsen
.
Clearly, the competition in this division keeps getting better.
The four writers who cover the division for ESPN.com's NFL Nation -- Terry Blount in Seattle, Bill Williamson in San Francisco, Josh Weinfuss in Arizona and Nick Wagoner in St. Louis -- take a look at where things stand in the NFC West on four key topics. We also polled our Twitter followers to find how they viewed the issues.

The Cardinals have made significant moves in free agency. The Rams, aside from keeping Rodger Saffold, have mostly stood pat. Which is closer to the playoffs?
Terry Blount: This is a no-brainer for me. The Cardinals are a team on the rise with one of the NFL's best coaches in Bruce Arians. He took a 5-11 team and transformed it to 10-6 in one season. He was 9-3 at Indianapolis in 2012 while filling in for Chuck Pagano. Arizona was 7-2 in its last nine games and won three of the last four, with the only loss being 23-20 to the 49ers in the season finale. The Cardinals could become a serious challenger to the two-team stronghold of Seattle and San Francisco. However, I do believe the Rams will have a winning season if they can hold their own in the division games.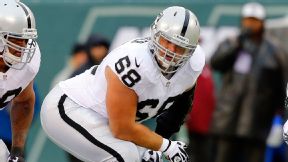 Nick Wagoner: It's hard to evaluate this without seeing what happens in the draft, especially with the Rams having two premium picks. Even then it would be unfair to judge right away. Still, I have to go with the Cardinals. They were trending up at the end of the season and patched a big hole with offensive tackle Jared Veldheer. Losing Karlos Dansby was a blow, but adding cornerback Antonio Cromartie to a talented stable at the position makes them better. The Rams, meanwhile, are clearly counting on a whole lot of in-house improvement and a big draft. Keeping Saffold was important (and lucky), but it seems risky to pin all hopes on a leap to the playoffs on a group of young players all making a jump at the same time.
Josh Weinfuss: Arizona is the easy answer, and that's not because I cover them. The Cardinals were 10-6 last season and the first team kept out of the postseason. All the Cardinals have done this offseason is fix deficiencies and plug holes. Their offensive line got markedly better with the addition of left tackle Jared Veldheer. Their wide receiver corps and kick return game were solidified with Ted Ginn, and they now have one of the best cornerback tandems in the league with Antonio Cromartie coming on board. General manager Steve Keim looked at what went wrong in 2013 and went to work on fixes. It should put the Cardinals over the playoff hump.
Bill Williamson: It has to be Arizona. The Cardinals were so close to making the playoffs last season. They would have likely been dangerous in the postseason too. I like the way this franchise is shaping up. It seems like it is well run and well coached. The roster is also getting deep. Carson Palmer will have to be replaced sooner or later, but the Cardinals are on to something. The Rams certainly have some nice pieces and are probably the best fourth-place team in the NFL, but they aren't close to matching what Arizona has going for it.
@joshweinfuss With the offseason the @AZCardinals have had I'd go with them. The rams are a solid offense away but AZ got the pieces needed.

- Joshua Bodrero (@JBodrero) March 25, 2014
---

The Seahawks and 49ers played for the NFC title in January. Any reason to believe either won't return to the postseason?
Blount: They were the two best teams in the NFL last season, and there's no legitimate reason to think they won't be among the best in 2014. Seattle has lost 10 players who were on the Super Bowl roster, but other than wide receiver Golden Tate, none of them were on the team's priority list to keep. The 49ers move into a shiny new stadium. The only question for San Francisco is the precarious relationship between coach Jim Harbaugh and team executives. Who knows what the future holds there, but it shouldn't matter on game day.
Wagoner: Aside from some debilitating injuries, it's hard to see how either team has taken a major step back. The Seahawks have lost some good players in free agency, but even those players seemingly already had replacements in place. Nobody does a better job of developing talent than Seattle. The Seahawks still have holes to patch on the offensive line and losing receiver Golden Tate is a blow, so there could be some hope the offense will regress. But the defense makes it all go, and it doesn't look like it's going to lose any of its most prized components. As for the Niners, they are the more likely of the two to take a step back, but it's hard to see them taking enough of one to fall out of the postseason. For most of their key free-agent losses they were able to quickly come up with a replacement as good or better than the player lost, and retaining Anquan Boldin says they are looking to make another run at the Super Bowl. Plus, they will have a fully healthy Michael Crabtree ready for the season. Until proven otherwise, these two teams remain the class of the NFC and probably the NFL.
Weinfuss: The only reason either of them won't make the playoffs in 2014 is because the Cardinals or Rams will take their place. The gap between the top and bottom of the NFC West has closed significantly this offseason, making the West much like the Southeastern Conference in college football; everybody will beat up on each other. It's likely the West, if it's anything like last season, can see three teams in the playoffs -- its champion and the two wild cards. If one of the teams between Seattle and San Francisco were not to make it, it's tough, but I think Seattle might slip. The Seahawks lost a significant part of their defensive line and will be going through a Super Bowl hangover. That's risky to deal with and still make the playoffs. On the other hand, San Francisco will be hungry from losing to Seattle in the NFC Championship Game.
Williamson: I believe these are the two best teams in the NFL. So it's difficult to fathom that either team won't find its way into the playoffs, barring major injuries. Arizona, though, could create an issue for the Seahawks and 49ers. The Cardinals are going to win a lot of games, so both Seattle and San Francisco have to be careful or things could get tricky. In the end, I can see all three teams making the playoffs. This is the reason this division is so intriguing and so fun: Every game is critical. There is just not much room for error. Look at the 49ers last year. They went 12-4, but a 1-2 start hamstrung them. They could never fully recover despite having a great overall regular season. The same intensity will be a factor in 2014 in the NFC West.
@TerryBlountESPN The Cards and Rams are pretty good. They'll be fighting for 2nd place behind the Seahawks.

- Danny ®" (@Dah_knee) March 26, 2014
---

Will Rams quarterback Sam Bradford come back strong from an ACL injury, and what effect will he have on St. Louis having its coveted breakthrough year?
Blount: I think Bradford will be fine as far as the ACL goes, but this is a make-or-break year for him in my view. Bradford was playing pretty well before his injury last year, but the verdict still is out whether he can be an elite quarterback. He enters this season with the best supporting cast he's ever had, but playing in this division with teams that emphasize physical defensive play makes it difficult to show improvement.
Wagoner: All indications from the Rams are that Bradford's rehab is coming along well and he's on schedule to make his return in plenty of time for the start of the regular season. He apparently had a clean tear of the ACL, but he has been rehabbing for a handful of months and should resume throwing soon. Bradford's healthy return means everything to the Rams' chances in 2014. Believe it or not, this is his fifth season in the NFL and, much like the team, this is the time to make some noise. The Rams attempted to open up the offense in the first quarter of 2013 with Bradford to miserable results. They switched to a more run-oriented attack in Week 5 and the offense performed better. Bradford also played better as the run game opened up play-action opportunities in the passing game. It will be interesting to see if the Rams choose to go a bit more balanced with Bradford at the controls or if they continue at the same run-heavy pace they played with backup Kellen Clemens. Either way, Bradford's contract has two years left on it. If he wants a lucrative extension, this is the time to prove he's worth it.
Weinfuss: Short answer, yes, Bradford will come back strong. Just look at how he started in 2013. He was on pace for a massive year statistically before he got hurt. If he can pick up where he left off, Bradford will return with a bang and show he's still one of the better quarterbacks in the league. As we've seen, a top-tier quarterback can be the difference between sitting idle in the standings and having a breakthrough year. With the talent that surrounds the Rams, with tight end Jared Cook, running back Zac Stacy and wide receivers Tavon Austin, Chris Givens and Austin Pettis, among others, Bradford may singlehandedly help close the gap between the Rams and the top of the NFC West.
Williamson: I have to be honest: I'm not a big Sam Bradford guy. I think he's just OK. Just OK doesn't cut it in this division, especially considering the defenses he has to play six times a season in the NFC West. He's serviceable, but he's not the answer. Given the state of this division, I cannot envision a scenario where Bradford is the reason the Rams become the class of the NFC West. I think they can get by with Bradford for the short term, but the Rams are going to have to start thinking about the future at this position much earlier than expected when Bradford was the No. 1 overall pick of the 2010 draft.
@nwagoner @Ryan_STL1 he's going to be the reason whether they go to the playoffs or not. If it doesn't happen this year it's time to give up

- Nick Green (@duttynick) March 24, 2014
---

If you had to start a team with either Seahawks QB Russell Wilson or 49ers QB Colin Kaepernick, whom would you choose?
Blount: You must be kidding. Give me Wilson every time, every day in every situation. Yes, Kaepernick is 5 inches taller than Wilson. Is there really anyone left who thinks Wilson's lack of height matters? Wilson also is at his best in pressure situations. He lives for it. And he is a more polished person on the field, and off it, than Kaepernick. That's not an observation. It's a fact. But this isn't a rip on Kaepernick. You would be hard-pressed to find any 25-year-old as polished as Wilson. The 49ers can win a Super Bowl with Kaepernick, and probably will soon. But if I'm starting a team, whether it is in football or almost any other life endeavor, I'll take Wilson without a doubt.
Wagoner: Wilson. For those of us covering other teams in the division, it's hard not to admire what he brings to the table. He presents himself as the consummate professional, and even opponents praise him for his work habits, intelligence and ability. He's already got the Super Bowl ring, and it's easy to see how he could add a few more. He's not all the way there in terms of his potential either, and it's probably safe to assume he's just going to keep getting better as his career goes along. That's nothing against Kaepernick, who is a unique talent in his own right, but there aren't many young quarterbacks in the league worth choosing over Wilson.
Weinfuss: Russell Wilson would be my pick, mainly because of his poise and maturity behind center. Colin Kaepernick is undoubtedly talented, but I get the sense he still has a lot of growing to do as a quarterback. He's tough to bring down, especially in the open field, but when he's pressured in the pocket, Kaepernick seems to panic and I wouldn't want that in a quarterback. I also think Wilson, despite his physical stature, is built to last. He's heady enough to stay out of harm's way, and his poise in the huddle will go a long way in leading a team.
Williamson: I'd take Kaepernick. I know it's a tough sell right now, since Wilson's team has beaten Kaepernick and the 49ers three of the past four times they've met, including the NFC title game, and the fact that Wilson has won a Super Bowl. I respect the value of Super Bowl wins and believe quarterback is the most critical position in sports. I'm sure I will smell like a homer with the Kaepernick pick. But moving forward, I just think Kaepernick has a higher ceiling. I think he can take over games more than Wilson can at a higher rate. Players built like Kaepernick and as athletic as Kaepernick just don't exist. He is special. He works extremely hard at his craft and is well coached. I'd take him, and I wouldn't look back. This isn't a knock on Wilson. He is proven and is going to be great. But if I'm starting a team, I'm taking Kaepernick, and I bet more general managers would agree than would disagree.
@BWilliamsonESPN Wilson. Controls the game & makes all the plays. Kaeps athletic advantage will fade overtime as Wilson's mental edge grows.

- HTB (@HoldenTyler) March 25, 2014
January, 24, 2013
1/24/13
7:05
PM ET
We interrupt our steady diet of
San Francisco 49ers
Super Bowl coverage to check out where the
Arizona Cardinals
stand in filling vacancies on their coaching staff.

The chart lists the team's coaches from last season and those the team announced as having joined Bruce Arians' new staff. Reports have listed other coaches expected to join the staff, but sometimes plans change. Those hires are not yet official. Mike Caldwell (
linebackers
) and Amos Jones (
special teams
) are two potential candidates.
Bold lettering in the chart shows which 2012 Cardinals assistants remain with the team until further notice. Some could remain as part of Arians' staff. None has been released from his contract.
General manager Steve Keim has said he expects the new staff to place heavy emphasis on the offensive and defensive lines. I'll be watching to see whether the Cardinals give Arians additional resources. Arizona had
fewer assistants
than other NFC West teams employed last season.
April, 10, 2012
4/10/12
7:26
PM ET
A few notes on NFC West coaching staffs after the
St. Louis Rams
announced theirs for 2012 in a news release Tuesday:
The Rams are not listing suspended defensive coordinator Gregg Williams on their staff. They did not mention him in the news release. They did not list a defensive coordinator. Coach Jeff Fisher and assistant head coach Dave McGinnis will presumably take the lead. Secondary coach Chuck Cecil has also been a coordinator.
Williams' son, Blake, coaches the Rams' linebackers.
The Cardinals have 3-4 fewer assistants than the other teams in the division. I've noticed that to be the case in recent seasons. Staff sizes can vary. Arizona has one more than the NFL listed for New England heading into the most recent Super Bowl.
Every team in the division has an assistant head coach. Two serve as offensive line coaches. Another coaches special teams. Assistant head coaches might earn more money than they otherwise would, but the title does not distinguish them from other assistants in relation to hiring protocol. The title affords no additional protections against losing an assistant to another team, in other words.
Paul Boudreau is the Rams' offensive line coach. His son, also named Paul, is assistant special teams coach. They are not Paul Sr. and Paul Jr., however. It's not yet clear how the Rams intend to differentiate between the two. Middle initials?
Niners offensive assistant Michael Christianson is also coordinator of football technology.
The chart lists full-time assistants, not interns or administrative assistants. Strength-and-conditioning coaches aren't involved in football strategy, but I have listed them.
April, 15, 2011
4/15/11
9:15
AM ET

Kevin Lynch of Niner Insider
sizes up the 49ers' inside linebackers. Lynch: "The best thing the 49ers do as a team is play inside linebacker. The reputed Patrick Willis remains the team's best player and largely because of his talents, the 49ers are excellent against the run. Last season may have been Willis's most challenging. Teams figured they had to run away from Willis or be devoured. Opposing offenses decide to run offensive linemen at Willis instead of running backs and his tackle total for the season dropped. Nevertheless, the 49ers dropped just two places from fourth to sixth according to profootballoutsiders.com in their effectiveness against the run. Even though Willis wasn't always making the tackle, they were still able to cage running backs. Why? Two words: Takeo Spikes." The 49ers' signing of Spikes before the 2008 season stands as one of the better low-profile moves an NFC West team has made in recent seasons. He projected as a one- or two-year stopgap initially, but Spikes has started 44 of 48 games. He's been credited with six interceptions and 16 passes defensed. At age 34, he does not appear finished.
Matt Maiocco of CSNBayArea.com
explains how 49ers kicker Fabrizio Scaccia can play in the Arena League during the lockout. The Cardinals' Cliff Louis is doing the same thing. Maiocco: "The players are required to report to their NFL teams when the lockout ends. The AFL is in Week 6 of their 18-game regular season. The Arena Bowl, the league championship, is scheduled for Aug. 12. Scaccia also played last fall with the Sacramento Mountain Lions of the United Football League."
Eric Branch of the Santa Rosa Press-Democrat
says the 49ers' Tom Gamble and Tom Rathman were there when Eastern Washington University's Taiwan Jones ran for scouts. Branch: "Jones, perhaps the draft's most tantalizing running-back prospect, clocked 40-yard dash times that ranged anywhere from 4.28 to 4.35 seconds, according to the figures from the phalanx of scouts on hand. Perspective: On a different surface, Maryland's Da'Rel Scott had the fastest 40 (4.34) among running backs at the NFL Combine and Miami cornerback DeMarcus Van Dyke had the fastest time overall (4.28). Jones also registered some other eye-opening measurables, including a 40-inch vertical jump and an 11-foot broad jump, five inches shy of the all-time combine record."

Kent Somers of the Arizona Republic
gives the Cardinals a "C" grade for the first-round selections they've made since Ken Whisenhunt became head coach in 2007. The grade isn't any better for the second and third rounds. Somers on the first-rounders: "Levi Brown is the most controversial of the four, partly because the Cardinals passed on running back Adrian Peterson to take him. Whisenhunt defends Brown, who moved from right tackle to left in 2010, calling him an improving player. But Brown has been average, at best, and more is expected of a fifth pick. A bust? I don't say that. But more was/is expected. Dominique Rodgers-Cromartie took a step back last year after making great progress his first two years. A Pro Bowler in 2009, he's been worth the first-round pick. Wells has yet to live up to expectations, but I've seen the Cardinals give up too early on other backs. A little patience could pay dividends. Dan Williams showed improvement in the latter half of the 2010 season."
Darren Urban of azcardinals.com
profiles new defensive coordinator Ray Horton, who likes keeping people off-balance -- on the field and with the braided hair he wears. Urban: "In Horton's world, he doesn't want to be that predictable. He'll drive to work various routes. If he's playing golf, he may use a 6-iron on a particular shot and then, if a similar shot comes up again, try to 8-iron, just to see the difference. He's also got the hair, which he started growing in Pittsburgh and -- when no one said anything -- just kept growing it, in part egged on by his players." Said Cardinals assistant DeShea Townsend: "Most coaches don't have the good hair. That's how I see it. This is his Samson moment."

Jim Thomas of the St. Louis Post-Dispatch
says the Rams' offensive linemen are working out together during the lockout. Thomas: "We train on Tuesdays and Thursdays together as a group. That way we get some camaraderie and cohesiveness that everybody who knows anything about football knows is important for our group. So we train together twice a week, and then most of us train there at other times during the day on a one-on-one basis [with a personal trainer]."
Also from Thomas
: Draft prospects visiting the Rams hung out in the late Georgia Frontiere's posh suite at Rams Park, dining on steaks catered by Ruth's Chris. Julio Jones and Corey Liuget were among the 19 confirmed attendees.
Nick Wagoner of stlouisrams.com
says the Rams were better than expected at defensive end last season, including backups. Wagoner: "C.J. Ah You's performance came as a bit of a surprise on the heels of his return from a season-ending knee injury in 2009. But he answered the bell as a third-down pass rush specialist as he was fourth on the team with four sacks and 10 quarterback hits and pressures while also showing the versatility to move inside. As a seventh-round choice, George Selvie impressed coaches with a strong preseason before he was put on the sidelines early with a foot injury. Selvie pushed through and contributed 1.5 sacks and five quarterback hits while also proving solid against the run."

Clare Farnsworth of seahawks.com
says former receiver Michael Bumpus is giving soccer a try. Writes
Mark Gaschk of soundersfc.com
: "He started playing club soccer at age 13 with Santa Monica United and played his high school soccer at Culver City High School, where he was one of the better defenders in the region and was heavily recruited. He even went to Europe with his club team, where the soccer bug had him fully enraptured. However, when it came time to decide on his future in his senior year of high school, the scholarships he was being offered to play football outweighed a scenario that would have him playing soccer and paying his own way through college."
Danny O'Neil of the Seattle Times
provides a chat transcript featuring former Seahawks coach Jim Mora. Mora says the Eagles would be a great fit for Jake Locker. Also from Mora: "I'd like to see them re-sign Matt (Hasselbeck) just because I have so much respect for him and he's such an institution here in Seattle. But I think it's irresponsible as an organization if you don't address the future at such an important position as quarterback. And I think they've tried to address the future with the signing of Whitehurst and they'll continue to do so." But he thinks selecting Locker wouldn't be a great idea for Seattle.
February, 22, 2011
2/22/11
8:52
AM ET
By
ESPN.com staff
| ESPN.com
February, 17, 2011
2/17/11
10:10
AM ET

Jim Thomas of the St. Louis Post-Dispatch
says Rams quarterback Sam Bradford and new offensive coordinator Josh McDaniels are meeting at team headquarters, as expected. Thomas: "Bradford was at Rams Park on Wednesday, and according to team sources got in a workout in the weight room and said hello to the coaches. There was no indication of any lengthy meeting between McDaniels and Bradford. But at least they've met, and Bradford is back in town after spending the early part of the offseason at home in Oklahoma."
Also from Thomas
: The Rams might relocate training camp because coach Steve Spagnuolo likes getting away in an effort to build camaraderie. The team has looked at the Missouri University of Science and Technology, located about 100 miles from St. Louis in Rolla, Mo. Thomas: "Missouri S&T had not come up in discussions of possible training camp sites until now. Spagnuolo and Bruce Warwick -- the Rams' assistant to the head coach for football operations -- have toured the facility. A follow-up meeting was canceled because of bad weather. Missouri S&T's football team, the Miners, competes as an independent in Division II of the NCAA. By NFL standards, the Miners' facilities are said to be so-so. Several grass fields are available but there is not an artificial turf field. The football stadium, Allgood-Bailey Stadium, seats 8,000 and also has a grass surface. Without an artificial turf field, the Rams would be more vulnerable to rain during training camp. And the Miners have a small indoor facility, 40 yards by 40 yards."

Ben Malcolmson of seahawks.com
provides a general update on what's happening around the facility during a relatively quiet time during the offseason. Malcolmson: "Although strength coaches aren't permitted to direct strength and conditioning sessions, they are on hand to monitor for safety and watch over the voluntary player workouts." Strength coach Chris Carlisle says players are working out routinely.
Clare Farnsworth of seahawks.com
says the team heads toward the draft and potential free agency hoping to upgrade its offensive line. Farnsworth: "Because the Seahawks are selecting 25th, the top candidates -- Boston College tackle Anthony Castonzo and USC tackle Tyron Smith -- are expected to be gone by the time they make their first pick. But it definitely helps that the O-line group is what senior personnel executive Scot McCloughan calls the best he has seen in his 16 years in the NFL; so good that as many as eight could go in the first round."
Eric D. Williams of the Tacoma News Tribune
checks in with draft analyst Rob Rang for thoughts on receivers who might interest Seattle. Rang: "Wide receiver is an area of concern; they need another playmaker. But having invested the picks they have in back-to-back years in Deon Butler and Golden Tate, you've got to expect that these guys are going to start to contribute. To me, with the other needs on this team, to invest another pick at the receiver position is almost like a luxury pick at this point, especially considering they don't have a third-round pick."

Kent Somers of the Arizona Republic
says Cardinals coach Ken Whisenhunt likes the new structure of his coaching staff. Somers: "With [Mike] Miller's promotion, Whisenhunt's staff is set for this season, barring unforeseen developments. Ray Horton, the Steelers secondary coach, was hired as defensive coordinator. Louie Cioffi, the assistant secondary coach with the Bengals, was hired as defensive backs coach, and former Steelers cornerback Deshea Townsend was hired as assistant secondary coach. Former defensive coordinator Bill Davis, secondary coach Donnie Henderson and assistant secondary coach Rick Courtright were not retained."
Darren Urban of azcardinals.com
casts Miller's promotion to offensive coordinator as part of a progression. Urban: "Coach Ken Whisenhunt had said after the season he expected to consider handing playcalling duties to Miller full-time, and the promotion seemingly would be a precursor."
Also from Urban
: Miller rolled with Whisenhunt's joke about the head coach calling only the good plays. Miller: "He's the head coach, so, what do they say? 'It's good to be king.'"

Matt Maiocco of CSNBayArea.com
says the 49ers' Frank Gore plans to resume running Feb. 28 after recovering from a hip injury suffered last season. Gore: "I will be better. I will take it one day at a time. I'm just happy to say that my injury healed perfectly. And right now I'm trying to get some strength, and in another week start running."
Also from Maiocco
: The 49ers' coaches expect to have no contact with players during a lockout, and they would not even send home written materials, including a playbook, with them under those circumstances. The Rams' Bradford previously said he expected to have playbook in hand this offseason, no matter what, but Bradford was not speaking definitively on the matter. I'm checking on what is permitted. Coach Jim Harbaugh has repeatedly discussed meeting with quarterback Alex Smith multiple times this offseason.
David White of the San Francisco Chronicle
says 49ers special teams coach Brad Seely also expects no contact with players before March 14 or until a labor agreement is in place, whichever comes later.
Matt Barrows of the Sacramento Bee
checks in with 49ers defensive coordinator Vic Fangio for thoughts on whether the 49ers need a top cornerback, a top pass-rusher or both, and in what order. Barrows: "Asked about his pass-rushers, it was interesting that Fangio cited Ahmad Brooks -- 'He played some for them last year and showed some potential' -- before starter Parys Haralson." Fangio on Haralson: "Obviously, he's a guy that has some ability, but he hasn't done it to this point. And we have to figure out why he hasn't done it on a consistent basis. Can he or can't he?"
Eric Branch of the Santa Rosa-Press Democrat
looks at how labor uncertainty affects the 49ers.
Daniel Brown of the San Jose Mercury News
says 49ers offensive coordinator Greg Roman plans to dig up videos showing former coach Bill Walsh installing his offense.
February, 9, 2011
2/09/11
9:49
AM ET

Matt Maiocco of CSNBayArea.com
says new 49ers coach Jim Harbaugh has been spending time with quarterback Alex Smith, on and off the field. Maiocco: "Harbaugh and Smith have met several times face-to-face. And they have even gone out together to the practice field behind the team's Santa Clara complex. ... Asked whether he used his on-field interaction with Smith as a chance to work on mechanics and fundamentals or whether it was just a way to break the ice, Harbaugh answered, 'Both.'" Smith, though without a contract for the 2011 season, remains the 49ers' best option at quarterback, and that will not change until the NFL has a new labor agreement and/or holds its draft. Harbaugh might as well figure out whether he thinks Smith is salvageable at this stage.
Matt Barrows of the Sacramento Bee
sizes up Kevin Kolb and Nnamdi Asomugha in terms of how they would fit with the 49ers. Barrows on Kolb: "First, the Eagles likely will be able to leverage several quarterback-starved teams against each other. Second, the 49ers are the most quarterback-starved team in the league right now. They need to increase their options -- and it's likely that the draft will be the only vehicle to do so -- before they start looking for a trade."
Michael Crabtree of the 49ers
identifies Alvin Harper as his favorite receiver growing up. Crabtree: "I liked the way he caught the football, especially the way he jumped for it."
David White of the San Francisco Chronicle
says 49ers nose tackle Aubrayo Franklin remains in limbo amid conflicting reports about whether teams can designate franchise players.

Kent Somers and Bob McManaman of the Arizona Republic
say Steelers secondary coach Ray Horton is the favorite to become the Cardinals' defensive coordinator. The team also requested permission to speak with Packers assistant Winston Moss. Somers and McManaman: "The Cardinals requested permission from the Steelers on Tuesday to interview linebackers coach Keith Butler and Horton. Butler, however, is under contract for 2011, and the Steelers denied the request. The Steelers see Butler as the heir apparent to current defensive coordinator Dick LeBeau, which explains why they wouldn't allow the Cardinals to interview him. Horton, 50, is working under an expiring contract and is free to take the Cardinals job, if offered."
ESPN's Adam Schefter
says Horton and the Cardinals expect to get a deal done. Schefter: "It's also expected that former Steelers defensive back Deshea Townsend will be hired as an assistant under Horton, sources said."

Ramona Shelburne of ESPNLosAngeles.com
checks in with Seahawks assistant Rocky Seto for details regarding Seto's near-hiring as UCLA defensive coordinator. One report suggested UCLA pulled back its offer after Seto posted news of his imminent hiring on Facebook. Seto: "I didn't post anything on my Facebook page. They may be talking about some people close to me maybe congratulating me. Leaving messages on my wall. But I didn't write anything. My intentions were not to get the news out. Maybe I shouldn't have told as many friends and family. I was just so excited. And we were scheduled for a press conference on Wednesday."
Art Thiel of Sportspress Northwest
says Seahawks general manager John Schneider's association with Packers GM Ted Thompson helps explain why Schneider makes personnel moves unapologetically. Thiel: "Both he and head coach Pete Carroll are unafraid of personal or public sentiment when it comes to talent evaluations. If they had been in Seattle in the post-Super Bowl year of 2006, it's doubtful they would have given Alexander the contract extension that subsequently became such a burden. He had reached his expiration date at the Super Bowl, but few wanted to believe it. So, Carroll and Schneider didn't flinch when it came to unloading T.J. Houshmandzadeh, Josh Wilson or Deion Branch, vets with a lot left in their tanks (as they proved elsewhere). The Seahawks had to eat parts of their burdensome contracts in a year that management privately sought to clean out big salaries in preparation for the aftermath of what seems an inevitable stoppage next month."
Doug Farrar of Sportspress Northwest
sizes up Seattle's receivers.

Jeff Gordon of stltoday.com
says a work stoppage in the NFL would be particularly bad for an ascending team with clear needs. Gordon: "This impasse is especially bad for the Rams, a potential 2011 breakout team that has so much work to do between now and September. The Rams football staff can assess their players and grade the incumbents due new contracts. Executives, coaches and scouts can prepare for the NFL Draft, too, but they can't size up the free-agent marketplace. Which players will become free agents? Right now, the Rams can only guess. Which teams will have to move big salaries to solve salary cap problems? Without a CBA in place, that is a non-issue."
Jim Thomas of the St. Louis Post-Dispatch
checks in with Mike Karney following the fullback's release from the Rams. Karney: "It's been an open, good relationship throughout this whole thing. I have no animosity. I'm not bitter. I'm just happy that the decision's been made and both parties can move forward. They've made a decision to fit the offense towards Sam (Bradford). And I respect that. He's a great quarterback, and obviously the future of the Rams. But it was just nice of them to make the decision early."
Also from Thomas
: a chat transcript in which he sizes up the Rams' competitive status. Thomas: "I think the Rams are one good offseason away from being truly playoff competitive. That is, a legitimate contender for a playoff spot. Billy Devaney hasn't hit 1.000 as a GM, but I think we can all agree that he's been considerably better than the drafts/free agency that preceded him. Last year's free agency was pretty good, by the way: Fred Robbins was a good pickup at DT; and Na'il Diggs was a solid pickup at OLB." Acquiring Mark Clayton from Baltimore also worked out well, while it lasted. Bradford and second-round left tackle Rodger Saffold combined to give the Rams a solid draft, too.