April, 16, 2013
Apr 16
9:52
PM ET
Pat Summerall never developed a signature call during four decades broadcasting NFL games for CBS and Fox. "Unbelievable" might have been as close as he came.
That probably wasn't by accident.
For Summerall, who died Tuesday at age 82, the broadcasts always seemed to be more about the games than what he had to say about them. That could also explain why I couldn't immediately think of a memorable call Summerall made during the 25 or so years I watched him on TV.
The
San Francisco 49ers
were the dominant NFL team through the 1980s, when Summerall began his memorable run with John Madden in the booth. The 49ers remained one of the best through most of the 1990s as well. But as things turned out, Summerall wasn't on the call for some of the 49ers most memorable moments.
Vin Scully and Hank Stram had the call for CBS on "The Catch" back in early 1982.
Dick Enberg and Merlin Olsen were behind the microphones for NBC when Joe Montana drove the 49ers downfield to beat the
Cincinnati Bengals
in Super Bowl XXIII.
Summerall and Madden did have the call for Steve Young's winning touchdown pass to Terrell Owens against the
Green Bay Packers
following the 1998 season.
"Three-man rush and Young stumbles on the way back and fires up the middle," Summerall said as the play unfolded. "Pass is caught by Owens. Owens made the catch."
Eleven seconds passed before Summerall or Madden said anything.
"This is amazing," Madden said.
Another 15 seconds passed while 49ers players celebrated and the Candlestick Park crowd roared.
"Three seconds left," Summerall finally said.
A few more seconds went by.
"Terrell Owens was having a rotten day," Madden said, "but on one play here, does he make up for it."
Madden then described the coverage on the play before Summerall spoke up.
"Perfect pass," Summerall said, his first words in 18 seconds.
"Holy moley!" Madden said.
"Three seconds left as they line up for the extra point," Summerall said just as the kick sailed through, "and it's 30-27, San Francisco."
"And the 49ers are getting the monkey off their back today," Madden said.
"Unbelievable," Summerall said.
June, 13, 2011
6/13/11
8:00
AM ET

Bernie Miklasz of the St. Louis Post-Dispatch
thinks Rams owner Stan Kroenke will keep the team in St. Louis even though a group from Los Angeles wants to bring a team to Southern California. Miklasz: "Kroenke is a buyer and a collector, not a seller. Just look at all of the sports properties he's purchased or developed: the NFL Rams, the NBA Denver Nuggets, the NHL Colorado Avalanche, the Pepsi Center in Denver, the MLS Colorado Rapids, a soccer stadium in Colorado, a pro lacrosse team in Colorado, and the Arsenal soccer club in the English Premier League. Sure, Kroenke could try to move the team without selling it. But in my conversations with Kroenke, he has consistently and repeatedly stated his desire to keep the Rams in St. Louis. He points to his Missouri roots, his Missouri family ties, his Missouri business interests, his key role in bringing the Rams to St. Louis." Moving the team becomes more likely if Kroenke cannot get a suitable stadium agreement in St. Louis once the Rams likely qualify for breaking their lease at the Edward Jones Dome following the 2014 season. As Miklasz notes, that is a ways off.

Matt Maiocco of CSNBayArea.com
passes along quotes from
San Francisco 49ers
coach Jim Harbaugh regarding quarterback
Alex Smith
. Harbaugh was speaking to Dick Enberg during a baseball broadcast. Harbaugh: "He's a neat guy. I'm really interested in him, in just the character of Alex Smith. He's been maligned by the hometown fans there. And his family's had to read a lot of that on the internet. And he's really even been thrown under the bus by his own team more than once. And the kind of character of a guy that would want to come back, prove himself with that same football team, that's rare kind of character. (It) probably falls somewhere in the endangered and extinct range. So we can win with that." Smith is also convenient. The shortened offseason and uncertain labor situation make it tough for the 49ers to count on acquiring another veteran quarterback. Trading for a long-term solution at the position would not make sense after the team used a second-round choice on
Colin Kaepernick
in April. Targeting another veteran in free agency would risk having to settle for a prospect less suitable than Smith. Bringing back Smith for a season just makes sense under the circumstances.
Lowell Cohn of the Santa Rosa Press-Democrat
questions Smith's ability to lead the 49ers when it matters. Cohn: "There are worlds of difference between being an offseason leader on a balmy, casual June day and an in-season leader with the clock ticking and the universe of a football stadium depending on Alex Smith to make the right decision in the blink of an eye and then throw a good pass. When the season starts, his skill at organizing the players' training camp won't matter anymore. Can the guy play quarterback?"
Gwen Knapp of the San Francisco Chronicle
also has doubts about how Smith's offseason leadership applies to on-field results.
Matt Barrows of the Sacramento Bee
offers a player-by-player review from the 49ers' recent practices. On
Michael Crabtree
: "Crabtree, of course, practiced on Monday but only took part in the classroom session Tuesday-Thursday because of sore feet. The problem didn't appear to be serious. Crabtree was walking around without a limp on Tuesday and Wednesday. While he defended Crabtree, Alex Smith also acknowledged having on-field chemistry issues with the receiver. Those issues have not been addressed so far this offseason despite the fact that Crabtree has been training only a short distance from where Smith and others have been working out. Crabtree said he would head back to Texas shortly."
Jared Muela of 49ers.com
checks in from a recent 49ers clinic for high school coaches.

Kent Somers of the Arizona Republic
says the Cardinals still hope to hold training camp at Northern Arizona University in Flagstaff, a site that has grown on coach Ken Whisenhunt. Somers: "If the Cardinals have to conduct camp in the Valley, Whisenhunt will be creative with his practice schedule and meeting schedule. A typical day could include a very early start. Night practices are a possibility, as is practicing at University of Phoenix Stadium. Whisenhunt and his coaching staff are taking their vacations now, with the understanding they could be asked to return quickly. Some coaches like to travel abroad, but that's been discouraged this year. Coaches normally would leave for vacations now, but they left earlier this season because of the work stoppage."

Clare Farnsworth of seahawks.com
revisits the team's early days under coach Jack Patera. Former running back Sherman Smith, who coaches the position for the team now: "Right before the final cut, guys would come to Jack and say, 'Hey Jack, I'd like to bring my family to town. Can I go ahead and do it?' Sometimes, Jack would say, 'Yeah, go ahead.' But there were times Jack would say, 'Nah, I think you'd better wait. We're not sure yet.' Guys really appreciated that."
Also from Farnsworth
: a look back at the Seahawks' 1977 season. That was the year Seattle traded an early pick, which Dallas used for Tony Dorsett, on the theory that a second-year expansion team needed quantity over quality. Farnsworth: "The Seahawks got the Cowboys' first-round pick and three second-round choices -- which were used to draft Steve August, who would start 91 games at right tackle over the next six seasons; Tom Lynch, who sat as a rookie but then started at left guard for three seasons; and middle linebacker Terry Beeson, who would lead the team in tackles as a rookie and for the next two seasons; as well as add Ferguson, who was obtained from the Cowboys as the Seahawks traded a second-round pick back to Dallas."
More from Farnsworth
: a heads up on Pete Carroll's coaching clinic, set for Friday in Seattle.
March, 12, 2010
3/12/10
4:34
PM ET
Cy from Los Angeles passed along a personal thoughts on Merlin Olsen after the Rams great's passing Wednesday. They were heartfelt. I wanted to share them here before passing along an Olsen story from Dick Enberg.
I don't typically mourn public figures publicly, but I am so saddened by the death of Merlin Olsen. Growing up as a sports kid in L.A., you knew he was a big deal and for all the right reasons. While playing ball in my teens, I had Olsen's poster in my room (along with those of Dick Butkus, Bob Lilly, The Doors and Peter Fonda/Easy Rider in day-glo).

I used to wear his No. 74 in Pop Warner and high school out of admiration and respect. He seemed like such a nice guy and the quintessential Gentle Giant -- ferocious on the field, while kind and placid off it. Olsen was the kind of man a father could comfortably point out to a son as a role model; the kind of athlete that sports and kids sorely miss.

He was a tremendous athlete -- physically gifted, studious and smart, broadly intelligent, respectful, fully prepared for life after football with never a hint of impropriety. A gentleman in every sense of the word. He also struck me as a man men would strive to be: as brutishly tough and determined as they come, yet scholarly, kind, considerate and dignified; a class act from start to finish. The world would be a better place if more people were like Merlin Olsen. It's less of one without him.
Enberg, Olsen's former broadcast partner at NBC, shared an endearing story on Sirius radio Friday. Enberg told how Olsen had grown up rather simply in Utah and his parents had never been to an NFL game. They made the trip to Los Angeles and were pretty deep into their first game watching Olsen at the Coliseum when Olsen sensed something amiss.
Olsen looked toward where his parents had been sitting and, to his shock, saw his father walking onto the field. Turns out the family had decided to leave the game early and Olsen's father was coming onto the field to inform his son of their plans.
March, 11, 2010
3/11/10
2:18
PM ET
The Rams and 49ers were playing an exhibition game at the L.A. Coliseum one year when a fight broke out near the 49ers' bench.
[+] Enlarge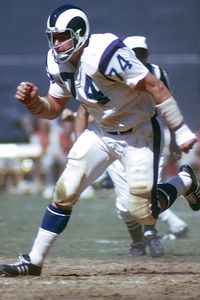 Focus on Sport/Getty ImagesMerlin Olsen was a Hall of Fame defensive lineman and member of the Los Angeles Rams' "Fearsome Foursome".
"I turn around and I start forward," former 49ers guard Howard Mudd said Thursday, "and there is 'Oly' standing there."
"Oly" was Merlin Olsen, the Rams' huge defensive tackle, one of the first truly athletic big men in the NFL. Olsen stood 6-foot-5 and weighed 270 pounds in an era before players loaded up on dietary supplements or lifted weights as seriously.
"I looked at him and he looked at me," Mudd recalled, "and he said, 'You want to just stand here and watch it?' "
Olsen,
who died from cancer Wednesday at age 69
, proved great players could be nice guys, too. He was a 14-time Pro Bowl choice and member of the Fearsome Foursome line featuring Deacon Jones, Lamar Lundy and Rosey Grier.
"He belonged in the Hall of Fame not because he went to 14 Pro Bowls, but because he was a great player and could affect a game that he played in," Mudd said. "If you didn't take care of him, he was going to make big plays on you and change your offense. That is what a Hall of Famer should be."
While some players cast football as warfare for the sake of gaining a psychological edge, Olsen could disarm an opponent with his politeness. Mudd recalled knocking down Olsen once with a peel-back block, then bracing for trouble when Olsen ran toward him after the play.
"I'm laying on the ground and this big guy runs right at me, puts his hand on my head and says, 'Nice block,' " Mudd said. "I thought he was going to kick my ass or something."
Olsen played from 1962 to 1976 and earned 14 consecutive Pro Bowl berths. He reached another generation of football fans through his work as Dick Enberg's broadcast partner during NBC's coverage of the AFC during the 1980s. Olsen also played Jonathan Garvey on Little House on the Prairie, which ran opposite "Monday Night Football" during the late 1970s. He also starred in "Father Murphy" from 1981 to '83.
News of Olsen's passing was only beginning to spread Thursday. I reached out to Mudd, who said he had been thinking of Olsen lately and had wondered what had become of him.
"I pictured him as this devout Mormon guy who had ridden off into the sunset and found a nice place and a great life," Mudd said.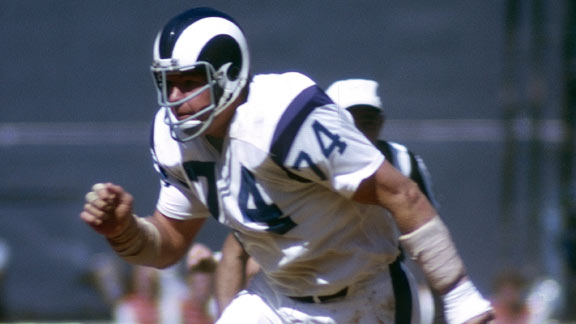 October, 22, 2008
10/22/08
8:24
PM ET
Posted by ESPN.com's Mike Sando
Rob from San Diego writes: Sando, Is Seattle going to re-think their pick of Jim Mora as head coach in 09'? Our DB's are awful and he is responsible for that unit. Granted there are many other holes in the D.... But it seems to me like it might not be best to decision to hand over the team to a coach that is responsible for the 4th worst rated pass D in the NFL (that just got torched by TB!).
Mike Sando: Mora got credit for the secondary showing improvement in 2007. Are we to assume that he has become a bad secondary coach in the last few months, and that he therefore would not be the right head coach?
My analysis of the Mora hiring would include looking at how defenses have performed when he was a coordinator, and how teams have performed when he was the head coach. That is what I did when the Seahawks hired Mora as defensive backs coach in January 2007. Results here.
To answer your question: No, I do not expect Seattle to change its mind on Mora.
---
JThomas from Ephrata, Wash., writes: Mike, Given Jim Mora jr.'s U of W ties, do you see him backing out of the Seahawk coaching job to become the Huskies' head coach?
Mike Sando: I wouldn't assume Jim Mora wants the University of Washington job more than the NFL job based on offhand remarks Mora made to his college roommate on a radio show two years ago.